Cheap Wax Wednesday Box Breaks: 2002 UD Authentics Baseball
We all know that card companies borrow ideas from each other from time to time. There is no way around it. Any time a company comes up with a new idea that really works, you know another company is going to make a run at it and add their own spin. That is just the way things work, obviously not just with sports cards. In 2001 Topps debuted a new brand, Topps Heritage. A throwback to the legendary 1952 Topps set, collectors ate it up. How could they not? Everyone loves '52 Topps.
The following year, Upper Deck decided to give the throwback set a shot. Their version? 2002 UD Authentics Baseball.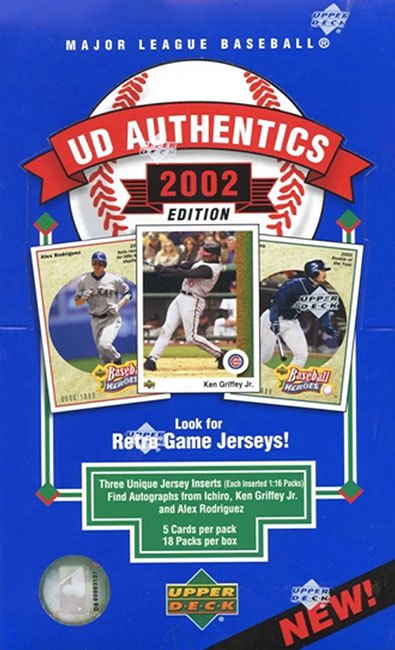 Without the trading card history of Topps, Upper Deck really only had one legendary set to throw it back to. Anybody recognize the packaging? Anyone? Bueller? Of course, 1989 Upper Deck Baseball. 2002 UD Authentics was a throwback to Upper Deck's original baseball card set. The packaging and the base card design match that of the year of the Ken Griffey, Jr. Rookie Card. In another nod to the 1989 set, specifically the Dale Murphy error, every base card can be found with a Reverse Negative parallel.
Fun Facts are provided by Bleacher Report National MLB Columnist Joel Reuter. You can follow Joel on Twitter (@JoelReuterBR) and check out his work at Bleacher Report.
2002 UD Authentics Baseball Box Break
Cards per pack: 5
Packs per box: 18
Price paid: $49

Pack 1 highlights:
Carlos Lee, Juan Gonzalez & Tino Martinez
Pack 1 fun fact: While Juan Gonzalez's rookie card was in 1990 products, he was active during the 1989 season. He went 9-for-60 and hit his first career home run at the age of 19 as a September call-up. Buckle up for some 1989-based fun facts.

Pack 2:
Magglio Ordonez, Mark Buehrle, Adam Dunn Reverse Negative (1:9 packs) & Albert Pujols. I will admit, I missed this Dunn Reverse Negative on the first pass. I knew Dunn was a left-handed batter, but forgot he threw right handed. Another tell on the reverse negative cards is that all the team logos are missing from the uniform.
Pack 2 fun fact: Two of the best late-round draft steals in recent MLB history in the same pack. Mark Buehrle was a 38th-round pick in 1998 and Albert Pujols was a 13th-round pick in 1999. The biggest steal in the 1989 draft? How about Jeff Kent (20th round)?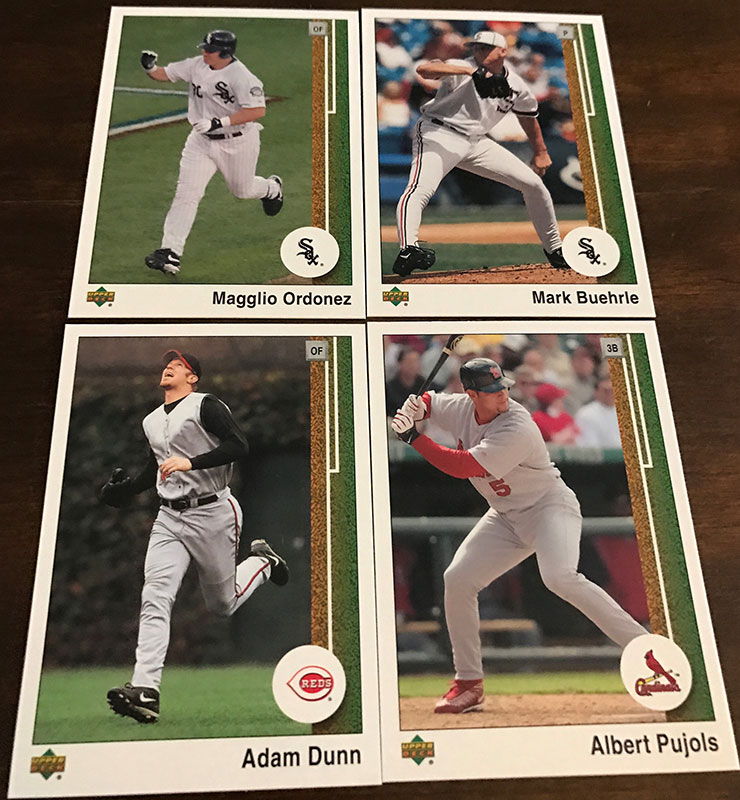 Pack 3:
Melvin Mora, Aramis Ramirez & Rafael Palmeiro
Pack 3 fun fact: Another player who was active during the original release, Rafael Palmeiro was in his fourth MLB season and first season with the Texas Rangers in 1989. He had been traded by the Chicago Cubs the previous offseason in a nine-player deal.

Pack 4:
Jeff Kent, Jim Edmonds, Pedro Martinez & Bernie Williams
Pack 4 fun fact: Bernie Williams struggled mightily against Pedro Martinez in his career, hitting .176 with nine strikeouts and just three extra-base hits in 41 plate appearances. Both players were active in the upper levels of the minors in '89.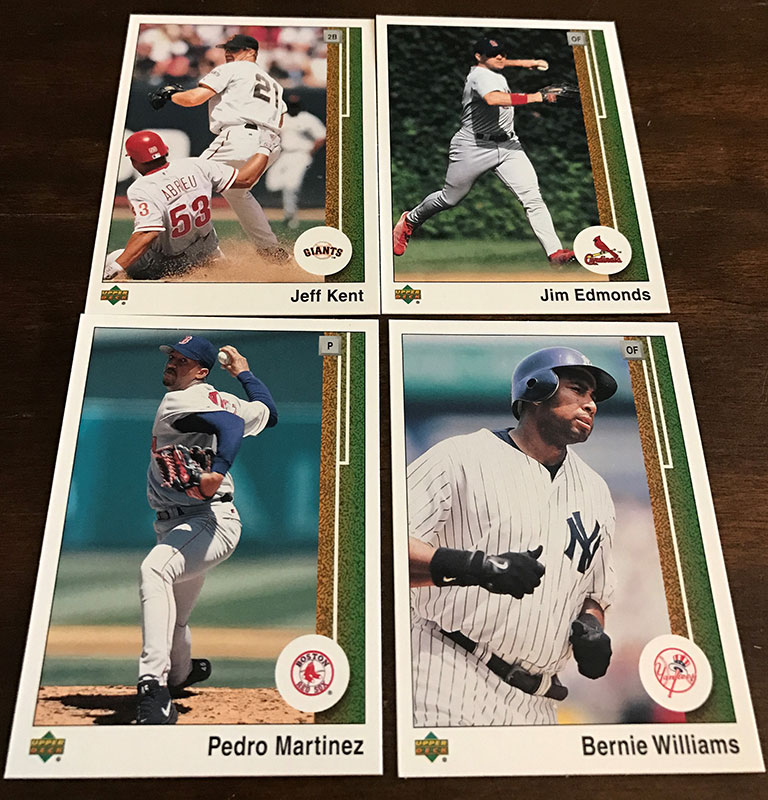 Pack 5:
Shea Hillenbrand & J.D. Drew
Pack 5 fun fact (via Shane): Why is Hillenbrand a highlight? When I was in high school a small zoo opened up in a neighboring town. Somehow Hillenbrand ended up sponsoring one of the tigers there. He did a few autograph appearances, but I never was able to make it to one. Shea "Tiger King" Hillenbrand? No?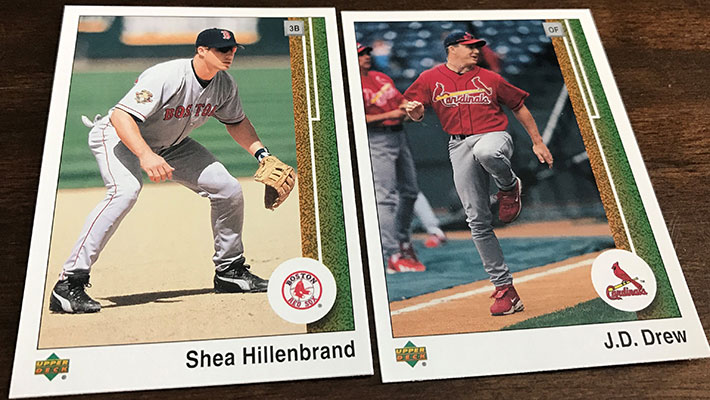 Pack 6:
Nomar Garciaparra & Jim Thome
Pack 6 fun fact: Jim Thome was a 13th-round pick out of Illinois Central College in 1989 and he made his MLB debut two years later at the age of 20.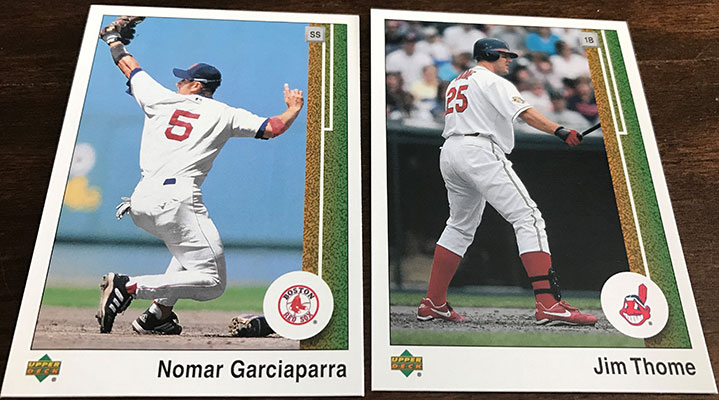 Pack 7:
Jose Canseco, Jose Valverde RC, Barry Bonds & Ichiro Suzuki Heroes of Baseball (0019/1989)
Pack 7 fun fact: Jose Canseco and Barry Bonds were both active during the 1989 season. Bonds had an 8.0 WAR season with 19 home runs and 32 steals. Canseco was an All-Star coming off his AL MVP win in 1988.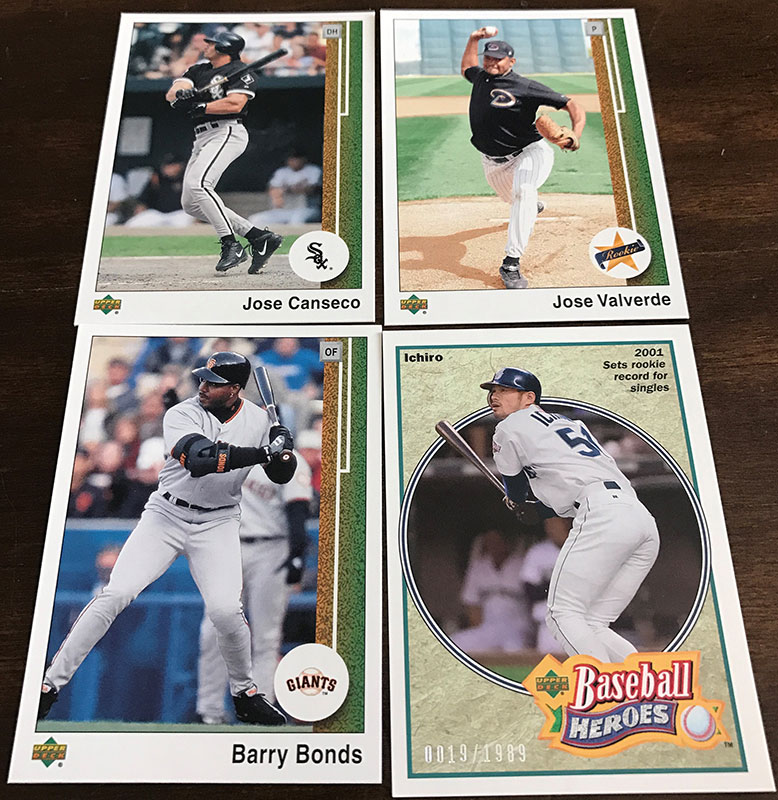 Pack 8:
C.C. Sabathia, Rafael Palmeiro, Pedro Martinez & Carlos Delgado Reverse Negative Jersey Card #ed 185/350. Yes, even some reverse negative jersey cards could be found.
Pack 8 fun fact: While Rafael Palmeiro was already well into his playing career in 1989, CC Sabathia was just nine years old.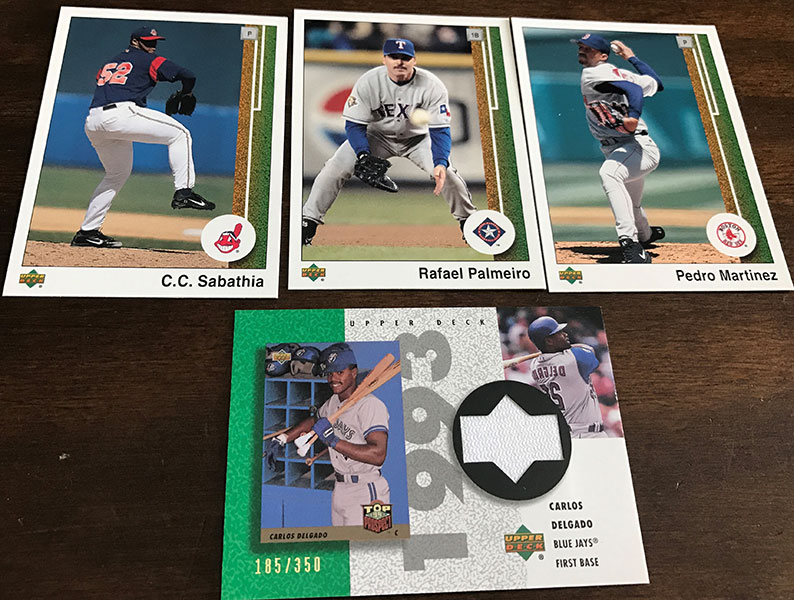 Pack 9:
Jimmy Rollins, Gary Sheffield, Larry Walker & Orlando Cabrera
Pack 9 fun fact: Gary Sheffield actually has a rookie card in the original '89 Upper Deck set. He had 23 extra-base hits and 10 steals in 95 games for the Milwaukee Brewers that season.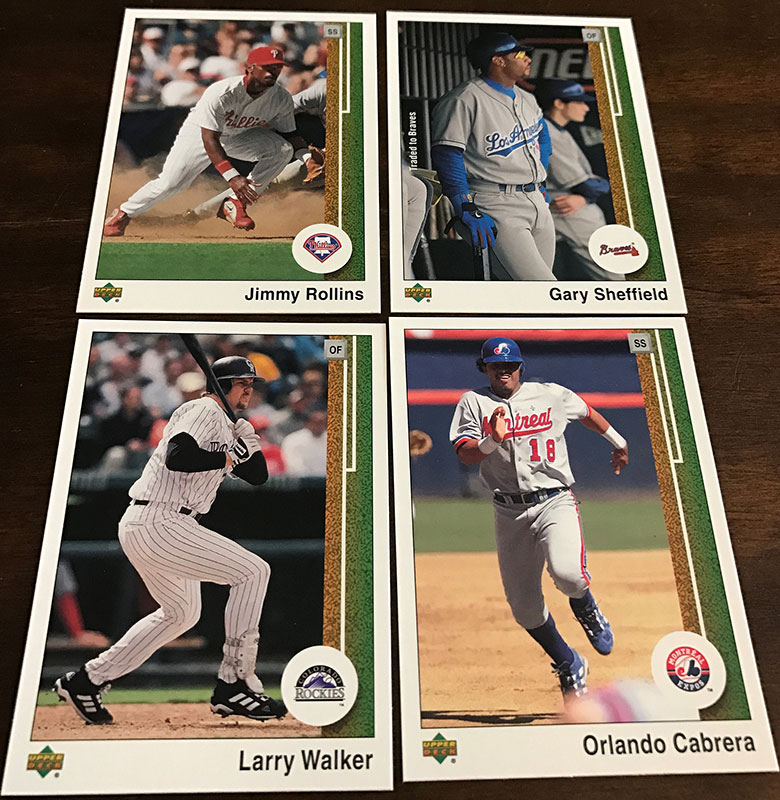 Pack 10:
Bobby Abreu, Ben Sheets & Kerry Wood Reverse Negative (1:9 packs). It would have been pretty tough to miss this one.
Pack 10 fun fact: Bobby Abreu was signed out of Venezuela on Aug. 21, 1990 by the Houston Astros, so he just missed fitting into our 1989 theme.

Pack 11:
Troy Glaus & Bernie Williams Reverse Negative Jersey Card (1:16 packs)
Pack 11 fun fact: Bernie Williams hit .239/.362/.399 with 41 extra-base hits and 37 steals in 141 games between Double-A and Triple-A in '89. He made his MLB debut midway through the 1991 season.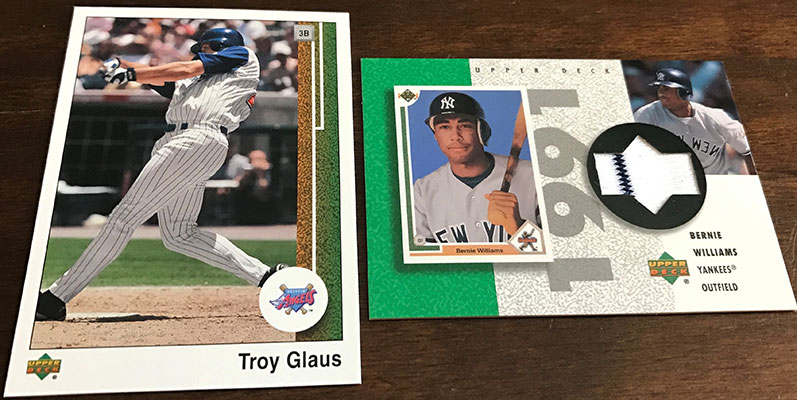 Pack 12:
Moises Alou, Al Leiter & Rafael Furcal
Pack 12 fun fact: Al Leiter actually has two cards in the original 1989 Upper Deck set. He's #588 in a Yankees uniform and #705 in a Blue Jays uniform after he was traded to Toronto for slugger Jesse Barfield in April.

Pack 13:
Randy Johnson & Chipper Jones
Pack 13 fun fact: After the Ken Griffey Jr. rookie card, the Randy Johnson rookie in his Montreal Expos uniform is one of the more iconic cards in the original set. Still an unrefined flame-thrower at that point, he had 96 walks and 130 strikeouts in 160.2 innings.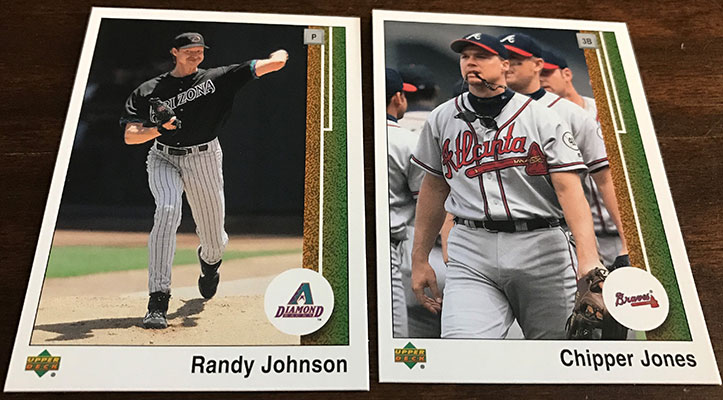 Pack 14:
C.C. Sabathia, Pat Burrell, Troy Glaus & Ryan Klesko Retro Star Rookie Jersey Card (1:16 packs)
Pack 14 fun fact: Ryan Klesko was a fifth-round pick in the 1989 draft out of Westminster High School in California. He was originally drafted as a pitcher, but moved to first base to start his pro career.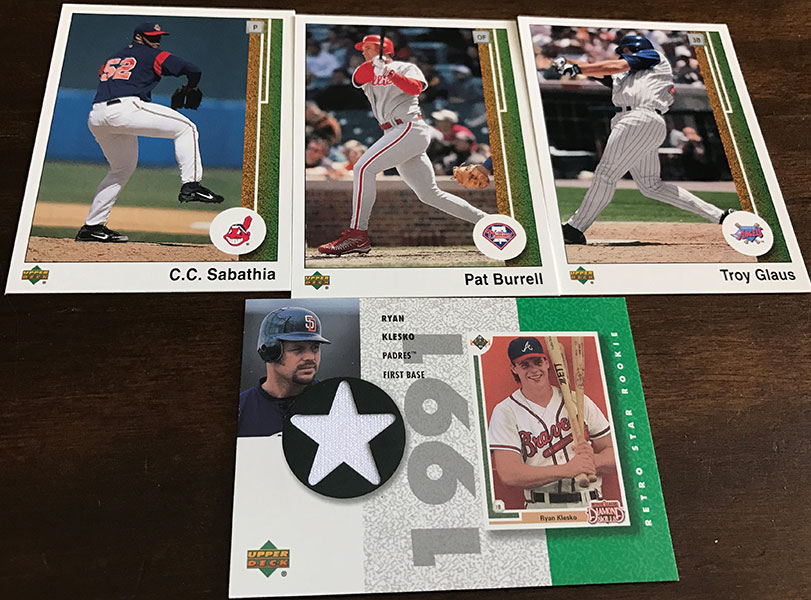 Pack 15:
Darin Erstad & Todd Helton
Pack 15 fun fact: Darin Erstad (kicker/punter, Nebraska) and Todd Helton (quarterback, Tennessee) both played college football at major conference schools. It's not a 1989 fact, but it's pretty cool.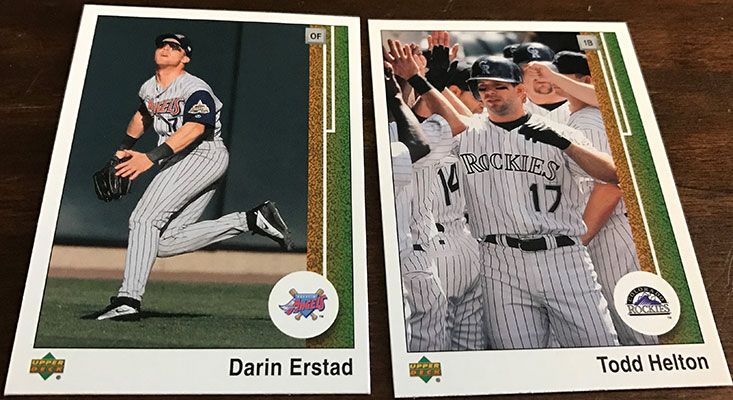 Pack 16:
Mark Grace, Greg Vaughn & Randy Johnson 1989 Flashbacks (3437/4225)
Pack 16 fun fact: Mark Grace has his rookie card in 1988 products and he was part of the original 1989 set. He hit .314/.405/.457 with 13 home runs and 79 RBI in '89 after finishing runner-up to Chris Sabo for NL Rookie of the Year honors the previous year.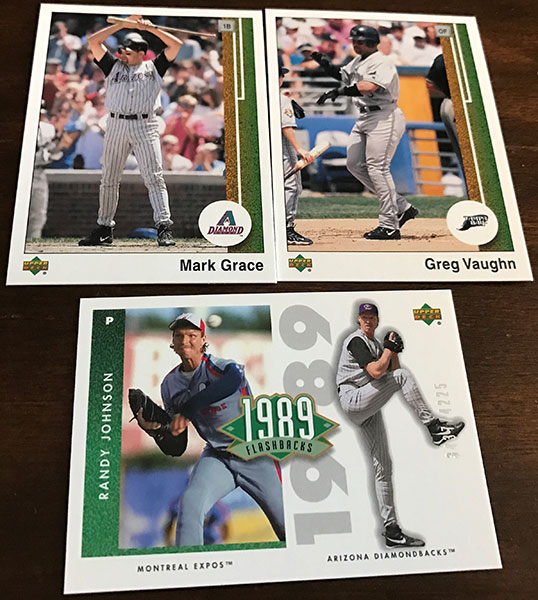 Pack 17:
Carlos Delgado
Pack 17 fun fact: The Blue Jays signed Carlos Delgado out of Puerto Rico on Oct. 9, 1988, and he hit .180 with 39 strikeouts and zero home runs in 113 plate appearances during his pro debut in 1989. Humble beginnings.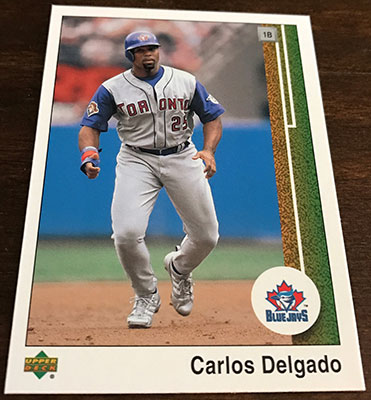 Pack 18:
Roger Clemens, Greg Vaughn & Greg Maddux Stars of '89 Jersey Card (1:16 packs)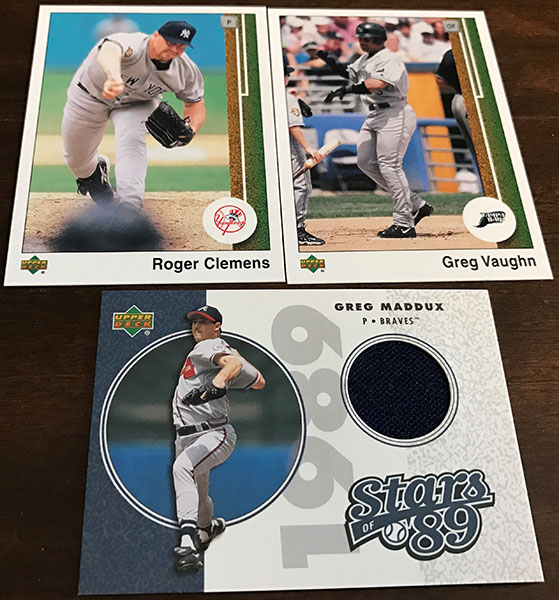 Pack 18 fun fact: Roger Clemens and Greg Maddux were not only active in 1989 and included in the original Upper Deck set, but they were both selected to the All-Star Game that year. It was the first All-Star nod for Maddux and the second for Clemens.
Lastly, the Pedro Martinez card back. Upper Deck stuck with the 1989 design here as well.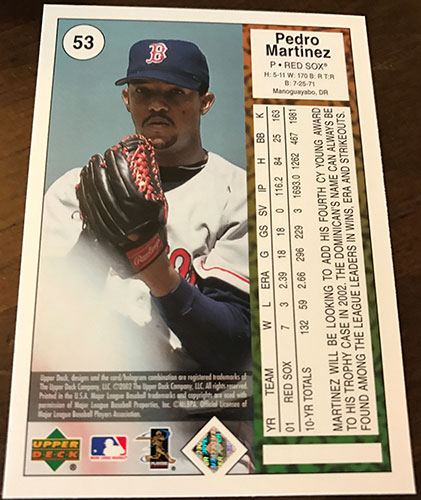 Did Authentics work out as well for Upper Deck as Heritage did for Topps? No. While Heritage turned into a mainstay product, Authentics made just one more appearance. And it didn't even have a throwback design.
As far as this box goes, it was actually a fun product. That 1989 design brings some nostalgia. This time around there's some added chase items with numbered inserts and jersey cards as well. Keep in mind, this was back when game-used jersey cards were still relatively new and not quite as common as they are today. I fared pretty well with this one. Ichiro and Big Unit numbered cards, Maddux game jersey, and my two reverse negatives are well known players. Not a bad break, though I don't think I plan on rushing out to grab more.
Buy 2002 UD Authentics Baseball cards on:
Want more installments of Shane Salmonson's Cheap Wax Wednesday? Check out his other breaks in the archives.