Cheap Wax Wednesday Box Breaks: 2002 Topps Ten Baseball
Sometimes new products take off from the start. Other times, as was the case with 2002 Topps Ten Baseball, they fall flat and disappear as quickly as they arrived. It looks as though the retail product did not meet expectations as it turned out to be a one-year wonder.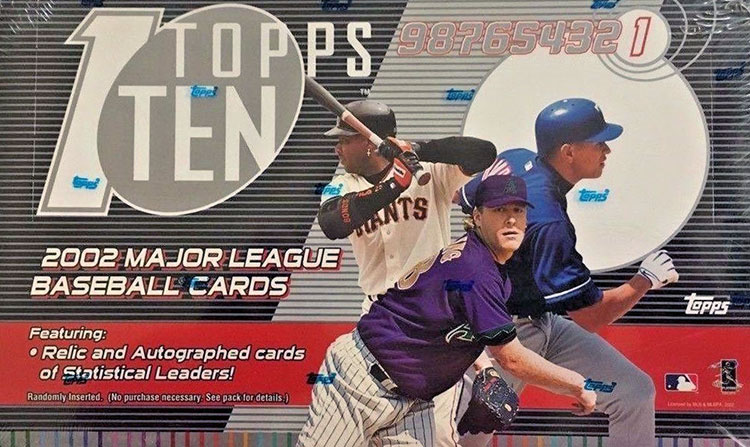 The premise behind the product was to highlight the top ten players in different statistical categories. The base set features 200 cards, 190 veteran cards featuring the top ten players in 19 different categories, and ten "Topps Ten Prospects." Many of the game's best all-around players appeared multiple times throughout the base set. For instance, Barry Bonds has seven different base cards. The product also has die-cut parallels, game-used relics and an autograph checklist featuring, you guessed it, ten players.
Fun Facts are provided by Bleacher Report National MLB Columnist Joel Reuter. You can follow Joel on Twitter (@JoelReuterBR) and check out his work at Bleacher Report.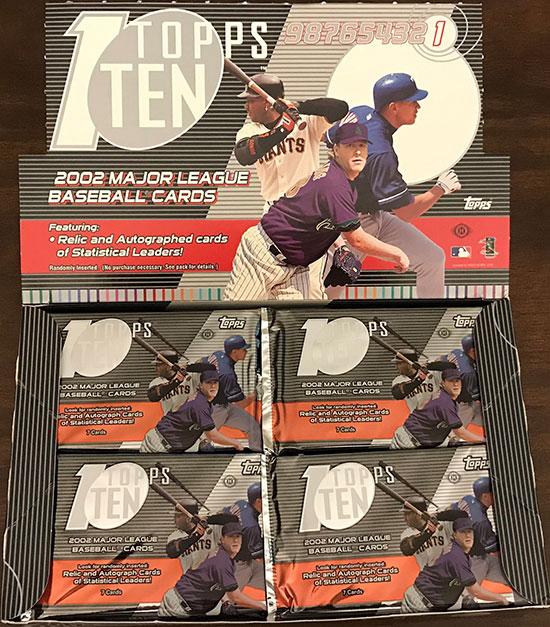 2002 Topps Ten Baseball Box Break
Cards per pack: 7
Packs per box: 24
Price paid: $25
Pack 1 highlights:
Kerry Wood, Mike Mussina, Barry Bonds, Rickey Henderson, Greg Maddux & Todd Helton
Pack 1 fun fact: Kerry Wood is one of just nine pitchers with 1,000 career innings pitched and a strikeout rate of 10.0 K/9 or higher.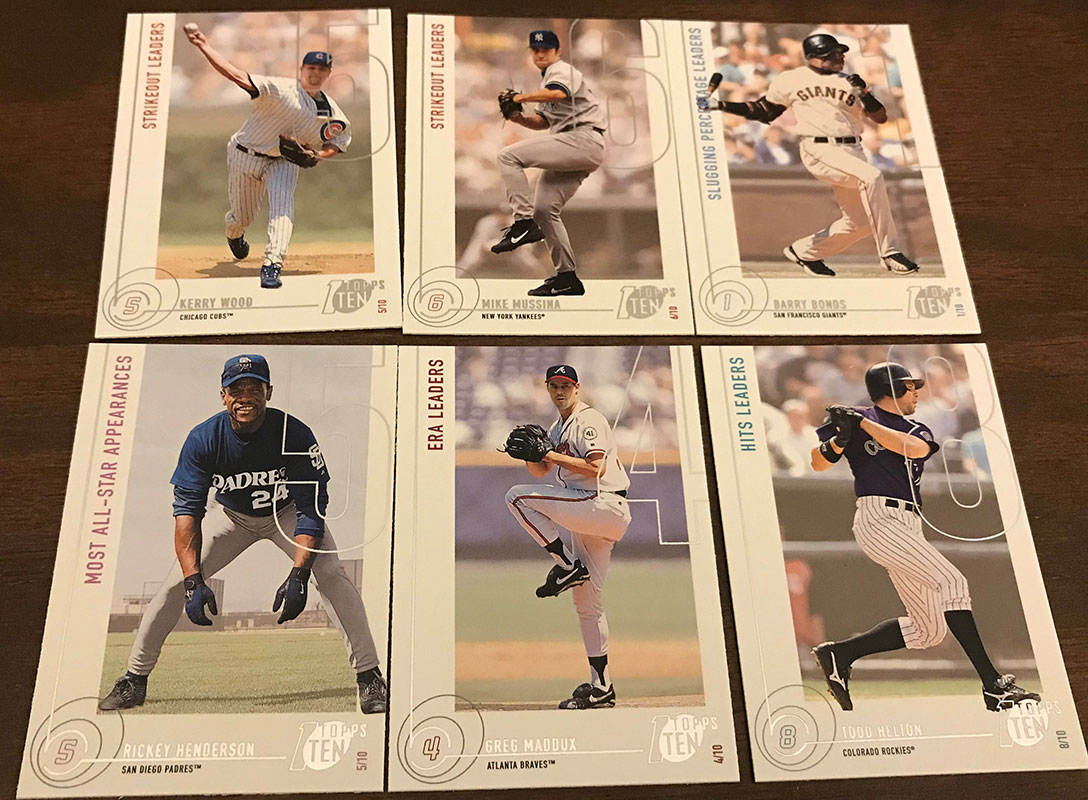 Pack 2:
Gary Sheffield, Ivan Rodriguez, Vladimir Guerrero, Omar Vizquel, Ichiro Suzuki, Sammy Sosa & Billy Wagner Jersey Relic (1 in every 26 packs)
Pack 2 fun fact: Vladimir Guerrero stole a career-high 40 bases in 2002 when he put together his second straight 30-30 season.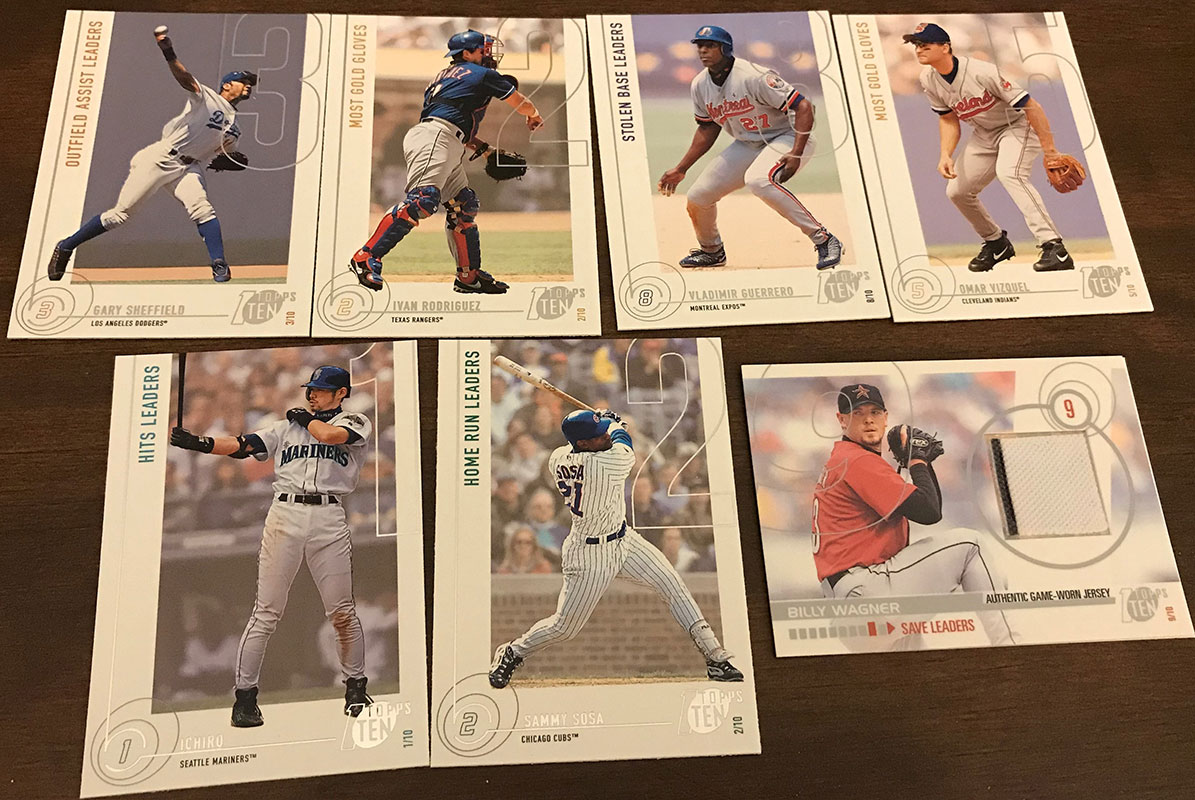 Pack 3:
Alex Rodriguez, Ichiro Suzuki, Randy Johnson & Mike Sweeney Die Cut (1:4 packs)
Pack 3 fun fact: There's a good chance Randy Johnson will be baseball's last 300-game winner. He became the 24th pitcher to reach that milestone on June 4, 2009.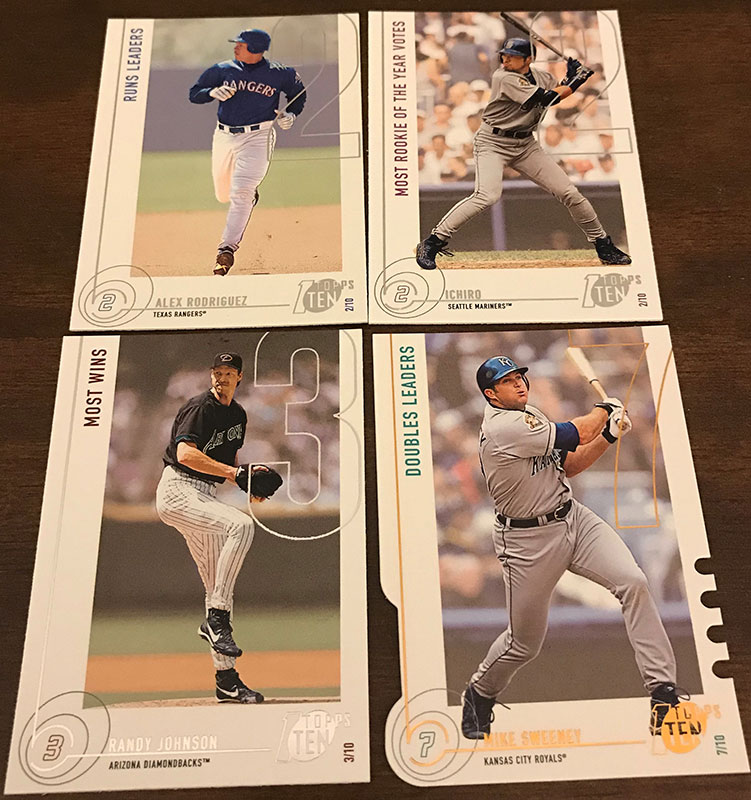 Pack 4:
Tim Salmon, Jason Giambi, Kazuhiro Sasaki, Todd Helton, Barry Bonds & Albert Pujols
Pack 4 fun fact: Kaz Sasaki had 129 saves in four MLB seasons and 252 saves in 12 seasons in the Japanese League. Those 381 total saves would be good for eighth on the all-time list if they had all occurred stateside.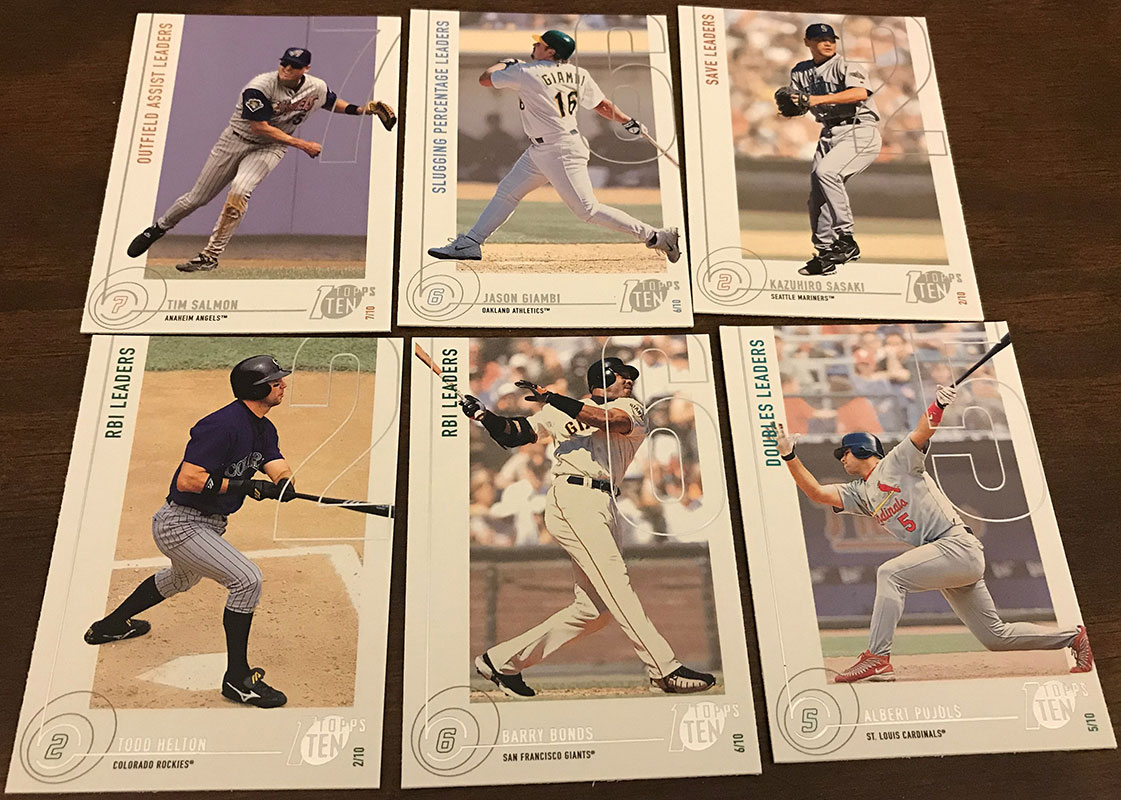 Pack 5:
Bartolo Colon, Mark Grace & Craig Kuzmic RC
Pack 5 fun fact: After a solid season at the Double-A level in 2001, Kuzmic crashed back to earth and hit .214/.317/.361 with a 27.5 percent strikeout rate in the upper levels of the minors in 2002.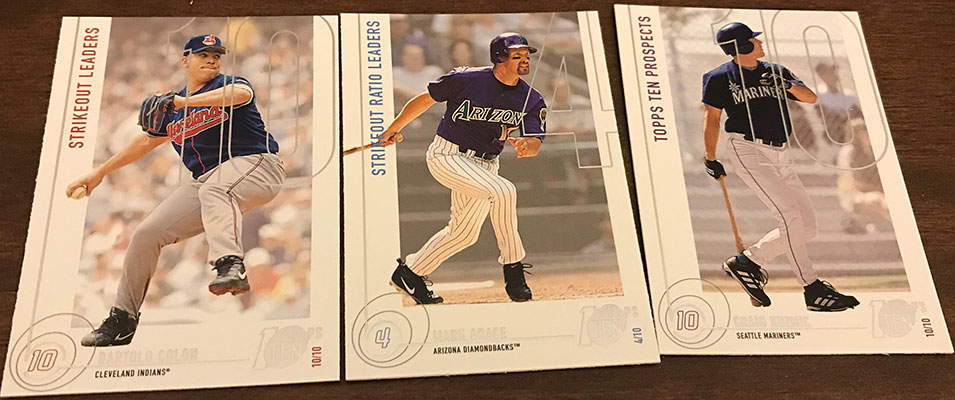 Pack 6:
Carlos Beltran, Barry Bonds & Ken Griffey, Jr.
Pack 6 fun fact: Carlos Beltran finished his career with an impressive 143 outfield assists. He was truly the definition of a five-tool player.

Pack 7:
Barry Bonds, Greg Maddux, Roger Clemens, Greg Montalbano RC & Luis Castillo Die Cut (1:4 packs)
Pack 7 fun fact: From the time he won his first Gold Glove Award in 1990, Greg Maddux claimed the award 18 times in a 19-year span. The lone exception was when Mike Hampton took home the hardware in 2003.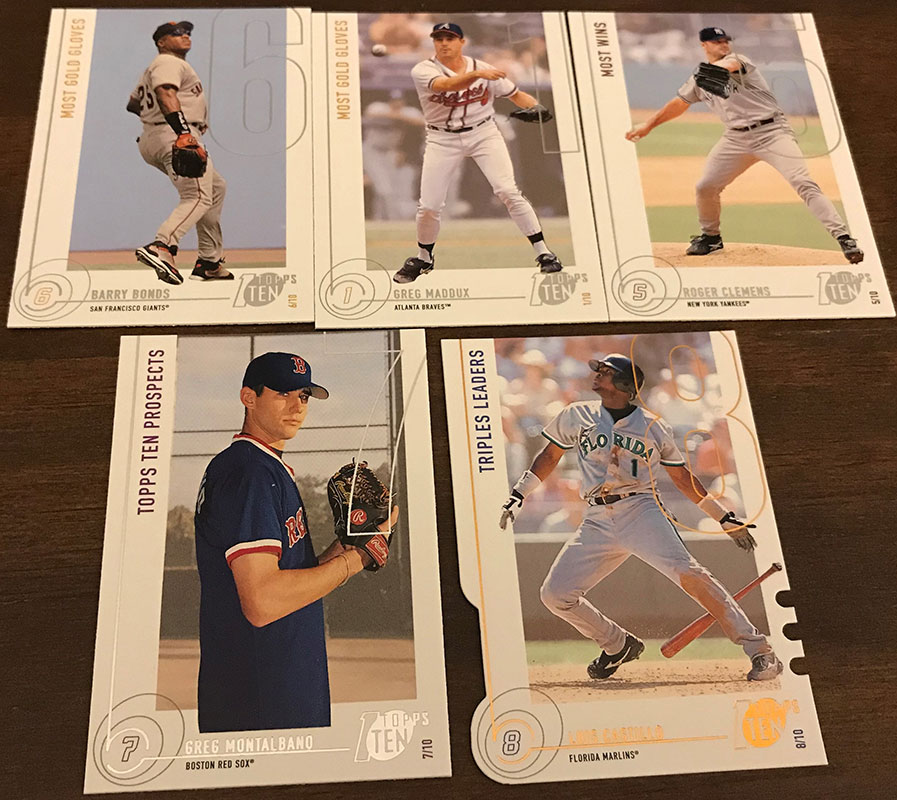 Pack 8:
Keith Foulke, Jimmy Rollins, Sammy Sosa & Hideo Nomo
Pack 8 fun fact: Sammy Sosa did not start the All-Star Game during his legendary 66-homer season in 1998. The NL's starting outfield was Barry Bonds, Larry Walker and Tony Gwynn.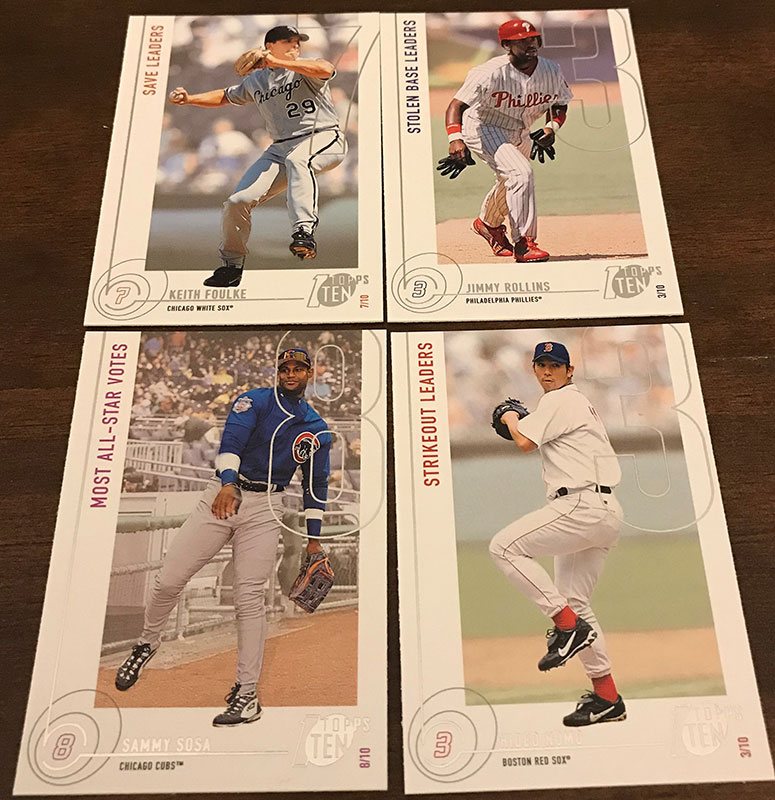 Pack 9:
Trevor Hoffman, Torii Hunter, Ichiro Suzuki, Ivan Rodriguez, Roger Clemens, Barry Bonds & Nick Alvarez RC
Pack 9 fun fact: Nick Alvarez hit .286/.353/.481 with 21 home runs and 71 RBI in 118 games at High-A in 2001. He hit just 21 more home runs total over the next five seasons before his career came to a close.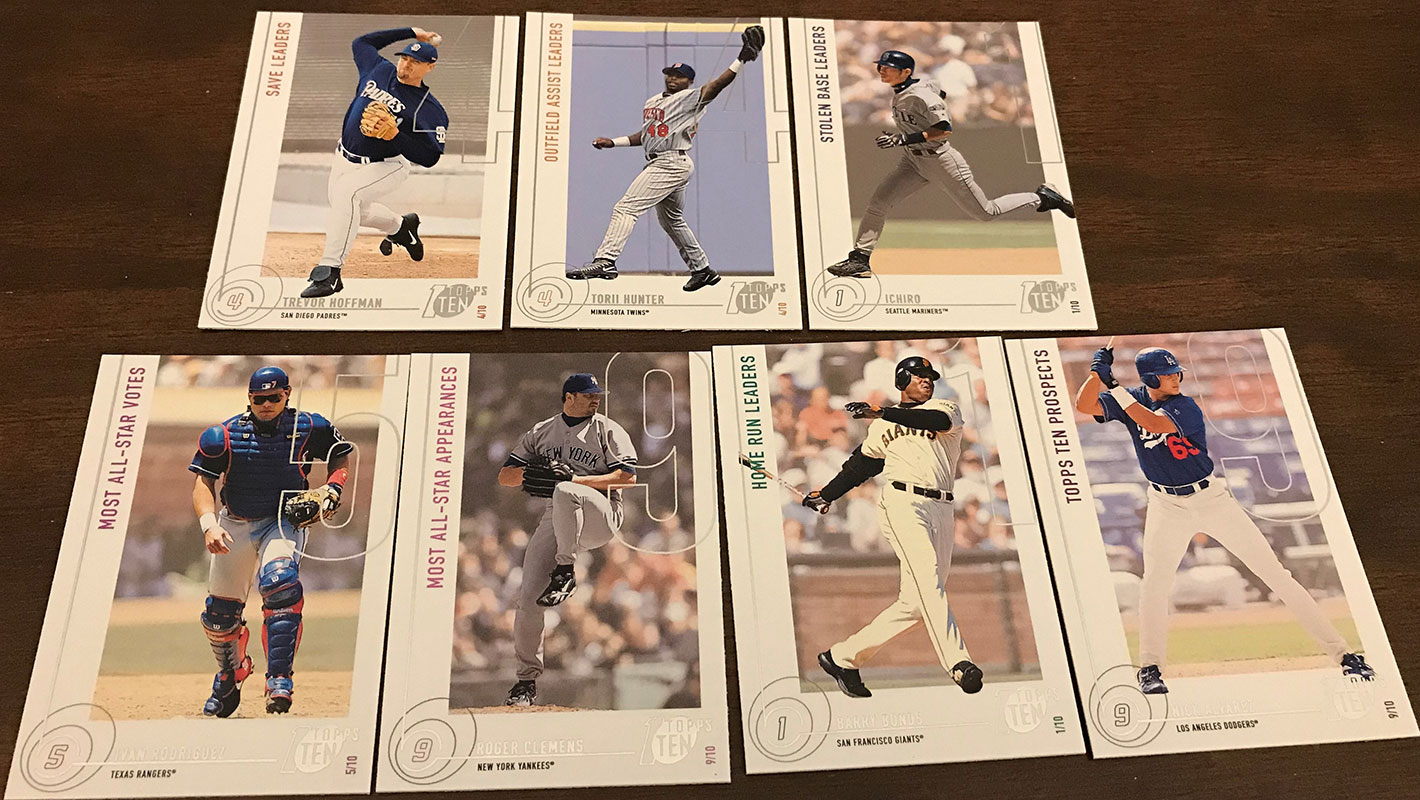 Pack 10:
Billy Wagner, Sammy Sosa, Alex Rodriguez, Albert Pujols & Mauricio Lara RC
Pack 10 fun fact: Mauricio Lara was still active in the Mexican League in 2019. In his age-40 season, he went 8-12 with a 4.57 ERA in 132 innings. He has pitched more than 2,000 professional innings.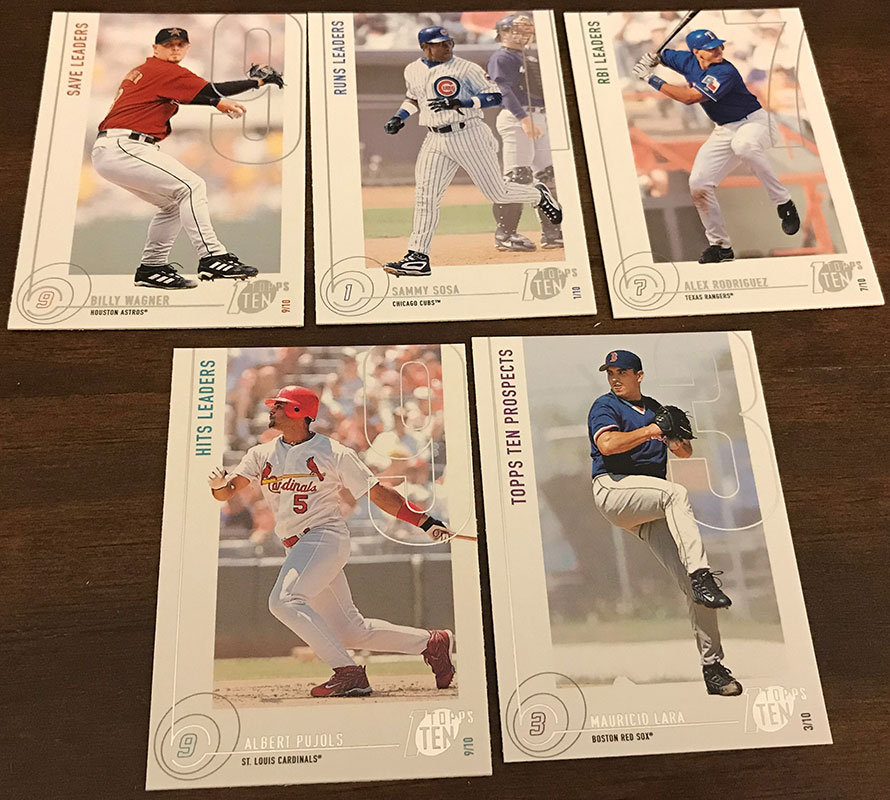 Pack 11:
Troy Percival, Ichiro Suzuki & Albert Pujols Die Cut (1:4 packs)
Pack 11 fun fact: Troy Percival was originally drafted as a catcher. He hit .203 with zero extra-base hits in 101 plate appearances in his pro debut before moving to the mound. He ranks 11th on the all-time list with 358 saves.

Pack 12:
Roberto Alomar, Larry Walker, Vladimir Guerrero, Curt Schilling & Jeff Kent
Pack 12 fun fact: Roberto Alomar and Jeff Kent were the starting second basemen in the 2000 All-Star Game.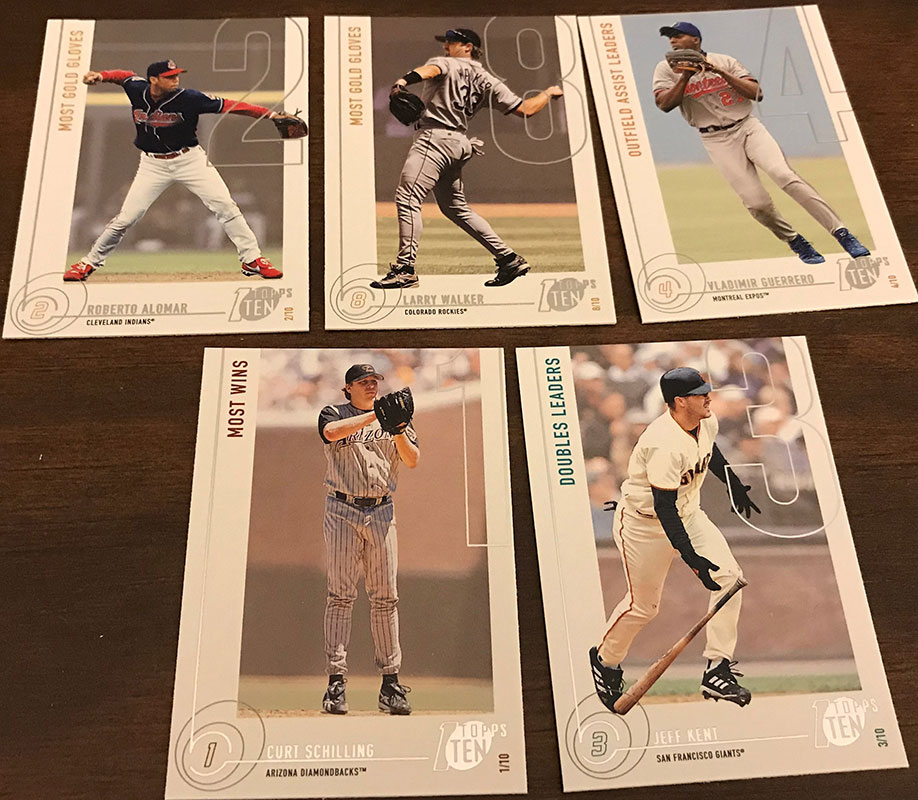 Pack 13:
Roberto Alomar, Mike Mussina & Jimmy Rollins
Pack 13 fun fact: Mike Mussina ranked 23rd on the all-time list among pitchers with 82.8 WAR. It's a shock it took him six tries to earn induction into the Baseball Hall of Fame.

Pack 14:
Gary Sheffield, Vladimir Guerrero, Alex Rodriguez & Jeromy Burnitz Jersey Relic (1:26 packs)
Pack 14 fun fact: Jeromy Burnitz was one of the most feared sluggers in baseball at his peak in Milwaukee. He averaged 34 home runs and 107 RBI during the four-year span from 1998 through 2001.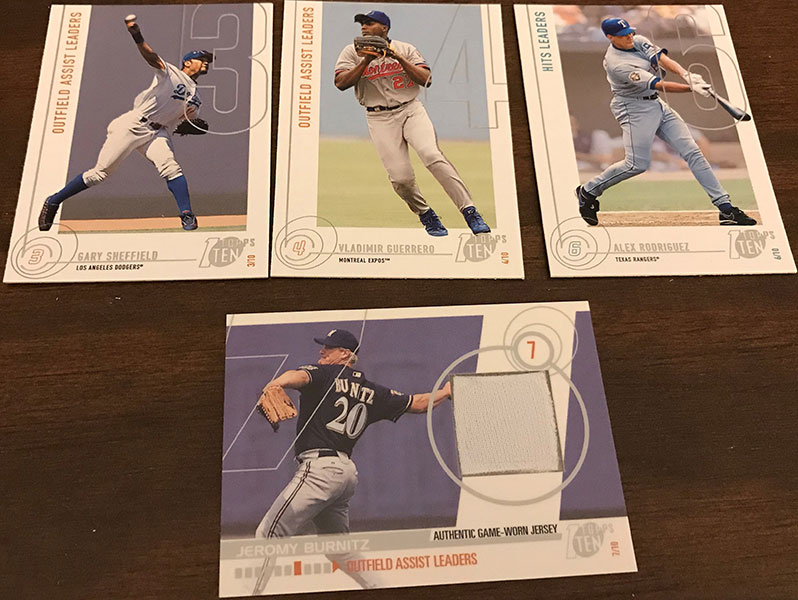 Pack 15:
Kerry Wood, Roger Clemens, Vladimir Guerrero, Randy Johnson & Bobby Abreu Die Cut (1:4 packs)
Pack 15 fun fact: Bobby Abreu finished his career with a .395 on-base percentage. That's good for 76th on the all-time list, and speaks volumes to what an underrated player he was throughout his career.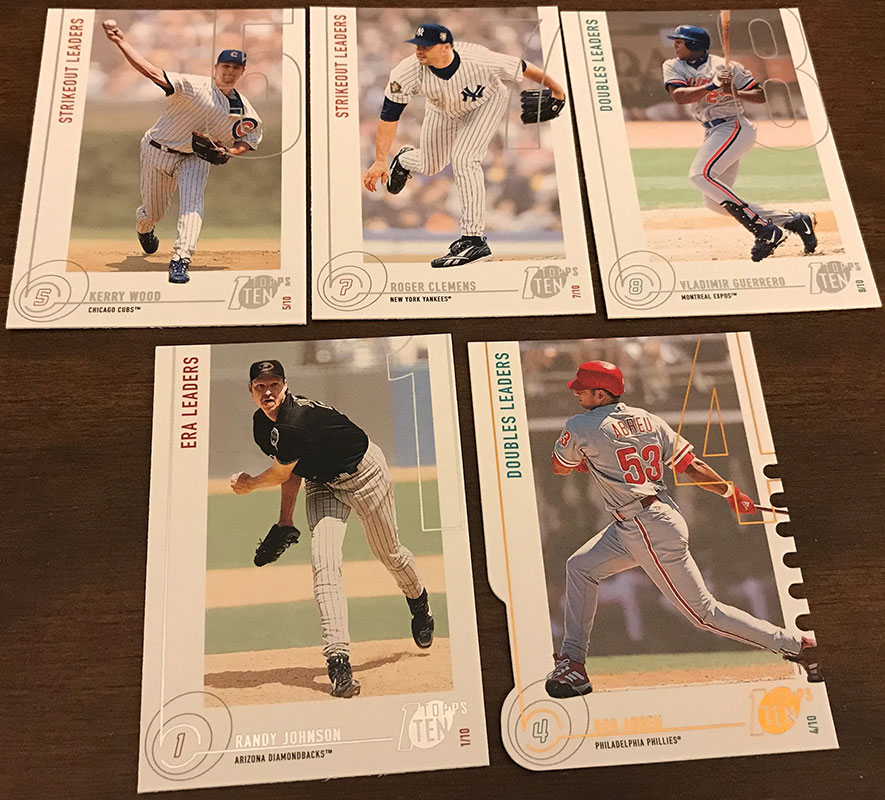 Pack 16:
Jim Edmonds, Omar Vizquel, Sammy Sosa & Todd Helton
Pack 16 fun fact: It's an arbitrary number in the grand scheme of things, but it's fair to wonder what Omar Vizquel's Hall of Fame case would look like if he had managed 123 more hits to get to 3,000 for his career.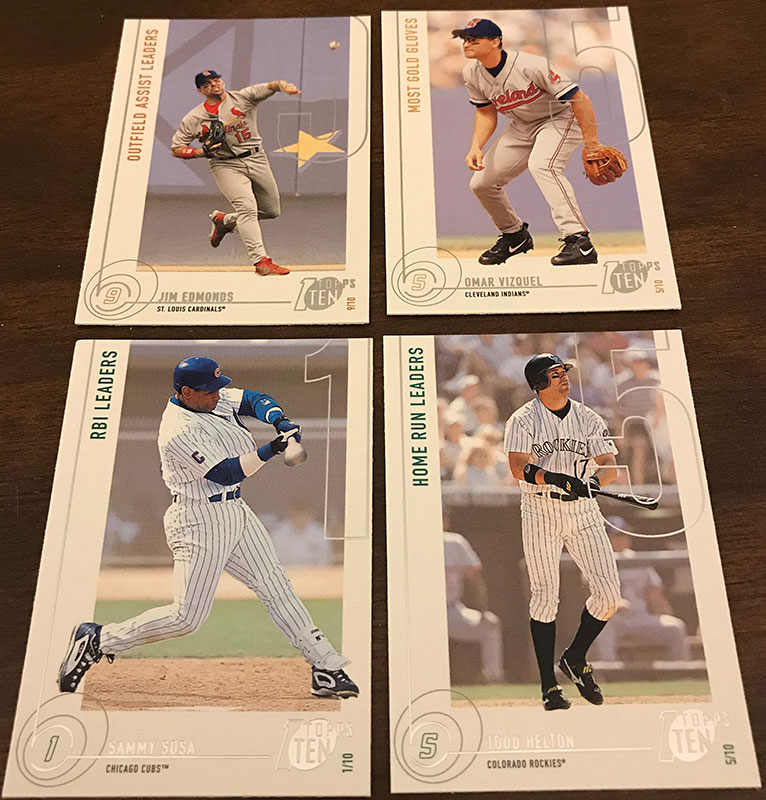 Pack 17:
Alex Rodriguez, Pat Burrell, Barry Bonds & Clint Nageotte RC. It was right about now that I started to wonder if any of these Topps Ten Prospects turned out to be any good.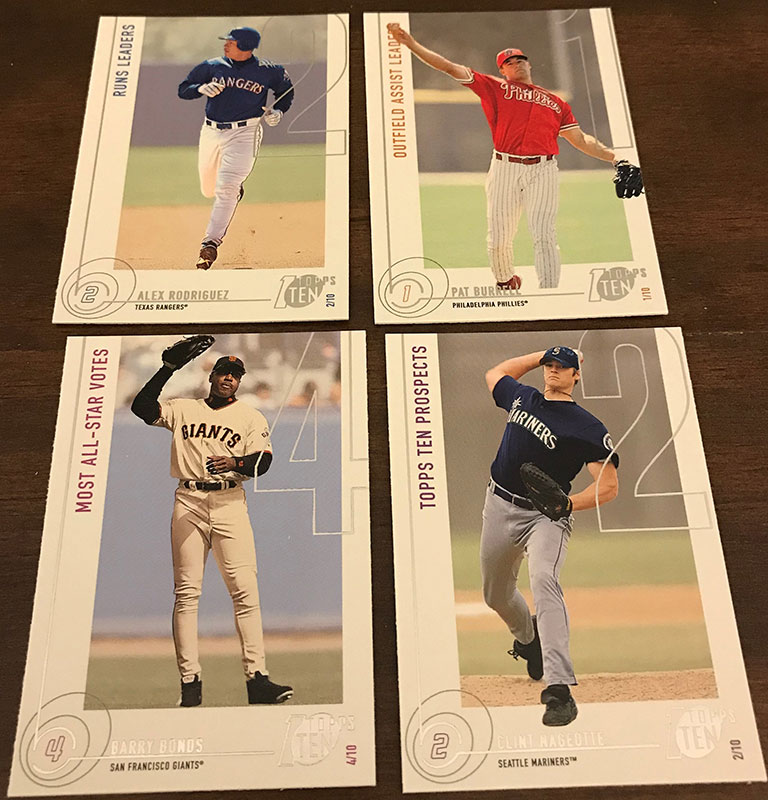 Nope. Only one – Nageotte – of the ten featured prospects would ever appear in a major league game. Clint pitched in 16 major league games spread out over three seasons with the Mariners. He ended his major league career with a 7.78 ERA.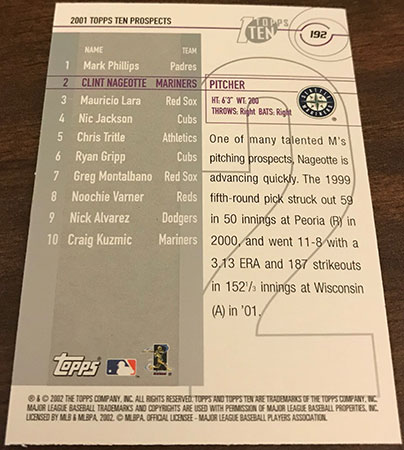 Pack 18:
Carlos Beltran, Ichiro Suzuki & Lance Berkman
Pack 18 fun fact: Lance Berkman is tied for 48th on the all-time list with a 144 OPS+ and he received just 1.2 percent of the vote in his first and only year on the Hall of Fame ballot.

Pack 19:
Larry Walker, Albert Pujols, Mark McGwire, Barry Bonds & Jimmy Rollins Die Cut (1:4 packs)
Pack 19 fun fact: It's easy to forget that Albert Pujols and Mark McGwire were teammates for a year in 2001. McGwire hit .187 that year, but still managed a 105 OPS+ thanks to his 29 home runs in just 364 plate appearances.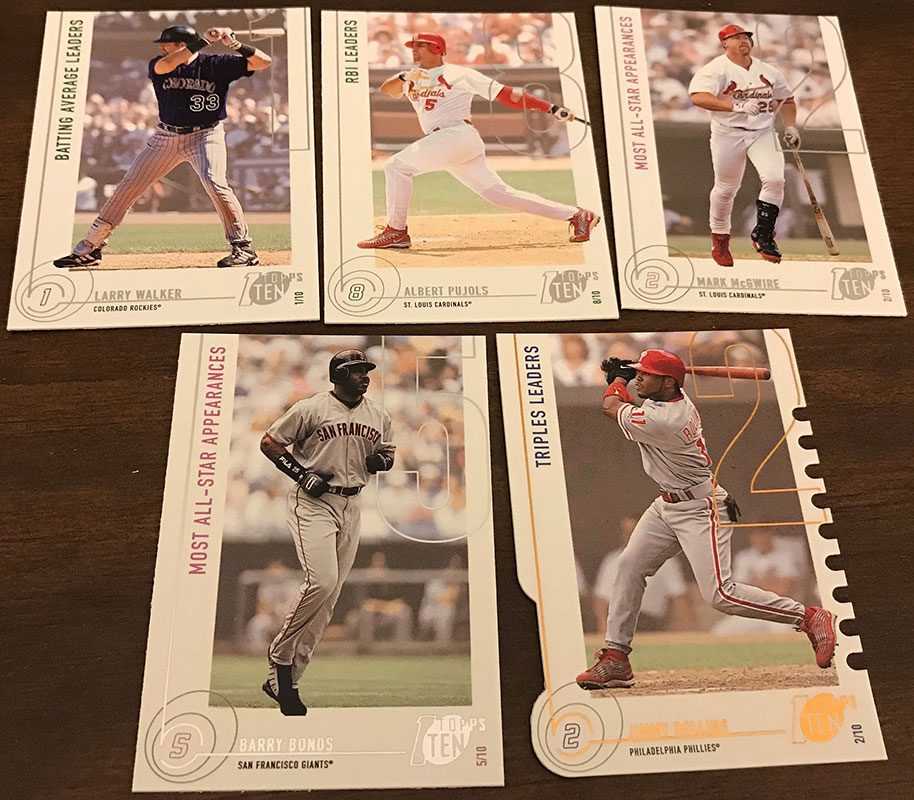 Pack 20:
Barry Bonds, Randy Johnson, Mariano Rivera, Roberto Alomar & Juan Gonzalez
Pack 20 fun fact: There are just 31 players in MLB history who have won the MVP award more than once. Barry Bonds leads that list with seven wins. Juan Gonzalez is also a member as AL MVP winner in 1996 and 1998.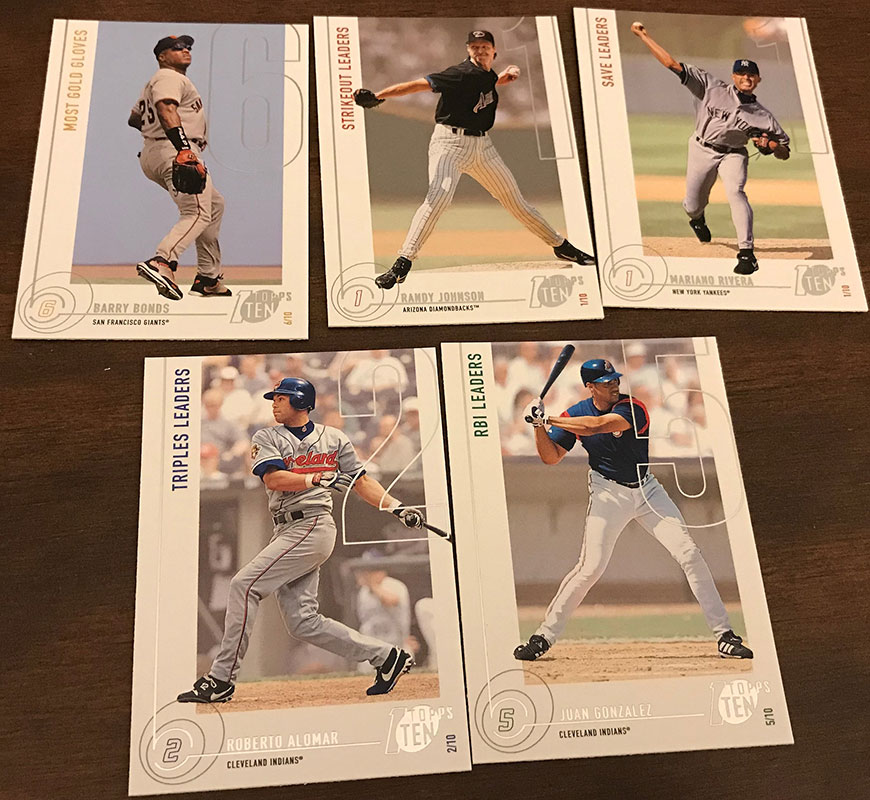 Pack 21:
Trevor Hoffman, Ichiro Suzuki, Jeff Bagwell, Mike Piazza, Edgar Martinez & Greg Maddux
Pack 21 fun fact: Mike Piazza gets a bad rap for his defense, but he did throw out 23 percent of base stealers in his career. The league average is around 31 percent.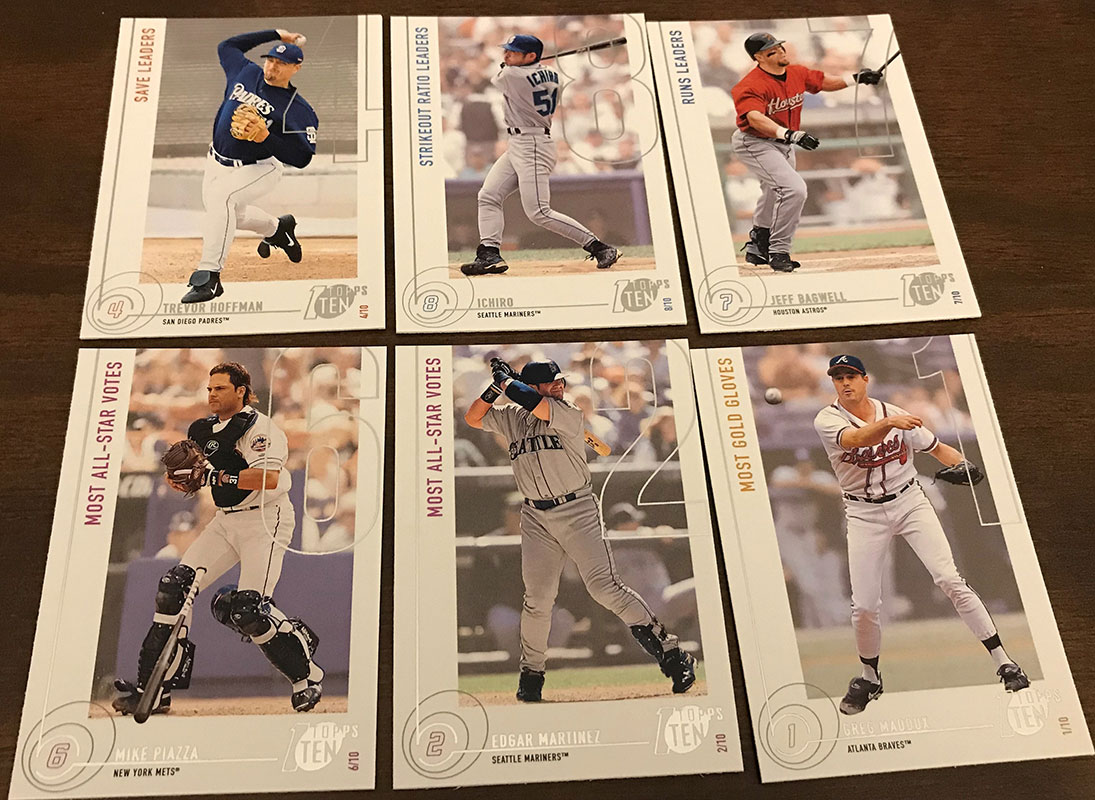 Pack 22:
Keith Foulke, Bret Boone, Barry Larkin & Luis Gonzalez
Pack 22 fun fact: Keith Foulke saved at least 30 games with three different teams, reaching that mark with the White Sox, Athletics and Red Sox en route to 191 career saves.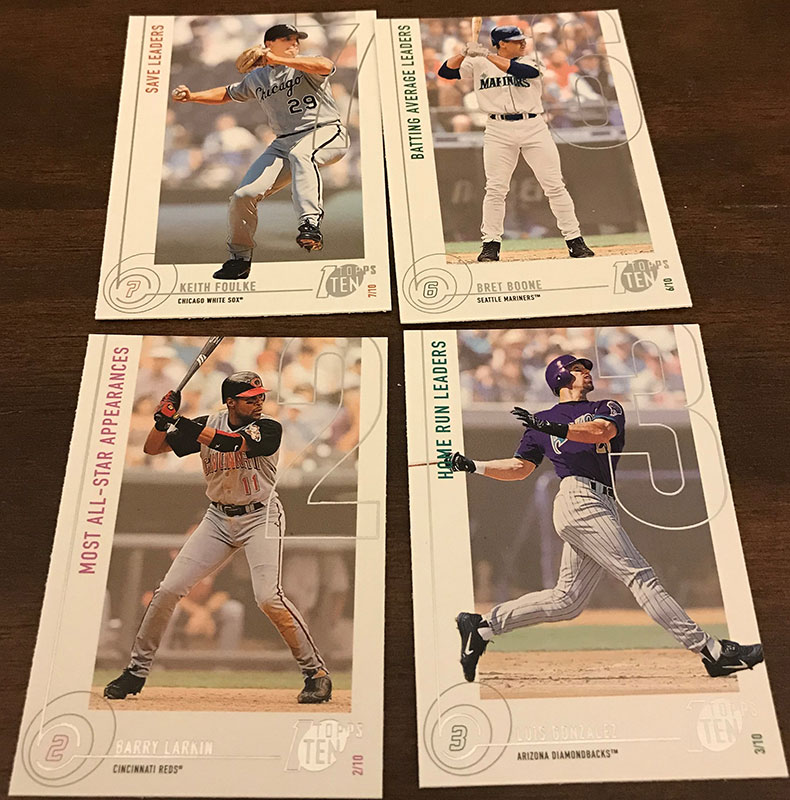 Pack 23:
Ryan Gripp RC, Nic Jackson RC & Juan Pierre Die Cut (1:4 packs)
Pack 23 fun fact: Ryan Gripp and Nic Jackson were teammates at High-A Daytona in 2001. Jackson was No. 68 on Baseball America's Top 100 prospect list at the start of 2002.
Pack 24:
Troy Percival & Chris Tritle RC
Pack 24 fun fact: A 19th-round pick in 2000, Chris Tritle hit .336/.402/.565 with nine home runs and 26 steals in 52 games in rookie ball in 2001. He never advanced above High-A in six pro seasons.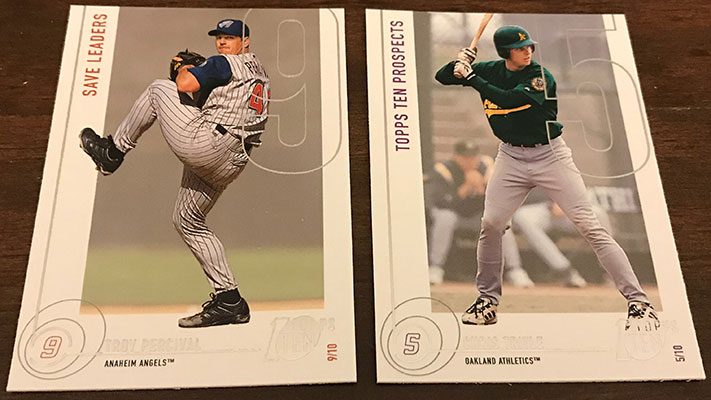 Lastly, the card back. Based on what the set represents, I do actually like these card backs. They feature the full top ten list the player is a part of, and also some player information based around that specific category.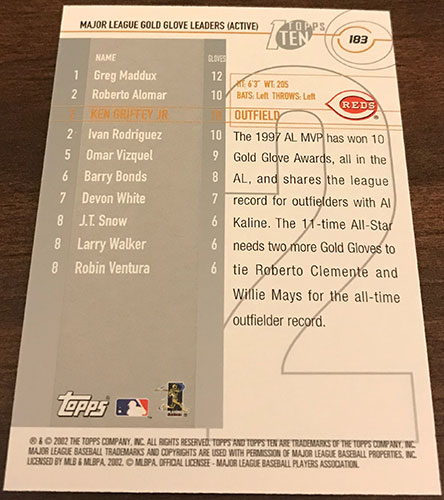 Obviously this set was not a hit, since it was never released again. But, was it really that bad? I do think they went a little overboard with the design. The card fronts feature the player's rank on that list not once, not twice, but three different times. The large number in the upper-right corner, which in most cases overlaps the player photos (not a great look), the ranking in the lower-left corner of the card (probably enough to get the point across) and also the microscopic numbers in the lower-right corner on the card fronts.
In my opinion the lower left corner rankings alone would have been enough, and would have helped the overall appearance.
Another negative is the list of ten rookies used in this set. I can't quite explain this one. It certainly was not the top ten prospects heading into the 2002 season. The only guess I can come up with is that Topps was hoping to catch a hot prospect.
There are some positives to the set, though. With a set based mainly on top ten league leaders, there should be plenty of star power in the base set. And there is. Bonds having seven cards may be a bit aggressive, but would you rather see one Bonds base card and six cards of utility players? Not me. The die-cuts are also pretty sharp cards.
Lastly, the ten-card autograph checklist has some good names. Found once in every 67 packs, the checklist includes Bonds, Barry Zito, Jim Edmonds, Jimmy Rollins, Roger Clemens and Roy Oswalt. I wouldn't be disappointed hitting an autograph of any of those guys.
Shop for 2002 Topps Ten Baseball on:
Want more installments of Shane Salmonson's Cheap Wax Wednesday? Check out his other breaks in the archives.