Cheap Wax Wednesday Box Breaks: 2001 Topps Stadium Club Baseball
Always a collector favorite because of the photography, Stadium Club was a staple Topps release from its debut in 1991 until 2003. After disappearing for four years, Topps released another Stadium Club set in 2008, before again shelving the product for another five years. Luckily, Stadium Club made another return in 2014, and has been in Topps' product mix ever since. The 2020 version of Topps Stadium Club released last week.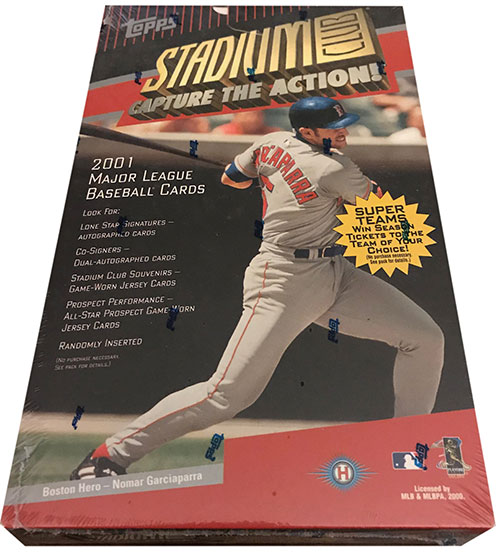 2001 Topps Stadium Club Baseball continues the legacy of great photography. The set is full of action shots, including players sliding, diving and leaping, which are some of my favorite shots. The base set consists of 200 cards. You can expect to pull cards from two different insert sets in every box, Capture the Action and Diamond Pearls. The other insert sets, relics, and autograph cards are pulled at much longer odds. The product was an early release for Topps, released in December, 2000. Because of this, the two big rookies of 2001, Ichiro Suzuki and Albert Pujols are not on the checklist. There are no notable Rookie Cards in the set.
Fun Facts are provided by Bleacher Report National MLB Columnist Joel Reuter. You can follow Joel on Twitter (@JoelReuterBR) and check out his work at Bleacher Report.
2001 Topps Stadium Club Baseball Box Break
Cards per pack: 7
Packs per box: 24
Price paid: $33 (prices have come up since I purchased this box nearly three years ago)

Pack 1 highlights:
Mariano Rivera, Ken Griffey, Jr. & Tim Salmon
Pack 1 fun fact: Mike Trout hit his 300th career home run on Saturday, overtaking Tim Salmon for the No. 1 spot on the Angels franchise leaderboard in the process.

Pack 2:
Barry Larkin, Albert Belle, Gary Sheffield, Rick Ankiel & Adam Wainwright
Pack 2 fun fact: The Braves sent Adam Wainwright to the Cardinals prior to the 2004 season in a five-player deal that brought J.D. Drew to Atlanta.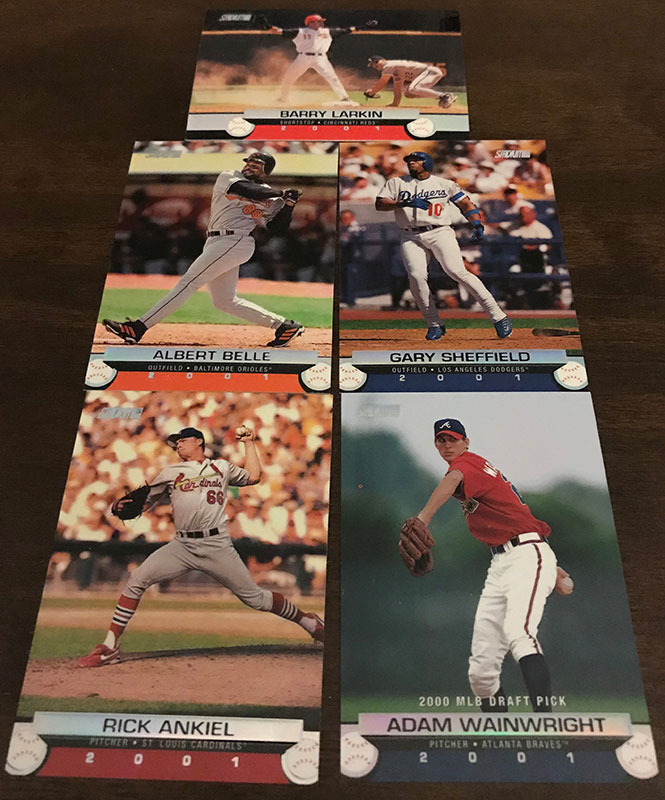 Pack 3:
Cal Ripken, Jr., Rickey Henderson, Andruw Jones, Jose Vidro, Grady Sizemore & Adrian Gonzalez
Pack 3 fun fact: A third-round pick in the 2000 draft, Grady Sizemore was traded to Cleveland two years later with Cliff Lee and Brandon Phillips in exchange for Bartolo Colon.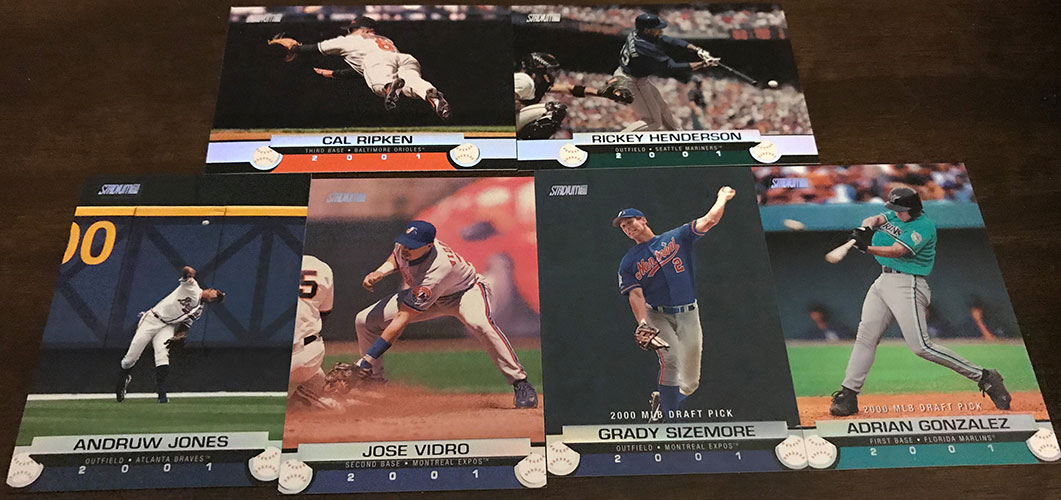 Pack 4:
Carlos Delgado, Edgar Renteria & Ken Griffey, Jr. Capture the Action (1:8 packs)
Pack 4 fun fact: Edgar Renteria was 19 years old when he made his MLB debut for the Marlins in 1996. He ended up finishing second in NL Rookie of the Year voting.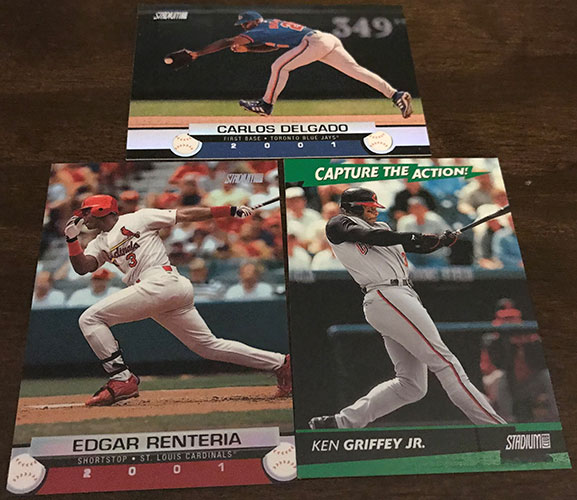 Pack 5:
Two airborn Orlandos; Orlando Cabrera & Orlando Hernandez
Pack 5 fun fact: Orlando Cabrera won his first of two career Gold Glove Awards in 2001, while also setting career-highs in home runs (14) and RBI (96). One of the most underrated players of the 2000s.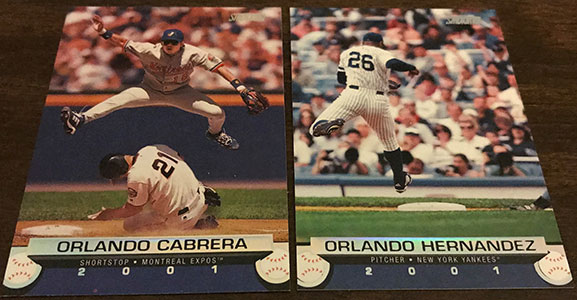 Pack 6:
Randy Johnson, Rafael Palmeiro, Rafael Furcal & Rocco Baldelli
Pack 6 fun fact: Rocco Baldelli was the No. 6 overall pick in the 2000 draft. He's one of just two players from that year's top 10 to record a positive career WAR total, along with No. 1 overall pick Adrian Gonzalez.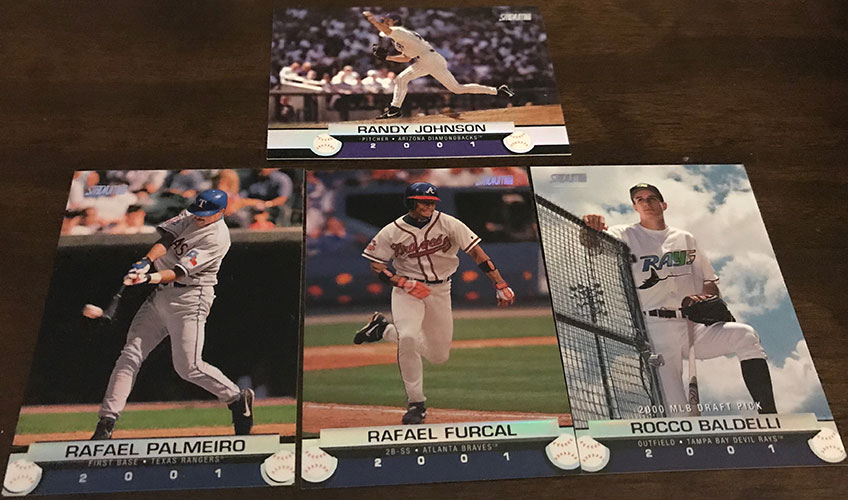 Pack 7:
Jorge Posada, Ivan Rodriguez, Alfonso Soriano & Barry Zito
Pack 7 fun fact: The 2001 season was Alfonso Soriano's first full year in the majors. He hit .268 with 34 doubles, 18 home runs and 43 steals to finish third in AL Rookie of the Year balloting.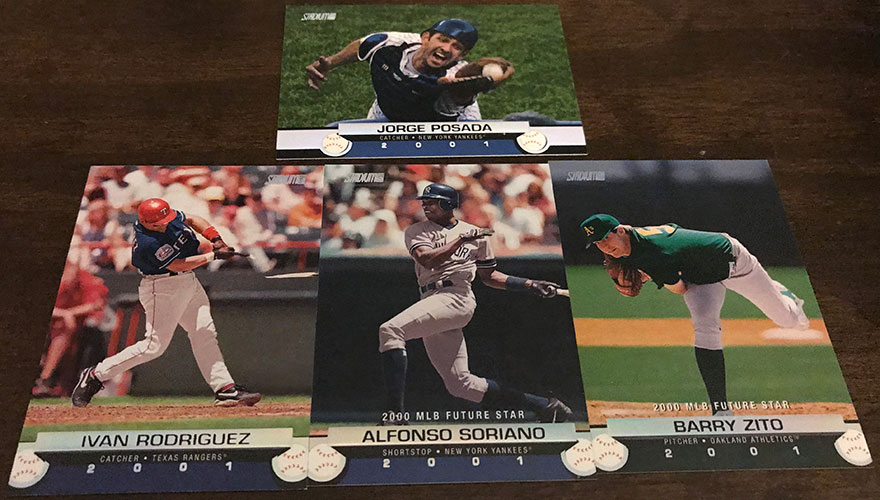 Pack 8:
Mike Mussina, Manny Ramirez & Cal Ripken, Jr. Capture the Action (1:8 packs)
Pack 8 fun fact: Cal Ripken Jr. hit .239 with 14 home runs and 68 RBI in his final MLB season in 2001. He was 40 years old and earned his 19th straight All-Star selection.

Pack 9:
Fred McGriff, Greg Vaughn, Paul O'Neill, Barry Bonds & Tony Gwynn
Pack 9 fun fact: Tony Gwynn also called it a career after a 2001 season where he hit .324/.384/.461 over 112 plate appearances.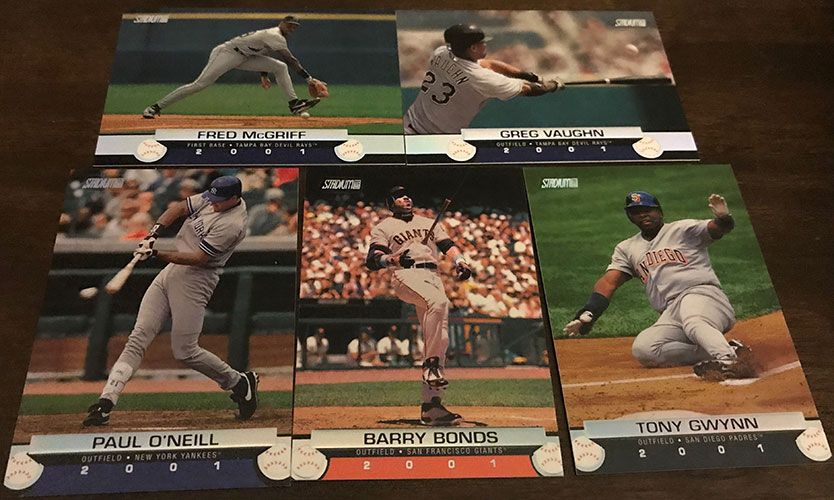 Pack 10:
Roberto Alomar, Alex Rodriguez & Larry Walker
Pack 10 fun fact: Larry Walker won his third NL batting title in four years in 2001 when he hit .350 with 38 home runs and 123 RBI.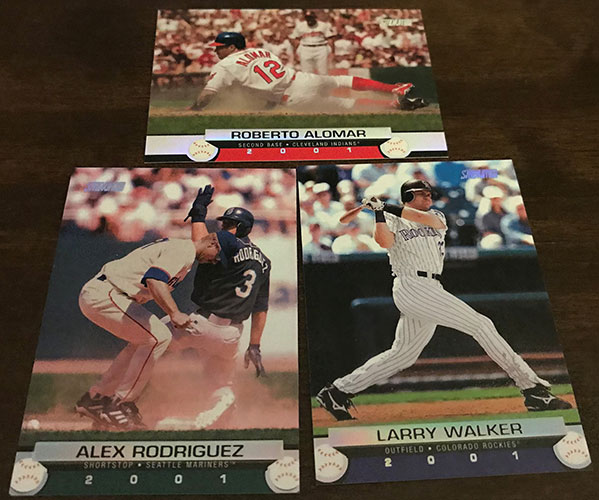 Pack 11:
Juan Gonzalez, Mo Vaughn, Jose Offerman & Craig Biggio
Pack 11 fun fact: Juan Gonzalez hit .289 with 22 home runs and 67 RBI in his only season with the Tigers in 2000. He was acquired prior to the year in a nine-player trade that sent six prospects to Texas.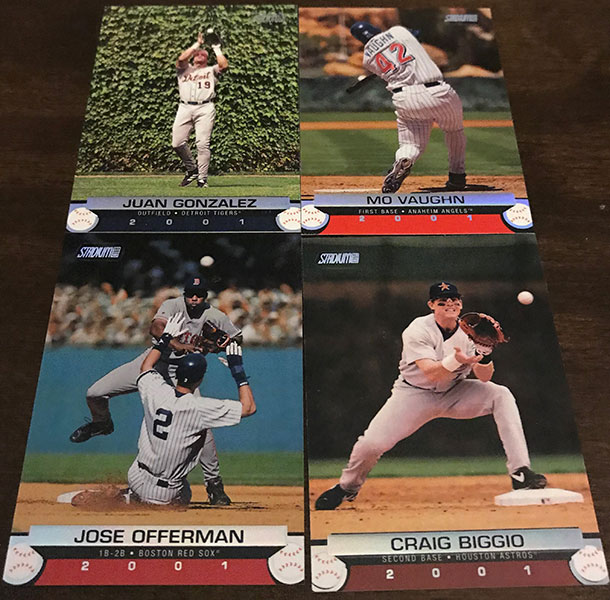 Pack 12:
Jeff Kent & Randy Johnson Diamond Pearls (1:8 packs)
Pack 12 fun fact: After winning NL MVP honors in 2000, Kent took home his second straight Silver Slugger Award in 2001 when he hit .298 with 49 doubles, 22 home runs and 106 RBI.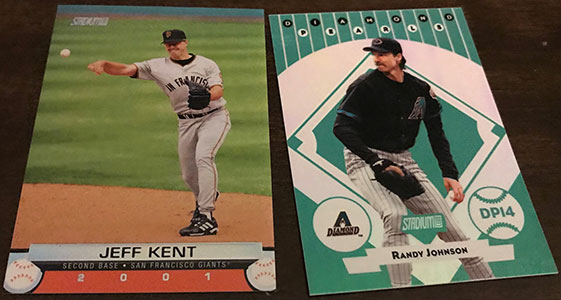 Pack 13:
Andruw Jones & Vladimir Guerrero
Pack 13 fun fact: Andruw Jones (No. 1) and Vladimir Guerrero (No. 9) were both ranked among the top 100 prospects by Baseball America at the start of the 1996 season. Suffice to say they lived up to expectations.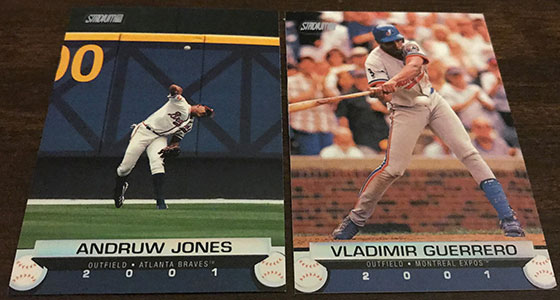 Pack 14:
Mike Hampton, Mark Grace & Vinny Castilla
Pack 14 fun fact: It's fitting that Mike Hampton is batting in his picture since he was one of the best hitting pitchers in recent memory. The five-time Silver Slugger winner hit a career-high seven home runs in 2001.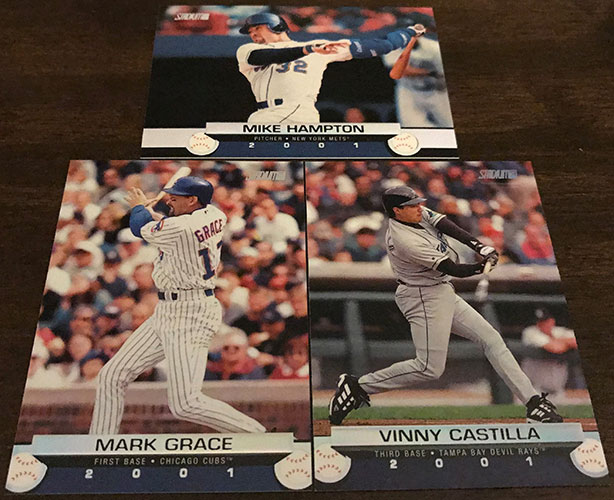 Pack 15:
Tom Glavine, Garret Anderson & Todd Helton
Pack 15 fun fact: Todd Helton was at his peak in 2001, hitting .336/.432/.685 with 54 doubles, 49 home runs and 146 RBI.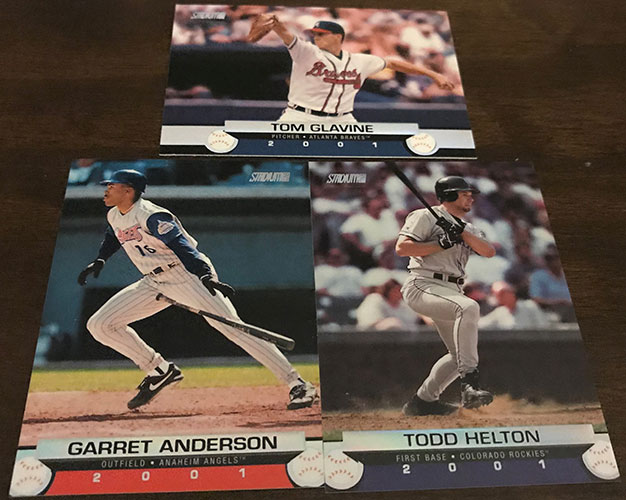 Pack 16:
Scott Rolen, Kenny Lofton & Manny Ramirez Diamond Pearls (1:8 packs)
Pack 16 fun fact: Best remembered for his speed on the bases, Kenny Lofton was also a stellar defensive center fielder, winning four Gold Glove Awards in his career.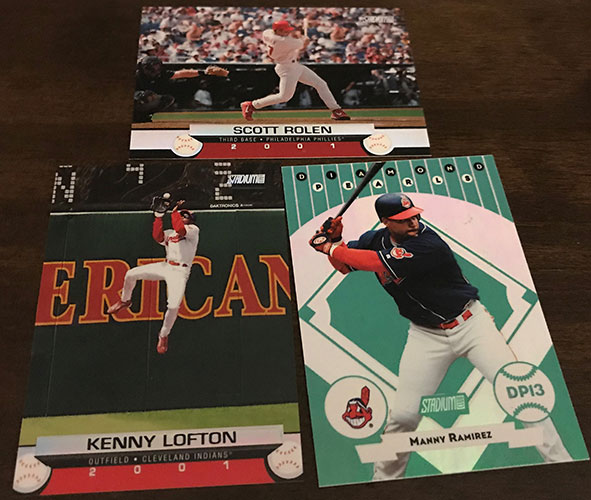 Pack 17:
Greg Maddux
Pack 17 fun fact: Greg Maddux went 17-11 with a 3.05 ERA, 1.06 WHIP and 173 strikeouts in 233 innings in 2001 at the age of 35. He led the NL with three shutouts.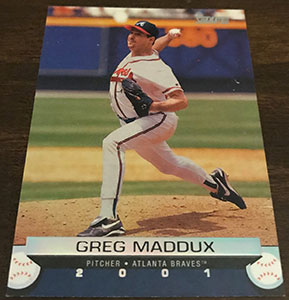 Pack 18:
Bernie Williams, Roger Clemens, Sammy Sosa, Derek Jeter & Jim Thome
Pack 18 fun fact: Sammy Sosa had arguably the best season of his career in 2001. He slugged 64 home runs, set career-highs in batting average (.328), on-base percentage (.437) and slugging (.737), and the NL in RBI (160), runs scored (142) and total bases (160).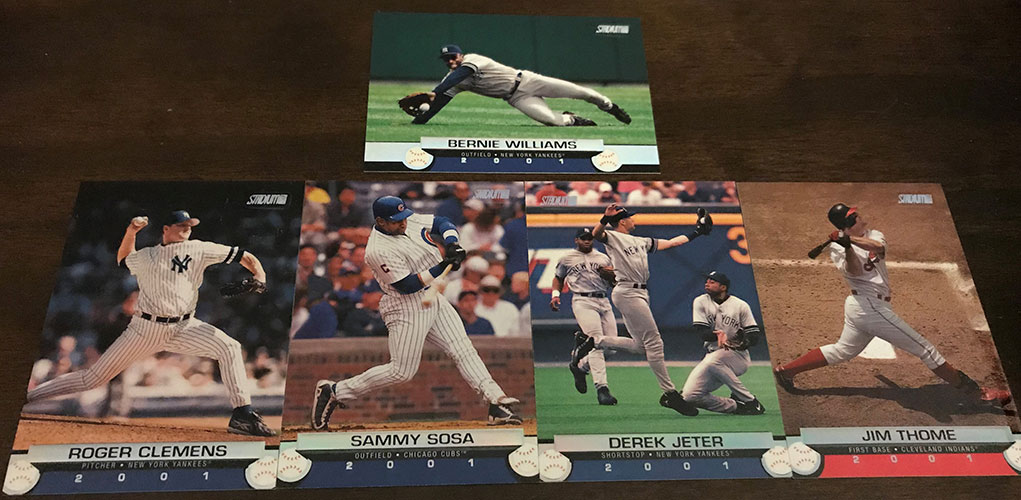 Pack 19:
Ken Caminiti & Mike Lowell
Pack 19 fun fact: Another player who hung up his spikes after the 2001 campaign, Ken Caminiti hit .228 with 15 home runs and 41 RBI while splitting the season between Texas and Atlanta.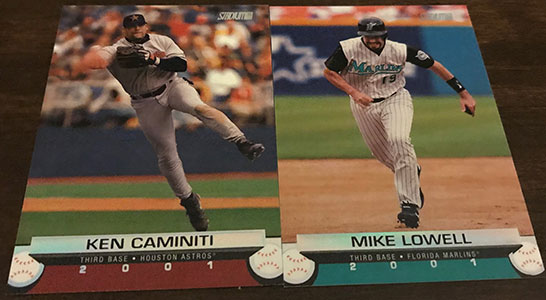 Pack 20:
Troy Glaus & Nomar Garciaparra Diamond Pearls (1:8 packs)
Pack 20 fun fact: At the age of 24, Troy Glaus posted his second straight 40-homer, 100-RBI season in 2001. He finished his career with 320 home runs and was one of the most dangerous sluggers in all of baseball at his peak.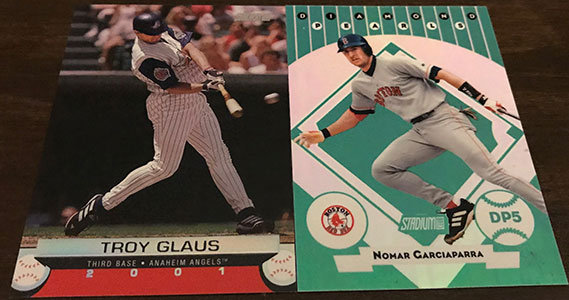 Pack 21:
Frank Thomas, Nomar Garciaparra & Mark McGwire
Pack 21 fun fact: Another superstar who played his final MLB season in 2001, Mark McGwire posted a 105 OPS+ despite a .187 batting average. He had 56 hits on the year and 29 of them were home runs.

Pack 22:
Jeff Bagwell & Josh Hamilton.
Pack 22 fun fact (via Shane): I play in a men's wood bat baseball league. A teammate of mine was drafted by the Devil Rays in 2005. He said he was in minor league camp in the spring of 2006, and a teammate of his that he hadn't met yet took batting practice and hit almost everything over the fence. That fellow Rays minor leaguer? Josh Hamilton.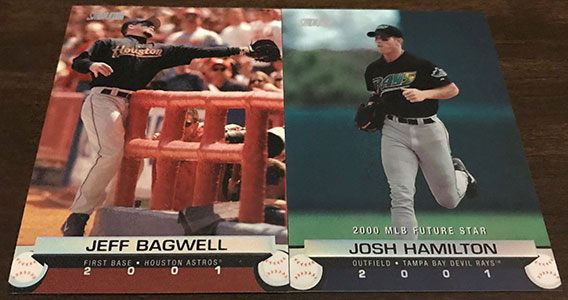 Pack 23:
Jeff Bagwell, Luis Gonzalez & Chipper Jones (with a play we don't see anymore, the home plate collision)
Pack 23 fun fact: Luis Gonzalez hit .325/.429/.688 with 57 home runs and 142 RBI in a 7.9-WAR season in 2001. That performance helped lead the fledgling D-backs to a World Series title in their fourth year of existence.

Pack 24:
Andruw Jones & Mike Piazza Capture the Action (1:8 packs)
Pack 24 fun fact: Mike Piazza's .308 career batting average trails only Mickey Cochrane (.320) and Bill Dickey (.313) among catchers who recorded at least 5,000 plate appearances.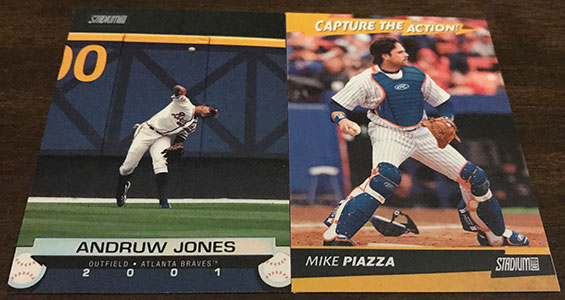 I have always loved Stadium Club. The photography stands out and there have typically been some really good looking inserts as well. I buy a box of Stadium Club every year, and it is not about the hits. The base cards are excellent. I just received my box of 2020 Stadium Club, and can't wait to bust it.
Shop for 2001 Topps Stadium Club Baseball on:
Want more installments of Shane Salmonson's Cheap Wax Wednesday? Check out his other breaks in the archives.