Cheap Wax Wednesday Box Breaks: 2001 Topps Fusion Baseball
With all the card manufacturers, some new set ideas work, and some simply do not. 2001 Topps Fusion Baseball probably didn't go over as well as the card maker would have hoped.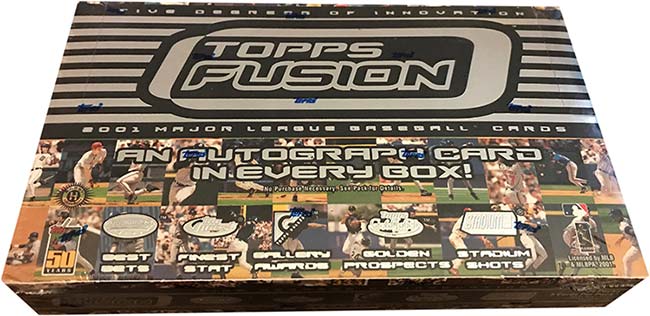 During the 2001 baseball season, Topps released fifteen different card sets. The idea behind Fusion was to take five of their releases (Bowman's Best, Finest, Gallery, Gold Label, and Stadium Club) and combine them into one product. Each pack has one card with each set design. 
The base set consisted of 250 cards. Lots of players are on multiple designs, with some having as many as four different base cards.
Autographs and relics to be found in packs. There was some confusion right off the bat, though, as boxes tout the inclusion of an autograph in every box. However, the packs state there's either an autograph or a relic card in every box. The autograph checklist does feature some big names, including legends like Harmon Killebrew, Don Larsen, Frank Robinson, Warren Spahn, and Willie Stargell.
2001 Topps Fusion Baseball Box Break
Cards per pack: 5
Packs per box: 24
Price paid: $50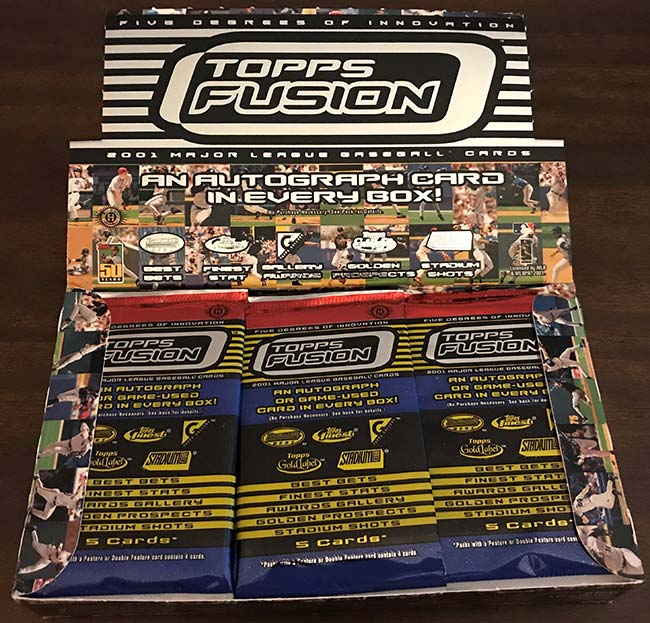 Pack 1:
Tony Womack, Raul Mondesi, Todd Helton, Keith Ginter & Jorge Posada
Speedster Tony Womack averaged 59 stolen bases per season 1997-2000. He stole 363 total bases over a 13-year major league career.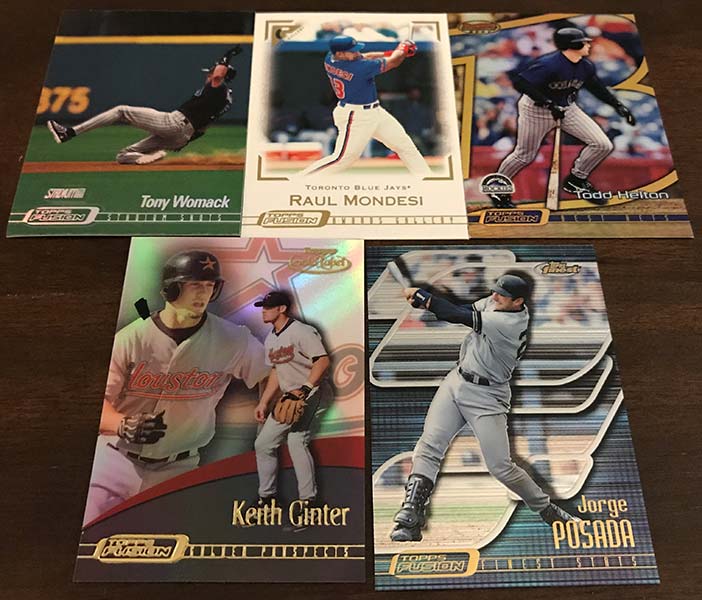 Pack 2:
Jim Thome & Geoff Jenkins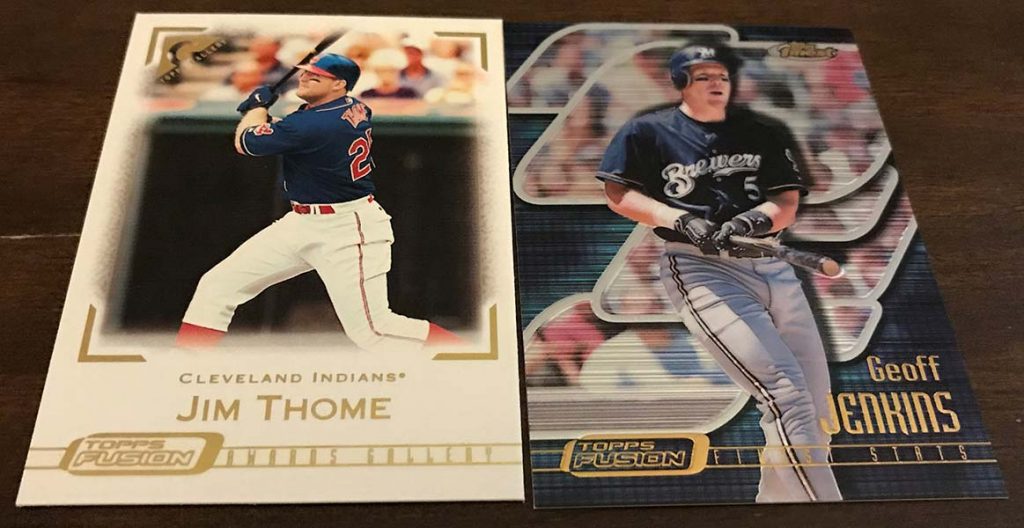 Pack 3:
Nomar Garciaparra, Larry Walker, Mo Vaughn, Chipper Jones & Hee Seop Choi
Choi was rated the #22 overall prospect in baseball prior to the 2001 season. His minor league success didn't carry over to the major leagues, though, and as he hit .240 over 363 major league games before returning to Korea to continue his professional career.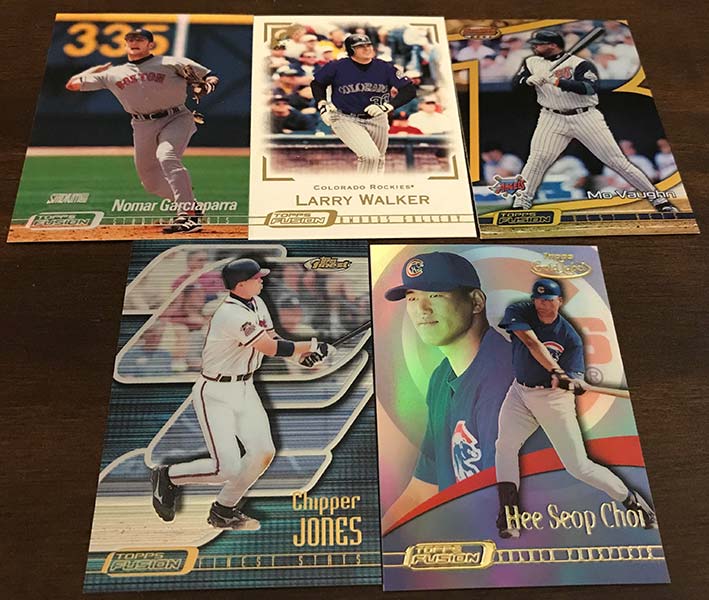 Pack 4:
Frank Thomas, Andres Galarraga, Roberto Alomar & Rafael Palmeiro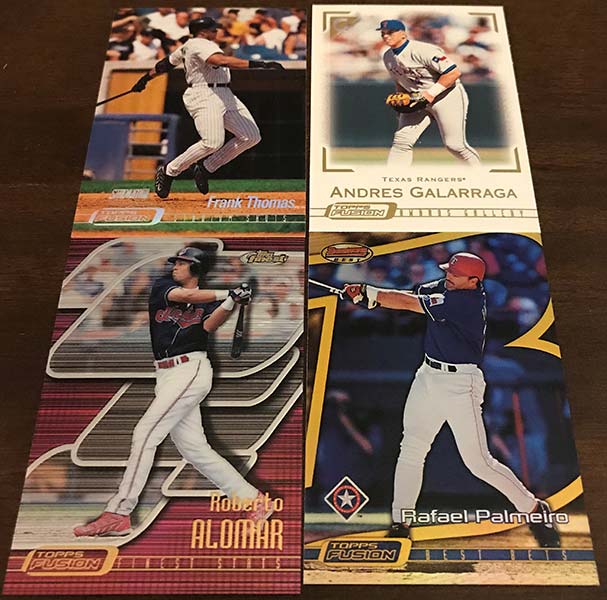 Pack 5:
Tony Gwynn, Robin Ventura, Luis Castillo & Roberto Alomar
A .290 career hitter, Luis Castillo never hit more than six home runs in any single season of his career. His career highlight? His 35-game hitting streak in 2002.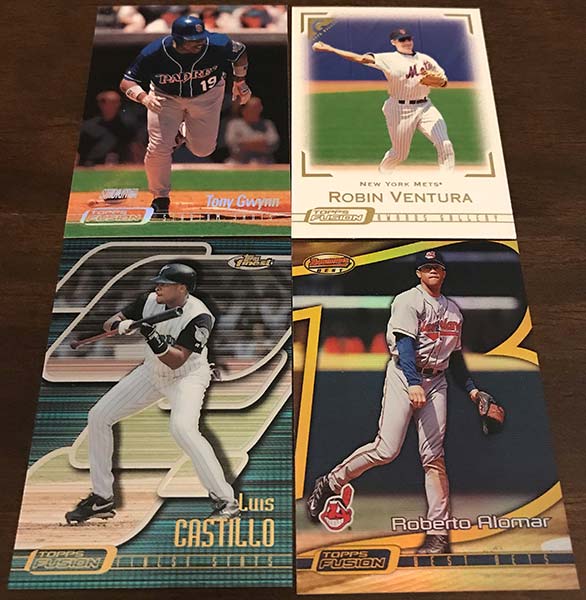 Pack 6:
Gary Sheffield, Carlos Delgado & Jose Vidro

Pack 7:
Jeff Kent, Ivan Rodriguez, Jermaine Dye & Greg Maddux
Jermaine Dye had a solid 14-year major league career. His best year came in 2006, playing for the White Sox. Dye hit .315 with 44 home runs and 120 RBI. He finished 5th in the AL MVP voting.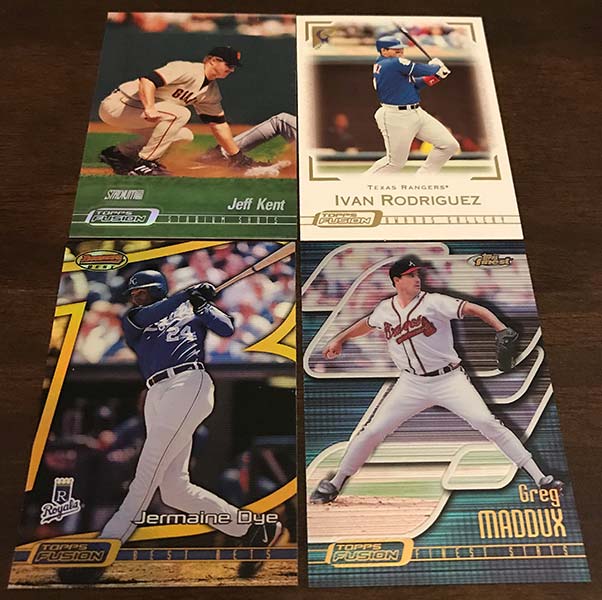 Pack 8:
Mark Grace, Sammy Sosa, Frank Thomas, Craig Biggio & Milton Bradley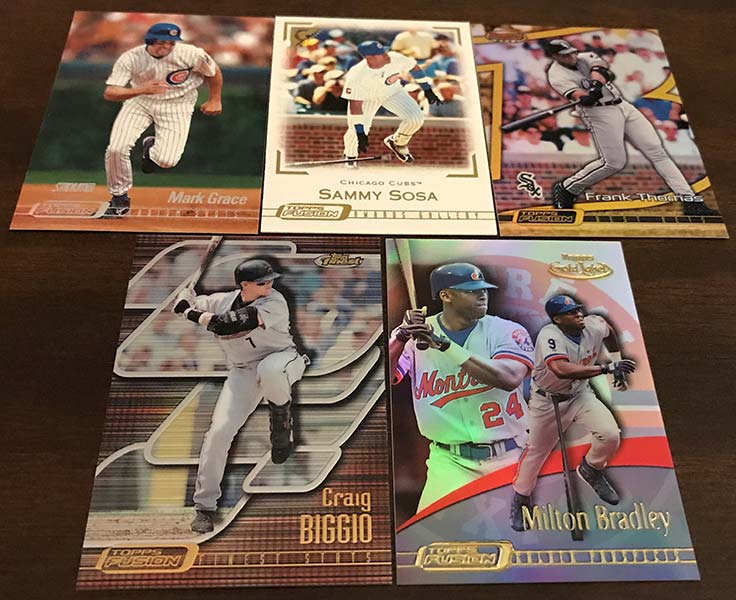 Pack 9:
Barry Larkin, Derek Jeter, Rafael Palmeiro & Nomar Garciaparra
Nomar burst onto the scene in 1997 and won the AL Rookie of the Year award unanimously after posting an impressive stat line featuring a .306 batting average, 30 home runs, 98 RBI and 122 runs scored. He also led the AL with 209 hits.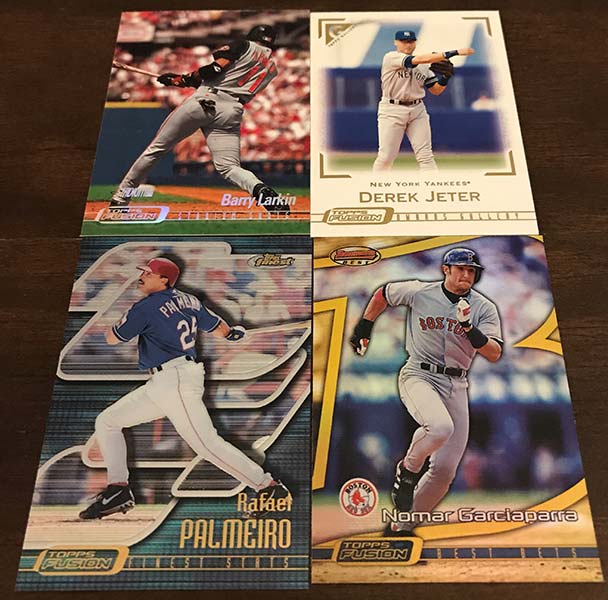 Pack 10:
Mike Mussina, Barry Larkin & Mark McGwire

Pack 11:
Barry Bonds & Jason Kendall
Bonds won his fourth NL MVP award in 2001, the same year he set the single-season home run mark, with 73 long balls.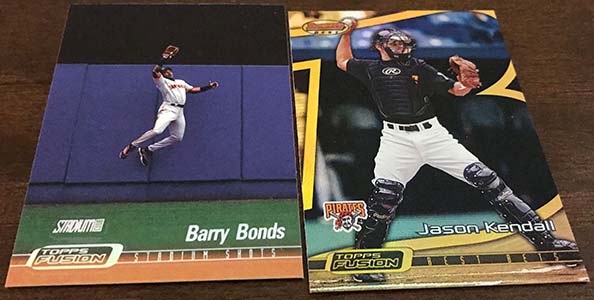 Pack 12:
Jason Kendall, Chipper Jones & Johnny Damon

Pack 13:
Mark McGwire, Shawn Green, Darin Erstad, Green again & Nick Johnson
Shawn Green played every game of the 2000 season, blasting 24 home runs. He followed that up by playing in all but one game in 2001, hitting 49 homers.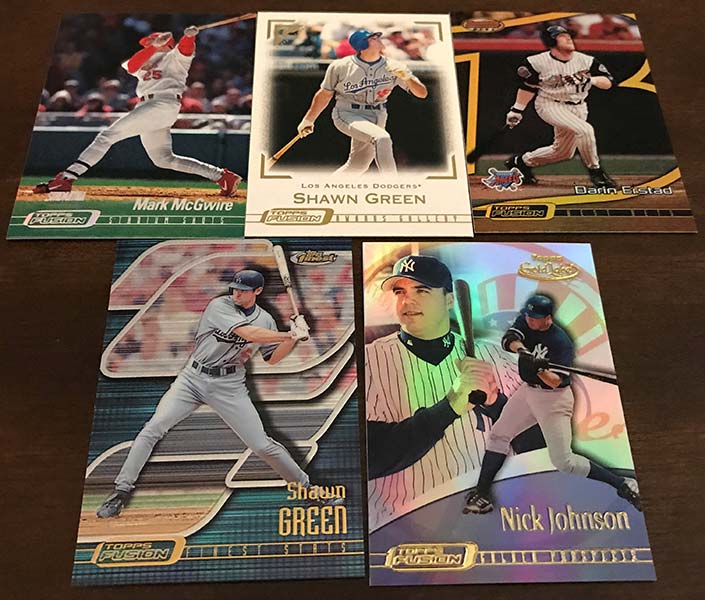 Pack 14:
Alex Rodriguez, Tim Salmon, Gary Sheffield & another Tim Salmon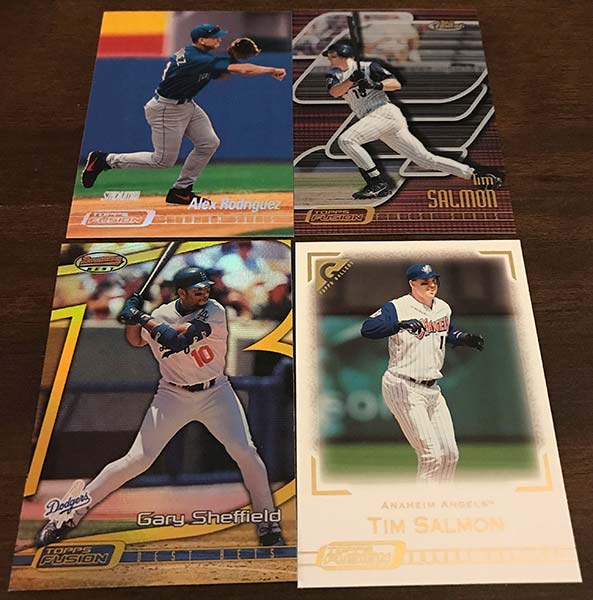 Pack 15:
Scott Rolen, Bernie Williams & Joe Crede
Bernie was the model of consistency, batting over .300 in eight straight seasons starting in 1995. He finished his career with a .297 batting average, playing over 2,000 games, all for the Yankees. 

Pack 16:
Raul Mondesi, Andruw Jones & Jason Giambi

Pack 17:
Jim Edmonds & Jeromy Burnitz
Burnitz is one of the forgotten sluggers of the late '90s and early 2000's. He hit 30+ home runs six out of seven seasons between 1998 and 2004.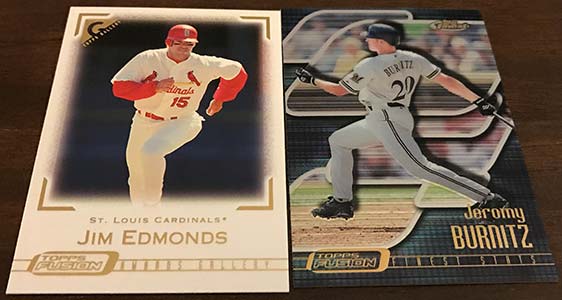 Pack 18:
Carlos Delgado & Robin Ventura Feature Bat Relic (1:82 packs)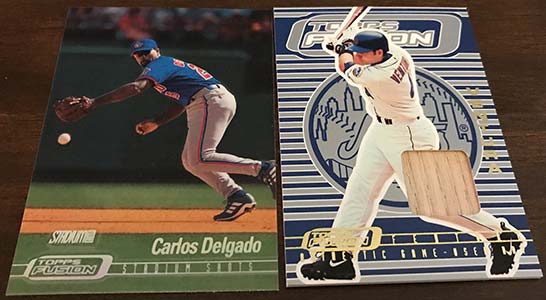 Pack 19:
Barry Bonds, Mark McGwire & Garret Anderson
McGwire called it a career after the 2001 season. He went out blasting another 29 home runs in just 97 games, but hitting just .187.

Pack 20:
Fred McGriff, Pedro Martinez & Albert Belle

Pack 21:
Jim Thome, Barry Larkin, Greg Maddux, Jermaine Dye & Josh Hamilton
Hamilton was drafted by the Rays first overall in the 1999 draft. He would never play for the team though, after being selected by the Cubs during the 2006 Rule 5 Draft. He was sold to the Reds the same day he was selected by the Cubs.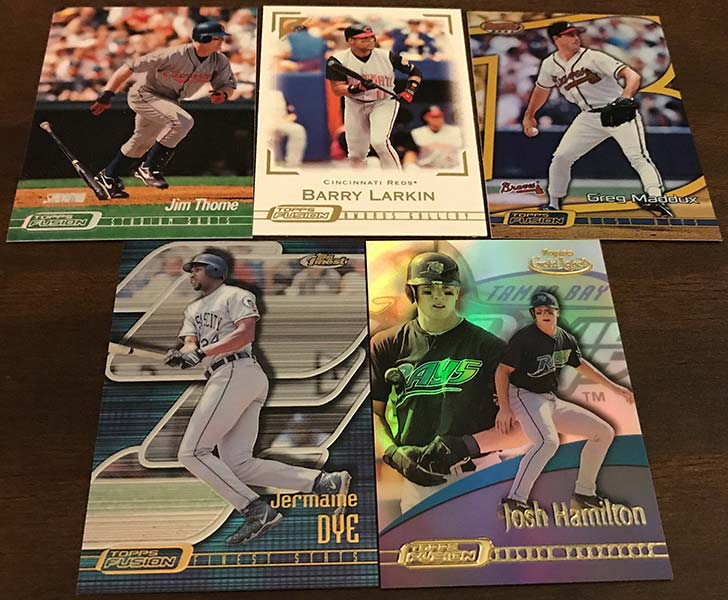 Pack 22:
Vladimir Guerrero, Scott Rolen & Roberto Alomar

Pack 23:
Mike Piazza, Jeff Kent & John Olerud
John Olerud possessed a sweet, left-handed swing. He showed it off during his 17-year major league career, collecting 2,239 base hits. 

Pack 24:
Scott Rolen, Mark Grace & Nomar Garciaparra

As you can see, the line on the box boasting an autograph in every box was, indeed, wrong. This product was…interesting. I do wish there were some inserts to chase in this one, but aside from the autographs and relic cards, there are not.
I was not lucky enough to pull an autograph but wish I had pulled one of the Hall of Famers. That certainly would have more for a more exciting break.
Fusion was a one-and-done product, never released again by Topps. 
Shop for 2001 Topps Fusion Baseball on:
Want more installments of Shane Salmonson's Cheap Wax Wednesday? Check out his other breaks in the archives.