Cheap Wax Wednesday Box Breaks: 1999 Team Best Rookies Baseball
This week, with the flipping of the calendar, we kick off Minor League May. I came up with this themed month on my blog back in 2017 and have showcased 15 different minor league baseball products since then.
Minor league products can be really fun to open. Now, keep in mind that most minor league players never see a major league roster, so these boxes typically aren't loaded with big names in any real quantity. However, finding some big names pictured in their early minor league uniforms is always a plus. Another benefit — these boxes can often be found extremely cheap.
Team Best released minor league baseball products from 1998 until 2001, often producing many different sets each year. In 1999 alone there was Team Best, Diamond Best, Top Prospects, and this product, Team Best Rookies. The base set features 100 cards, mixing some big names with some even I have never heard of. The product also featured four insert sets: Best Guns, Best Lumber, Best Wheels, and Future Stars. Autographs are also included.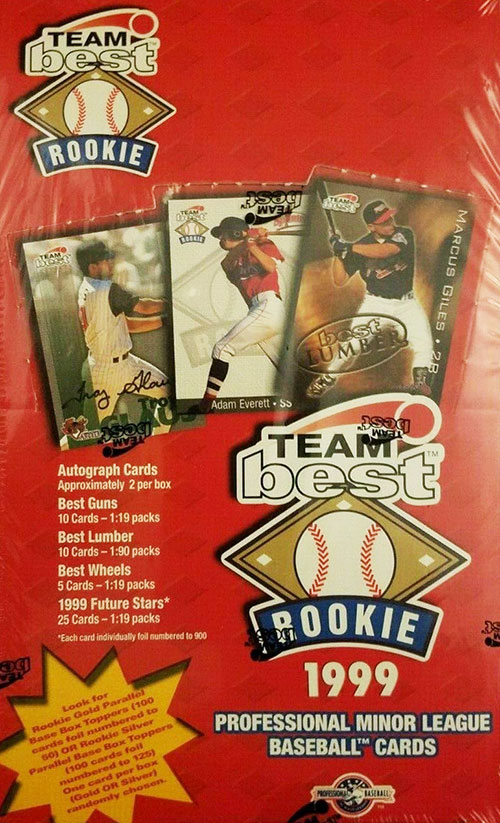 Fun Facts are provided by Bleacher Report National MLB Columnist Joel Reuter. You can follow Joel on Twitter (@JoelReuterBR) and check out his work at Bleacher Report.
1999 Team Best Rookies Baseball Box Break
Cards per pack: 6
Packs per box: 18
Price paid: $8

Pack 1 highlights:
Former Mets, Rays & Twins outfielder Jason Tyner
Pack 1 fun fact: Jason Tyner stole 31 bases in 37 attempts as the Rays' primary lead-off hitter in 2001.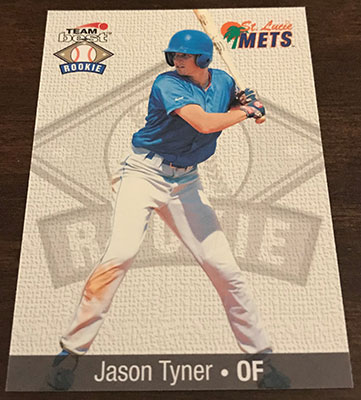 Pack 2:
Corey Patterson & Nathan Haynes Best Wheels (1:19 packs)
Pack 2 fun fact: How good were the wheels on Nathan Haynes? He swiped 42 bases for Oakland's High-A affiliate in 1999, and racked up 259 total steals in 12 minor league seasons.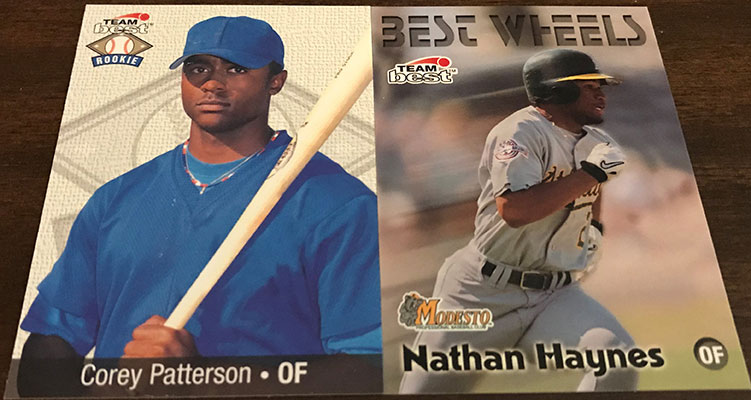 Pack 3:
Brad Wilkerson
Pack 3 fun fact: Brad Wilkerson finished second in NL Rookie of the Year voting in 2002, behind Colorado Rockies starter Jason Jennings. He had an .840 OPS with 20 home runs and 59 RBI in 153 games.
Pack 4:
No names I even recognized in this one. These six players combined to appear in three major league games.
Pack 4 fun fact: Yes, this is that Chad Hutchinson. The 6'5" right-hander never developed on the baseball diamond, but he did start 14 games in the NFL. He threw for 2,466 yards with 11 touchdowns and 11 interceptions while going 3-11 for the Dallas Cowboys and Chicago Bears.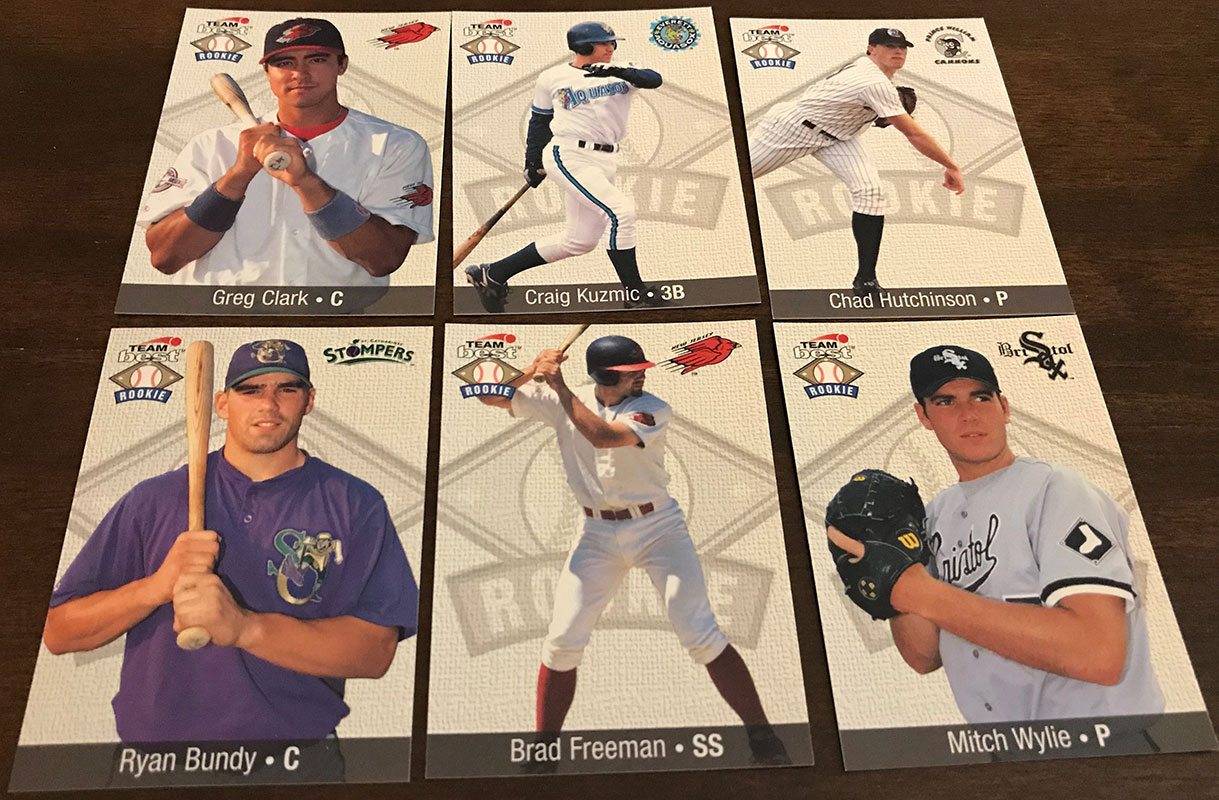 Pack 5:
Aaron Rowand & Troy Glaus Baseball America ad card
Pack 5 fun fact: Aaron Rowand made the NL All-Star team and won a Gold Glove Award in center field for the Philadelphia Phillies in 2007.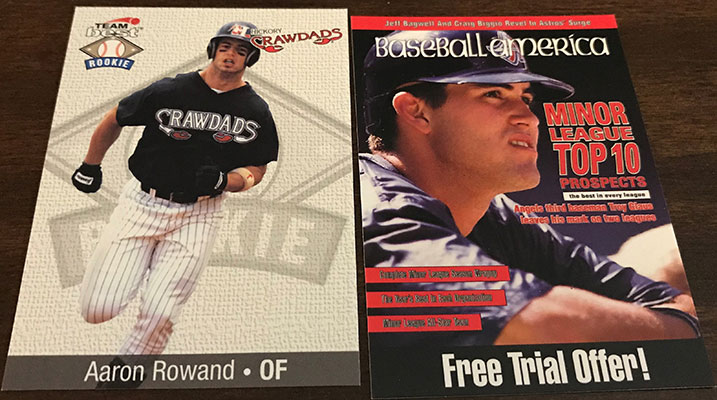 Pack 6:
Mark Fischer Autograph (1:8 packs). Not someone who had major league success, but at least for me it was a former Red Sox prospect!
Pack 6 fun fact: Mark Fischer was inducted into the Georgia Tech Sports Hall of Fame in 2008. He had 24 home runs and 98 RBI to earn First Team All-American honors as a junior before going No. 35 overall in the 1997 draft.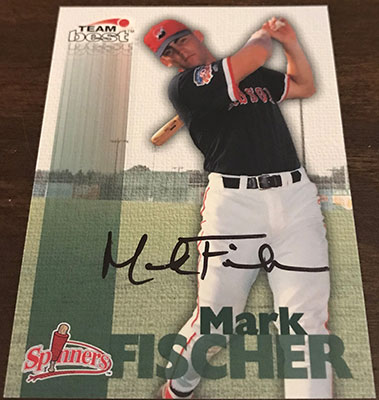 Pack 7:
Mark Mulder
Pack 7 fun fact: Mark Mulder is a terrific golfer. He even played in a PGA event, the 2018 Safeway Open. While he failed to make the cut, he did shoot a respectable +5 over his two days at the event.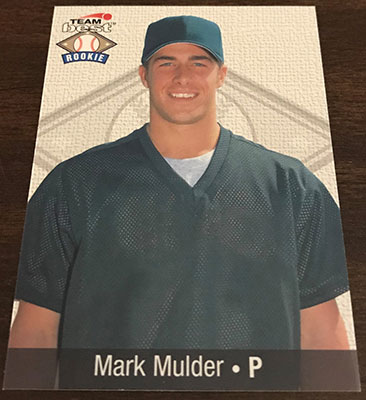 Pack 8:
Todd Noel Autograph (1:8 packs). Another player that never made it to the majors.
Pack 8 fun fact: Todd Noel was the 17th pick in the 1996 draft, just ahead of solid MLB starters R.A. Dickey (18th), Eric Milton (20th), Jake Westbrook (21st) and Gil Meche (22nd).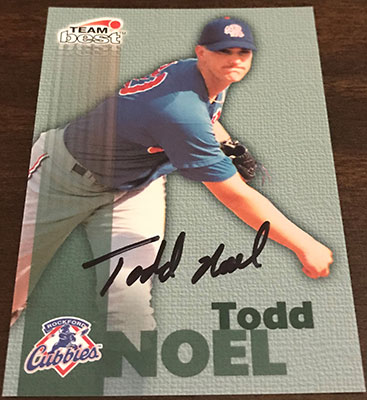 Pack 9:
Former Tigers lefty Mike Maroth
Pack 9 fun fact: Mike Maroth is the only pitcher since 1980 to lose 20 games in a season. He went 9-21 in 2003 for a Detroit Tigers team that lost 119 games.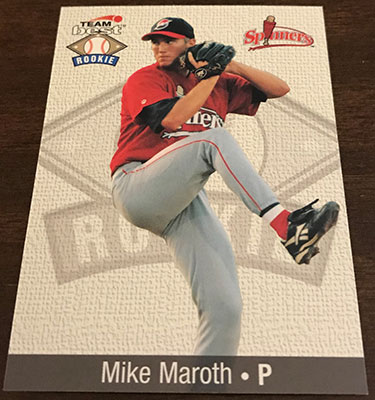 Pack 10:
Adam Everett
Pack 10 fun fact: Adam Everett was one of the best defensive players in baseball during his prime. He turned in four straight seasons with at least 2.0 WAR from 2003 to 2006 as the Houston Astros starting shortstop.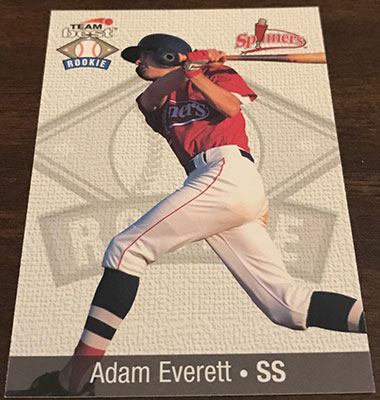 Pack 11:
Brandon Inge & Eric Byrnes
Pack 11 fun fact: The 20-homer, 50-steal club is an exclusive group, with just 11 different players accomplishing that feat at least once in their career. Eric Byrnes is part of the club with a 21-homer, 50-steal season for the Diamondbacks in 2007.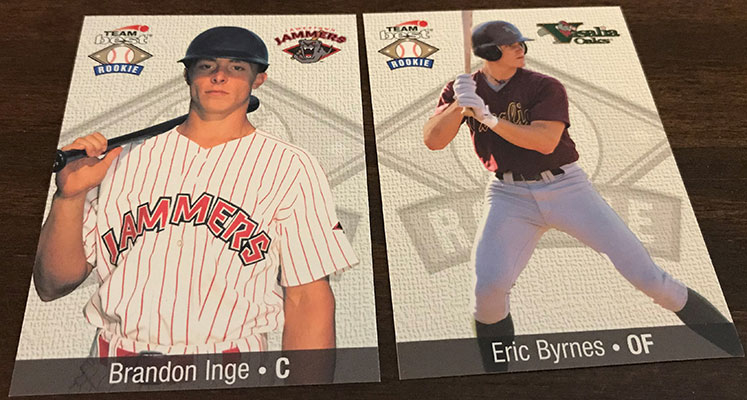 Pack 12:
Rick Ankiel Best Guns (1:19 packs)
Pack 12 fun fact: This card was likely a hot commodity at the time. Rick Ankiel began the 1999 season as the No. 2 prospect in baseball, according to Baseball America. The following year he moved up to the No. 1 spot on their Top 100 list.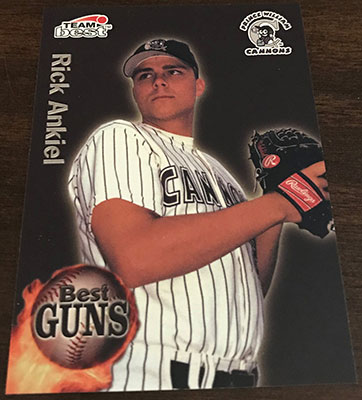 Pack 13:
J.D. Drew, Aubrey Huff, C.C. Sabathia & Pablo Ozuna/J.D. Drew Future Stars 850/900 (1:19 packs)
Pack 13 fun fact: The Cardinals eventually used Pablo Ozuna and J.D. Drew to acquire Edgar Renteria and Adam Wainwright, respectively, in two of the better trades in franchise history.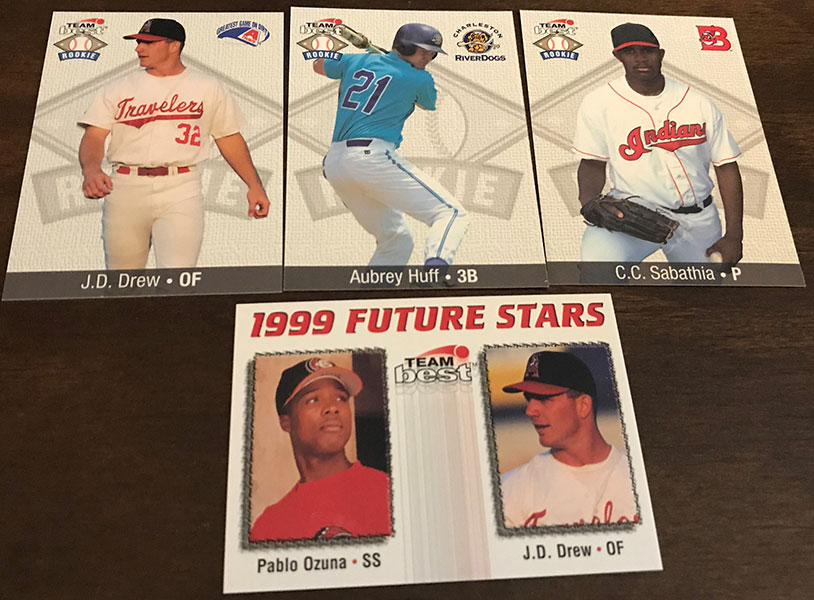 Pack 14:
A couple of former left-handed relievers, Javier Lopez & Matt Thornton
Pack 14 fun fact: Matt Thornton was an All-Star in 2010 while pitching for the White Sox. He posted a 2.67 ERA and 12.0 K/9 with eight saves and 21 holds in 61 appearances.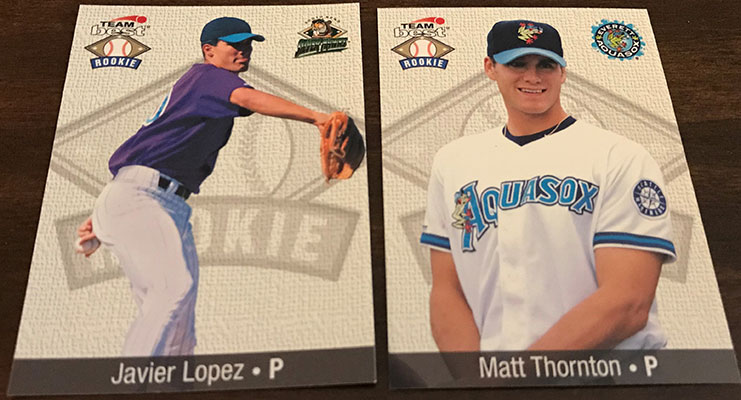 Pack 15:
Mark Mulder
Pack 15 fun fact: You're really testing my Mark Mulder fun-fact depth, Shane. How about this: His 103 wins are second-most in MLB history among Michigan State alums. The No. 1 spot on that list belongs to Hall of Famer Robin Roberts with 286.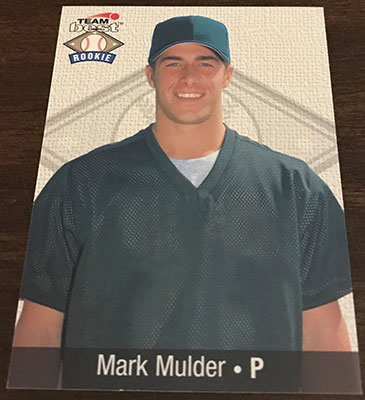 Pack 16:
Corey Patterson & Felipe Lopez
Pack 16 fun fact: Corey Patterson (3rd) and Felipe Lopez (8th) were both top-10 picks in the 1998 draft. Patterson stuck around for 12 MLB seasons, while Lopez played for 11 years.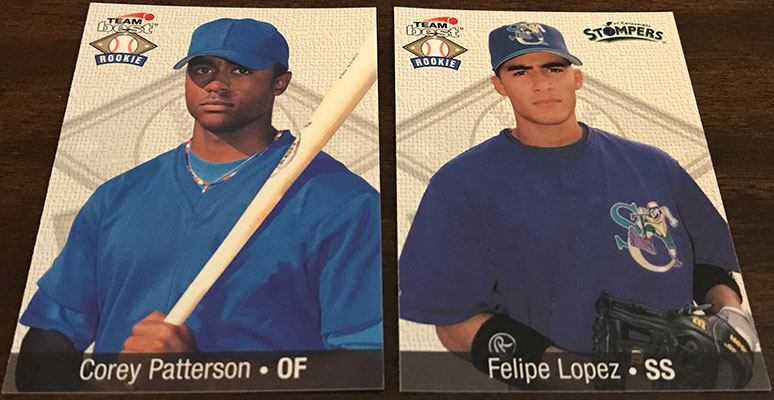 Pack 17:
Two-time World Series champion, Pat "The Bat" Burrell
Pack 17 fun fact: Pat Burrell ranks eighth all-time in home runs (292) among players who were taken No. 1 overall in the draft. He trails Alex Rodriguez (696), Ken Griffey Jr. (630), Chipper Jones (468), Harold Baines (384), Darryl Strawberry (335), Adrian Gonzalez (317) and Justin Upton (298).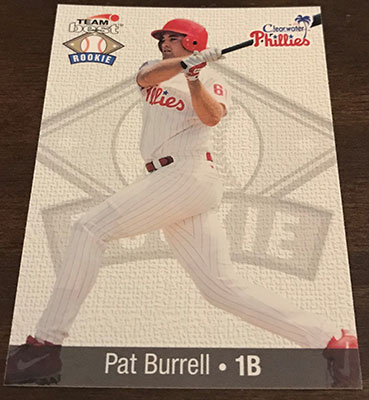 Pack 18:
Morgan Ensberg
Pack 18 fun fact: Morgan Ensberg finished fourth in NL MVP voting in 2005 when he hit .283/.388/.557 with 36 home runs and 101 RBI. He played his final MLB game just three years later.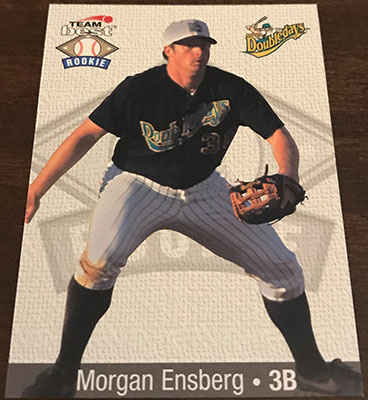 Also included in every box is a box topper parallel card. Gold parallels are numbered to 50 copies, while Silver parallels are numbered to 125 copies. This box had a Ryan Drese Gold Parallel numbered 20/50 on the back.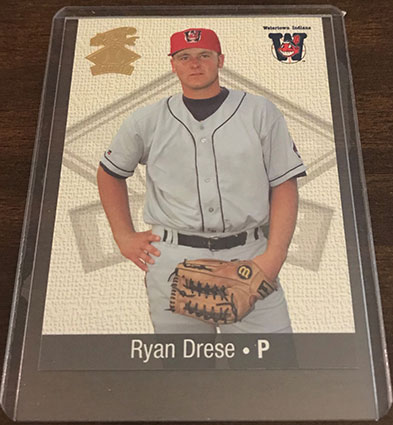 Lastly, the C.C. Sabathia card back, featuring his stats from five rookie league games after being drafted by the Indians in the first round of the 1998 draft.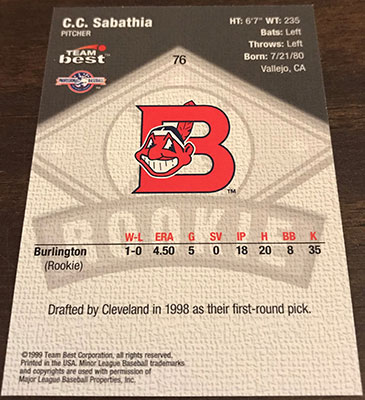 Like I said, most minor league products won't feature a ton of star potential. But there are still big names to be found. The team names alone make these products worth a shot, especially at under $10 a box. Where else are you going to find a card featuring Aaron Rowand playing for the Crawdads? Or J.D. Drew suiting up for the Travelers? And yes, Sabathia is pictured in an Indians uniform, but not the Cleveland Indians. That would be a Burlington, North Carolina Indians jersey. How many of those have you come across?
Shop for 1999 Team Best Rookies Baseball on:
Want more installments of Shane Salmonson's Cheap Wax Wednesday? Check out his other breaks in the archives.