Cheap Wax Wednesday Box Breaks: 1998 Bowman Series 2 Baseball
Current Bowman releases can get a bit confusing. Sure, they are a collector favorite for their 1st Bowman cards, autographs and parallels. But just the parallels alone can be mind-blowing. Prospects in 2022 Bowman Baseball have nearly 30 different parallels on just their Chrome cards. The standard Bowman Prospects, which are in the same packs, have more than a dozen parallels. How does that compare to the 1998 Bowman Baseball? Well, there were just two parallels in 1998, and one is a tough pull found just once in every eight boxes or so.
1998 Bowman Series 2 features 220 base cards. Each has two parallels. International versions feature a map of the player's hometown as a background and are found one per pack. Golden Anniversary parallels ware much tougher to find, serial numbered to just 50 copies.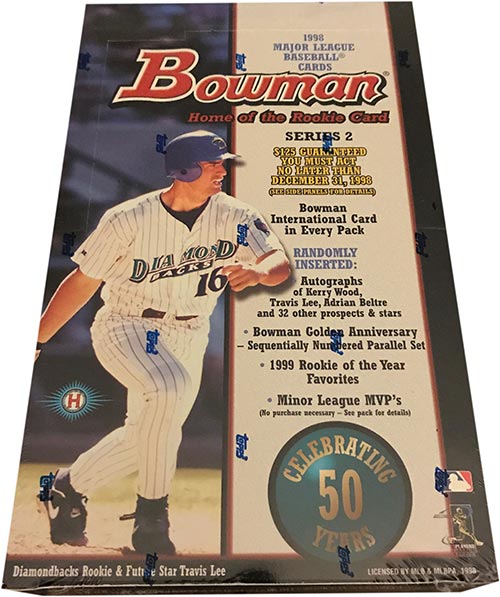 There are also autographs in this product, though much tougher to find than current Bowman releases. Signatures in Series 2 were found just once in every 122 packs.
As far as notable rookies in Series 2, those were slim pickings. The top name is probably Carlos Lee.
1998 Bowman Series 2 Baseball Box Break
Cards per pack: 10
Packs per box: 24
Price paid: $21

Pack 1 highlights:
Wade Miller RC, Carlos Delgado, Rod Beck & Brian Jordan International Parallel (one per pack)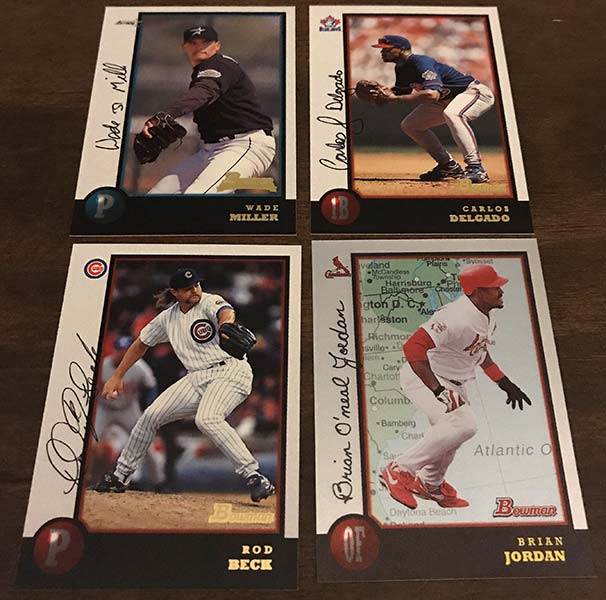 Pack 2:
Barry Bonds, Mariano Rivera, Steve Finley & Robinson Checo International
Checo pitched in just 16 major league games in his career, posting a 7.61 ERA.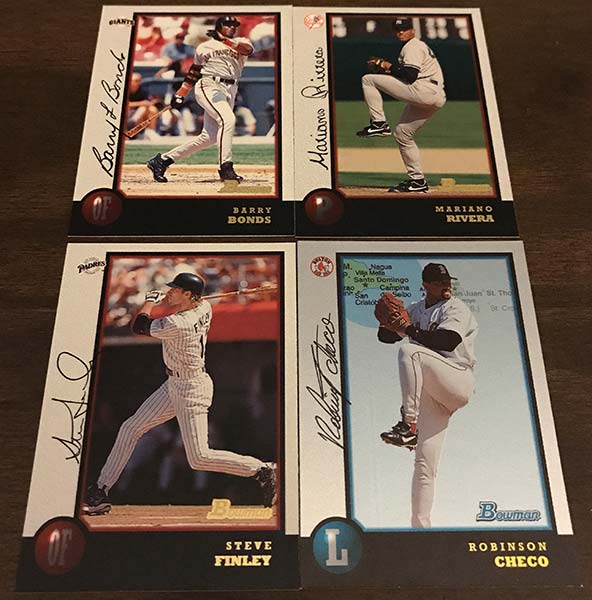 Pack 3:
Alex Rodriguez & Dean Palmer International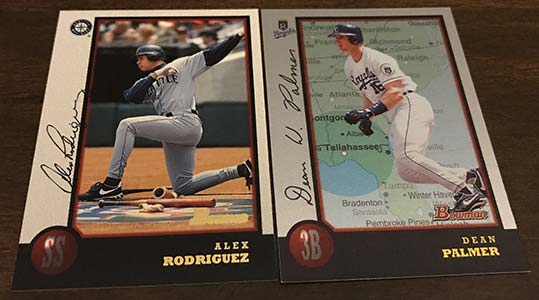 Pack 4:
Masato Yoshi RC & Darron Ingram International
I do love the Japanese facsimile signature on the Yoshi card!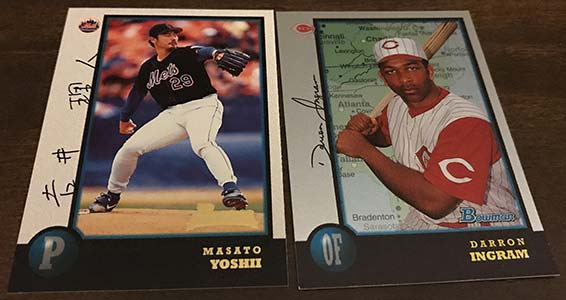 Pack 5:
Jose Canseco, Rey Ordonez, Wade Boggs, Hideo Nomo, Ellis Burks & Tom Evans International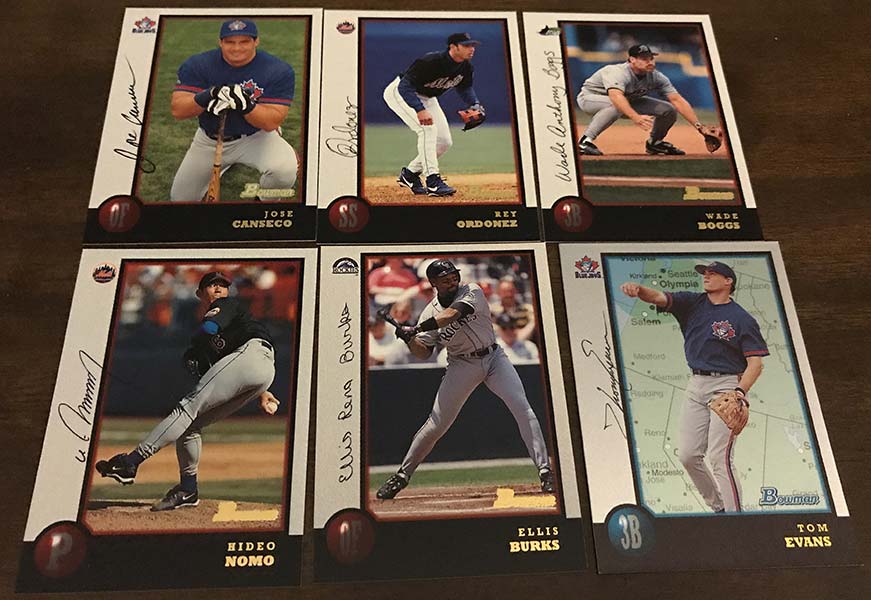 Pack 6:
Javier Vazquez, Pedro Martinez & Michael Coleman International
Vazquez and Martinez just missed pitching in the same rotation in Montreal, as Vazquez debuted just after Pedro's trade to Boston.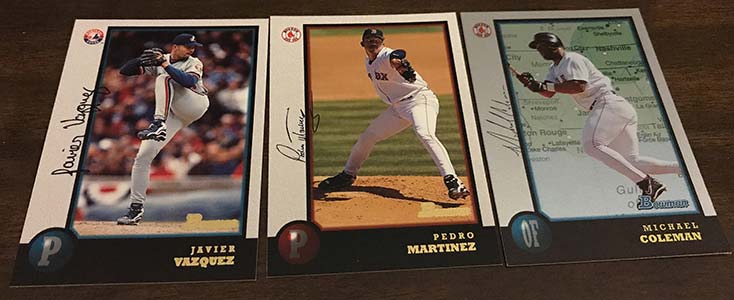 Pack 7:
A.J. Pierzynski, Bret Saberhagen & Adam Butler International

Pack 8:
Cal Ripken, Jr., Jim Edmonds, Will Clark & Scott Williamson International
Williamson won the 1999 NL Rookie of the Year Award, pitching in 62 games for the Reds with an impressive 2.41 ERA.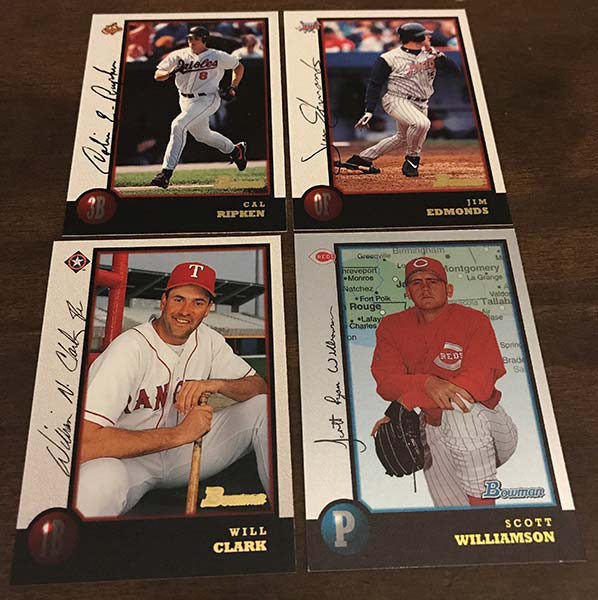 Pack 9:
Dante Bichette & Bobby Higginson International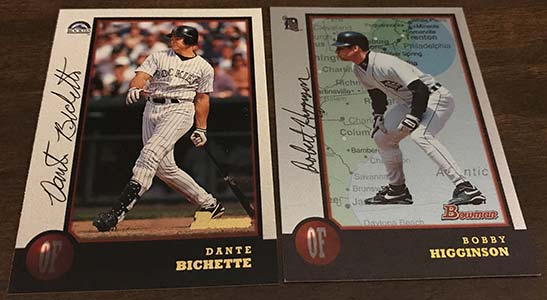 Pack 10:
Paul Konerko, Cristian Guzman RC & Juan LeBron International
I always enjoy seeing Konerko Dodgers cards, simply because I think of him only as a White Sox player. He did amass 151 at bats with the Dodgers, hitting just .212 with four home runs. 

Pack 11:
Frank Thomas & Alex Rodriguez International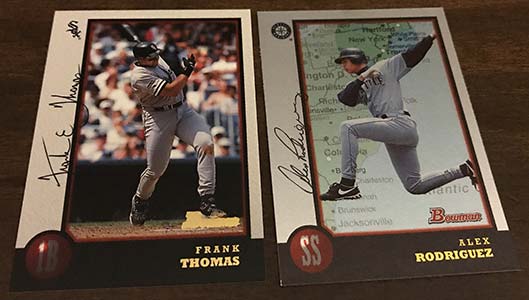 Pack 12:
Paul O'Neill & Jesus Sanchez International
Paul O'Neill gets his number retired by the Yankees on Sunday. He played nine seasons in New York, posting an .869 OPS.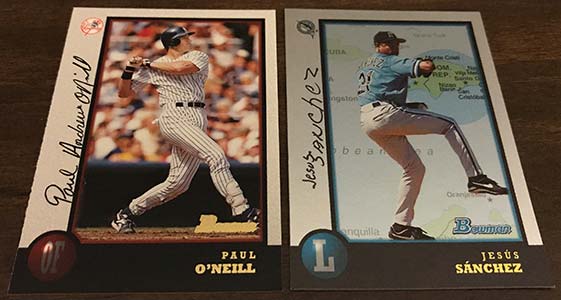 Pack 13:
Moises Alou & Charles Johnson International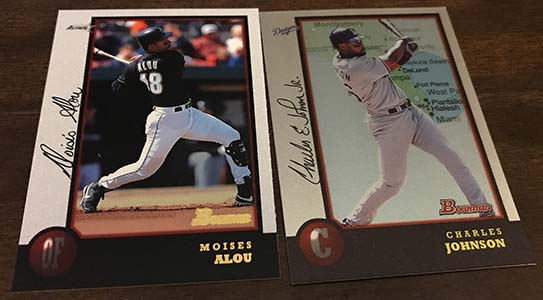 Pack 14:
Andres Galarraga, Jason Grilli RC, Rafael Medina International & Kris Benson 1999 Rookie of the Year Favorites (1 in every 12 packs)
Jason "Grill Cheese" Grilli pitched in 595 major league games over 15 seasons. His lone All-Star appearance came in 2013. That season, he racked up 33 saves for the Pirates, with a 2.70 ERA.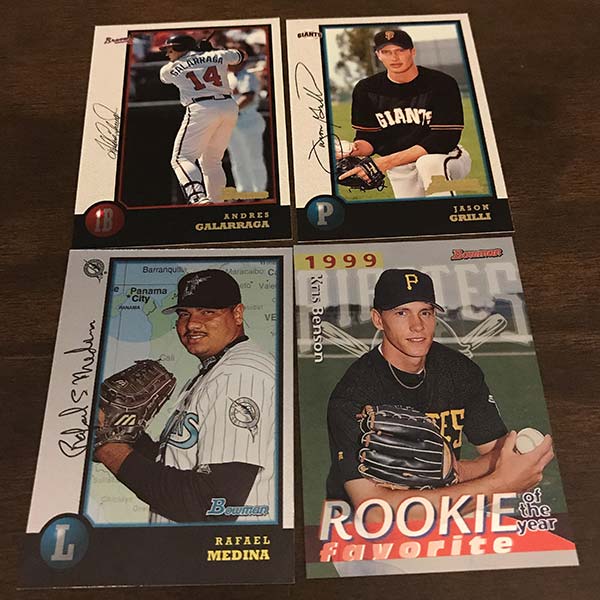 Pack 15:
Matt Williams & Butch Huskey International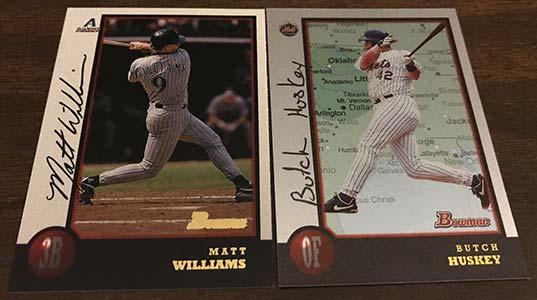 Pack 16:
Fred McGriff & Kevin Burford International
Burford played eight seasons in the minor leagues, never getting a call-up to the bigs. He hit .283 over 668 minor league games.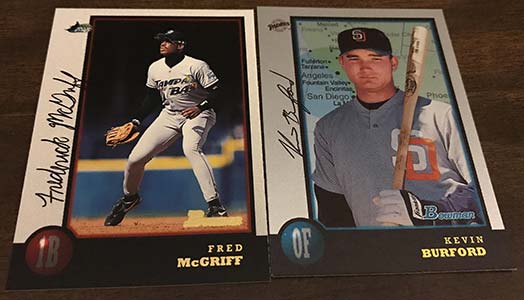 Pack 17:
A.J. Pierzynski & Brian Giles International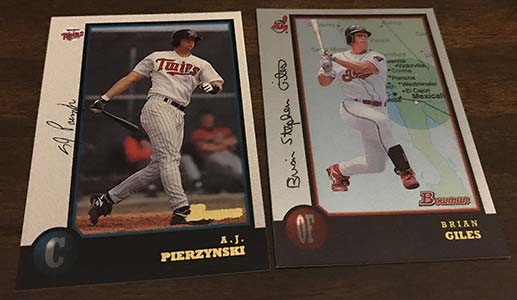 Pack 18:
John Smoltz, Darnell McDonald International & Andres Galarraga Minor League MVPs (1:12 packs)
"Big Cat" Galarraga won the 1984 Minor League MVP award after hitting .289 with 27 home runs and 87 RBI in AA Jacksonville. He would make his major league debut late the following season. 

Pack 19:
Brian Jordan & Eric DuBose International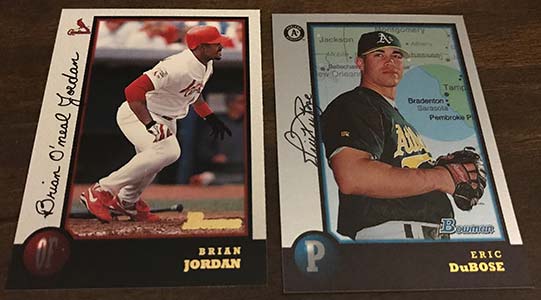 Pack 20:
Bobby Abreu, Kenny Lofton, Troy Glaus 1999 Rookie of the Year Favorites (1:12 packs) & Fernando Seguignol International
Seguignol didn't find much success in the major leagues and decided to play in Japan instead. He put together eight solid foreign seasons, including a four-year span from 2004 to 2007 where he hit 122 home runs playing for the Nippon Ham Fighters in Japan's Pacific League.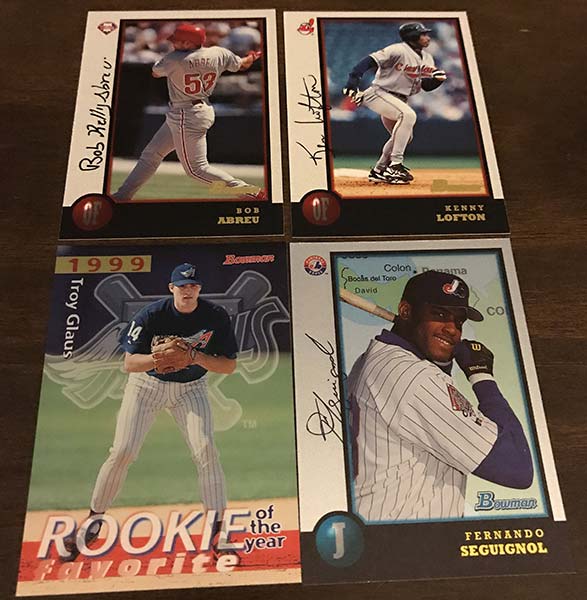 Pack 21:
Derrek Lee & Mike Judd RC International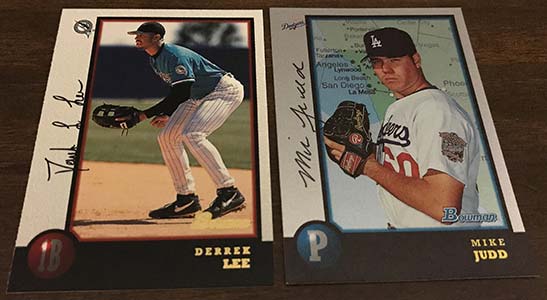 Pack 22:
Manny Ramirez & Jason Halper International
The Yankees liked Halper so much that they drafted him twice. They selected him in the 54th round of the 1996 draft. He opted to return to Columbia University. The Yankees selected him again in 1997, this time in the 45th round. He would play just 11 minor league games, recording just one hit in 18 at bats.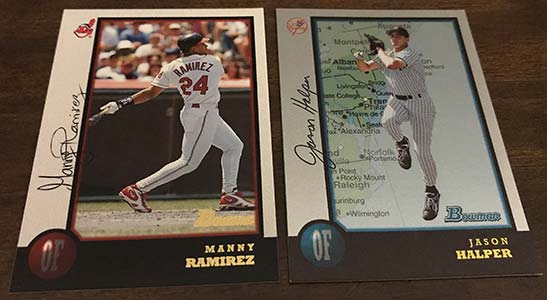 Pack 23:
Frank Thomas & Luis Rivera International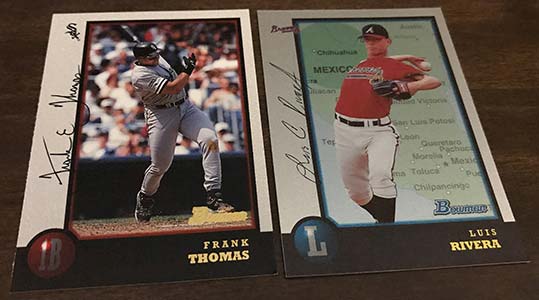 Pack 24:
Derek Jeter, Randy Johnson, Mike Caruso International & Andres Galarraga Minor League MVPs (1:12 packs)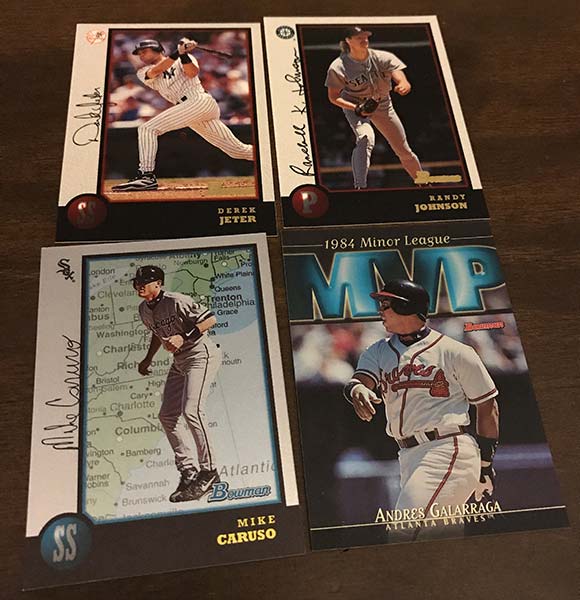 Lastly, the Jeter card back. As you can see, Bowman opted to show Jeter's 1997 stats against every other team on the card back. I don't love it but it is something different. I do love, however, that he only hit .222 against my Red Sox.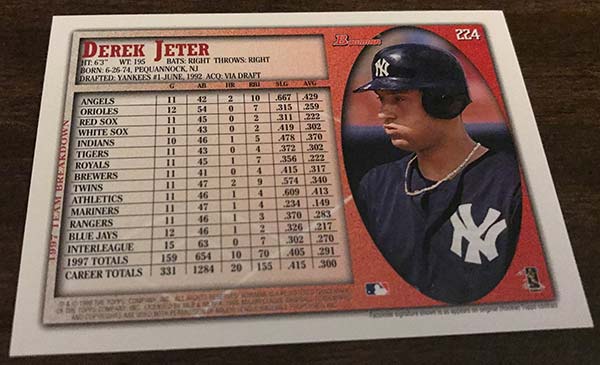 1998 Bowman was a completely different product than the current releases. Though it isn't quite as thrilling as opening a Bowman box these days, I did still enjoy the rip. This is one of my favorite designs for the brand.
One thing that has stayed constant in Bowman, not all of the prospects turn into major league talent. Some never even sniff the big leagues. Some players, like Jason Halper, appeared only in 1998 Bowman. Halper appeared in Bowman Series 2 as well as Bowman Chrome. That is it.
Shop for 1998 Bowman Baseball on:
Want more installments of Shane Salmonson's Cheap Wax Wednesday? Check out his other breaks in the archives.