Cheap Wax Wednesday Box Breaks: 1998 Bowman Series 1 Baseball
The 1998 Bowman design is one that even newer collectors may recognize as it was included in this year's Bowman release as an insert and autograph set.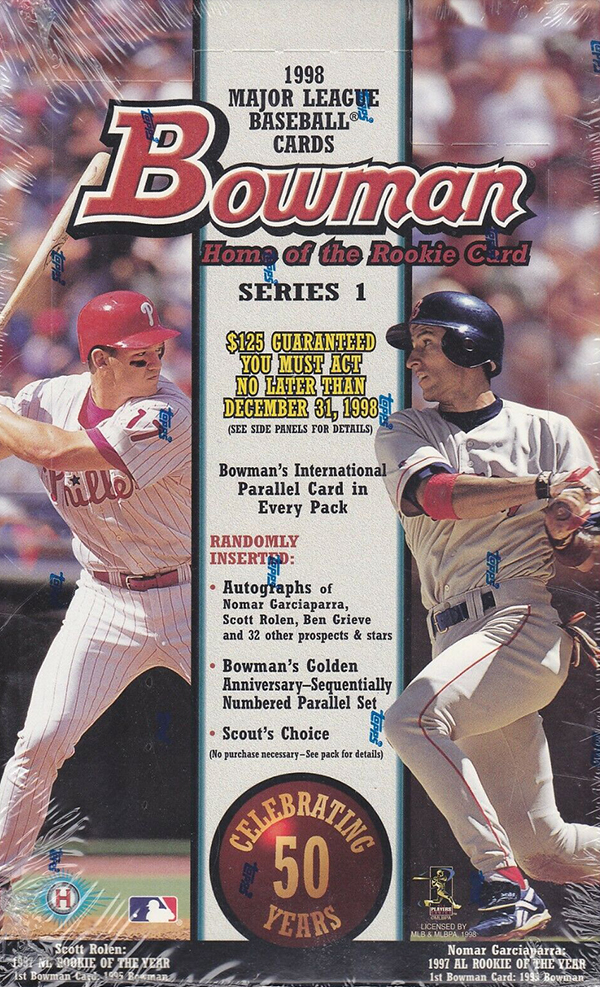 1998 Bowman Series 1 Baseball Box Break
Cards per pack: 10
Packs per box: 24
Price paid: $29

Pack 1 highlights:
Vinny Castilla, Roger Clemens, fellow NH-native Chris Carpenter & Edgardo Alfonzo International parallel (1 in each pack)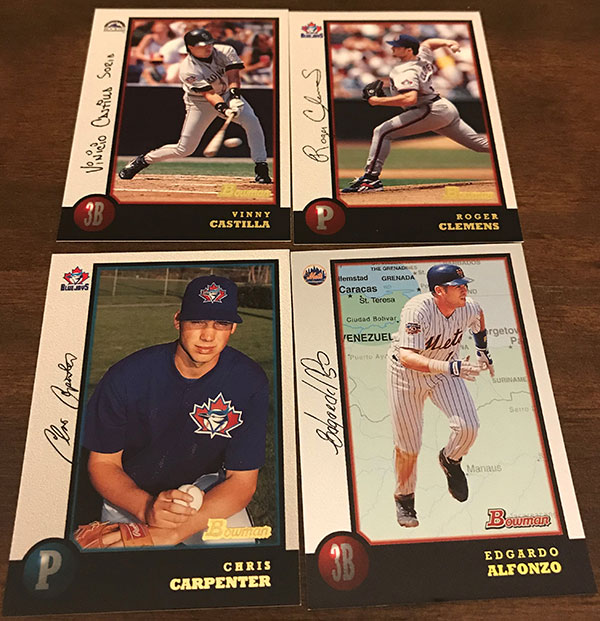 Pack 2:
Craig Biggio & Gil Meche International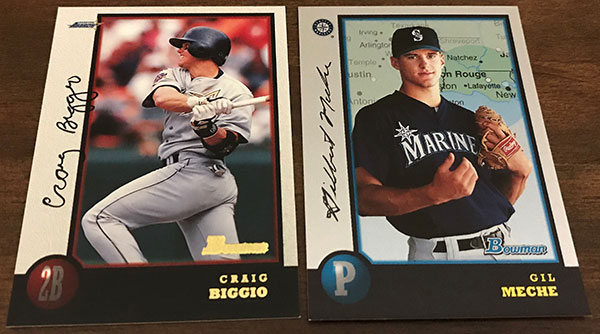 Pack 3:
Jim Thome, Mark McGwire & Shawn Estes International

Pack 4:
Mo Vaughn, Bernie Williams, Johnny Damon, Tom Glavine, Vernon Wells & Calvin Pickering International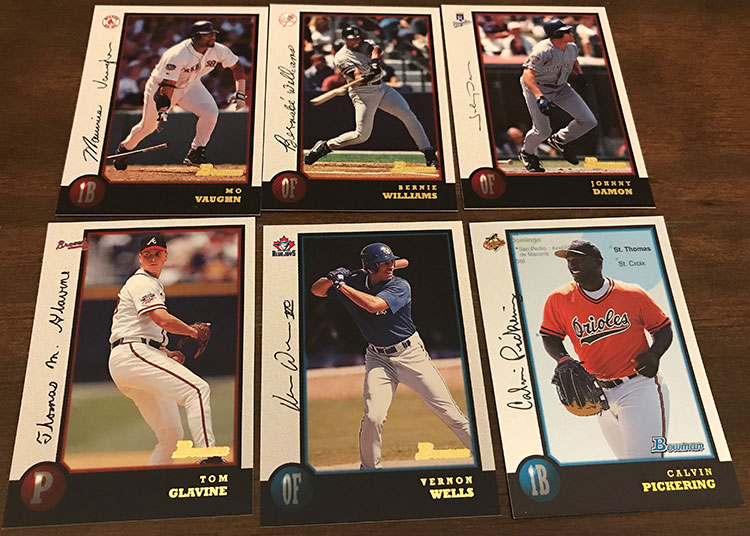 Pack 5:
Rafael Palmeiro, Sean Casey & Preston Wilson International

Pack 6:
Barry Larkin, Lance Berkman & Roberto Alomar International

Pack 7:
Mike Mussina, Eric Chavez, Orlando "El Duque" Hernandez RC & Richie Sexson International

Pack 8:
Nomar Garciaparra, Scott Rolen, Jayson Werth (I have always loved cards featuring players in positions that you wouldn't normally think of. Werth never caught in a major league game), Jose Cruz, Jr. International & Eli Marrero Scout's Choice (1:12 packs)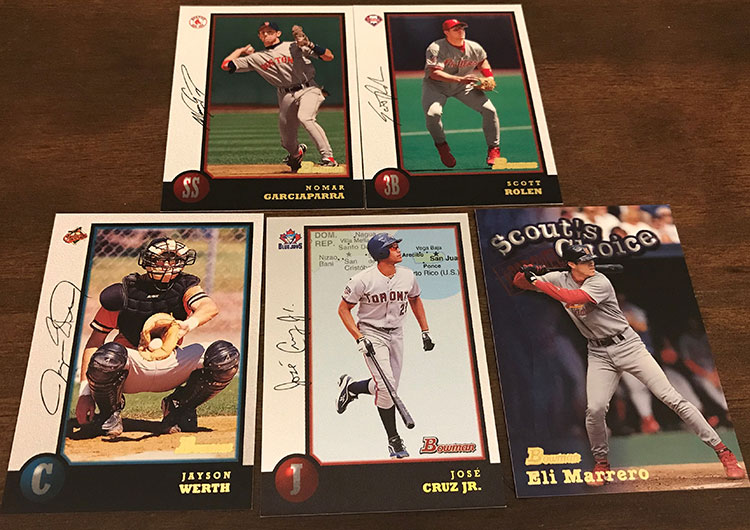 Pack 9:
Ivan Rodriguez, Tony Gwynn, Sammy Sosa, Kerry Wood, Kevin Millwood RC & Pete Munro International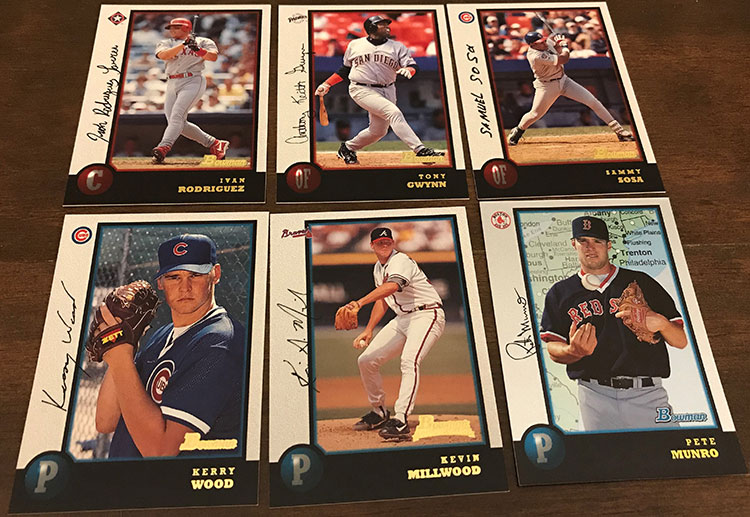 Pack 10:
Andy Pettitte, Roberto Alomar, Trot "Dirt Dog" Nixon & Scott Elarton International

Pack 11:
Jeff Bagwell, Jason Giambi, Todd Helton, Mike Lowell RC & Ben Petrick International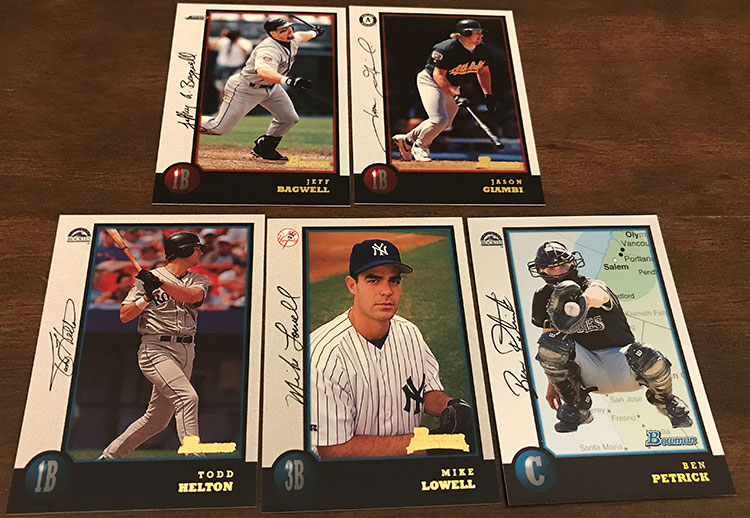 Pack 12:
Current Phillies Manager Gabe Kapler RC (some might say "for now"…) & Bruce Chen International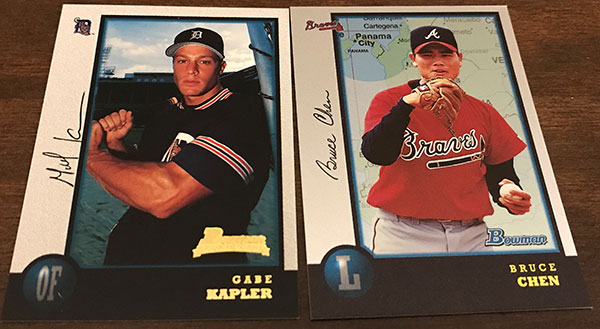 Pack 13:
Edgar Martinez, Raul Ibanez & Darin Erstad International

Pack 14:
Albert Belle, Troy Glaus RC, Roy Halladay, Bronson Arroyo & Miguel Tejada International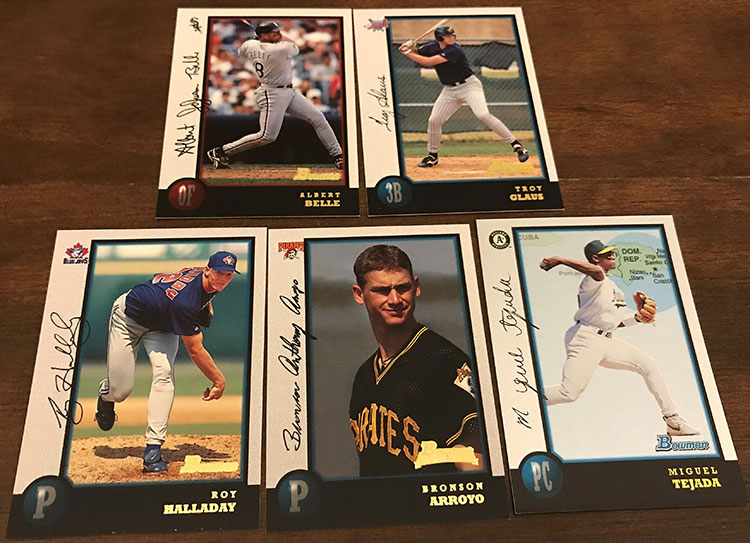 Pack 15:
Larry Walker, Ken Griffey, Jr., Mike Piazza & Jason Kendall International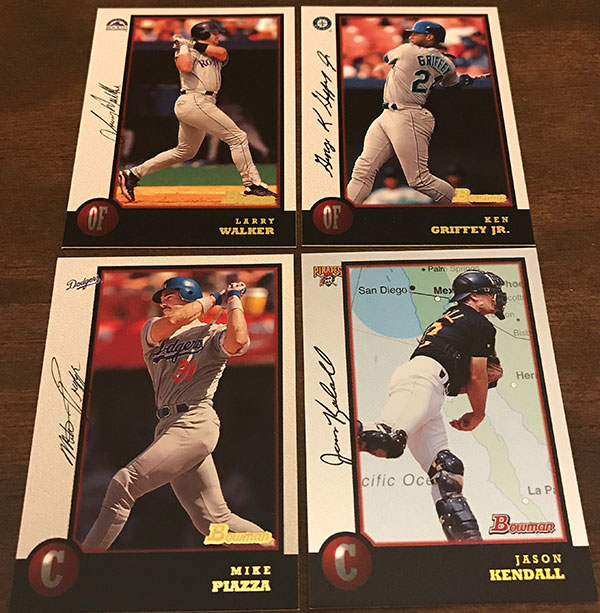 Pack 16:
Curt Schilling, Miguel Tejada & Abraham Nunez International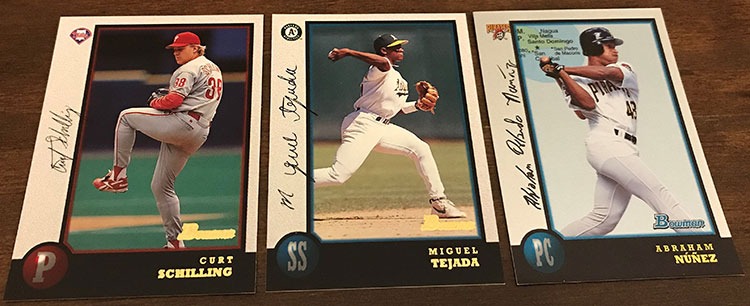 Pack 17:
Greg Maddux, Jeff Kent, Astros Manager A.J. Hinch & Anthony Sanders International

Pack 18:
Livan Hernandez International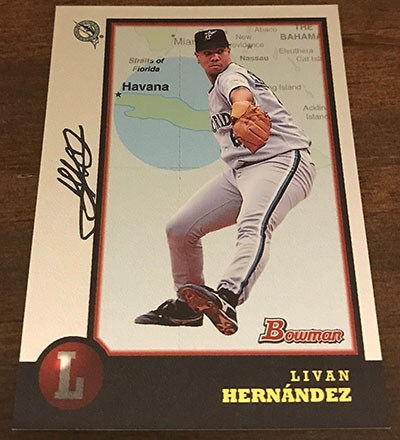 Pack 19:
Michael Cuddyer RC, Orlando Cabrera RC, Aramis Ramirez & Mike Mussina International

Pack 20:
Magglio Ordonez RC (featuring a photo of Mario Valdez, not Magglio), Troy Cameron International & Richard Hidalgo Scout's Choice (1:12 packs)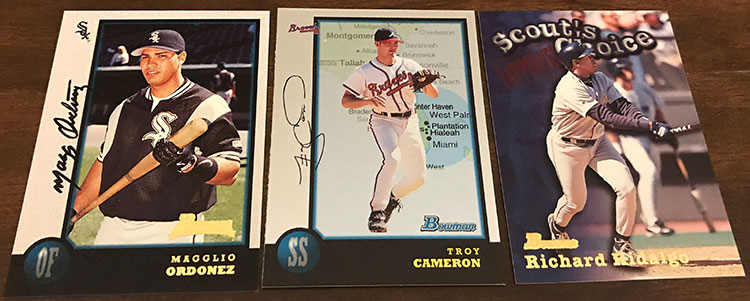 Pack 21:
Chipper Jones & Gary Sheffield International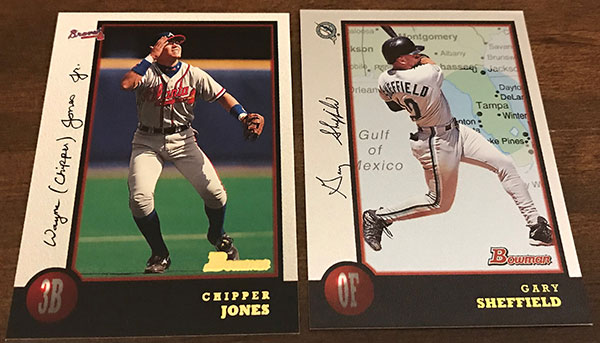 Pack 22:
Gary Sheffield, Adrian Beltre & Beltre International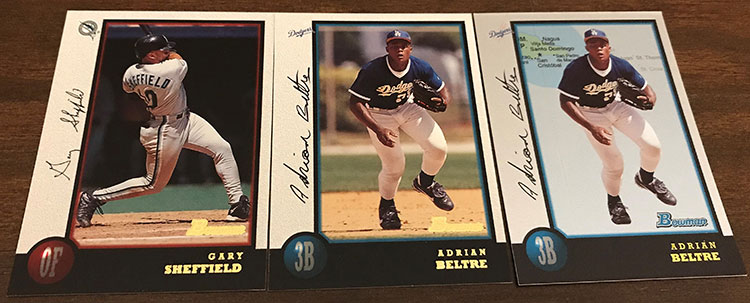 Pack 23:
Jimmy Rollins RC & Curt Schilling International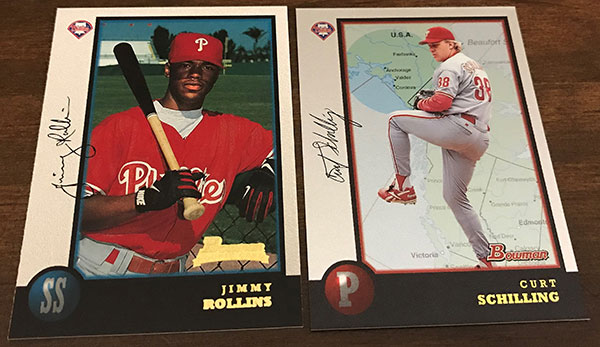 Pack 24:
Vladimir Guerrero & Brett Caradonna International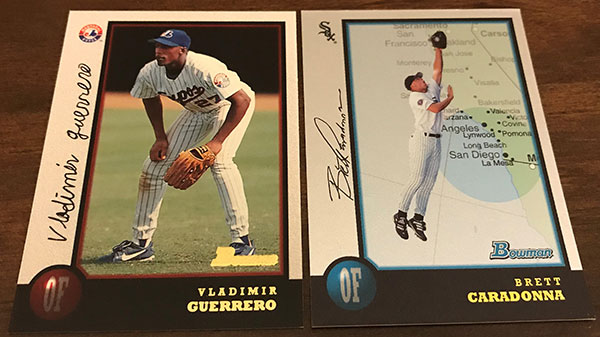 Lastly, a card back. The Scouting Report on Beltre's card back couldn't have been more right, as Beltre went on to become one of the best all-around third basemen in the history of baseball!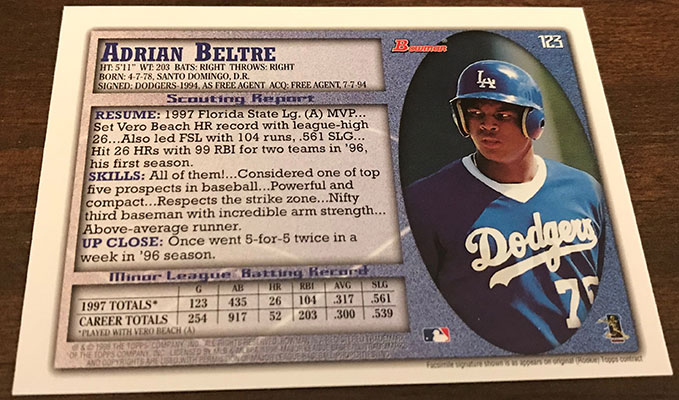 There are autographs to be found in the 1998 Bowman release, but they weren't easy pulls. It's not quite like today's version of Bowman where you will find at least one autograph per box.
Buy 1998 Bowman Baseball cards on:
Want more installments of Shane Salmonson's Cheap Wax Wednesday? Check out his other breaks in the archives.