Cheap Wax Wednesday Box Breaks: 1997 Upper Deck Series 2 Baseball
1997 Upper Deck Series 2 Baseball features 250 base cards, including multiple subsets. While Series 2 does not give you the opportunity to pull a jersey card, there are a handful of insert sets to look out for. Predictors and Hot Commodities should be found in every box, while Long Distance Connection, Run Producers, and Blue Chip Prospects are tougher to find, and not guaranteed in a single box break.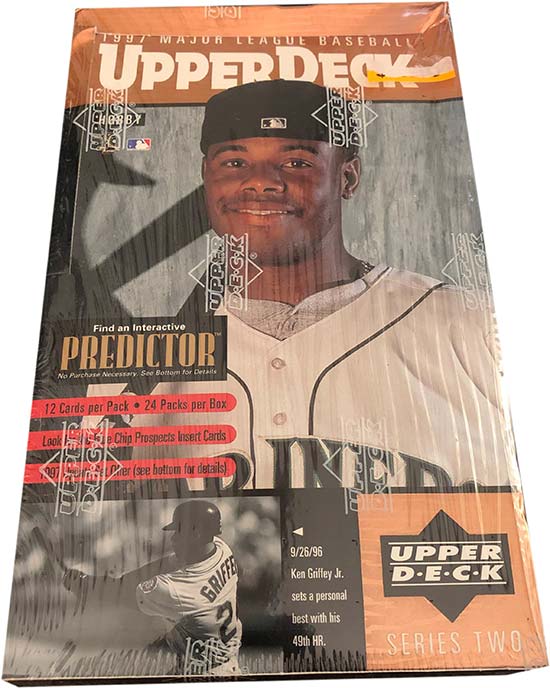 Series 1 is known for containing the baseball's first game-used jersey cards. The odds of finding were an astronomical 1 in every 800 packs. Because of that, Series 1 boxes routinely sell for $100+, and therefore are over budget to be featured here (I work under a strict self-imposed $50 limit). Series 2 boxes, though, are fair game.
1997 Upper Deck Series 2 Baseball Box Break
Cards per pack: 12
Packs per box: 24
Price paid: $50
Pack 1 highlights:
Tim Salmon, Brad Radke, Johnny Damon, Randy Johnson, Ramiro Mendoza RC & Jason Kendall Blue Chip Prospects (/500)
A Blue Chip Prospect card right off the bat. These are amazing. There are some studs on the checklist including Andruw Jones, Derek Jeter, Manny Ramirez, Nomar Garciaparra, Vladimir Guerrero, Chipper Jones and Alex Rodriguez.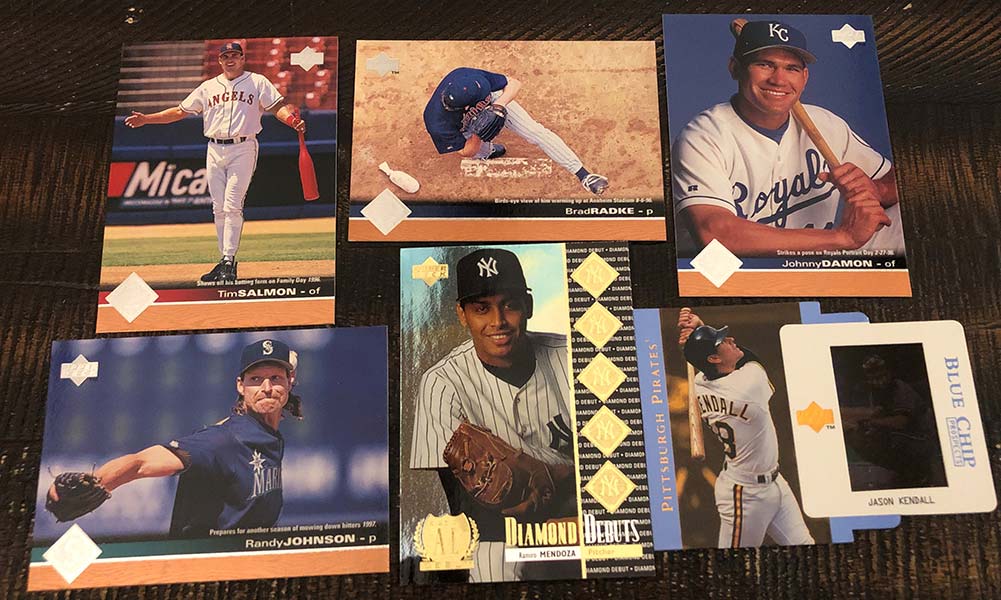 Pack 2:
Lance Johnson, Cecil Fielder, Derek Bell & Sammy Sosa Predictor (1:5 packs)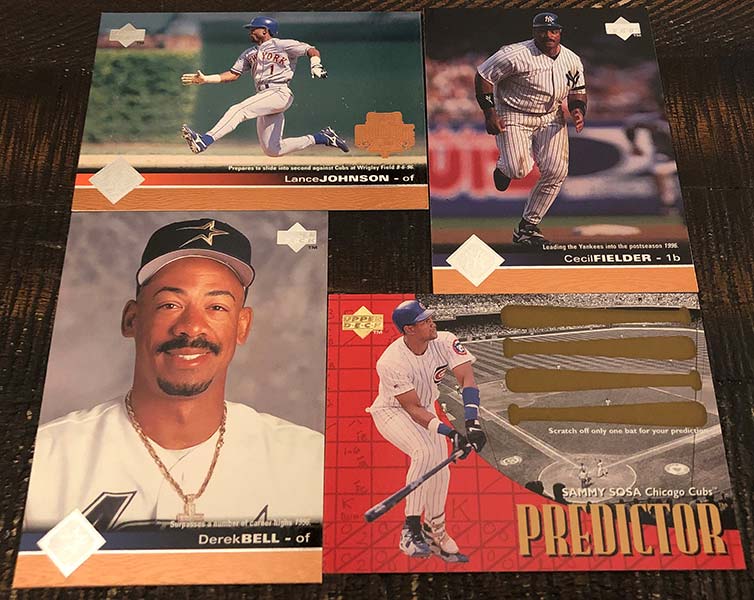 Pack 3:
Ramon Martinez, Juan Gonzalez, Rondell White & Shawn Green
Pitchers handling the bat is something we won't see on many cards from this point forward now that both leagues are using the DH. 

Pack 4: Kirt Manwaring (classic Upper Deck multiple exposure card), Sandy Alomar Jr., Roberto Alomar CTF & Greg Maddux Hot Commodities (1:13 packs)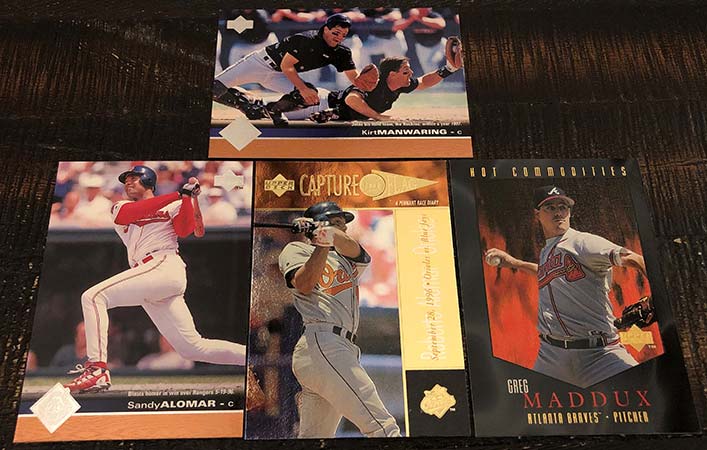 Pack 5:
Tim Raines, Gary Sheffield & Andruw Jones SH
Not a ton of cards feature intentional walks. Having said, this is something else we won't see anymore either, since the pitcher no longer has to throw the four balls.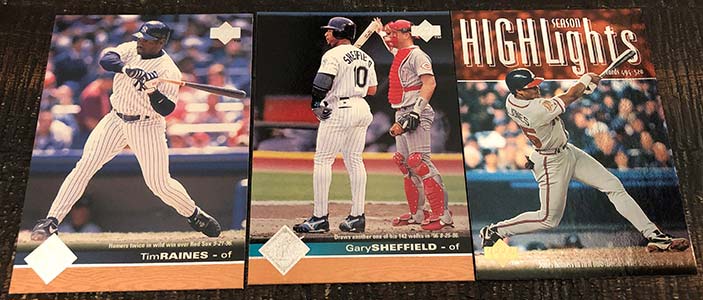 Pack 6:
David Justice, Larry Walker & Raul Mondesi CTF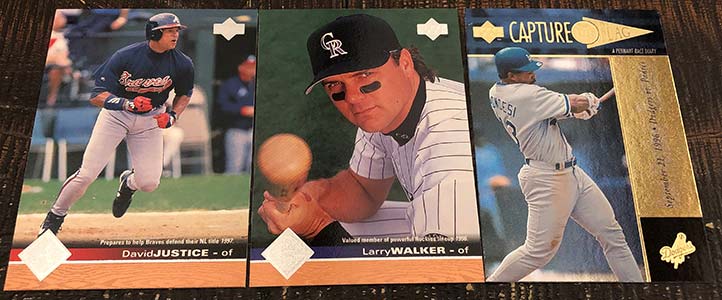 Pack 7:
Vladimir Guerrero SR, Trevor Hoffman, David Cone CTF, Kenny Lofton Predictor (1:5 packs) & Brady Anderson Run Producers (1:69 packs)
Even though this Vlad card is not considered an actual RC, I still love the look of it. A young Vlad in a double ear-flapped helmet? That works.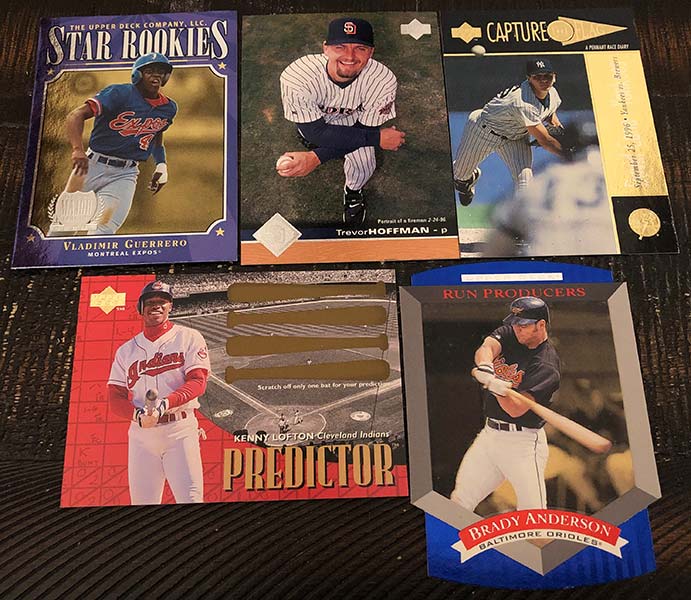 Pack 8:
Ellis Burks & Ruben Rivera CTF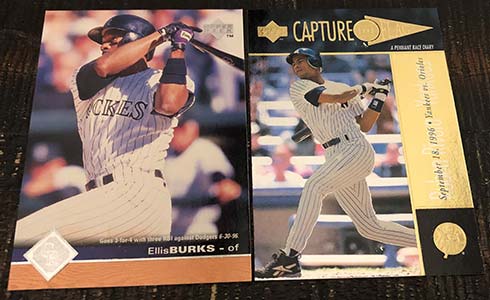 Pack 9:
Rickey Henderson, Raul Mondesi, Larry Walker, Craig Biggio & Andy Pettitte CTF
So many great cards featuring Rickey on the basepaths out there.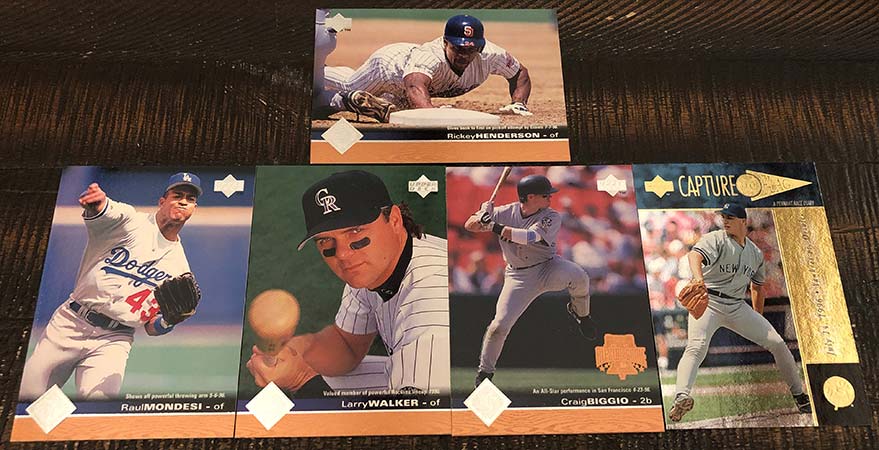 Pack 10:
Manny Ramirez, Johnny Damon, Mark McGwire SH & Trot Nixon SR

Pack 11:
Derek Jeter HL
Ken Griffey Jr's Hot List subset cards are considered to be short-printed. While there's not a ton of value there, they do look good.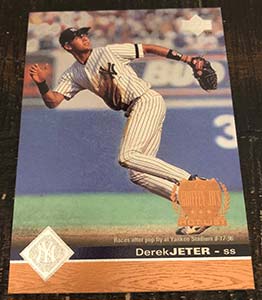 Pack 12:
Gary Sheffield, Bobby Abreu, Garret Anderson, Alex Rodriguez SH, Greg Maddux & Frank Thomas Predictor (1:5 packs)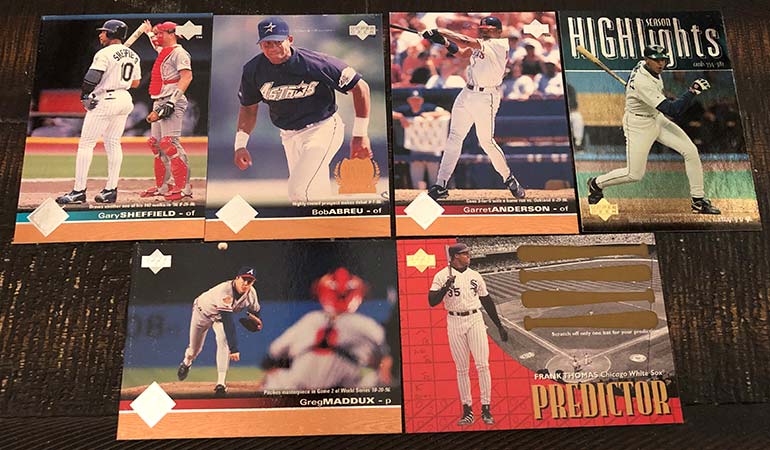 Pack 13:
Jim Thome & Barry Bonds SH
Many of the cards feature the date the picture was taken, which is cool. Think Topps Now, but for a whole hobby release. This Thome card, though, UD stayed vague.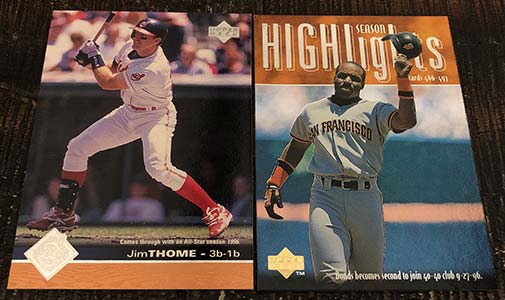 Pack 14:
Chuck Finley, John Smoltz, Jim Edmonds, Ryne Sandberg & Edgar Martinez SH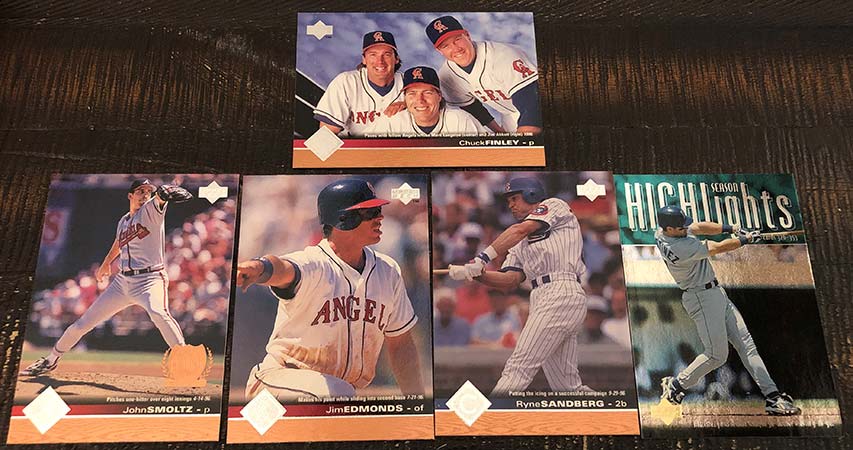 Pack 15:
Vinny Castilla, Raul Mondesi & Jim Thome Predictor (1:5 packs)
Predictor cards feature four scratch off bats on the card fronts. You had to choose which one to scratch off. If the player completed the goal on the scratched off line, you could redeem your card for a Totally Virtual parallel.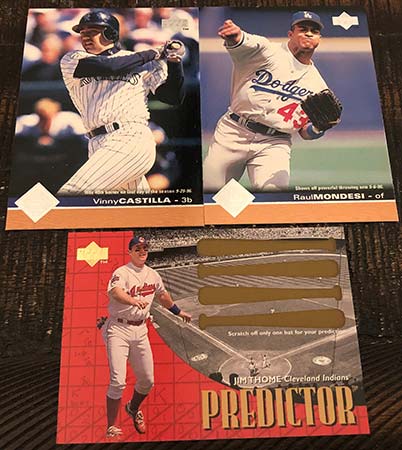 Pack 16:
Ellis Burks & Hideo Nomo SH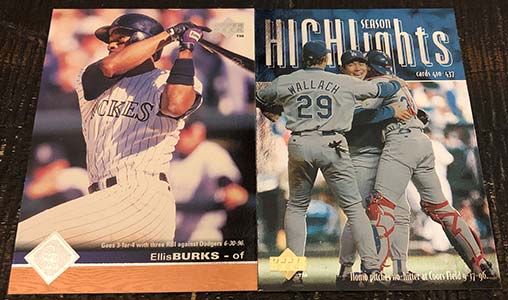 Pack 17:
Chuck Knoblauch, Will Clark & Alex Rodriguez HL
This pack featured the spectrum of photography included in this set, from Knoblauch's mid-air action shot to Clark's goofy posed photo.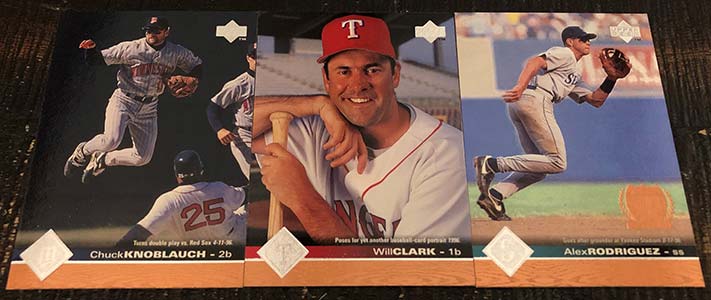 Pack 18:
Rondell White, Darryl Strawberry, Manny Ramirez & Edgar Martinez SH

Pack 19:
Bobby Abreu, Derek Jeter, Eric Davis & Hideo Nomo Hot Commodities (1:13 packs)
Though still not bad, this Hot Commodities design wasn't my favorite. My favorite is 1996's die-cut, shiny version.

Pack 20:
Randy Johnson, John Valentin & Mark McGwire HL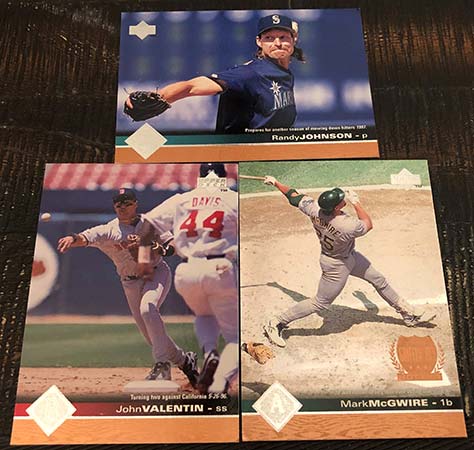 Pack 21:
Andres Galarraga & Mark Whiten SH
Got to love that Big Cat had his own nickname-labeled undershirts.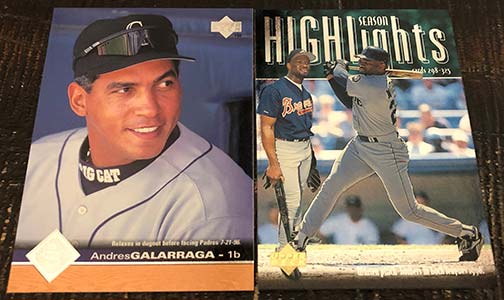 Pack 22:
Mark McGwire, Carlos Baerga x2 & Robin Ventura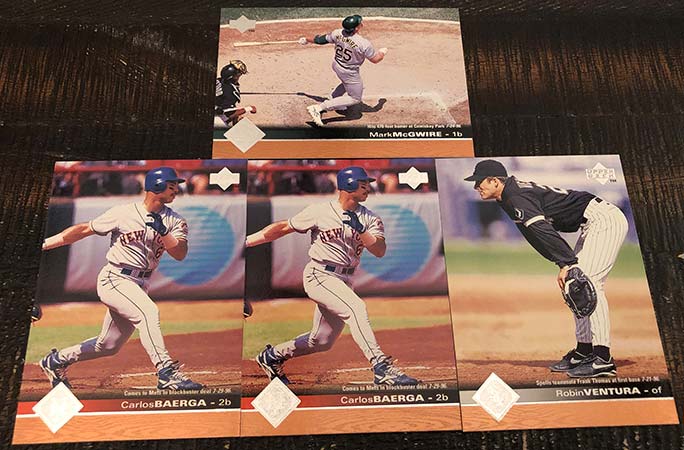 Pack 23:
Tony Gwynn CTF
Capture the Flag subset cards were printed on foilboard and feature pennant-chasing players. They are good looking cards.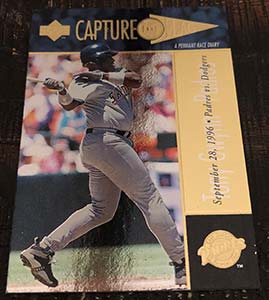 Pack 24:
Javier Lopez, Cliff Floyd, Ken Caminiti CTF & Albert Belle Predictor (1:5 packs)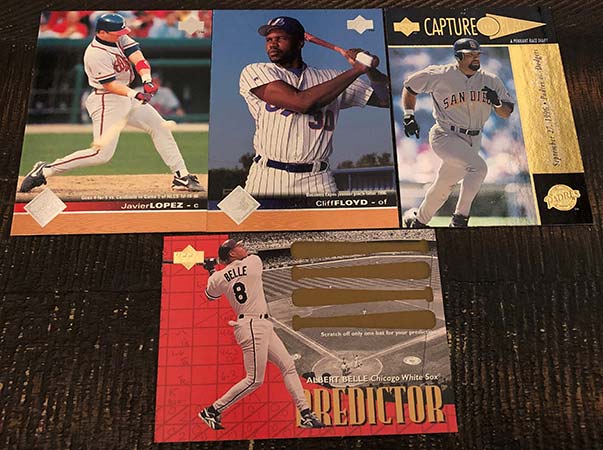 Lastly, the Randy Johnson card back. I can only assume that this guy was downright terrifying to face.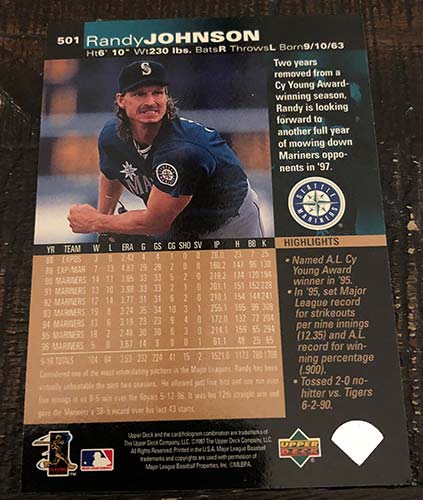 Late '90s Upper Deck products are always been fun rips. This one certainly did not disappoint. Though I would have loved to pull one of the awesome looking Long Distance Connection inserts (1:35 packs), I still fared well. The Blue Chip Prospects inserts are tough pulls and I knocked that one out in the first pack. The Run Producers inserts are no slouch, either. I was lucky to pull one here, even if it was probably the worst name on the checklist. While there aren't any Game Jersey cards to be found, I would say that Series 2 is still worth a look.
Shop for 1997 Upper Deck Baseball cards on:
Want more installments of Shane Salmonson's Cheap Wax Wednesday? Check out his other breaks in the archives.