Cheap Wax Wednesday Box Breaks: 1997 Topps Finest Football Series 1
I have always enjoyed Topps Finest and Topps Chrome. Maybe it is just because they are shiny, but whatever it is, I love it! I certainly miss Topps having their NFL license, because we no longer have the option to buy these products, unless of course, we reach back into the past like this week with some 1997 Finest Series 1 Football.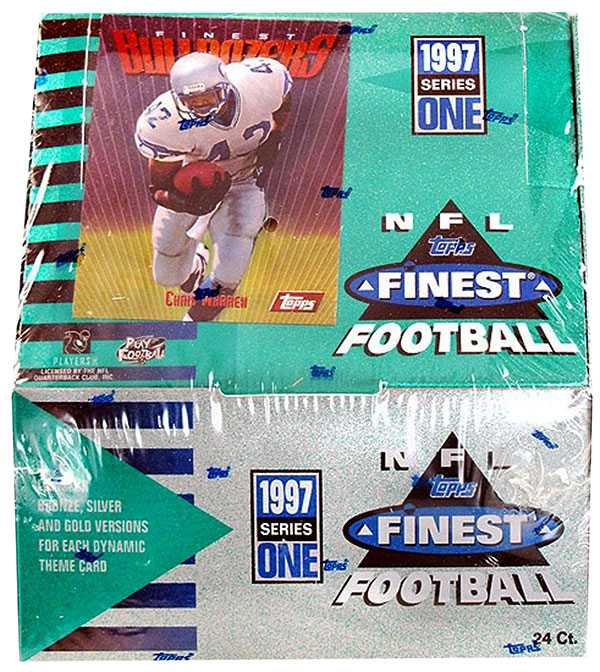 1997 Topps Finest Series 1 Football Box Break
Cards per pack: 6
Packs per box: 24
Price paid: $35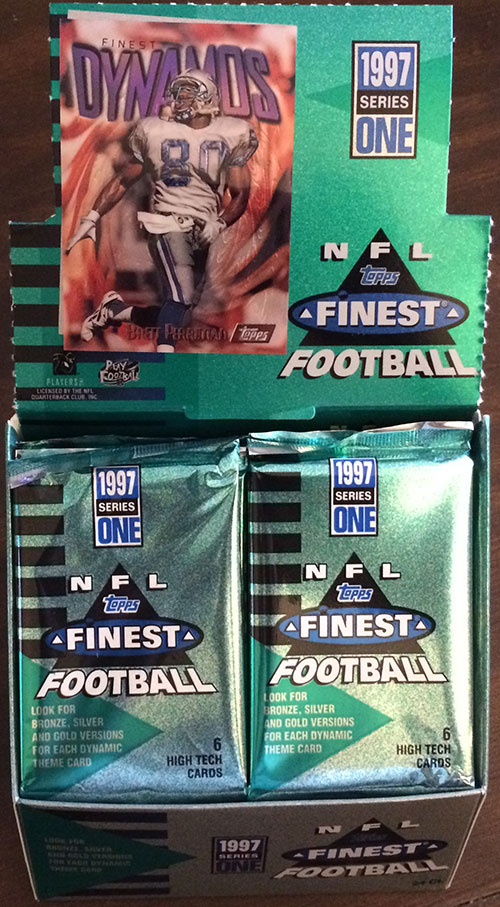 Pack 1 highlights:
Robert Smith, Michael Strahan, Jeff Blake & Brian Mitchell Uncommon (Topps listed different designations on the back of the cards, including uncommon & rare)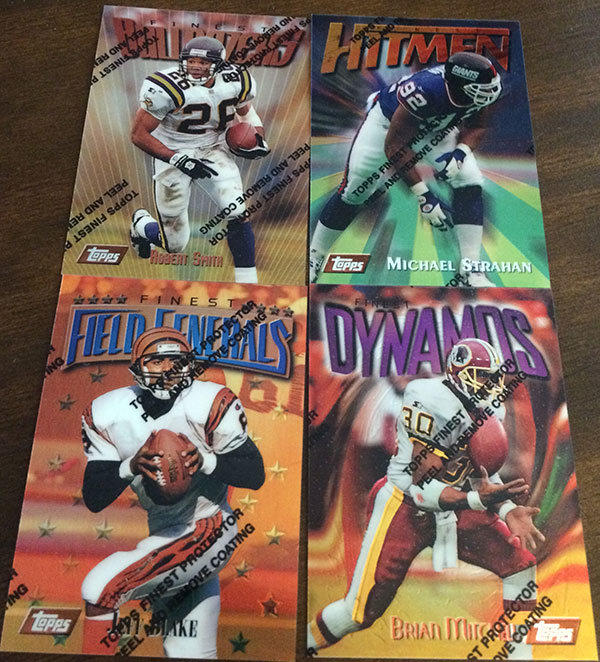 Pack 2:
Eddie George, Kevin Carter, Deion Sanders, Brett Perriman Uncommon & Zach Thomas Rare Refractor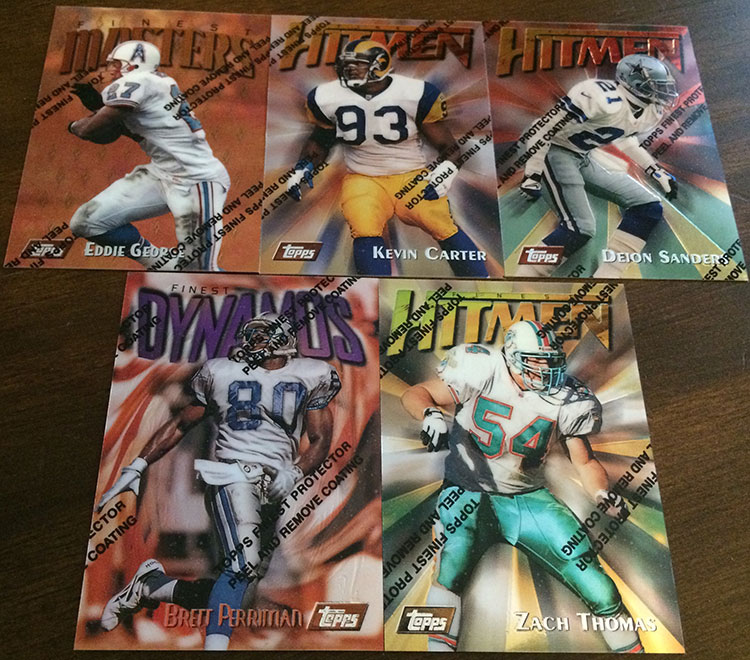 Pack 3:
Gus Frerotte, Terry Glenn, Thurman Thomas & Andre Rison Uncommon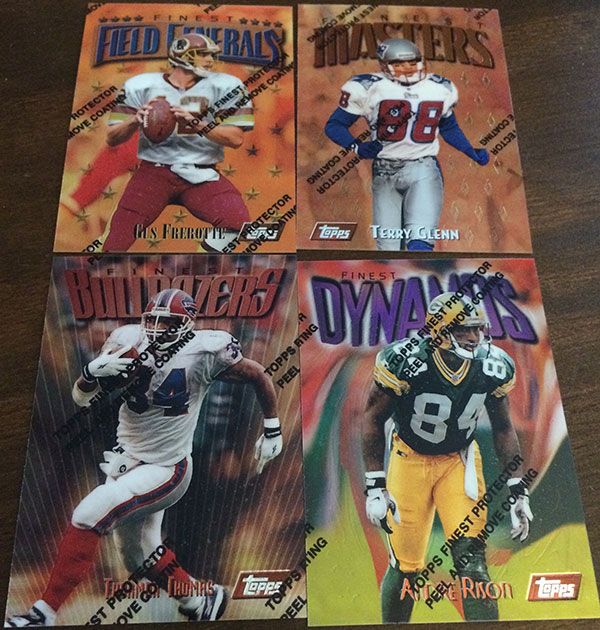 Pack 4:
Andre Hastings Uncommon & David Meggett Uncommon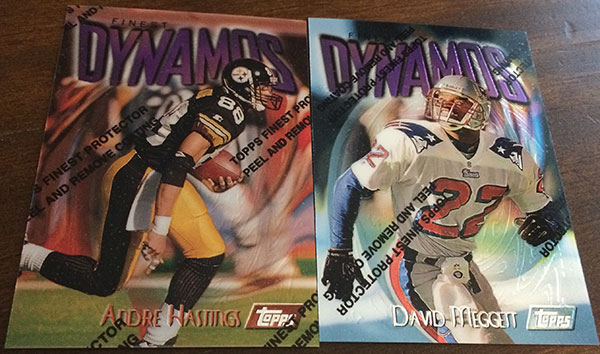 Pack 5:
Napoleon Kaufman & Karim Abdul-Jabbar. No, not THAT Kareem Abdul-Jabbar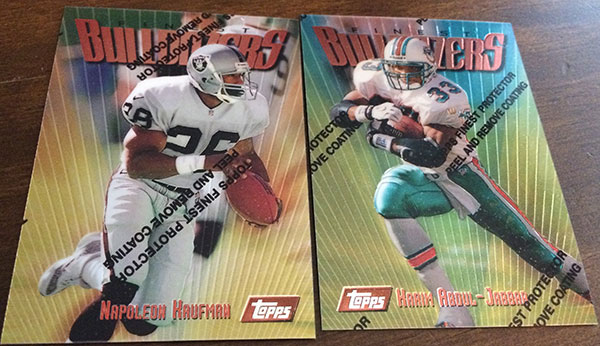 Pack 6:
Daryl "Moose" Johnston & Andre Coleman Refractor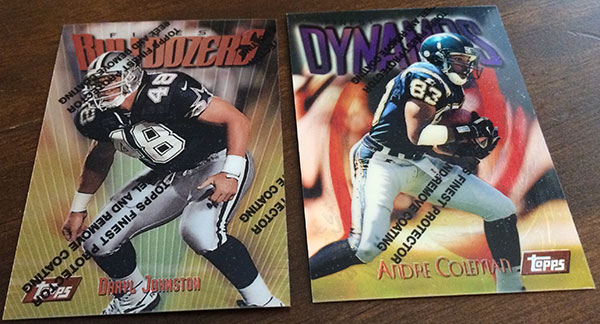 Pack 7:
Jim Harbaugh & Ricky Watters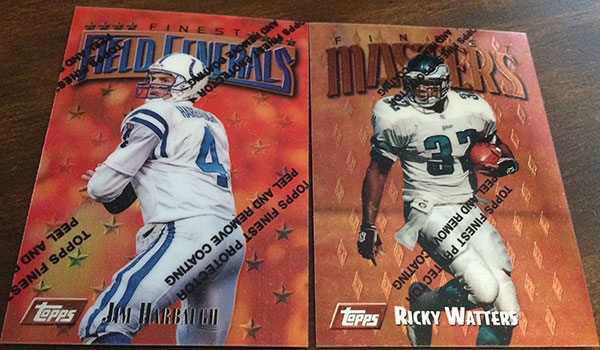 Pack 8:
Vinny Testaverde, Shannon Sharpe Uncommon & Bobby Engram Uncommon
Pack 9:
Jamal "Dirty Bird" Anderson & Anthony Miller Uncommon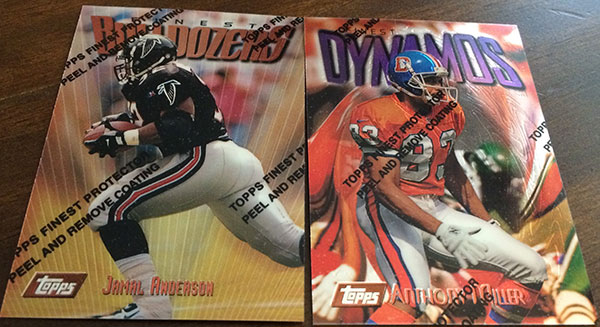 Pack 10:
Isaac Bruce & Junior Seau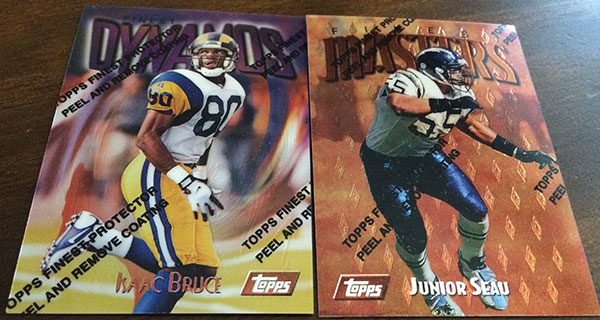 Pack 11:
Rodney Hampton, Tim Brown, Trent Dilfer & Simeon Rice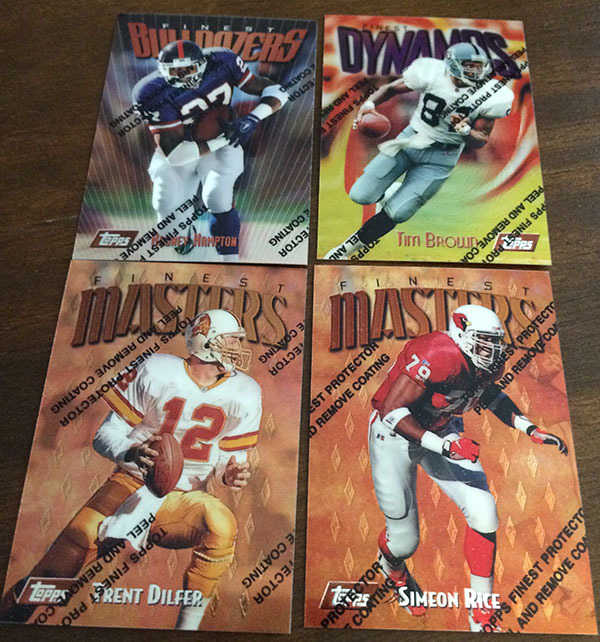 Pack 12:
Eric Moulds & Edgar Bennett Uncommon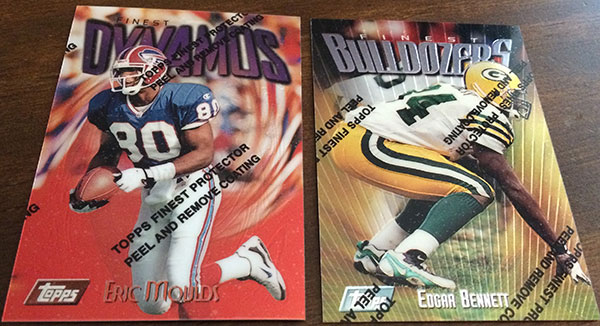 Pack 13:
Rob Moore Uncommon, Thurman Thomas & Terrell Davis Uncommon. I miss those old-school Broncos uniforms!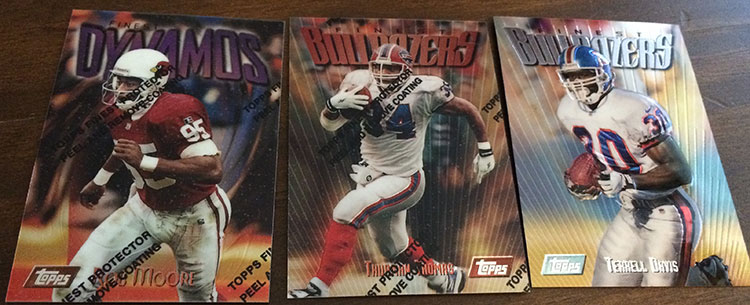 Pack 14:
Lawrence Phillips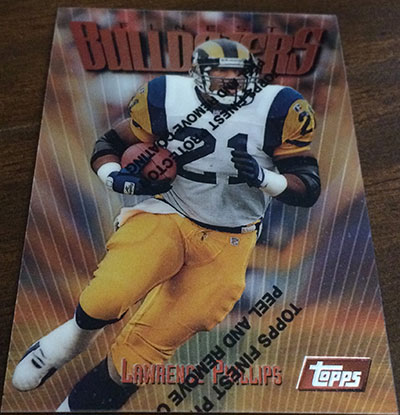 Pack 15:
Warren Sapp, Tim McDonald Uncommon & Kevin Greene Uncommon

Pack 16:
Michael "Playmaker" Irvin Uncommon, Deion "PrimeTime" Sanders & Rodney Harrison

Pack 17:
Jim Harbaugh, Darren Woodson, Brett Perriman Uncommon & Deion Sanders Refractor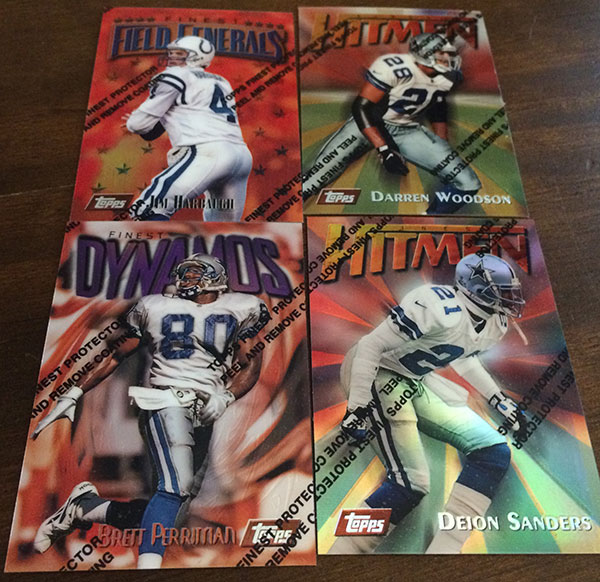 Pack 18:
Andre "Bad Moon" Rison Uncommon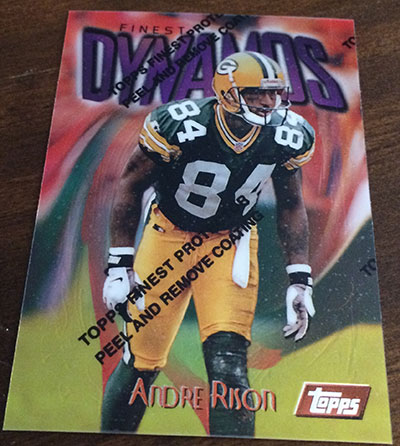 Pack 19:
Keith Jackson Uncommon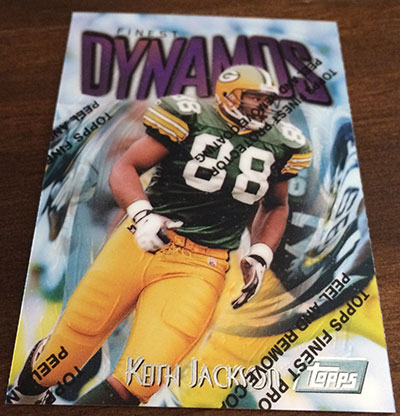 Pack 20:
Vinny Testaverde, Ken Norton & Jerome "The Bus" Bettis

Pack 21:
Trent Dilfer, Ricky Watters, Mark Brunell & Andre Hastings Uncommon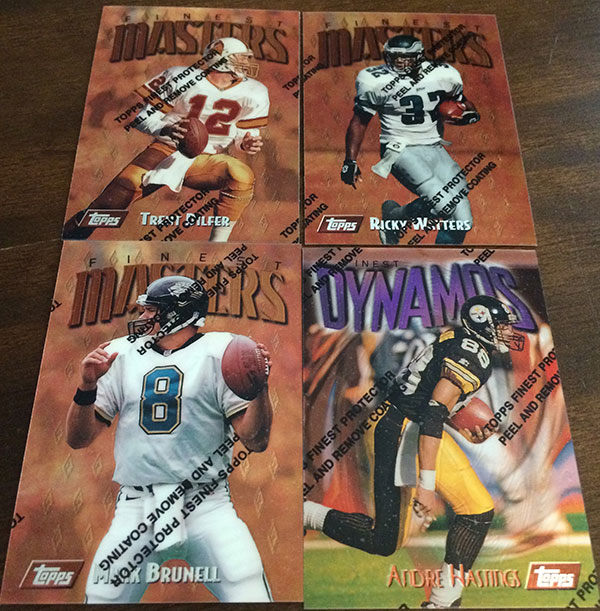 Pack 22:
Thurman Thomas & Terry Glenn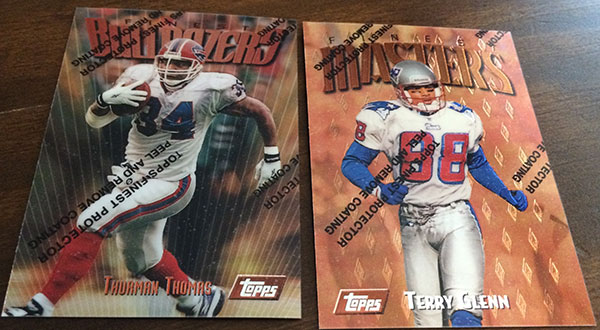 Pack 23:
Keyshawn Johnson, Bobby Engram & Mike Alstott. All three Uncommon

Pack 24:
Junior Seau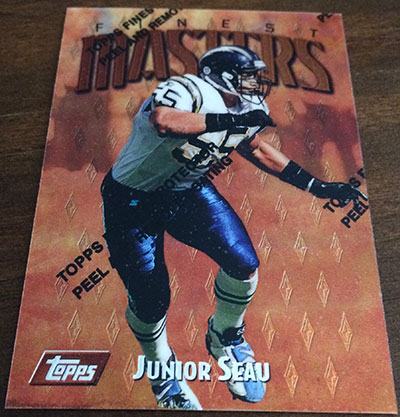 Lastly, a card back. I am going to be honest, without the designations on the back, I have a really hard time telling these apart. Actually, I still don't know which cards are Bronze, Silver or Gold.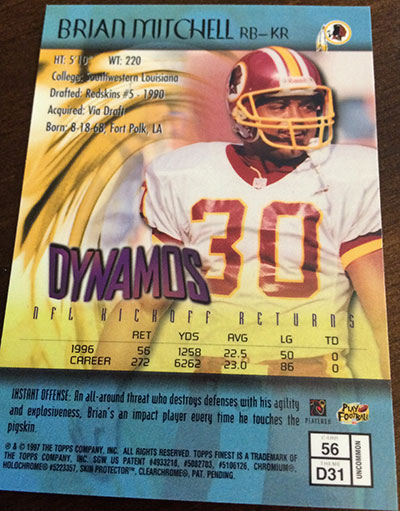 I guess the only really important question to ask after busting 1997 Topps Finest is — are you a peeler or a non-peeler? What did you think of the protective layer on these cards?
Buy 1997 Finest Football cards on:
Want more installments of Shane Salmonson's Cheap Wax Wednesday? Check out his other breaks in the archives.