Cheap Wax Wednesday Box Breaks: 1997 Pinnacle Mint Baseball
Pinnacle was never afraid to think outside of the box and try something different. That was certainly the case when they introduced Pinnacle Mint in 1997. It's a fusion product, combining baseball cards with coins. The coins are pretty impressive, too. You still see companies trying to bring coins into the baseball card hobby to this day. Topps has done everything from embedding actual U.S. coins into cards to creating metal medallions and coins to include as manufactured relics.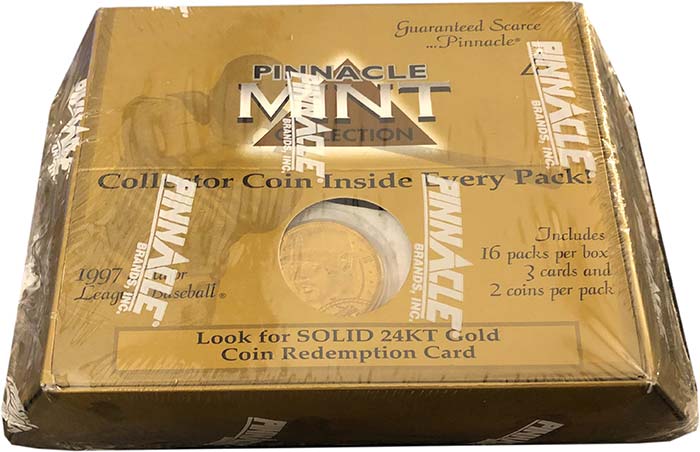 1997 Pinnacle Mint Baseball has a short checklist of just 30 cards. The base cards have a hole in the middle where the player's coin could fit. In addition to the base set, each card is found in three parallels: Bronze, Silver, and Gold. The parallel cards featured foil coins instead of the coin cut out.
The same checklist transfers over to the minted coins. Two coins are found in each pack and could be found in five different metals. Brass coins are the easiest to pull, with Nickel-Silver, 24 kt Gold Plated, Solid Silver and Solid Gold versions also produced. The Solid Gold coins were not included in the packs, but instead issued as redemptions. I would hate to pull one of those expired redemptions today.
1997 Pinnacle Mint Baseball Box Break
Cards per pack: 3 cards and 2 coins
Packs per box: 16
Price paid: $45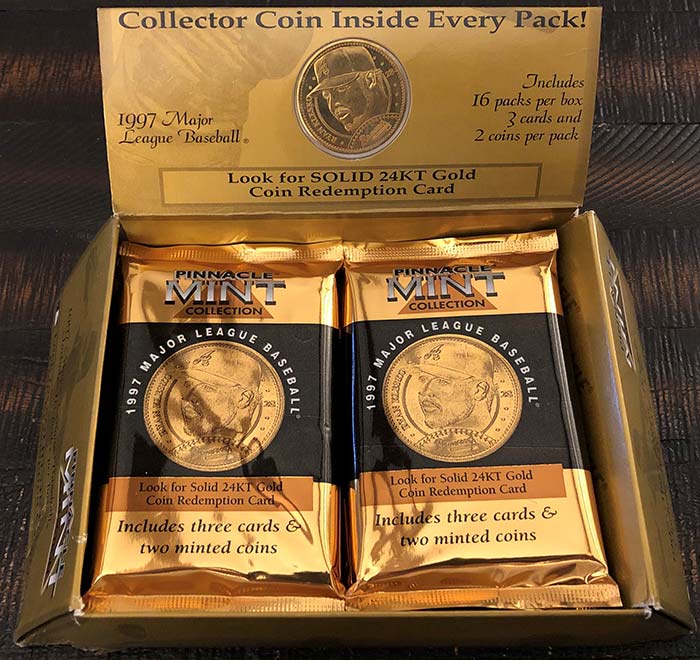 Pack 1 highlights:
Sammy Sosa, Frank Thomas, Andruw Jones Bronze (one in each pack), Barry Larkin Brass Coin & Henry Rodriguez Brass Coin
Andruw Jones started his Gold Glove domination in 1998, his second full season in the majors. He would win the next 10 Gold Glove Awards playing center field for the Braves.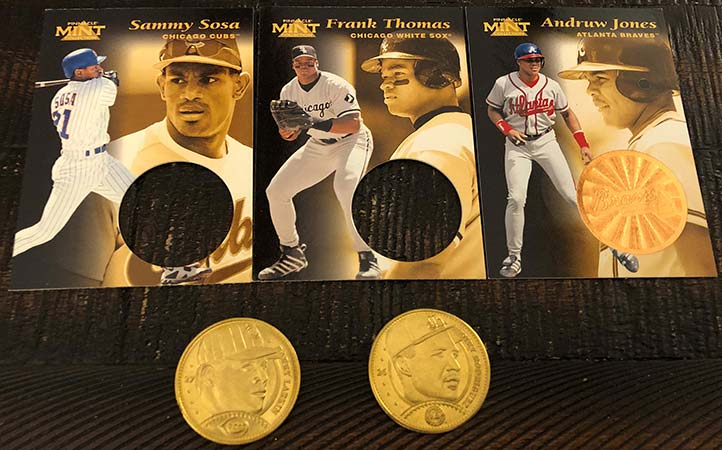 Pack 2:
Ivan Rodriguez, Jay Buhner Bronze, Hideo Nomo Brass Coin & Ivan Rodriguez Brass Coin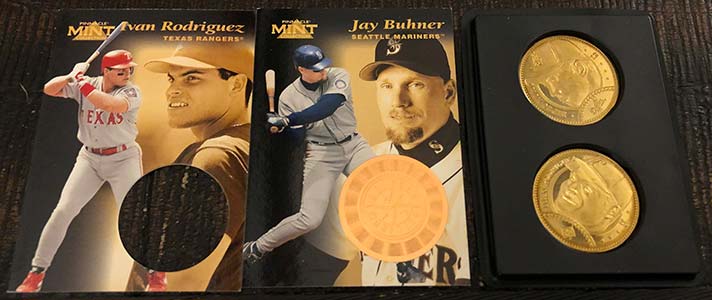 Pack 3:
Hideo Nomo, Brian Jordan, Jeff Bagwell Bronze, Alex Rodriguez Brass Coin & Gary Sheffield Brass Coin
Bagwell was drafted in the fourth round of the 1989 draft by his hometown Boston Red Sox. The Red Sox traded Bagwell to Houston during the 1990 season. The return? Larry Anderson, who pitched in 15 games for the Sox. 

Pack 4:
Mike Piazza, Ken Caminiti, Gary Sheffield Bronze, Albert Belle Brass Coin & Dante Bichette Brass Coin

Pack 5:
Cal Ripken, Jr., Albert Belle Bronze, Ken Caminiti Nickel-Silver Coin (1 in every 20 packs) & Andruw Jones Brass Coin
Albert "Mr. Freeze" Belle was one of the most-feared right handed hitters of the 1990s. He won five Silver Slugger Awards in six seasons between 1993 and 1998. Unfortunately, injuries forced Belle to retire after the 2000 season.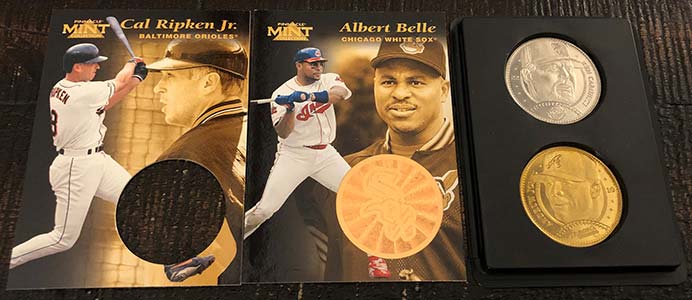 Pack 6:
Ken Griffey Jr., Derek Jeter, Sammy Sosa Bronze, Chipper Jones Brass Coin & Derek Jeter Brass Coin

Pack 7:
Greg Maddux, Frank Thomas Bronze, Tim Salmon Brass Coin & Ken Caminiti Brass Coin
Speaking of feared right handed hitter, Frank Thomas dominated the '90s. During the decade, "The Big Hurt" hit .320 with 301 home runs and 1,040 RBI.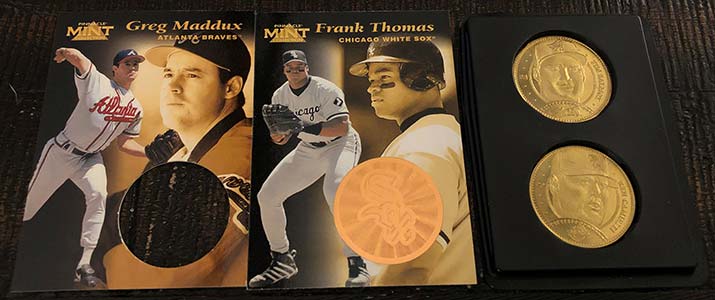 Pack 8:
Manny Ramirez, Mark McGwire, Henry Rodriguez Bronze, Cal Ripken Jr. Brass Coin & Hideo Nomo Brass Coin

Pack 9:
Chipper Jones, Tim Salmon, Ivan Rodriguez Bronze, Jay Buhner Brass Coin & Brian Jordan Brass Coin
The Marlins franchise has won two World Series titles, 1997 and 2003. Is it a coincidence that Pudge Rodriguez's only season in Florida (2003) ended with a championship? I think not. 

Pack 10:
Juan Gonzalez, Tony Gwynn, Brian Jordan Silver (1:15 packs), Dante Bichette Brass Coin & Frank Thomas Brass Coin

Pack 11:
Alex Rodriguez, Barry Bonds, Brian Jordan Bronze, Greg Maddux Brass Coin & Manny Ramirez Brass Coin
Brian Jordan played three seasons in the NFL before switching to baseball. The strong safety intercepted five balls for the Falcons before jumping into the Cardinals outfield in 1992.

Pack 12:
Andruw Jones, Barry Larkin, Hideo Nomo Bronze, Chuck Knoblauch Brass Coin & Tony Gwynn Brass Coin

Pack 13:
Jeff Bagwell, Jay Buhner, Ken Caminiti Bronze, Cal Ripken Jr. Brass Coin & Jeff Bagwell Brass Coin
Not just an offensive force, Caminiti also won three Gold Gloves at third base during the '90s. He also posted an .815 OPS during the decade.

Pack 14:
Albert Belle, Gary Sheffield, Mike Piazza Bronze, Alex Rodriguez Brass Coin & Gary Sheffield Brass Coin

Pack 15:
Mo Vaughn, Dante Bichette, Chuck Knoblauch Bronze, Dante Bichette Brass Coin & Mark McGwire Brass Coin
Knoblauch ran away with the AL Rookie of the Year Award in 1991, batting .281 and stealing 25 bases. The second baseman would go on to steal 407 bases during a 12-year major league career. 

Pack 16:
Frank Thomas, Sammy Sosa, Cal Ripken, Jr. Bronze, Ryan Klesko Brass Coin & Manny Ramirez Brass Coin

Lastly, the Frank Thomas card back. They used the same background image as the card front, but made it color and included a new sepia-toned player image.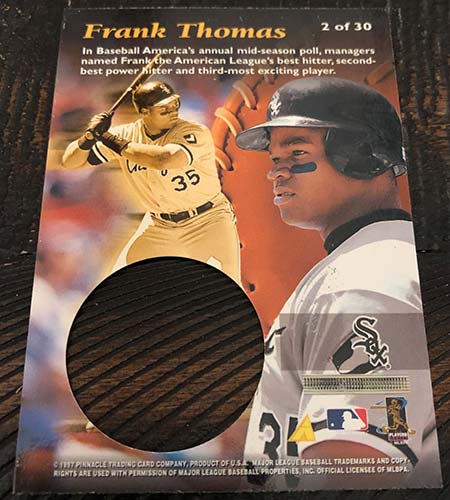 Like I said before, the coins in this product are really well done. They are solid and have a nice weight to them. I could see coin collecting baseball fans taking a look at these, and possibly dipping their toes in baseball card collecting. 
I was pleasantly surprised by the collation in this one. With such a small checklist I expected to pull a lot more duplicate cards and coins. I do wish the set had more going for it beyond the coins, though. Some inserts or something. It seemed as though the coins were the focus, with the cards kind of an afterthought. It was definitely something different, though, and that deserves some kudos. 
Shop for 1997 Pinnacle Mint Baseball on:
Want more installments of Shane Salmonson's Cheap Wax Wednesday? Check out his other breaks in the archives.