Cheap Wax Wednesday Box Breaks: 1997 New Pinnacle Baseball
From 1992 to 1996, Pinnacle Baseball consisted of two separate but joined Series. 1997 was different, though, and Pinnacle was only one series. Instead of a Pinnacle Series 2, they released this set, and called it New Pinnacle. The set is a completely different design inserts. The Museum Collection and Artist Proof parallels carried over, though.
1997 New Pinnacle Baseball consists of a 200-card base set. Gone was the big gold block at the bottom of 1997 Pinnacle cards. Instead, the base cards are borderless and have a much sleeker look.
The checklist also features three tough-to-pull inserts. Spellbound inserts are found once per box, while Keeping the Pace (once every four or five boxes) and Interleague Encounter (1:12 boxes) are much harder to find.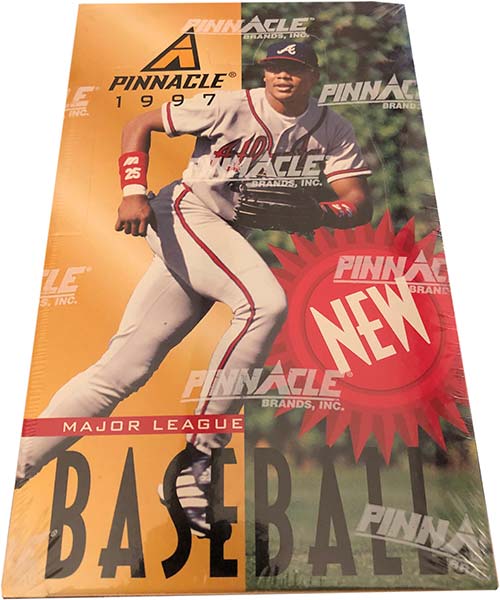 1997 New Pinnacle Baseball also debuted an insert that is used by many different companies to this day. For the first time, printing plates were inserted into packs. Pinnacle called them Press Plates. Front and back Press Plates for every card — base and insert — were inserted into the product. Each plate is signed by then Pinnacle Chairman & CEO Jerry Meyer. 
1997 New Pinnacle Baseball Box Break
Cards per pack: 10
Packs per box: 20
Price paid: $50

Pack 1:
Barry Bonds, Edgar Renteria, Barry Larkin & Johnny Damon
Renteria would win the first of two World Series titles in 1997. He hit .290 during that seven-game series, including driving in the winning run on a walk-off single in extra innings of game 7.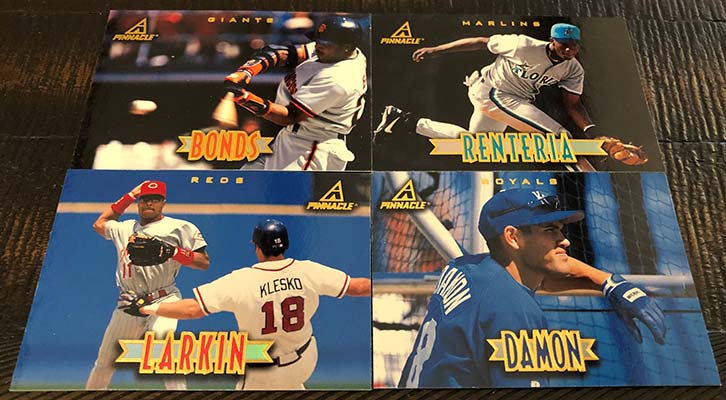 Pack 2:
Garret Anderson, Ken Caminiti, Greg Vaughn & Wade Boggs (It was Boggs' 63rd birthday yesterday)

Pack 3:
Vladimir Guerrero, Eddie Murray, Albert Belle, Moises Alou, Nomar Garciaparra & Wilson Alvarez Museum Collection (1:9 packs)
Not all cards labeled "rookie" are considered actual rookie cards, much like this one. In fact, of the 20 cards with the "Rookie" headline in the set, only two (Bubba Trammell and Brian Giles) are considered actual RCs.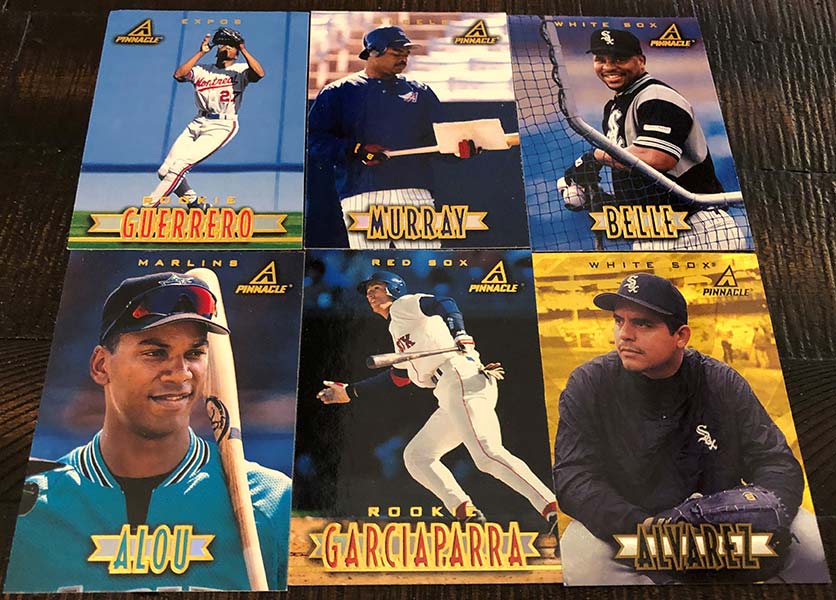 Pack 4:
Pedro Martinez, Larry Walker, Ivan Rodriguez, Andres Galarraga, Bobby Abreu & Jim Edmonds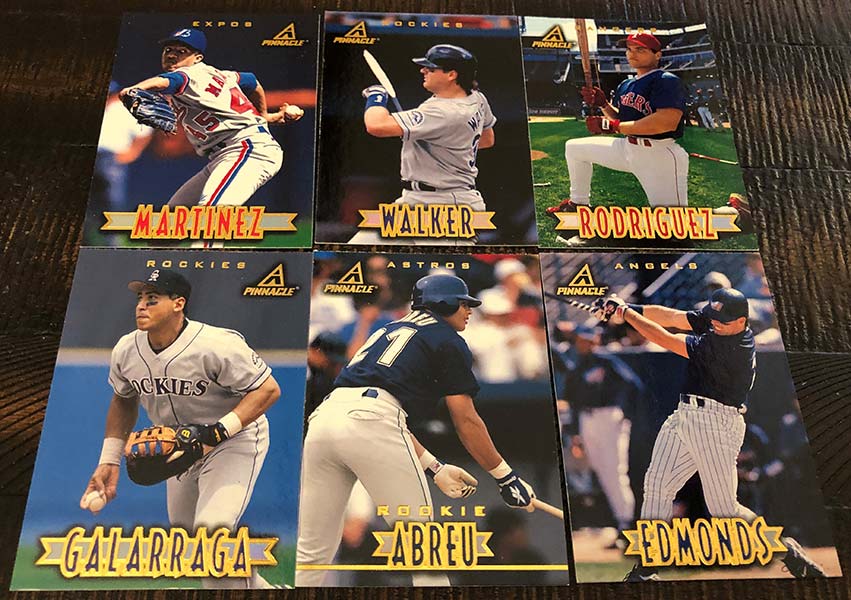 Pack 5:
John Smoltz, Joe Carter, Alex Rodriguez AURA, Bobby Abreu & Juan Gonzalez
John Smoltz led the league in innings pitched in 1997, with 256. Strangely, while posting a 3.02 ERA, he also led the league in hits allowed.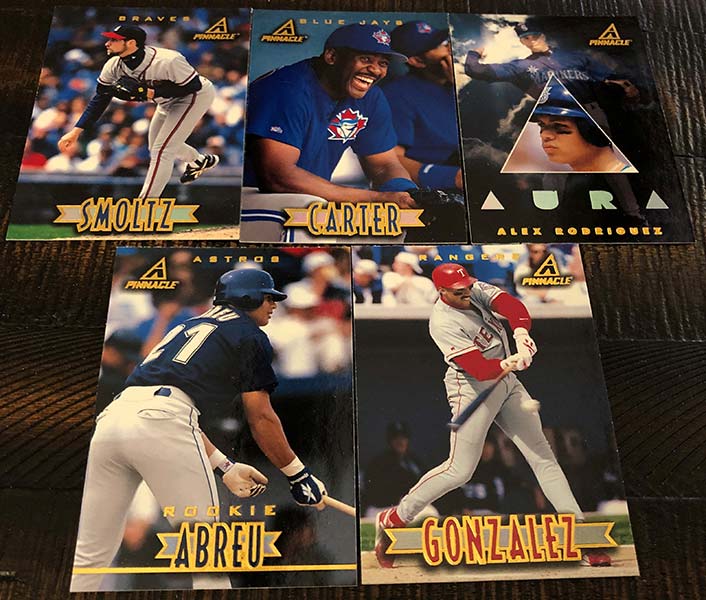 Pack 6:
Jeff Bagwell, Edgar Martinez, Darin Erstad, Gary Sheffield & Randy Johnson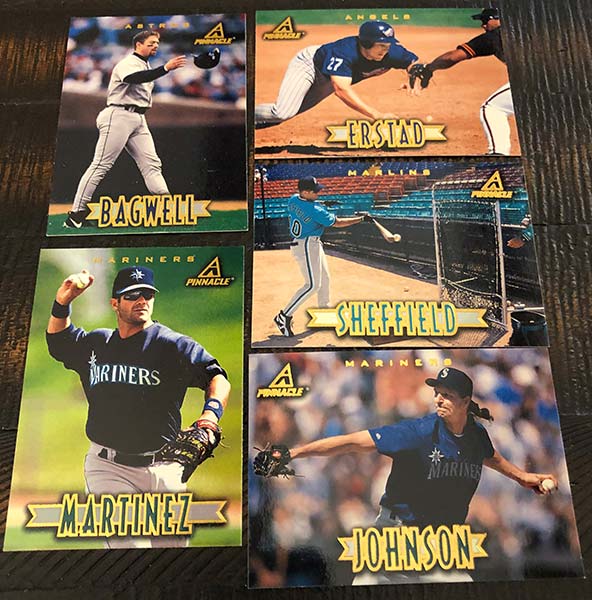 Pack 7:
Mark Grace, Sandy Alomar, Jr., Raul Mondesi & Craig Biggio
Hey, kids! See that thing Alomar is holding? That's what a video camera looked like back in the '90s!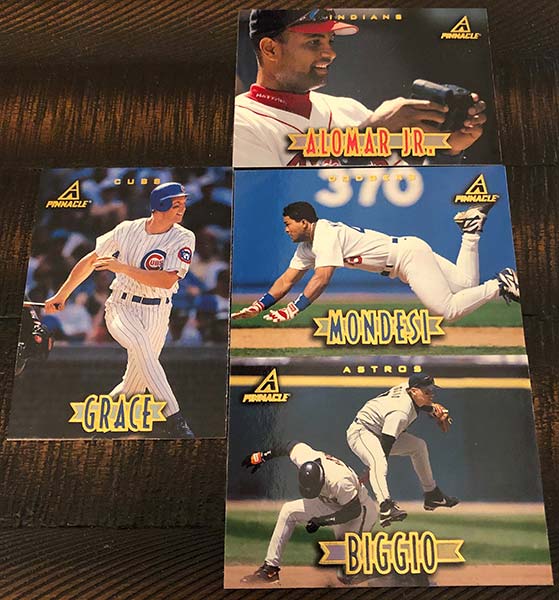 Pack 8:
Barry Larkin, Ryne Sandberg, Frank Thomas & Will Clark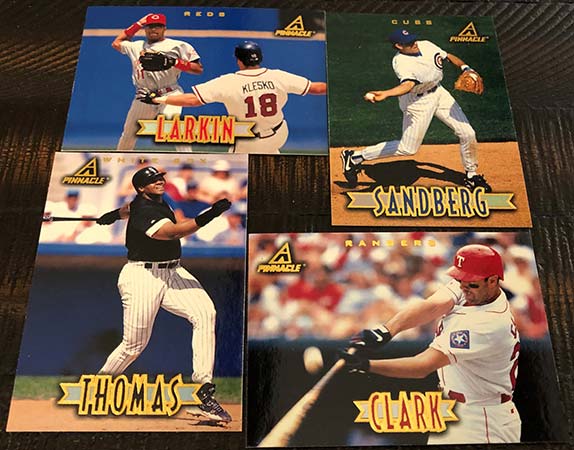 Pack 9:
Cal Ripken, Jr., Mariano Rivera & Cal Ripken, Jr. Spellbound (1:19 packs)
The Spellbound inserts featured different letters that would spell out the player's name or nickname. Ripken has six different cards in the set, spelling out RIPKEN.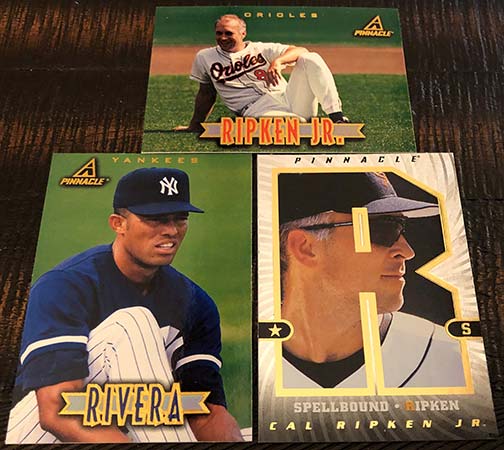 Pack 10:
Roberto Alomar, Barry Bonds, Hideo Nomo, Frank Thomas AURA, Nomar Garciaparra & Andres Galarraga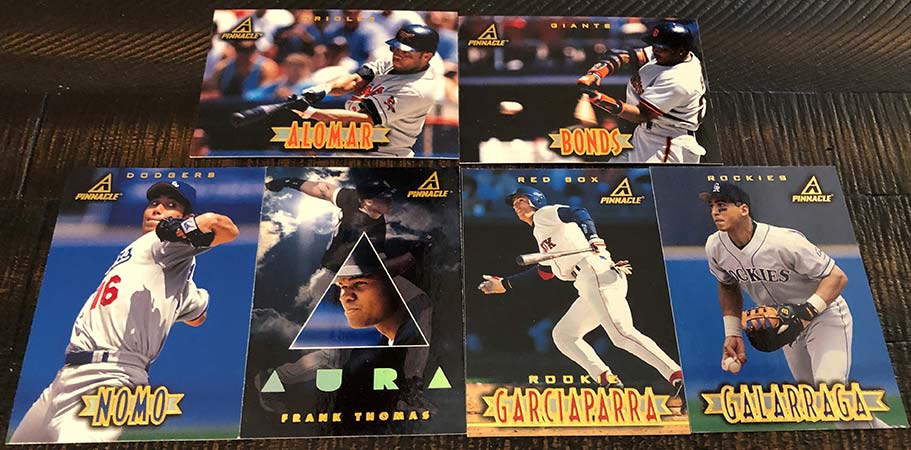 Pack 11:
Andruw Jones, Tim Salmon, Shawn Green & Cal Ripken, Jr. EMW
Andruw Jones debuted for the Braves in 1996 at just 19-years old. That didn't stop him from really showing up in the World Series. He hit .400 with two home runs in the six-game World Series loss to the Yankees. 

Pack 12:
Albert Belle AURA, Chipper Jones, Pedro Martinez EMW & Bill Pulsipher Museum Collection (1:9 packs)

Pack 13:
Sammy Sosa (do you see any cork in there?), Scott Rolen, Andy Pettitte & Mike Piazza

Pack 14:
Mo Vaughn, Tom Glavine & Jim Thome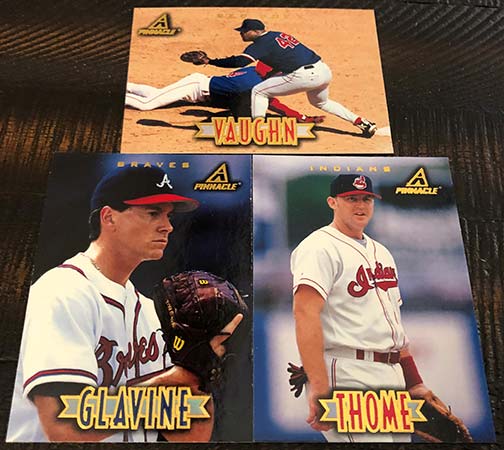 Pack 15:
Cecil Fielder, Vladimir Guerrero CL & Kenny Lofton
The Cleveland Indians traded Lofton (and Alan Emree) to the Braves for Marquis Grissom and David Justice prior to the 1997 season. Lofton became a free agent after the season and signed back with Cleveland. 

Pack 16:
Manny Ramirez, Alex Rodriguez, Gary Sheffield EMW, Mike Piazza AURA, Juan Gonzalez & Juan-Gone AURA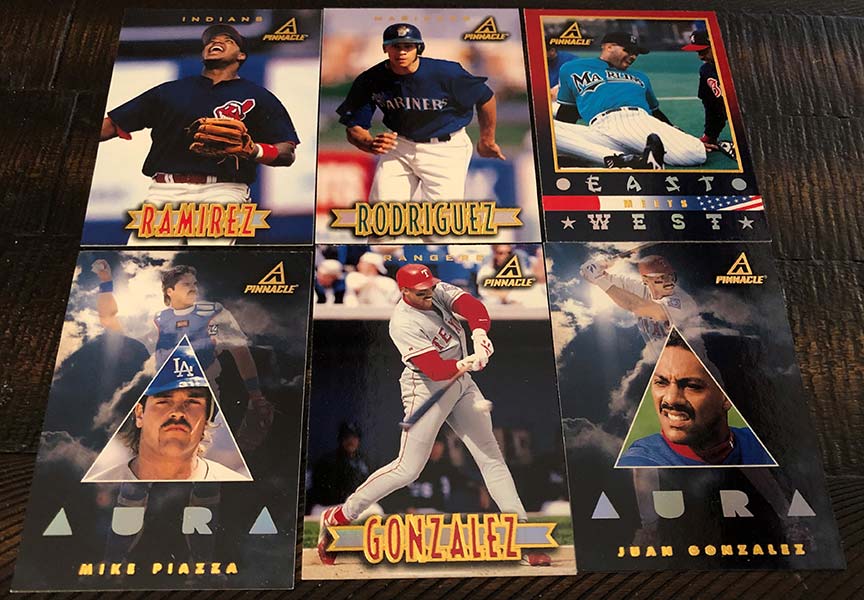 Pack 17:
Cliff Floyd, Bonds/Rodriguez EMW, Alex Rodriguez EMW, Jason Giambi, Juan Gonzalez AURA & Mike Piazza
The East Meets West subset chronicles the 1996 Super Major Series. After the 1996 season, a group of MLB stars traveled to Japan and played games against Japan's professional All-Stars. Eight games were played with MLB winning four. Japan's teams won twice, and two of the games ended in a tie.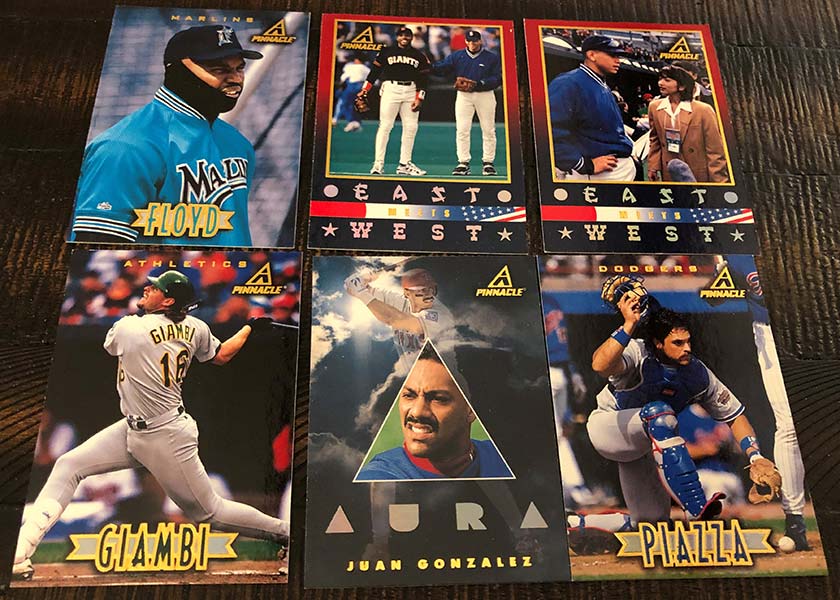 Pack 18:
Carlos Delgado (that is definitely NOT a picture of Delgado), Ivan Rodriguez EMW, Roger Clemens, Chipper Jones AURA & Tony Gwynn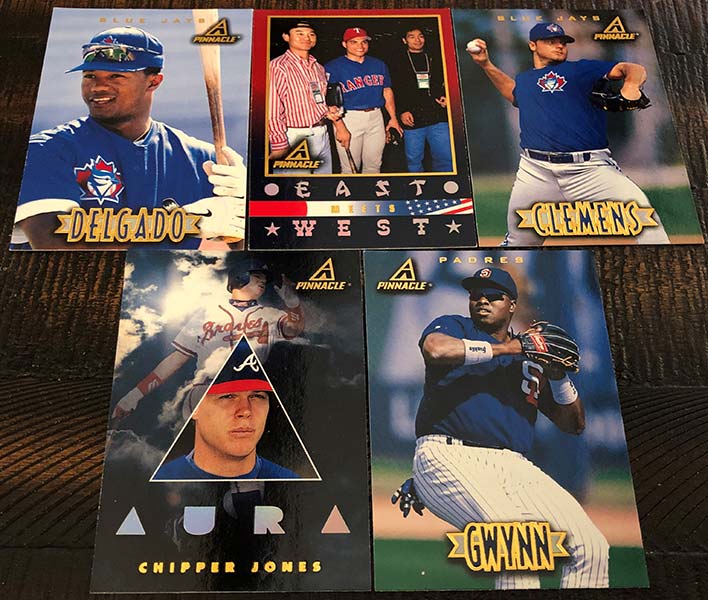 Pack 19:
Greg Maddux, Mark McGwire AURA, Derek Jeter & Alex Gonzalez Artist Proof (1:39 packs)
Alex Gonzalez was hyped up as a future star. Remember the Sports Illustrated cover featuring him with Rey Ordonez, Edgar Renteria, Alex Rodriguez and Derek Jeter? Gonzalez's career would rank fourth in that group, beating out only Ordonez. 

Pack 20:
Ellis Burks & Barry Bonds AURA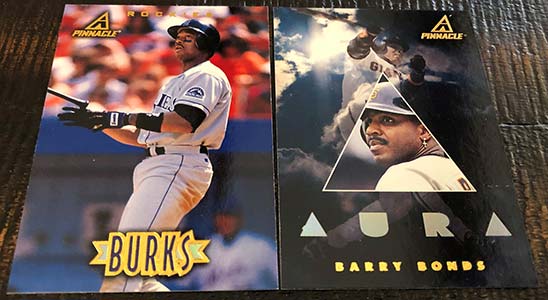 Lastly, the Greg Maddux card back. Hard to believe Maddux lost 11 games in 1996 while sporting a 2.72 ERA.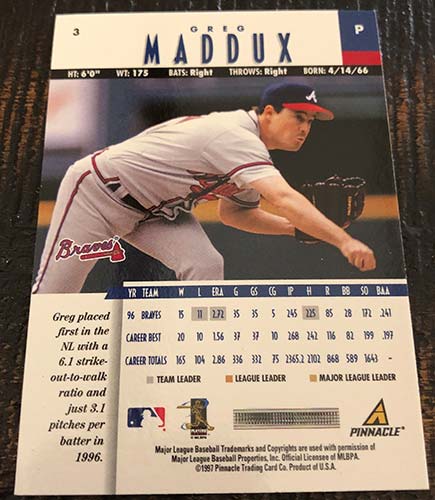 I very much prefer the New Pinnacle design over 1997 Pinnacle Baseball. It's a much cleaner look and the set included some fun photography as well.
This box wasn't all that hot, unfortunately. I pulled everything that odds say I should have and then some, but the players weren't exactly stars. My three parallels (Alvarez, Pulsipher and Gonzalez) certainly could have been bigger names. 
Still, this a fun product and all of the parallels and inserts are attractive cards.
Shop for 1997 New Pinnacle Baseball cards on:
Want more installments of Shane Salmonson's Cheap Wax Wednesday? Check out his other breaks in the archives.