Cheap Wax Wednesday Box Breaks: 1997 Donruss Baseball
1997 Donruss Baseball was split into a regular release featuring 270 case cards, and an update series with 180 cards. The base cards were borderless, and included a silver foil team logo on each card.
Base cards can also be found with two different parallels, Silver and Gold Press Proofs. Silver Press Proofs have 2,000 copies, while the Gold versions were limited to just 500.
Of course, there were also inserts, all of which are serial numbered on the back except for Rated Rookies. No numbered inserts are guaranteed in a box, either. The easiest serial numbered insert to find is Diamond Kings at a moderately tough 1:45 packs.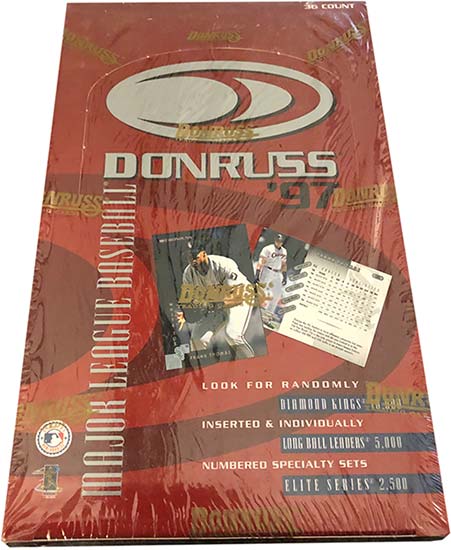 1997 Donruss Baseball Box Break
Cards per pack: 10
Packs per box: 36
Price paid: $40

Pack 1 highlights:
David Cone & Ellis Burks
As you can see right from the get-go, some of these cards were sticking together in the packs. It is unfortunate, but something I have seen my fair share of while opening older products.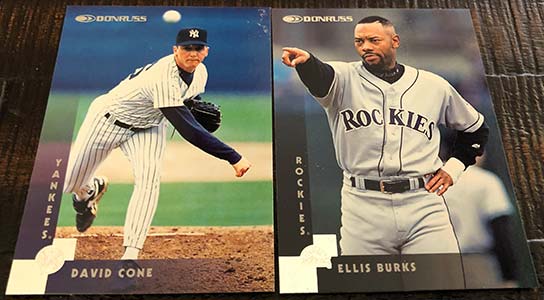 Pack 2:
Harold Baines, Fernando Valenzuela & David Cone

Pack 3:
Ken Caminiti, Troy Percival, Ivan Rodriguez & Jason Thompson Rated Rookies (1:6 packs)
Pack 4:
Kevin Brown, Kenny Lofton & Mark Grace
The sweet-swinging Mark Grace played 16 seasons in the big leagues, finishing with a .303 career average.

Pack 5:
Mark McGwire CL, Ken Griffey, Jr., Darryl Strawberry, Eddie Murray & Derek Jeter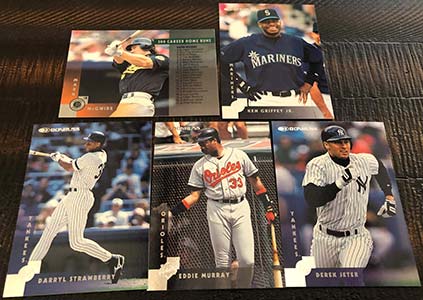 Pack 6:
Ken Caminiti, Brett Butler & Mark Loretta Silver Press Proof /2,000 (1:8 packs)

Pack 7:
Jamie Moyer & Vinny Castilla
The soft-tossing Jamie Moyer pitched 25 seasons in the majors, winning 269 games during his lengthy career. He holds the all-time major league record for home runs allowed with 522.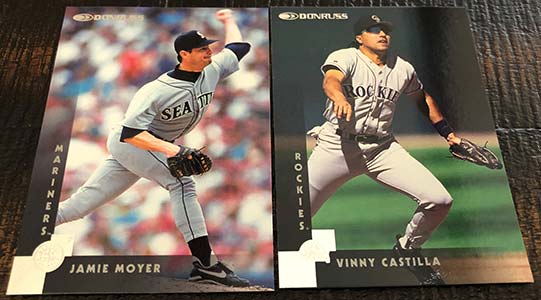 Pack 8:
Ozzie Smith, Frank Thomas & Sammy Sosa Long Ball Leaders /5,000 

Pack 9:
Bobby Bonilla, Chipper Jones & Andres Galarraga

Pack 10:
Kenny Lofton & Darin Erstad Rated Rookies (1:6 packs)
Lofton led the majors in steals for five straight seasons from 1992-1996, stealing 325 bases during that time. He also won the Gold Glove Award the last four seasons of that stretch.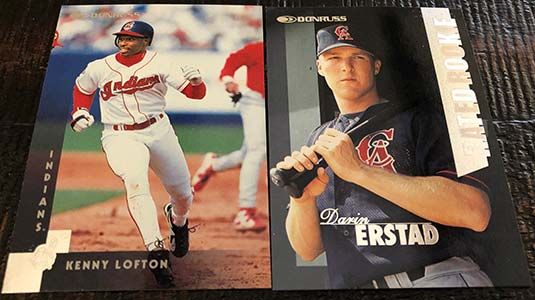 Pack 11:
Randy Johnson & Greg Vaughn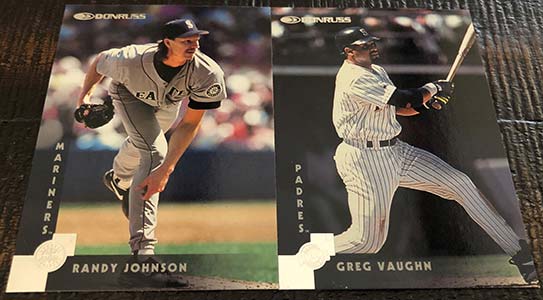 Pack 12:
Eric Davis, Alex Rodriguez, Sammy Sosa, Joe Carter & Jeff Bagwell

Pack 13:
Fred McGriff, Fernando Valenzuela, Jason Giambi & Manny Ramirez
There were a lot of home runs in this pack. These four combined to hit 1,498 home runs. Valenzuela was the low man, though he did hit 10 long balls over the course of his career.

Pack 14:
Juan Gonzalez, Manny Ramirez & Ivan Rodriguez

Pack 15:
Fred McGriff, Chipper Jones & Cal Ripken, Jr. Diamond Kings /10,000 (1:45 packs)

Pack 16:
Hideo Nomo, John Smoltz & Mike Piazza
Smoltz was pitching for the Braves in 1995, the last time they won the World Series. He did not fare well in the 1995 series, though, starting one game and lasting just 2 1/3 innings and allowing four runs.

Pack 17:
Moises Alou & Will Clark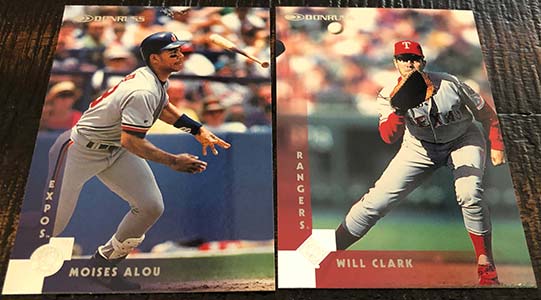 Pack 18:
Harold Baines, Ivan Rodriguez & Marcus Jensen Silver Press Proof /2,000 (1:8 packs)

Pack 19:
A quartet of Hall of Famers; Cal Ripken, Jr., Barry Larkin, Mariano Rivera & Andre Dawson
Dawson had hung up his spikes by the time this set was released. He finished his Hall of Fame career with the Marlins, playing in 121 games combined during the 1995 and 1996 seasons. 

Pack 20:
Craig Biggio & Jose Mesa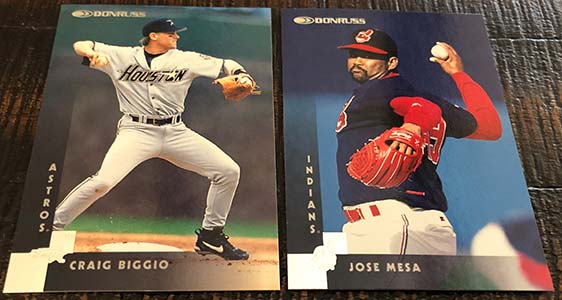 Pack 21:
Reggie Sanders, Tino Martinez & Omar Vizquel

Pack 22:
Pedro Martinez, Dante Bichette & Wally Joyner
I own a full 9-pocket page of this Pedro Martinez card. 

Pack 23:
Omar Vizquel, Jason Isringhausen, Tony Gwynn & Steve "Rock Of" Gibralter Rated Rookies (1:6 packs)

Pack 24:
Cecil Fielder, Mike Hampton, Joe Carter & Moises Alou

Pack 25:
Barry Bonds, Andy Pettitte, Albert Belle & Barry Larkin
From 1991 until the end of Belle's career in 2000, his average season saw him hit .298 with 37 home runs and 120 RBI. 

Pack 26:
Paul Molitor CL & Tim Wakefield Silver Press Proof /2,000 (1:8 packs)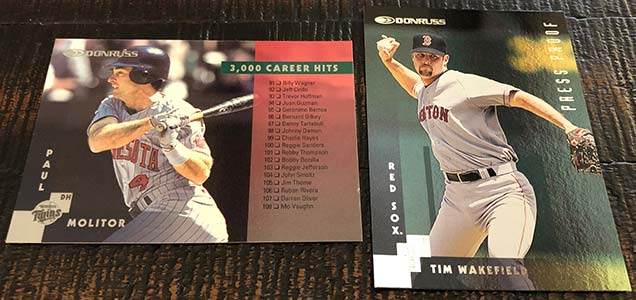 Pack 27:
Jermaine Dye, Jason Giambi & Tim Wakefield

Pack 28:
Gary Sheffield, Tony Gwynn, Kevin Brown, Carlos Baerga & Jim Thome
Sheffield made the major leagues in 1988 as a shortstop. He would continue playing the infield through the 1993 season, before moving to the outfield. He did have a cannon out there, recording 17 outfield assists during the 2001 season. 

Pack 29:
Mo Vaughn, Frank Thomas & Bret Boone

Pack 30:
Luis Gonzalez & Chan Ho Park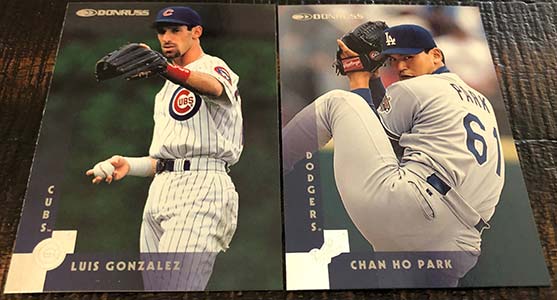 Pack 31:
Barry Bonds CL, Mo Vaughn, Mark McGwire & Ugueth Urbina Rated Rookies (1:6 packs)
Urbina recorded a dominant 1998 season, pitching in 64 games and sporting a 1.30 ERA.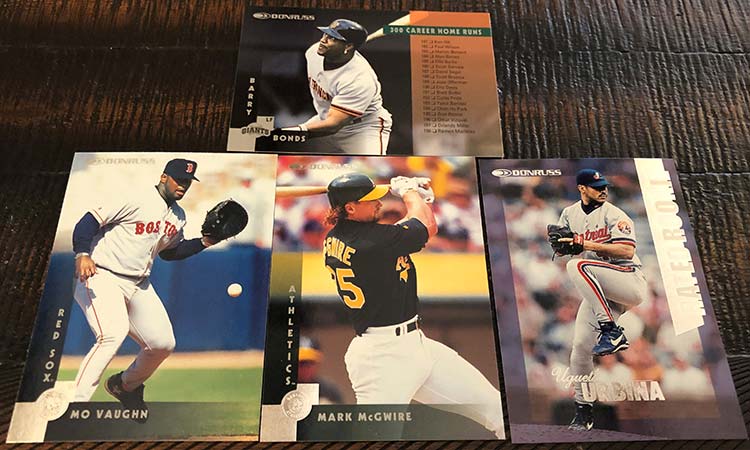 Pack 32:
Paul Molitor CL, Andy Pettitte & Dwight Gooden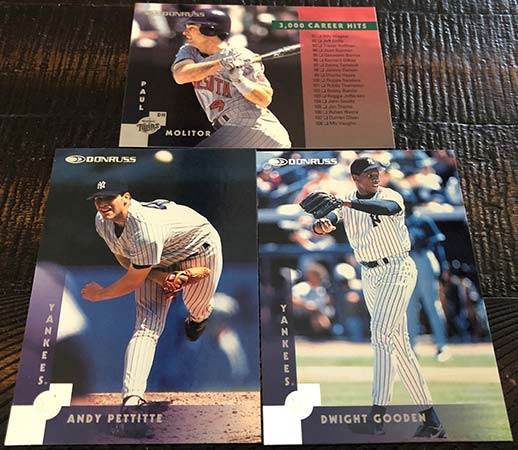 Pack 33:
Kenny Lofton & Eddie Murray CL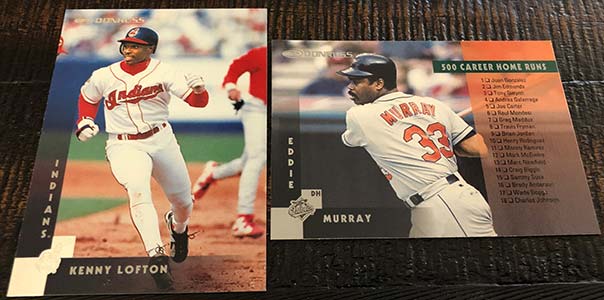 Pack 34:
Bernie Williams, Tim Salmon, Johnny Damon & B.J. Surhoff Silver Press Proof /2,000 (1:8 packs)
Surhoff put together a very solid 19-year major league career. He recorded 2,326 hits while playing all over the diamond. Aside from pitcher, Surhoff appeared at every position during his career. 

Pack 35:
Tim Salmon, Johnny Damon & Eric Young

Pack 36:
Alan Trammell, Jose Canseco, Roger Clemens, Ken Griffey Jr. & Vladimir Guerrero Rated Rookies (1:6 packs)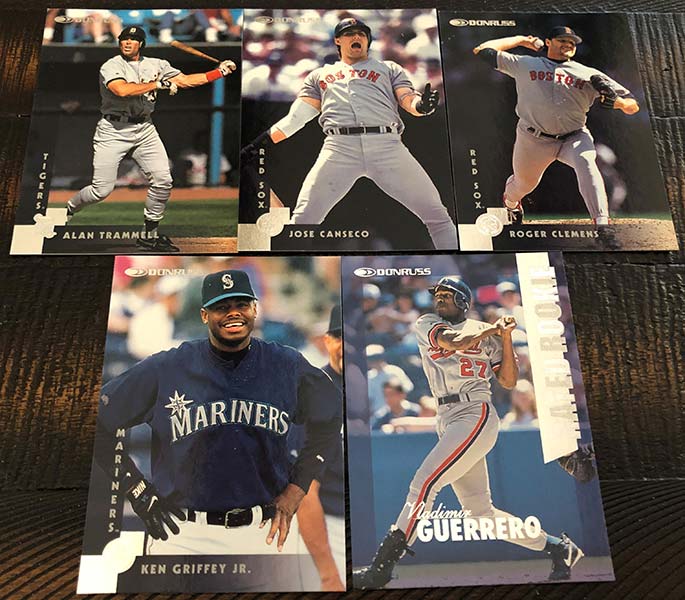 Lastly, the Clemens card back. Now this is a card back. Another player photo and a boatload of stats? Yes, please.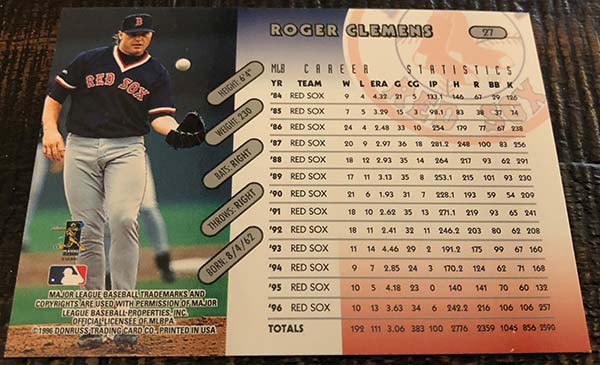 Donruss products always make for a fun break. No, I didn't pull an Elite insert but I love the look of the Diamond Kings. Those aren't easy pulls, either. I know I have featured some Donruss breaks in the past, but I need to track down the rest of the '90s run for the line that I haven't.
This wraps up baseball breaks for the season. Next week we will switch over to football products.
Shop for 1997 Donruss Baseball on:
Want more installments of Shane Salmonson's Cheap Wax Wednesday? Check out his other breaks in the archives.