Cheap Wax Wednesday Box Breaks: 1996 Zenith Series II Football
As some of you know, I keep a stash of cheap wax around at all times. In addition to the unopened boxes, I have a picture folder on my computer chock full of breaks waiting to be posted. Recently I noticed I was nearly out of football breaks, and seeing how the football box breaks run through the end of the season, it was time to stock back up!
I took advantage of some Black Friday sales and ordered another 20 or so boxes to be featured here. This box of 1996 Zenith Series II from Pinnacle just happens to be the first box I opened from that shipment.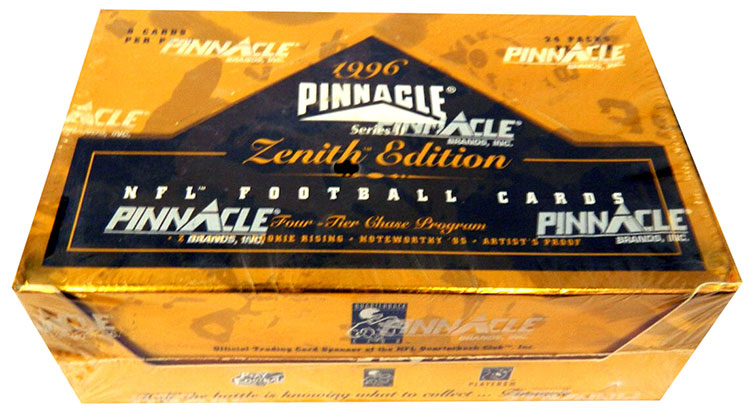 1996 Pinnacle Zenith Series II Football Box Break
Cards per pack: 6
Packs per box: 24
Price paid: $23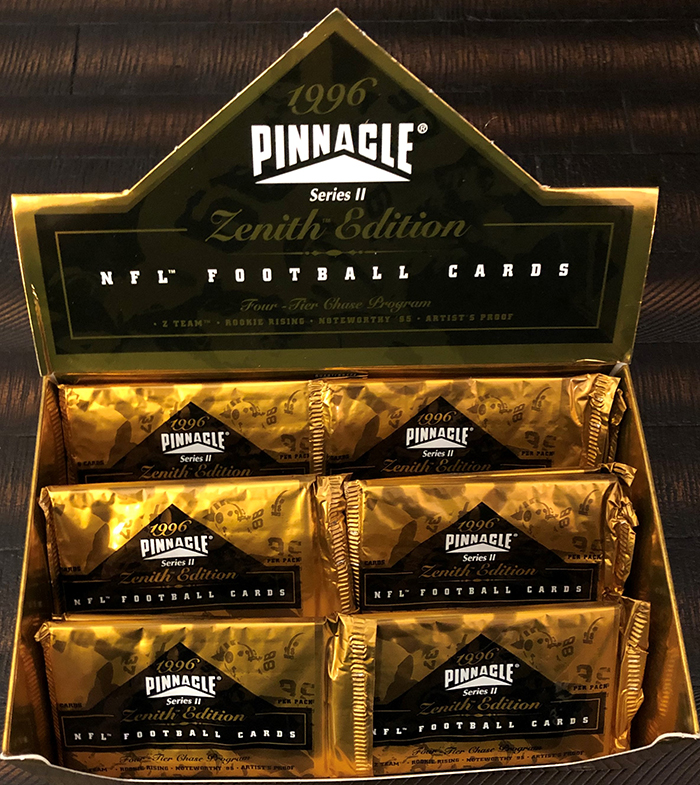 Pack 1 highlights:
Bruce Smith, Garrison Hearst & Dan Marino Checklist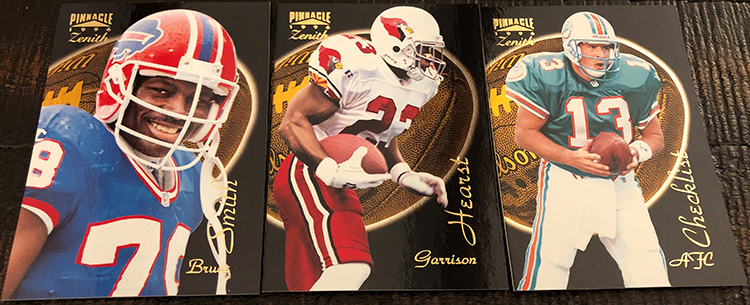 Pack 2:
Marcus Allen, Tim Brown & Herman Moore Proof Positive (a subset, so still considered a base card)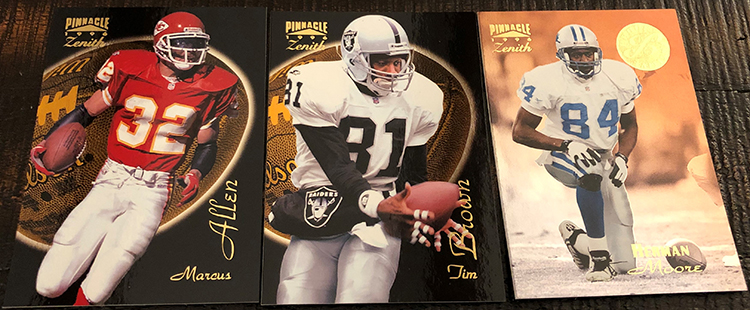 Pack 3:
Junior Seau, Ricky Watters PP, Jeff Blake PP & John Elway Noteworthy '95 (1 in every 12 packs)

Pack 4:
Daryl "Moose" Johnston & Ken Dilger RC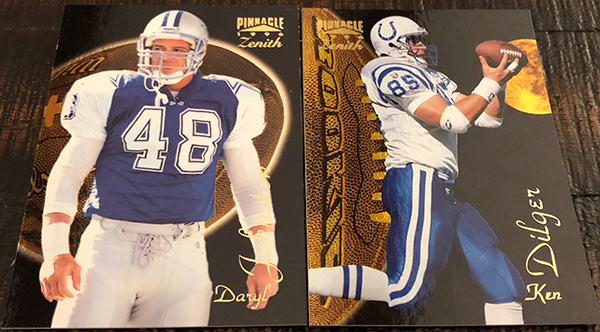 Pack 5:
Dan Marino, Drew Bledsoe, John Elway & Brett Favre PP

Pack 6:
Warren Moon & Steve McNair RC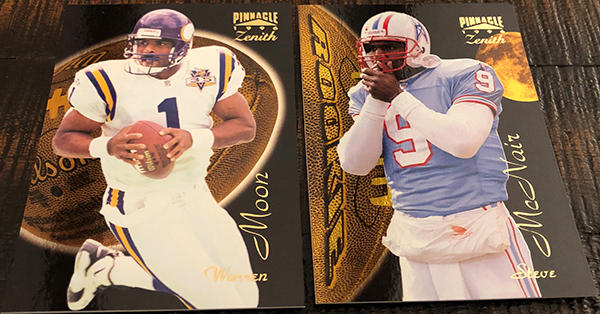 Pack 7:
Deion Sanders & Cowboys Triple Trouble: Aikman, Smith & Irvin

Pack 8:
Marshall Faulk, Troy Aikman & Terrell Davis PP

Pack 9:
Errict Rhett & Andre Reed Artist's Proof (1:23 packs)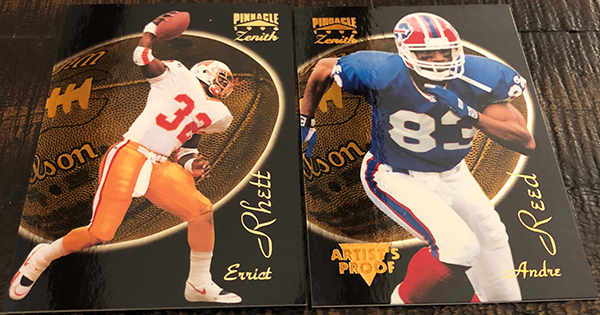 Pack 10:
Dan Marino AFC Checklist & Kerry Collins PP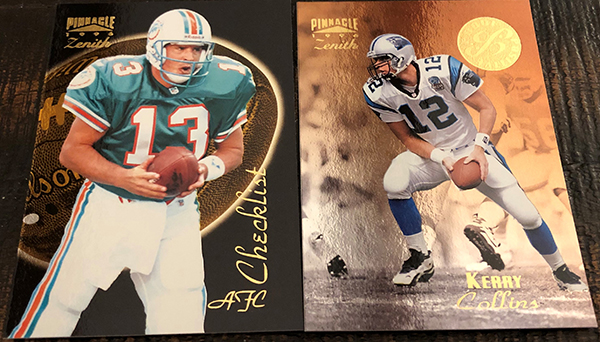 Pack 11:
Joey Galloway PP & Robert Brooks PP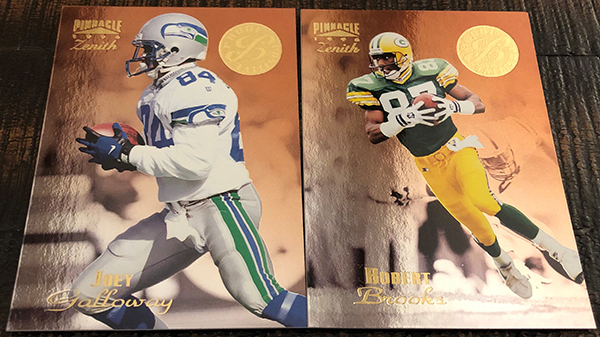 Pack 12:
Andre Reed, Rashaan Salaam RC, Trent Dilfer & Jeff George

Pack 13:
Curtis Martin RC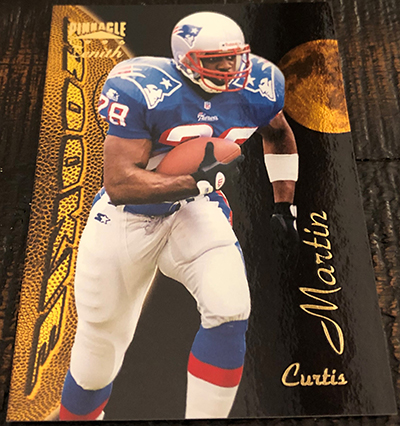 Pack 14:
Brett Favre, Cris Carter, Emmitt Smith NFC Checklist & Darick Holmes Rookie Rising (1:24 packs). Great looking insert card featuring Pinnacle's Dufex technology, unfortunately not the best player. Some of the better names on the checklist for this insert set included Curtis Martin, Kordell Stewart, Terrell Davis & Steve McNair.

Pack 15:
Wayne Chrebet RC, Rodney Hampton & Terry Allen Artist's Proof (1:23 packs)

Pack 16:
Reggie White, Shannon Sharpe & Isaac Bruce Z Team (1:72 packs)

Pack 17:
Ben Coates, Michael Irvin, Jim Harbaugh, Herschel Walker & Harbaugh PP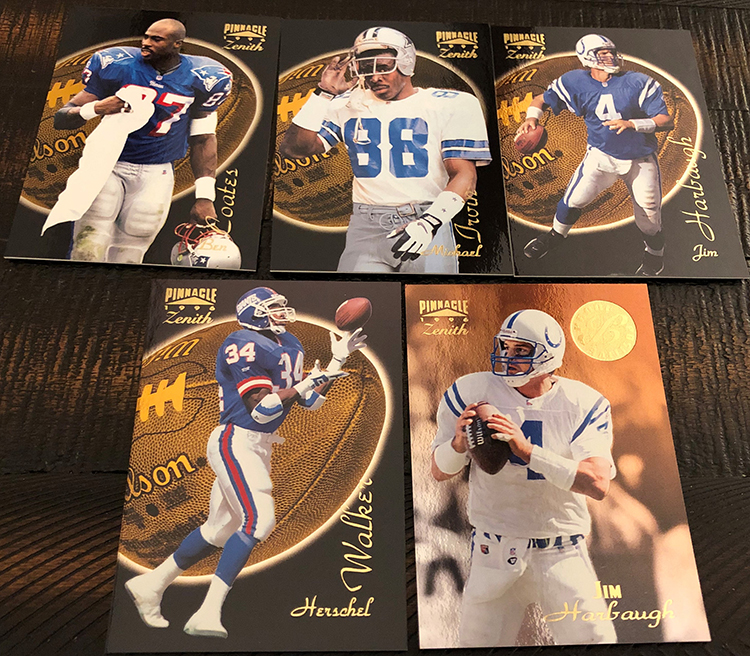 Pack 18:
Jim Kelly (quite the photo choice on this one) & Jerry Rice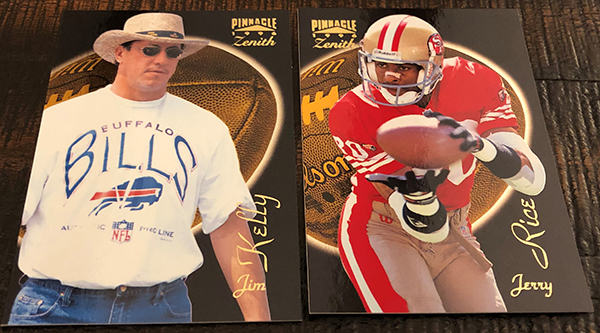 Pack 19:
Emmitt Smith, Steve Young & Larry Brown Noteworthy '95 (1:12 packs)

Pack 20:
Isaac Bruce & Napoleon Kaufman RC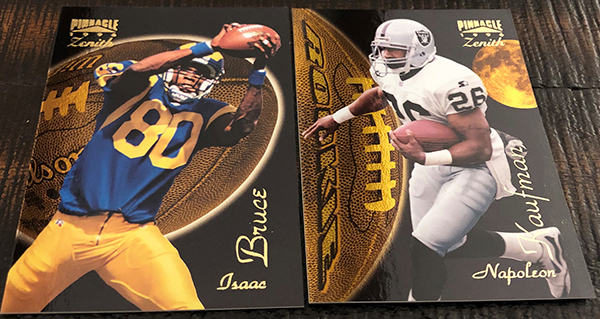 Pack 21:
Robert Brooks & Joey Galloway RC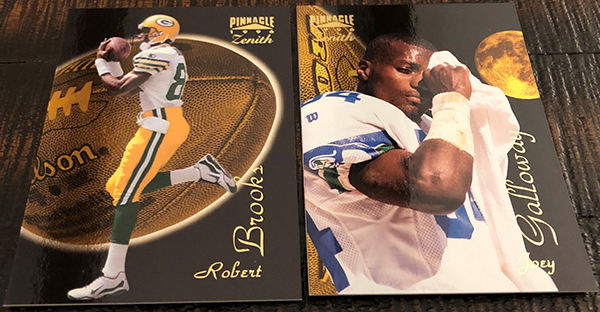 Pack 22:
Barry Sanders & Kordell Stewart PP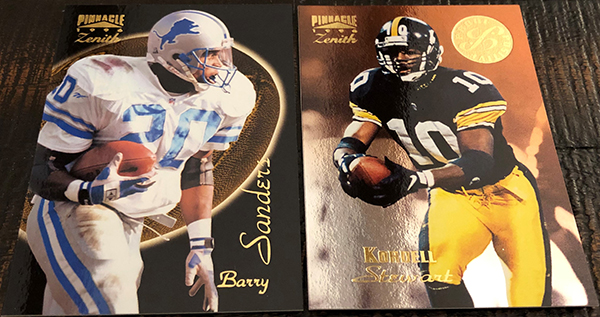 Pack 23:
Terrell Davis RC, Derrick Thomas & Isaac Bruce PP

Pack 24:
Jerome Bettis & Carl Pickens PP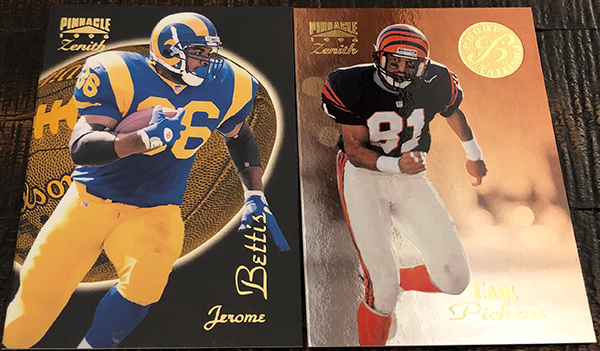 Lastly, the Bettis card back. How many of you actually remember Bettis played for the Rams? I always think of him as a Pittsburgh Steeler.
This was a really solid break. Beat the 1:23 odds and pulled two Artist's Proofs cards, both being skill players, too (always a plus)! I also hit the chase of this product in the Isaac Bruce Z Team insert, which are found just once every three boxes. This design has always been one of my favorites. Zenith was always a great looking product. At just a dollar a pack, I wouldn't mind opening some more!
Shop for 1996 Zenith Football on:
Want more installments of Shane Salmonson's Cheap Wax Wednesday? Check out his other breaks in the archives.