Cheap Wax Wednesday Box Breaks: 1996 Topps Stadium Club Series 1 Baseball Jumbo Box
1996 Topps Stadium Club Baseball was split into two series, each with 225 base cards. The base set features full-bleed photos with foil stamped player names and accents. In addition to the base set, each Stadium Club series has five insert sets. With the exception of the Mickey Mantle Retrospective set, which is found in both, inserts are unique to each series. There is also a parallel set to chase.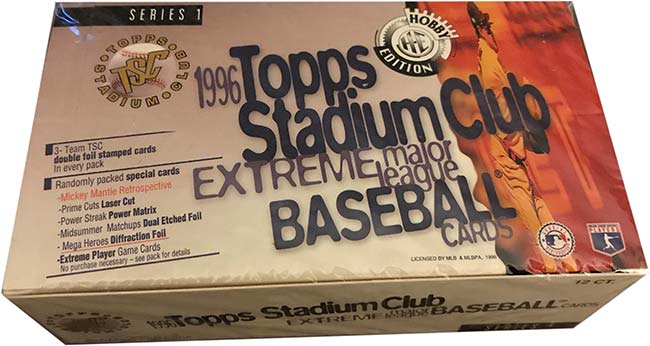 As with everything else in the mid-to-late '90s, Topps Stadium Club went EXTREME! Topps debuted a new redemption program in the form of a parallel. Extreme Players parallels were found in three different colors: Bronze, Silver, and Gold. Bronze is the easiest to find in packs. At the end of the 1996 season, Topps released a list of their chosen "extreme" players, one from each position. If you held an Extreme Players parallel card of a chosen player, you could redeem it for a ten-card set. Each parallel color had a unique set design. 
1996 Topps Stadium Club Series 1 Baseball Jumbo Box Break
Cards per pack: 20
Packs per box: 12
Price paid: $18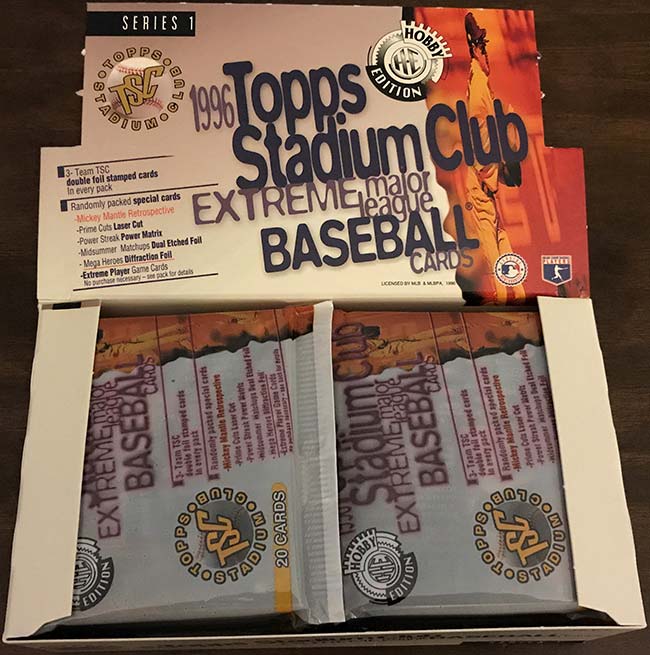 Pack 1 highlights:
Dennis Eckersley, Ken Caminiti, Roberto Alomar, Deion Sanders, Bret Boone & Trevor Hoffman
Ken Caminiti won the 1996 National League MVP unanimously, batting .326 with 40 HR & 130 RBI.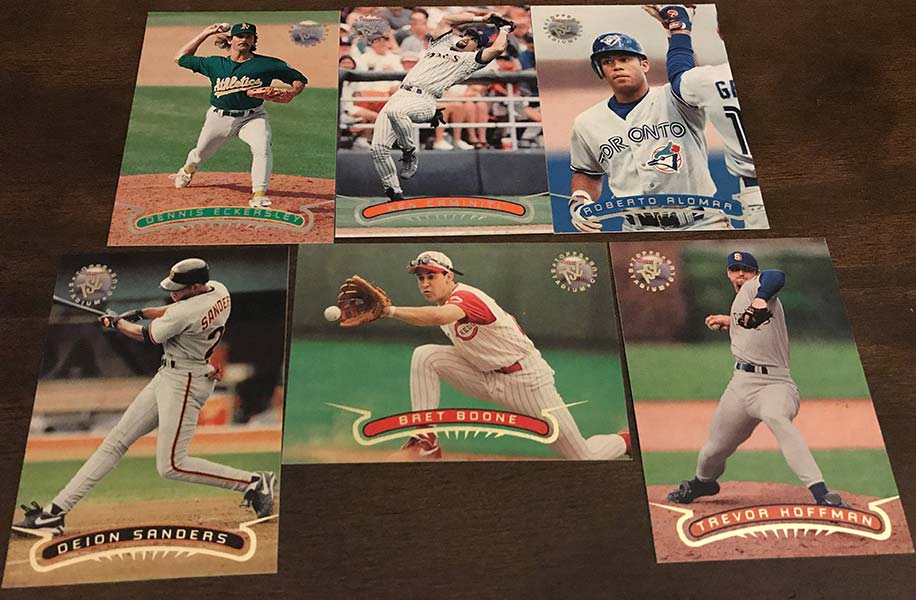 Pack 2:
Mike Piazza, Bernie Williams, Vinny Castilla & Randy Myers Extreme Players Bronze (1 in every 4 packs)
In 1996 and 1997, Vinny Castilla posted identical statlines, finishing each season with a .304 average, 40 home runs and 113 RBI.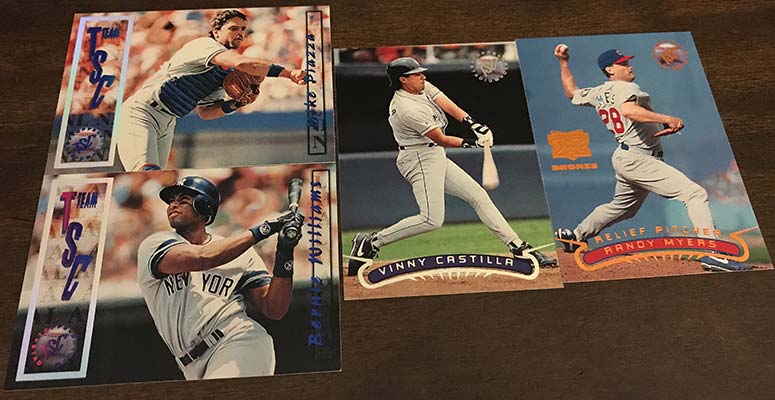 Pack 3:
David Cone, Garret Anderson, Wally Joyner, Joe Carter, Craig Biggio, Gary Gaetti Power Steak (1:8 packs) & Deion Sanders Mega Heroes (1:18 packs)
It's pretty rare to pull two tough inserts in the same pack. Unfortunately the two inserts stuck together in this one. That is a risk you take opening an older product. It is going to happen at some point.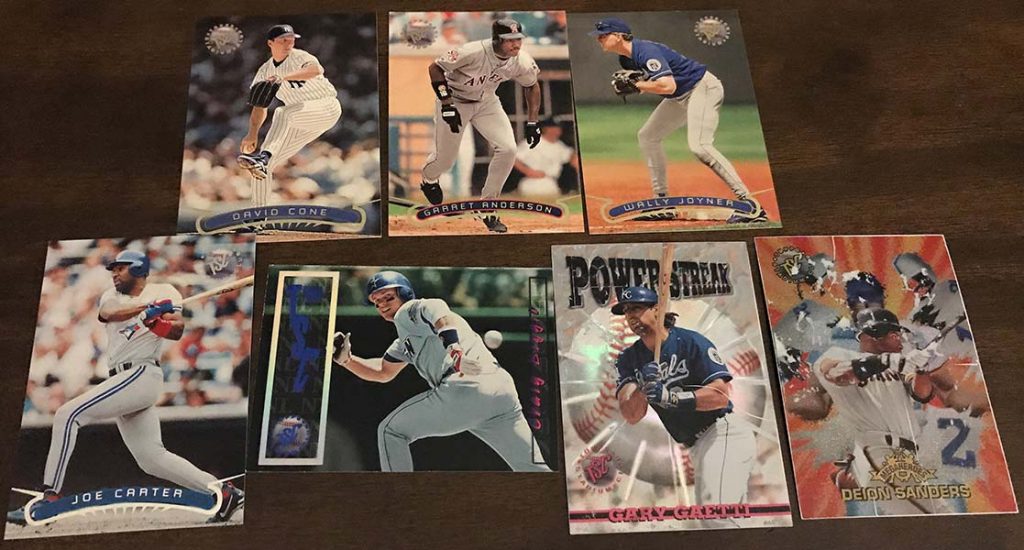 Pack 4:
Kirby Puckett, Barry Bonds, Cal Ripken, Jr. & Troy O'Leary
I love the Puckett photo on this one. I am always a fan of warm-up shots used on cards.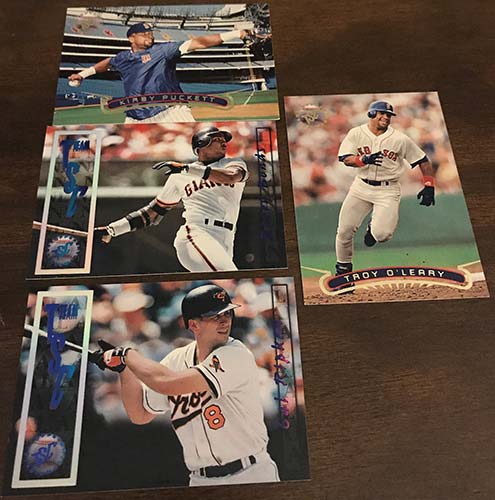 Pack 5:
Andres Galarraga, Jeff Bagwell, Hideo Nomo, Juan Gonzalez, Mike Mussina & Roberto Alomar Extreme Players Bronze (1:4 packs)
Known mostly for his bat, the "Big Cat" Andres Galarraga won back-to-back Gold Glove awards at first base in 1989 and 1990. He finished his career just one home run shy of the 400 mark. 
Pack 6:
Jose Canseco, Ken Griffey, Jr., Shawn Green & Joe Girardi Extreme Players Silver (1:8 packs)
Shawn Green was hyped to be the next big thing when he came up to the majors. He didn't quite live up to that hype, but did put together a solid 15 year major league career, finishing with 2,003 hits.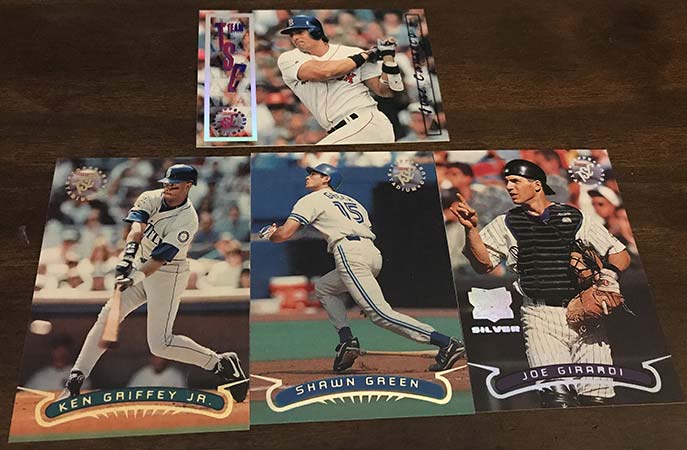 Pack 7:
Jim Edmonds, Mo Vaughn, Jim Thome, Moises Alou, Roberto Alomar & Derek Jeter
Jim Edmonds didn't get much love on the Hall of Fame ballot in 2016, receiving just 2.5% of the vote. That is not enough for a guy who won eight Gold Glove Awards in center field, including six in a row from 2000-2005.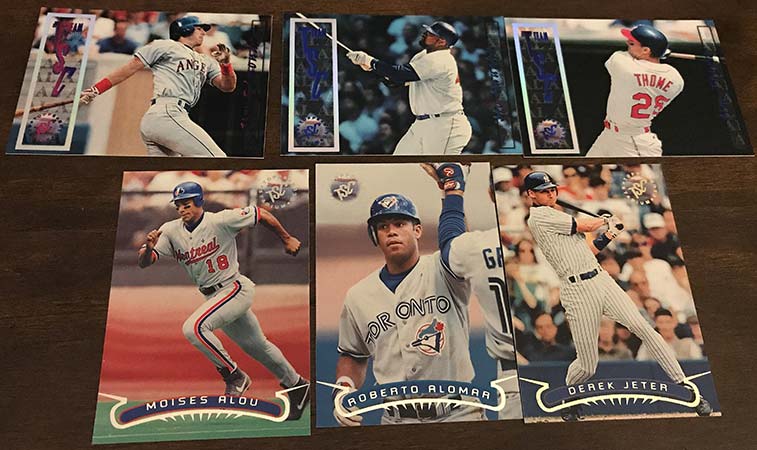 Pack 8:
Ron Gant, Edgar Martinez, Randy Johnson, Greg Maddux, Mark Grace, Hideo Nomo & Mickey Mantle Retrospective (1:8 packs)
This is areat shot of Randy Johnson pointing skyward. He typically celebrated this way after finishing off a complete game, something he did 100 times in his career.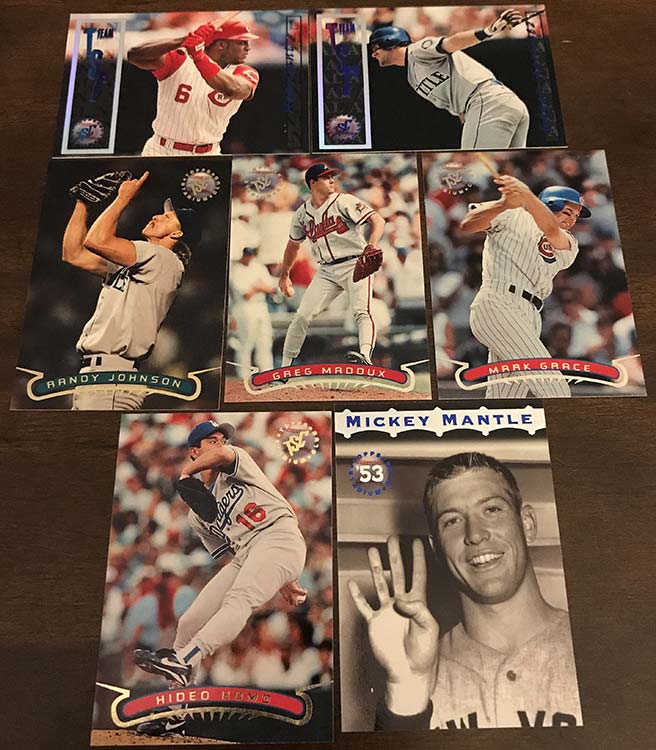 Pack 9:
Eddie Murray, Chipper Jones, Cecil Fielder, Deion Sanders, Jeff Kent, Mickey Tettleton Extreme Players Bronze (1:4 packs) & Johnny Damon Extreme Players Gold (1:18 packs)
Chipper Jones came up as a shortstop, and is pictured here as one. He wound up playing just 49 major league games at the position, instead working mostly third base.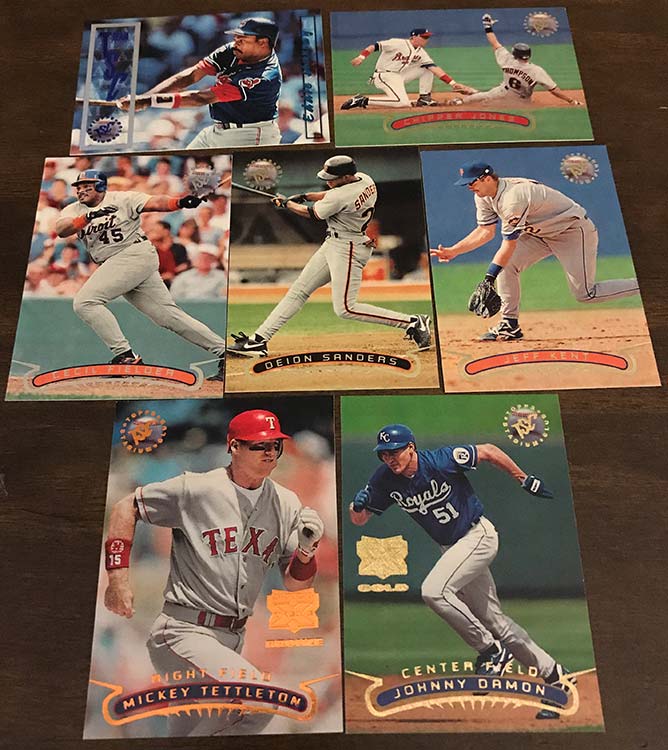 Pack 10:
Andres Galarraga, Paul Molitor, Derek Bell & Randy Johnson Power Streak (1:8 packs)
This is another great dugout shot, this time Paul Molitor holding a first baseman mitt. He played first in just 197 of his 2,683 career games played.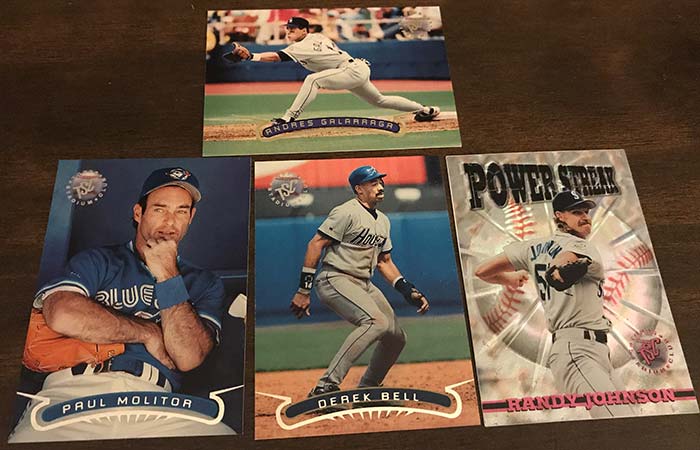 Pack 11:
Tim Salmon, Dennis Eckersley, Garret Anderson & Chad Fonville Extreme Players Bronze (1:4 packs)
Remember when middle infielders could get up-ended by a runner trying to break up a double play? Here is Fonville being taken out by a sliding Brian McRae.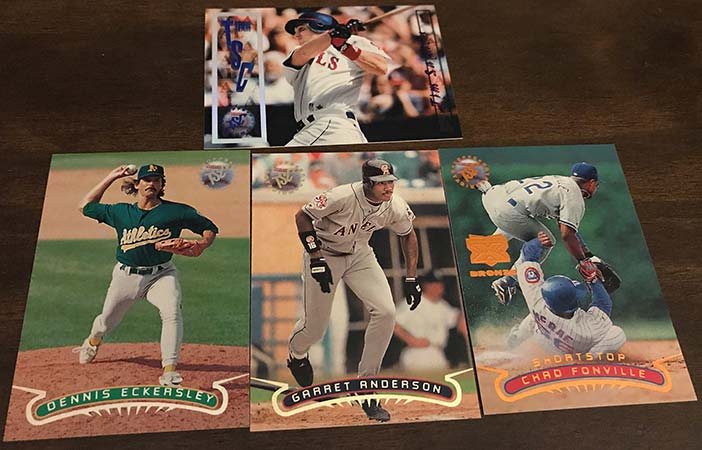 Pack 12:
Frank Thomas, Albert Belle, Dante Bichette, Ken Caminiti, Mark McGwire, Greg Vaughn & Hideo Nomo
Greg Vaughn is a forgotten 90's slugger. He hit 287 long balls during the decade, averaging nearly 30 per season. He hit 50 home runs during the 1998 season, finishing fourth in the NL MVP voting, behind Sosa, McGwire and Moises Alou.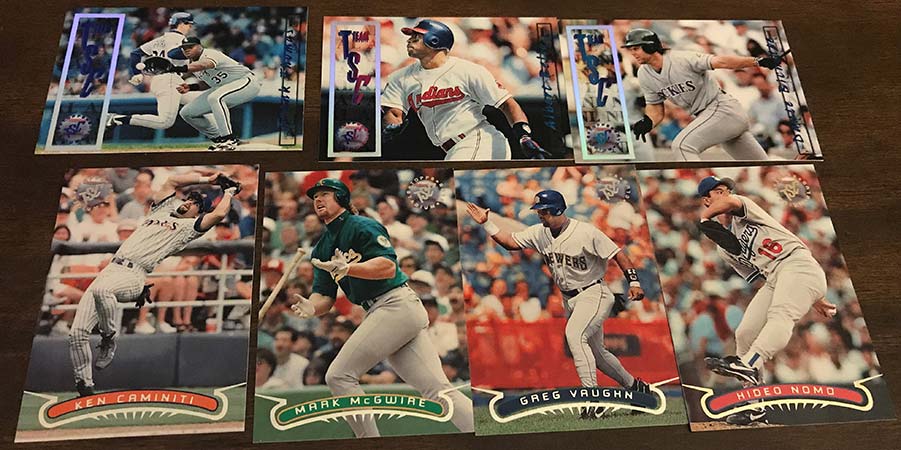 Aside from pulling a couple damaged inserts from a pack, this product was a fun break. To this day I still appreciate some of the photography featured in Stadium Club sets. The '90s sets showcased some really fun insert sets to pull, too. Though I did pull my fair share, I did miss out on two insert sets, Prime Cuts and Midsummer Matchups. 
None of my Extreme Player parallels would have been eligible to be redeemed for the 10 card sets. 
Shop for 1996 Topps Stadium Club Baseball on:
Want more installments of Shane Salmonson's Cheap Wax Wednesday? Check out his other breaks in the archives.