Cheap Wax Wednesday Box Breaks: 1996 Topps Series 2 Baseball
2021 Topps Series 2 Baseball releases this week. I won't be featuring that here until prices drop significantly. What we can do, though, is look back 25 years! That's right, 1996 Topps Series 2 Baseball was released 25 years ago.
1996 Topps Series 2 Baseball is made up of 220 base cards, the same as Series 1. Cards featured white borders with the player names across the bottom. Oddly, Topps also included a second image of the player's face next to each name. Included as part of the base set are 16 prospect cards featuring four players each. Notable names on these include Bartolo Colon, Paul Konerko, Scott Rolen, Vladimir Guerrero and Andruw Jones.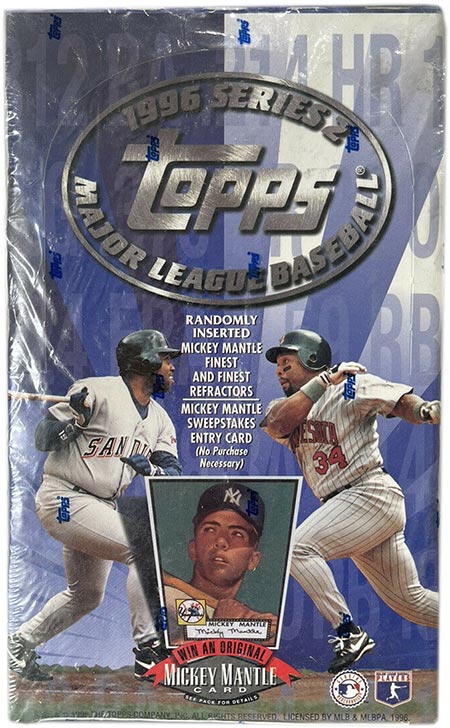 1996 Topps Series 2 Baseball also has four insert sets: Profiles, Wrecking Crew, Road Warriors (retail exclusive) and, my favorite, Mickey Mantle Finest Reprints. Topps did not continue the Power Boosters parallels that were in in Series 1.
1996 Topps Series 2 Baseball Box Break
Cards per pack: 12
Packs per box: 36
Price paid: $20

Pack 1 highlights:
Bonnici/Owens/Sexson/Ward PROS, Ray Lankford & Matt Williams
Matt "Big Marine" Williams finished his career just 3 runs shy of 1,000. Matt the Bat was also a 4-time Gold Glove and 4-time Silver Slugger award winner.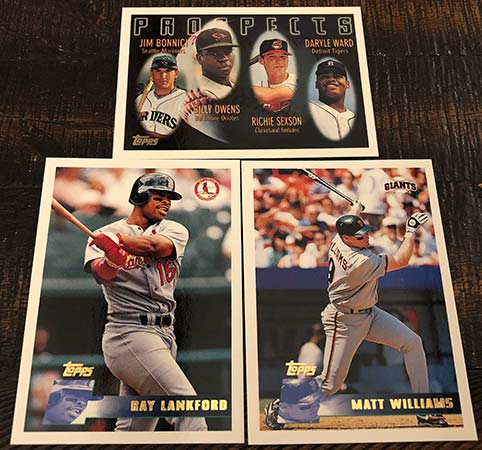 Pack 2:
Wally Joyner, Coleman/Cruz/Hidalgo/Peterson PROS, Shawn Green, Jason Kendall, Jim Thome, David Wells & Sandy Alomar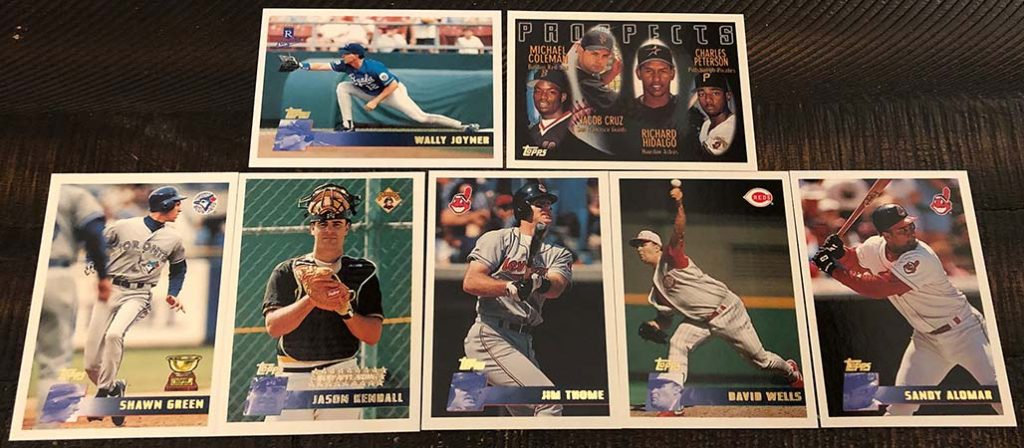 Pack 3:
Rickey Henderson, Brady Anderson, Barry Bonds & Ken Griffey, Jr.
Rickey "Man of Steal" Henderson stole over 100 bases three out of four seasons 1980-1983, leading the league each season. No player has stolen over 80 bases since Rickey (and Vince Coleman) did so in 1988.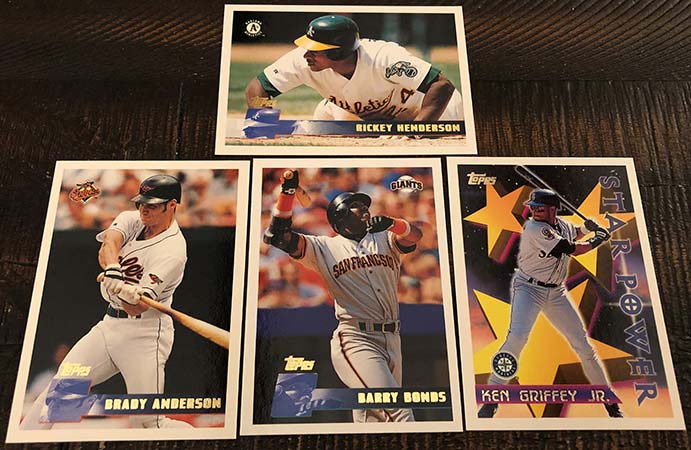 Pack 4:
Kenny Lofton, Larry Walker & Wade Boggs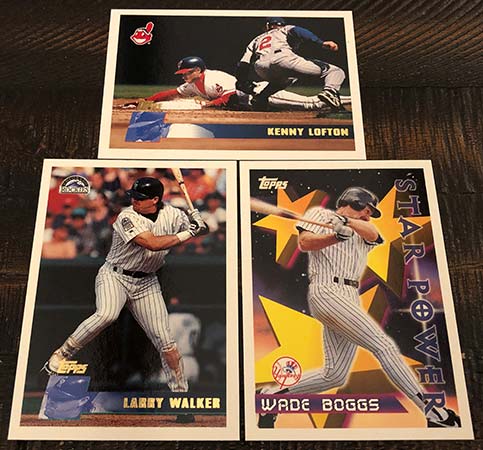 Pack 5:
Wally Joyner, Rondell White, Rafael Palmeiro, Jay Buhner, Mo Vaughn & Ken Griffey, Jr.
Mo Vaughn won the 1995 AL MVP, barely edging out Albert Belle in the voting. Even a Red Sox fan like myself can admit that Belle had the superior season. He led Vaughn in nearly every offensive category.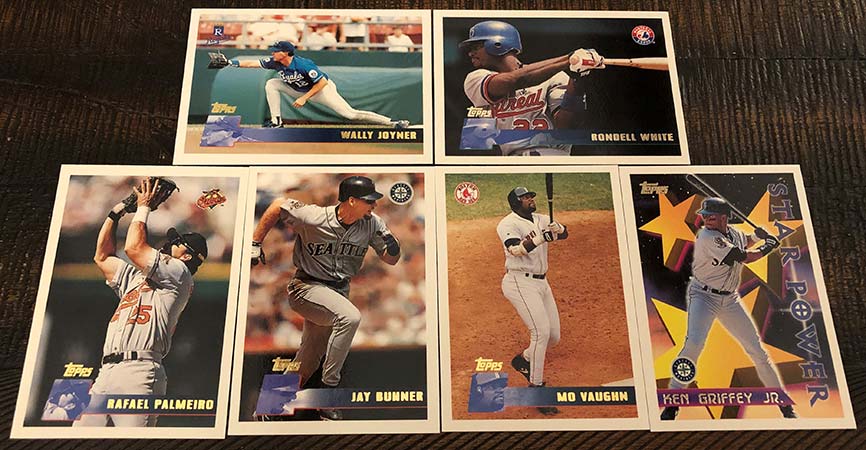 Pack 6:
Will Clark, Cox/Ibarra/Lee/Wright PROS, Trevor Hoffman, Juan Gonzalez, Tony Clark, Pedro Martinez & Manny Ramirez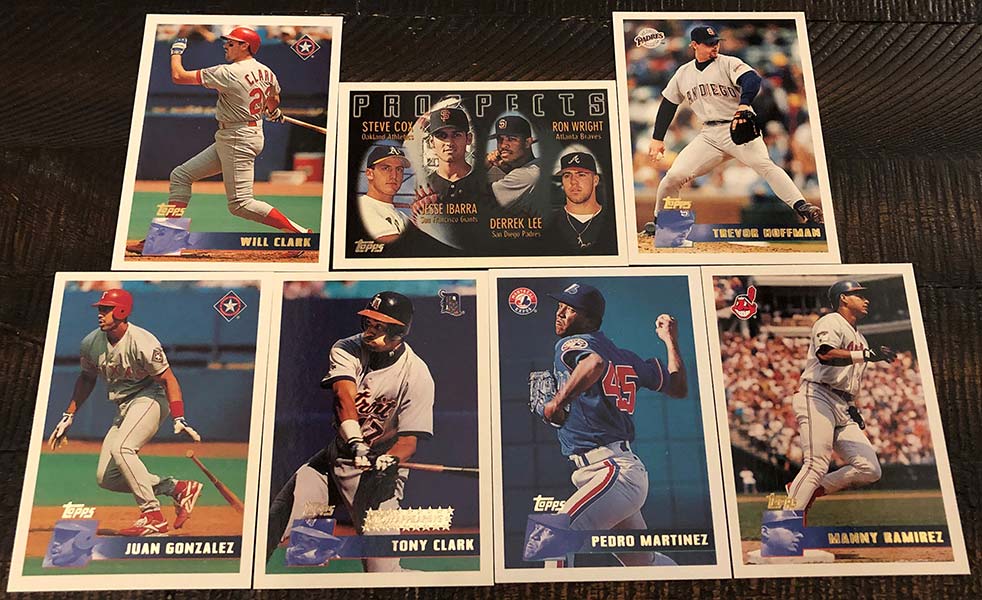 Pack 7:
Cecil Fielder, Beamon/Benitez/Dye/Echevarria PROS & Shawn Green
Shawn Green didn't quite pan out as the second coming of Ted Williams, but he did have a very respectable major league career. Green finished 9th in the AL MVP voting in 1999, his best overall season. He won the Silver Slugger and a Gold Glove in 1999 as well.

Pack 8:
Figga/Ibanez/Konerko/Mosquera PROS, Kirby Puckett, Harold Baines, Tim Raines & Mickey Mantle Finest Reprint (1:18 packs)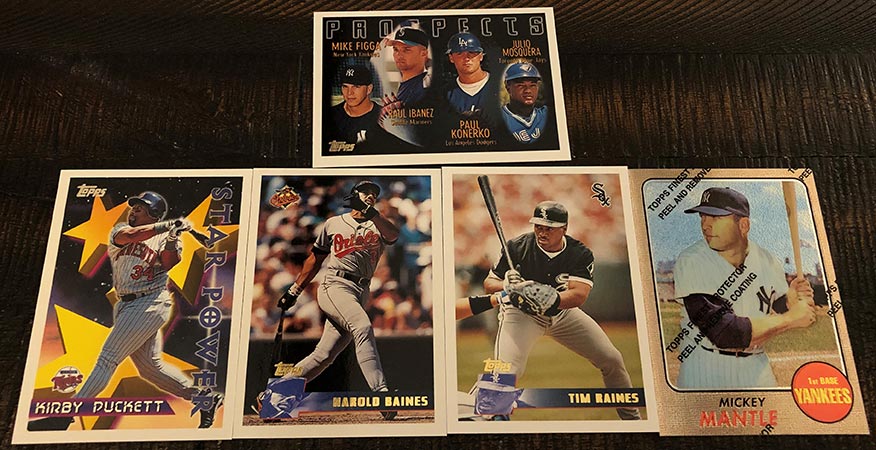 Pack 9:
Kenny Lofton, Fred McGriff, Jermaine Dye PROS, Roberto Alomar, Paul O'Neill, Cliff Floyd & Mickey Mantle Finest Reprint (1:18 packs)
Some collectors don't like horizontal cards, because of how they look when placed in a binder. I enjoy them, especially when they look like this Lofton or the McGriff.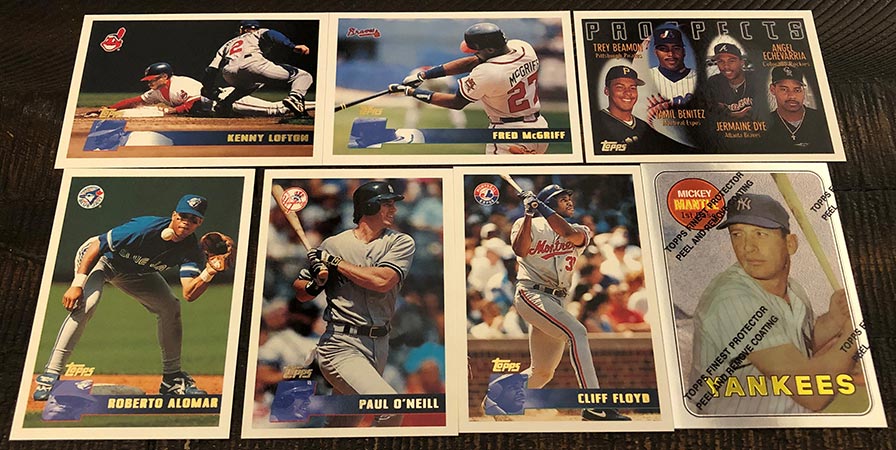 Pack 10:
Ryne Sandberg, Harkrider/Ordonez/Perez/Wilson PROS, Lee Smith, Barry Bonds & Mo Vaughn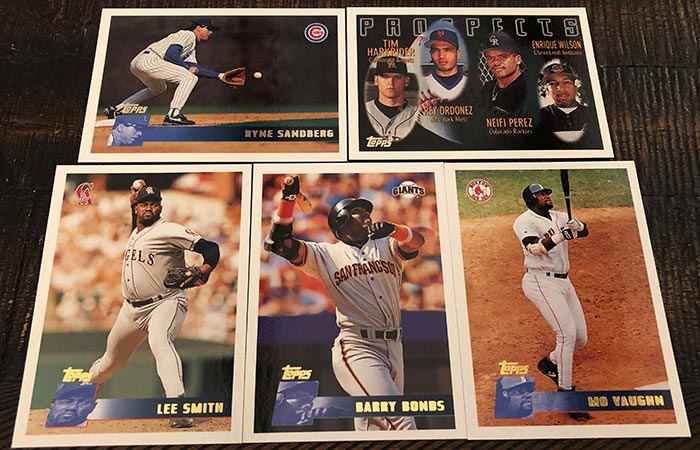 Pack 11:
Bret Saberhagen, Paul O'Neill, Jim Abbott & Manny Ramirez
Jim Abbott was selected in the 36th round of the 1985 MLB draft out of high school. He opted to pitch at the University of Michigan, instead. How did that work out for him? He was selected in the first round, 8th overall, after his junior season.

Pack 12:
Ryne Sandberg, Edgar Martinez, Jimmy Key & Jose Mesa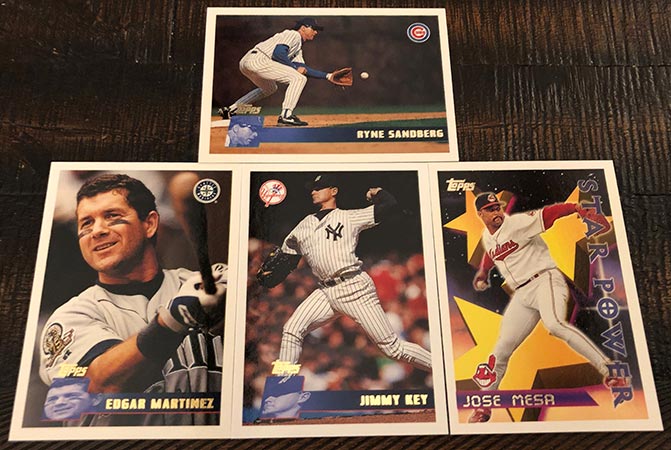 Pack 13:
Harold Baines, Moises Alou, Cal Ripken, Jr. & Ken Griffey, Jr.
Alou is remembered most for his tantrum following the Steve Bartman play in the 2003 NLCS. That is a shame, because he put together a very solid career, amassing 2,134 hits, 332 HR, 1,287 RBI and 1,109 runs scored.

Pack 14:
Tim Salmon, Andy Pettitte, Wade Boggs & Fred McGriff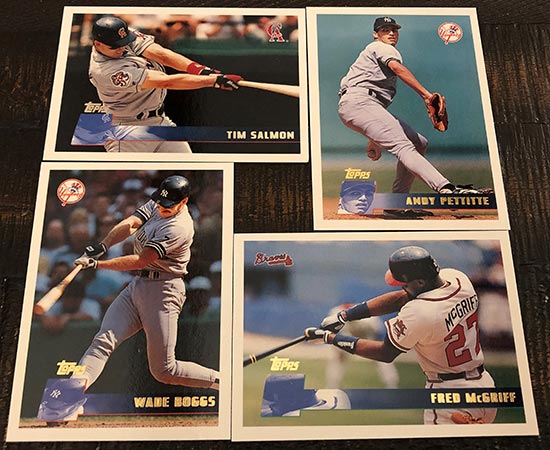 Pack 15:
Colon/Million/Orellano/Ricken PROS, Andres Galarraga, Barry Larkin & Lee Smith
Lee Smith ranks third all-time with 478 career saves.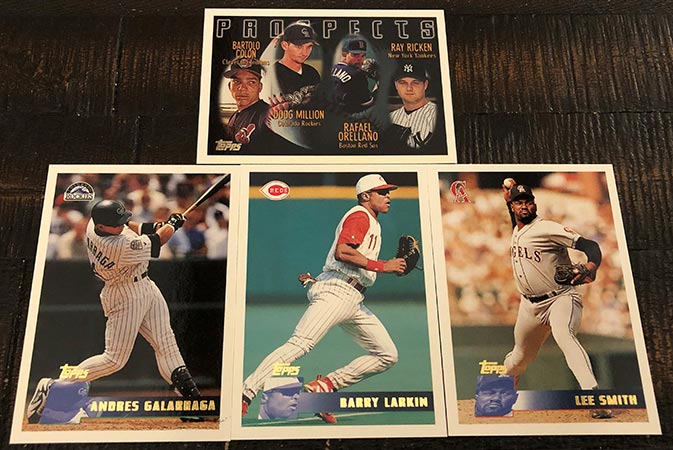 Pack 16:
Tim Salmon, Derrek Lee PROS, Larry Walker, Tony Clark, Randy Johnson & Sammy Sosa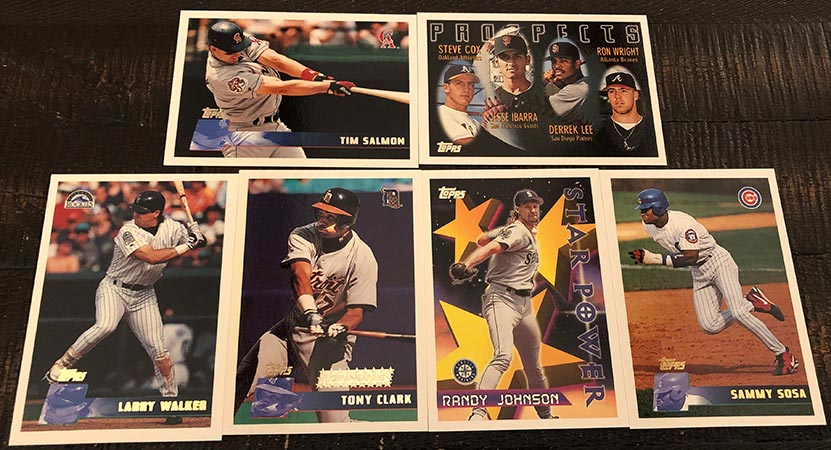 Pack 17:
Greg Maddux, Mike Piazza, Bret Saberhagen & Chuck Knoblauch
Chuck Knoblauch won the 1997 Gold Glove at second base. By 1999, though, much had changed. Knoblauch developed a case of the yips while playing for the Yankees. He made 26 errors that season, all of which were throwing errors.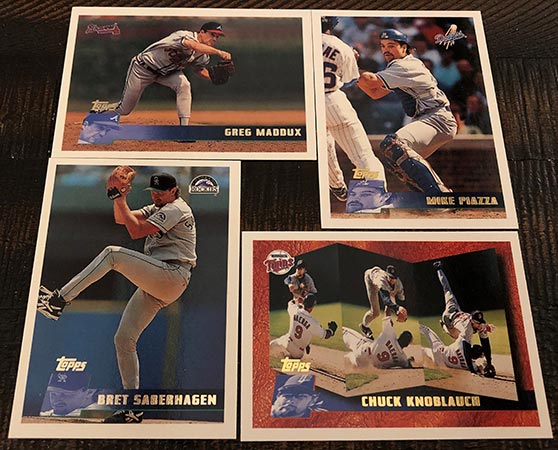 Pack 18:
Craig Biggio, Ibanez/Konerko PROS, Pedro Martinez, Harold Baines & Jimmy Key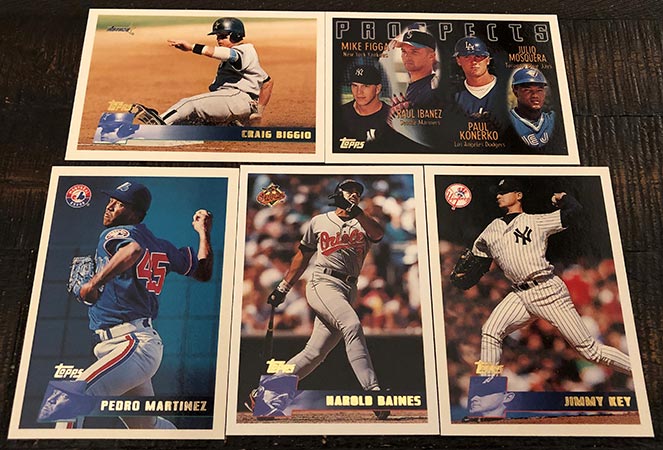 Pack 19:
Derrek Lee PROS, Cliff Floyd, Frank Thomas & Ibanez/Konerko PROS
An under-the-radar player, Raul Ibanez recorded over 2,000 hits during a 19-year MLB career.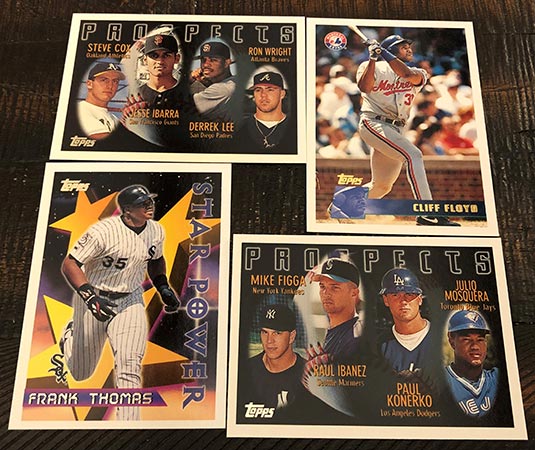 Pack 20:
Edgar Martinez, Will Clark, Dennis Eckersley & Rafael Palmeiro

Pack 21:
A Hall of Fame trio; Trevor Hoffman, Tony Gwynn & Wade Boggs
Tony Gwynn and Wade Boggs combined to collect 15 Silver Slugger awards and 13 league batting titles.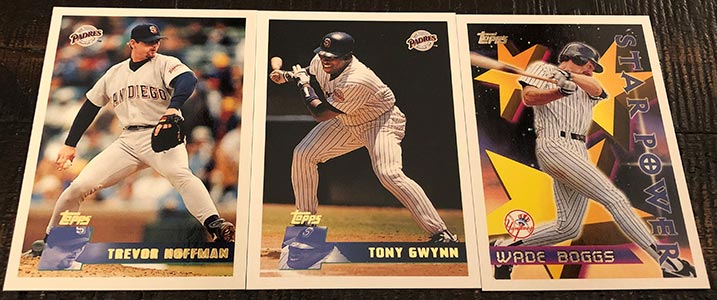 Pack 22:
Rondell White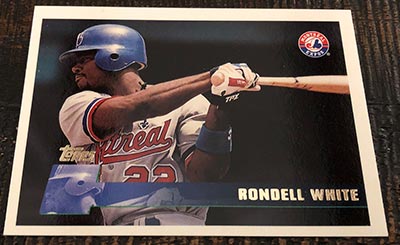 Pack 23:
Andres Galarraga, former Marlins great Andre Dawson, Carlos Baerga & Moises Alou
Dawson played just two seasons for the Marlins at the end of his 21-year career. He had just 58 at bats in 1996, collecting 16 hits.

Pack 24:
Barry Larkin, Jason Isringhausen, Kevin Brown & Andy Pettitte

Pack 25:
Barry Larkin, Cedeno/Gibson/Grieve/Spencer PROS & Kirby Puckett
Larkin played all 19 years of his Hall of Fame career for the Cincinnati Reds. He was a model of consistency, earning 12 all-star appearances and nine Silver Slugger awards.

Pack 26:
Jason Isringhausen, Jim Abbott, Andres Galarraga & David Wells

Pack 27:
Mark Loretta & Ryne Sandberg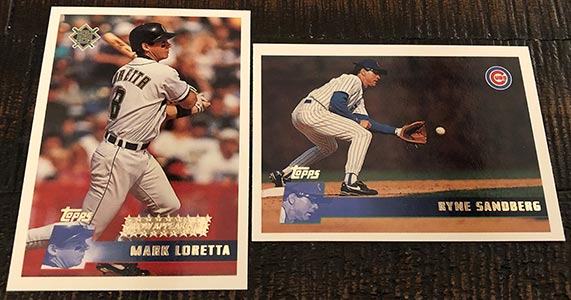 Pack 28:
Benito Santiago, Robin Ventura & Mickey Mantle Contest card (1:108 packs)
These Mantle contest cards could be filled out and sent in to Topps. Entries had the opportunity to win the original Mantle card pictured on the front, in this case a 1954 Bowman.

Pack 29:
Pedro Martinez & Marty Cordova Profiles (1:12 packs)
Marty Cordova earned his major league call-up in 1995 following a monster 1994 season in AAA where he batted .358.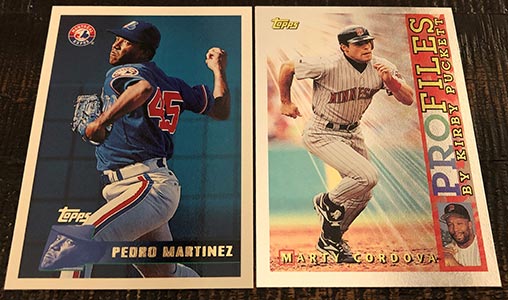 Pack 30:
Robin Ventura, Jose Canseco, Mike Mussina & Tom Glavine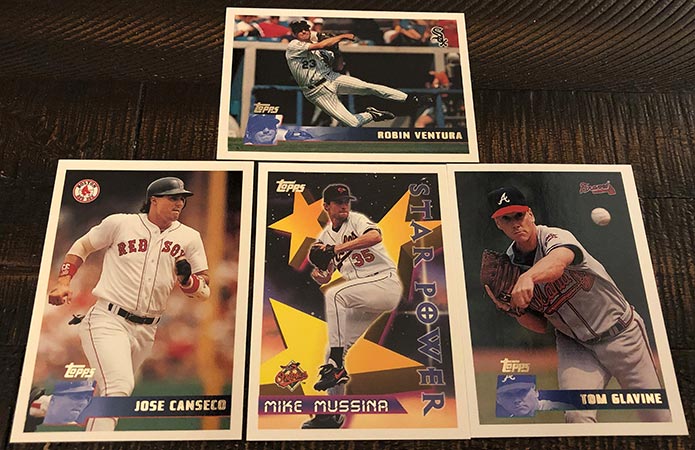 Pack 31:
Rickey Henderson, Jeff Bagwell, Deion Sanders, Lee Smith & Carlos Baerga
I have always liked the non-game action candid photos, like the Bagwell and Sanders cards here.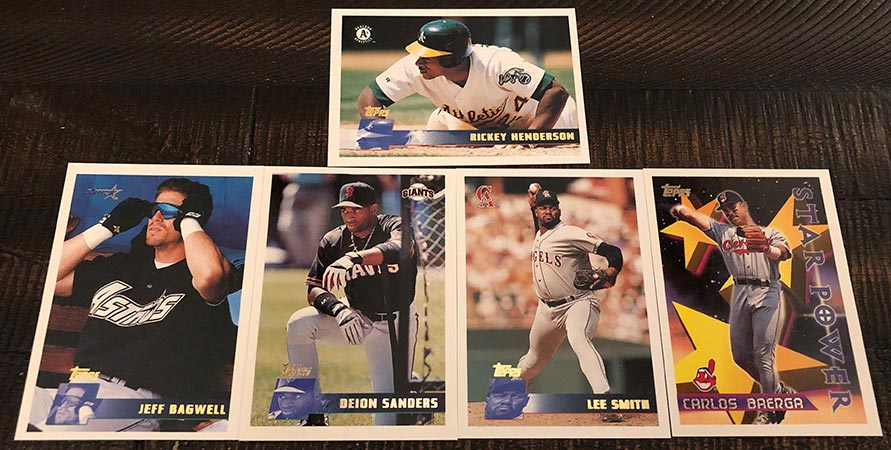 Pack 32:
Jose Canseco, Craig Biggio & Jose Mesa
Pack 33:
Cedeno/Grieve PROS, Deion Sanders, Manny Ramirez & Rafael Palmeiro
Known mostly for his bat, Palmeiro won three straight Gold Glove awards from 1997-1999.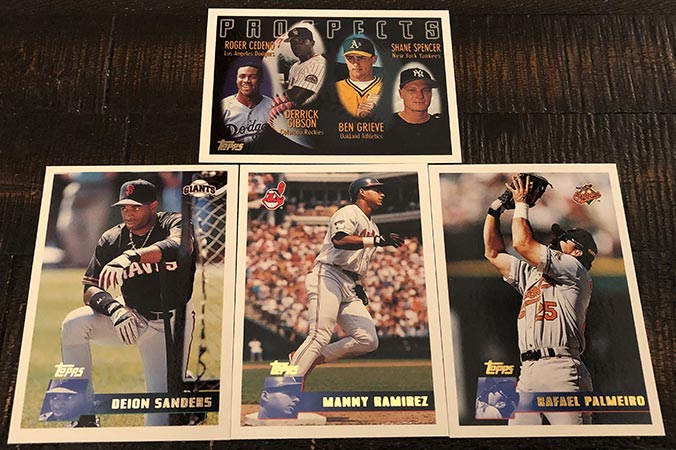 Pack 34:
Bartolo Colon PROS, Tim Raines, Luis Gonzalez, Ivan Rodriguez & Trevor Hoffman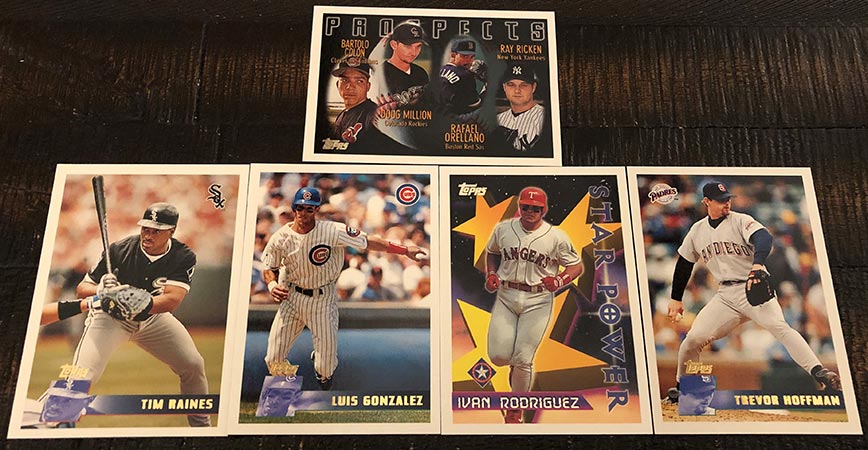 Pack 35:
Tony Clark, Brett Butler, Harold Baines & Jim Thome
Tony Clark finished third in the 1996 AL Rookie of the Year race. You may have heard of the unanimous winner that season — Derek Jeter.

Pack 36:
Mo Vaughn, Rickey Henderson & Brady Anderson

Lastly, the Rickey card back.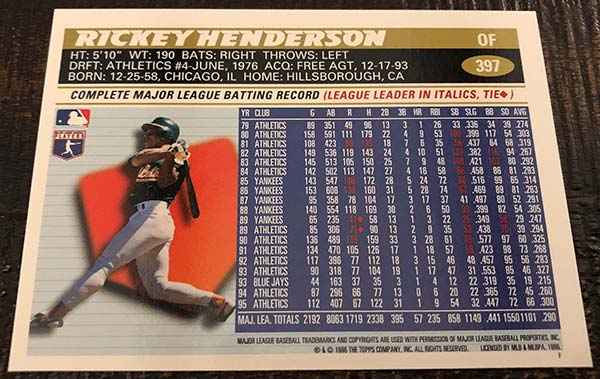 This was kind of an odd box as far as inserts go. I pulled the expected two Mantle Finest Reprints, and a Mantle contest card (found once in every three boxes), but came up short on other inserts. I only pulled the one Profiles insert, when odds say I should've pulled three of them. I also missed out on pulling any Wrecking Crew inserts, which are supposed to fall 1:18 packs.
I miss the days when Topps would highlight one legend in each set, in this case Mickey Mantle. I enjoy pulling the Finest Reprints cards of the legends. I definitely feel this is something that should be included every year. Those two Mantles, plus the contest entry, were the highlights of this box.
I bought this box on eBay back in November. Good luck finding it for $20 now, though they can still be found for under $50.
Shop for 1996 Topps Baseball on: