Cheap Wax Wednesday Box Breaks: 1996 Studio Baseball
The Studio brand made its debut in 1991 and featured some studio glamour shots and no insert cards. The brand continued to feature portrait-style photographs until a major pivot in 1995 — the year cards were made to look like credit cards. Though I actually like the look of the 1995 set, it didn't line up with the style Studio was known for.
1996 Studio Baseball returned to portraits. Leaf decided to go with close-up photos on each base card.
The base set is on the small side, consisting of just 150 cards. Each base card also has three press proof parallels. Bronze Press Proofs are limited to 2,000 copies, Gold Press Proofs have 500 copies, and Silver Press Proof cards (found only in magazine packs) have print runs of just 100 copies each.
Also found in 1996 Studio packs are three attractive insert sets. Stained Glass Stars are die-cut acetate cards found once in every 24 packs. Hit Parade inserts are serial numbered to 5,000 copies and resemble records sliding out of their album cover. These are found once in every 48 packs. Lastly, Masterstrokes inserts, also limited to 5,000 copies, are art-based cards printed on canvas style card stock. These land 1:96 packs.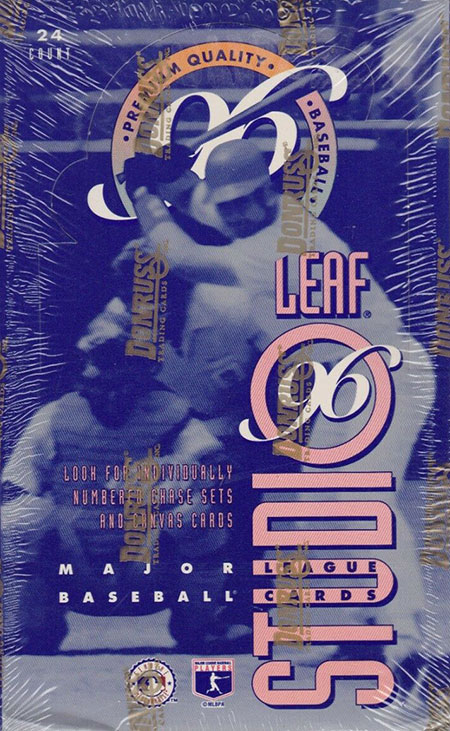 Fun Facts are provided by Bleacher Report National MLB Columnist Joel Reuter. You can follow Joel on Twitter (@JoelReuterBR) and check out his work at Bleacher Report.
1996 Studio Baseball Box Break
Cards per pack: 7
Packs per box: 24
Price paid: $33

Pack 1 highlights:
A brace-faced Wally Joyner, Bobby Bonilla, Jim Edmonds, Rickey Henderson & Henderson Bronze Press Proof /2,000 (1 in every 6 packs)
Pack 1 fun fact: Rickey Henderson had 125 walks and a .410 on-base percentage in his first season with the Padres in 1996. He was 37 years old and still seven years away from retirement.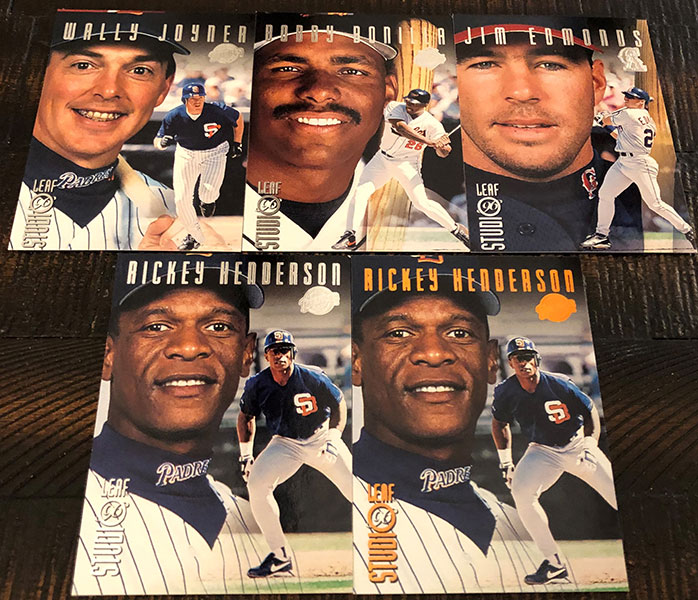 Pack 2:
Craig Biggio & Ken Caminiti
Pack 2 fun fact: Ken Caminiti won 1996 NL MVP honors with a .326/.408/.621 line that included 40 home runs and 130 RBI. He took home the hardware unanimously, finishing comfortably ahead of Mike Piazza and Ellis Burks in the balloting.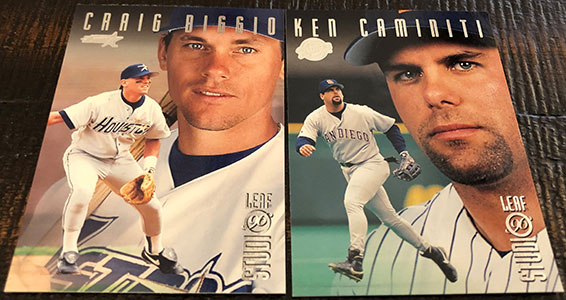 Pack 3:
Hideo Nomo, Chipper Jones, Dennis Eckersley, Andres Galarraga & David Cone
Pack 3 fun fact: Dennis Eckersley had 67 saves after his age-40 season, including 30 as a 41-year-old in 1996. That total trails only Hoyt Wilhelm (109) and Mariano Rivera (93).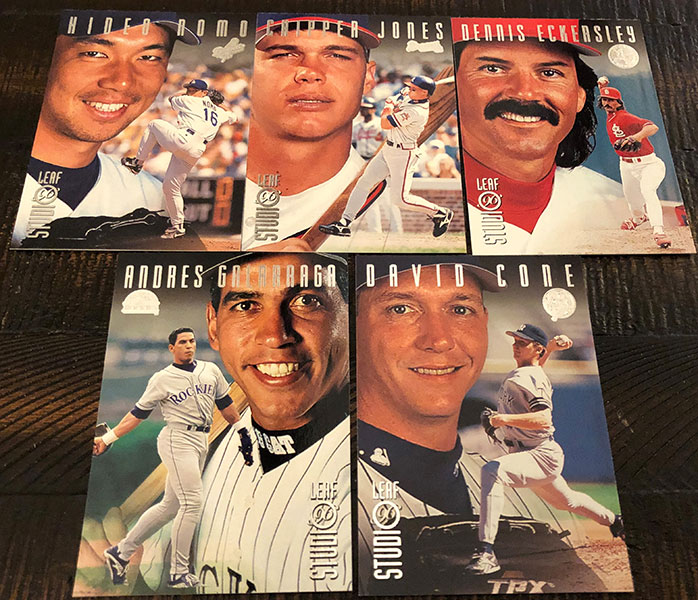 Pack 4:
Gary Sheffield, Jason Giambi, Bernie Williams, Pedro Martinez, Mo Vaughn & Tony Gwynn
Pack 4 fun fact: Tony Gwynn won his seventh career batting title in 1996, hitting .353 while striking out just 17 times in 498 plate appearances.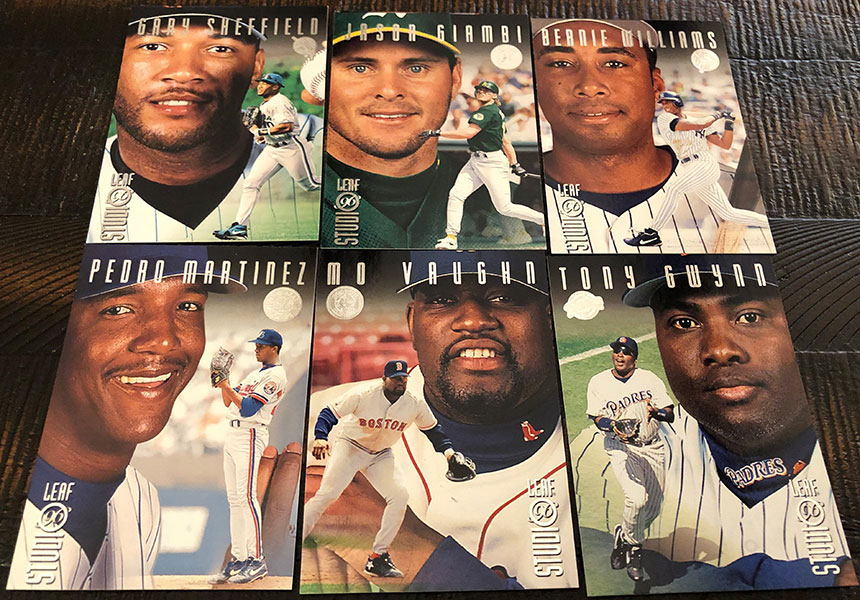 Pack 5:
Mike Piazza, Edgar Martinez & Barry Larkin
Pack 5 fun fact: Edgar Martinez hit .327/.464/.595 with 52 doubles, 26 home runs and 103 RBI in 1996, but he didn't show up on a single AL MVP ballot.

Pack 6:
Jay Buhner, Rafael Palmeiro, Ivan Rodriguez & Pudge Bronze Press Proof /2,000 (1:6 packs)
Pack 6 fun fact: Jay Buhner hit a career-high 44 home runs in 1996. That's tied with Nelson Cruz for the sixth-highest single-season total in franchise history, trailing five different Ken Griffey Jr. campaigns.

Pack 7:
Kirby Puckett, Raul Mondesi, Tom Glavine, Sammy Sosa, Lee Smith & Ivan Rodriguez
Pack 7 fun fact: Sammy Sosa had his first 40-homer season in 1996, something he did six more times on his way to 609 career long balls.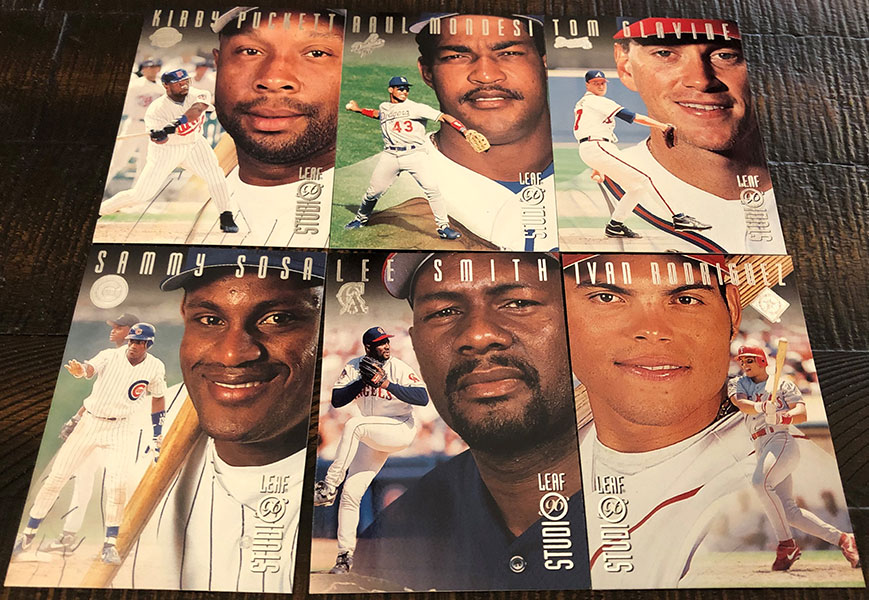 Pack 8:
Larry Walker, Greg Vaughn & John Smoltz
Pack 8 fun fact: John Smoltz led the NL in wins (24), strikeouts (276) and innings pitched (253.2) in 1996 to win NL Cy Young honors. He received 26 of 28 first-place votes, with the other two going to Florida Marlins ace Kevin Brown.

Pack 9:
Randy Johnson, Roger Clemens & Will Clark
Pack 9 fun fact: Randy Johnson missed nearly three months with a back injury during the 1996 season, and he pitched out of the bullpen upon returning to action in August. He earned his second career save on Aug. 13, striking out eight batters over four scoreless innings.

Pack 10:
Ozzie Smith, Tim Salmon, Eddie Murray & Quilvio Veras Gold Press Proof /500 (1:24 packs)
Pack 10 fun fact: Eddie Murray hit his 500th career home run on Sept. 6, 1996 as a member of the Baltimore Orioles. The Cleveland Indians traded him at the deadline in exchange for left-hander Kent Mercker.

Pack 11:
Ryne Sandberg, Troy Percival, Mark McGwire & Quilvio Veras Bronze Press Proof /2,000 (1:24 packs). If I was a Veras collector I would be pretty excited about this box!
Pack 11 fun fact: There were likely more than a few Veras collectors when this product was first released. He had just finished third in NL Rookie of the Year voting in 1995, posting a .384 on-base percentage and leading the NL with 56 steals.

Pack 12:
Alex Rodriguez, Kenny Lofton & Frank Thomas
Pack 12 fun fact: Alex Rodriguez hit .358 to win the AL batting title in his age-20 season in 1996. He added 54 doubles, 36 home runs, 123 RBI, 141 runs scored and 15 steals in a 9.4-WAR season to finish second in AL MVP voting.

Pack 13:
Gary Sheffield, Jason Giambi, Bernie Williams, Pedro Martinez & Ken Caminiti
Pack 13 fun fact: A young Jason Giambi had 40 doubles and 20 home runs in his first season as an everyday player in 1996. Four years later, he won AL MVP.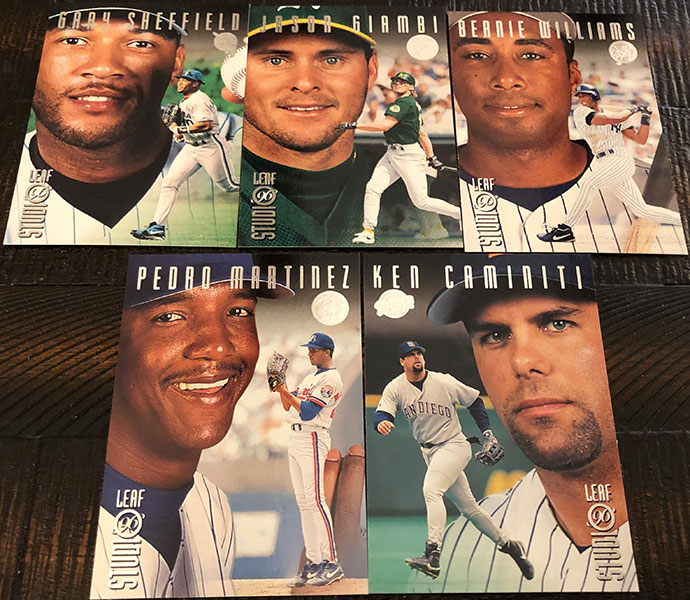 Pack 14:
Dennis Eckersley, David Cone, Tony Gwynn & Travis Fryman Bronze Press Proof /2,000 (1:6 packs)
Pack 14 fun fact: Travis Fryman made his fourth All-Star team in five years in 1996, tallying 32 doubles, 22 home runs and 100 RBI for a 109-loss Tigers team. He was one of the most underrated players of the 1990s.
Pack 15:
Mike Piazza, Edgar Martinez, Barry Larkin & Andres "Big Cat" Galarraga
Pack 15 fun fact: Andres Galarraga led the NL in home runs (47) and RBI (150) in 1996, with those totals also representing career bests. He finished sixth in NL MVP voting and won his second Silver Slugger Award.

Pack 16:
Rafael Palmeiro, Joe Carter, Garret Anderson & Rickey Henderson
Pack 16 fun fact: Joe Carter made his final All-Star appearance and had his final 30-homer season in 1996 at the age of 36. The five-time All-Star finished his career with 396 long balls in 16 seasons.

Pack 17:
Cecil Fielder, Carlos Delgado, Jeff Bagwell & Shawn Green
Pack 17 fun fact: Carlos Delgado had 25 home runs and 92 RBI as the Toronto Blue Jays starting DH in 1996. The following year he replaced departed free agent John Olerud as the everyday first baseman.

Pack 18:
Derek Jeter, Tim Raines, Mike Mussina & Tino Martinez
Pack 18 fun fact: Mike Mussina went 0-3 with a 6.32 ERA in three starts against the Yankees in 1996. He went 19-8 against everyone else and finished fifth in AL Cy Young voting.

Pack 19:
Bobby Bonilla, Jim Edmonds, Gary Sheffield, Mark McGwire, Dante Bichette & Shawn Green Gold Press Proof /500 (1:24 packs)
Pack 19 fun fact: Dante Bichette was one of four players in the Colorado lineup with at least 30 home runs and 100 RBI in 1996. They led the NL with 221 home runs that season on an 83-win team.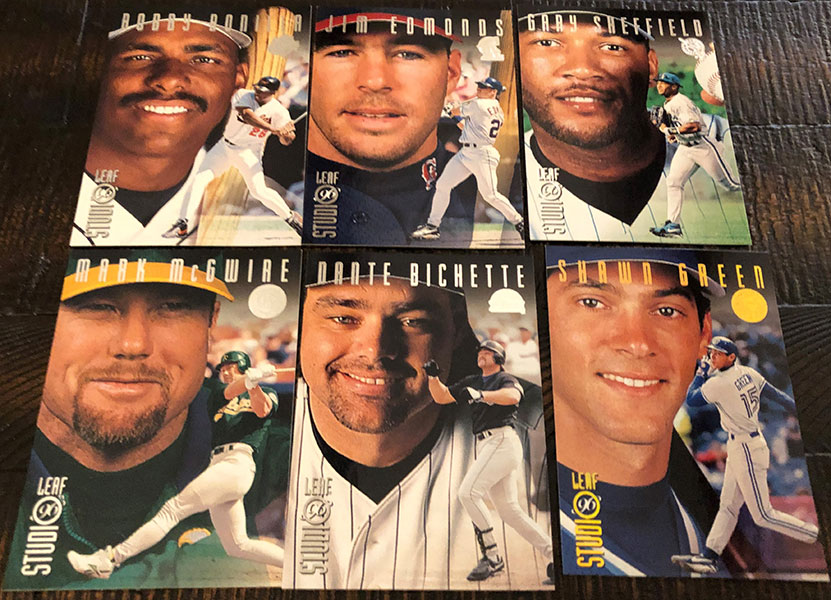 Pack 20:
Hideo Nomo, Larry Wayne "Chipper" Jones & Dennis Eckersley
Pack 20 fun fact: Hideo Nomo followed up his dynamic rookie season in 1995 by going 16-11 with a 3.19 ERA, 1.16 WHIP and 234 strikeouts in 228.1 innings to finish fourth in NL Cy Young voting.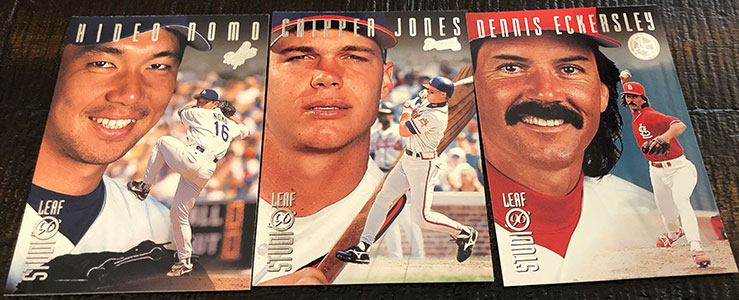 Pack 21:
Jason Giambi, Bernie Williams, Pedro Martinez & Juan Gonzalez
Pack 21 fun fact: Pedro Martinez was on the cusp of greatness in 1996, going 13-10 with a 3.70 ERA and 222 strikeouts in 216.2 innings to earn his first All-Star nod. The following year he had a 1.90 ERA and 305 strikeouts, kicking off one of the most dominant peaks in MLB history.

Pack 22:
David Cone, Rafael Palmeiro & Johnny Damon
Pack 22 fun fact: Johnny Damon was the No. 5 prospect in baseball prior to the 1995 season, according to Baseball America. He hit .271 with 25 steals and 61 runs scored in his first full season in the majors in 1996.

Pack 23:
A quartet of Hall of Famers; Mike Piazza, Edgar Martinez, Barry Larkin & Ken Griffey, Jr.
Pack 23 fun fact: This impressive group combined for 44 All-Star Game appearances, and all four were in attendance at the Midsummer Classic in 1995, 1996, 1997 and 2000.

Pack 24:
Garret Anderson, Joe Carter & Cecil Fielder
Pack 24 fun fact: The Angels selected Garret Anderson (fourth round) and Troy Percival (sixth round) as part of the same 1990 draft class.

Lastly, the Fielder card back. True to Studio form, the card backs feature less stats and more biographical information.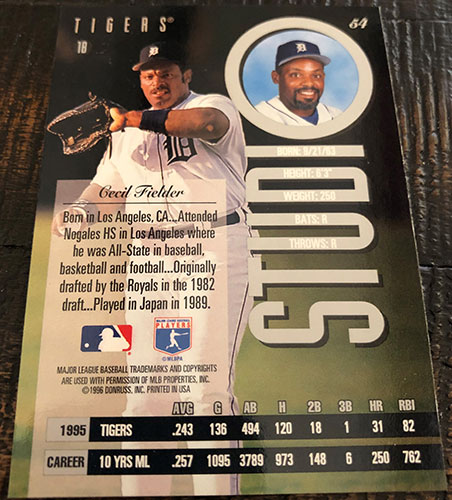 Unfortunately I didn't pull any of the three insert sets! As odds have it, I should have at least pulled a Stained Glass Stars card, but it looks like I pulled a second Gold Press Proof card instead. That's a bummer because, as I said, the inserts look good. I don't think I will be tracking down another box of this because of the smaller 150 card base set. Boxes are selling anywhere from $35-60 shipped on eBay lately. I may just have to hunt some down some of the inserts instead.
Shop for 1996 Studio Baseball on:
Want more installments of Shane Salmonson's Cheap Wax Wednesday? Check out his other breaks in the archives.