Cheap Wax Wednesday Box Breaks: 1996 Score Series 1 Baseball
When you click on links to various merchants on this site, like eBay, and make a purchase, this can result in this site earning a commission.
Score was introduced to baseball card collectors in 1988,as a new brand created by the same company that produced Sportflics. That 1988 set, with its brightly colored borders, is a junk wax era classic. By 1996, Score Baseball had a more classic look with plain white borders. Though ownership has changed hands a few times over the years, the Score brand is still alive today with Panini.
1996 Score Baseball was broken up into two, uneven series. Series 1 has a total of 275 base cards while Series 2 consists of just 242 cards. The set features many unconventional photo choices, showing the players during their pre-game rituals. Whether the cards featured the players stretching, signing autographs, or around the batting cage, I dig them. When it comes to card photos, something different is always a good thing.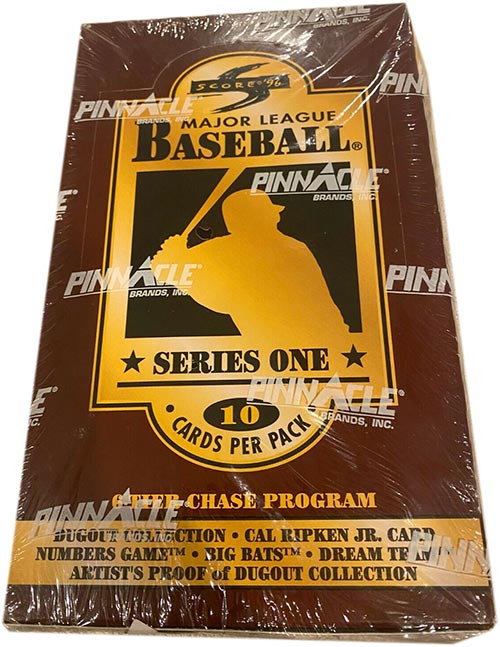 The star of this set, for me, though is the inserts. They aren't easy pulls, either. No insert is found more than three times in a box. And they all look good.
1996 Score Series 1 Baseball Box Break
Cards per pack: 10
Packs per box: 36
Price paid: $20

Pack 1 highlights:
Deion Sanders, Raul Mondesi & Tony Gwynn Numbers Game (1:15 packs)

Pack 2:
Mo Vaughn, Roger Cedeno (Only a couple of the "Rookie" cards in Series 1 are actually considered RCs, F.P Santangelo & George Williams.), Mark Grace & John Valentin Dugout Collection (1:3 packs)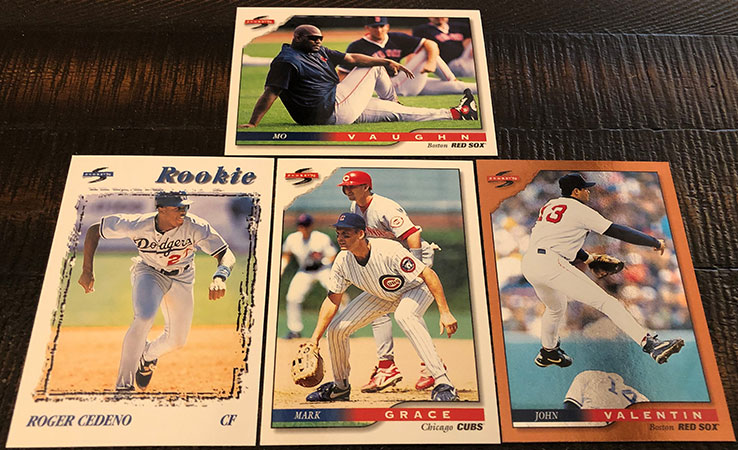 Pack 3:
A couple of underrated pitchers; Kevin Brown & Troy Percival. Kevin Brown finished his 19-year career with 211 wins and a 3.28 ERA. Percival pitched in 14 major league seasons, finishing his career with a 3.17 ERA and racking up 358 saves.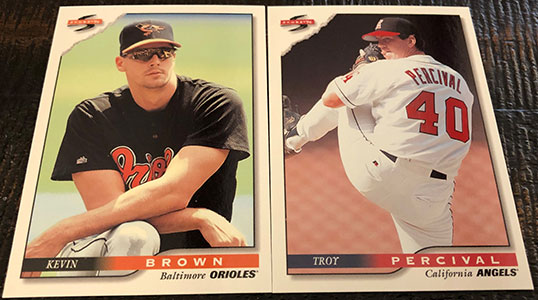 Pack 4:
Cal Ripken Jr., John Smoltz, Jim Thome & Cecil Fielder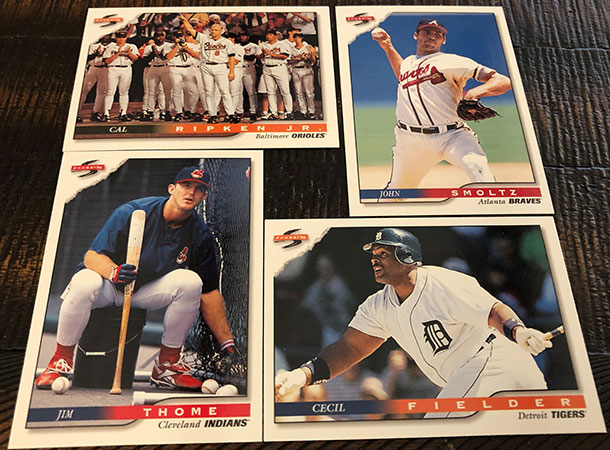 Pack 5:
Albert Belle, Jack McDowell & Ryan Klesko Dugout Collection (1:3 packs)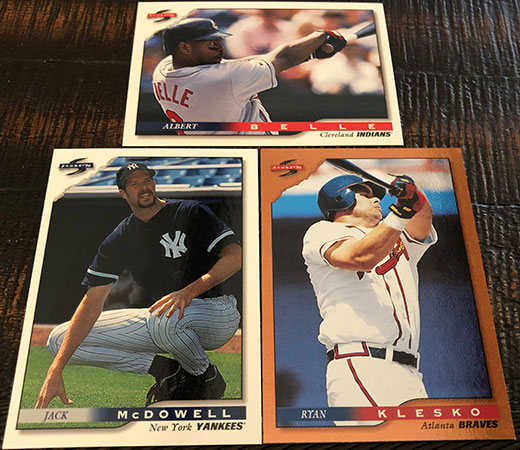 Pack 6:
Greg Maddux RR & Jamie Moyer's high school senior portrait. Moyer would pitch in the majors until he was 40 years old. He does hold an all-time career pitching record. The record? Most home runs allowed, 522.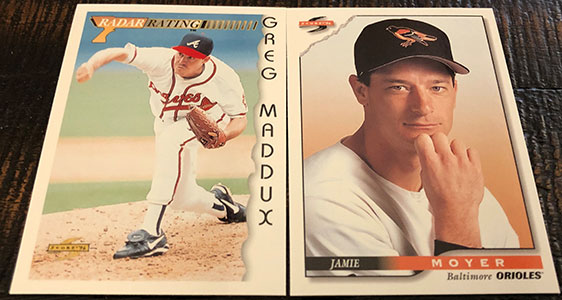 Pack 7:
Garret Anderson, Tony Gwynn, Carlos Baerge & Jose Mesa. What in the world was going on in Indians Spring Training camp? This looks like something out of Major League! 

Pack 8:
Greg Vaughn, Don Mattingly, Mike Piazza CL & Jason Isringhausen Dugout Collection (1:3 packs)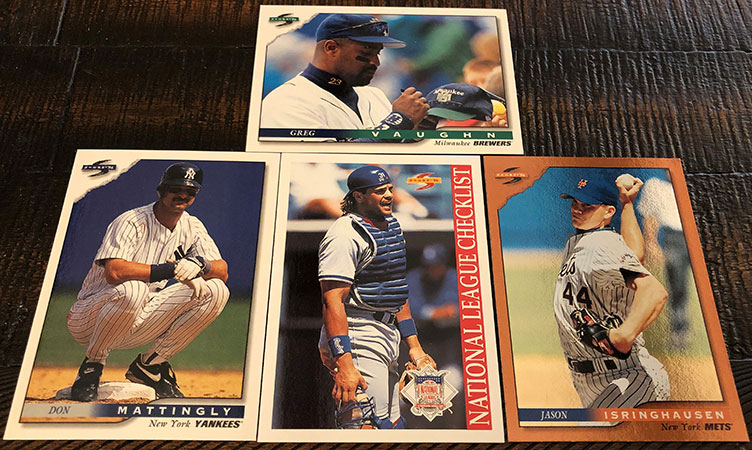 Pack 9:
Luis Gonzalez & John Smoltz RR. Whenever I see Luis Gonzalez I can't help but picture his broken bat bloop single off of Mariano Rivera to win Game 7 of the 2001 World Series.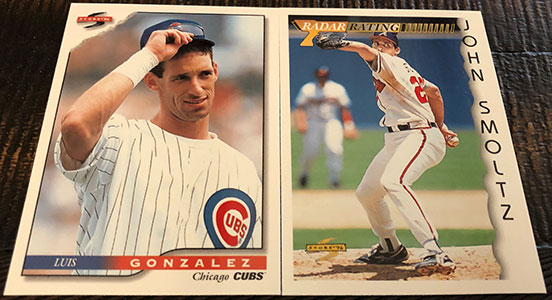 Pack 10:
Rondell White & Derek Bell

Pack 11:
Will Clark, Jeff Bagwell CL, Mariano Rivera & Rondell White Dugout Collection (1:3 packs)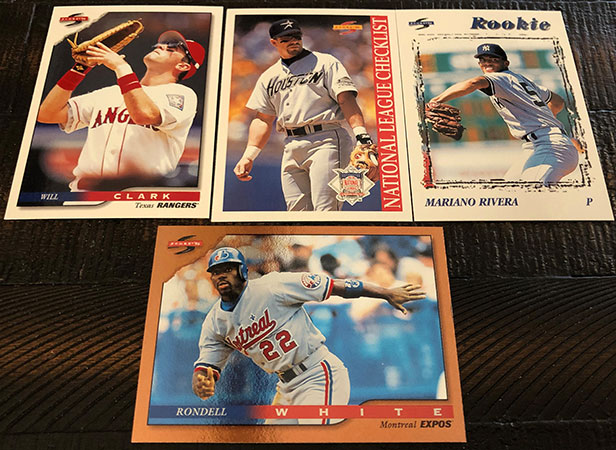 Pack 12:
Armando Benitez & Carlos Baerga Dream Team (1:72 packs). Though I always liked Baerga, he wouldn't have been my first choice to pull on this tough-to-find insert. The set also includes names like Ripken, Thomas, Bonds, Griffey, Ramirez and Maddux.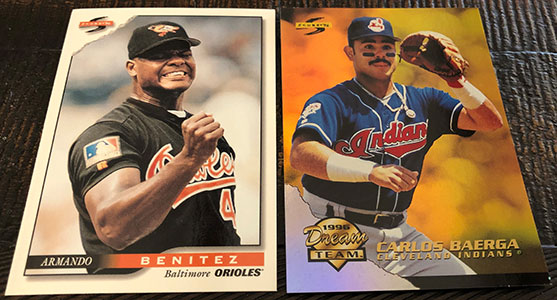 Pack 13:
Brian Jordan & Will Clark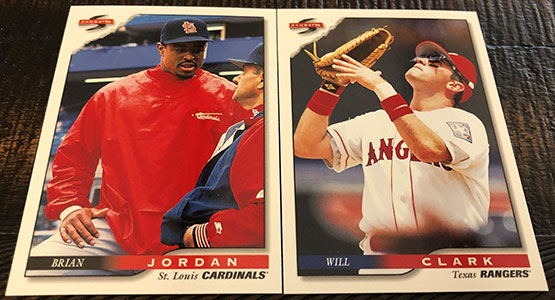 Pack 14:
Frank Thomas, Dustin Hermanson (looking like he's straight out of Field of Dreams), Ken Griffey, Jr. CL & Larry Walker Dugout Collection (1:3 packs)

Pack 15:
Garret Anderson & Mo Vaughn Artist's Proof (1:36 packs)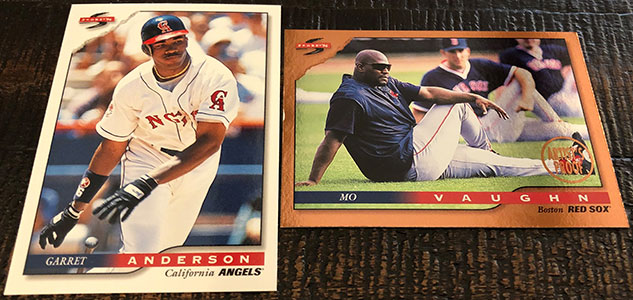 Pack 16:
Alan Trammell, Cliff Floyd, Frank Thomas, Rafael Palmeiro & Rickey Henderson doing some light stretching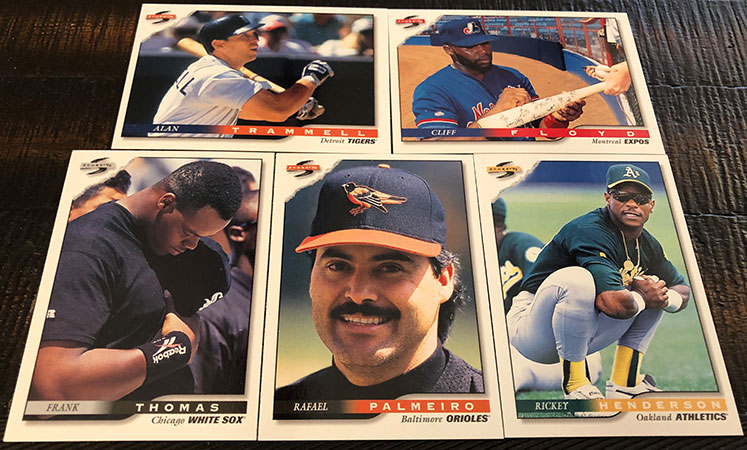 Pack 17:
Alan Trammell, Rickey Henderson & Bobby Bonilla Dugout Collection (1:3 packs). I can imagine this is what Bonilla looks like every July 1, the day he gets paid another $1.19 million by the New York Mets. He will continue to receive these annual payments through 2035.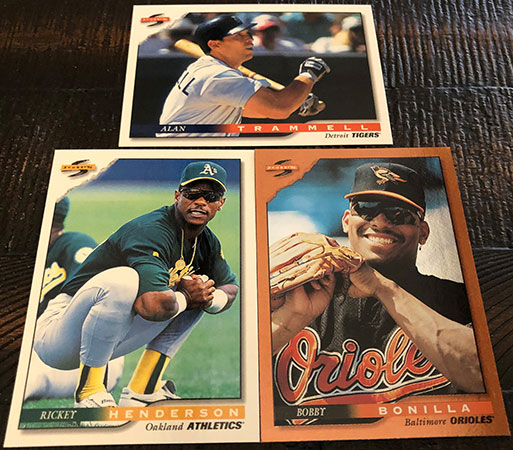 Pack 18:
Mike Mussina RR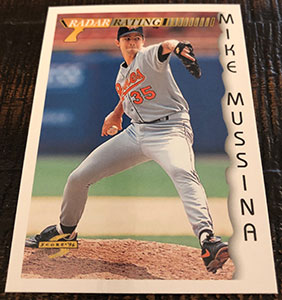 Pack 19:
Eric Young & Lee Smith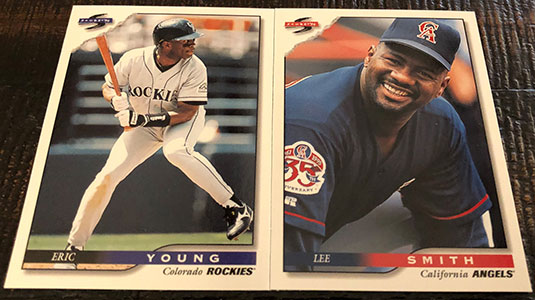 Pack 20:
Alex Rodriguez, Robert Alomar, Eddie Murray & Kenny Lofton Big Bats (1:31 packs)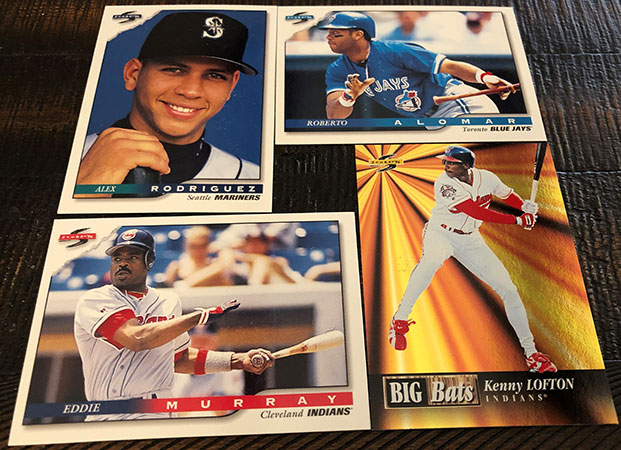 Pack 21:
Frank Thomas CL, Tony Clark & Tim Wakefield Dugout Collection (1:3 packs)

Pack 22:
Craig Biggio, Mo Vaughn & Bip Roberts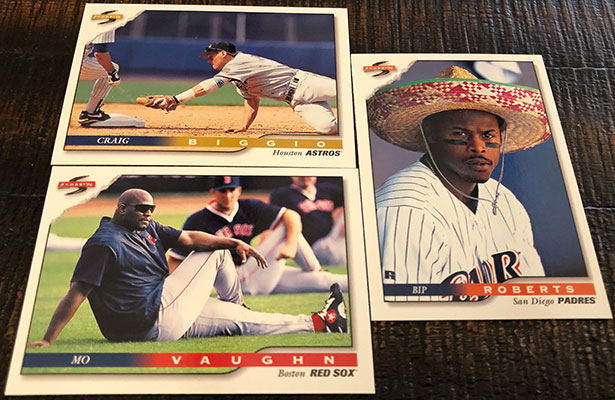 Pack 23:
Johnny Damon, Derek Jeter (no, not a RC), Alex Rodriguez, Eddie Murray & Fred McGriff Dugout Collection (1:3 packs)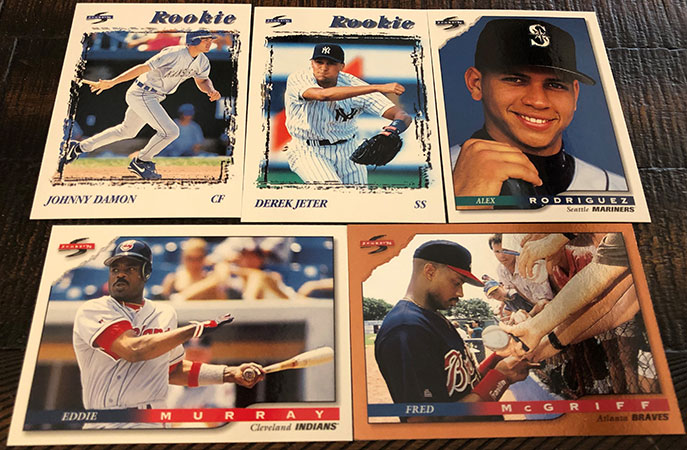 Pack 24:
David Cone RR, Jason Isringhausen (gripping a knuckle-curve) & Tony Gwynn

Pack 25:
Don Mattingly, Albert Belle, Greg Vaughn & Ozzie Smith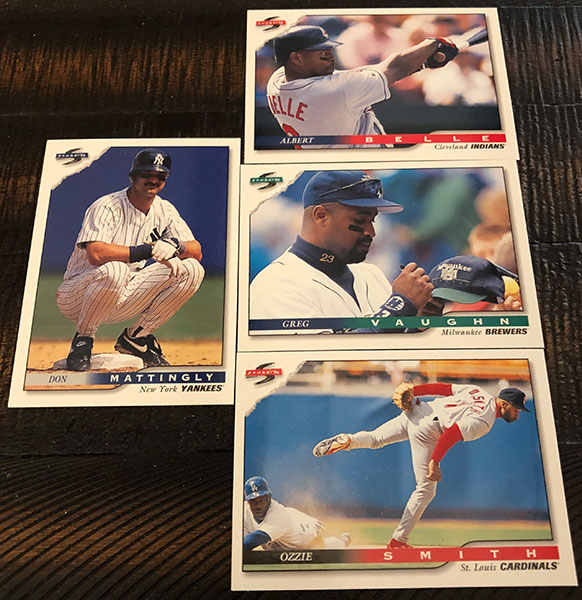 Pack 26:
Dante Bichette CL, Roberto Alomar & Dave Justice Dugout Collection (1:3 packs)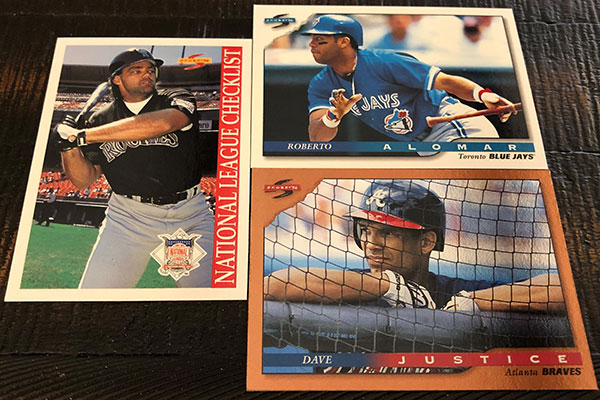 Pack 27:
Hideo Nomo RR, Jim Abbott & Carlos Baerga

Pack 28:
Kirby Puckett, Jason Giambi, Tim Wakefield & Jim Edmonds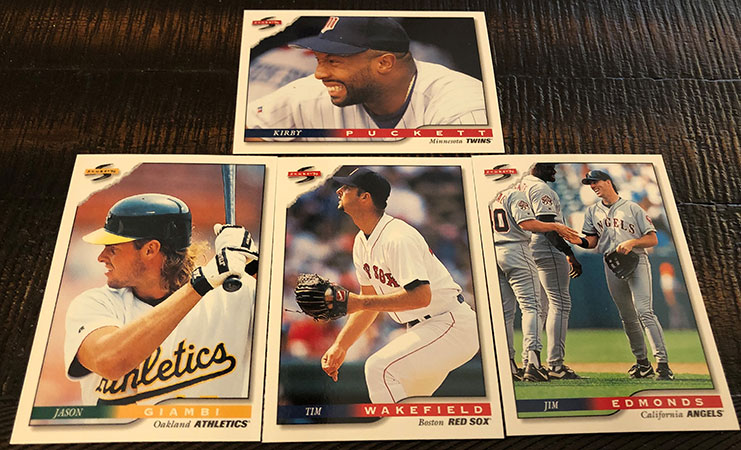 Pack 29:
Dante Bichette CL, Greg Maddux/Albert Belle CL & Craig Biggio Dugout Collection (1:3 packs)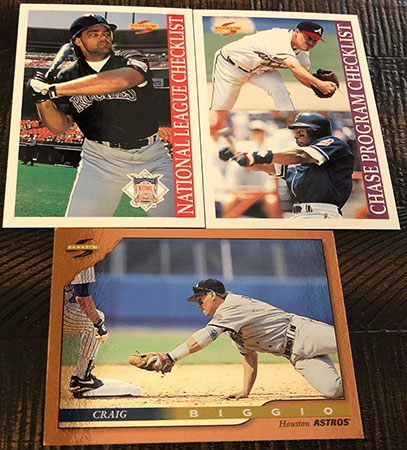 Pack 30:
Bobby Bonilla, Omar Vizquel & David Cone. Cone put together quite a resume over a 17-year career. The 1994 AL Cy Young Award winner was a five-time All-Star, five-time World Series champion, and won 194 games while pitching to a 3.46 career ERA.

Pack 31:
Dave Winfield, Moises Alou, Andre Dawson, Larry Walker & Shawn Green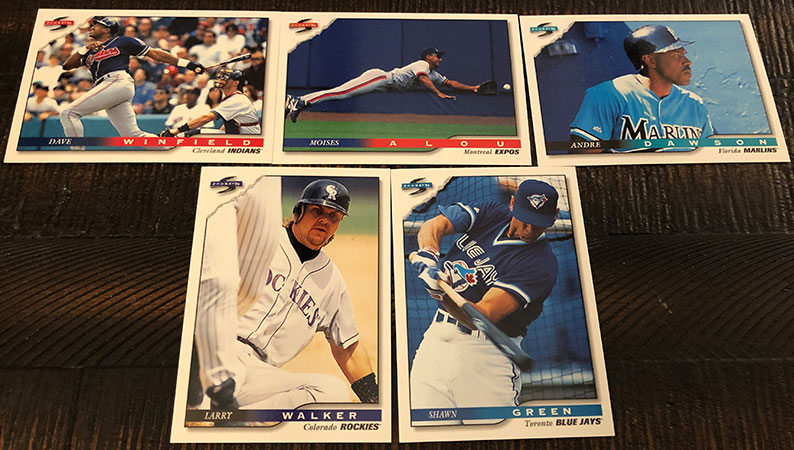 Pack 32:
Mike Piazza CL & Cal Ripken, Jr. Dugout Collection (1:3 packs)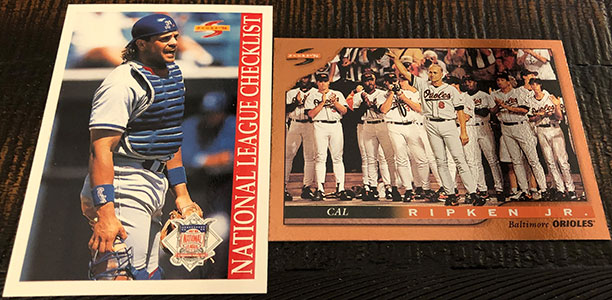 Pack 33:
A couple of mulleted future teammates, Randy Johnson RR & Curt Schilling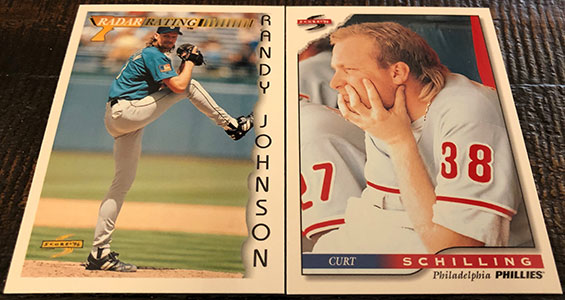 Pack 34:
Vinny Castilla & Barry Bonds Numbers Game (1:15 packs)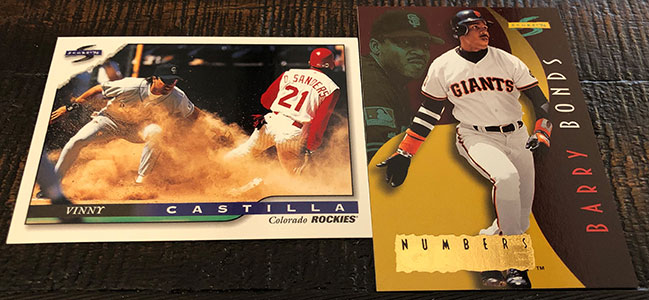 Pack 35:
Cal Ripken, Jr. CL, Brian Jordan & Derek Bell Dugout Collection (1:3 packs). Everyone knows about Bo Jackson and Deion Sanders being two-sport athletes, but many forget about Brian Jordan. Jordan played three seasons for the Atlanta Falcons as a safety, intercepting five passes.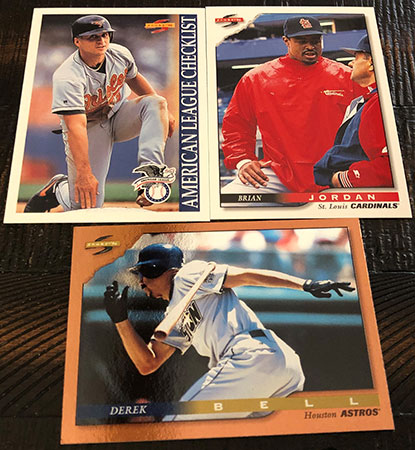 Pack 36:
A trio of Hall of Fame players: Trevor Hoffman, Jim Thome & Edgar Martinez

Lastly, the Jim Thome card back. His bio here is just about perfect.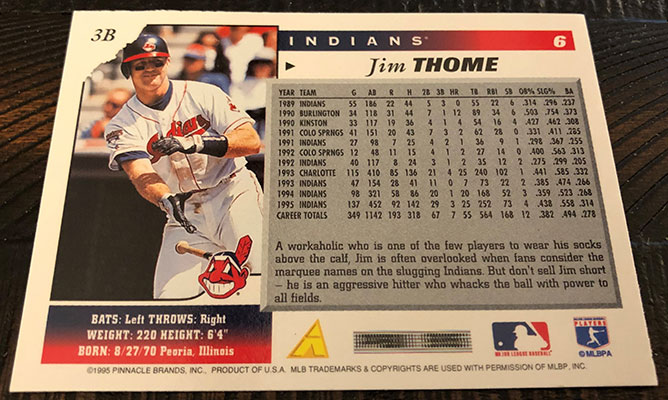 I grabbed this box as part of a big wax order back in April, 2020. I probably timed this one just right, as prices were starting to increase with the renewed hobby interest.
Score really did like their foil in this release, as all of the inserts and parallels featured some kind of foil usage. I am certainly okay with this as they're all attractive. The Dugout Collection parallels are especially nice, although the Artist's Proof cards aren't all that special. The only differentiation is addition of a small Artist's Proof circle. If you were looking at it quickly, you may even miss it and figure it to be a regular Dugout Collection parallel.
It looks like you can still grab 1996 Score Series 1 boxes for under $50 when they do show up on eBay.
Shop for 1996 Score Baseball on:
Want more installments of Shane Salmonson's Cheap Wax Wednesday? Check out his other breaks in the archives.