Cheap Wax Wednesday Box Breaks: 1995 Zenith Baseball
1995 Zenith was Pinnacle's first super premium card set, with base cards printed on thick card stock. The card fronts featured a gold pyramid (pinnacle, zenith, pyramid…see the theme here?) design overlayed by the player photo. The base set features 150 total cards — 110 base cards and a 40-card "Rookie": subset. The Rookie subset has many big names like Alex Rodriguez, Derek Jeter and Chipper Jones but most are not actual Rookie Cards. With packs priced at $5 each back in 1995, these were definitely not cheap.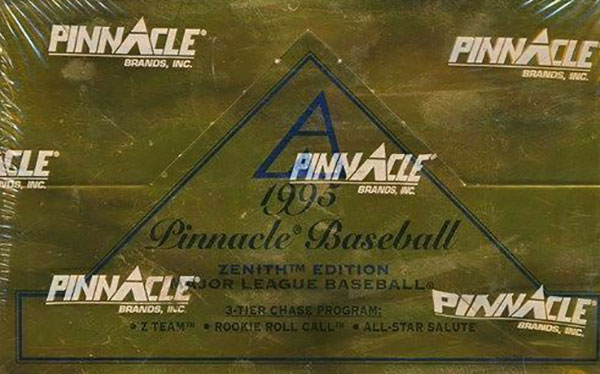 Today actually marks a milestone for the Cheap Wax Wednesday series. Five years ago, to the day, on April 22, 2015 I posted the first "episode" of Cheap Wax Wednesday on my blog, featuring 1994 Flair Series 2 Baseball. This post marks the 262nd straight week with a different featured product. I will be celebrating this milestone with a giveaway through my Twitter. I will be giving away a box of this week's featured product. Be sure to check for that!
Fun Facts are provided by Bleacher Report National MLB Columnist Joel Reuter. You can follow Joel on Twitter (@JoelReuterBR) and check out his work at Bleacher Report.
1995 Zenith Baseball Box Break
Cards per pack: 6
Packs per box: 24
Price paid: $45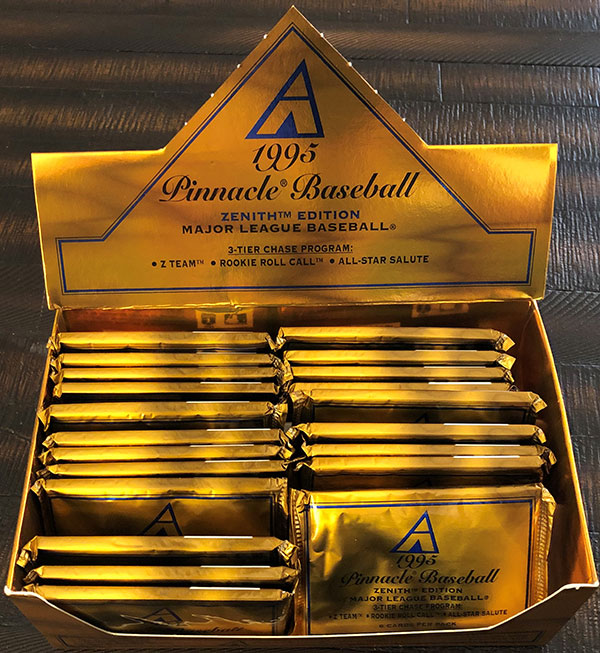 Pack 1 highlights:
Edgar Martinez & Mo Vaughn
Pack 1 fun fact: Edgar Martinez was signed by the Seattle Mariners in 1982 after a tryout in Puerto Rico. He was playing semi-pro ball at the time and agreed to a $4,000 bonus.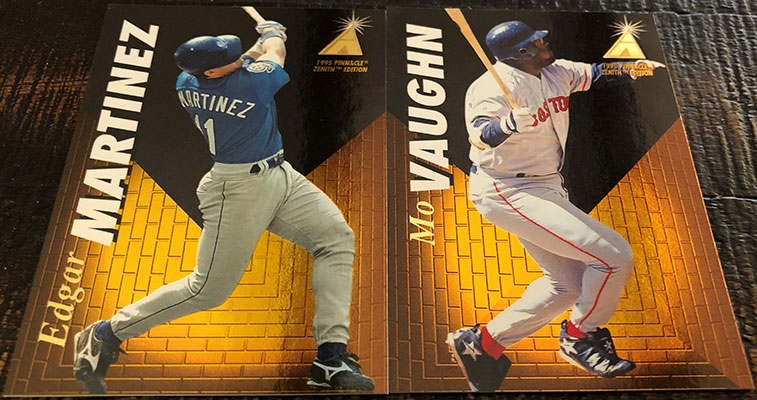 Pack 2:
Tony Gwynn, Matt Williams & Chipper Jones
Pack 2 fun fact: Matt Williams led the majors with 43 home runs in 1994. There were 47 games left on the San Francisco Giants schedule when the season ended abruptly due to the player's strike. Would he have made a run at 61?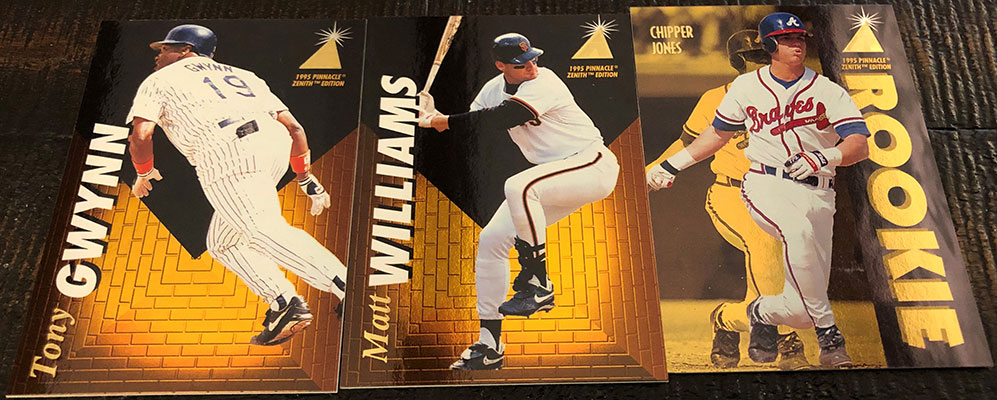 Pack 3:
Ivan Rodriguez, Bobby Bonilla & Alex Rodriguez
Pack 3 fun fact: Among his many accolades, Ivan Rodriguez is the all-time leader with 2,427 games played as a catcher. The previous mark was held by Carlton Fisk (2,226).

Pack 4:
Dave Winfield, Derek Bell & Jimmy Key
Pac 4 fun fact: Dave Winfield was 43-years old in 1995 when he suited up for the Cleveland Indians in his 22nd and final MLB season.

Pack 5:
Jose Canseco, Hideo Nomo RC (one of the few from the subset that are Rookie Cards) & Jeff Conine All-Star Salute (1:6 packs)
Pack 5 fun fact: While Hideo Nomo is best known for his time with the Los Angeles Dodgers, he also led the AL with 220 strikeouts as a member of the Boston Red Sox in 2001.

Pack 6:
Mark Grace, Dante Bichette, Dennis Eckersley & Jeff Bagwell
Pack 6 fun fact: Mark Grace had more hits than any other player in baseball during the 1990s. His 1,745 knocks narrowly edged out Rafael Palmeiro (1,747), Craig Biggio (1,728) and Tony Gwynn (1,713).

Pack 7:
Frank Thomas & Sammy Sosa
Pack 7 fun fact: Frank Thomas (448) and Sammy Sosa (545) hold the White Sox and Cubs franchise home run records. Sosa surpassed Ernie Banks (512), while Thomas blew past Harold Baines (221) and managed to set the bar high enough to hold off Paul Konerko (432).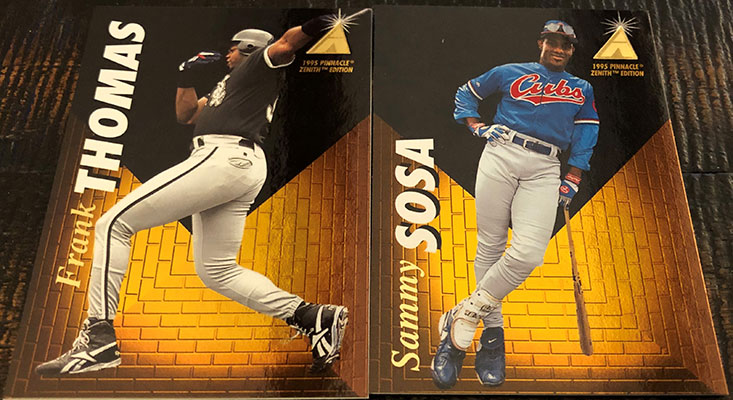 Pack 8:
Mike Mussina & Hideo Nomo. While the Nomo card features a very different card design, this is only a base card.
Pack 8 fun fact: Mike Mussina won 20 games just once over the course of his 18-year Hall of Fame career. It was in his final season, when he went 20-9 at the age of 39 for the Yankees.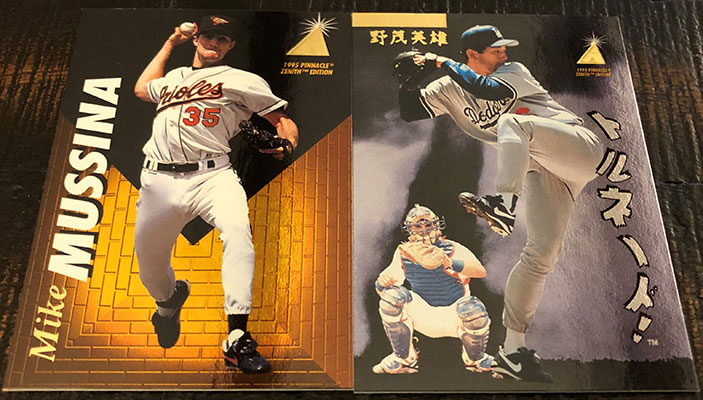 Pack 9:
Barry Bonds & Dave Justice
Pack 9 fun fact: David Justice had the best season of his career in 1993 when he hit .270/.357/.515 with 40 home runs and 120 RBI to finish third in NL MVP voting. The winner that year? Barry Bonds.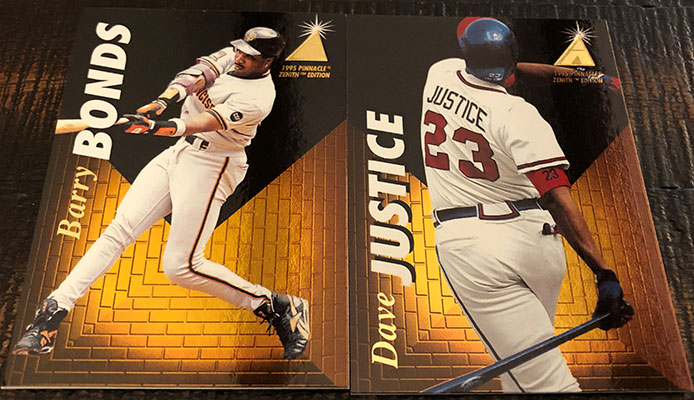 Pack 10:
A mulleted Mark McGwire
Pack 10 fun fact: Mark McGwire had 1,626 hits in his career and 35.9 percent of them were home runs. To put that into perspective, home runs only account for 26.0 percent of all-time home run leader Barry Bonds' career hit total.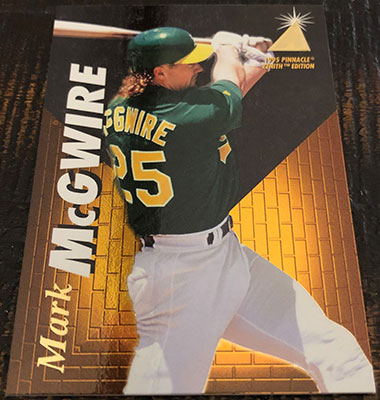 Pack 11:
Larry Walker, Paul O'Neill, Will Clark & Rickey Henderson
Pack 11 fun fact: The Yankees acquired Paul O'Neill from the Cincinnati Reds in exchange for Roberto Kelly prior to the 1993 season in one of the better trades in franchise history.

Pack 12:
Fred McGriff, Carlos Delgado, Paul Molitor, Roger Clemens & Ken Griffey, Jr. All-Star Salute (1:6 packs)
Pack 12 fun fact: Carlos Delgado (473) and Fred McGriff (493) both fell just short of joining the exclusive 500-home run club.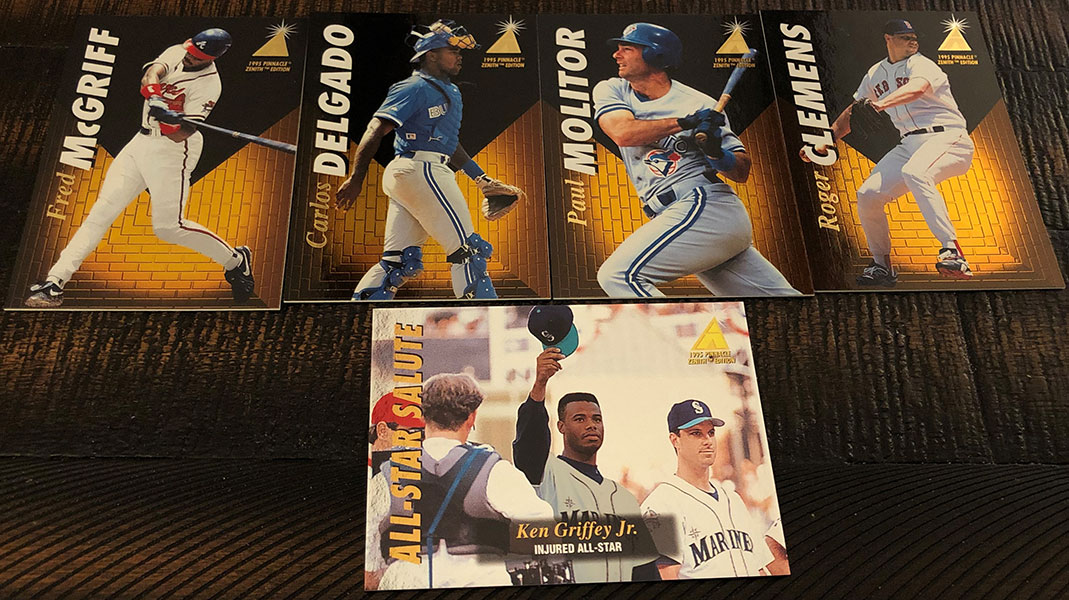 Pack 13:
Juan Gonzalez, Ozzie Smith & Deion Sanders
Pack 13 fun fact: Deion Sanders hit .304/.346/.495 with 28 extra-base hits and 26 steals in 97 games for the Braves in 1992. How good could he have been if he had focused solely on baseball?

Pack 14:
Jeff Kent & Don Mattingly
Pack 14 fun fact: There were 492 players drafted ahead of Don Mattingly in 1979 before the Yankees finally scooped him up in the 19th round.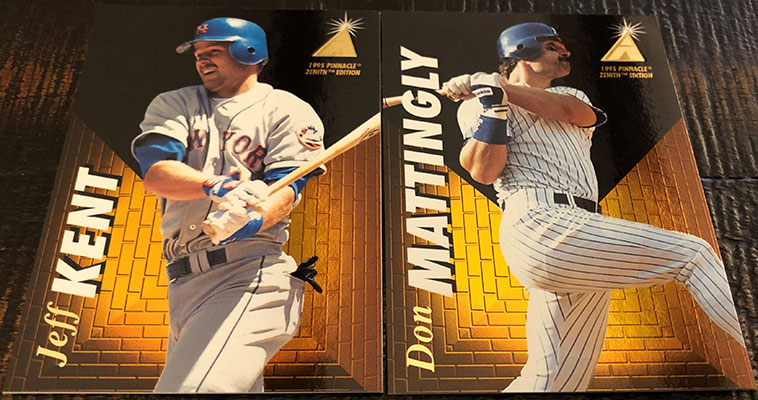 Pack 15:
Barry Larkin, Ken Griffey, Jr. & Carlos Perez Rookie Roll Call (1:24 packs)
Pack 15 fun fact: Carlos Perez was an All-Star as a rookie in 1995. He went 7-2 with a 3.26 ERA in 69 innings during the first half and was the lone representative for the Expos.

The Rookie Roll Call card backs look almost as good as the fronts.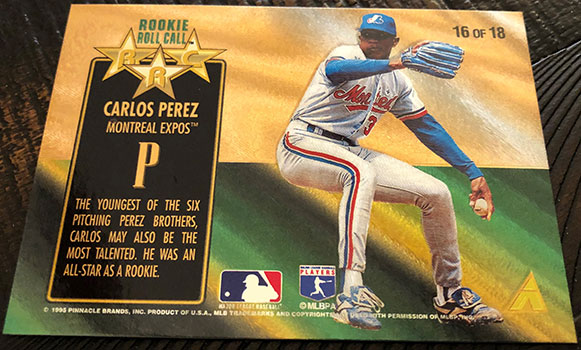 Pack 16:
Ron Gant, Rafael Palmeiro & Kenny Lofton
Pack 16 fun fact: Kenny Lofton actually attended the University of Arizona on a basketball scholarship and he started 33 games for a Wildcats team that went 29-4 during the 1988-89 season. That team featured five future NBA players, including Sean Elliott.

Pack 17:
Randy Johnson, Moises Alou & Edgardo Alfonzo
Pack 17 fun fact: Edgardo Alfonzo was a bona fide star at his peak, hitting .324/.425/.542 with 40 doubles, 25 home runs and 94 RBI during the 2000 season.

Pack 18:
John Olerud & Tim Salmon
Pack 18 fun fact: The John Olerud Award is given out annually to the best two-way player in college baseball. During his junior year at Washington State, Olerud went 15-0 on the mound and hit 23 home runs.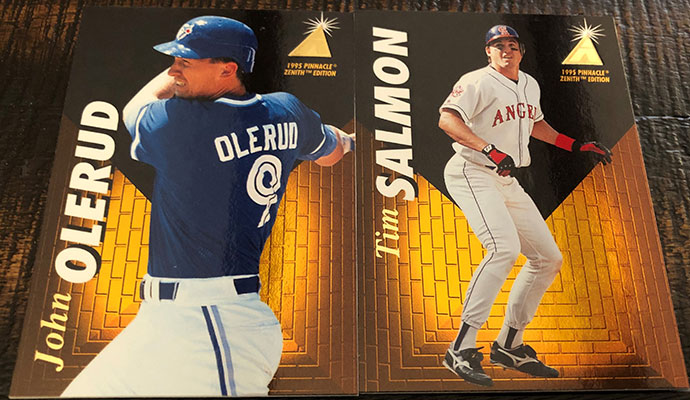 Pack 19:
Shawn Green & Greg Maddux
Pack 19 fun fact: Shawn Green had himself a day to remember on May 23, 2002, going 6-for-6 with four home runs, one double and seven RBI. His 19 total bases that day are an MLB record.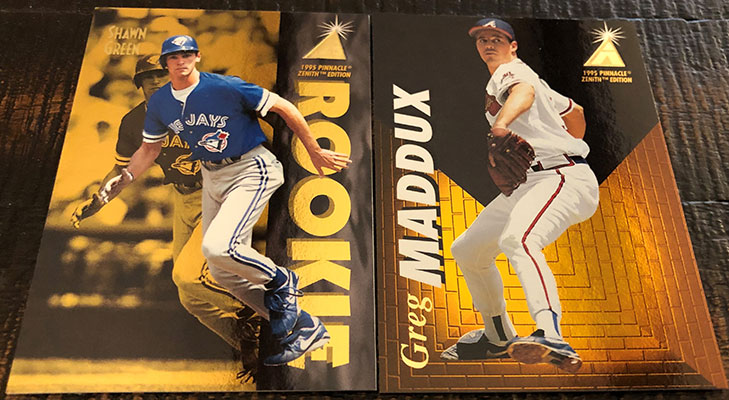 Pack 20:
Kirby Puckett, Gary Sheffield, Jim Thome, Cal Ripken, Jr. & Barry Bonds/Ripken All-Star Salute (1:6 packs)
Pack 20 fun fact: Jim Thome won the only Silver Slugger Award of his career in 1996…as a third baseman.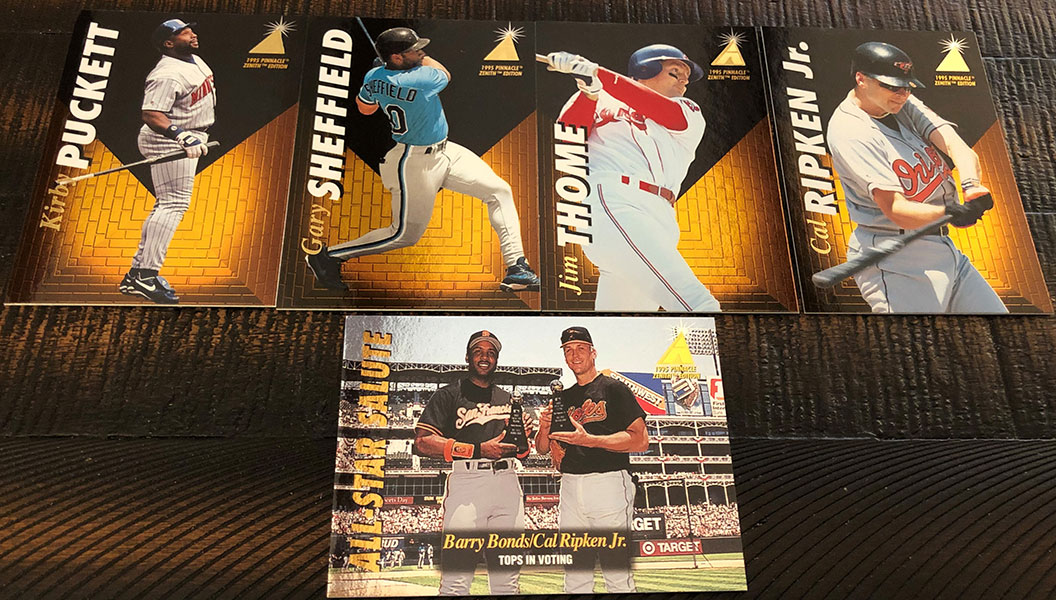 Pack 21:
Garret Anderson, Ken Caminiti & Wade Boggs
Pack 21 fun fact: Wade Boggs won five batting titles during his first six full seasons in the majors. His .328 career average is good for 33rd on the all-time list.

Pack 22:
David Cone, Albert Belle, J.T. Snow & Derek Jeter. Though not an actual Rookie Card, this Jeter card actually sells really well.
Pack 22 fun fact: Derek Jeter hit .344/.410/.463 with 43 extra-base hits in 138 games over three minor league levels in 1994. He had not yet made his MLB debut heading into the 1995 season, which is why he was included in the rookie subset.

Pack 23:
Roberto Alomar, Manny Ramirez & Mike Piazza
Pack 23 fun fact: Roberto Alomar made 12 straight All-Star Game appearances from 1990 to 2001, playing for four different teams along the way.

Pack 24:
Craig Biggio, Joe Carter & Frank Thomas All-Star Salute (1:6 packs). I find the Carter card to be a bit odd. While every other base card in the set features the pyramid design prominently, the photo on this card leaves the design barely visible along the right edge.
Pack 24 fun fact: The Blue Jays acquired Joe Carter and Roberto Alomar from the Padres prior to the 1991 season in exchange for Fred McGriff and Tony Fernandez. That trade paved the way for back-to-back World Series titles in 1992 and 1993.

Lastly, the Biggio card back. Pinnacle tried something different here, going with a hit location chart on the card backs. I don't know about you, but I prefer seeing more stats. Give me all the stats!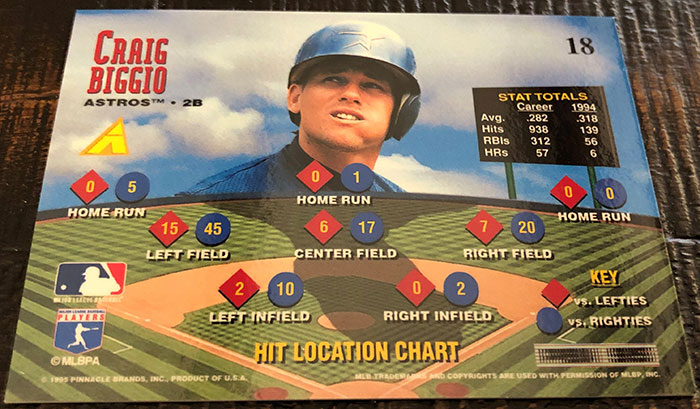 I fared well with this box. I pulled all of the big names from the Rookie subset, including the biggest — Derek Jeter. I could have done a lot better with the Rookie Roll Call card, but the 18-card checklist for that insert set doesn't feature a ton of big names. A-Rod, Jeter, Chipper and Nomo would be the highlights from that list. The only insert I did miss out on pulling was a Z-Team insert, which are found just once in every three boxes (1:72 packs).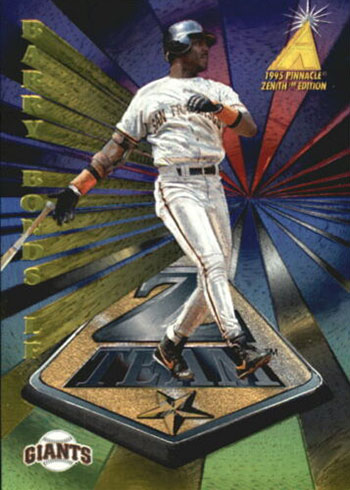 Another fun product, and I certainly can't complain about the price! It has been a fun five-year Cheap Wax Wednesday run. I look forward to the next five years!
Want more installments of Shane Salmonson's Cheap Wax Wednesday? Check out his other breaks in the archives.