Cheap Wax Wednesday Box Breaks: 1995 Upper Deck Football
When you click on links to various merchants on this site, like eBay, and make a purchase, this can result in this site earning a commission.
What do 1995 Upper Deck Baseball, 1995 Upper Deck Football, 1995-96 Upper Deck Basketball and 1995-96 Upper Deck Hockey have in common? They all use the exact same base card design. I remember it most from 1995-96 Upper Deck Basketball. As a kid I collected a lot of basketball cards, and this design immediately brings me back to Kevin Garnett's Rookie Card.
1995 Upper Deck Football consists of 300 base cards. Of those, 31 are Rookie Cards. The best of the rookie bunch? Derrick Brooks, Curtis Martin, Steve McNair and Warren Sapp.
In addition to a loaded base set, there are four inserts to chase. Special Edition foil cards (also found in much more rare Gold versions) feature some fun photography, some of which are from famed sports photographers, V.J. Lovero and Walter Iooss.
Pro Bowl cards are holograms of top offensive players. Predictors doubled as possible redemption cards as well. If the player on the card won the stated award (or came in second in the voting), the card could be redeemed for a "super foil enhanced" Predictor set.
Lastly, the Joe Montana Trilogy set. Upper Deck experimented with a split set on this one. The set was split into three different releases. Montana Trilogy cards could be found in Upper Deck, Collector's Choice, and SP packs.
1995 Upper Deck Football Box Break
Cards per pack: 12
Packs per box: 36
Price paid: $36

Pack 1 highlights:
Reggie White, Irving Fryar & Jerry Rice SE (one per pack)
Jerry Rice led the league in receiving yards in six of his first eleven seasons in the NFL. Rice's receiving yards record may never be touched. The closest active player to his 22,895 receiving yards is Julio Jones, who is over 9,000 yards behind.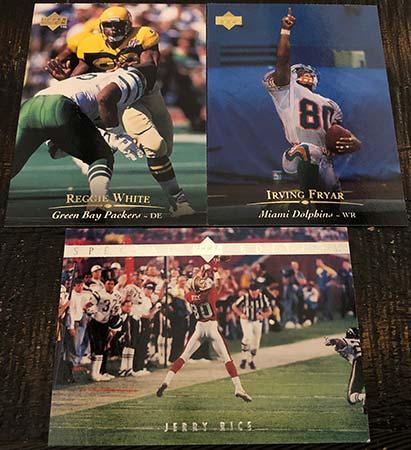 Pack 2:
Derrick Brooks RC, Neil O'Donnell, Cortez Kennedy & Bernard Williams SE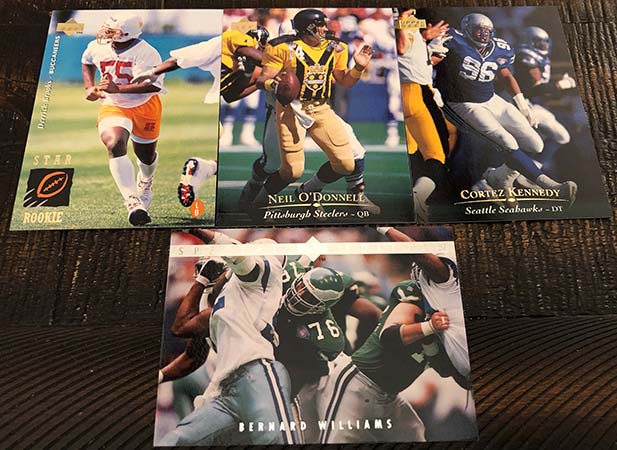 Pack 3:
Bryan Cox, Rob Johnson RC & Alfred Pupunu SE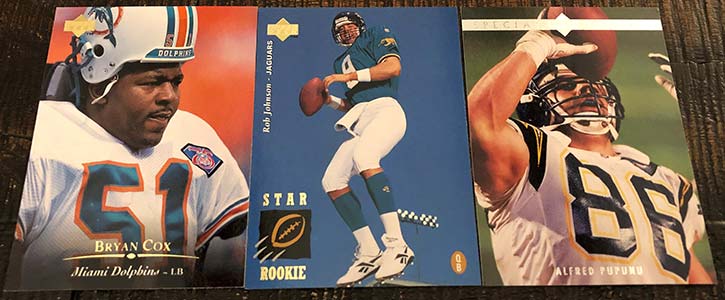 Pack 4:
Brent Jones, Eric Metcalf & Tony Tolbert SE
Brent Jones was one of the best pass-catching tight ends of his time. It doesn't seem like much when compared to today's game, but Jones caught 417 passes during his NFL career, including 33 touchdowns.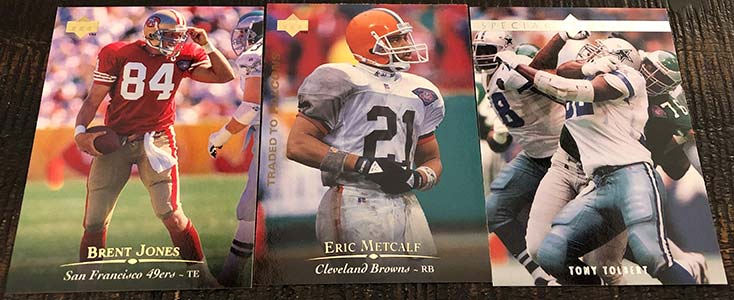 Pack 5:
Tyrone Wheatley RC, Ken Norton, Brian Blades & Dana Stubblefield SE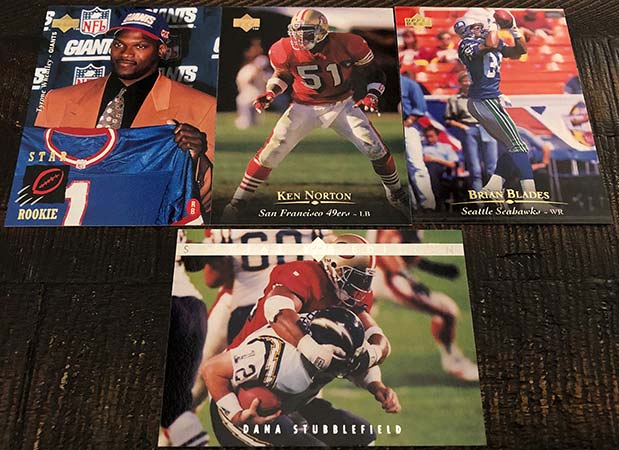 Pack 6:
Warren Moon, Rodney Hampton, Andre Reed & James Stewart SE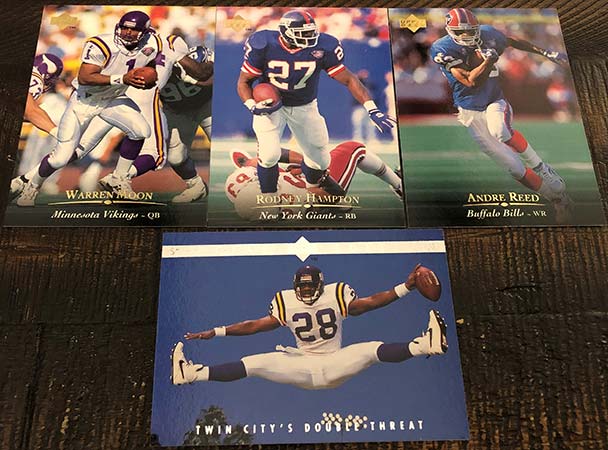 Pack 7:
James Stewart RC (yes, a different James Stewart), Jerome Bettis, Drew Bledsoe, Bruce Smith, Charles Haley & Kyle Brady SE
This James Stewart was a first round selection out of Tennessee. He rushed for over 1,000 yards and 11 touchdowns during his senior season in Knoxville.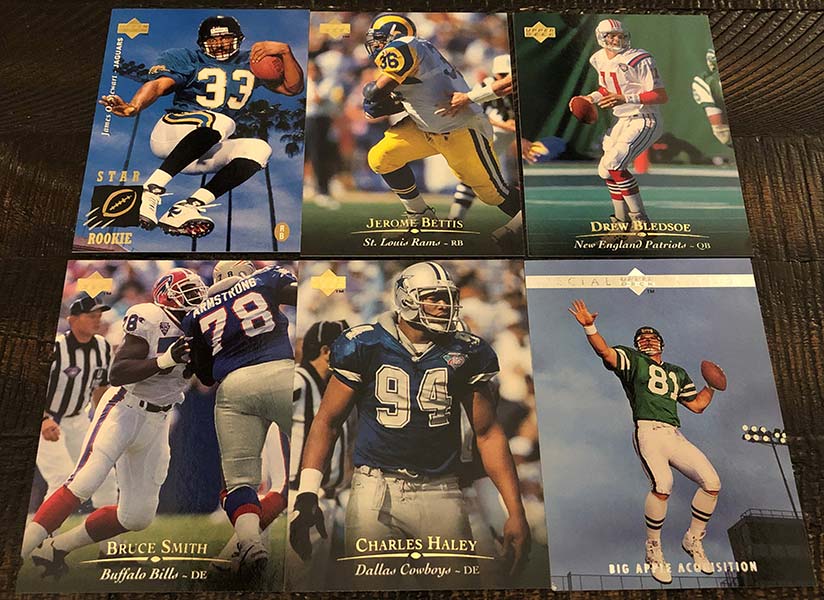 Pack 8:
Napoleon Kaufman RC, Natrone Means, Jerry Rice & James Stewart SE
That must be some kind of record. Three packs in a row containing one of the two James Stewart cards. 

Pack 9:
Jim Harbaugh, John Elway, Boomer Esiason & Michael Westbrook SE

Pack 10:
Qadry Ismail, Daryl "Moose" Johnston, Charlie Garner SE & Joe Montana Trilogy (1:12 packs)
The Ismail brothers were fast, and had the nicknames to go with it. Qadry was known as The Missile, while his brother Raghib was known as Rocket.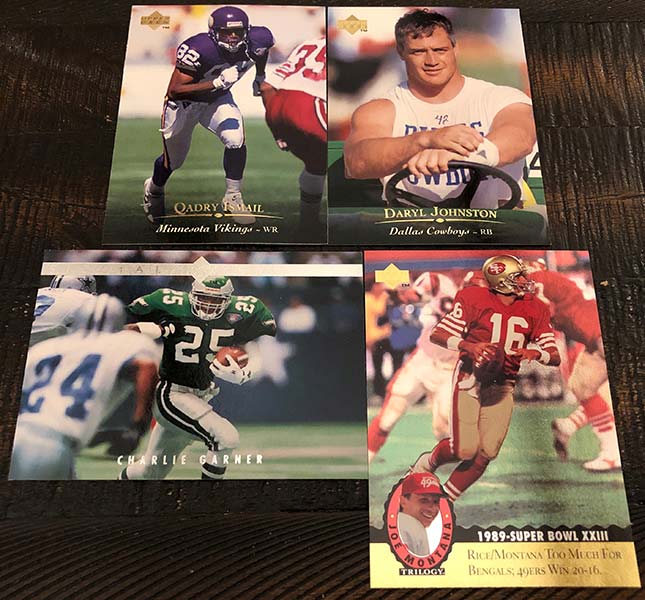 Pack 11:
Ricky Watters, Kevin Greene & Tim Harris SE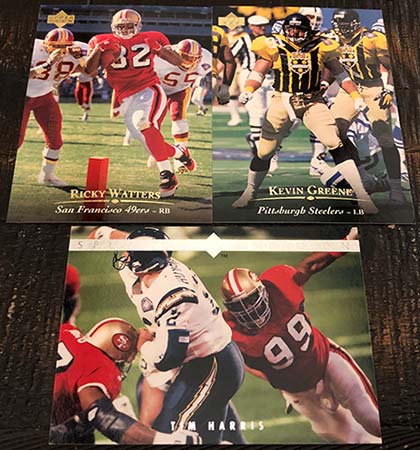 Pack 12:
Rod Woodson, Emmitt Smith, Tim Brown, Cris Carter & William Fuller SE (there are fouls against both teams on the play. Illegal use of hands, hands to the face…)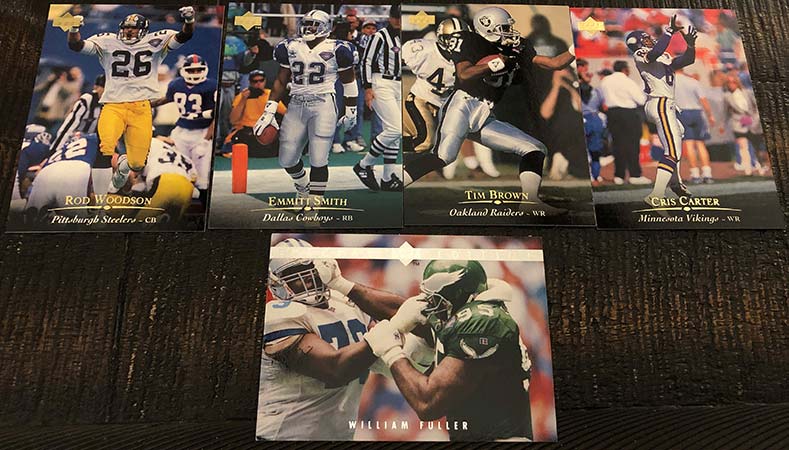 Pack 13:
Rashaan Salaam RC, John Randle, Jeff George, Dan Marino, Andre Rison & 49ers Defense SE
Hall of Famer John Randle racked up 137 1/2 sacks during his NFL career.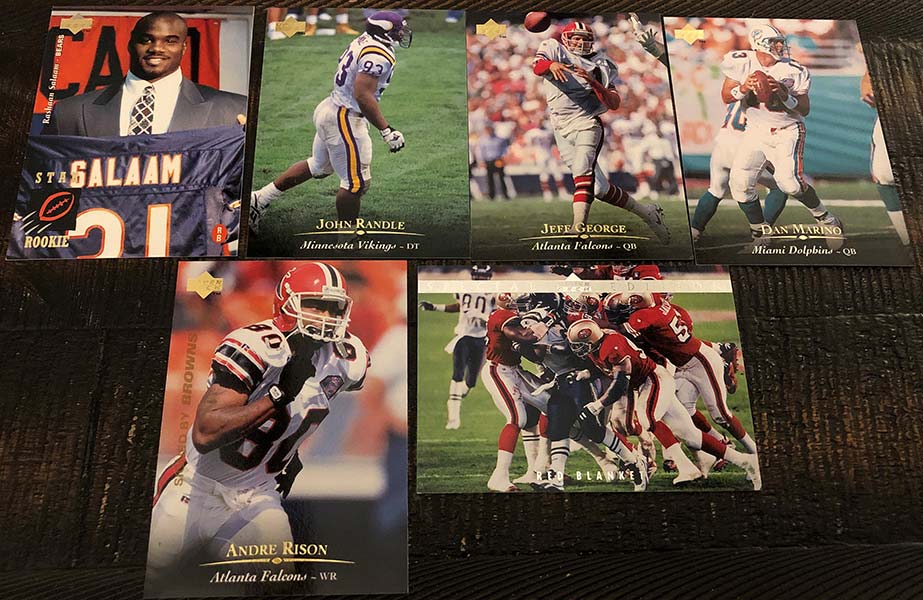 Pack 14:
Warren Sapp RC, Herschel Walker, Trent Dilfer & Vikings Defense SE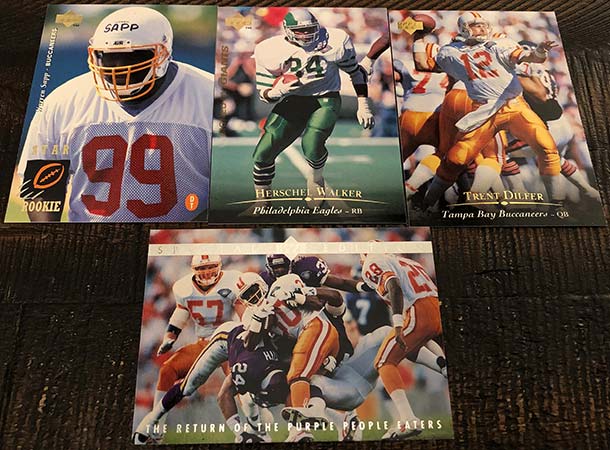 Pack 15:
Kerry Collins RC, Mo Lewis, Willie McGinest, Errict Rhett, Ben Coates & Ray Zellars SE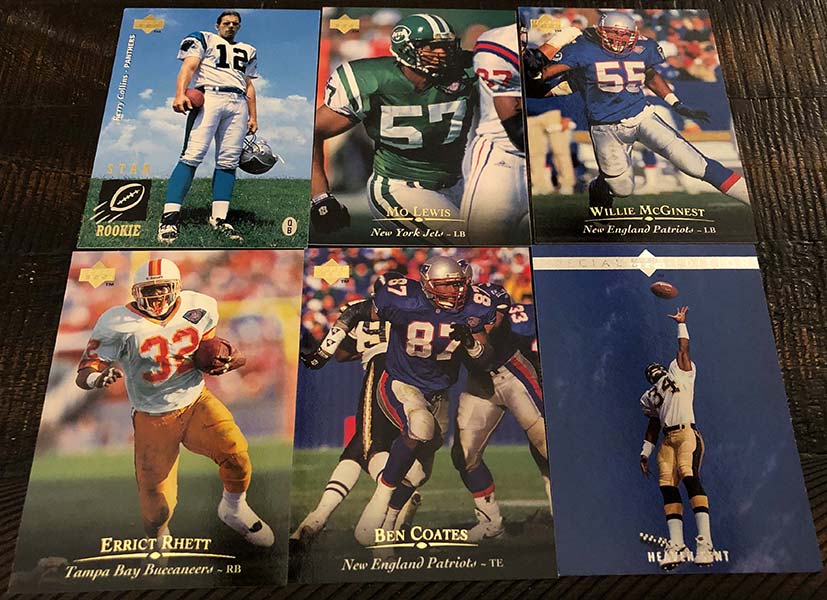 Pack 16:
Kyle Brady RC, Ronnie Lott, Michael Irvin, Herman Moore & Christian Fauria SE
Fauria's best season came for the 2002 Patriots when he caught seven touchdown passes, by far a career best.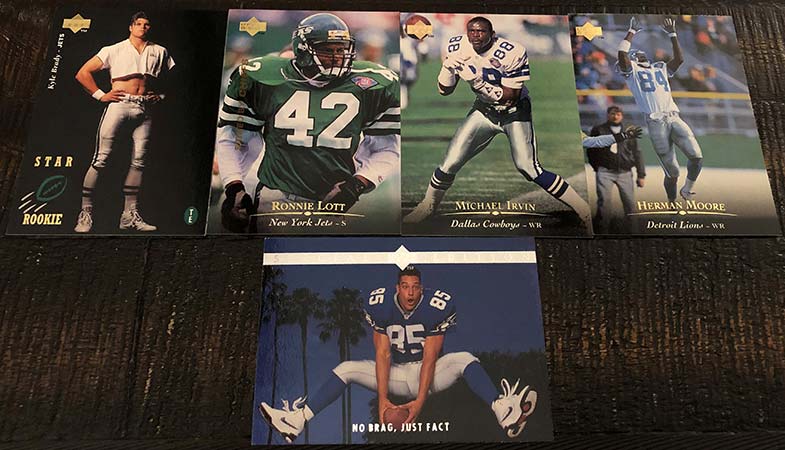 Pack 17:
Joey Galloway RC, Desmond Howard, Steve Young & Jimmy Oliver SE

Pack 18:
Kevin Carter RC, Chris Warren, Kordell Stewart SE & Rashaan Salaam Predictor (1:35 packs)

Pack 19:
Mark Brunell, Shannon Sharpe, Isaac Bruce, Troy Aikman & Kenneth Gant SE
Longtime Jaguars QB Brunell led the league with 4,367 passing yards in 1996.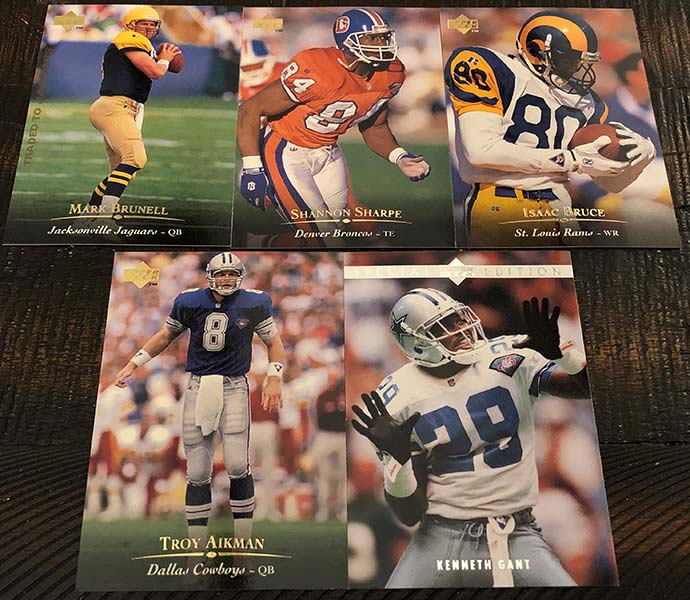 Pack 20:
Ki-Jana Carter RC, Barry Sanders & Steve Young/Jerry Rice SE
Pack 21:
Craig Heyward, Marcus Allen & Alvin Harper SE

Pack 22:
Curtis Martin RC, Jake Reed, Brett Favre & Steve Young SE
Curtis Martin (who has one of the best autographs in football, by the way) had just one season under 1,000 yards rushing in his career. It was 2005, his final season, and he only played in 12 games. 

Pack 23:
Jay Novacek & Troy Aikman SE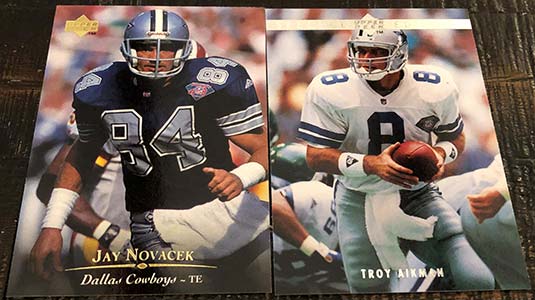 Pack 24:
Vinny Testaverde, Chris Zorich (now that is a football card), Junior Seau & Kevin Carter SE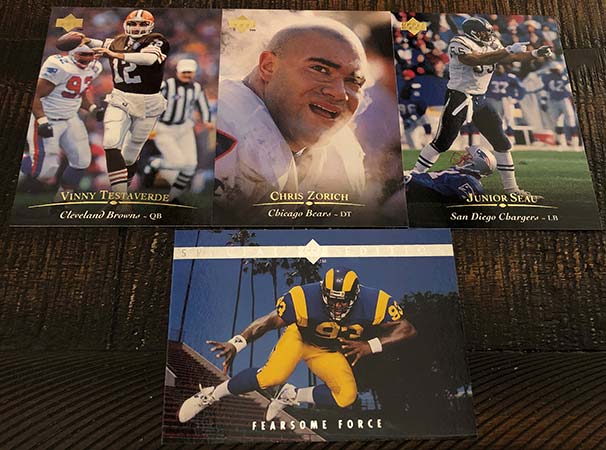 Pack 25:
Frank Sanders RC, Napoleon Kaufman SE & Pro Bowl Hologram (1:25 packs)
A 25-card Pro Bowl Hologram checklist, and I pull the checklist card. Tough break, as the player cards are really fun.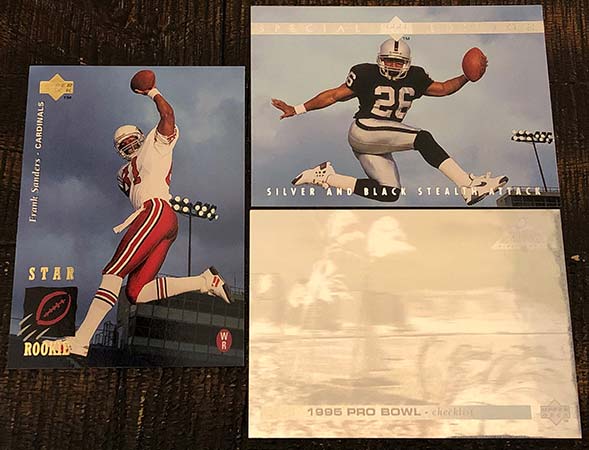 Pack 26:
Randall Cunningham, Todd Collins RC & Kerry Collins SE

Pack 27:
Christian Fauria RC, Emmitt Smith, Marshall Faulk, Joe Montana & Bobby Taylor SE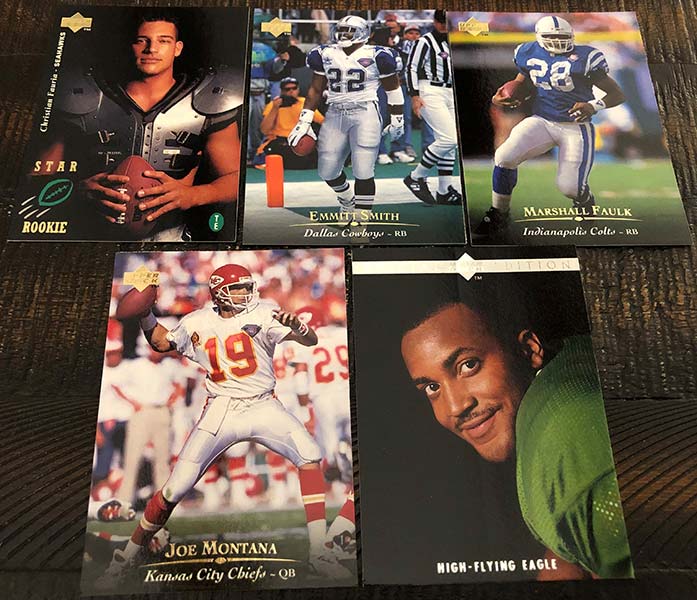 Pack 28:
Kerry Collins RC, Dan Marino, Tim Brown & Drew Bledsoe SE
Bledsoe led the league in passing yards in just his second NFL season, tossing for 4,555 yards in 1994.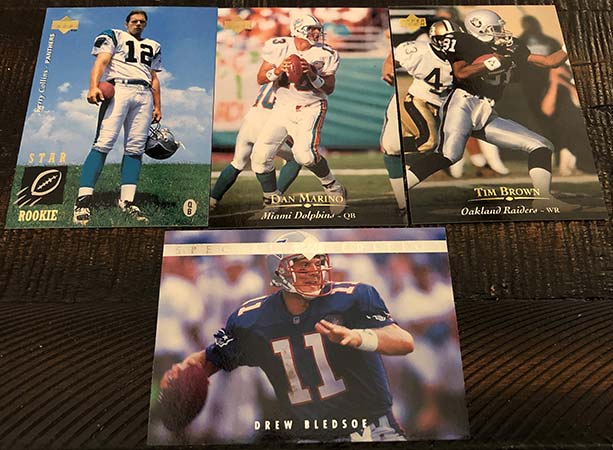 Pack 29:
Ronnie Lott, Herschel Walker, Joe Montana Trilogy (1:12 packs) & Bernie Parmelee SE

Pack 30:
Jim Everett, Errict Rhett & Bryan Cox SE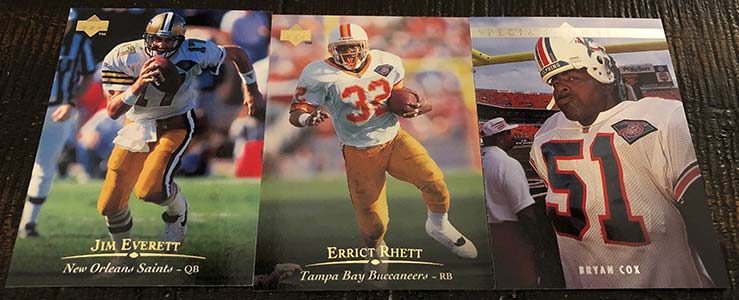 Pack 31:
Joey Galloway RC, Michael Irvin & Terry Kirby SE
Another great football shot! You almost can't even tell it's Kirby in that scrum. 

Pack 32:
Kevin Carter RC, Steve Young, Edgar Bennett & Frank Sanders SE

Pack 33:
Michael Westbrook RC, Tyrone Wheatley Predictor (1:35 packs) & Bobby Taylor SE Gold (1:35 packs)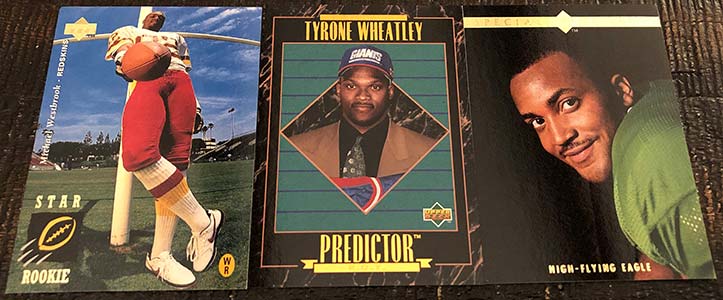 Pack 34:
Steve McNair RC, Jim Kelly, Carl Pickens & Luther Elliss SE
Jim Kelly never did get a Super Bowl ring but he did have a Hall of Fame NFL career. He racked up over 35,000 yards passing over 11 seasons in Buffalo.

Pack 35:
J.J. Stokes RC, Deion Sanders & Curtis Martin SE

Pack 36:
Double Bam Morris, Raghib "Rocket" Ismail & Mark Fields SE

Lastly, the Jim Kelly card back. Kelly was amazingly consistent over the course of his career.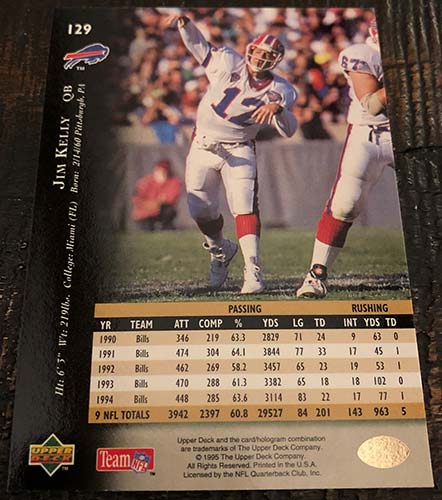 Luck wasn't on my side with this one. I pulled the checklist hologram for our Pro Bowl card. Ouch. I did get lucky to pull two Predictor cards, but neither was one of the better names on the 20-card checklist. I even came up short pulling just two Montana Trilogy inserts.
The good news is that it was still a fun break with lots of great photographs, a good rookie crop and a price tag around $1 per pack? Sign me up.
Shop for 1995 Upper Deck Football cards on:
Want more installments of Shane Salmonson's Cheap Wax Wednesday? Check out his other breaks in the archives.