Cheap Wax Wednesday Box Breaks: 1995 Topps Stadium Club Series 2 Football Jumbo
When you click on links to various merchants on this site, like eBay, and make a purchase, this can result in this site earning a commission.
1995 Topps Stadium Club Football was split into two series, each with 225 cards. In my opinion, this set contains less of the fun photography we have come to expect from Stadium Club. What it was not lacking in, though, is inserts. Series 2 boxes have four different inserts and all of them look great. Ground Attack, MVPs, Nightmares, and Power Surge inserts can all be found in Series 2.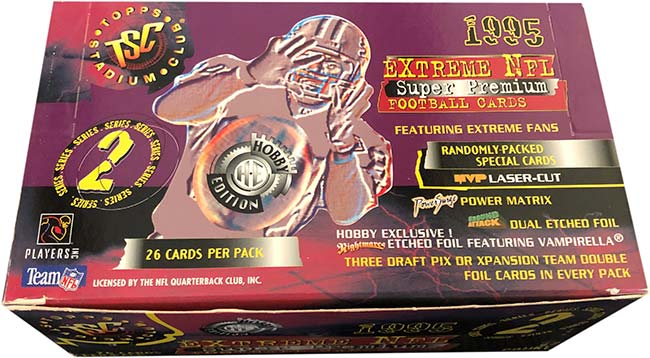 This break serves as a cautionary tale. Before buying any '90s product you should be aware that you may encounter some "bricking" when you open them. This is when the cards in the packs stick together. Minor bricking is one thing, and can sometimes be pulled apart with little to no damage. More extreme bricking can quickly turn a fun box break into a nightmare. I get asked quite a bit how I avoid running into this. I don't.
I have opened my fair share of bricked boxes. Some obviously are worse than others. This box did have some bricking in it, and some of it got really bad.
1995 Topps Stadium Club Series 2 Football Jumbo Box Break
Cards per pack: 26
Packs per box: 12
Price paid: $20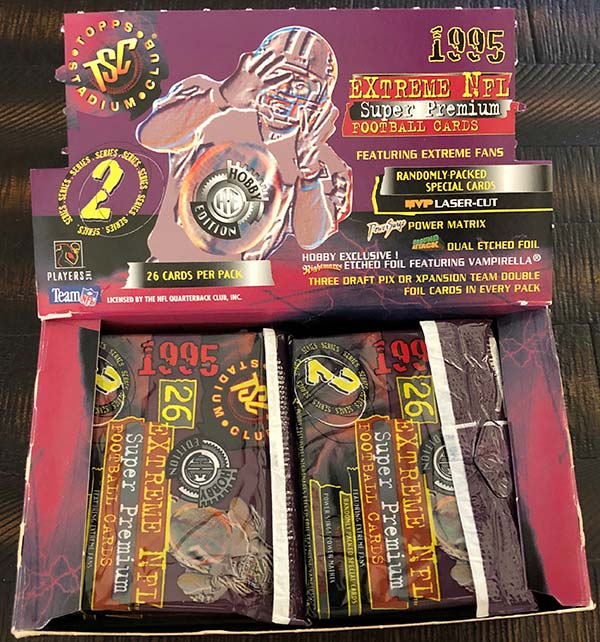 Pack 1 highlights:
Reggie White, Raghib "Rocket" Ismail & Dan Marino
Dan Marino still ranks seventh all-time in passing touchdowns with 420. The closest active player, Ben Roethlisberger, is just two touchdowns back. However, it seems very likely that Big Ben has played his last game.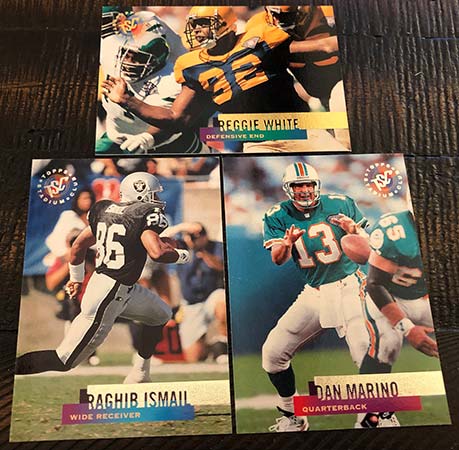 Pack 2:
Drew Bledsoe, Boomer Esiason, Jim Harbaugh, Barry Sanders & Steve Young MVP (1:9 packs)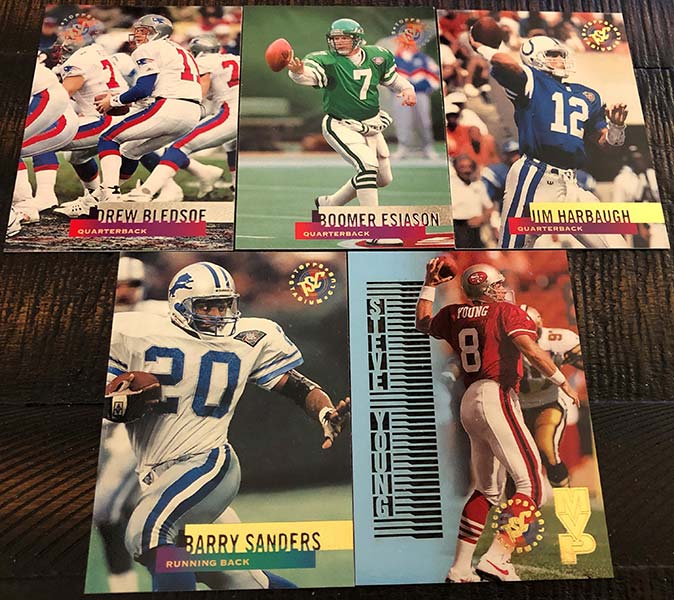 Pack 3:
John Elway, Willie McGinest & Michael Strahan
John Elway threw 300 passing touchdowns in his career. His best season? 27 in '97.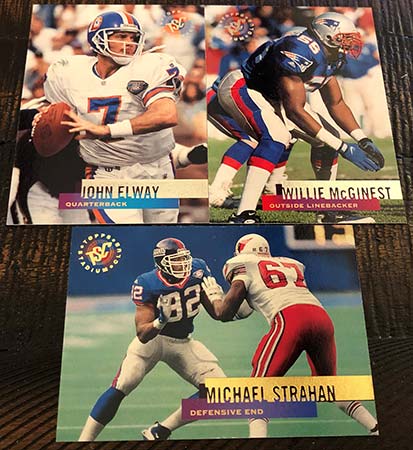 Pack 4:
Jerry Rice, Troy Aikman, Jerome Bettis & Edgar Bennett/Brett Favre Ground Attack (1:6 packs)
Favre featured on the back.

Pack 5:
Randall Cunningham, Cris Carter, John Elway, Tim Brown & Henry Ellard Power Surge (1:14 packs)
You hate to find what happened to the Ellard Power Surge card. It completely ruins a break, especially when it is the toughest insert in the set. I think I would have been even more upset if it was one of the bigger names from the checklist like Dan Marino, Marshall Faulk or Steve Young.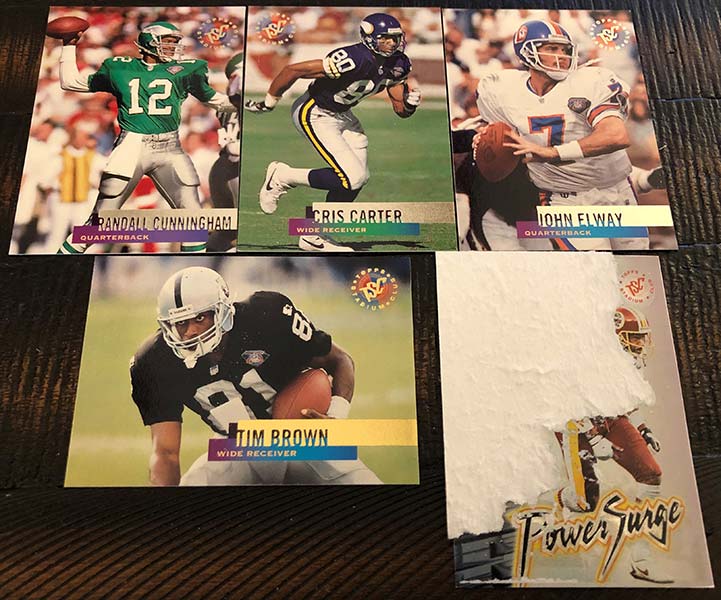 Pack 6:
Ricky Watters & Jim Kelly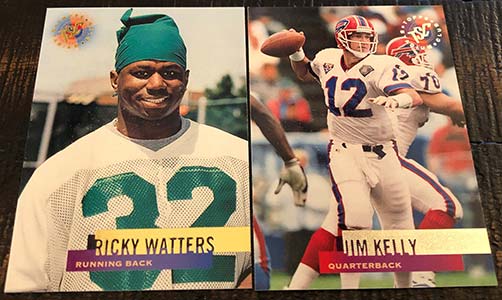 Pack 7:
Willie McGinest & Dorsey Levens
Levens made just one Pro Bowl roster in his career. This was following the 1997 season in which he rushed for 1,435 yards and 12 total touchdowns.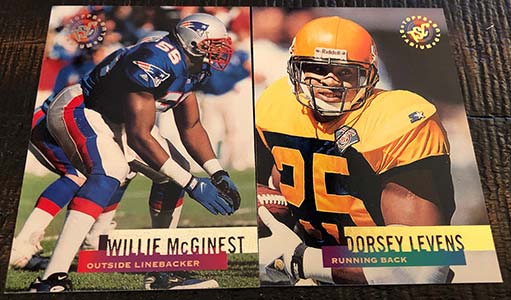 Pack 8:
Reggie White, Jerome Bettis & Troy Aikman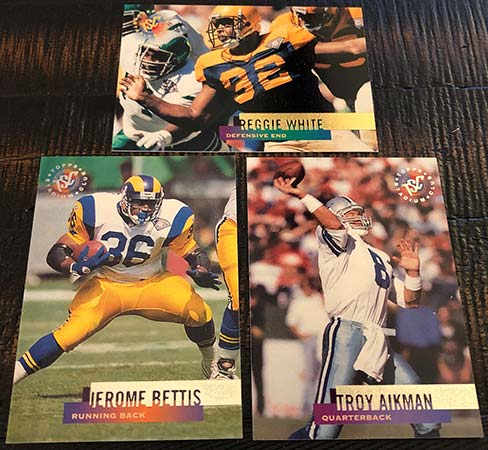 Pack 9:
Randall Cunningham, Cris Carter, Mark Brunell, Barry Sanders, Jim Harbaugh, John Elway & Larry Centers/Garrison Hearst Ground Attack (1:6 packs)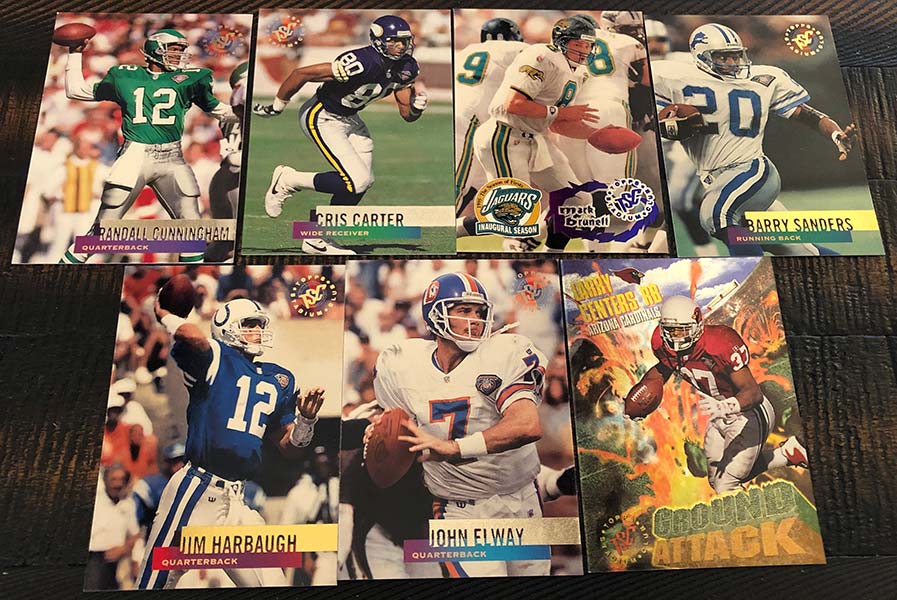 Hearst on the backside.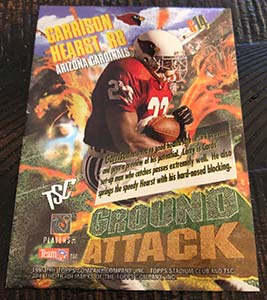 Centers and Hearst combined for 2,529 yards during the 1995 season. Hearst cleared 1,000 yards rushing, while Centers did most of his damage through the air, racking up over 900 receiving yards.
Pack 10:
Junior Seau, Michael Strahan, Jim Kelly, Desmond Howard & Errict Rhett Nightmares (1:6 packs)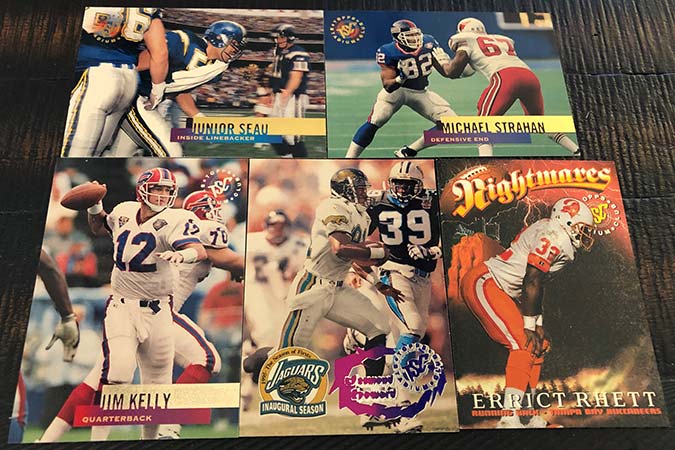 Pack 11:
Rod Woodson, Brett Favre & Byron Morris/Erric Pegram Ground Attack (1:6 packs)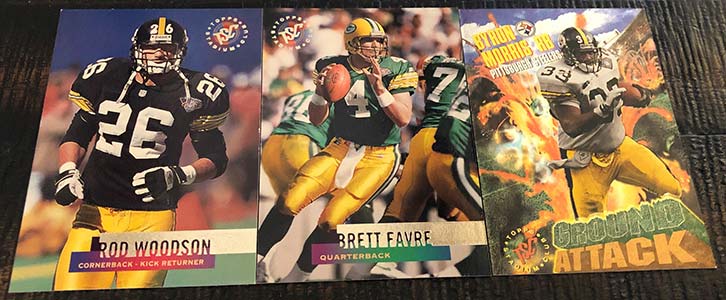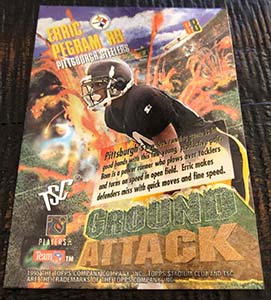 "Bam" Morris rushed for nine touchdowns during the 1995 season. Pegram added five rushing touchdowns of his own for the Steelers. 
Pack 12:
Errict Rhett & Marshall Faulk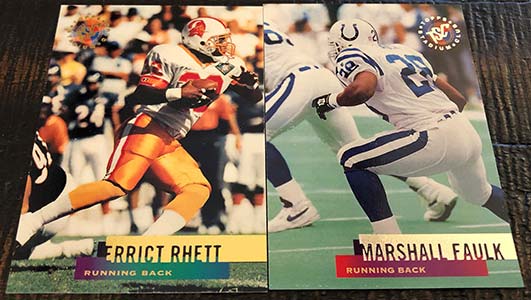 Lastly, the Marshall Faulk card back. I always wondered who was responsible for the "Topps Skills Rating System." Did it take input from actual football experts? Or was it just someone in the Topps office throwing numbers out?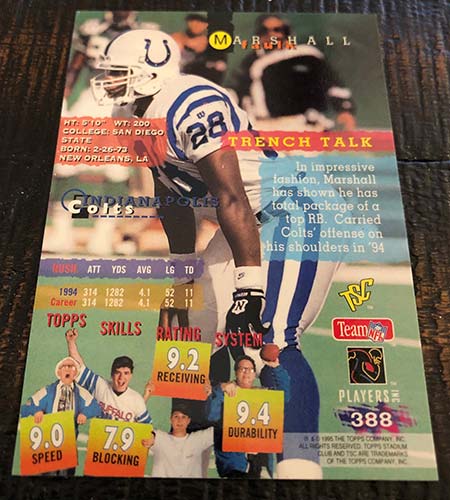 Like I said, always be aware that you might run into some bricking. Sometimes you'll get lucky and avoid it altogether but know that the possibility is there. That way you are not completely blindsided. I have read that there are some possible bricking remedies out there, such as putting the box in the freezer for a while but I haven't tried any of those yet.
Having said that, I am a big fan of Stadium Club. Now, this specific box didn't have a ton of fun photography in it. But, it did have the inserts, and how good did those look? The ones that survived at least.
Shop for 1995 Topps Stadium Club Football cards on:
Want more installments of Shane Salmonson's Cheap Wax Wednesday? Check out his other breaks in the archives.