Cheap Wax Wednesday Box Breaks: 1995 Topps Stadium Club Series 2 Baseball
I try to make timely choices when it comes to selecting which product to feature on a week-to-week basis. Seeing as we just celebrated July the 4th on Monday, I tried to find something that correlates with the holiday. In the past I have featured boxes of Panini USA Champions this week, which makes perfect sense. This year, I didn't have anything with USA in the product name, so I had to dig deeper. Not too deep though, as you can see the screaming eagle right on the box of this one. The real reason for selecting 1995 Stadium Club was for a very specific insert set.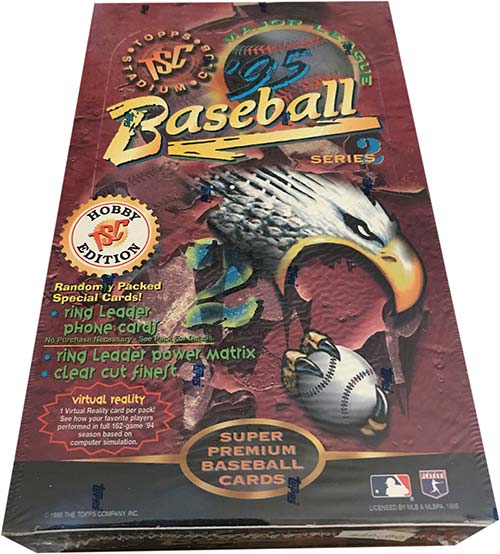 1995 Stadium Club Baseball is split into three series. Series 1 features 270 base cards, Series 2 dropped down to 225, and High Number has just 135.
Series 2 features four different insert sets, each with 1:24 packs odds: Clear Cut Finest, Phone Cards, Ring Leaders and Super Skills. So, if I stay true to the odds here, I should find one of each in this box. If your thing is Rookie Cards, unfortunately there is not a single one on the Series 2 checklist.
1995 Topps Stadium Club Series 2 Baseball Box Break
Cards per pack: 14
Packs per box: 24
Price paid: $30

Pack 1 highlights:
Joe Carter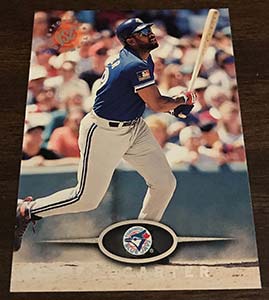 Pack 2:
Fred McGriff VR & Bobby Bonilla
Bobby Bonilla just had reason to celebrate. Every July 1st, Bonilla gets another check from the Mets for more than $1.19 million. He will continue to receive these annual checks until 2035.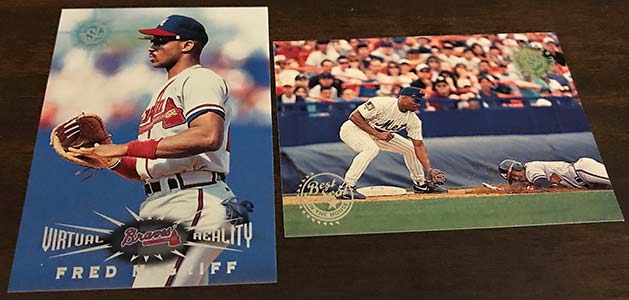 Pack 3:
Moises Alou, Edgar Martinez & Dante Bichette

Pack 4:
Kenny Lofton, Tom Gordon, Edgar Martinez, Omar Vizquel, Mike Piazza, Mo Vaughn & Dante Bichette
Though this set doesn't include a ton of great images, this Mo Vaughn shot is one of them.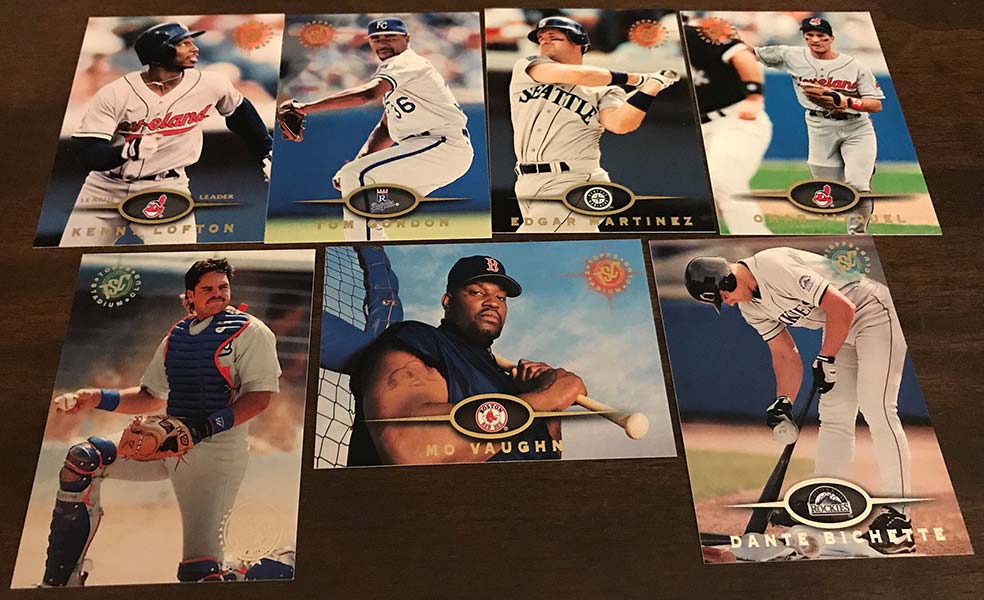 Pack 5:
Rickey Henderson, Frank Thomas, Kenny Lofton, Fred McGriff & Andres Galarraga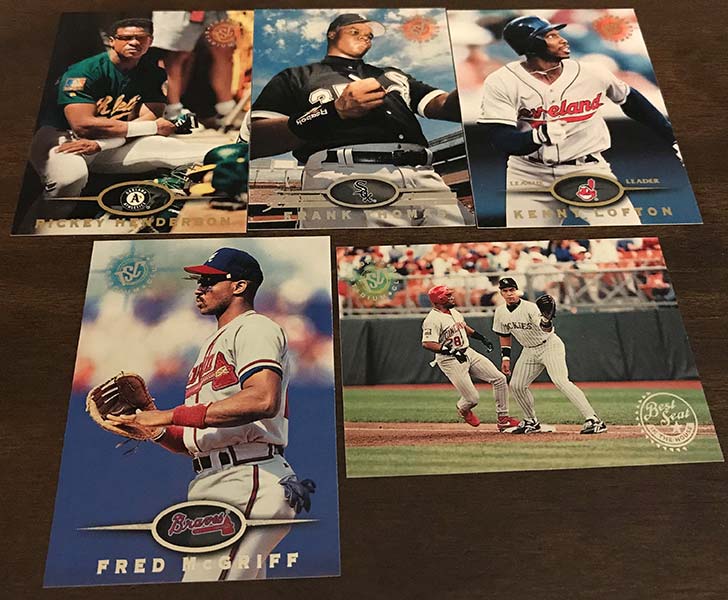 Pack 6:
Rickey Henderson, Rick Aguilera & Andres Galarraga Ring Leaders (1 in every 24 packs)
See what I mean? Ring Leaders have America written all over them. The eagle, the stars & stripes, baseball — it doesn't get much more American than that.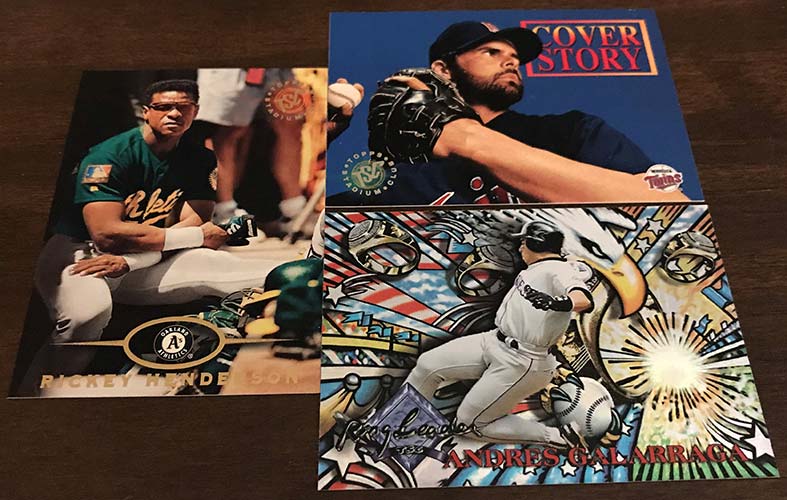 Pack 7:
Tony Gwynn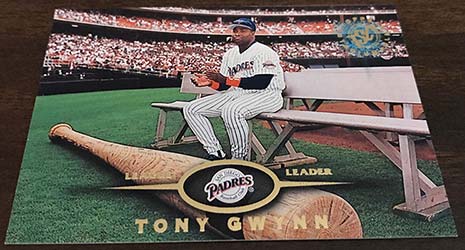 Pack 8:
Carlos Baerga, Tony Gwynn & Rickey Henderson
There aren't many better Gwynn card shots than this one right here.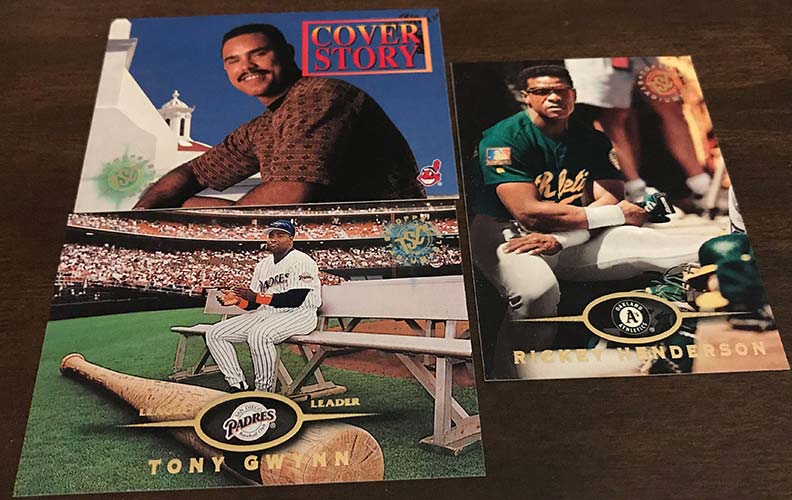 Pack 9:
Trevor Hoffman, Kirby Puckett & Frank Thomas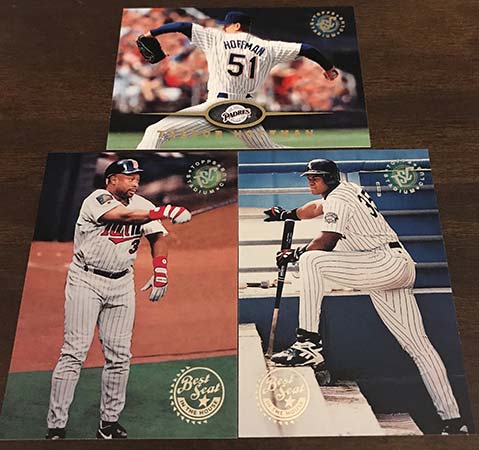 Pack 10:
Bernie Williams, Vinny Castilla, Cecil Fielder VR, Trevor Hoffman & Mo Vaughn
Virtual Reality was a parallel set inserted once per pack. I have only shown off the notable names here. The card backs feature estimated stats the player would have had if there was no player strike and the season finished as originally scheduled.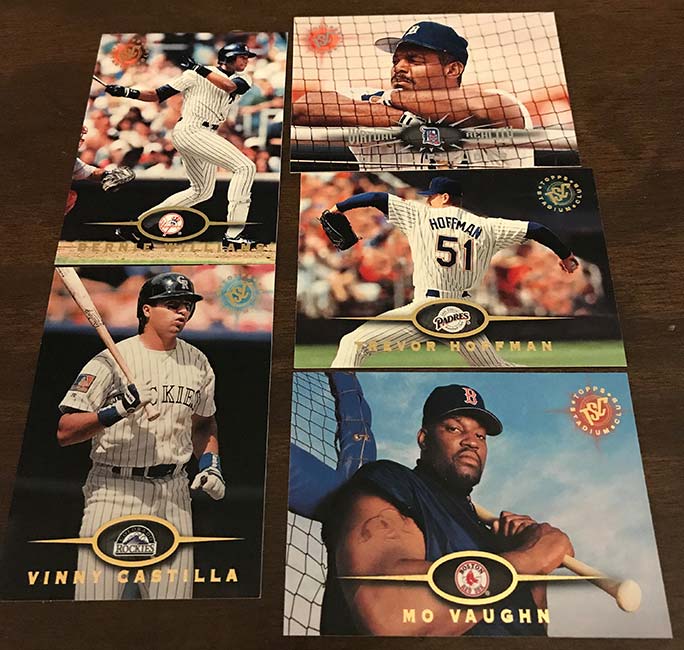 Pack 11:
Tim Raines & Ken Griffey, Jr. Super Skills (1:24 packs)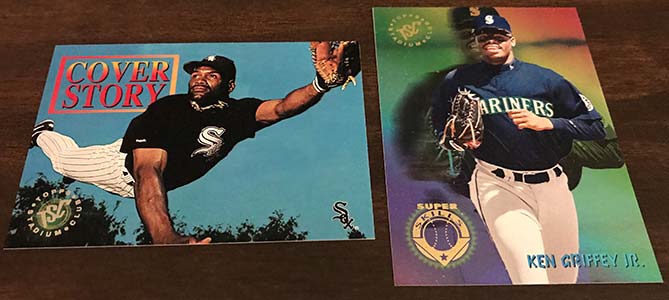 Pack 12:
John Smoltz & Jose Canseco
After the 1994 season, Canseco was traded from the Rangers to the Red Sox in exchange for Otis Nixon and Luis Ortiz.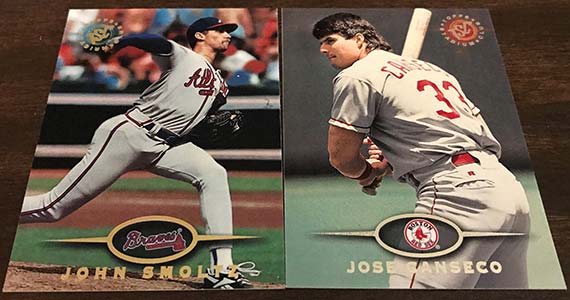 Pack 13:
Jeff Bagwell, Mike Mussina & Barry Larkin

Pack 14:
Dante Bichette, Kirby Puckett, Mike Mussina & Kenny Lofton
Lofton led the AL in two categories during the strike-shortened 1994 season, hits (160) and stolen bases (60).
Pack 15:
Trevor Hoffman & Bobby Bonilla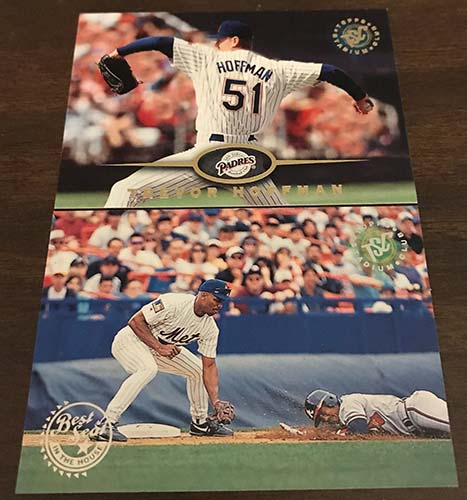 Pack 16:
Garret Anderson & Randy Johnson Super Skills (1:24 packs)
A second Super Skills card? That most likely means I will be short one of the other inserts. I won't complain, though, since I snagged a good looking Big Unit insert.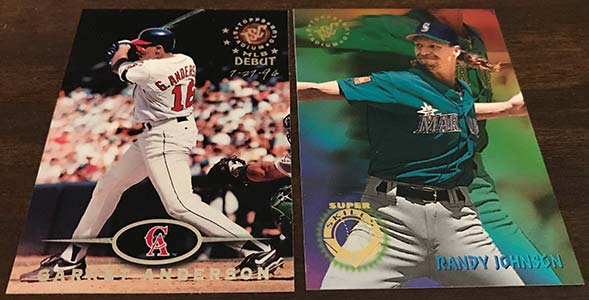 Pack 17:
Frank Thomas & Mike Piazza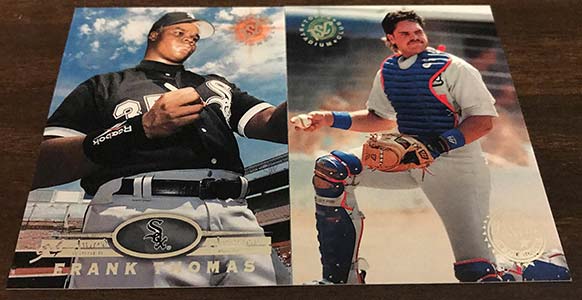 Pack 18:
Mark Grace, Albert Belle, John Olerud, Fred McGriff, Kenny Lofton VR & Wally Joyner
Fred McGriff has another shot to get into the Hall of Fame this winter via the Veterans Committee ballot. I think he stands a chance and sure hope he gets in this time.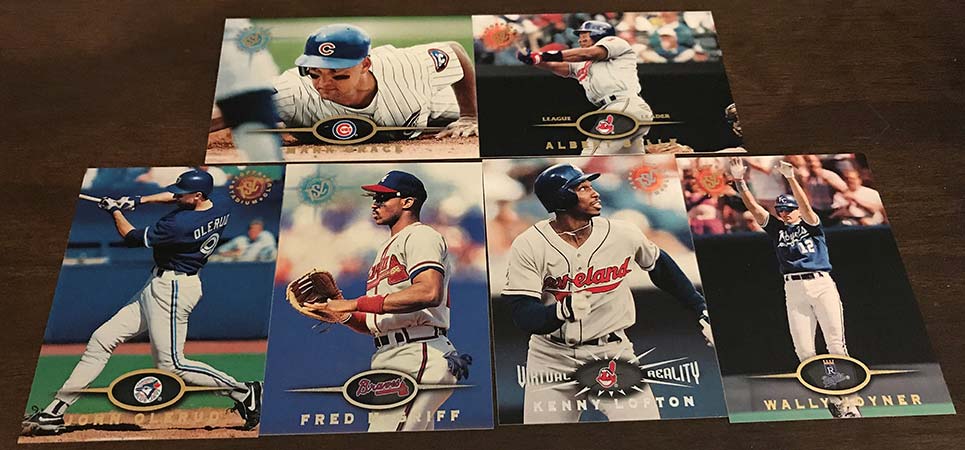 Pack 19:
Don Mattingly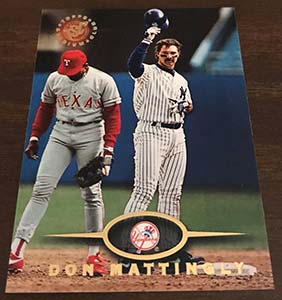 Pack 20:
Tony Gwynn, Don Mattingly & Jose Canseco
1995 would be Mattingly's final season. He hit .288 with 7 HR and 49 RBI.
Pack 21:
Jose Canseco VR & Mike Piazza
Pack 22:
Alan Trammell, Cecil Fielder, Andres Galarraga & Bernie Williams
Trammell earned induction into the Hall of Fame in 2018, voted in by the Veterans Committee.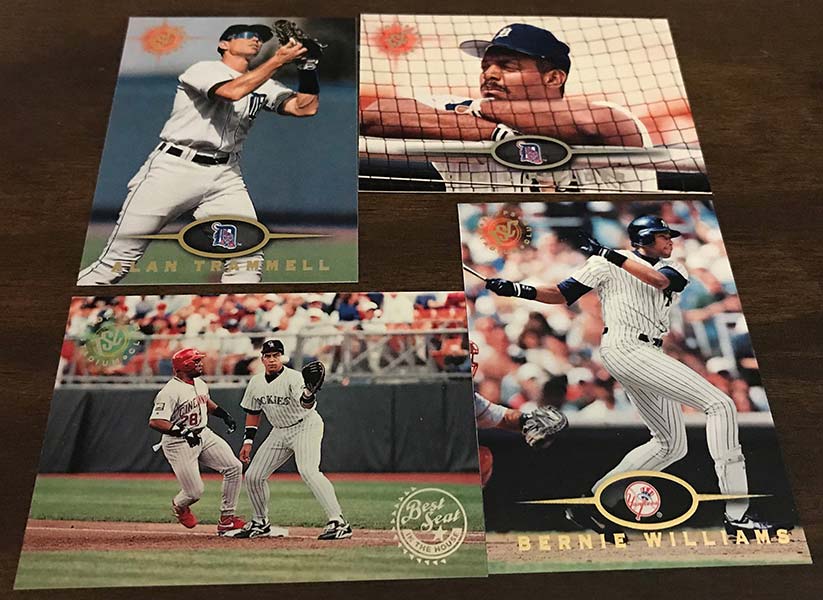 Pack 23:
Ellis Burks VR, Albert Belle & Rick Aguilera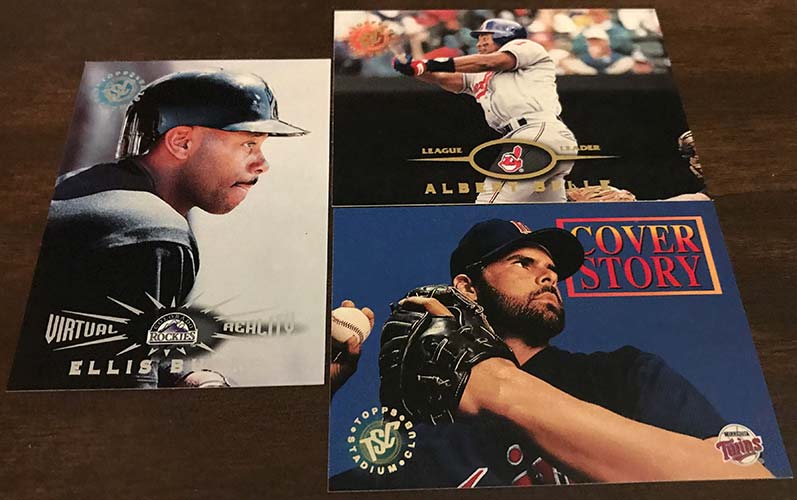 Pack 24:
John Smoltz, Rickey Henderson VR, Tim Salmon & Greg Vaughn
Great shot of Rickey in the dugout here. Rickey has a ton of great base card shots.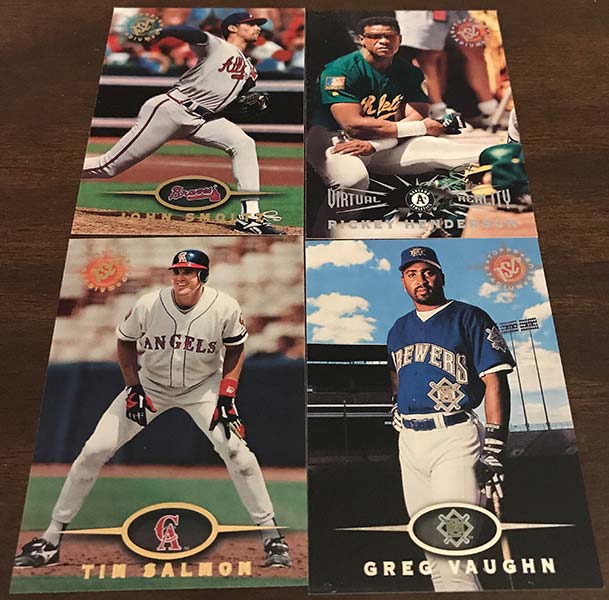 Lastly, the John Smoltz card back. Topps got funky with the card backs in this one.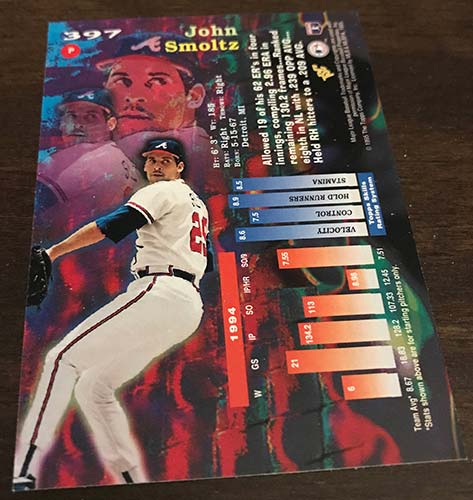 I was right. The second Super Skills card meant I would miss out on another insert. What I didn't expect, though, is that I'd would miss out on two of them. I didn't pull a Phone Card or Clear Cut Finest insert in this box even though both carry 1:24 packs odds.
In spite of the missing inserts, this was still a fun rip. The 1995 set doesn't have quite as many fun photos as other Stadium Club sets are known for, but there still are a handful. Tony Gwynn with his feet resting on a giant bat, Mo Vaughn looking mean in front of the cage, Frank Thomas looking larger than life while signing autographs, and Rickey being Rickey in the dugout are just a few of my favorites.
Shop for 1995 Topps Stadium Club Baseball on:
Want more installments of Shane Salmonson's Cheap Wax Wednesday? Check out his other breaks in the archives.