Cheap Wax Wednesday Box Breaks: 1995 Playoff Prime Football
Playoff broke into the football card business in 1992 with a single, self-titled release. The following year they expanded to two offerings, Playoff and Playoff Contenders. Their third football card brand, Playoff Prime, would debut in 1995.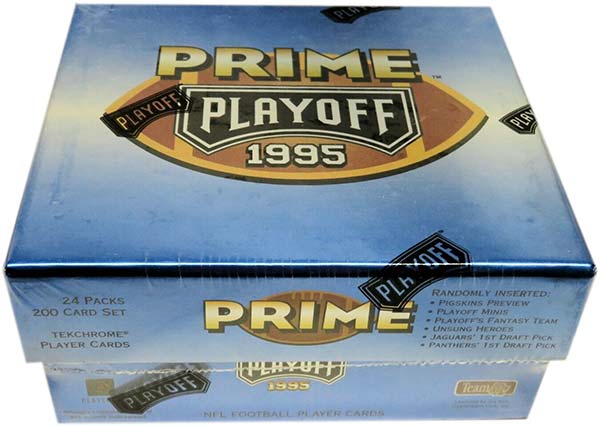 1995 Playoff Prime Football has a base checklist of 200 cards. Included in those 200 are 24 rookie cards. All but Jeff Blake are shown in their college uniform.
The base cards are thicker card stock and printed on something Playoff called Tekchrome. These have kind of a mirror foil look to them.
In addition to the base set there is a full parallel set called Playoff Minis. These are a bit smaller than the base cards and have a rainbow foil finish with blue foil lettering.
1995 Playoff Prime Football also features three insert sets: Fantasy Team, Pigskin Previews and Unsung Heroes.
The packs are held in a hinged, hard cardboard box. I can only imagine many people used these boxes to store cards in.
1995 Playoff Prime Football Box Break
Cards per pack: 8
Packs per box: 24
Price paid: $35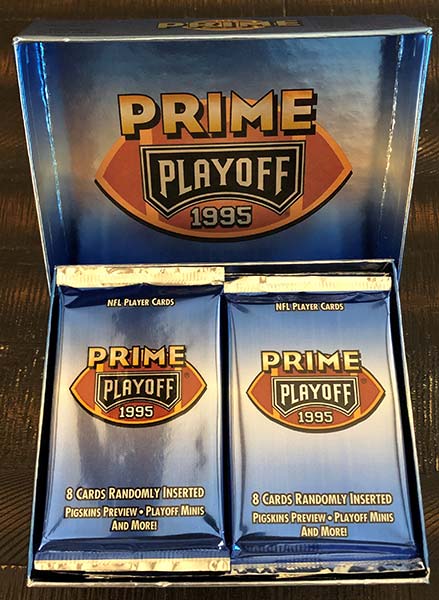 Pack 1 highlights:
Jerome Bettis, Jeff Blake RC, Michael Irvin & Joey Galloway RC
Though Jeff Black was drafted in 1992, he didn't have an NFL licensed base card until 1995.

Pack 2:
Michael Westbrook RC & Charles Haley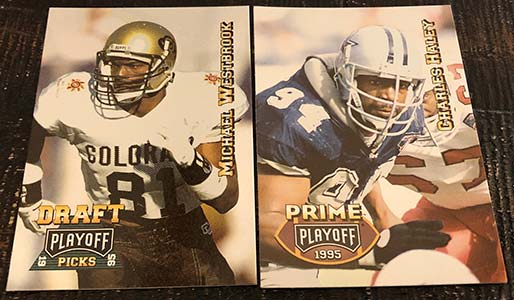 Pack 3:
John Elway, Warren Sapp RC & Brian Blades
Warren Sapp is known mostly for his defense. He did, after all, have 96.5 career sacks. However, Sapp recorded four receptions in 2003, including two touchdowns.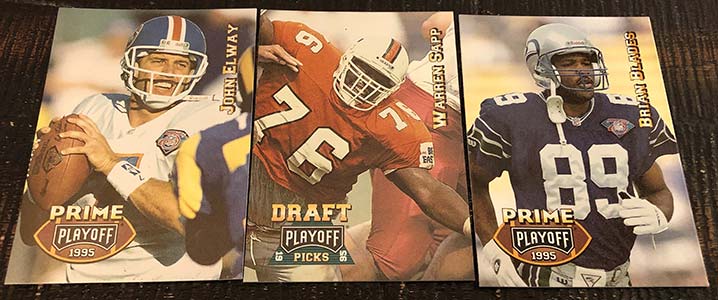 Pack 4:
Brett Favre, Marshall Faulk & Joe Montana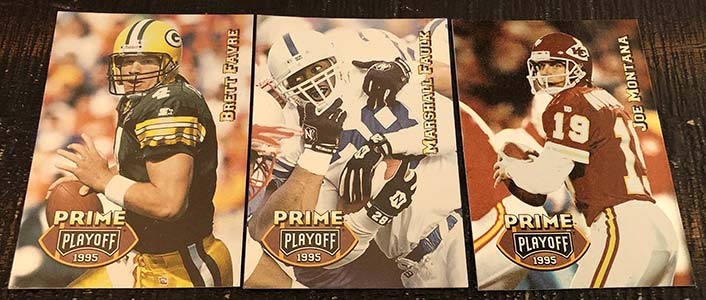 Pack 5:
Dan Marino & Drew Bledsoe
Now a footnote in Tom Brady's legendary career, Drew Bledsoe threw 166 touchdown passes for the Patriots before being Brady took over.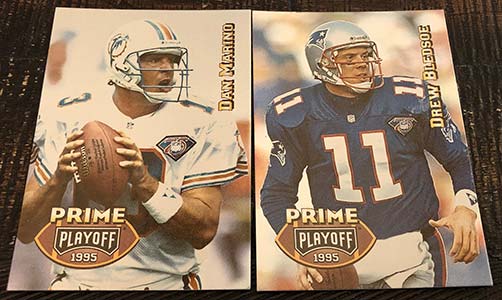 Pack 6:
Isaac Bruce & Kerry Collins RC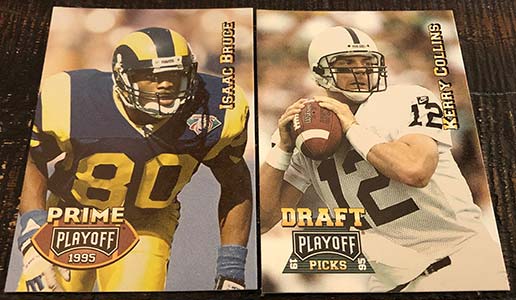 Pack 7:
Jerry Rice & Deion Sanders
Following a 1994 season in which he intercepted six passes (returning three for touchdowns), Deion Sanders played 85 major league baseball games, batting .268 and stealing 24 bases in 1995.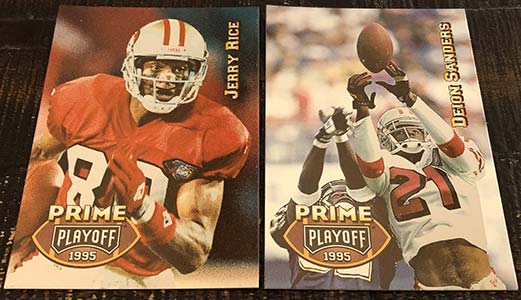 Pack 8:
Boomer Esiason & Jeff George

Pack 9:
Cris Carter, Irving Fryar & Rashaan Salaam RC
Salaam won the Heisman Trophy following the 1994 college football season after totaling 2,349 yards from scrimmage and scoring 24 touchdowns.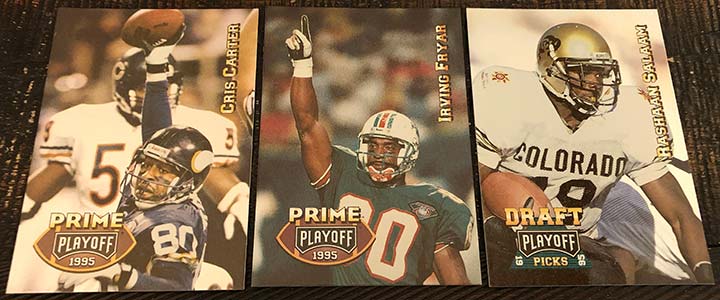 Pack 10:
Randall Cunningham, Andre Rison & John Jurkovic Unsung Heroes (1:13 packs)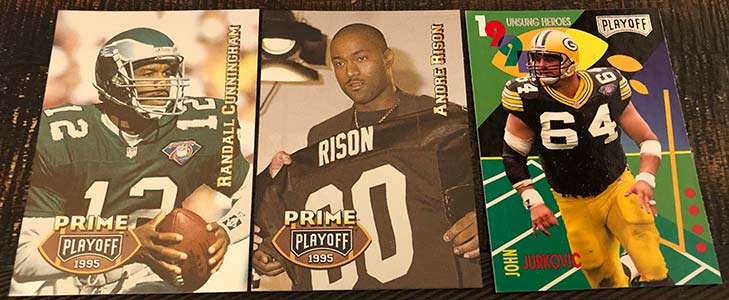 Pack 11:
Andre Reed, Garrison Hearst & Kyle Brady RC
A lot of hype surrounded Kyle Brady after he was drafted ninth overall in 1995. He did play 13 seasons in the NFL, but recorded just 3,519 receiving yards and 25 touchdowns.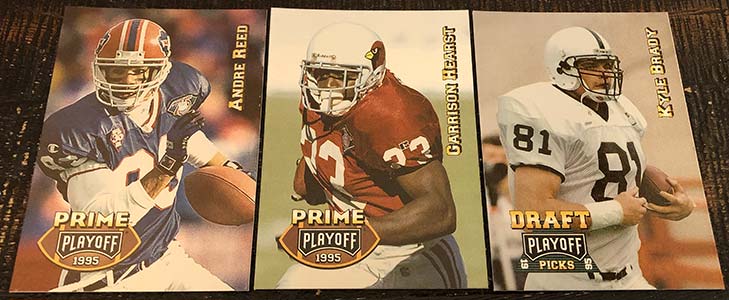 Pack 12:
Robert Brooks & Boomer Esiason Playoff Mini (1:7 packs)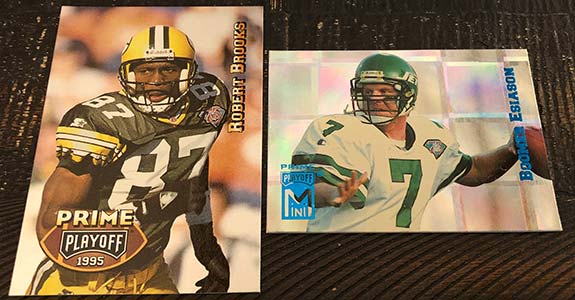 Pack 13:
Jim Harbaugh, J.J. Stokes RC & Emmitt Smith Playoff Mini (1:7 packs)
I always seem to pull Emmitt parallels or inserts from my '90s breaks. No complaints here as I was a Cowboys fan back then.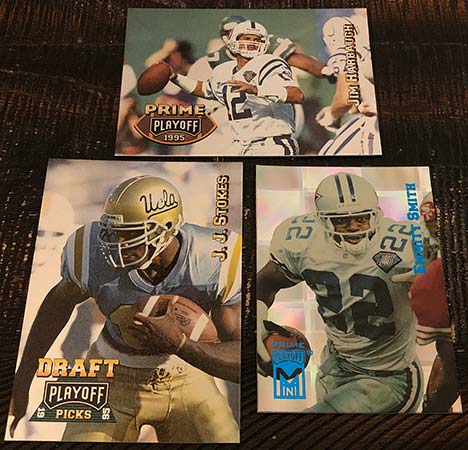 Pack 14:
Junior Seau, Shannon Sharpe & Barry Sanders Fantasy Team (1:25 packs)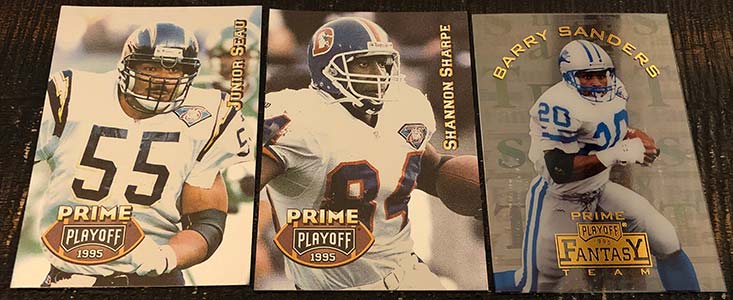 Pack 15:
"Rocket" Ismail, Qadry Ismail, Rodney Hampton & Eric Metcalf
How often do you get to pull two brothers in the same pack? The Ismail brothers combined for over 10,000 receiving yards and scored 61 touchdowns in the NFL. 

Pack 16:
Ricky Watters, Warren Moon, Ken Norton, Steve McNair RC & Reggie White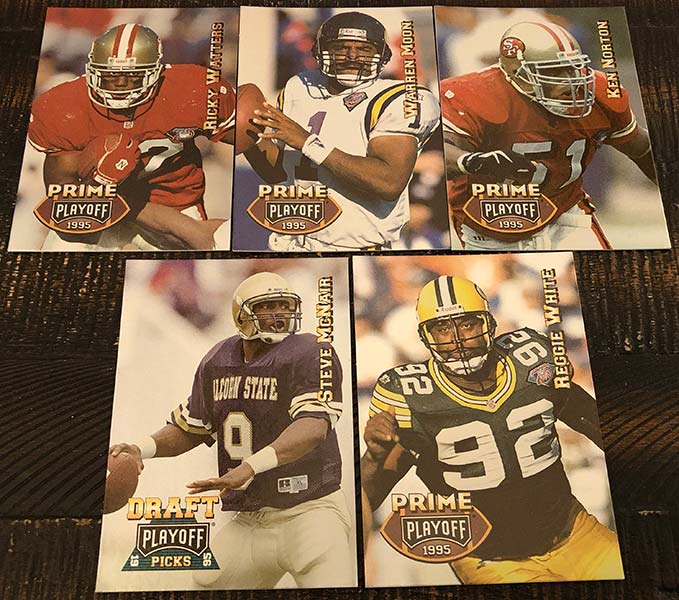 Pack 17:
Brett Favre, Marshall Faulk, Barry Sanders & Andre Rison
Eleven-time Pro Bowl QB Brett Lorenzo Favre threw 30-plus touchdown passes in nine different seasons, including as a 40-year old with the Vikings in 2009. 

Pack 18:
Johnnie Morton & Willie Roaf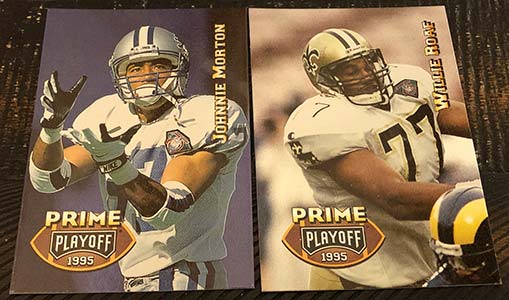 Pack 19:
Daryl "Moose" Johnston, Emmitt Smith, Trent Dilfer, Carl Pickens & Napoleon Kaufman RC
It's only fitting that Emmitt's lead blocker, Moose Johnston, paved the way for him in this pack.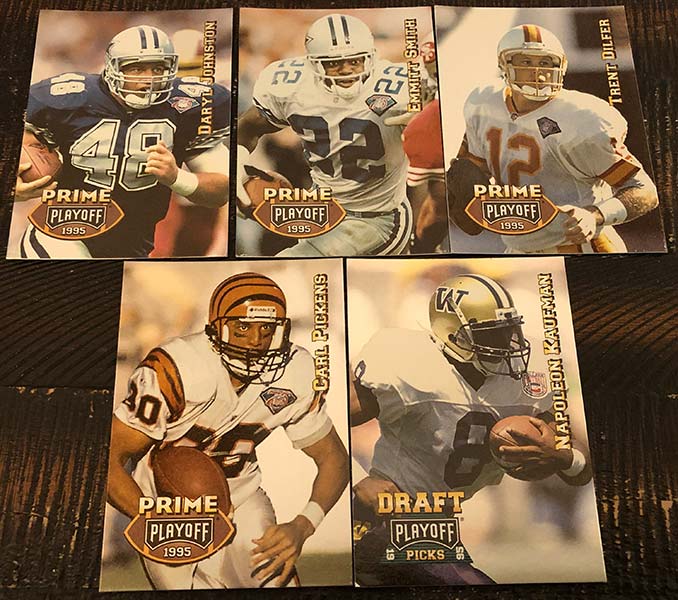 Pack 20:
Ben Coates, Kevin Carter RC & Mario Bates Playoff Mini (1:7 packs)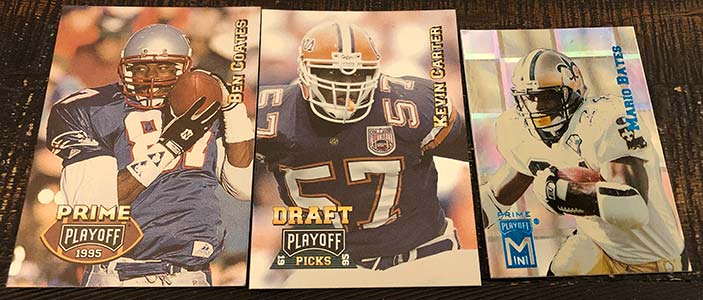 Pack 21:
Mark Brunell, Herschel Walker, Terance Mathis, Aaron Glenn & Craig Heyward
While Craig "Iron Head" Heyward ran over would-be tacklers during his NFL career, his son Cameron is the one doing the tackling in his career with the Steelers.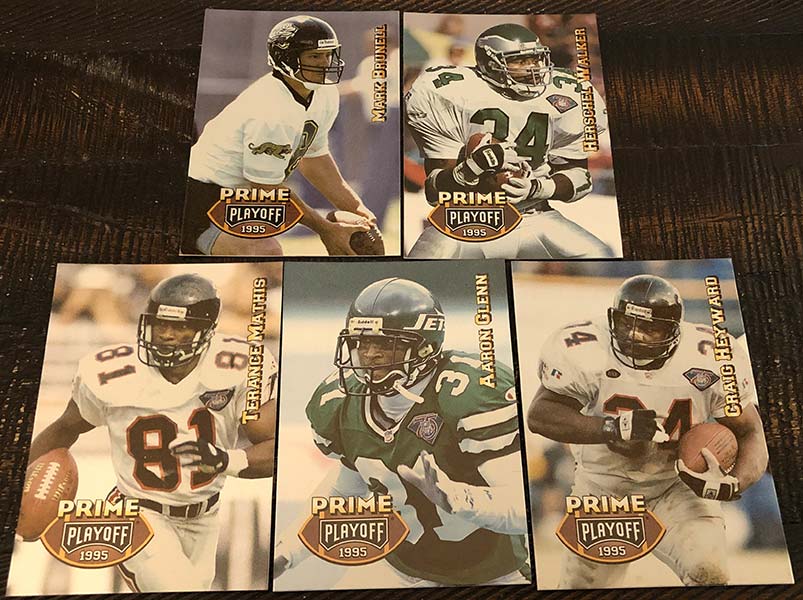 Pack 22:
Jim Kelly, Herman Moore, Marcus Allen & Ki-Jana Carter RC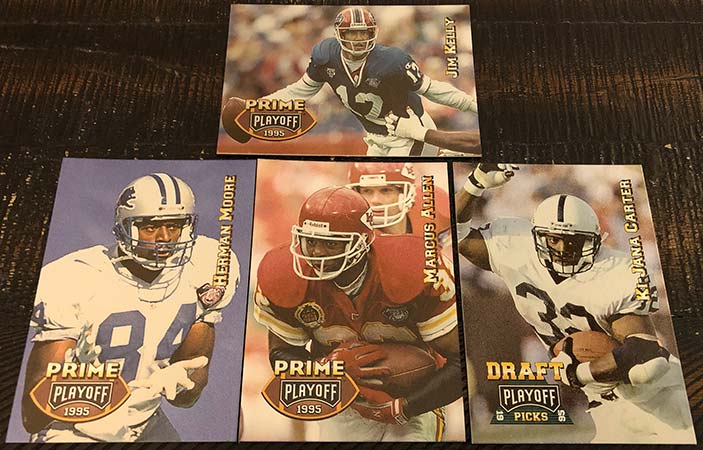 Pack 23:
Raymont Harris Unsung Heroes (1:13 packs)
Harris finally saw the bulk of the running back action for the Bears in 1997, rushing for over 1,000 yards and 10 touchdowns.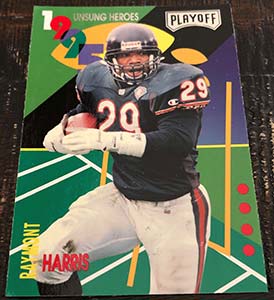 Pack 24:
Rick Mirer, Troy Aikman, Tim Brown, Jake Reed & Steve Young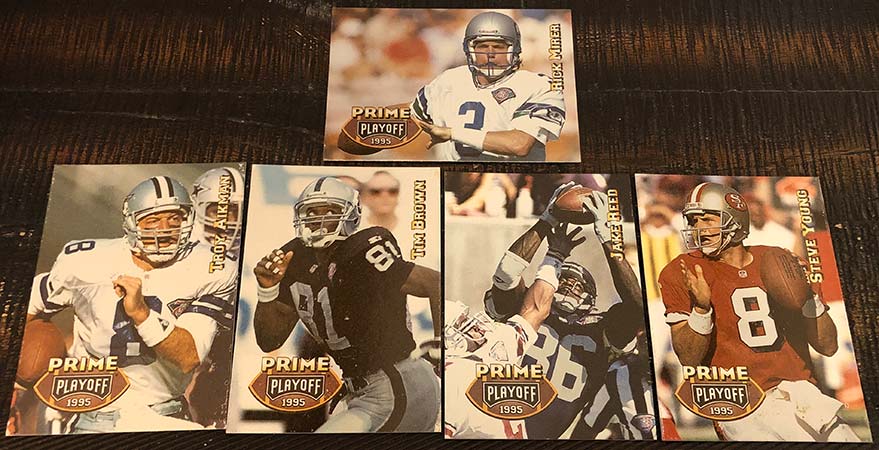 Lastly, the Troy Aikman card back. The color scheme doesn't match up with the design of the card fronts. It almost feels like they would be from two different sets.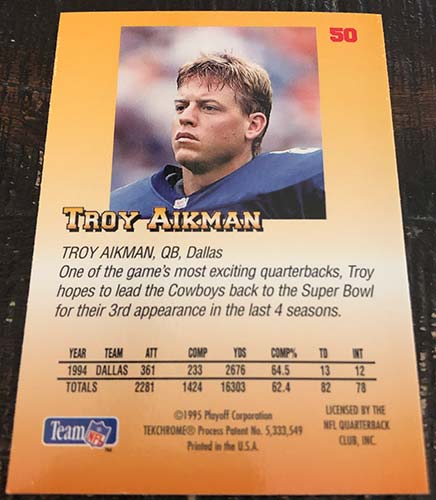 This was a fun one, and one that can still be found for around the same price I bought it for nearly two years ago. That is not something you can say much these days with the prices on unopened products.
The Playoff Mini parallels really pop. I was lucky enough to pull Barry Sanders for my Fantasy Team insert, which are acetate and look very nice. There's nearly guaranteed to pull one in every box. It's also nice that I pulled all of the bigger name RCs.
Shop for 1995 Playoff Prime Football on eBay:
Want more installments of Shane Salmonson's Cheap Wax Wednesday? Check out his other breaks in the archives.