Cheap Wax Wednesday Box Breaks: 1994 Topps Stadium Club Series 2 Baseball
When you click on links to various merchants on this site, like eBay, and make a purchase, this can result in this site earning a commission.
Stadium Club debuted in 1991 as Topps' first premium product. The brand was originally known for its photo technology, as highlighted by the Kodak logo on the box. Base cards were borderless and featured glossy fronts with crisp photos. As the brand continued to evolve, it moved towards the fun photography the set is known for today. 
1994 Topps Stadium Club Series 2 Baseball has 270 base cards. The base card design is —something. Remember those label makers, Dymos, that made embossed plastic labels? The players' last names are done to resemble one of those.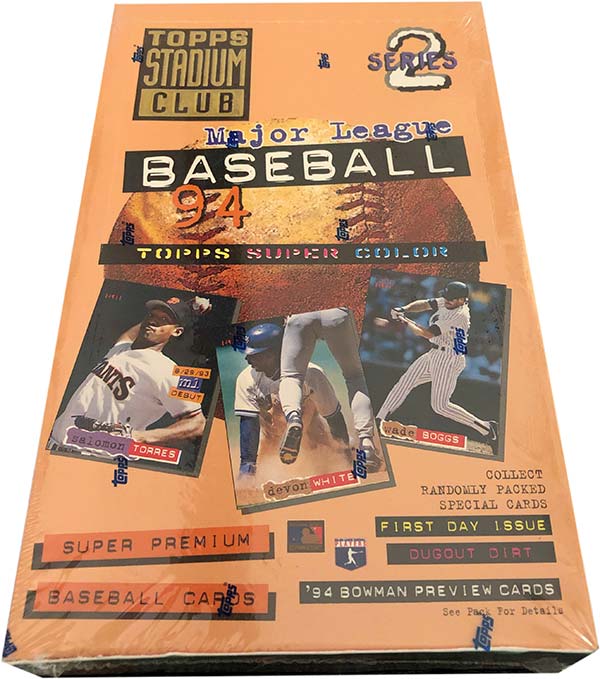 1994 marked the first time multiple parallels were included. Golden Rainbow parallels were found in every pack, while 1st Day Issue cards were more scarce, and limited to just 2,000 copies. Each series features two inserts sets, with Series 2 packs holding Dugout Dirt and 1994 Bowman Preview inserts. 
1994 Topps Stadium Club Series 2 Box Break
Cards per pack: 12
Packs per box: 24
Price paid: $13

Pack 1 highlights:
Curt Schilling, Jim Abbott & Matt Turner Golden Rainbow (one in each pack)
Abbott finished third in the Cy Young voting following the 1991 season. He posted an 18-11 record with a 2.89 ERA.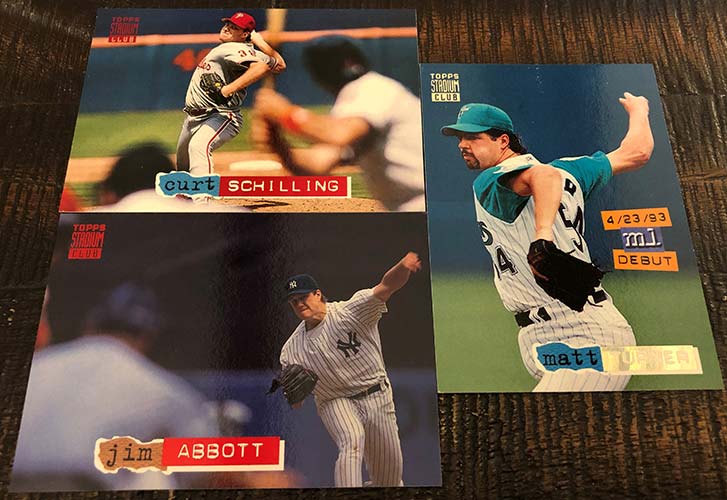 Pack 2:
Kenny Rogers & Chip Hale Golden Rainbow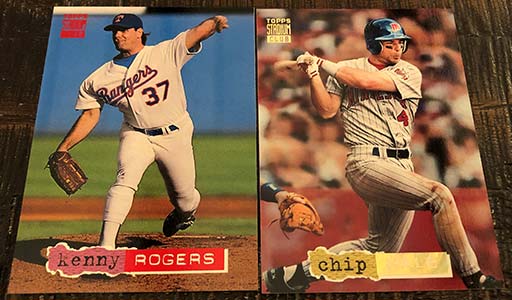 Pack 3:
Alan Trammell, Raul Mondesi, Ozzie Smith, Brent Mayne Golden Rainbow & Tim Salmon Dugout Dirt (1:6 packs)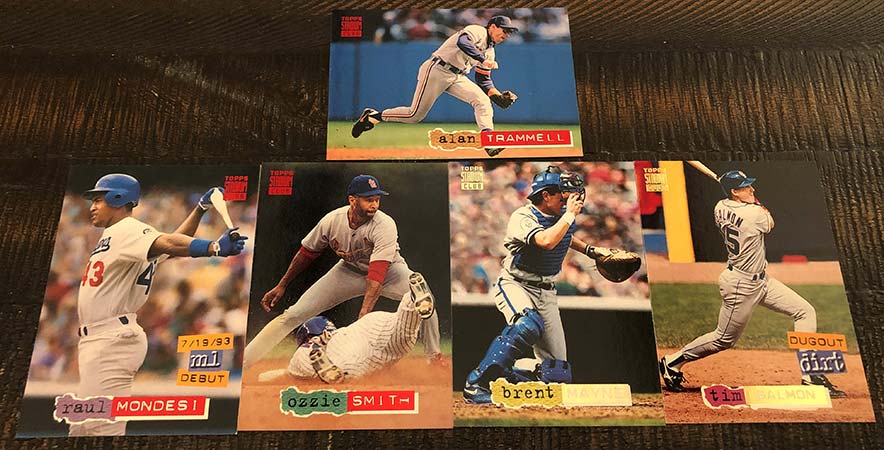 The Dugout Dirt inserts have some fun artwork on the back.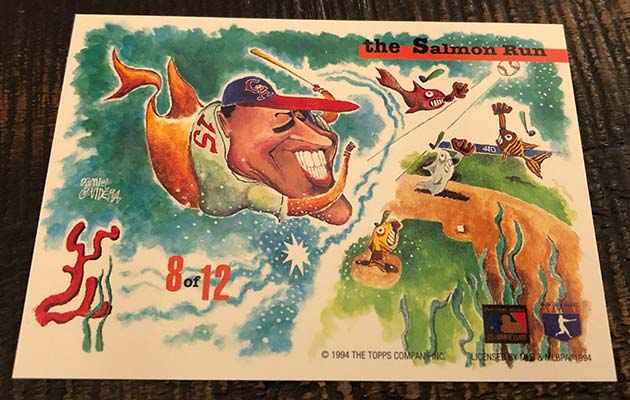 Pack 4:
Wally Joyner, Ozzie Smith, Joe Carter Golden Rainbow & Roger Clemens 1st Day Issue (1:24 packs)

Pack 5:
Tim Raines, Frank Thomas & Frank Thomas Golden Rainbow
This Frank Thomas card is one of the most famous from the set as, intentional or not, he appears to be flipping the bird. The card still sells for a premium today.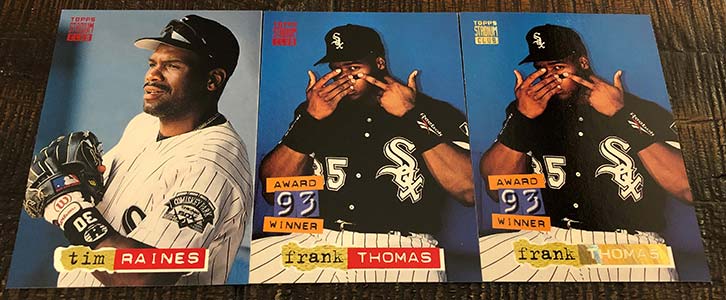 Pack 6:
Darryl Strawberry, Mike Greenwell, Cecil Fielder & Mike Benjamin Golden Rainbow

Pack 7:
Terry Pendleton, Dave Stewart, Alan Trammell & Duane Ward Golden Rainbow
The fun shot of Stewart is what we have come to expect from Stadium Club cards.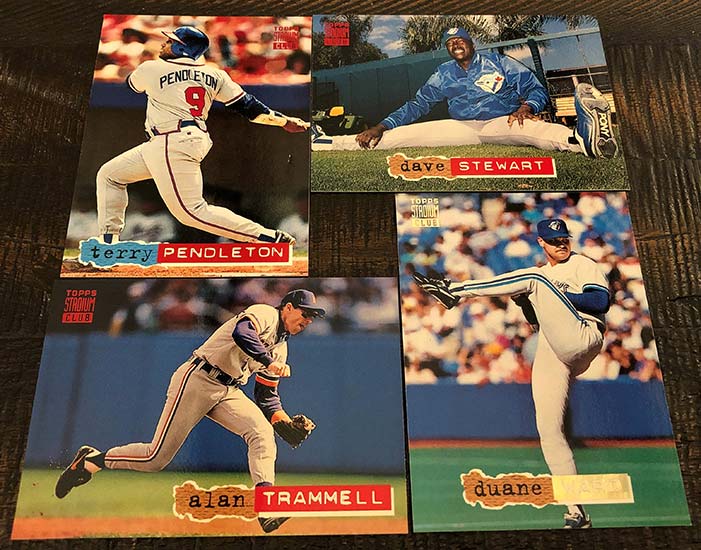 Pack 8:
Curt Schilling, Kevin Brown, Cecil Fielder & Omar Olivares Golden Rainbow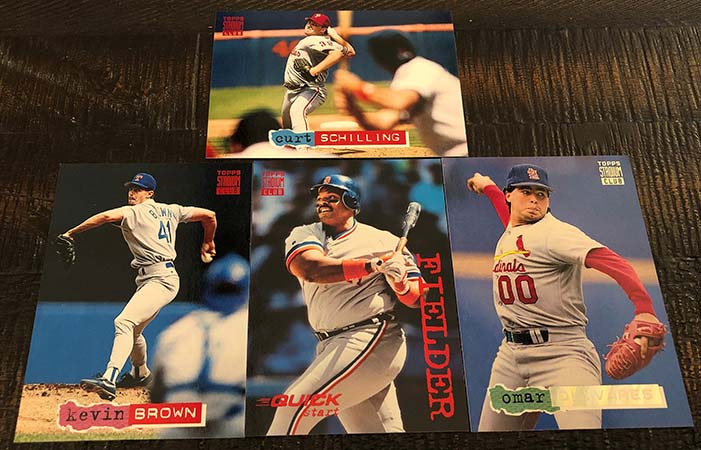 Pack 9:
Greg Vaughn, Ken Caminiti, Tim Raines, Tom Glavine Golden Rainbow & Jack McDowell Dugout Dirt (1:6 packs)
Another fun shot, this time of Greg Vaughn. Vaughn hit 355 career home runs, including 50 even in 1998.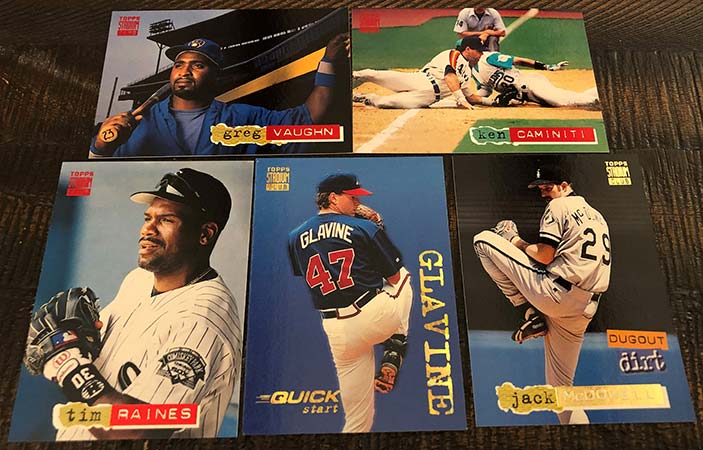 Pack 10:
Gregg Jefferies, Kirby Puckett, Deion Sanders & Pat Borders Golden Rainbow

Pack 11:
Andres Galarraga, Orel Hershiser, Joe Carter & Raul Mondesi Golden Rainbow
Orel Hershiser, a shopping cart, and what looks to be a bale of hay? What is going on? It turns out it's not hay but it's still memorable.

Pack 12:
Derek Bell, Joe Carter, Frank Thomas & Tito Navarro Golden Rainbow

Pack 13:
Chuck Knoblauch, Tom Glavine & Ken Caminiti Golden Rainbow
Glavine finished third in the Cy Young voting following the 1993 season after going 22-6 with a 3.20 ERA. His teammate, Greg Maddux, won the award.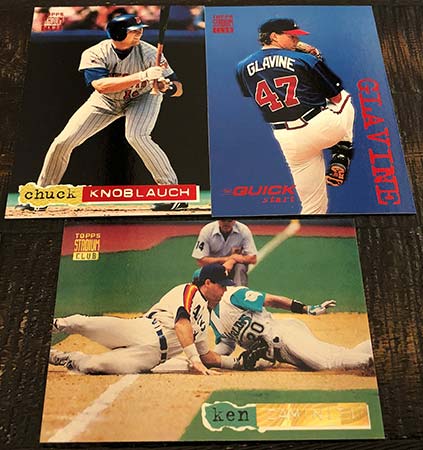 Pack 14:
Devon White, Dave Winfield & Chris Hoiles Golden Rainbow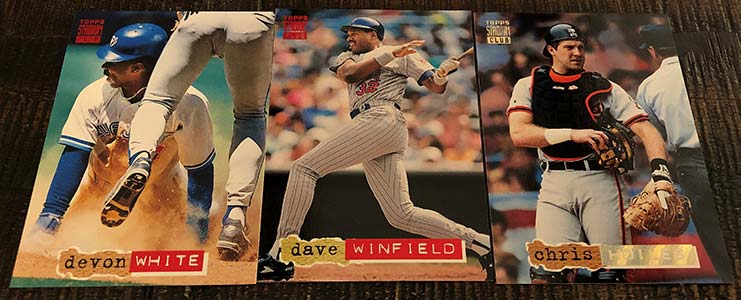 Pack 15:
Ken Caminiti, Randy Johnson, John Smoltz & Charles Nagy Golden Rainbow
Wins were an important stat in Cy Young voting of the '90s. Smoltz (24-8) won the 1996 award, even though Kevin Brown (17-11) had an ERA more than a run lower.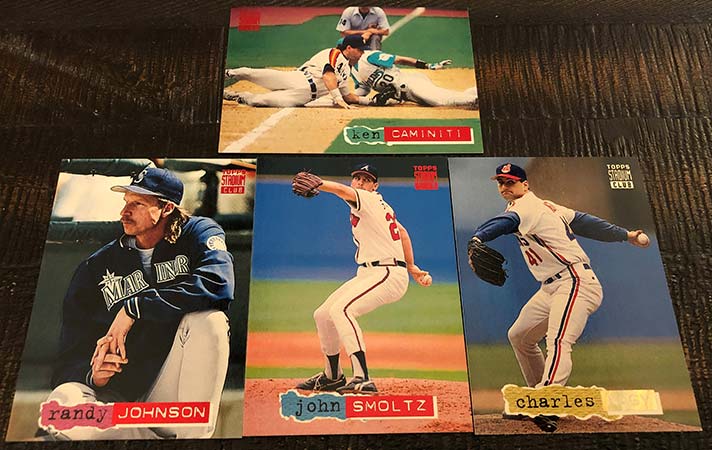 Pack 16:
Roger Clemens, Frank Thomas, Greg Vaughn, Mo Vaughn & Albert Belle 1994 Bowman Previews (1:24 packs)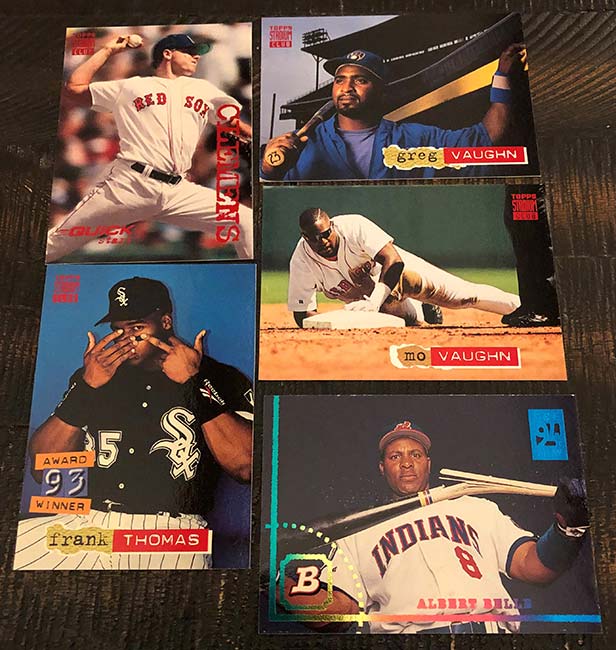 Pack 17:
Wally Joyner, Travis Fryman, Matt Williams, Tony Gwynn, Edgar Martinez Golden Rainbow & Tim Salmon Dugout Dirt (1:6 packs)
I wish I could explain the Edgar Martinez photo, but I can't.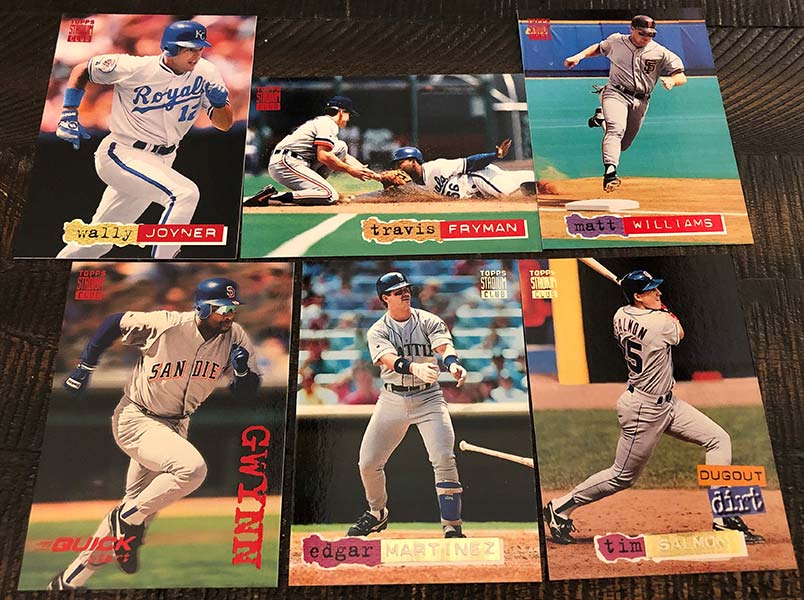 Pack 18:
Kenny Lofton, Dante Bichette, Jeff Kent, Lou Whitaker, Deion Sanders & Lloyd McClendon Golden Rainbow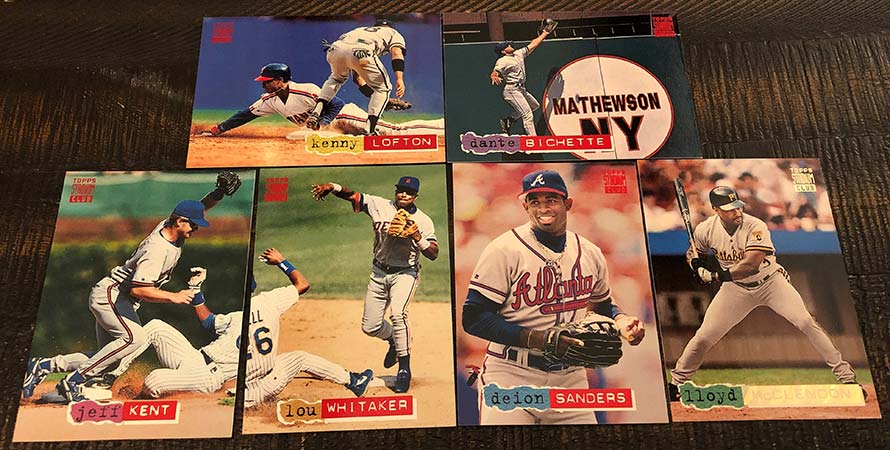 Pack 19:
Ryne Sandberg, Cecil Fielder, Cal Ripken, Jr. & Bill Pecota Golden Rainbow
If Pecota sounds familiar, it is because Pecota was the namesake for a sabermetric created by Nate Silver. The performance rating system is technically called Player Empirical Comparison and Optimization Test Algorithm. I'll stick with PECOTA. 

Pack 20:
Ken Caminiti, Jimmy Key, David Cone & Greg Myers Golden Rainbow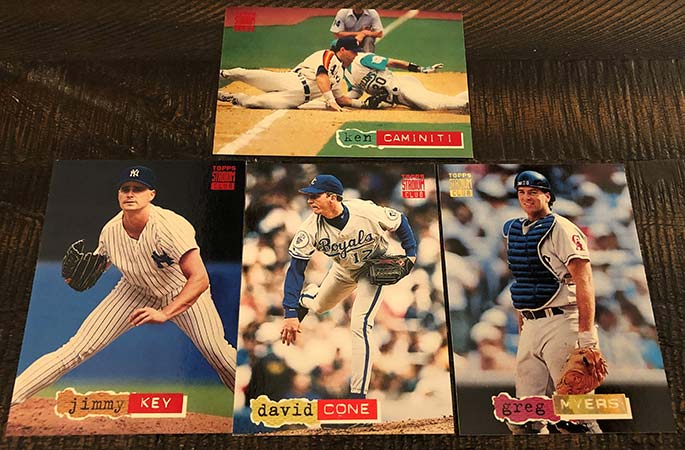 Pack 21:
Trevor Hoffman & Willie Wilson Golden Rainbow
Here is Hoffman showing off his famous leg kick. He used it to save 601 games, good for second all-time.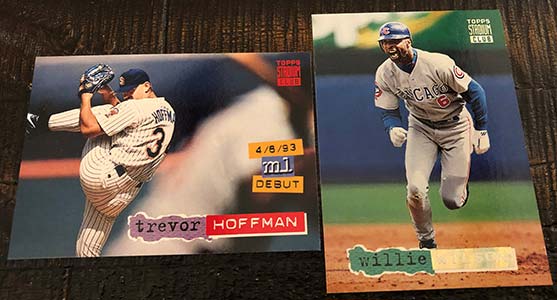 Pack 22:
Andre Dawson/Tim Raines, David Cone, Jeff King, Scott Radinsky Golden Rainbow & Ken Griffey, Jr. Dugout Dirt (1:6 packs)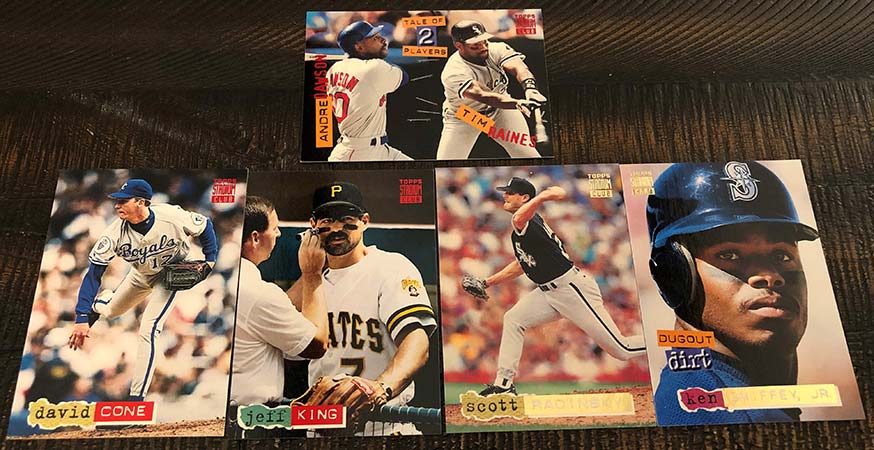 I had to show off the back of the Griffey Dugout Dirt.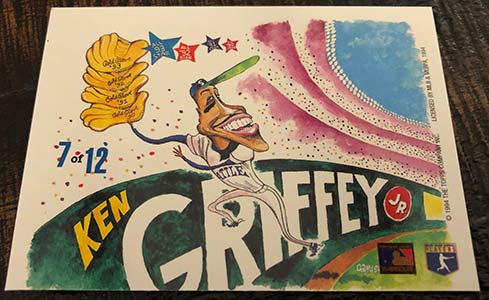 Pack 23:
Trevor Hoffman, Derek Bell, Barry Bonds & Jose Valentin Golden Rainbow
This Bonds photo lines up just right to make it look like an unlicensed card. The logos on his helmet or jersey are not visible in the shot.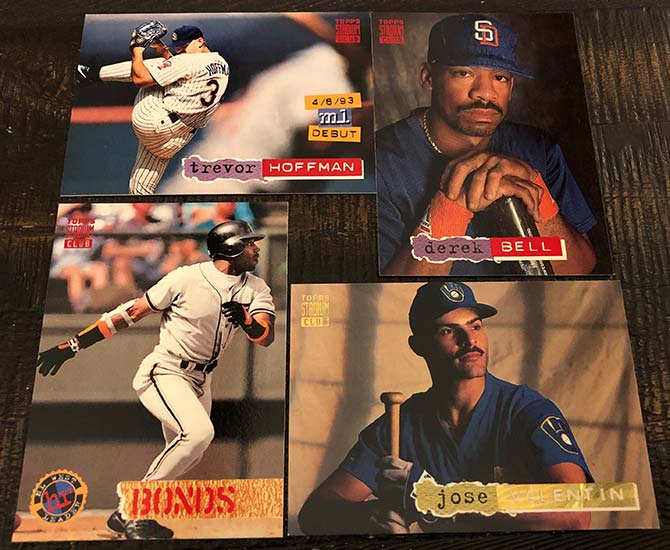 Pack 24:
Orel Hershiser, Ken Griffey, Jr. & Jimmy Key Golden Rainbow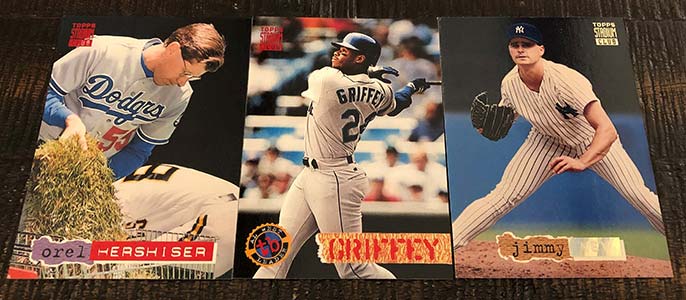 Lastly, the Ripken card back. The back highlighted Ripken's consecutive games streak. Obviously, he did end up breaking Gehrig's record a couple seasons later.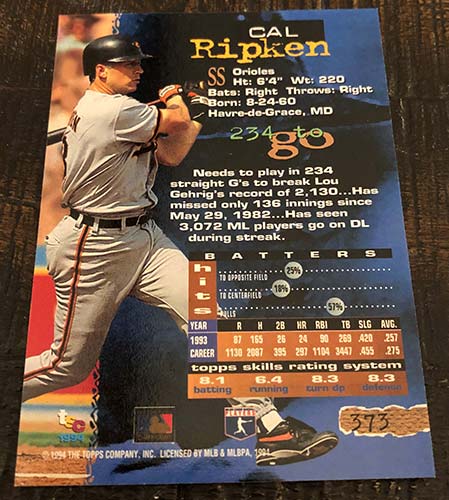 I can't complain about this break at all. With a 270-card checklist, the chances of pulling a decent 1st Day Issue card are not great. Luck was on my side in this one pulling the Clemens card. Besides that one, the Dugout Dirt inserts are really fun, even if the fronts do look like base cards. The 1994 Bowman Preview Belle card is a winner, too.
The inserts and parallels, in addition to some fun photography mixed in, make this one a fun box to rip/ I bought this box back in 2020 as part of a three-box lot on eBay of all three 1994 Stadium Club Baseball series. The price? Just $39 for the three.
Shop for 1994 Topps Stadium Club Baseball on:
Want more installments of Shane Salmonson's Cheap Wax Wednesday? Check out his other breaks in the archives.