Cheap Wax Wednesday Box Breaks: 1994 Stadium Club Series 3 Baseball
Stadium Club Baseball debuted in 1991 with a focus on photography. That still rings true today with the current representation of the brand. And that is the main reason that I have always loved Stadium Club. There are always great photos to be found, that stand out from other releases.
1994 Topps Stadium Club came with some big design changes. Gone was the simple base design. Replacing it was something geared towards attracting youthful collectors. Base cards are still borderless but with some added '90s flair. The name plates are more colorful, and included Dymo embossed label last names. Remember Dymo labels?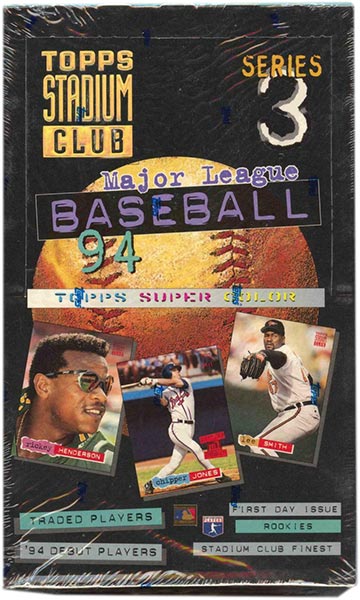 1994 Stadium Club is split into three series. The first two have 270 cards each, with the third totaling 180 cards. Golden Rainbow parallels were a new addition, and are found one per pack. All three series feature Dugout Dirt inserts, and each series had its own exclusive insert set to chase. Coming off the successful debut of Finest, Series 3 has Stadium Club Finest.
1994 Topps Stadium Club Series 3 Baseball Box Break
Cards per pack: 12
Packs per box: 24
Price paid: $14

Pack 1 highlights:
Matt Williams, Ryne Sandberg & Greg Maddux Golden Rainbow (one in every pack)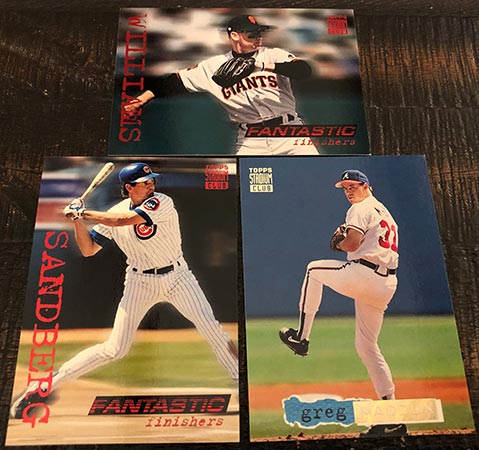 Pack 2:
Lee Smith, Carlos Delgado, Paul Molitor & Billy Bean (no, not Billy Beane) Golden Rainbow

Pack 3:
Bo Jackson, Chris Nabholz Golden Rainbow & Barry Bonds Stadium Club Finest (1:6 packs). 1994 would be Bo Jackson's last playing baseball. He played 75 games for the Angels, hitting 13 home runs and amassing 43 RBI.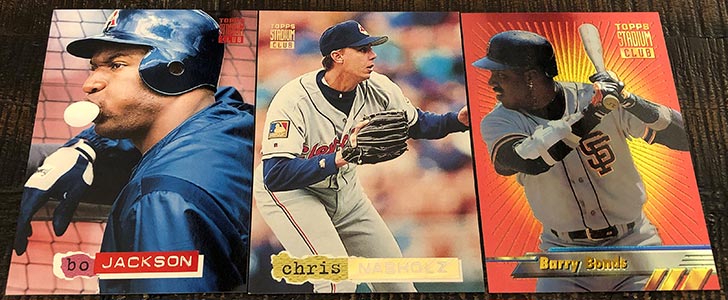 Pack 4:
Vince Coleman & Jose Rijo Golden Rainbow. Jose Rijo would make his only All-Star appearance in 1994. He finished the strike-shortened season with a 9-6 record and 3.08 ERA. Elbow injuries forced Rijo to miss much of the 1995 season and five full seasons from 1996-2000. He returned to the mound in 2001, after receiving a single Hall of Fame vote on the 2001 ballot.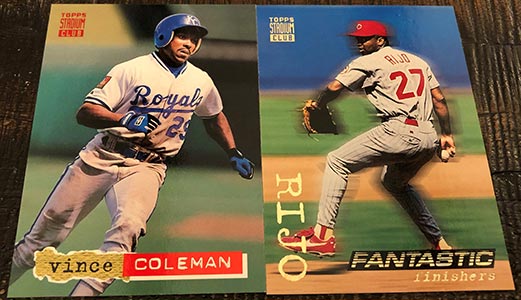 Pack 5:
Chipper Jones, Fred McGriff, Juan Gonzalez, Manny Ramirez & Karl Rhodes Golden Rainbow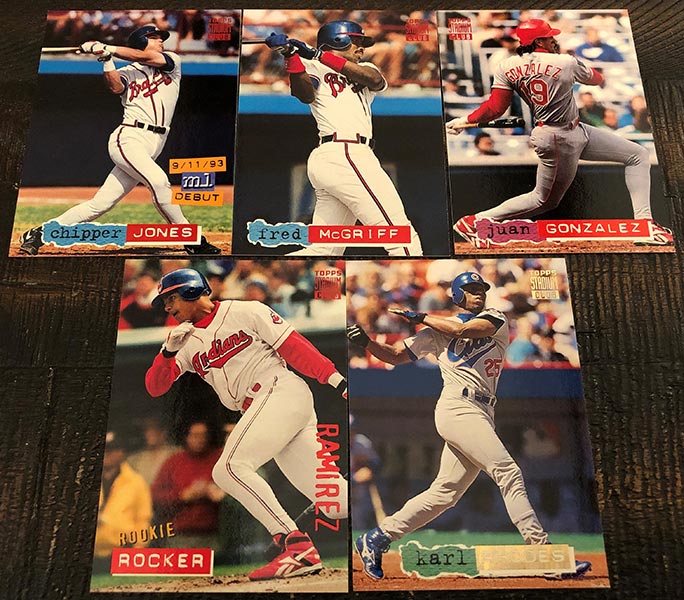 Pack 6:
Matt Williams, Roger Clemens & Jose Guzman Golden Rainbow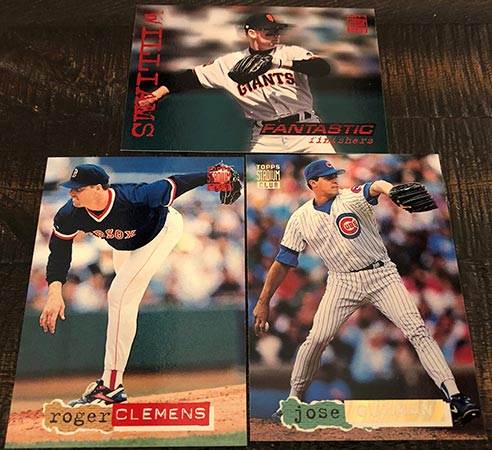 Pack 7:
Eddie Murray, Javier Lopez & Al Leiter Golden Rainbow. Al's son, Jack, is a hot prospect for the upcoming baseball draft. The sophomore pitcher has impressed this season, boasting a 0.98 ERA through nine starts for Vanderbilt.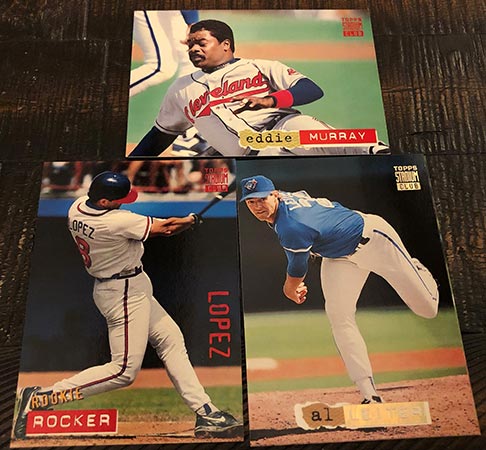 Pack 8:
Ozzie Smith & Tim Belcher Golden Rainbow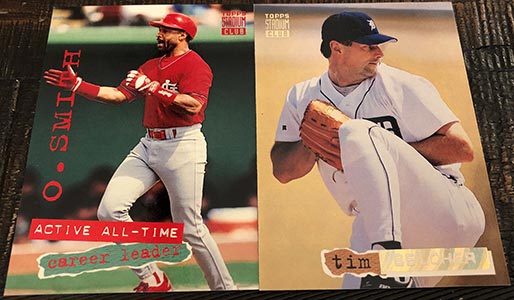 Pack 9:
Mike Hampton, Jim Pittsley Golden Rainbow & Juan Gonzalez Stadium Club Finest (1:6 packs)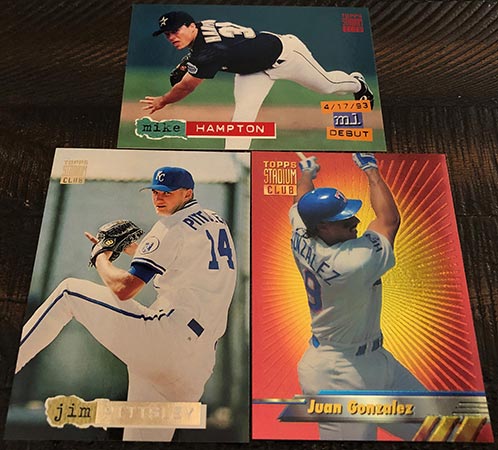 Pack 10:
Marquis Grissom, Lee Smith, Tom Glavine & Gil Heredia Golden Rainbow

Pack 11:
Bobby Ayala (clearly way ahead of his time), David Wells, Eddie Murray & Hector Carrasco Golden Rainbow

Pack 12:
John Smoltz, Frank Thomas Golden Rainbow & Jeff Kent Dugout Dirt (1:6 packs)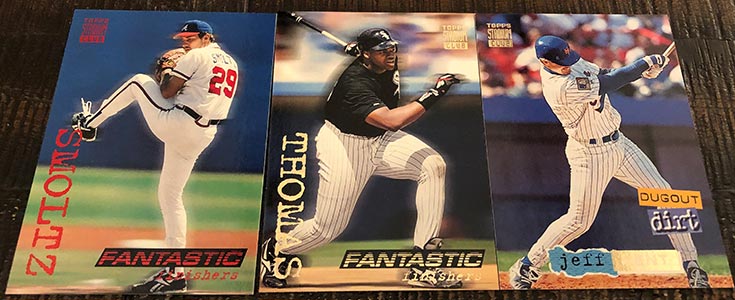 The Dugout Dirt card backs had some pretty fun artwork.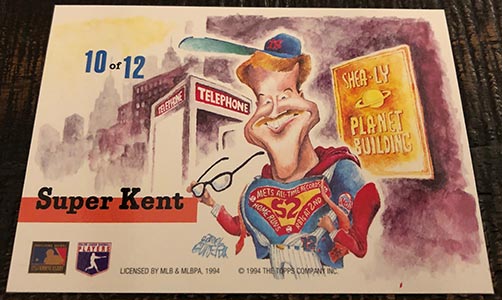 Pack 13:
Matt Williams, Ryne Sandberg & Mark Gardner Golden Rainbow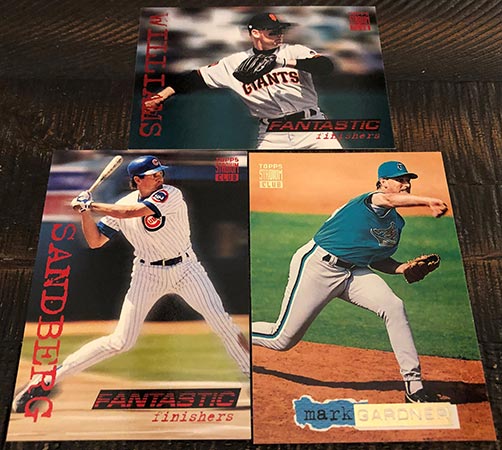 Pack 14:
Carlos Delgado, Lee Smith, Paul Molitor & Ricky Bones Golden Rainbow

Pack 15:
Bo Jackson, Greg Maddux, Javy Lopez Golden Rainbow & David Justice Stadium Club Finest (1:6 packs)

Pack 16:
Jim Edmonds & Ozzie Smith Golden Rainbow. Ozzie became the all-time shortstop assists leader in 1993, passing Bill Dahlen. For all positions, he ranks second all-time to Rabbit Maranville. Who is Rabbit Maranville? The Hall of Fame middle infielder had a 23-year career that ended in 1935.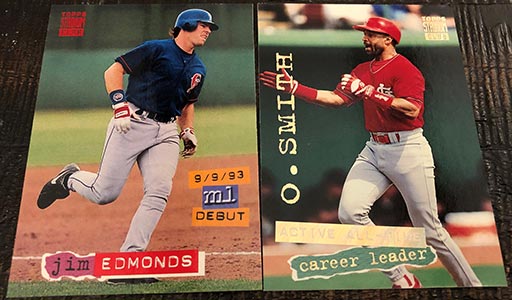 Pack 17:
Juan Gonzalez, Manny Ramirez & Chris James Golden Rainbow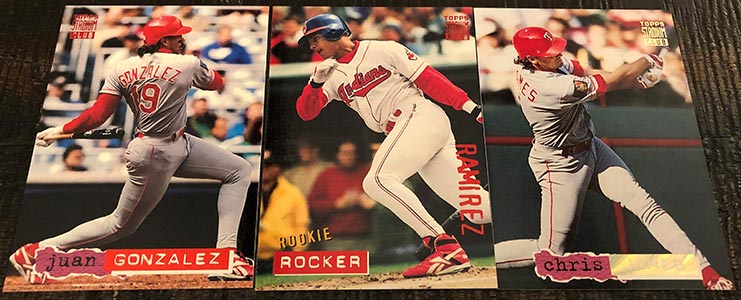 Pack 18:
Roger Clemens, Rick Helling Golden Rainbow & Frank Thomas Dugout Dirt (1:6 packs)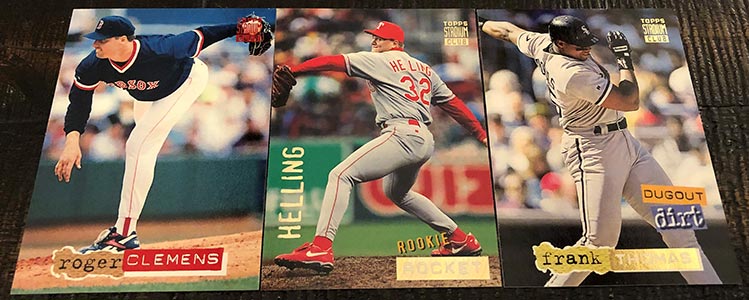 Fitting Big Hurt art on the back.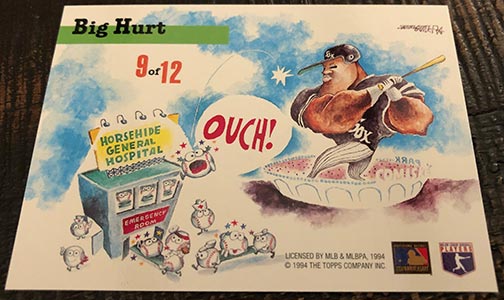 Pack 19:
Tom Glavine, Ryne Sandberg & Bob Tewksbury Golden Rainbow

Pack 20:
Ellis Burks & Pat Rapp Golden Rainbow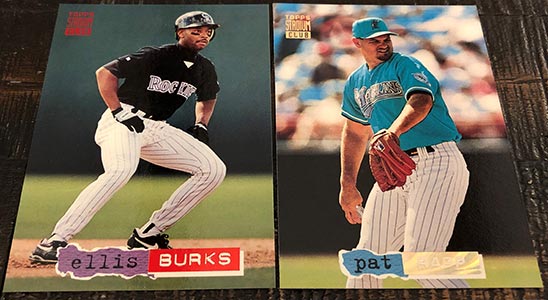 Pack 21:
Greg Maddux, Ryan Klesko & Greg Cadaret Golden Rainbow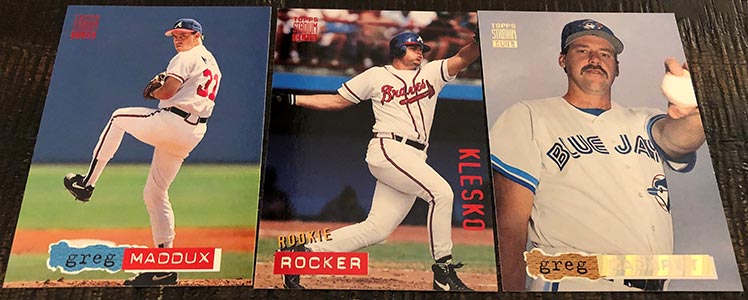 Pack 22:
Jack Morris, Carlos Delgado with two different cards (Delgado as a catcher still gets me), Jim Edmonds, Scott Leius Golden Rainbow & Marquis Grissom Stadium Club Finest (1:6 packs)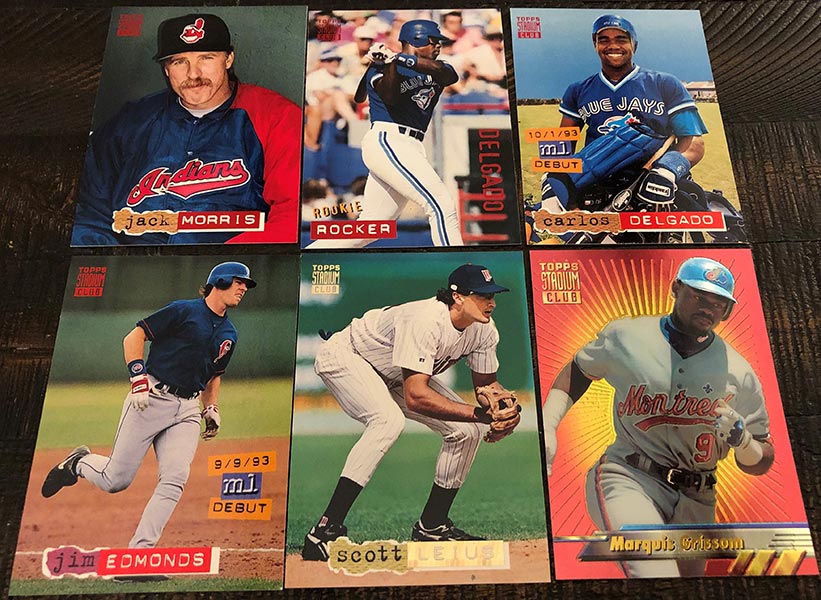 Pack 23:
Eddie Murray, Greg Maddux, David Wells, Omar Vizquel & Greg Hibbard Golden Rainbow. Speaking of Fantastic Finishers, Maddux threw 109 complete games in his career. Of those, 68 were thrown over eight seasons from 1988-1995.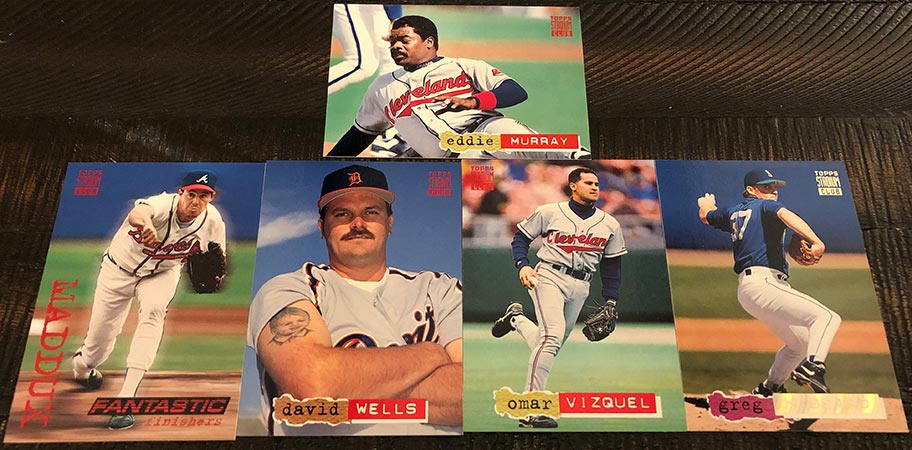 Pack 24:
Rickey Henderson, Frank Thomas, Steve Farr Golden Rainbow & Jeff Kent Dugout Dirt (1:6 packs). It took to the last pack, but glad I pulled this amazing Rickey Henderson card. Check out those shades!

I picked this up back in October. The eBay item included a box of each series, and cost me just $42 total. Individually, these boxes can still be found for about $20.
This one is worth the price tag. It has tons of '90s stars and lots of great photos. Who doesn't love that Rickey card I found in the last pack? If that wasn't enough reason to open this one, the Stadium Club Finest inserts are sharp. I might even give this product another shot, especially if I can find another box under $20.
Shop for 1994 Stadium Club Baseball on:
Want more installments of Shane Salmonson's Cheap Wax Wednesday? Check out his other breaks in the archives.