Cheap Wax Wednesday Box Breaks: 1994 Select Series 2 Baseball
Pinnacle debuted the Select brand for the 1993 MLB season. The product was actually released in December, 1992 alongside a TV commercial. When was the last time you saw a baseball card commercial? Select was meant to be a mid-tier product. At release packs were priced at $1.49 each. The debut product also prominently featured Dufex printing technology, which was used for all of the insert cards.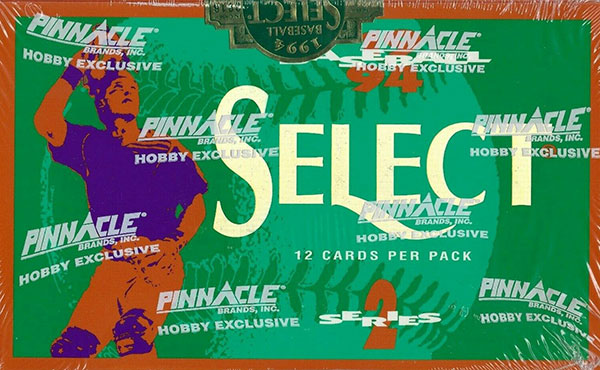 1994 Select Baseball is split into two series, each with 210 base cards. Base cards feature two separate player photos on the front, split by gold foil highlighting each player's last name. Each box has a numbered seal that specified which box it was in the case, and which numbered case it came from. Overall 118,800 boxes of each series was produced.

Under Pinnacle, the Select brand was released from 1993-1998. After the sale to Panini, Select returned in 2013 before appearing again as a standalone product in Panini's 2020 baseball lineup.
Fun Facts are provided by Bleacher Report National MLB Columnist Joel Reuter. You can follow Joel on Twitter (@JoelReuterBR) and check out his work at Bleacher Report.
1994 Select Series 2 Baseball Box Break
Cards per pack: 12
Packs per box: 24
Price paid: $21
Pack 1 highlights:
Carlos Baerga & Craig Biggio
Pack 1 fun fact: Carlos Baerga and Craig Biggio were the Silver Slugger winners at second base during the 1994 season.

Pack 2:
Gary Sheffield, Rod Beck & Lee Smith
Pack 2 fun fact: Lee Smith (478, third) and Rod Beck (286, 33rd) are two of 37 players in MLB history with at least 250 career saves.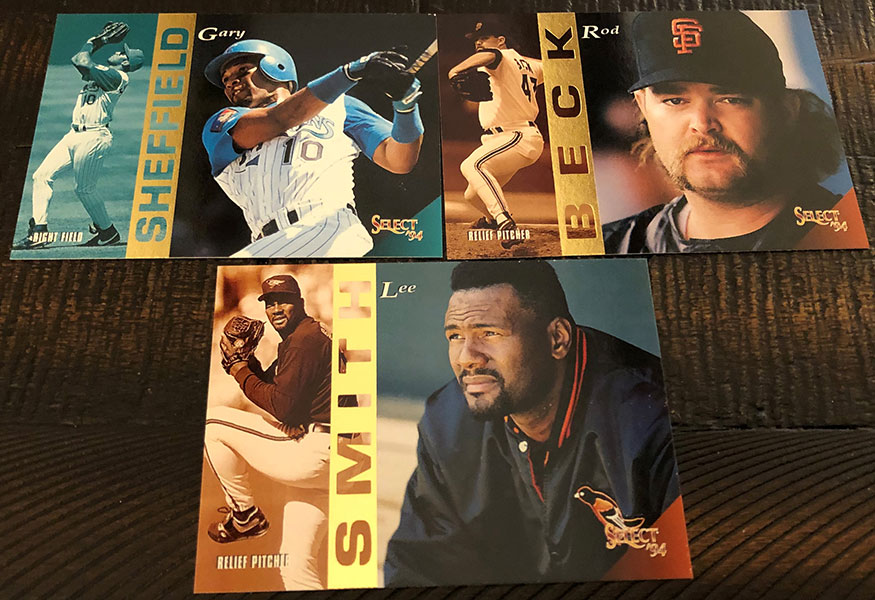 Pack 3:
Rafael Palmeiro, Deion Sanders & Jim Thome
Pack 3 fun fact: The Braves traded Deion Sanders to the Reds on May 29, 1994, in exchange for fellow outfielder Roberto Kelly. "Primetime" stole 38 bases in 92 games during the '94 season.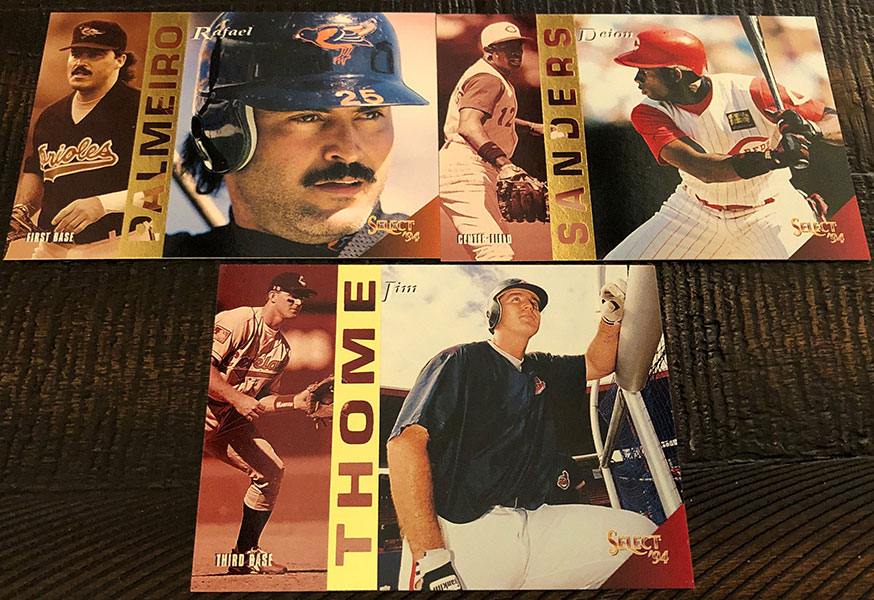 Pack 4:
Will Clark, Roberto Alomar (I always like the triple exposure cards) & Cal Ripken, Jr.
Pack 4 fun fact: Cal Ripken Jr. won his eighth and final Silver Slugger Award during the 1994 season. Only Barry Larkin (9) has more all-time among shortstops.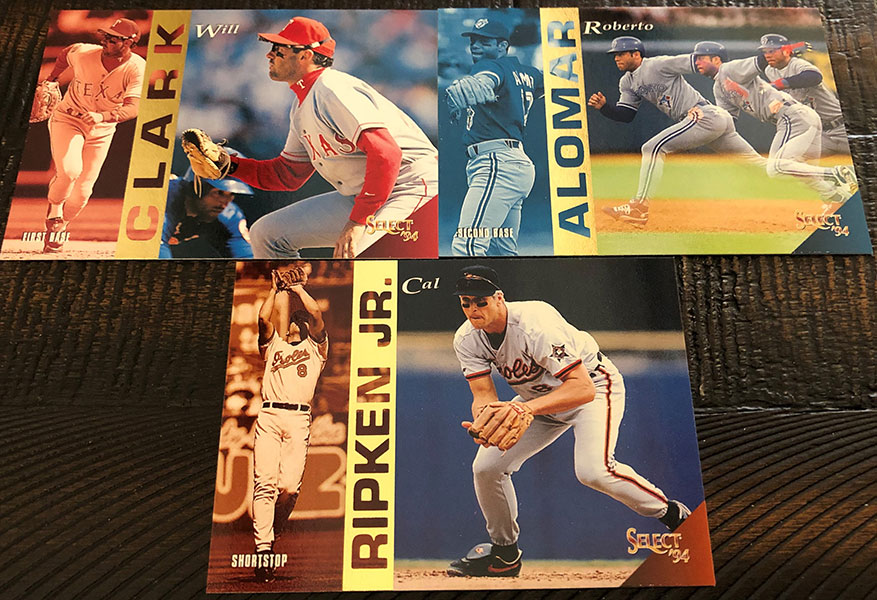 Pack 5:
Jack Morris & Kevin Brown
Pack 5 fun fact: Jack Morris played his final MLB season at the age of 39 in 1994. He recorded his 250th career win on June 19th, allowing five runs in seven innings against the Boston Red Sox.

Pack 6:
Greg Vaughn, Fred McGriff & Bobby Bonilla
Pack 6 fun fact: Fred McGriff hit .318/.389/.623 and finished fourth in the NL home run race with 34 long balls in 1994. It was his first full season in Atlanta after coming over in a 1993 deadline deal.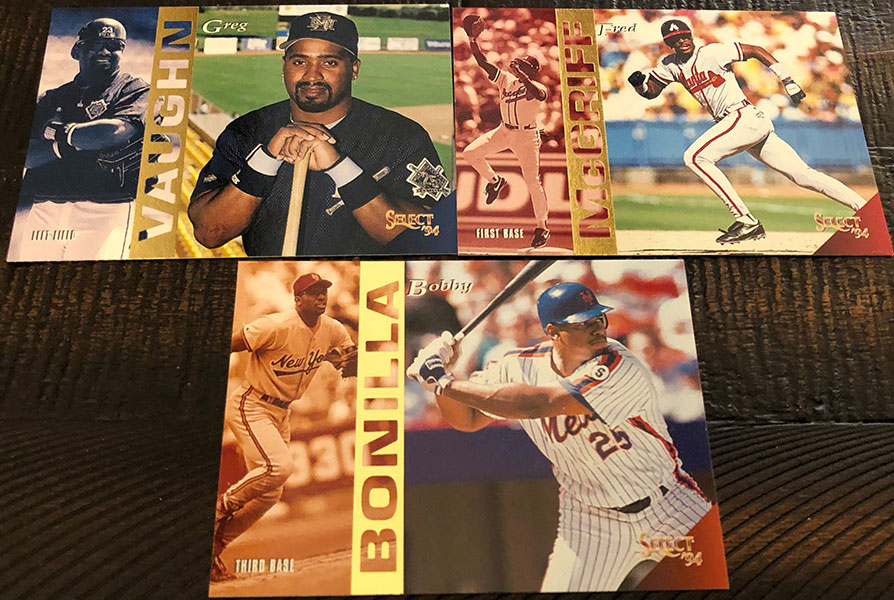 Pack 7:
Ivan Rodriguez & Ellis Burks
Pack 7 fun fact: The Rockies signed Ellis Burks to a five-year contract prior to the '94 season and he hit .322/.388/.678 for a 154 OPS+ in 42 games.

Pack 8:
Kirk Gibson & Dennis Eckersley (who I can hear right now calling the Red Sox game)
Pack 8 fun fact: If only these two had a memorable moment against one another to talk about… When the '94 season rolled around, Gibson was 37 years old and Eckersley was 39 years old.

Pack 9:
Eddie Murray, Fred McGriff, Gregg Jefferies & Bobby Bonilla
Pack 9 fun fact: Gregg Jefferies spent two seasons with the Cardinals in '93 and '94, earning an All-Star nod both years while hitting a combined .335/.401/.487 for a 137 OPS+. That represented the peak of what was once a hyped career.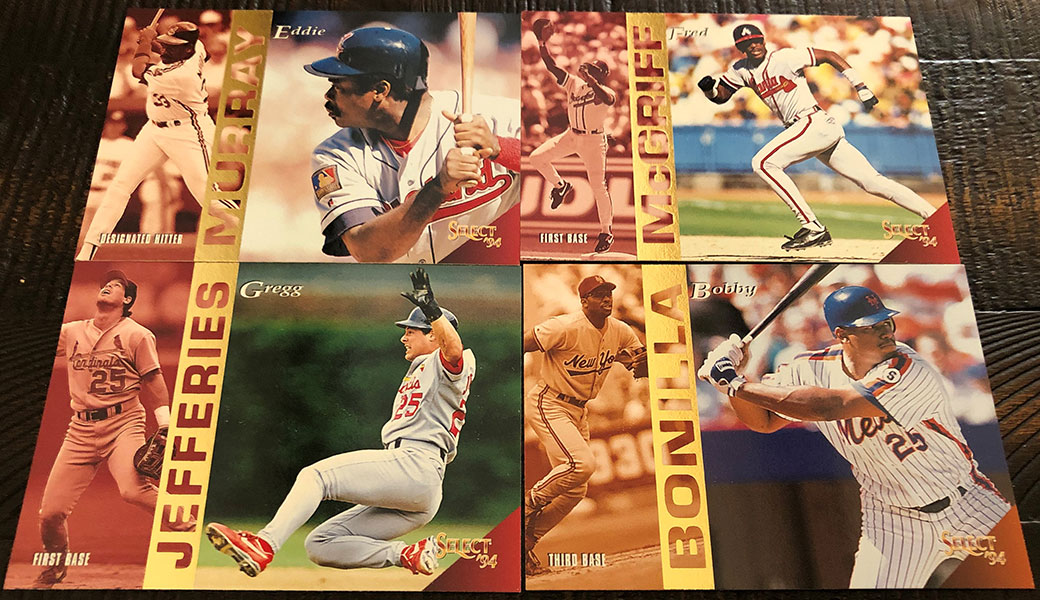 Pack 10:
Barry Bonds, Mark Langston & Larry Walker Select Skills (1:24 packs)
Pack 10 fun fact: Larry Walker had 154 career outfield assists and he was a seven-time Gold Glove winner. He was a worthy choice for "best outfield arm" at this point in his career.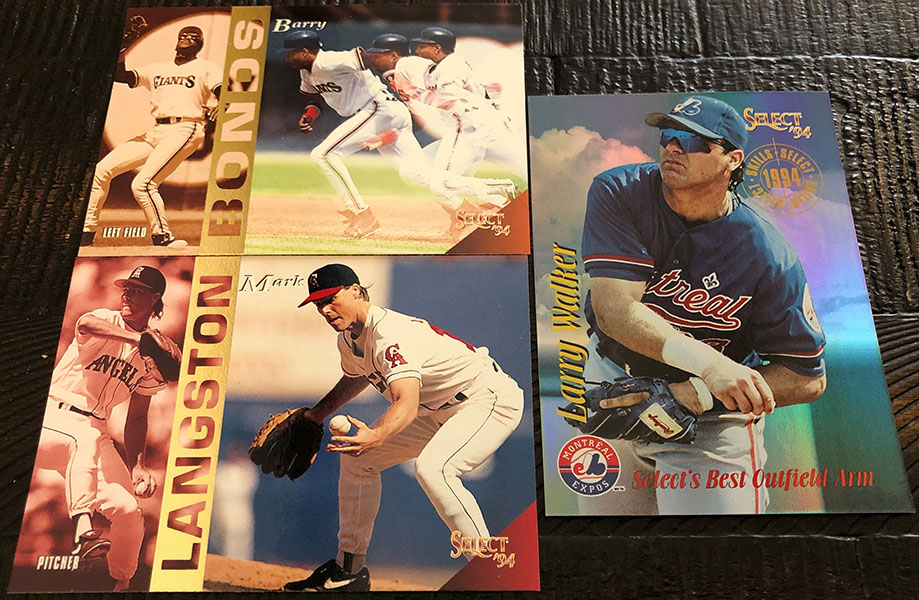 Pack 11:
Omar Vizquel, Lou Whitaker, Kenny Lofton & Rickey Henderson
Pack 11 fun fact: In his second-to-last MLB season in '94 and at the age of 37, Lou Whitaker hit .301/.377/.491 with 21 doubles, 12 home runs and 2.5 WAR in 92 games.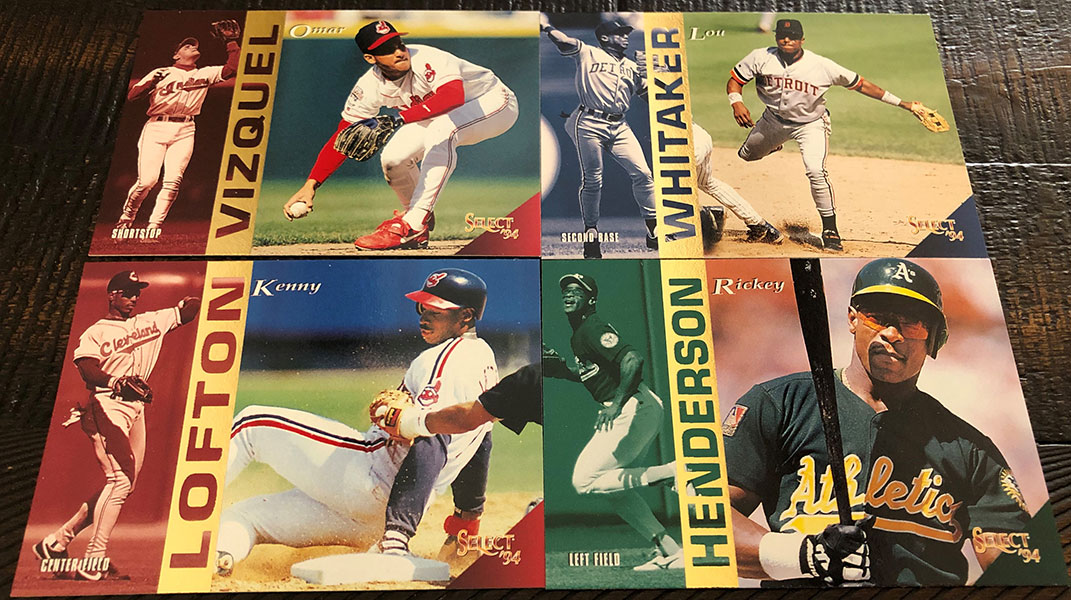 Pack 12:
Craig Biggio, David Wells & Carlos Baerga
Pack 12 fun fact: David Wells threw his first career shutout on Aug. 10, 1994, allowing just three hits and one walk against the Milwaukee Brewers.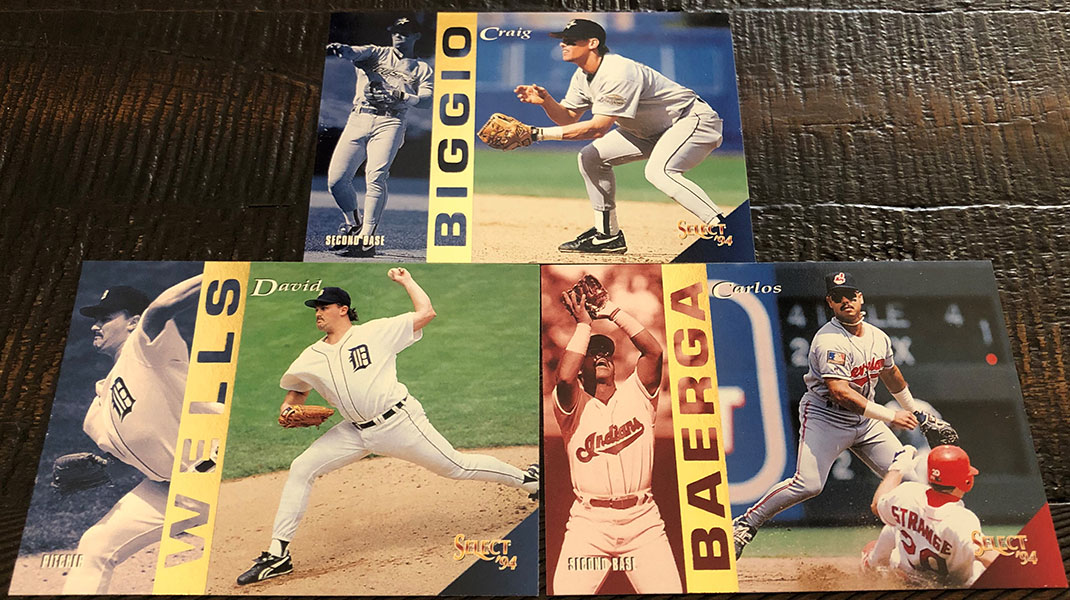 Pack 13:
Mark Langston & Jeff Bagwell
Pack 13 fun fact: Jeff Bagwell won NL MVP honors in 1994 when he hit .368/.451/.750 with 39 home runs while leading the NL in RBI (116) and runs scored (104) in an 8.2-WAR season.

Pack 14:
Jose Canseco & Chan Ho Park Rookie Surge (1:48 packs)
Pack 14 fun fact: Chad Ho Park made two appearances each in 1994 and 1995, but he didn't exhaust his rookie eligibility until the 1996 season when he had a 3.64 ERA and 119 strikeouts in 108.2 innings in a swingman role.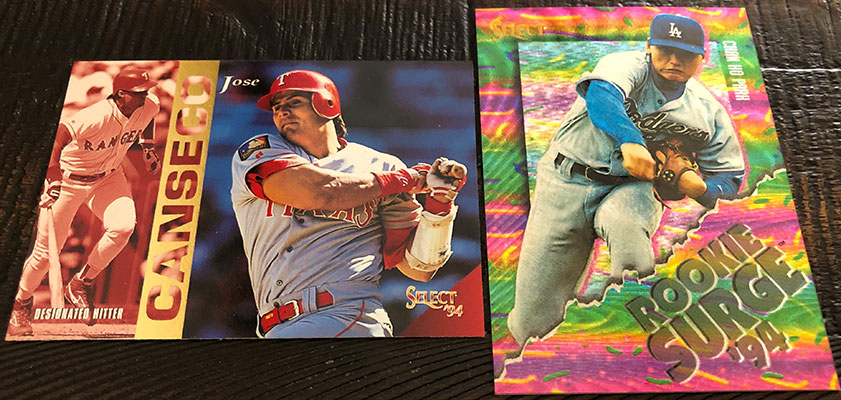 Pack 15:
Bo Jackson & Gary Sheffield
Pack 15 fun fact: Playing in his final MLB season in '94, Bo Jackson hit .279/.344/.507 for a 117 OPS+ with 13 home runs and 43 RBI in 224 plate appearances.

Pack 16:
Eddie Murray, Ken Caminiti & Eric Davis
Pack 16 fun fact: The Indians signed a 38-year-old Eddie Murray prior to the 1994 season and he went on to play for four more years. He hit .281 with a 101 OPS+ in three seasons in Cleveland.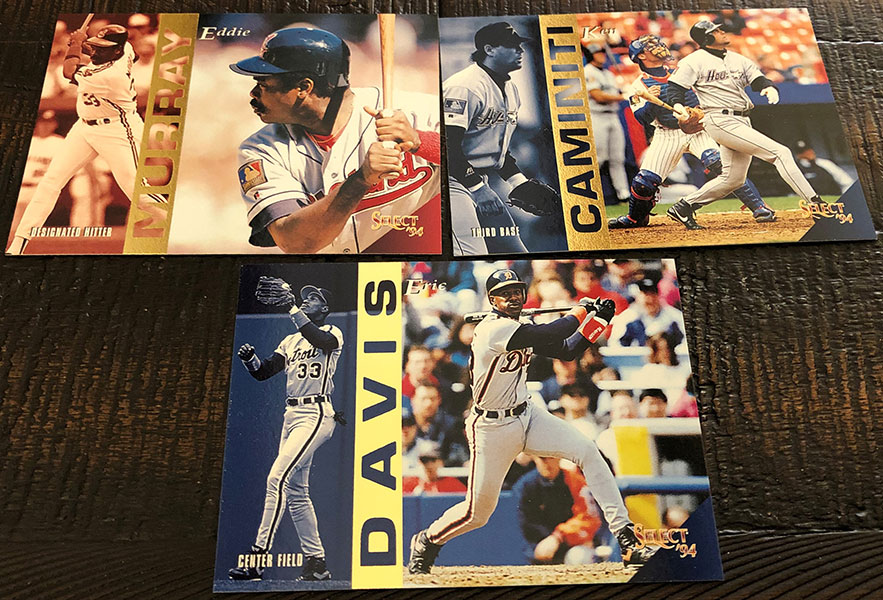 Pack 17:
Barry Bonds & Charles Johnson
Pack 17 fun fact: Charles Johnson went 5-for-11 with a home run in a four-game audition in 1994, then finished seventh in NL Rookie of the Year voting in 1995 while winning a Gold Glove Award.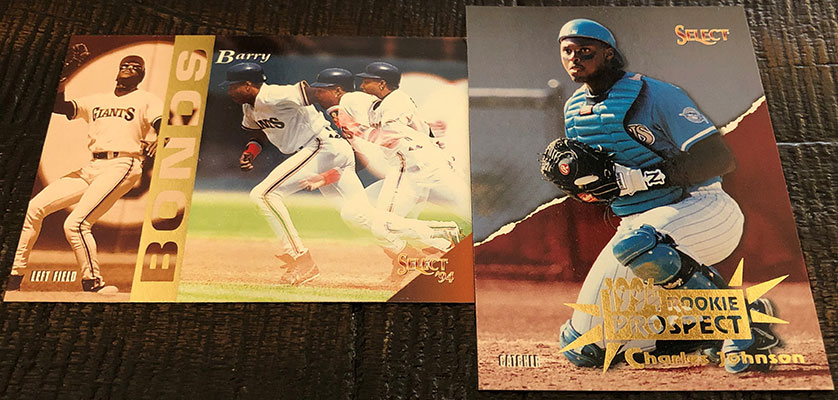 Pack 18:
Lou Whitaker, Tom Glavine (I always love the cards featuring the pitchers with a bat in their hands), Matt Williams & Mark Grace
Pack 18 fun fact: Tom Glavine won four Silver Slugger Awards in his career, so he was a good pitcher to highlight in the batter's box.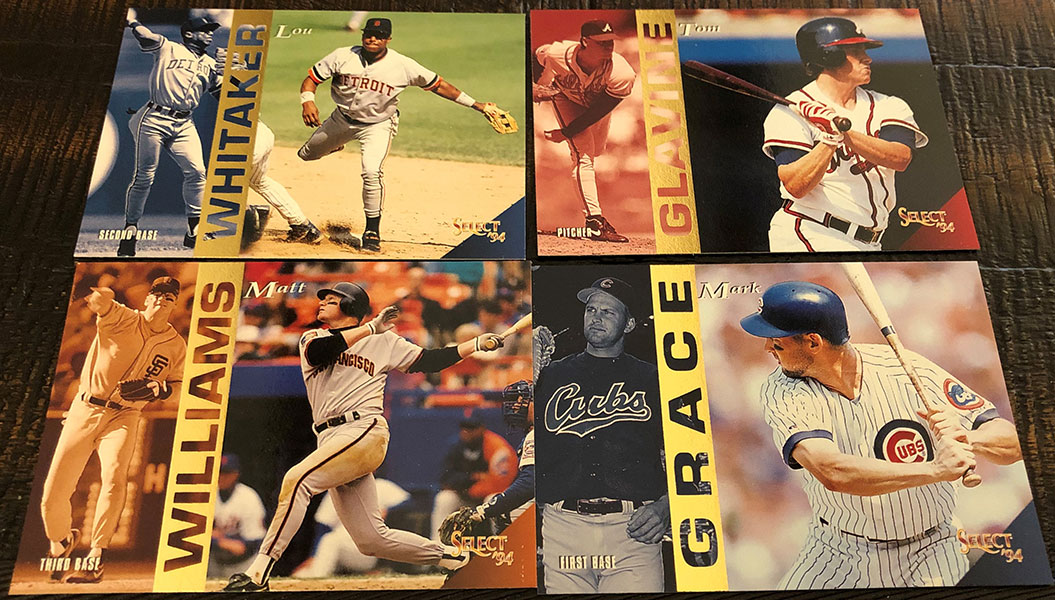 Pack 19:
Ken Caminiti & Eric Davis
Pack 19 fun fact: Ken Caminiti was an All-Star for the first time in 1994. He was then traded from the Astros to the Padres in a 12-player blockbuster deal during the offseason.

Pack 20:
Otis Nixon & Albert Belle (another fun shot)
Pack 20 fun fact: Otis Nixon led all players with 478 steals during the 1990s.

Pack 21:
Dennis Eckersley, Kirk Gibson & the ageless Julio Franco
Pack 21 fun fact: Julio Franco was already 35 years old in 1994. He went on to play 10 more MLB seasons, along with two seasons in Japan (1995 and 1998) and one in South Korea (2000).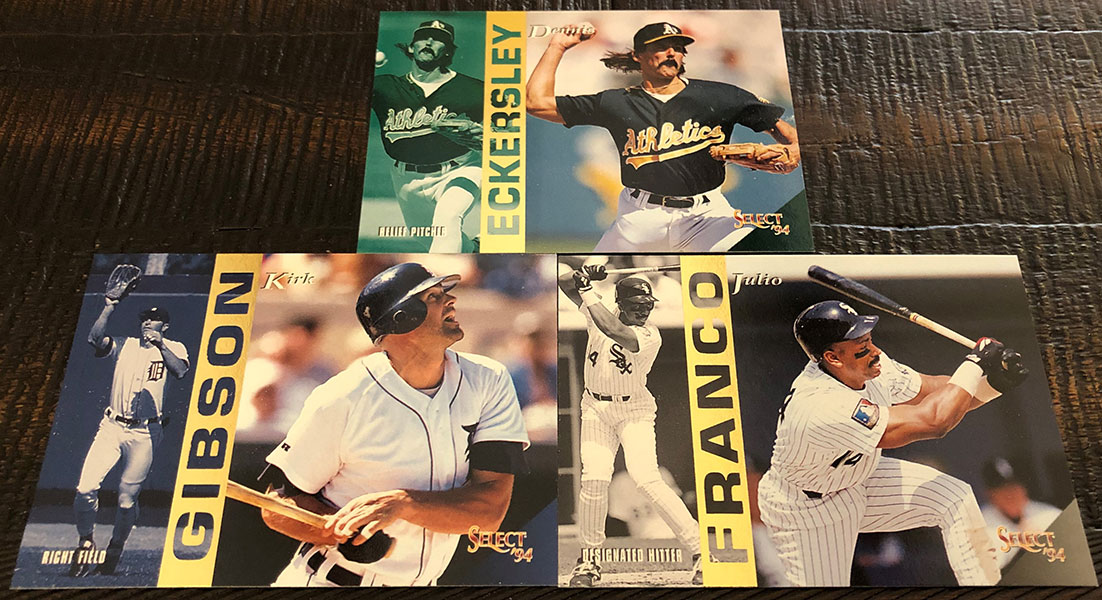 Pack 22:
Luis Gonzalez & Jack Morris
Pack 22 fun fact: Luis Gonzalez actually had more steals (15) than home runs (8) during the 1994 season.

Pack 23:
Vince Coleman, Chuck Finley & Cecil Fielder
Pack 23 fun fact: The Mets traded Vince Coleman to the Royals in exchange for Kevin McReynolds prior to the 1994 season and he went on to swipe 50 bases in his first year in Kansas City.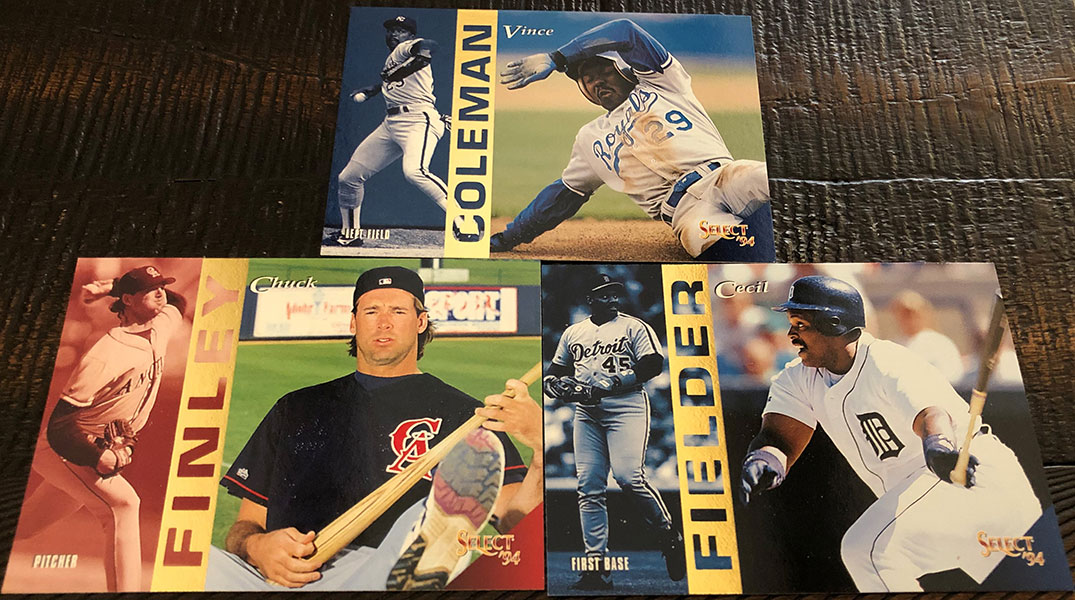 Pack 24:
Tim Salmon, Pedro Martinez, Juan Gonzalez & Alan Trammell
Pack 24 fun fact: Tim Salmon followed up AL Rookie of the Year honors in 1993 by hitting .287/.382/.531 with 23 home runs and 70 RBI during the '94 season.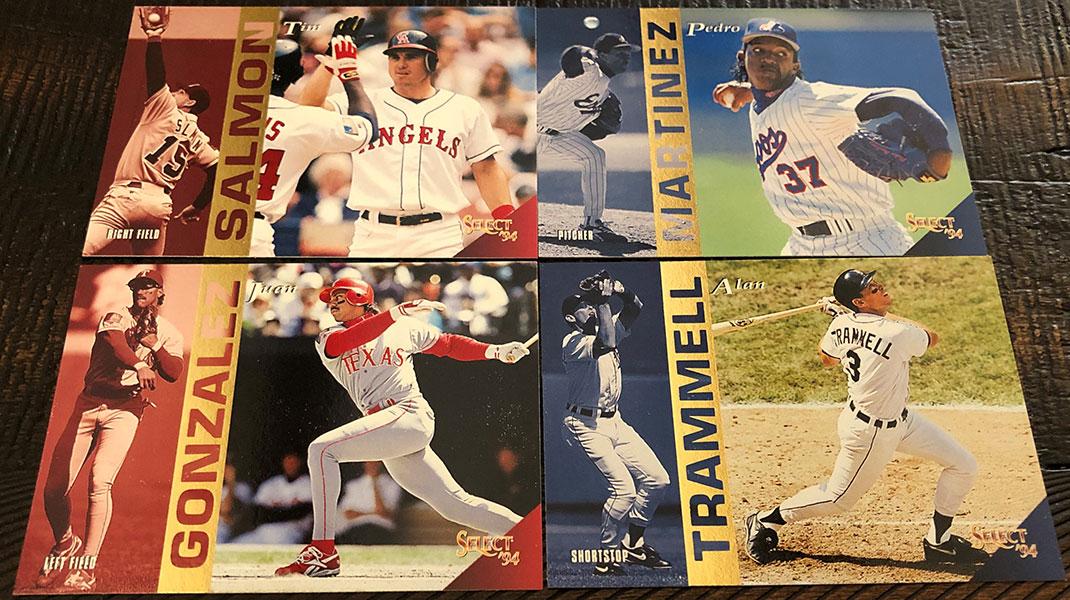 Lastly, the Trammell card back. I like these backs. Another player photo, their 1993 stats, career stats and a short write up — there's a little bit of everything here. The backs also featured Pinnacle's counterfeit protection bar codes. Seen through a lenticular lens available only from Pinnacle, it reads PINNACLE.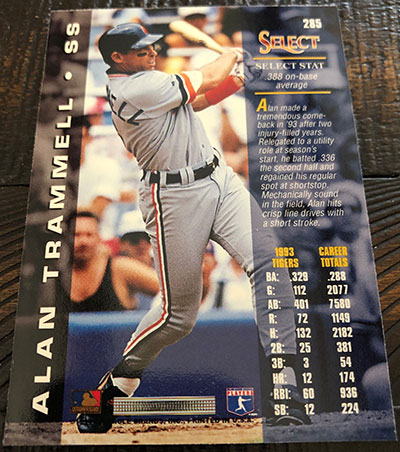 This was an eBay find, and at less than $1 per pack, I wouldn't mind buying this product again. The insert cards are the chase here, and I do like the chase set designs and quality. That Larry Walker Special Skills insert was the pull of the box, for me at least. I will say, though, as good as the inserts in this product look, I think Select's 1993 debut has the better inserts. Good luck finding that one for under $50 though, because there is a Derek Jeter Rookie Card on the checklist.
Shop for 1994 Select Baseball on:
Want more installments of Shane Salmonson's Cheap Wax Wednesday? Check out his other breaks in the archives.