Cheap Wax Wednesday Box Breaks: 1994 Select Football
When you click on links to various merchants on this site, like eBay, and make a purchase, this can result in this site earning a commission.
Pinnacle debuted the Select brand in 1993. Right away, the brand was known for tough-to-pull inserts. Gridiron Skills, the only 1993 chase set, were found just once in every 72 packs. It didn't get much easier in 1994. Although it does have three insert sets, none are found more than once in any box, on average. What the inserts do have going for them, though, is that all use Dufex.
1994 Select Football is a single-series release consisting of 225 base cards. The base cards feature gold foil accents and some fun photography. Each box of 1994 Select has a numbered seal. This box just happens to be box number 3 in case number 3302. A total of 3,950 24-box cases were produced.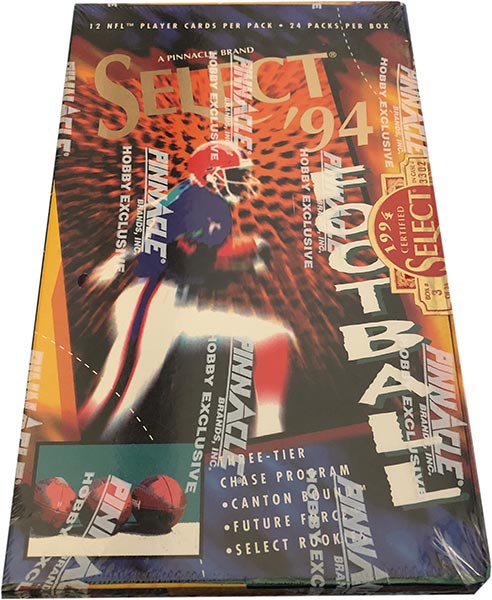 1994 Select Football Box Break
Cards per pack: 12
Packs per box: 24
Price paid: $28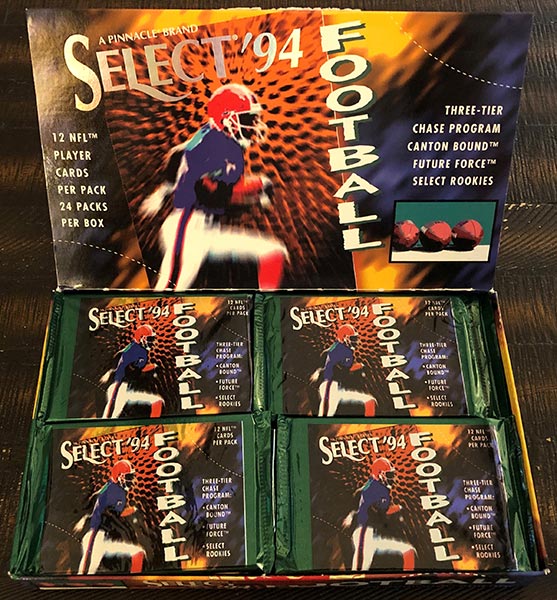 Pack 1 highlights:
Daryl Johnston, Ben Coates, Warren Moon, Steve Young & Jim Everett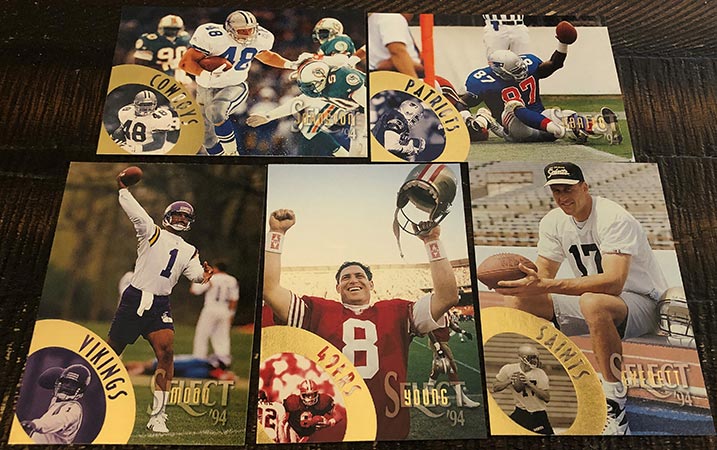 Pack 2:
Brett Favre, Jerome Bettis, Steve Atwater, Bruce Smith & Cris Carter
This is the kind of fun photography I mentioned above. The Favre, Bettis and Carter cards are all great shots.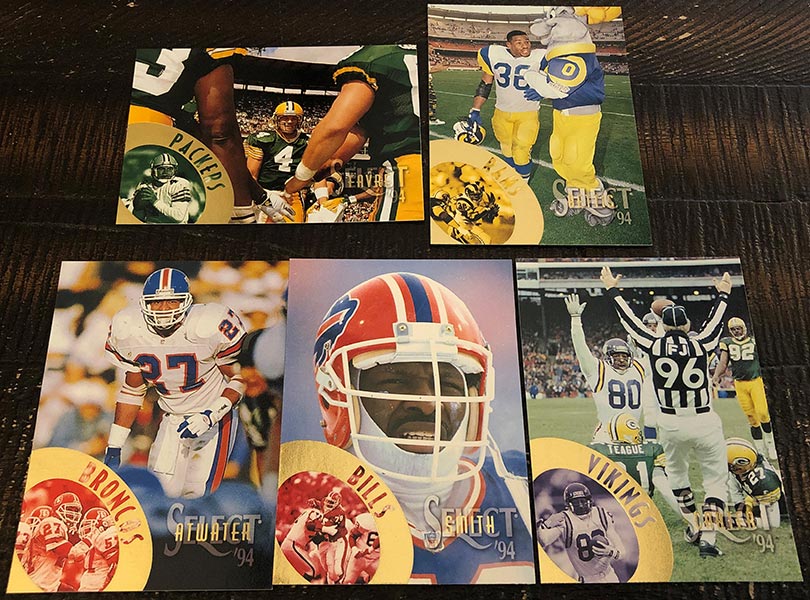 Pack 3:
Irving Fryar, Rocket Ismail & Art Monk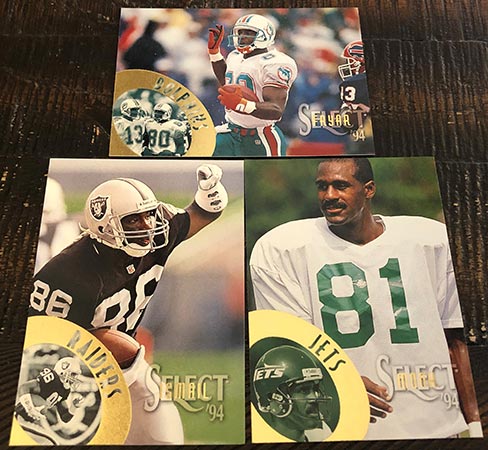 Pack 4:
Andre Rison, John Elway, Randall Cunningham, Ronnie Lott & Marcus Allen
Lott intercepted seven passes during his rookie season, returning three for touchdowns.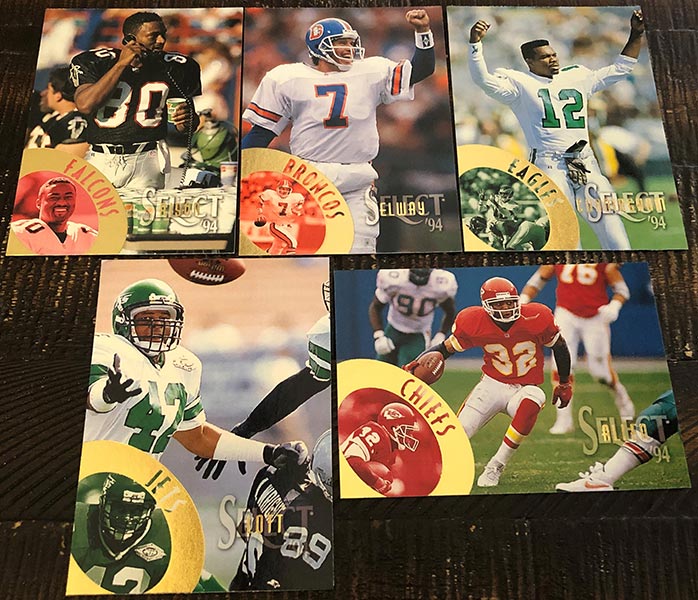 Pack 5:
Eric Metcalf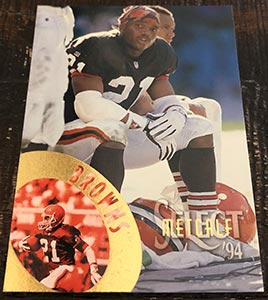 Pack 6:
Emmitt Smith, Tim Brown & Dan Marino
I really wish the inset picture was used for the full card on this one. Emmitt diving in the snow? Yes, please.

Pack 7:
Boomer Esiason, Derrick Thomas, Rod Woodson & Ken Norton

Pack 8:
Raghib Ismail, Jim Everett & Natrone Means Future Force (1:48 packs)
Means would not have been my first choice from the 12-card Future Force checklist. Drew Bledsoe and Jerome Bettis were the most notable names in the insert set.

Pack 9:
Brian Blades, Greg Lloyd & Jerry Rice

Pack 10:
Irving Fryar, Willie McGinest RC & Eric Metcalf
McGinest played the first 12 years of his career in New England, winning three championships.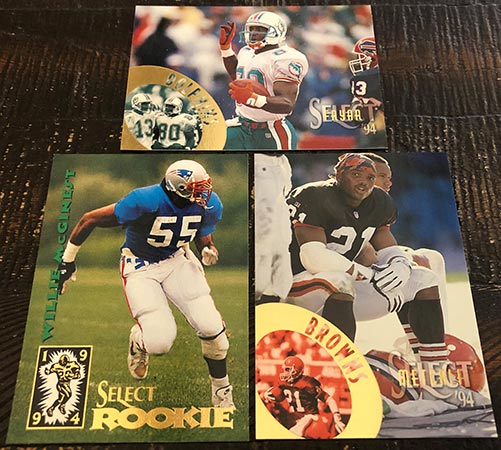 Pack 11:
Herman Moore, Shannon Sharpe, Jim Harbaugh, Drew Bledsoe & Nate Newton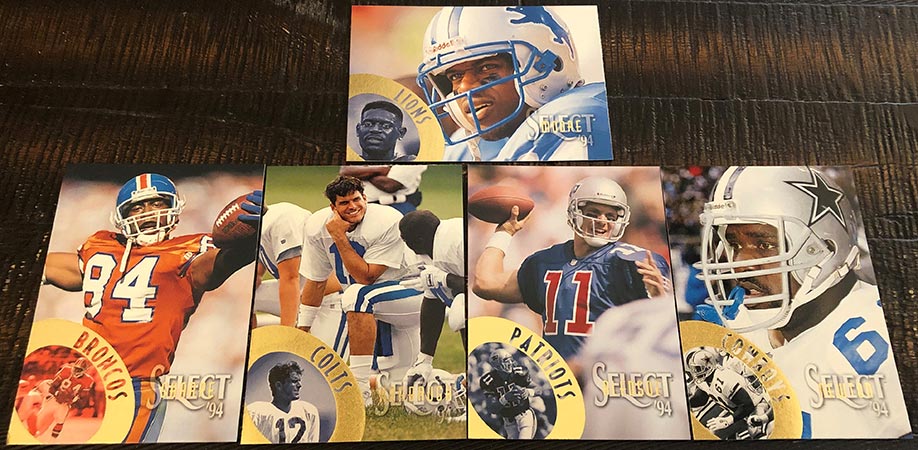 Pack 12:
Charles Haley & Marshall Faulk RC
Haley racked up 100.5 sacks during his career and was inducted into the Pro Football Hall of Fame in 2015.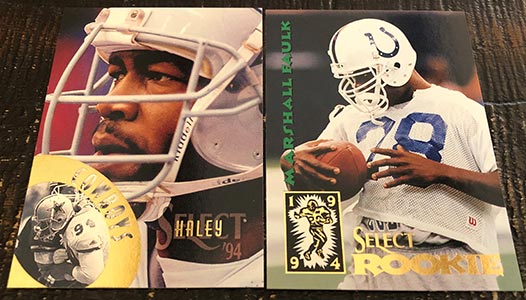 Pack 13:
Robert Brooks, Charles Haley & Art Monk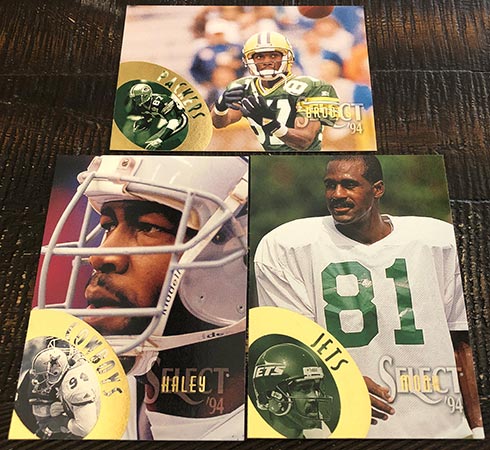 Pack 14:
Garrison Hearst
Garrison reached 1,000 rushing yards in four different seasons. In his best season, 1998, he ran for 1,570 yards and led the league in rushing average.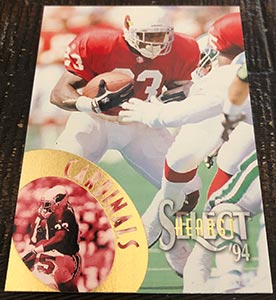 Pack 15:
Joe Montana, Deion Sanders & John Randle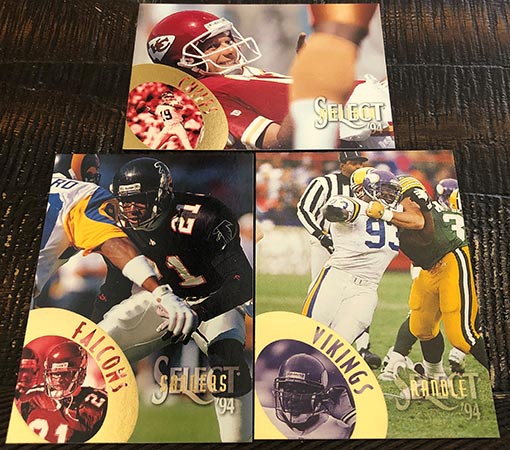 Pack 16:
Reggie White & Ricky Watters
Reggie "The Minister of Defense" White was an absolute monster. The 13-time Pro Bowler was also an eight-time First Team All-Pro defensive end.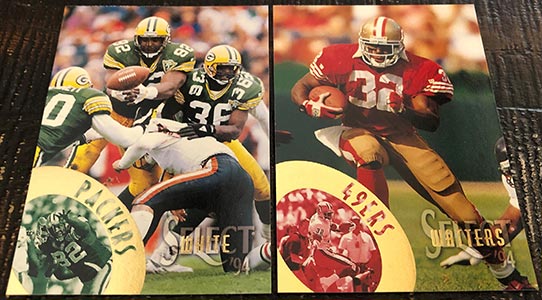 Pack 17:
Michael Irvin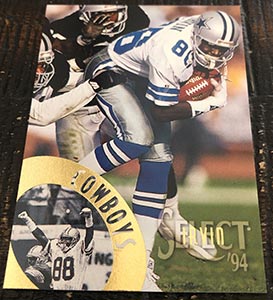 Pack 18:
Steve Young, Daryl Johnston & Ben Coates
Young led the NFL in passing touchdowns for three straight seasons from 1992-1994. His league-leading 25 touchdown passes in 1992 would have him ranked just tenth this season, with games left to be played. Amazing how much the game has changed.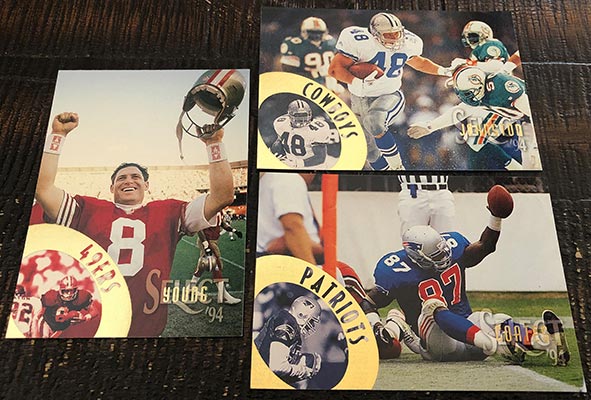 Pack 19:
Sterling Sharpe, Herschel Walker, Rick Mirer & Rodney Hampton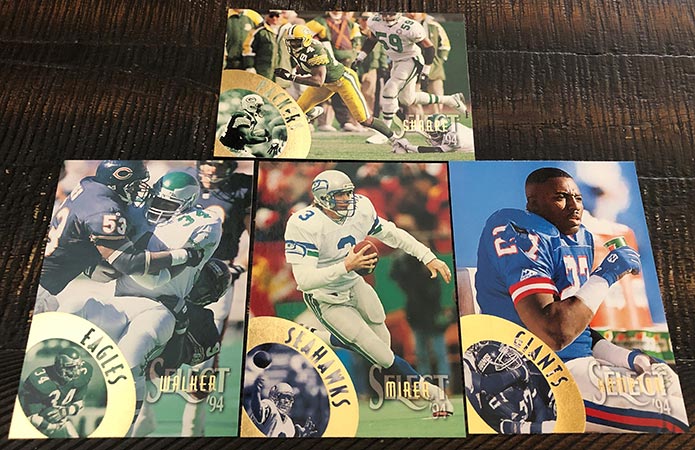 Pack 20:
Robert Brooks & Willie McGinest RC
Brooks' best season came in 1995. He totaled 1,497 receiving yards and 13 touchdown catches.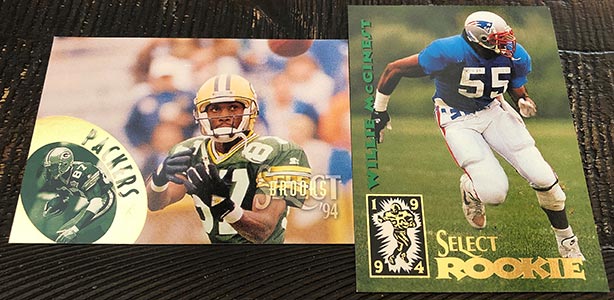 Pack 21:
Troy Aikman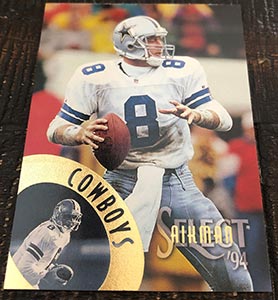 Pack 22:
Deion Sanders, Joe Montana, John Randle, Michael Irvin, Marshall Faulk RC & Aaron Glenn RC
Five Hall of Famers in the same pack? Sorry, Aaron Glenn, you've been outmanned.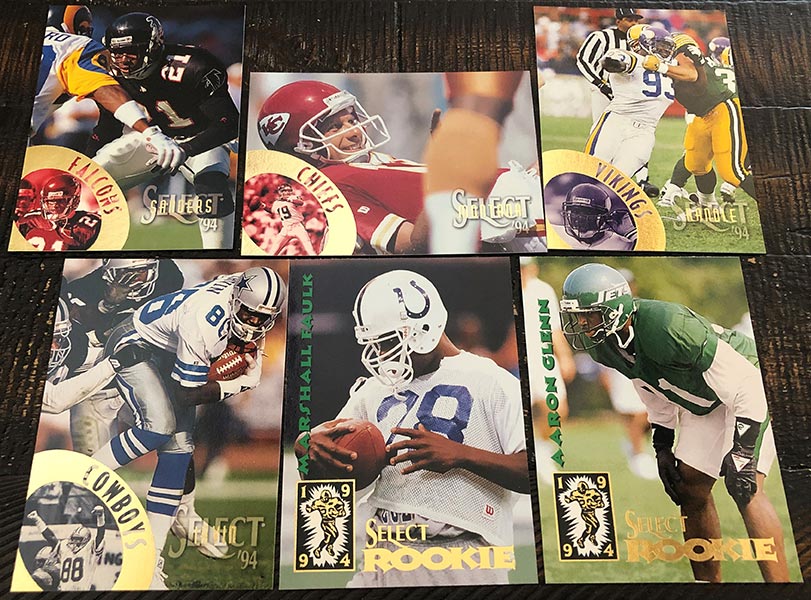 Pack 23:
Thurman Thomas, Dana Stubblefield, Andre Reed, Junior Seau, Jim Kelly & Barry Sanders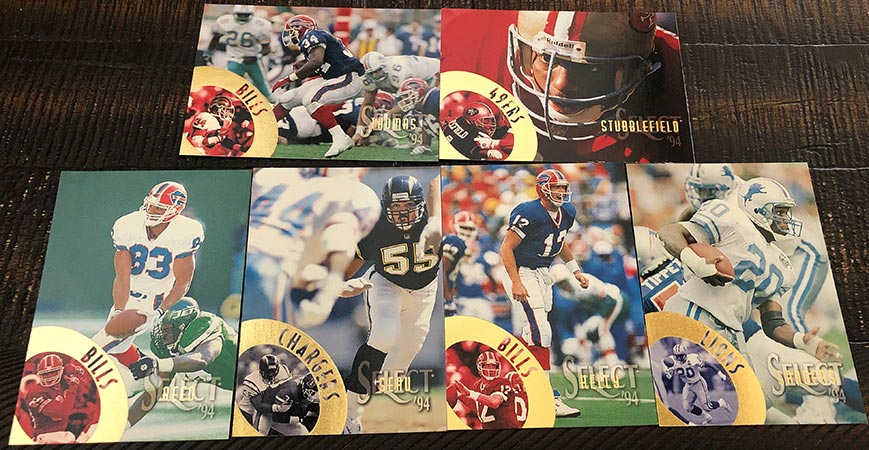 Pack 24:
Derrick Thomas, Boomer Esiason & Johnnie Morton RC
Until this past Sunday, Esiason held the Bengals single game passing yards record, with 490. He set that mark October 7, 1990. Joe Burrow broke that record on Sunday with 525 passing yards.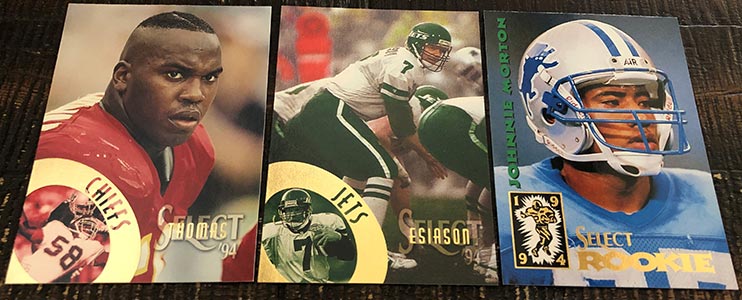 Lastly, the Jim Kelly card back. They sure weren't kidding when they said Jim Kelly is tough. #KellyStrong.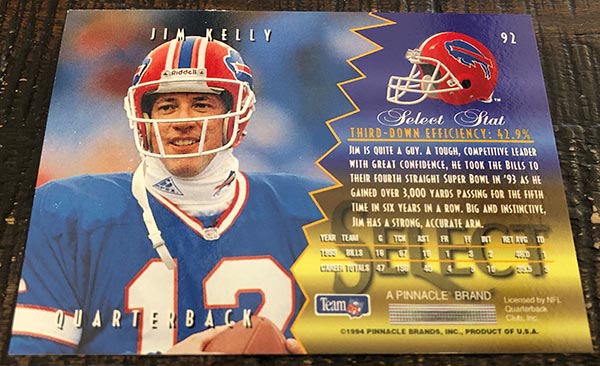 I told you this one had some fun photography! That was the highlight of this box as I pulled just one insert card. That is to be expected, though, with the inserts being tough pulls. The Canton Bound and Future Force inserts are found just once in every 48 packs, while the 1994 Rookies insert cards are 1:360 packs.
Shop for 1994 Select Football on:
Want more installments of Shane Salmonson's Cheap Wax Wednesday? Check out his other breaks in the archives.