Cheap Wax Wednesday Box Breaks: 1994 Collector's Choice Football
When you click on links to various merchants on this site, like eBay, and make a purchase, this can result in this site earning a commission.
Upper Deck debuted 1994 Collector's Choice Football as a new, budget-friendly set. It wasn't just a gridiron product, though, as the brand made its way into Baseball and Basketball as well in 1994. Later on the set would be known for multiple insert inclusions, but that first release had just one insert set.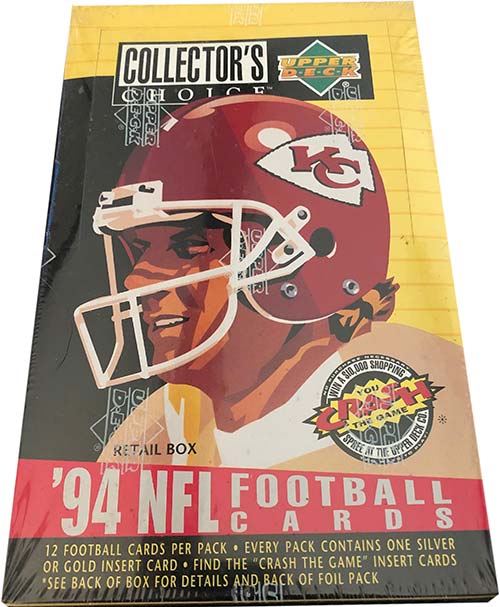 1994 Collector's Choice Football features a 384-card base set. Why not an even 400? Who knows. In addition to the base set were two full-set parallels, Silver Foil and Gold Foil. Team names were added to the card fronts in foil to mark the parallels.
The lone insert set in this one You Crash the Game with separate checklists for hobby and retail. The cards look exactly the same, other than a differing foil color. Hobby inserts feature blue foil on the front while retail cards have green.
You Crash the Game cards could be redeemed for prizes. The backs feature three different dates, all corresponding to scheduled games. If the player scored a touchdown in one of those three games, your card could be redeemed for a Bronze You Crash the Game set. Touchdowns in two games was good for a Silver set. Lastly, if your player scored a touchdown on all three dates listed, you could redeem the card for a Gold set. Of the 30 cards in the checklist, all but six cards were eligible to be redeemed for one of the three sets.
1994 Collector's Choice Football Box Break
Cards per pack: 12
Packs per box: 36
Price paid: $40

Pack 1 highlights:
Cover star Joe Montana, Ronnie Lott, Jeff George & Ben Coates Silver Parallel (one per pack)

Pack 2:
Dan Marino CL, Rick Mirer, Herman Moore, Dan Marino & Sterling Sharpe CL Silver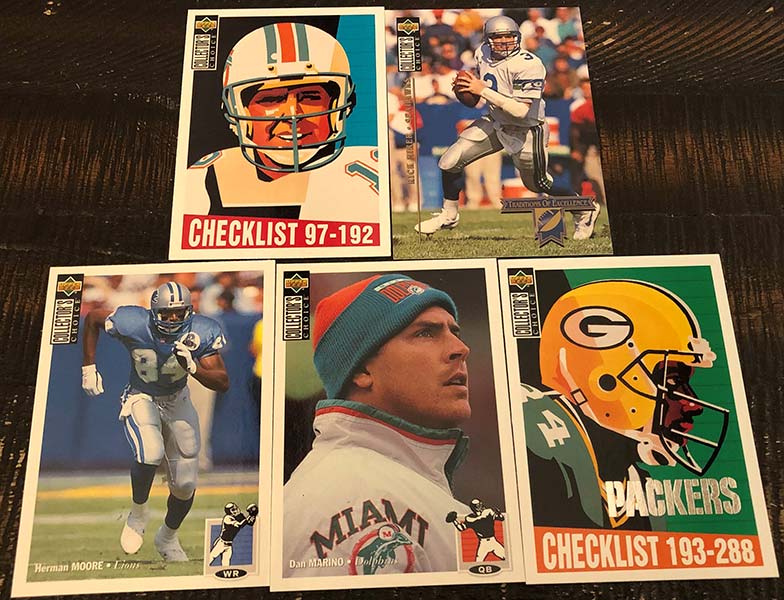 Pack 3:
A Drew Bledsoe hot pack! John Elway, Drew Bledsoe, Bledsoe again, Bledsoe You Crash the Game (1:15 packs) & Pat Swilling Gold (1:35 packs)
Drew Bledsoe threw a touchdown pass on all three dates listed, and could have been redeemed for a Gold You Crash the Game set.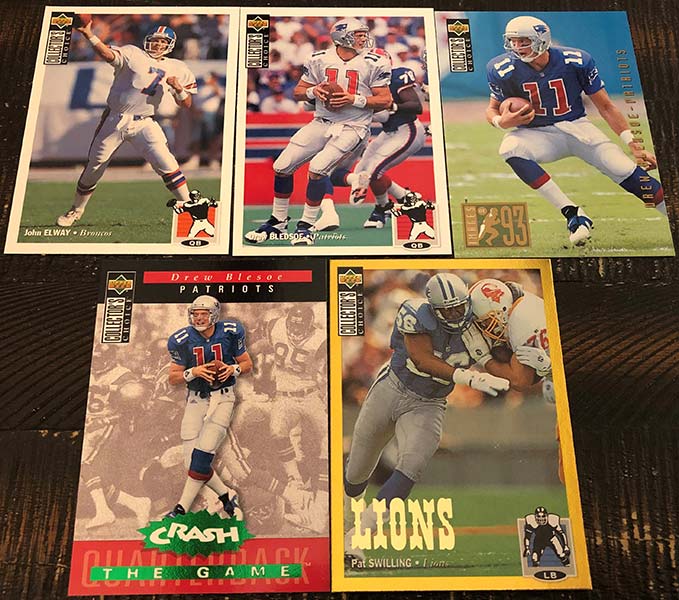 Pack 4:
Michael Irvin, Craig Heyward, Ricky Watters, Drew Bledsoe Silver & Eric Guliford Silver
Pack 5:
Johnny Mitchell & Chuck Cecil Silver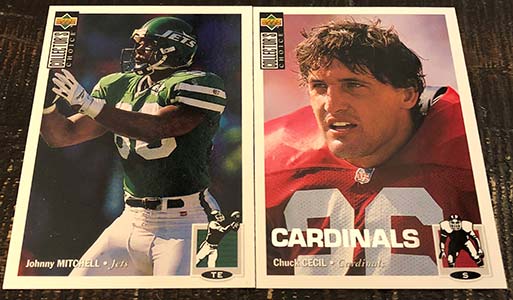 Pack 6:
John Randle, Herschel Walker, Steve Young, Willie McGinest RC & Mark Higgs Silver
Willie McGinest played in four Super Bowls with the Patriots, winning three of them. He recorded a total of three sacks in those four games.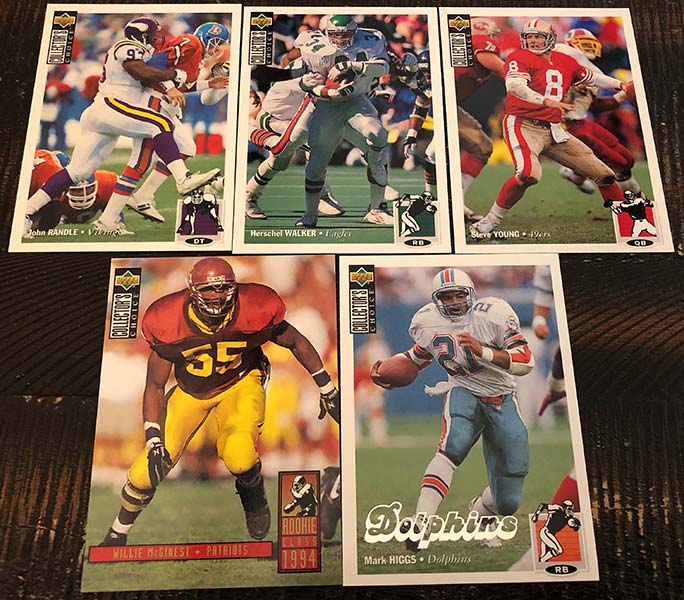 Pack 7:
Bruce Smith, Jerry Rice, Sterling Sharpe CL & Bruce Armstrong Silver

Pack 8:
Rod Woodson, Anthony Miller, Emmitt Smith, Brian Blades, Heath Shuler RC & Ken Ruettgers Silver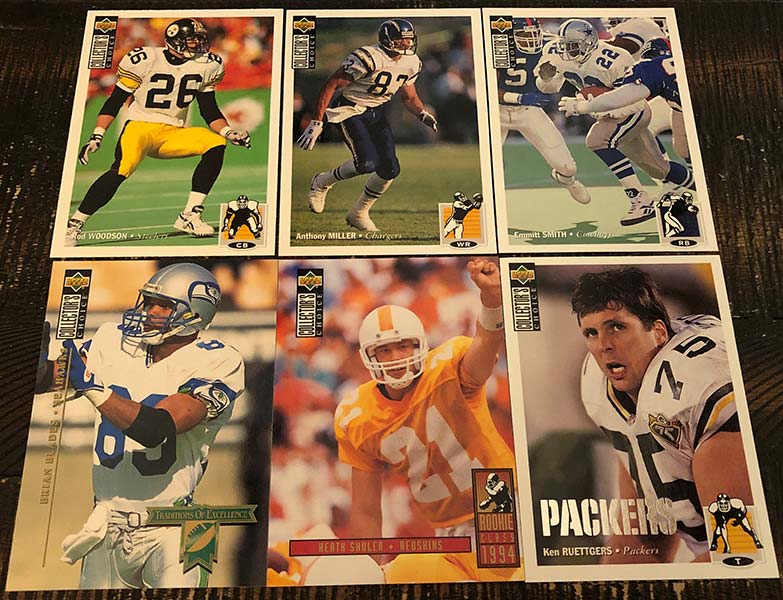 Pack 9:
Charles Haley, Qadry Ismail, Marshall Faulk RC & Haywood Jeffires Silver
Haley was a five-time champion, winning multiple rings with both the 49ers and Cowboys. 

Pack 10:
Steve Atwater, Jim Kelly & Robert Brooks Silver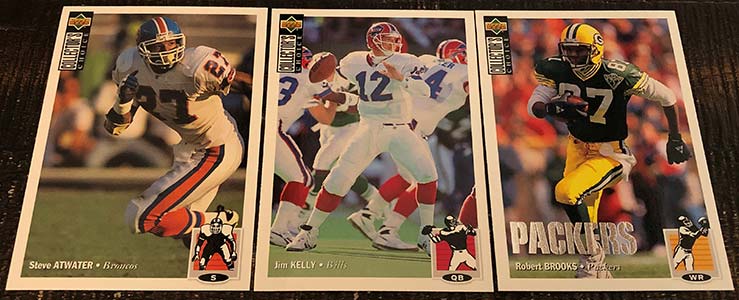 Pack 11:
Rodney Hampton, Nate Newton & Chris Spielman Silver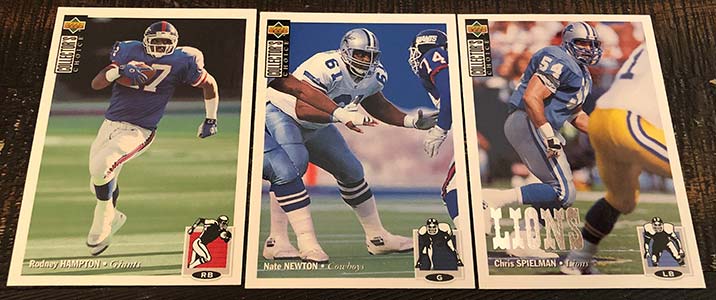 Pack 12:
Shannon Sharpe, Marcus Allen & Vance Johnson Silver
Great photo of Sharpe. I always appreciate the non-game action photos in football products as you don't see a whole lot of them.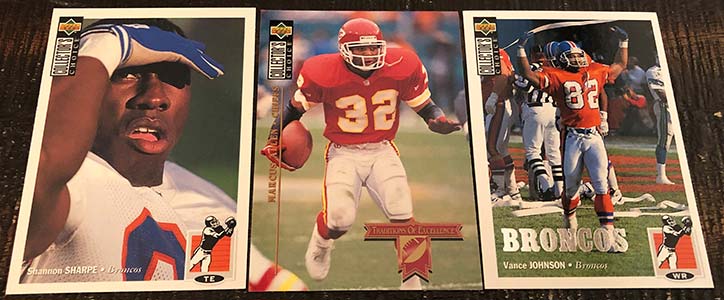 Pack 13:
Carolina Panthers, Robert Brooks, Andre Rison, Trent Dilfer RC & Willie Green Silver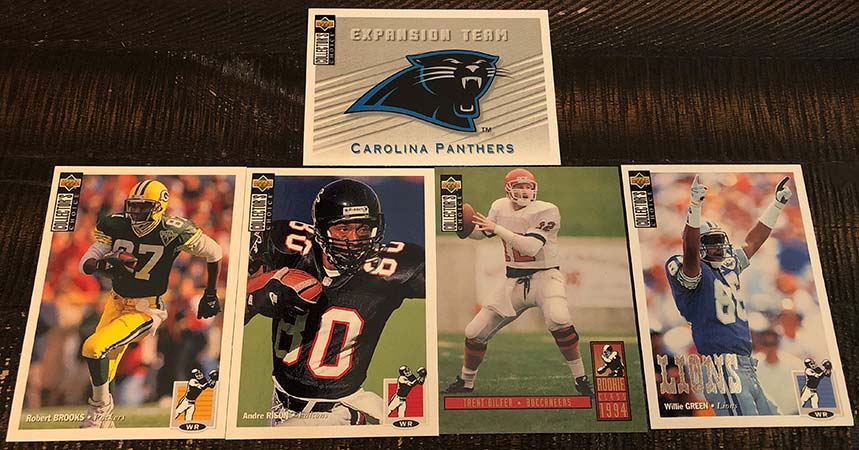 Pack 14:
Andre Reed, Ronnie Lott & David Palmer Silver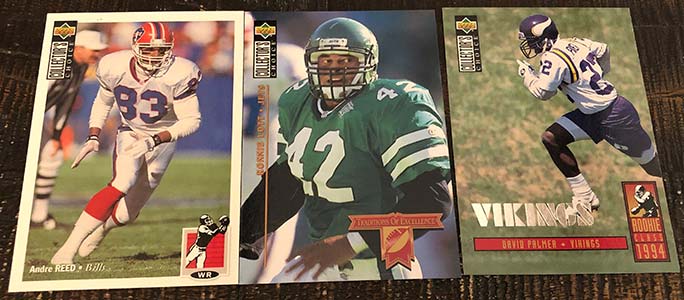 Pack 15:
Ken Norton, Boomer Esiason, Emmitt Smith, Shante Carver RC Silver & Thurman Thomas You Crash the Game (1:15 packs)
Thurman Thomas scored a touchdown on just one of the listed dates so his cards could be redeemed for a Bronze set.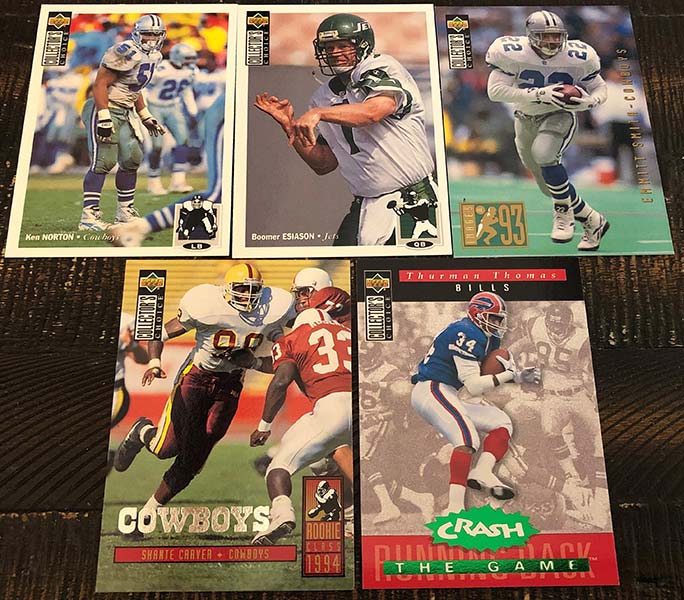 Pack 16:
Anthony Carter, Derrick Thomas, Junior Seau & Drew Bledsoe Silver

Pack 17:
Barry Sanders, Joe Montana & Kevin Williams Silver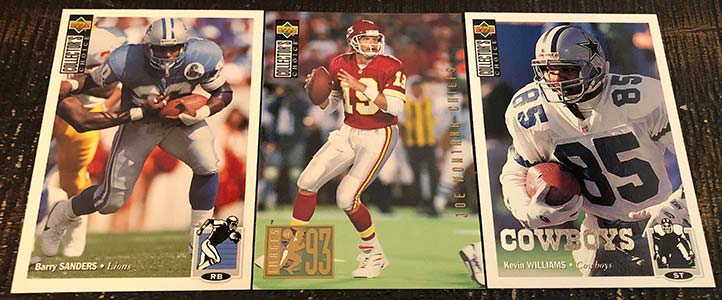 Pack 18:
Raghib Ismail & Brad Edwards Silver
Rocket put up back-to-back 1,000 receiving yard seasons in 1998-1999.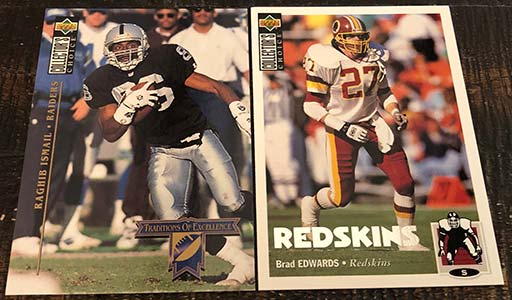 Pack 19:
Daryl Johnston, Irving Fryar, Johnnie Morton RC & Sterling Sharpe Silver

Pack 20:
Troy Aikman, Jerry Rice, Ricky Watters, Stan Humphries Silver & an Instant Winner
This Instant Winner card could be redeemed for an eight-card Then and Now Hologram set. Do you think Upper Deck will still honor it?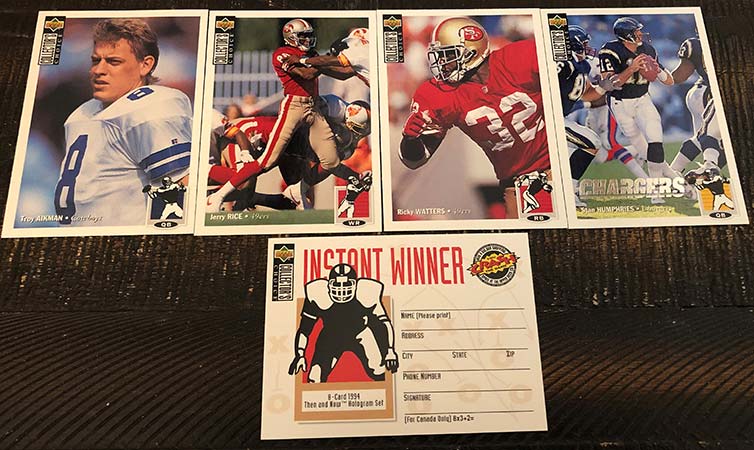 Pack 21:
Kevin Greene, Junior Seau, Sterling Sharpe, Thurman Thomas & Brian Blades Silver
Seau would play in just one championship game in his Hall of Fame career, losing to the Giants in 2007.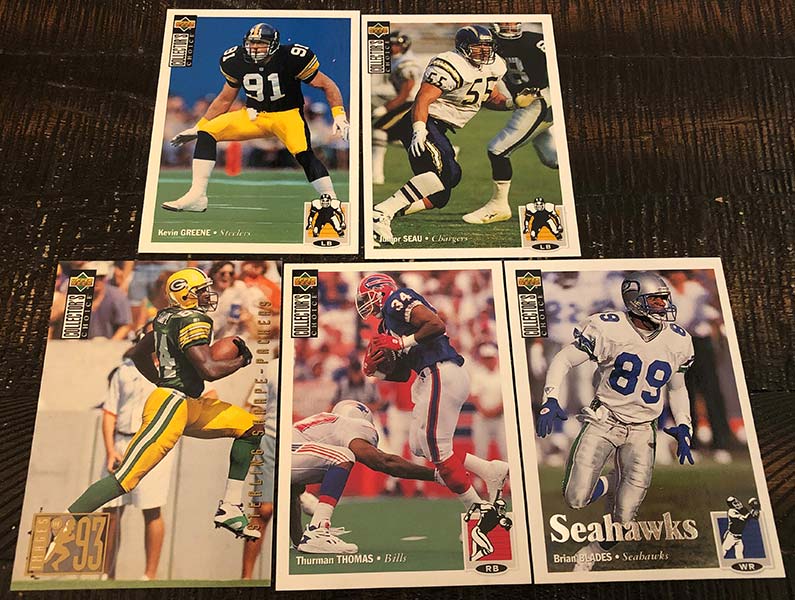 Pack 22:
Greg Lloyd, Joe Montana, Errict Rhett RC, Steve Jordan Silver & Bonus Rodney Hampton Silver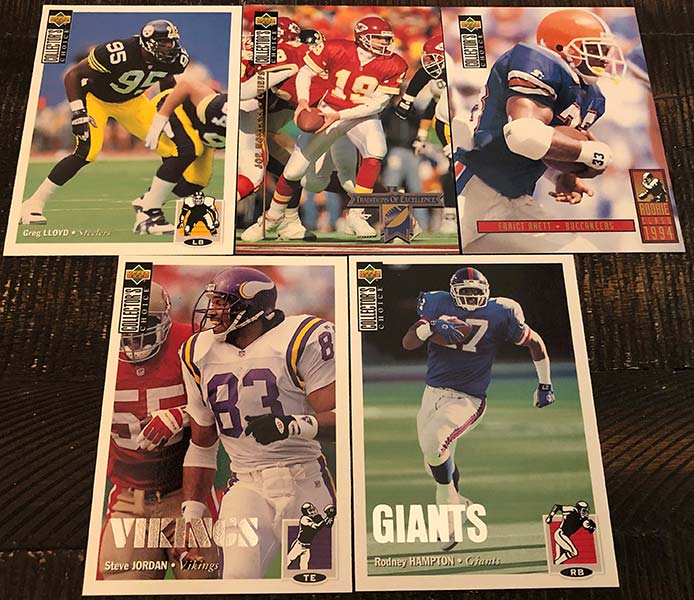 Pack 23:
Jacksonville Jaguars, Dana Stubblefield, Rick Mirer, Aaron Glenn RC & Terrell Buckley Silver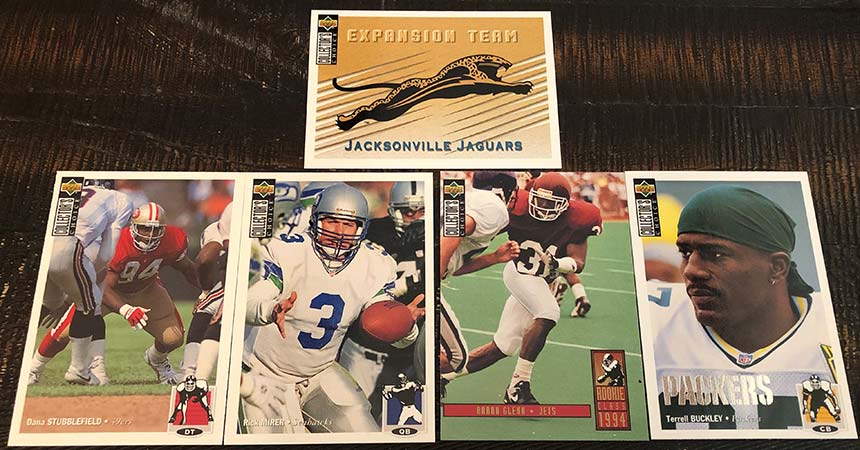 Pack 24:
"Rocket" Ismail, Deion Sanders & Tony Bennett Silver
Another great shot, this time of Deion "Prime Time" Sanders.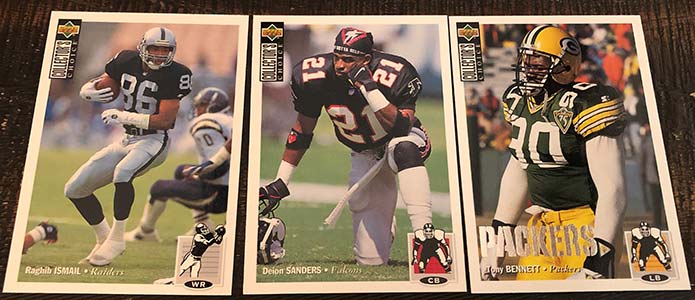 Pack 25:
Jay Novacek & LeShon Johnson Silver RC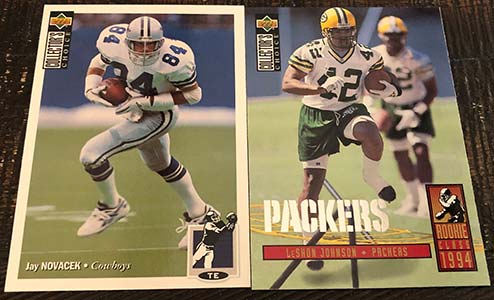 Pack 26:
Tim Brown, Brett Favre, Vinny Testaverde, Reggie White & Aaron Taylor Silver RC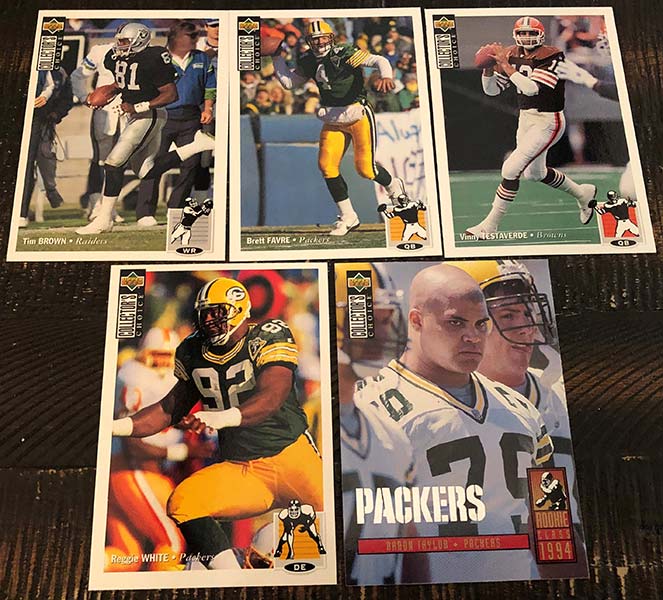 Pack 27:
Cris Carter, Warren Moon, Carl Pickens, Jerome Bettis & Jerrol Williams Silver
Finally, in pack number 27 we get our first Bengals and Rams cards of the box.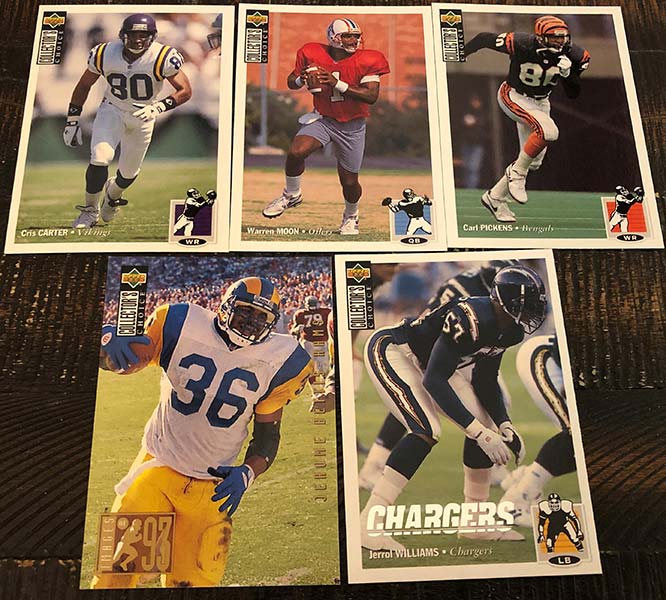 Pack 28:
Marcus Allen, Jim Kelly & Jason Elam Silver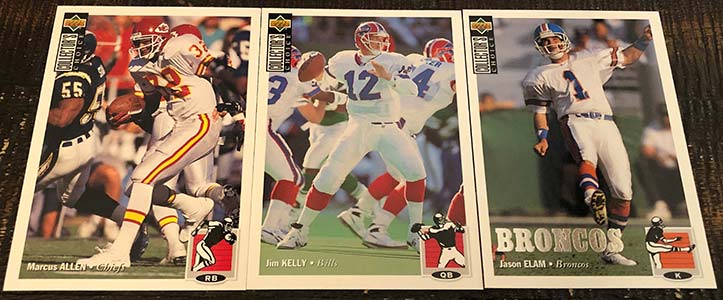 Pack 29:
Eric Metcalf, Sterling Sharpe, Jerry Rice CL, Rice again, Heath Shuler RC & DeWayne Washington SIlver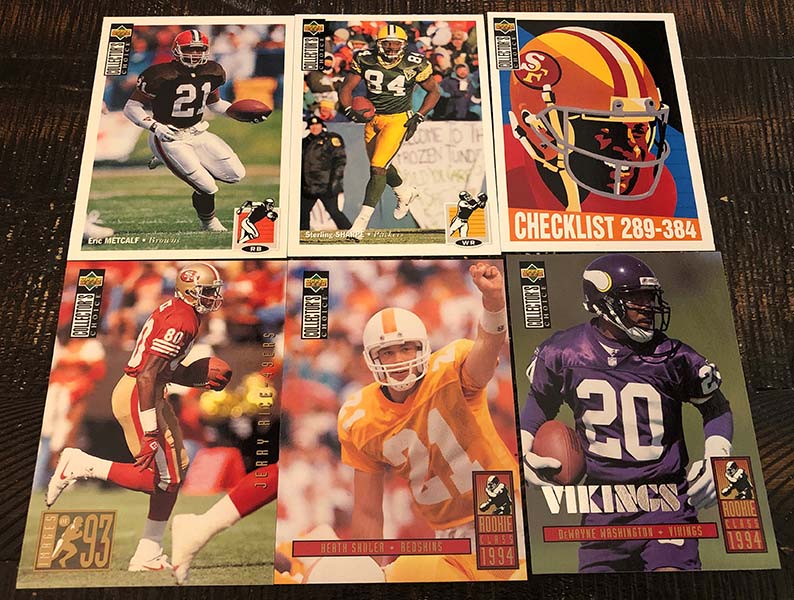 Pack 30:
Terry Allen, Desmond Howard, Brian Blades, Marshall Faulk RC & Hardy Nickerson Silver
Desmond Howard won a ring with the 1996 Green Bay Packers. During that playoff run, Howard would score two return touchdowns. The biggest? His 99-yard kick return touchdown in the Super Bowl.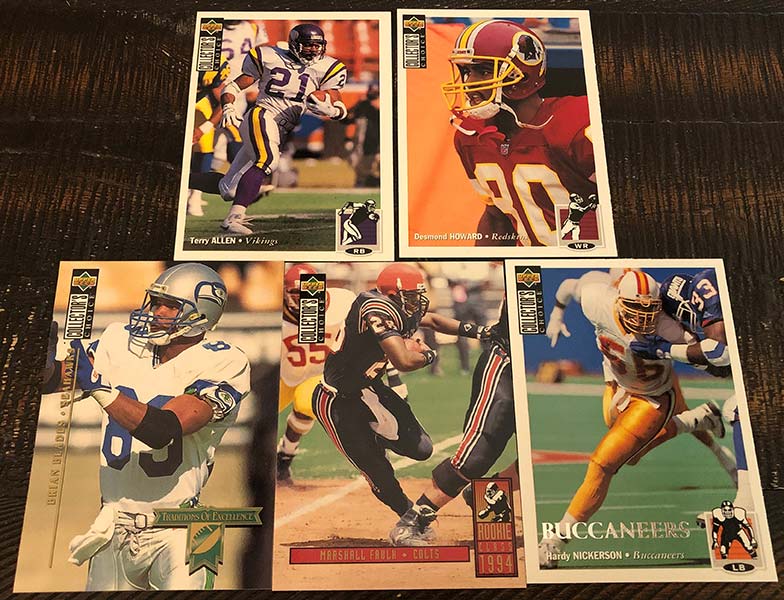 Pack 31:
Morton Andersen, Jim Harbaugh, Harold Green SIlver & Bonus Kerry Cash Silver

Pack 32:
Ben Coates & Derrick Thomas Silver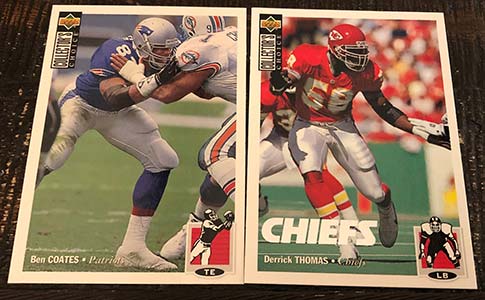 Pack 33:
Cortez Kennedy & Shane Conlan Silver
Hall of Famer Cortez Kennedy played in just one playoff game in his entire career. His Seahawks lost a close matchup with the Dolphins in 1999.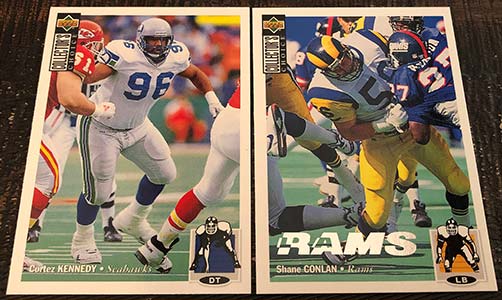 Pack 34:
Jerome Bettis, Joe Montana CL & Hardy Nickerson Silver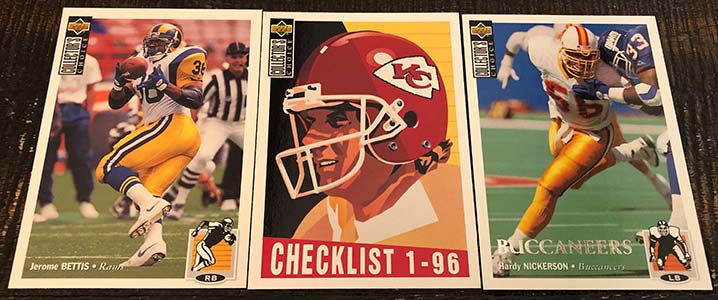 Pack 35:
Randall Cunningham, John Lynch, Tim Brown & Eric Metcalf Silver

Pack 36:
Garrison Hearst, Michael Irvin & Jerome Bettis Silver
Irvin and Bettis combined to win four championship rings in their Hall of Fame careers.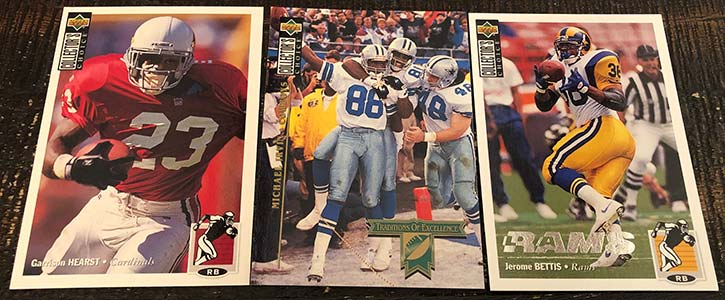 Lastly, the Bettis card back. As you can see, The Bus started running over defenders in his rookie season.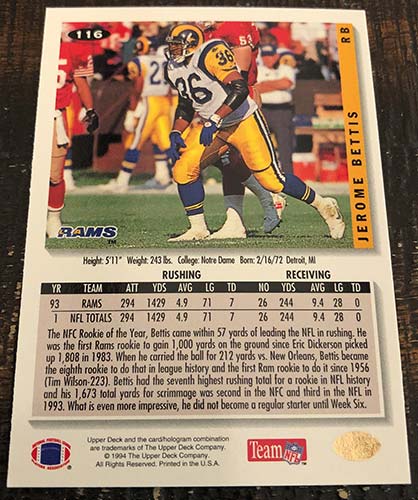 Well, that is it. With the conclusion of the NFL season on Sunday (congratulations to the Rams and their fans), the Cheap Wax Wednesday football season has come to the end as well. Next week I will start featuring baseball products all the way through the end of the World Series.
Buy 1994 Collector's Choice Football on:
Want more installments of Shane Salmonson's Cheap Wax Wednesday? Check out his other breaks in the archives.