Cheap Wax Wednesday Box Breaks: 1994 Classic Images Football
Finally out of the "junk wax" era, companies started looking to create premium products with higher price points. In 1994, Topps released Finest for the first time and Upper Deck's SP (a 1993 debut product) moved into the premium space. Classic was no different. debuting 1994 Classic Images Football, which they dubbed "NFL's Super Quality Premium Cards".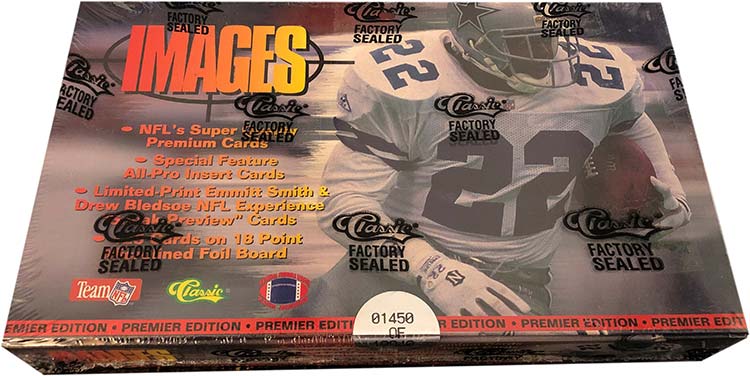 1994 Classic Images Football features a base set of 125 cards. They do have a premium look, printed on what Classic called "microlined foil board." The "microlining" is something I would call etching, and compared to other releases the base cards really do pop.
In addition to the base set there was one full insert set to chase, All-Pro Limited Print, with cards numbered to 2,600 copies. There are also a couple of product preview cards to find featuring Emmitt Smith and Drew Bledsoe.
The 1994 rookie class included Isaac Bruce, Trent Dilfer, Marshall Faulk, and Aaron Glenn.
1994 Classic Images Football Box Break
Cards per pack: 6
Packs per box: 24
Price paid: $30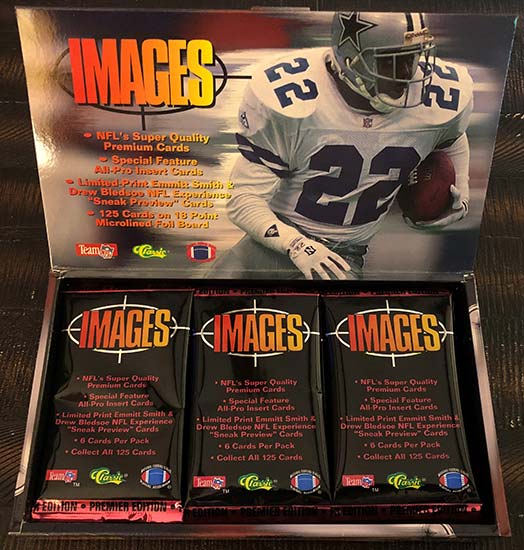 Pack 1 highlights:
Jim Kelly, Derrick Thomas & Emmitt Smith NFL Experience Sneak Preview (1:24 packs)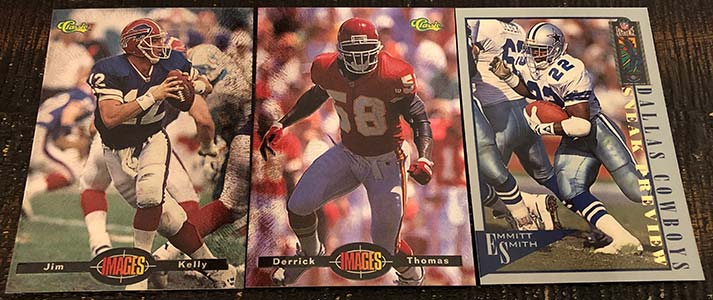 Pack 2:
Tim Brown, Irving Fryar, Charles Haley, Brett Favre & Willie McGinest RC
Irving Fryar was the #1 overall pick in the 1984 NFL Draft. He would go on to play 17 seasons in the NFL, making the Pro Bowl five times.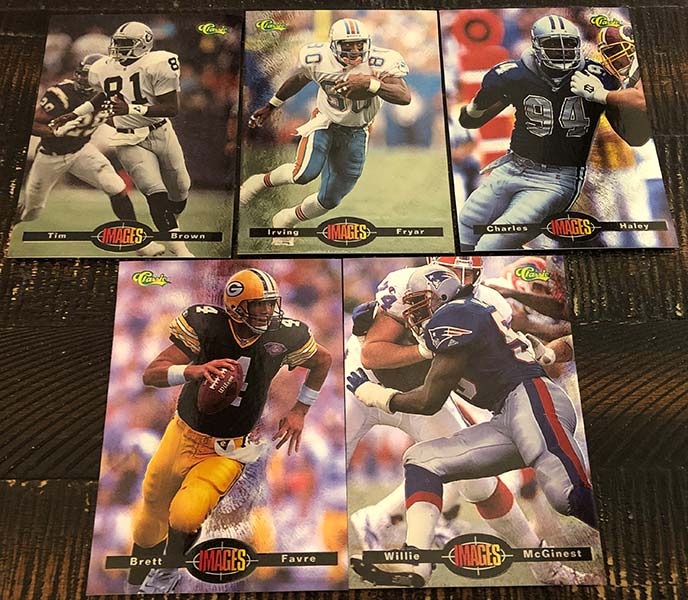 Pack 3:
Andre Reed & Emmitt Smith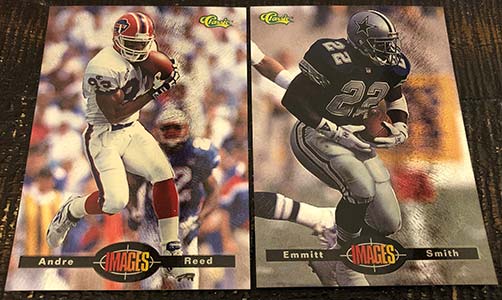 Pack 4:
Trent Dilfer RC, Jim Harbaugh & Bruce Smith
Jim Harbaugh has coached his Michigan Wolverines into their first College Football Playoff as the number two seed.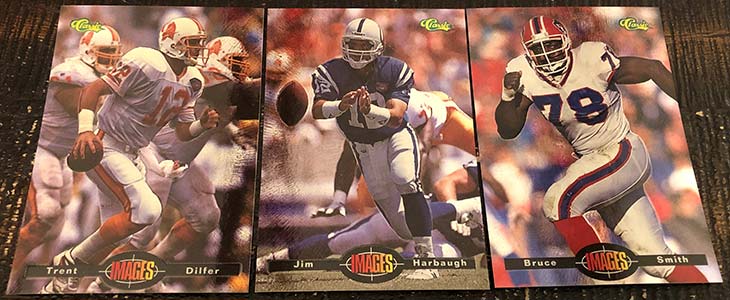 Pack 5:
Junior Seau, Jim Everett & Checklist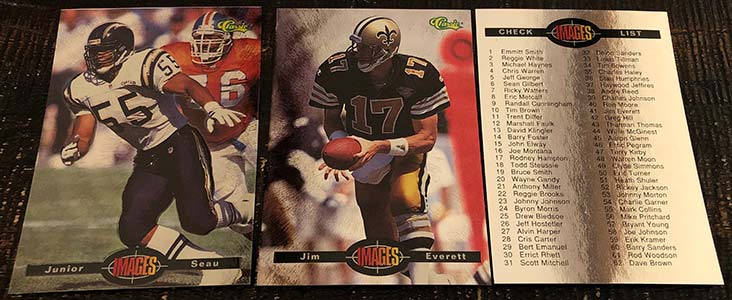 Pack 6:
Boomer Esiason, Marshall Faulk RC & Heath Shuler RC
Selected third overall in the 1994 draft, Shuler played parts of just four seasons in the NFL. He combined to throw 15 touchdown passes, while racking up 33 interceptions.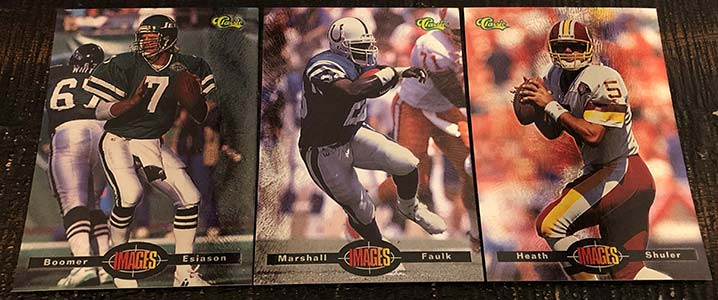 Pack 7:
Art Monk, Herschel Walker & Deion Sanders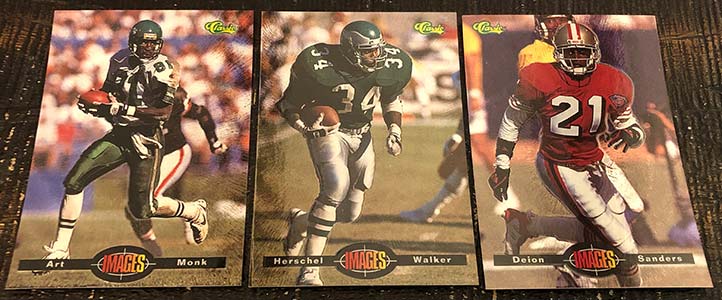 Pack 8:
Dan Marino, Rod Woodson, Drew Bledsoe & Ronnie Lott
Eleven-time Pro Bowl defensive back Rod Woodson picked off 71 passes in his career, returning 12 for touchdowns.

Pack 9:
Troy Aikman, Herman Moore & Natrone Means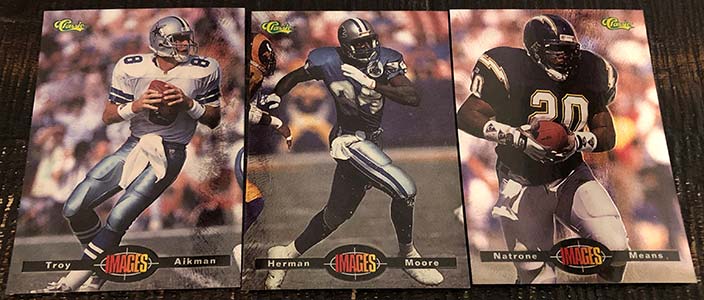 Pack 10:
Boomer Esiason, Marshall Faulk RC & Reggie White All-Pro LP #ed 2598/2600 (1:12 packs)
The late, great Reggie "Big Dawg" White tallied 198 sacks in his career, still second on the all-time list.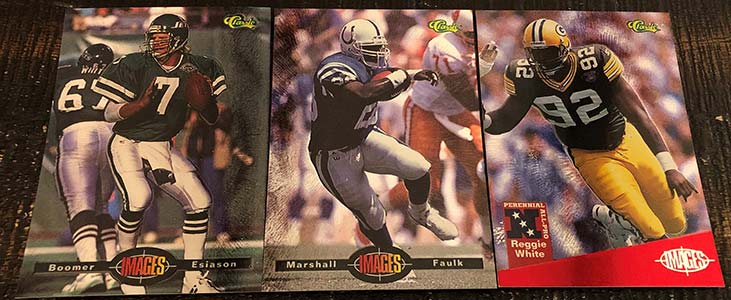 Pack 11:
Herschel Walker, Deion Sanders, Andre Reed & Cris Carter

Pack 12:
Dan Marino, Rod Woodson, Drew Bledsoe, Shannon Sharpe & Drew Bledsoe NFL Experience Throwback Sneak Preview (0391/1994) (1:240 packs)
Now known for his hot takes on television, Shannon Sharpe was one of the best tight ends to play the game. Shannon finished his career with just over 10,000 receiving yards.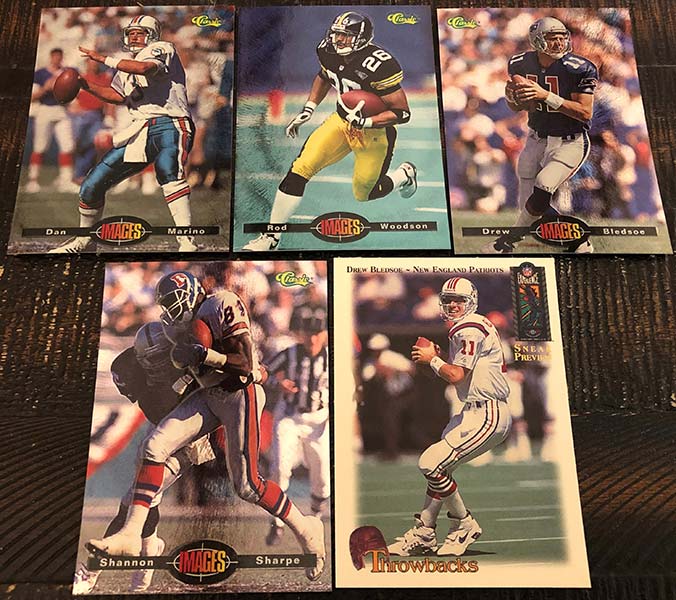 Pack 13:
Chris Warren, Jim Kelly, Derrick Thomas & Ricky Watters

Pack 14:
Sterling Sharpe & Vinny Testaverde
Shannon's brother Sterling was no slouch, either. Sterling played just seven NFL seasons, and was selected to the Pro Bowl five times.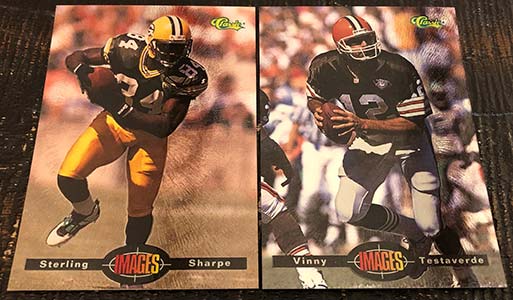 Pack 15:
Steve Young, Art Monk & Bert Emanuel RC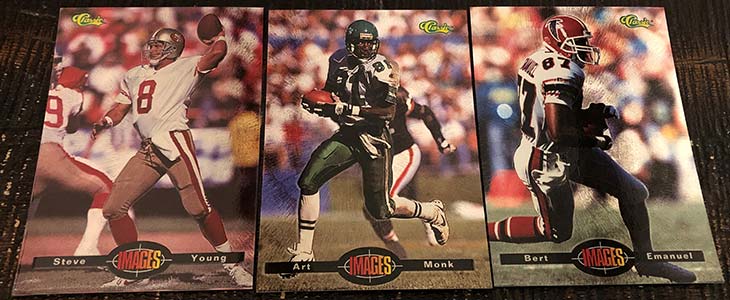 Pack 16:
Ken Norton & Joe Montana
Montana went to four Super Bowls, winning all of them. In those four games he threw 11 touchdowns, and zero interceptions.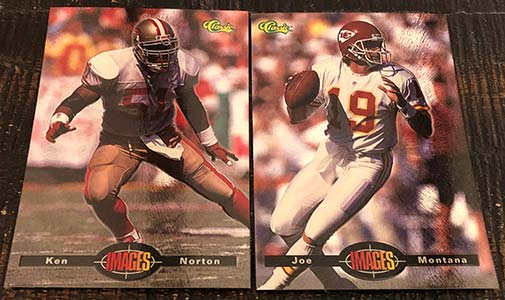 Pack 17:
Andre Rison, Terry Kirby & Johnnie Morton RC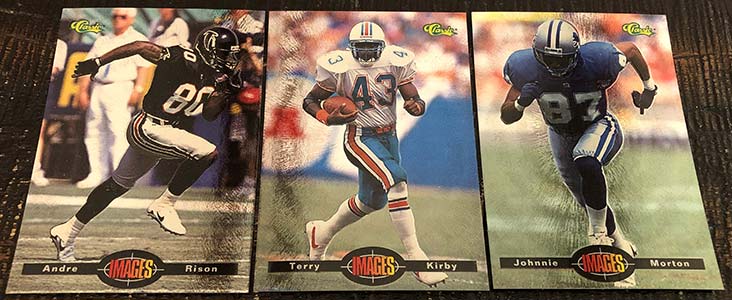 Pack 18:
Jeff George, Marcus Allen & Jerome Bettis
"The Bus" rushed for 13,662 yards in a Hall of Fame career. He also found the end zone 94 times.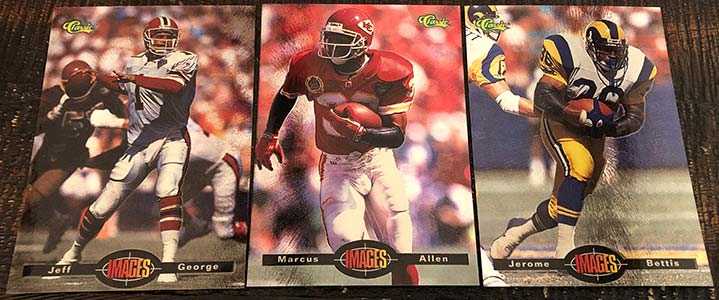 Pack 19:
Ben Coates, Reggie White, Eric Metcalf & Rodney Hampton

Pack 20:
Thurman Thomas & Ron Moore
Thurman Thomas was part of the Bills team that made four straight Super Bowls without winning one. He did score a touchdown in each of those games.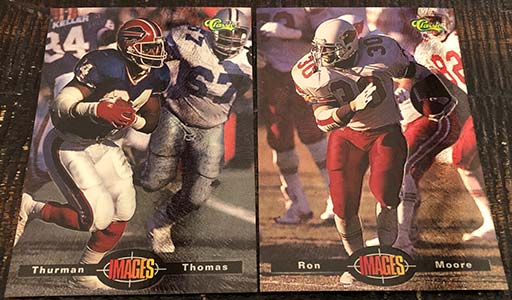 Pack 21:
Dave Meggett, Errict Rhett, Isaac Bruce RC & Sterling Sharpe All-Pro LP (2277/2600) (1:12 packs)

Pack 22:
Barry Sanders, Carl Pickens & Michael Irvin
How good was Barry Sanders? He played ten seasons in the NFL and was selected to the Pro Bowl following every single one. He never rushed for less than 1,115 yards in a season. The season he rushed for 1,115 yards…he only played in 11 games.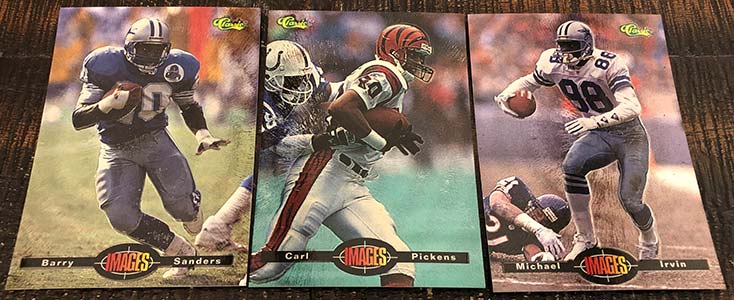 Pack 23:
John Elway & Jerry Rice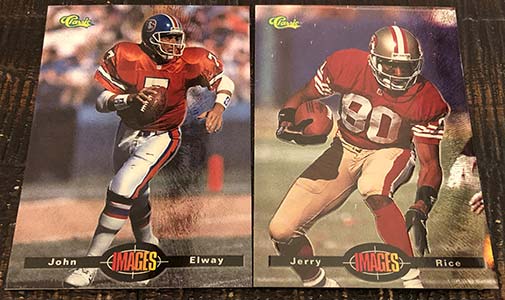 Pack 24:
Aaron Glenn RC, Randall Cunningham & Warren Moon
Now defensive coordinator for the no-longer-winless Detroit Lions, Aaron Glenn intercepted 41 passes during his career.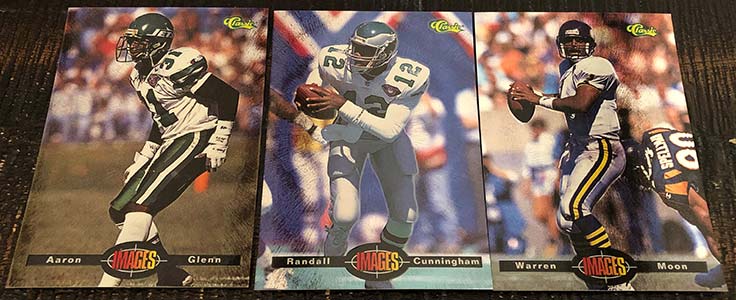 Lastly, the Warren Moon card back. With everything going on with the card fronts, Classic really toned it down with the backs. But it does look good.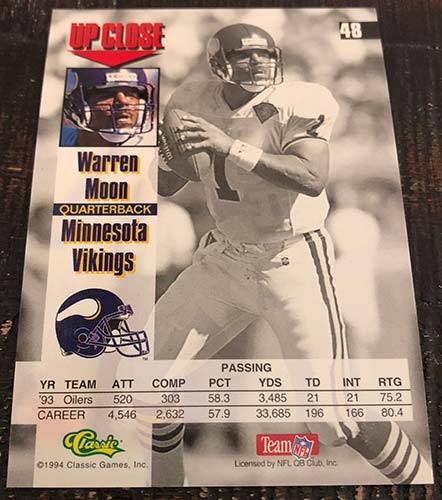 I pulled everything there is to find in this product and was even lucky enough to find the Bledsoe Preview card that land about 1:10 boxes. Is there a ton of value in the hard-to-find Bledsoe? No — the card can be found for under $15. However, as a Patriots fan it was still fun to pull.
When you can find them, these boxes can still be had for right around $30. That is amazing considering how good these cards look. There aren't a ton of inserts to chase down, but the lone insert set is serial numbered. That has to count for something with a '90s product.
Buy 1994 Classic Images Football on:
Want more installments of Shane Salmonson's Cheap Wax Wednesday? Check out his other breaks in the archives.