Cheap Wax Wednesday Box Breaks: 1993 Bowman Football
1993 Bowman Football is different from the other releases of the time. The set contains no parallels or inserts of any kind. It does contain foil bordered cards that look completely different from the regular cards. They're still part of the base set, though. Twenty-seven players on the checklist are featured on cards with engraved, rainbow foil borders.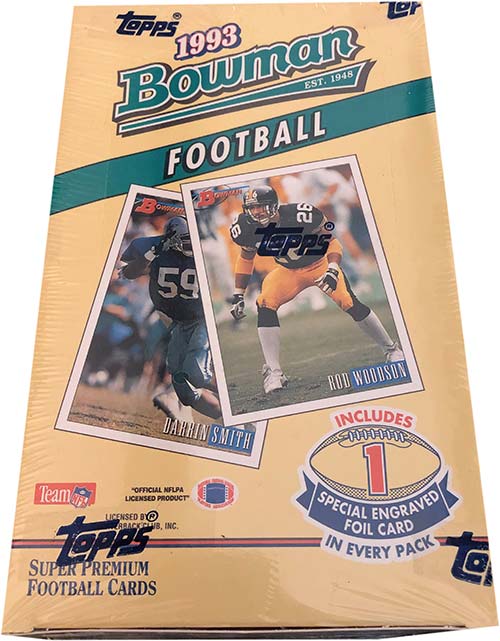 The full base set is made up of 423 cards — 421 player cards and 2 checklists. Of those 423 cards, nearly a quarter of them (101) are Rookie Cards, including Jerome Bettis, Drew Bledsoe, Mark Brunell, Garrison Hearst, John Lynch, Rick Mirer, Willie Roaf and Robert Smith.
1993 Bowman Football Box Breakdown
Cards per pack: 14
Packs per box: 24
Price paid: $40

Pack 1 highlights:
Andre Reed, John Lynch RC & Barry Sanders Foil
Pulled a stud foil card right off the bat. Barry Sanders retired at 30-years old after amassing over 15,000 rushing yards and 99 rushing touchdowns.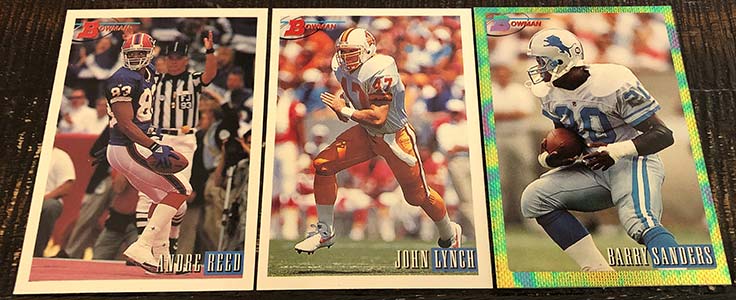 Pack 2:
Pepper Johnson & Willie Roaf Foil RC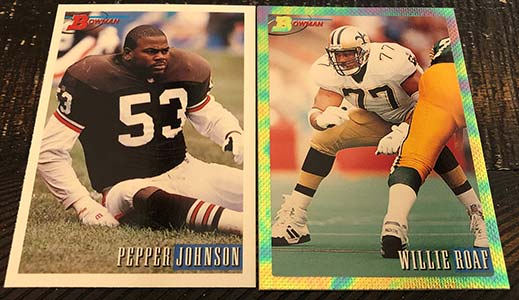 Pack 3:
Marcus Allen & Randall Cunningham Foil
Randall Cunningham retired (for the second time) after the 2001 season. He finished his career just 21 yards shy of 30,000 passing yards.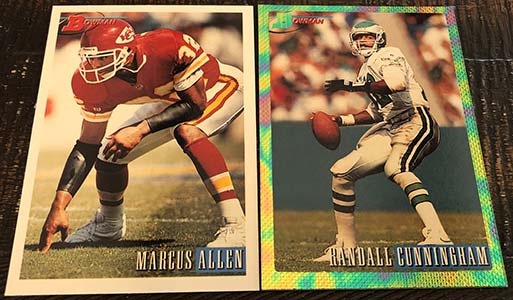 Pack 4:
Morten Andersen, Steve Atwater, Shannon Sharpe & Junior Seau Foil

Pack 5:
William "Refrigerator" Perry, Bernie Kosar & Barry Sanders Foil
Mainly a defensive lineman, The Fridge had eight rushing attempts in his career, including two touchdowns (both in 1985).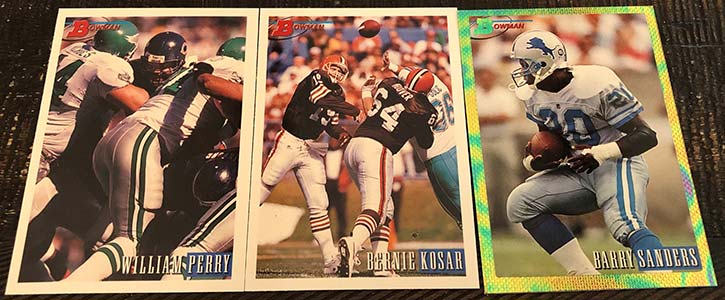 Pack 6:
Jim McMahon, Cris Carter & Emmitt Smith Foil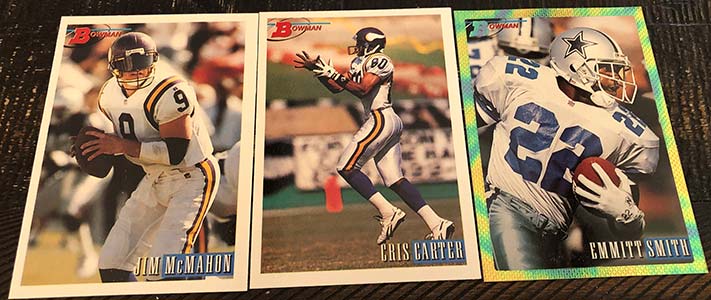 Pack 7:
Howie Long, Jackie Slater, Terry Kirby & Derrick Thomas Foil
Hall of Fame linebacker Derrick Thomas racked up 126 1/2 sacks over a 11-year NFL career. He waited until the final season of his career to intercept his only pass.

Pack 8:
Eric Curry Foil RC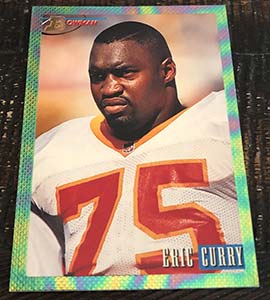 Pack 9:
Craig Heyward & Dan Marino Foil
Marino won the 1984 MVP Award in his second NFL season, throwing a then-record 48 touchdown passes. That record stood for 20 years before Peyton Manning threw 49 TDs in 2004. Peyton lost that record to Tom Brady just three years later, but took the record back with 55 in 2013.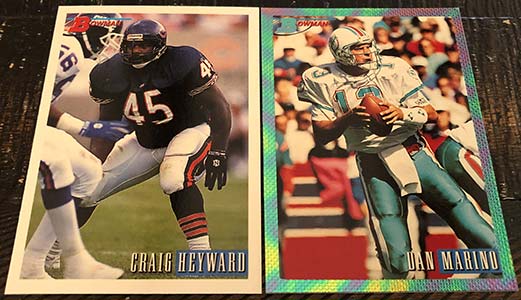 Pack 10:
Bryan Cox, Daryl Johnston & Barry Foster Foil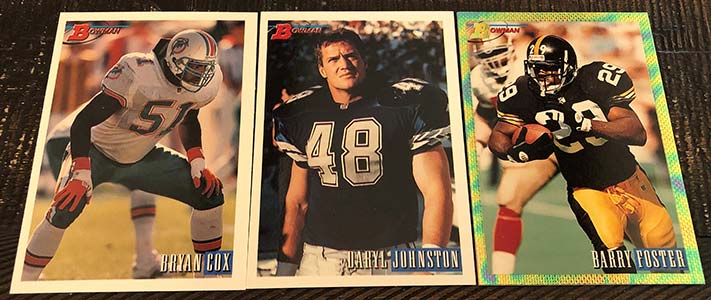 Pack 11:
Cortez Kennedy & Marvin Jones Foil RC
Marvin Jones was the fourth player taken in the 1993 NFL Draft, having played his college ball at Florida State.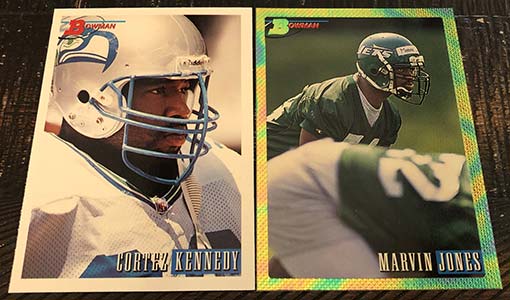 Pack 12:
Jerome Bettis RC & Reggie White Foil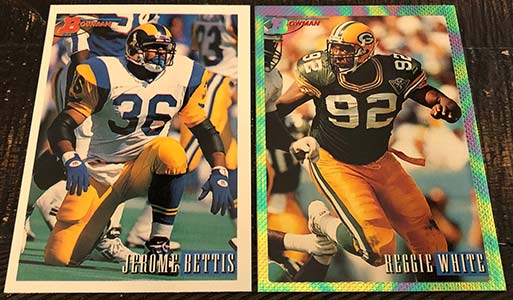 Pack 13:
Chiefs offensive coordinator Eric Bieniemy & Kevin Williams Foil RC
Williams won two Super Bowls with the '90s Cowboys. He caught just two passes in those games, both during the 27-17 win over Pittsburgh in Super Bowl XXX.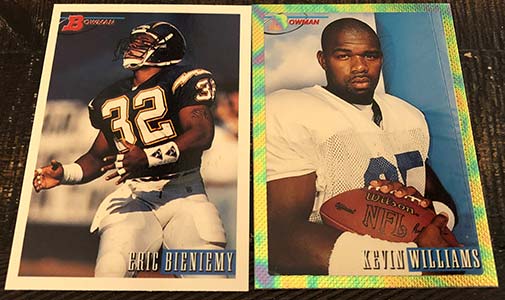 Pack 14:
Gary Anderson & Derrick Thomas Foil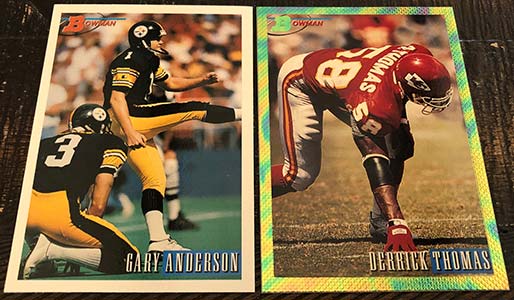 Pack 15:
Ken Norton & Andre Rison Foil
Norton, now the Seahawks defensive coordinator, won three Super Bowl titles during his playing days. The linebacker was also named a Pro Bowler three times.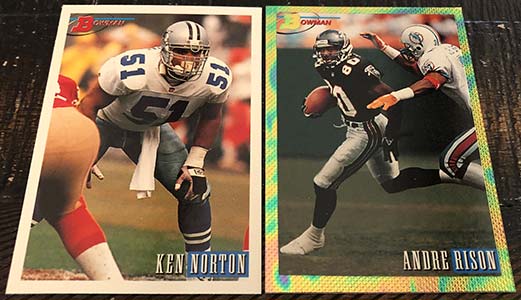 Pack 16:
Dana Stubblefield, Greg Lloyd, Robert Smith RC, Herschel Walker & Jim Kelly Foil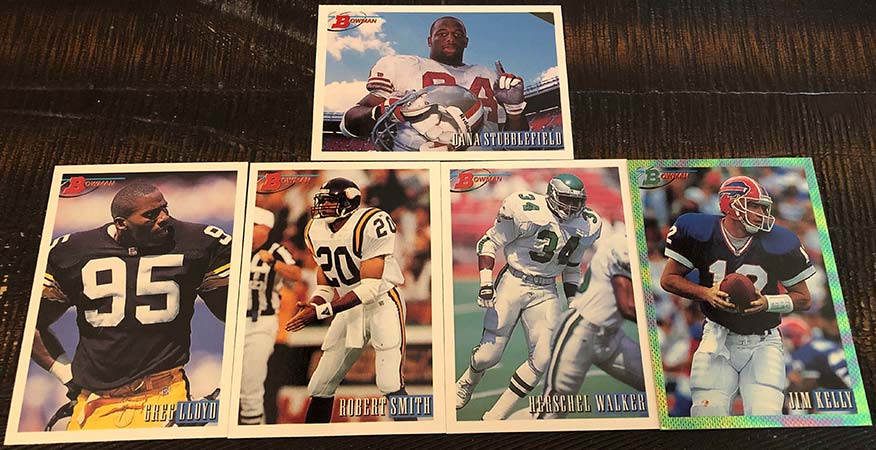 Pack 17:
Ronnie Lott, Ricky Watters & Joe Montana Foil
Hall of Fame defensive back Ronnie Lott intercepted 63 passes during a 14-year career. He led the league twice in pickoffs, with ten in 1986 and eight in 1991.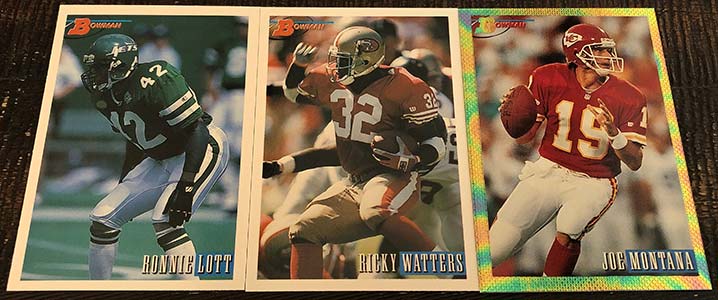 Pack 18:
Charles Haley, Irving Fryar & Raghib "Rocket" Ismail Foil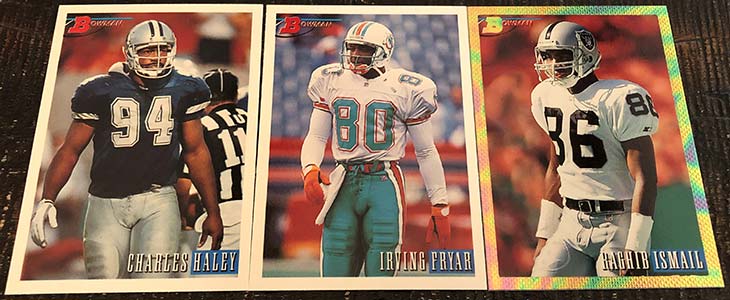 Pack 19:
Marcus Allen & Jerry Rice Foil
Jerry Rice played 21 seasons in the NFL. The ten-time 1st Team All-Pro receiver broke 100 catches in just two seasons, but still holds the career receptions record. Only Larry Fitzgerald is within 200 catches of the Hall of Famer.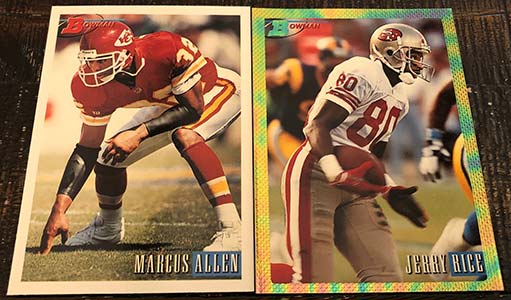 Pack 20:
Rodney Hampton & Willie Roaf Foil RC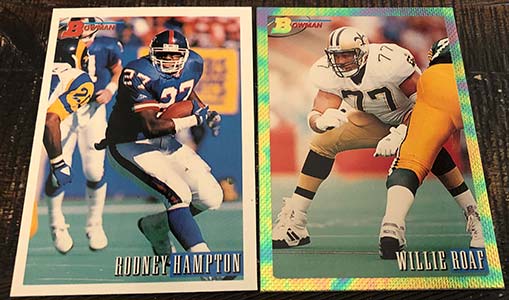 Pack 21:
Jessie Tuggle, William Perry, Bernie Kosar & Troy Aikman Foil
Jessie Tuggle has had two sons play in the NFL. Justin Tuggle played 42 games for Houston 2013-2015, and Grady Jarrett is an active defensive lineman for the Falcons.

Pack 22:
Cris Carter, Jim McMahon, Jim Harbaugh & Junior Seau Foil

Pack 23:
Rodney Hampton & Randall Cunningham Foil
Hampton broke 1,000 yards rushing five straight seasons for the Giants from 1991 to 1995. He also added three seasons with double-digit touchdown totals.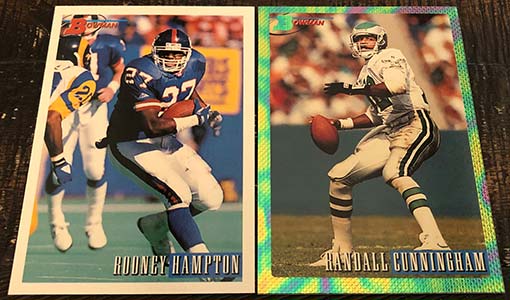 Pack 24:
Howie Long & Emmitt Smith Foil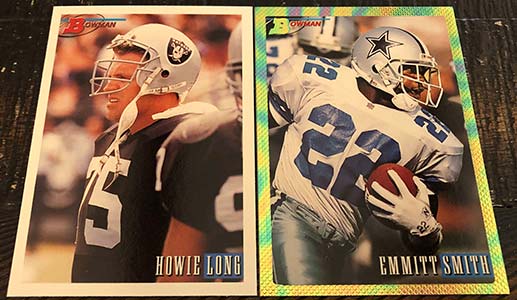 Lastly, the Emmitt Smith card back. These were very different with no career stat lines to be found at all. They were certainly right in saying that Smith would be remembered as one of the best.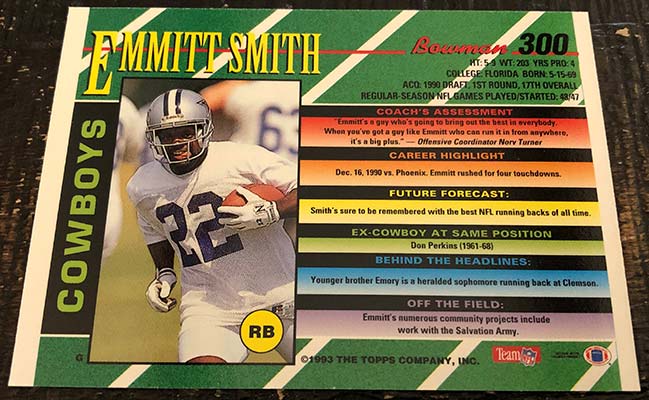 It is strange to have a '90s set without any inserts or parallels, but this one did still make for a fun break. There are plenty of big name Rookie Cards to chase and the foil cards do really pop. I was lucky enough to pull quite a few of the big-name foil cards in this one, though I did miss on finding a hometown Drew Bledsoe that would have been a huge pull back in 1993.
Shop for 1993 Bowman Football on:
Want more installments of Shane Salmonson's Cheap Wax Wednesday? Check out his other breaks in the archives.