Cheap Wax Wednesday Box Breaks: 1991 Classic/Best Baseball
Classic Best was a big name in minor league baseball cards in the early 90's. Not only did they release full products like this one, they also produced a ton of minor league team sets. In 1991 alone, they produced at least 86 team sets. You can find 1991 Classic/Best team sets for everyone from the Bend Bucks to the Waterloo Diamonds.
The full 1991 Classic/Best Baseball release is made up of 396 base cards. Most of the photos were posed making for some classic shots of some notable names. Included in the checklist are future Hall of Fame players Chipper Jones, Pedro Martinez, Ivan Rodriguez and Jim Thome.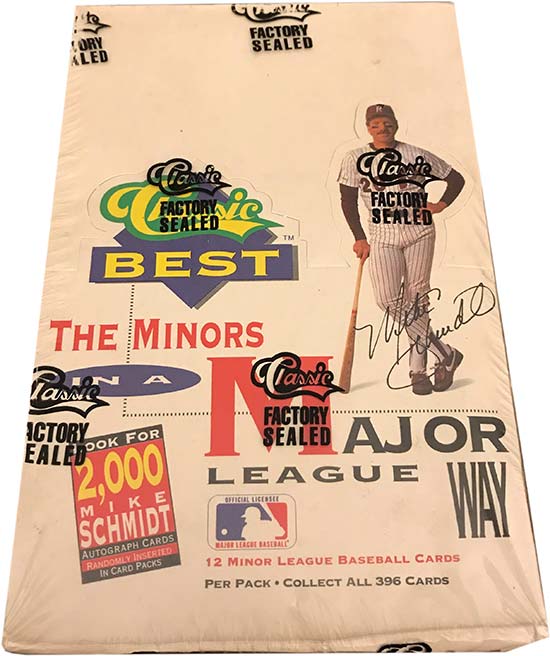 The big chase is Mike Schmidt autograph cards. He signed 2,000 cards to be inserted into packs. How tough are they to find? Approximately every 10 cases or so — not easy.
1991 Classic/Best Baseball Box Break
Cards per pack: 12
Packs per box: 36
Price paid: $12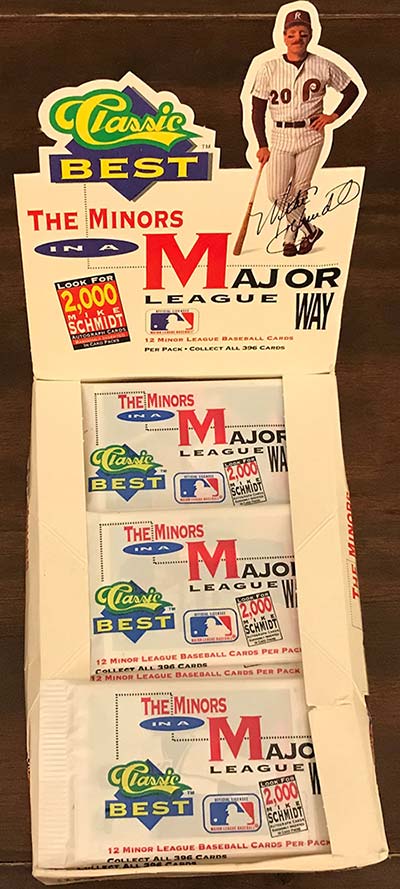 Pack 1 highlight:
Steve Karsay
Karsay pitched in 357 major league games finishing his career with a 4.01 ERA.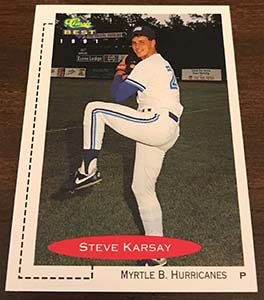 Pack 2:
Brian Giles & Jeromy Burnitz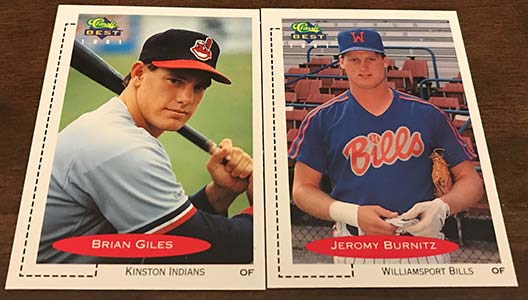 Pack 3:
Brad Ausmus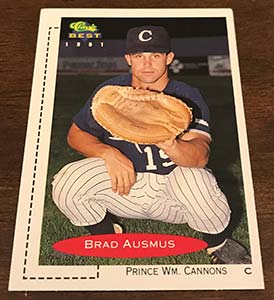 Pack 4:
Mark Wohlers
Wohlers made one All-Star appearance during his career. During that 1996 season, he racked up 39 saves for the Braves.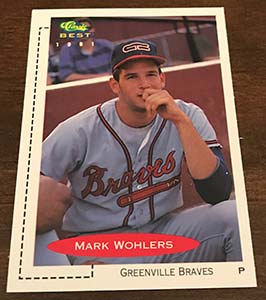 Pack 5:
Jim Thome & Rondell White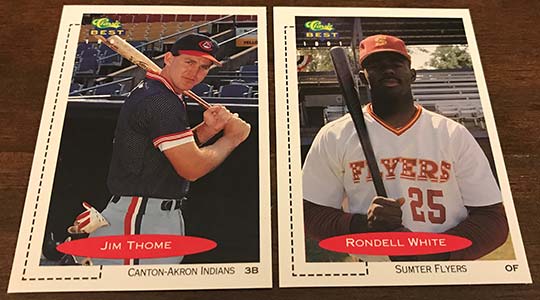 Pack 6:
Ryan Klesko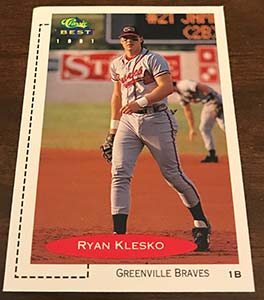 Pack 7:
Javy (not Davy) Lopez, David Bell & Garret Anderson
Anderson would collect over 2,500 hits during a 17-year major league career.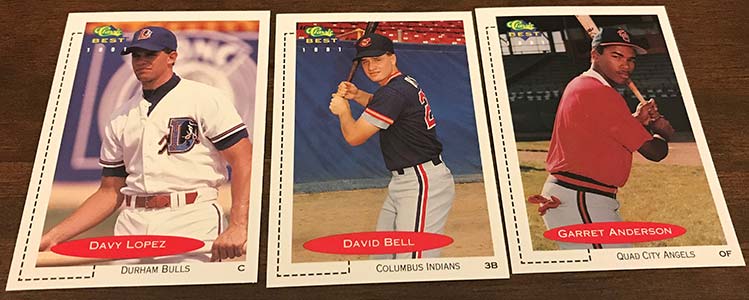 Pack 8:
Not much going on here

Pack 9:
Carlos Delgado & Robb Nen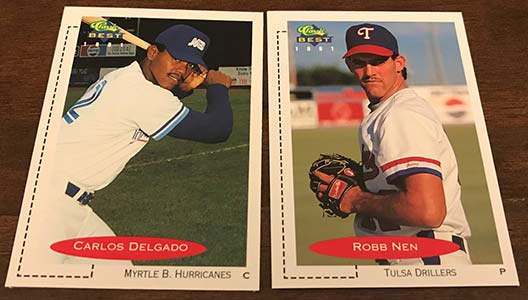 Pack 10:
Dan Wilson
Wilson caught in over 1,200 major league games in his career.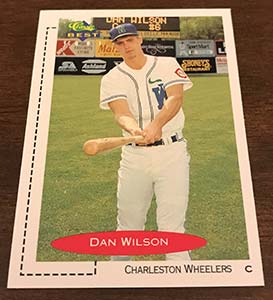 Pack 11:
Mike Milchin & Pete Young
Who? I had never heard of them either, but both pitched to ERAs under 3.00 during the 1990 minor league season.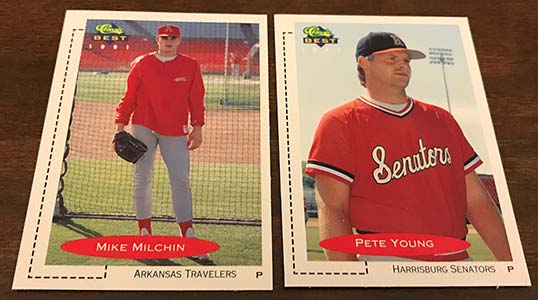 Pack 12:
Clemente Alvarez
Alvarez made his major league debut in 2000 at the age of 32. He appeared in two games, recording one hit in five at-bats.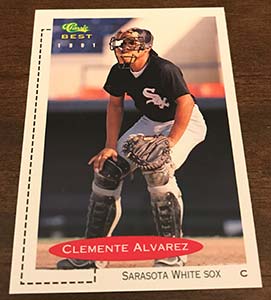 Pack 13:
Troy O'Leary & Ivan Rodriguez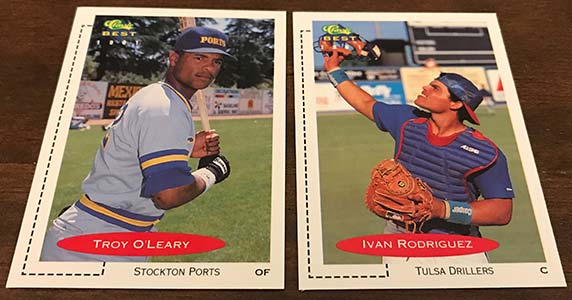 Pack 14:
Randy Brown
Only reason he was a highlight — Red Sox.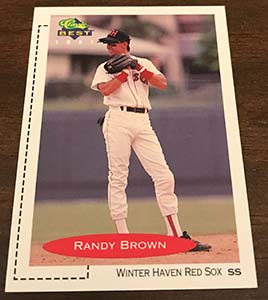 Pack 15:
John Jaha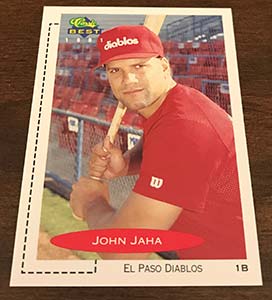 Pack 16:
Bryan Baar
How would this photo not be a highlight?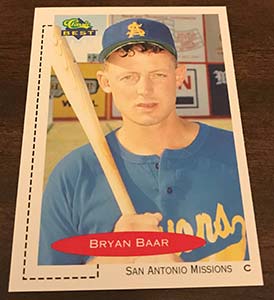 Pack 17:
Eric Young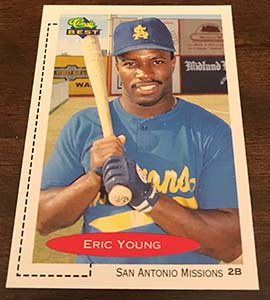 Pack 18:
Mike Lansing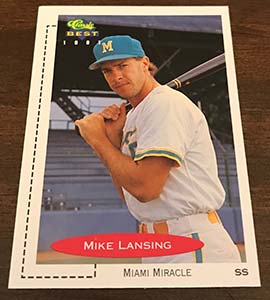 Pack 19:
Troy O'Leary and Pudge Rodriguez
Does it get any better than this posed shot of Pudge playing in the minors? Not much.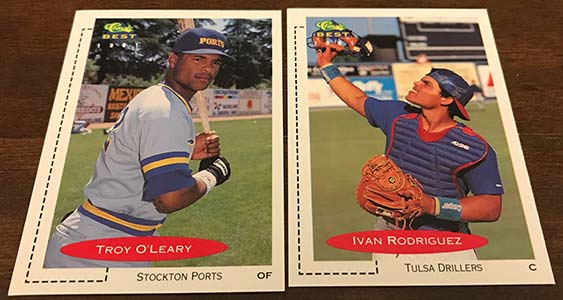 Pack 20:
Mo Sanford
Another unknown to me. Mo went 13-4 with a 2.74 ERA during the 1990 season. He also struck out 180 batters.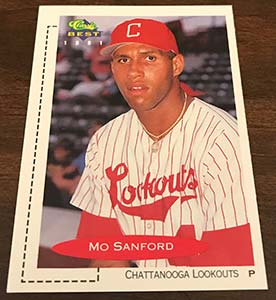 Pack 21:
Reggie Sanders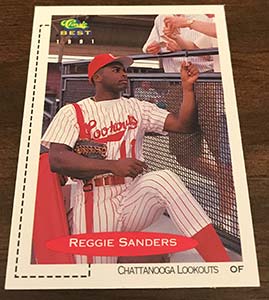 Pack 22:
Keith Mitchell
Keith is the cousin of the better-known Mitchell, Kevin.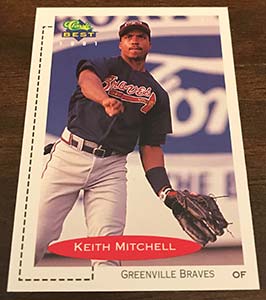 Pack 23:
Jeromy Burnitz & Tim Salmon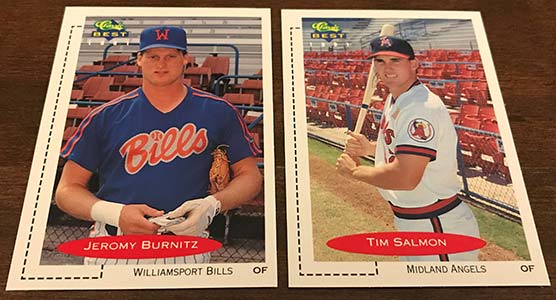 Pack 24:
Jeff Kent & Pedro Martinez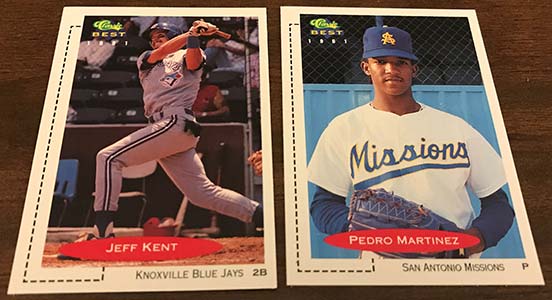 Pack 25:
Mike Schmidt, Reggie Sanders & Todd Jones
Schmidt was 42 years old in 1991. Why does he look like he is in his 60s here?

Pack 26:
Lefty submarine pitcher and 2004 World Series champion, Mike Myers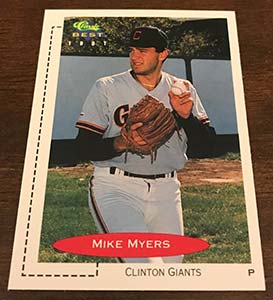 Pack 27:
Wilson Alvarez & Arthur Rhodes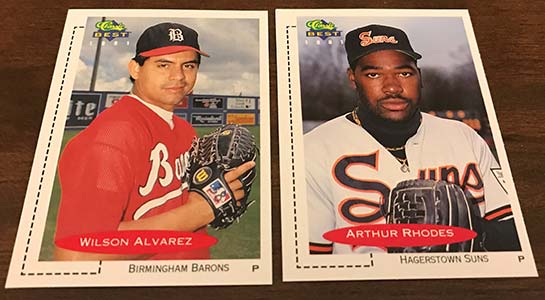 Pack 28:
Another Sox no-name, Greg Blosser
Blosser got 39 at-bats for the Sox between 1993-1994. He hit just .077.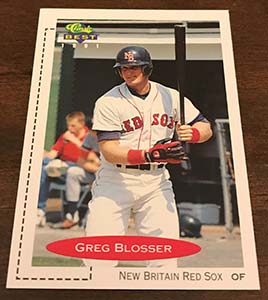 Pack 29:
Mike Lansing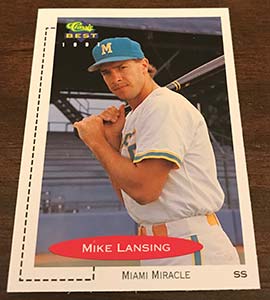 Pack 30:
Mike Lieberthal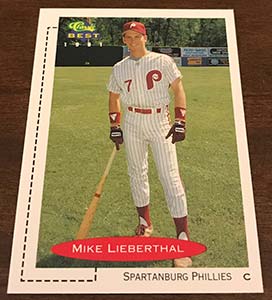 Pack 31:
John Jaha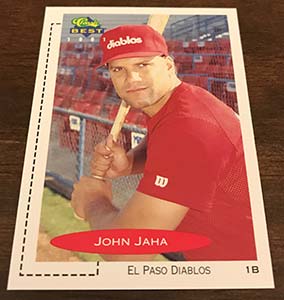 Pack 32:
Braves first base coach, Eric Young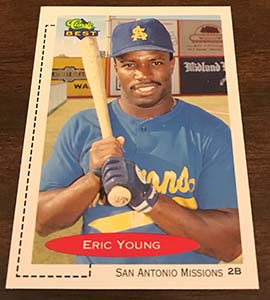 Pack 33:
David "Mustache" Wilson
I don't think that was actually his nickname, but it should have been.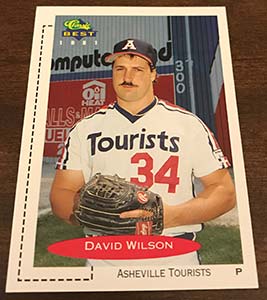 Pack 34:
Jose Valentin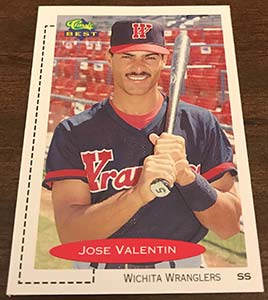 Pack 35:
Matt Rambo
Rambo (not that Rambo) reached Double-A in 1992. He pitched in just five games, posting an impressive 2.16 ERA.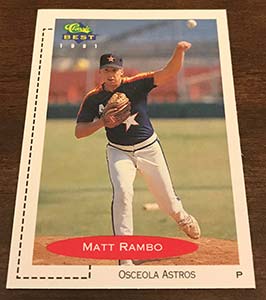 Pack 36:
Apparently missing in action. I received just 35 packs in this one.
Lastly, the Pedro Martinez card back. Not surprisingly, he put up some dominant numbers during the 1990 minor league season.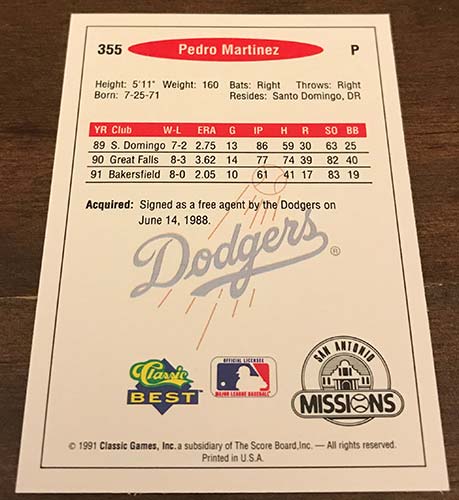 I do really appreciate that the card backs feature the major league affiliate logo.
I did not pull a Schmidt autograph, unfortunately. Believe it or not, those autographs sell for up to $50 to this day. Even without the extremely tough signature pull, this one was easily worth the price. I pulled all the Hall of Famers with the exception of Chipper. The chance to pull minor league cards of notable players? For just $12? Count me in.
Buy 1991 Classic/Best Baseball cards on:
Want more installments of Shane Salmonson's Cheap Wax Wednesday? Check out his other breaks in the archives.