Cheap Wax Wednesday: 2008 Upper Deck Documentary Baseball
In 2008, Upper Deck decided to take on the challenge of highlighting every single game of the MLB season within a single card set. Well, they succeeded — kind of. 2008 Upper Deck Documentary Baseball did create a huge 4,890 card base set that recapped every game. And not only that, the checklist has a card for each team in every game. However, I don't think the set turned out quite how they originally envisioned.
While the base design is fairly well done, in my opinion, there are many issues with the cards. First, there are no player names on the card fronts. Second, the player pictured on the front often has nothing to do with the game recap at all. The cards just seem completely disconnected. Luckily for me, this was a cheap buy from my local card shop's discount table.
Fun Facts are provided by Bleacher Report National MLB Columnist Joel Reuter. You can follow Joel on Twitter (@JoelReuterBR) and check out his work at Bleacher Report. You can also catch Joel regularly on Beckett with his One-Sheet Collections series.
2008 Upper Deck Documentary Baseball Box Break
Cards per pack: 15
Packs per box: 24
Price paid: $15

Pack 1 highlights:
Andrew Miller, Magglio Ordonez, Jason Varitek, Barry Zito, Josh Hamilton, Jay Bruce Gold (one per pack) & Paul O'Neill Yankee Stadium Legacy
Pack 1 fun fact: Along with outfielder Cameron Maybin, a young Andrew Miller was one of the key pieces the Marlins acquired from the Tigers in the Miguel Cabrera blockbuster.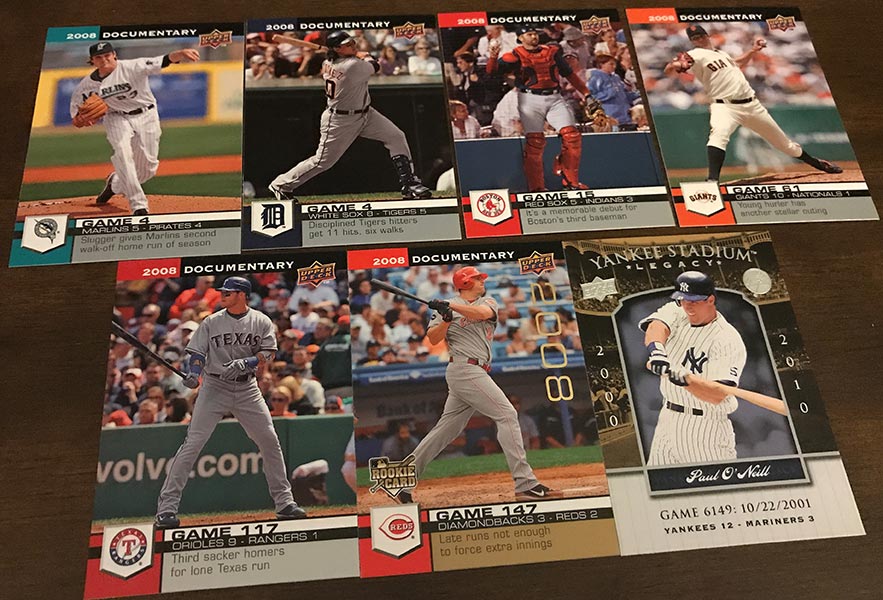 Pack 2:
Matt Holliday, C.C. Sabathia, Jorge Posada, Rick Ankiel, Randy Johnson, Matt Kemp, Alex Gordon & Ken Griffey Jr. Gold
Pack 2 fun fact: Originally drafted as a third baseman, Alex Gordon made 40 errors in his three seasons at the hot corner before moving to left field where he became a seven-time Gold Glove winner.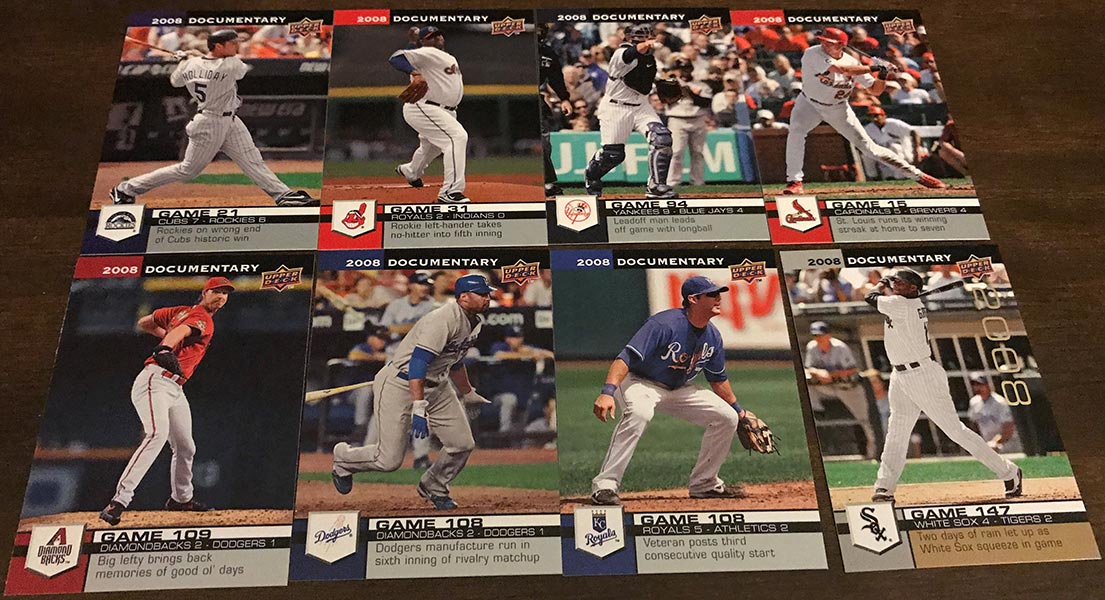 Pack 3:
Justin Verlander, Justin Upton, Adam Jones, Mike Mussina, Scott Kazmir Gold & Andy Pettitte Yankee Stadium Legacy
Pack 3 fun fact: Scott Kazmir led the AL with 239 strikeouts in 2007 and he made his second of three career All-Star Game appearances in 2008.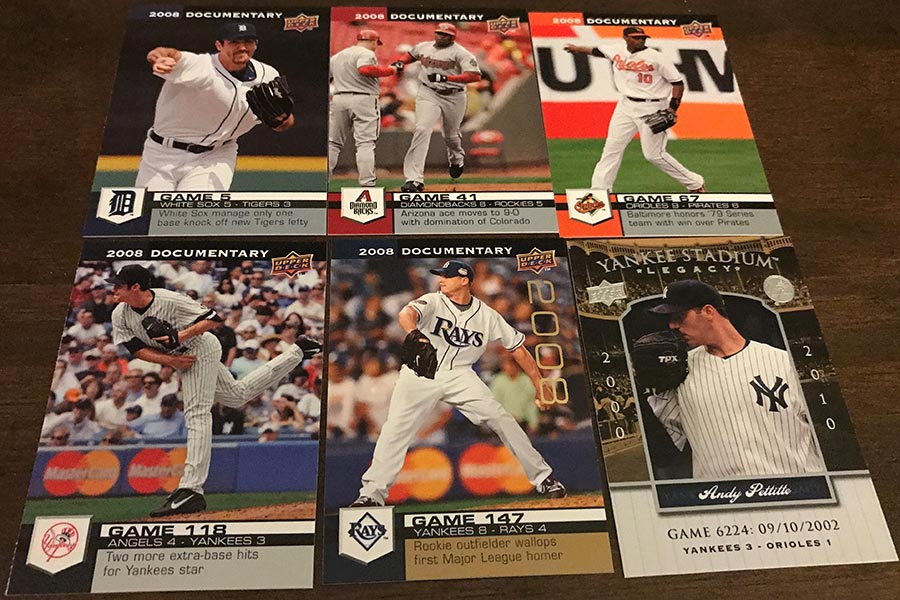 Pack 4:
Ken Griffey, Jr., Justin Morneau, Eric Gagne, Felix Hernandez & Ryan Ludwick Gold
Pack 4 fun fact: Eric Gagne was part of a revolving door approach to the ninth inning for the Brewers in the late 2000s. He converted 10-of-17 save chances with a 5.44 ERA in 50 appearances in his only season with the team.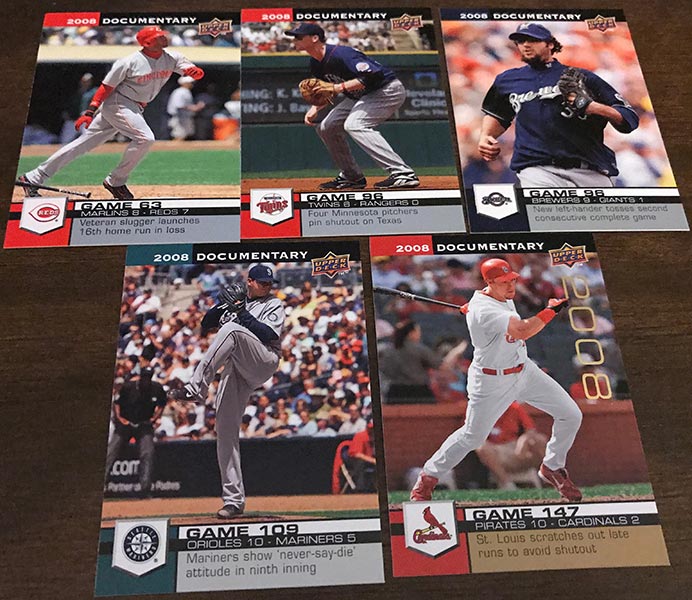 Pack 5:
Josh Beckett, Chase Utley, Ichiro Suzuki, David Wright, C.C. Sabathia, Jeff Baker Gold & Geovany Soto All-Star Game (1:4 packs)
Pack 5 fun fact: Geovany Soto is one of just two rookie catchers in MLB history to start the All-Star Game. The other is Sandy Alomar Jr. with the Indians in 1990.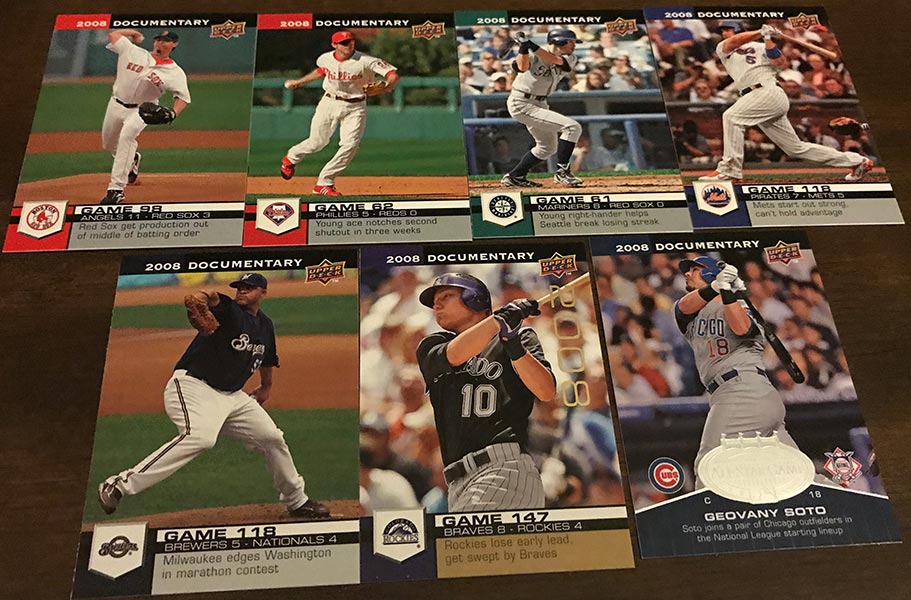 Pack 6:
Matt Holliday, Robinson Cano, Pedro Martinez, fellow card collector Pat Neshek, Jon Lester, Grady Sizemore Gold & Roger Clemens Yankee Stadium Legacy
Pack 6 fun fact: Pat Neshek was an All-Star for the first time at the age of 33 in 2014. He also returned to the Midsummer Classic in his age-37 season.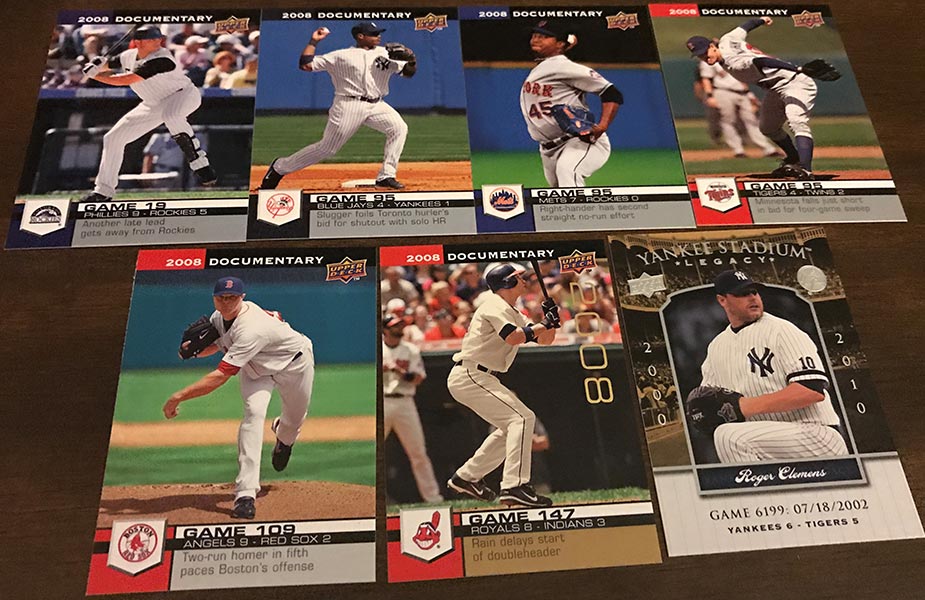 Pack 7:
Miguel Tejada, Nick Markakis, Mike Lowell, Ryan Braun, Roy Halladay, C.C. Sabathia Gold & Lou Gehrig Yankee Stadium Legacy
Pack 7 fun fact: It's easy to forget that Miguel Tejada played for the Astros. He was acquired from the Orioles in a deal that sent five players the other way and made the NL All-Star team in each of his two seasons in Houston.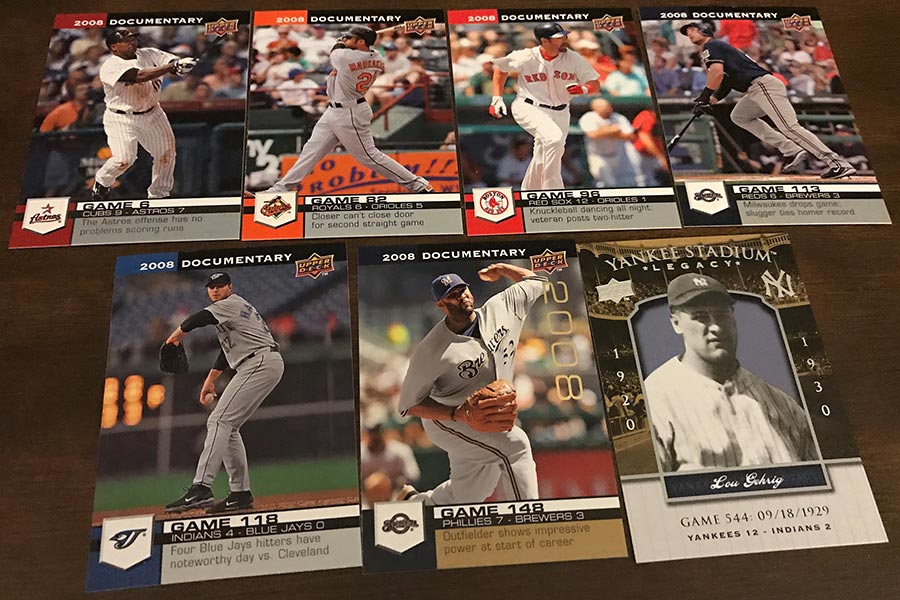 Pack 8:
Todd Helton, C.C. Sabathia, Prince Fielder, Albert Pujols, J.D. Drew, Chipper Jones & Ryan Zimmerman Gold
Pack 8 fun fact: One of the most underrated players of his era, J.D. Drew ranked 10th among all outfielders during the 2000s with 39.2 WAR.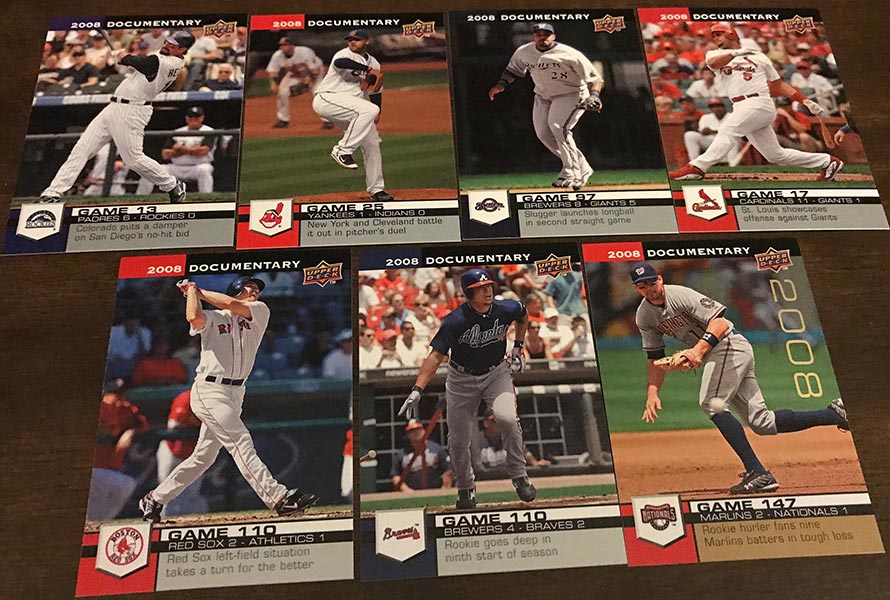 Pack 9:
Jacoby Ellsbury, Kevin Youkilis, Jimmy Rollins, Evan Longoria, Albert Pujols, Todd Helton, Johnny Cueto, Alex Rios Gold & Aaron Cook All-Star Game (1:4 packs)
Pack 9 fun fact: Aaron Cook went 16-9 with a 3.96 ERA in 211.1 innings to earn his only All-Star selection in 2008. His 72 wins in a Rockies uniform are good for second in franchise history.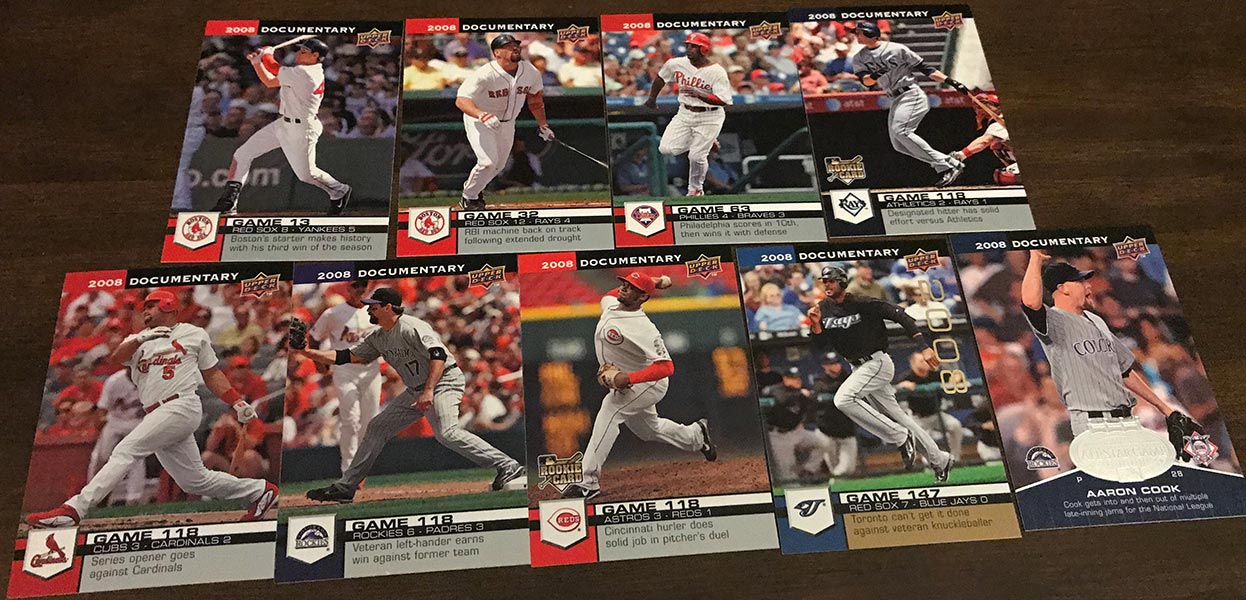 Pack 10:
Alfonso Soriano, Alex Rodriguez, Carlos Beltran, Josh Hamilton, Vladimir Guerrero, Clayton Kershaw, Josh Hamilton Gold & George Pipgras Yankee Stadium Legacy
Pack 10 fun fact: George Pipgras won three World Series titles with the Yankees in 1927, 1928 and 1932. He led the AL in wins (24) and innings pitched (300.2) during the '28 season, and earned a complete game victory in Game 2 of the World Series that year.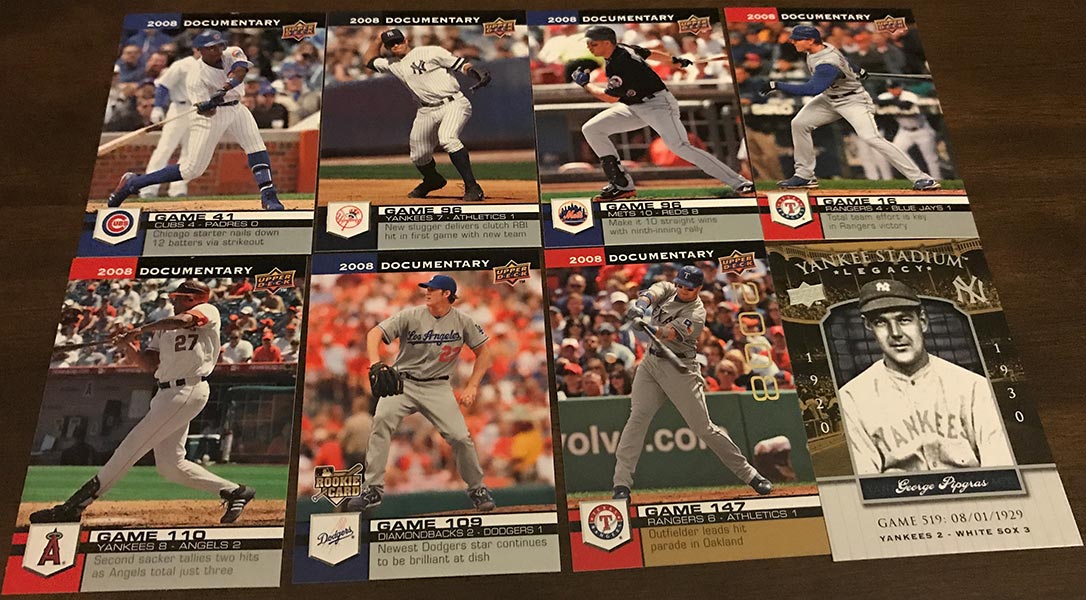 Pack 11:
C.C. Sabathia, Adam Wainwright, Frank Thomas, Ichiro Suzuki, Tim Lincecum, Francisco Liriano Gold & Red Rolfe Yankee Stadium Legacy
Pack 11 fun fact: The 2008 season was the beginning of a stellar peak for Tim Lincecum. He went 18-5 with a 2.62 ERA and 1.17 WHIP while leading the NL with 265 strikeouts in 227 innings in his age-24 season.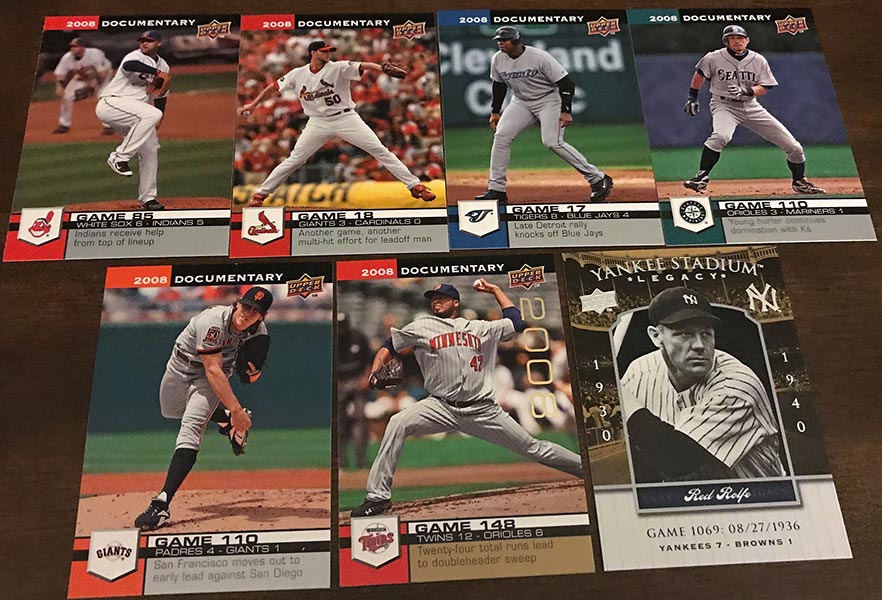 Pack 12:
Dontrelle Willis, Andruw Jones, Greg Maddux, Cole Hamels, Alfonso Soriano, Frank Thomas, Derek Jeter & Carlos Delgado Gold
Pack 12 fun fact: Andruw Jones in a Dodgers uniform, Greg Maddux in a Padres uniform and Frank Thomas in an Athletics uniform. Weird pack.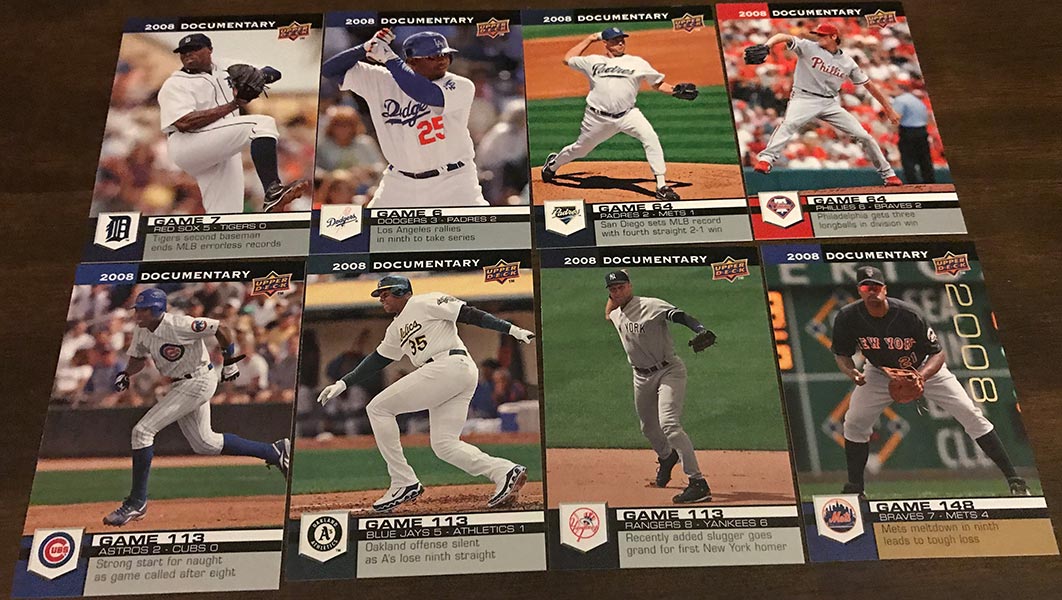 Pack 13:
Jose Reyes, Alex Rodriguez & Ichiro Suzuki All-Star Game (1:4 packs)
Pack 13 fun fact: Jose Reyes stole 56 bases and led the NL in hits (204) and triples (19) during the 2008 season. At his peak, he was one of the most dynamic players the sport has seen in years.

Pack 14:
Hanley Ramirez, Miguel Cabrera, Jason Bay, Ichiro Suzuki, Joe Mauer, Ryan Garko Gold & Lefty Gomez Yankee Stadium Legacy
Pack 14 fun fact: Jason Bay began the 2008 season in Pittsburgh, but he was eventually traded to Boston in the three-team blockbuster deal that sent Manny Ramirez to the Dodgers. Brandon Moss, Andy LaRoche, Bryan Morris and Craig Hansen made up Pittsburgh's return package.
Pack 15:
Billy Wagner, Roy Halladay, Dustin Pedroia, Brandon Phillips Gold & Matt Holliday All-Star Game (1:4 packs)
Pack 15 fun fact: Billy Wagner stuck out 1,196 batters in 903 career innings, good for an 11.9 K/9 strikeout rate that ranks first all-time among pitchers with at least 900 innings of work.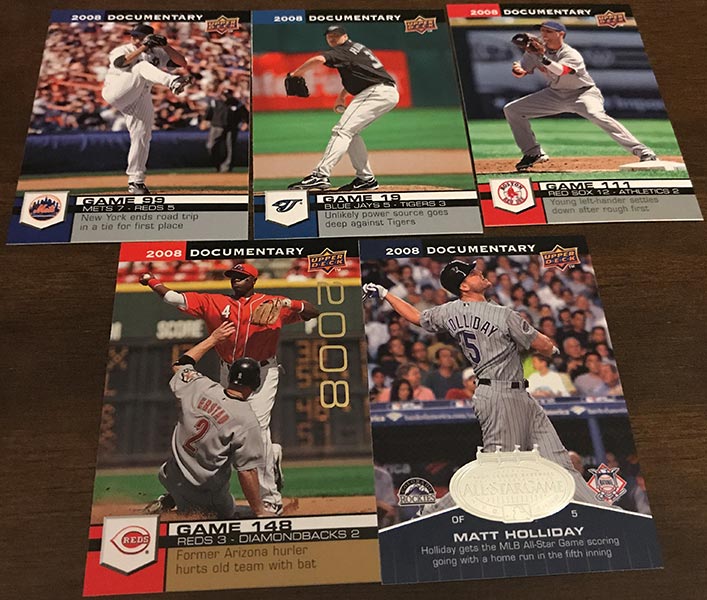 Pack 16:
John Lackey, Manny Ramirez, Tim Lincecum & Alexei Ramirez Gold
Pack 16 fun fact: As a 26-year-old rookie in 2008, Cuban defector Alexei Ramirez hit .290 with 22 doubles, 21 home runs and 77 RBI for the White Sox to finish runner-up to Evan Longoria in AL Rookie of the Year voting.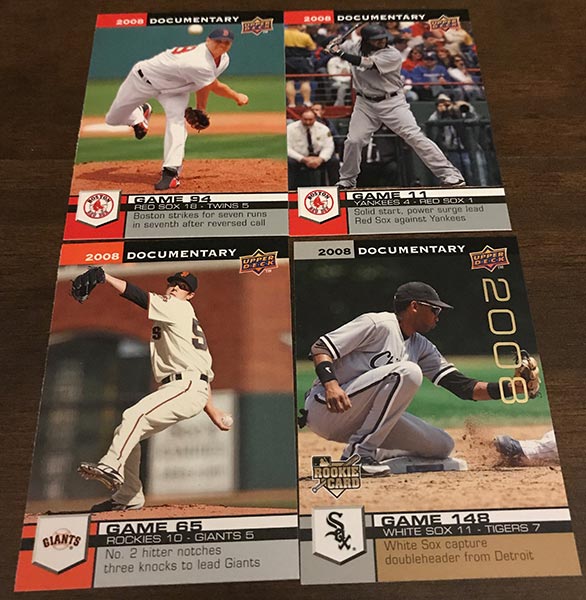 Pack 17:
Alex Rodriguez, Francisco Rodriguez, Jeff Samardzija Gold & Bill Dickey Yankee Stadium Legacy
Pack 17 fun fact: Two years after he was signed to an above-slot bonus as a fifth-round pick, Jeff Samardzija made his MLB debut. He posted a 2.28 ERA in 26 appearances out of the Cubs bullpen in 2008.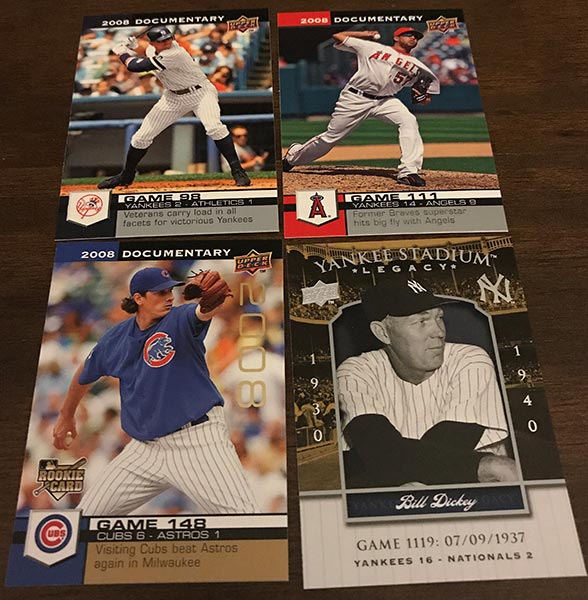 Pack 18:
Francisco Rodriguez, Adrian Beltre, Cliff Lee, Justin Duchsherer Gold & Tony Lazzeri Yankee Stadium Legacy
Pack 18 fun fact: I dare you to name a more random two-time All-Star than Justin Duchscherer.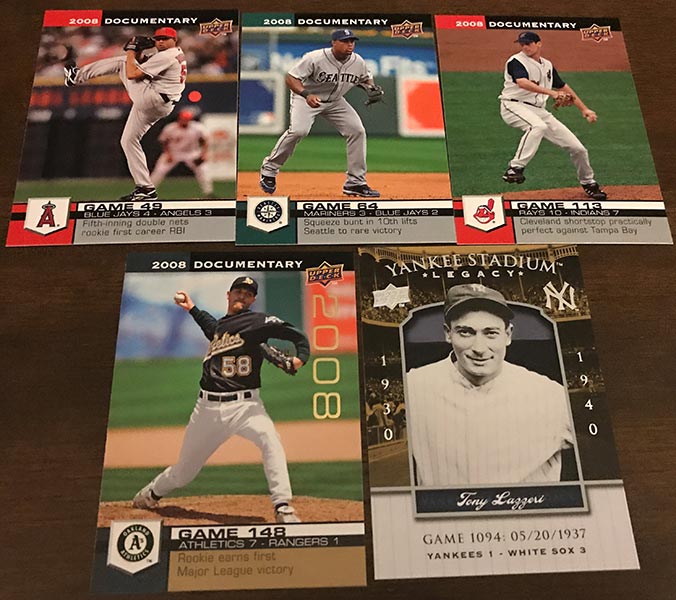 Pack 19:
Ken Griffey, Jr., Derek Jeter, David Wright, Frank Thomas, Randy Johnson, Evan Longoria Gold & Dan Haren All-Star Game (1:4 packs)
Pack 19 fun fact: The Reds traded a 38-year-old Ken Griffey Jr. to the White Sox at the 2008 trade deadline in exchange for Nick Masset and Danny Richar.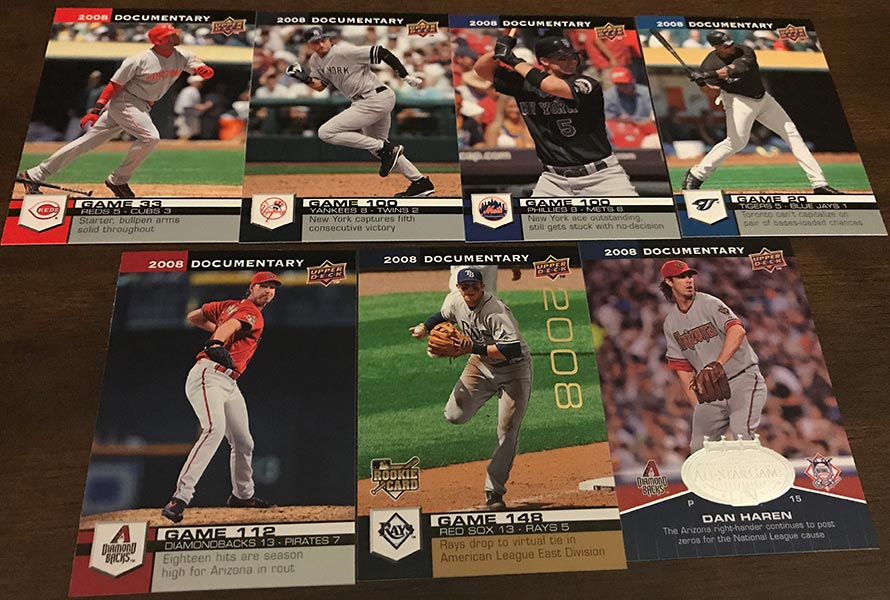 Pack 20:
Felix Hernandez, Trevor Hoffman, Grady Sizemore, Jim Thome, Kyle Lohse Gold & Alex Romero Seasonal Signatures (1:24 packs)
Pack 20 fun fact: Alex Romero hit .310/.354/.421 with 43 extra-base hits at Triple-A in 2007. He made his MLB debut the following year and hit .239 with two home runs and 30 RBI in 144 games over two seasons with the D-backs.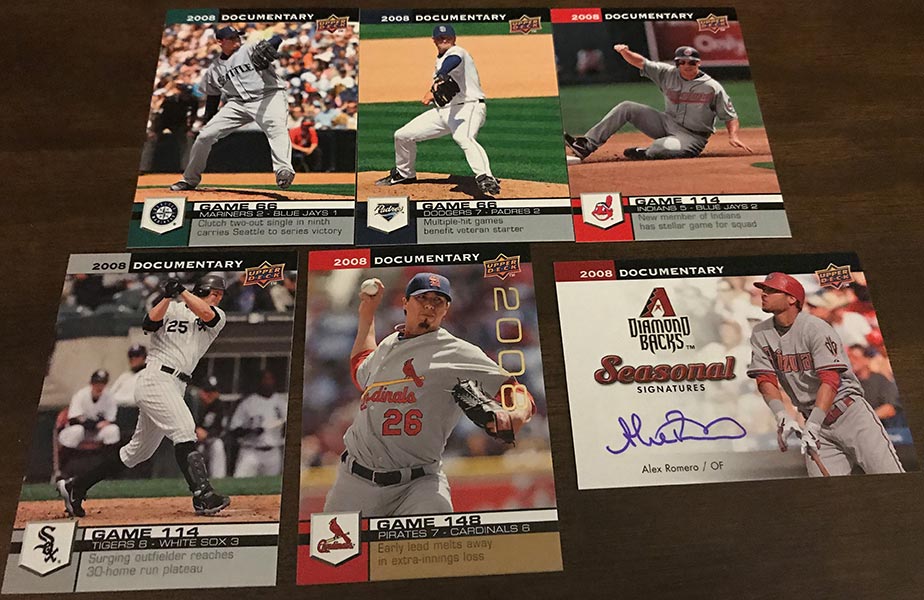 Pack 21:
Adam Dunn, Joe Mauer, Ryan Braun, Albert Pujols, Hanley Ramirez, Miguel Cabrera, Troy Tulowitzki Gold & Joe DiMaggio Yankee Stadium Legacy
Pack 21 fun fact: In his first season with the Tigers in 2008, Miguel Cabrera hit .292 with 37 home runs and 127 RBI. He finished 13th in AL MVP voting.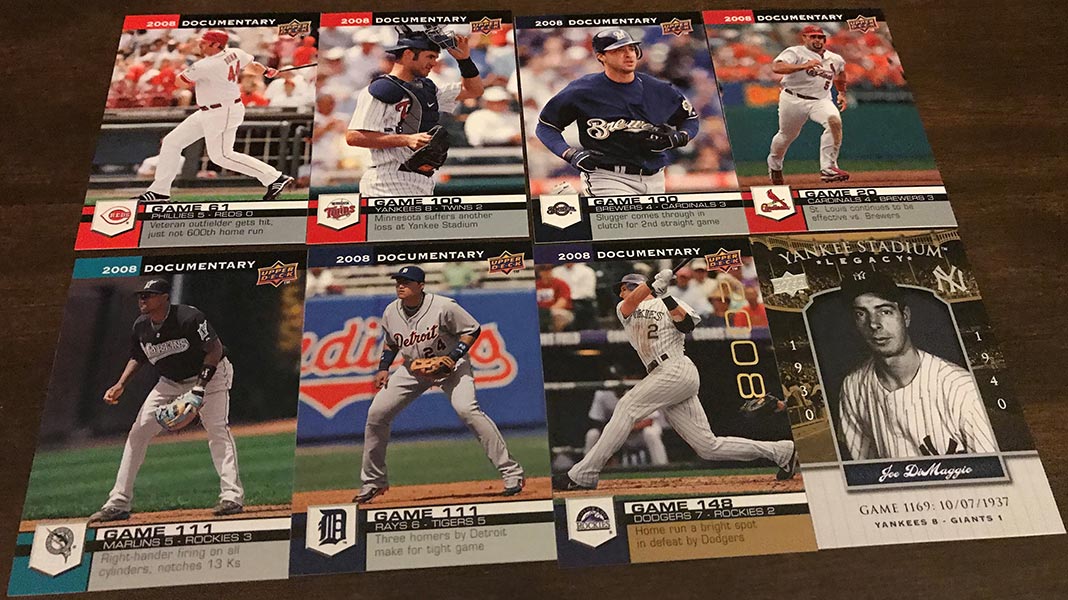 Pack 22:
Miguel Cabrera, Kevin Youkilis, David Wright, C.C. Sabathia, Jesus Flores Gold & Jonathan Papelbon All-Star Game (1:4 packs)
Pack 22 fun fact: Jonathan Papelbon finished his career with 368 saves, good for ninth on the all-time list. It's interesting to think about his potential trajectory had the Red Sox continued to develop him as a starter.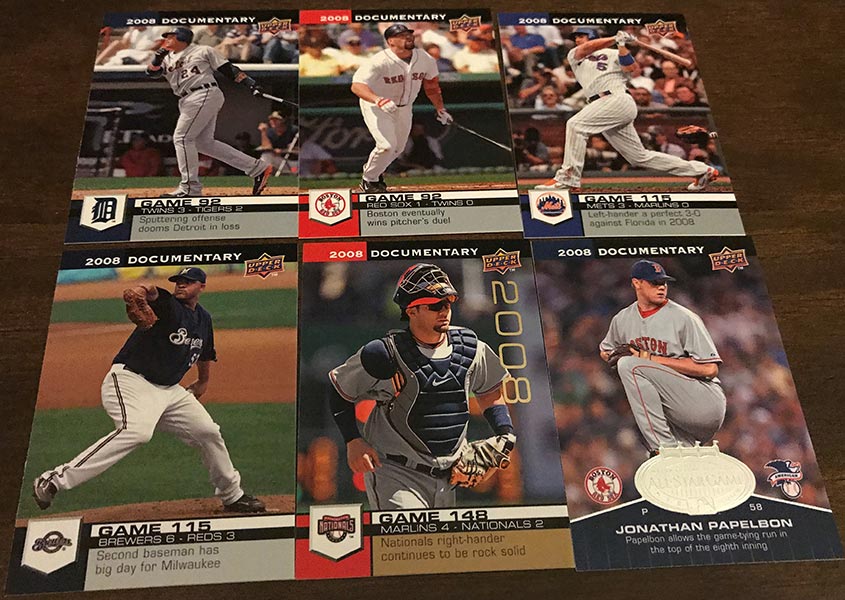 Pack 23:
Troy Tulowitzki, Johan Santana, Jon Lester, Roy Halladay Gold & Joe McCarthy Yankee Stadium Legacy
Pack 23 fun fact: Johan Santana led the NL in ERA (2.53) and finished third in Cy Young voting in his first season with the Mets in 2008. The Twins acquired four players in the trade that sent him to New York, including Carlos Gomez and 2004 No. 3 overall pick Philip Humber.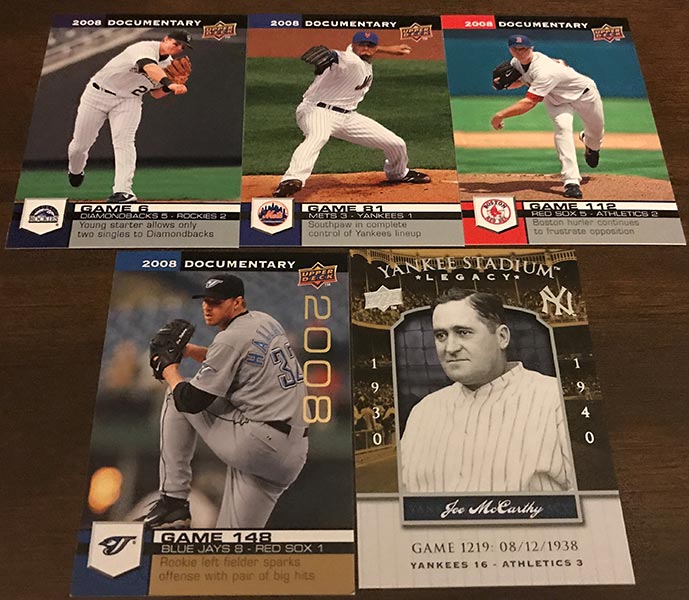 Pack 24:
Ivan Rodriguez, Tim Wakefield, Josh Hamilton, Ian Kinsler Gold & Red Ruffing Yankee Stadium Legacy
Pack 24 fun fact: Red Ruffing won six World Series titles with the Yankees, going 7-2 with a 2.63 ERA and eight complete games in 10 starts in the Fall Classic.
Like I said earlier, to me this set just seems very disconnected. Most of the player photos make no sense when looking at the game recaps. The saving grace for this box, for me, is the All-Star Game insert cards. I really like the look of these. Also, the inclusion of the Yankee Stadium Legacy cards add some baseball legends to my collection. I'm certainly glad I didn't pay full price for this one, as packs cost $3 each when this product was released.
Shop for 2008 Upper Deck Documentary Baseball on:
Want more installments of Shane Salmonson's Cheap Wax Wednesday? Check out his other breaks in the archives.