Chattanooga man wins rare "Shoeless" Joe Jackson cut signature card from Leaf (updated)
When you click on links to various merchants on this site, like eBay, and make a purchase, this can result in this site earning a commission.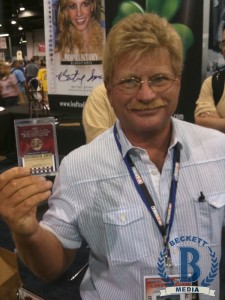 By Susan Lulgjuraj | Contributing Editor
A crowd gathered around Leaf Trading Cards' company booth at the National Sports Collectors Convention on Saturday. The onlookers craned their necks to peek at two men who had an opportunity to win a rare "Shoeless" Joe Jackson cut signature card.
Excitement enveloped the area as the stage was set for the contest.
Leaf offered the cut signature card as part of a promotion in its 2010 Sports Icons product. In the 340 cases produced, just three lucky Four Leaf Clover cards were included.
Whoever pulled one would get a chance at winning the Jackson card. A fourth entrant would be the person who completed most of the set and presented it to Leaf at The National.
Bill Witherspoon, who pulled a clover card, and Brian Hugen, who amassed more than 600 Sports Icons cards, were the only two contestants. The other two clover cards had not been pulled yet.
"We want to show people when it comes to the biggest and most elusive stuff – that's what we do," Leaf President Brian Gray said. "We keep coming up with these crazy prices. These cards are just insane. We try to come up with these big prizes that are mind-blowing."
Sunday update: The card has been consigned to Heritage Auctions as a no-reserve auction this fall, according to the owner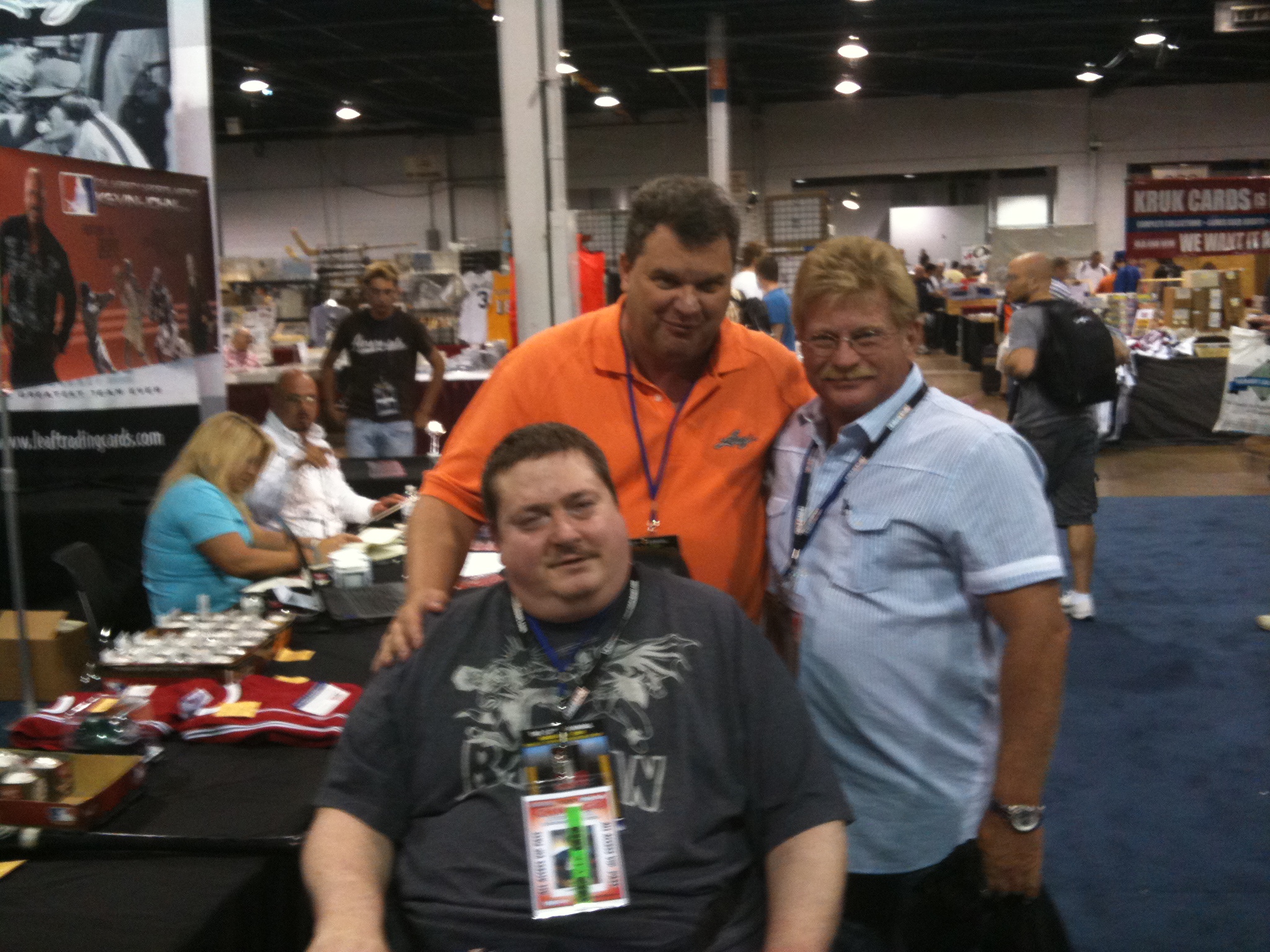 Four glittery, gold hearts were placed on each of the clovers on a large banner in the Leaf corporate area by 11-year-old Brittany Dinerman, who worked a booth with her father across from Leaf.
Witherspoon picked his heart first – lower-right hand corner.
"I just have to go with it," he said as he stared at the banner.
But he couldn't open it yet. Hugen had to pick his spot first because Witherspoon was allowed to open his envelope that was taped behind the heart.
Hugen picked the marker diagonal from Witherspoon's.
Finally, it was time to see if there was a winner (If no one picked the envelope with the Jackson cut, Leaf would have waited until the other two clovers were found in the product to give it away).
Witherspoon ripped open his envelope. Gray stood over his shoulder.
Gray's head nearly hit the ceiling.
"He got it," Gray yelled out as the crowd cheered.
That quickly, Witherspoon won the cut signature valued around $80,000.
"The past 24 hours, I was going to pick the lower, right-hand side," said Witherspoon, a 58-year-old foot doctor from right outside of Chattanooga, Tenn. "It was an impulse – not an immediate impulse – but one that started about 36 hours. It was a feeling."
Witherspoon said he eventually plans to auction the card. There is no time timetable right now.
When he first opened the Sports Icons box several months ago and saw the clover card, he didn't know what he wanted to do with the card. He was offered money – some say around $15,000 – for his clover card. But in the end, Witherspoon decided to take the risk.
"When I opened the product, it was the middle card just sitting there, but I had no idea what it was," Witherspoon said. "I decided to keep it and take a chance."
Hugen said he loves Sports Icons. He opened more than 50 cases of the product but never pulled a clover card.
He was disappointed by not winning the Jackson, but was happy with his consolation prize. Hugen will get three cases of Sports Icons, which will be hand-packed by Gray.
"I'm happy for the man that won it. He had the first pick. It was just meant to be for him," said Hugen of Virginia Beach, Va. "I'm happy with what I am getting. Three cases of handpicked items. That was more than generous."
Despite not winning the Jackson, Hugen, 49, reflected on all the great autos he's pulled from Sports Icons including Wilt Chamberlain, Mickey Mantle, Cy Young, Joe Louis, Don Drysdale, Sandy Koufax and hundreds of other cards.
Hugen – who came to the show with his wife Florence Hugen and caretaker and best friend Don Carpenter – is a huge a baseball fan and loves to watch baseball documentaries. One of the reasons he wanted to have the Jackson card was the allure of the figure.
"I saw a documentary on Shoeless Joe. He was a good ballplayer," Hugen said. "I think he should be in the Hall of Fame because of the way he played the game."
Note: We'll have video highlights from the show soon …
Susan Lulgjuraj is a contributing editor for Beckett Media. You can email Susan here. Follow her on Twitter here.