Charlie Sheen made his baseball card debut long, long ago … and now he's in a galaxy far, far away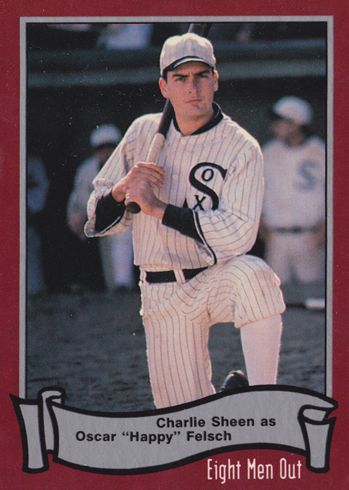 By Chris Olds | Beckett Baseball Editor | Commentary
As a long-time baseball fan — and a long-time collector — there have been a few twists and turns that my collection's path has taken. I've dabbled in this, I've dabbled in that as a collector while finding my way through life. My stash of mementos saved are reminders of this or that — a reflection of a diversion that gets me away.
I bet that baseball cards do that for many of us — just like high-end baseball memorabilia purchases once invigorated Charlie Sheen. (He owned a Honus Wagner T206 baseball card, the Mookie Wilson-hit baseball from the 1986 World Series that made Bill Buckner infamous and more than a few other notable items in the past.)
I pretty much chose The Plainly Docile Path of The 1980s Topps Wrapper and made it a career. Sheen? Well, we'll get to that.
In recent years, two things have crossed paths for me — baseball and baseball movies. Why? The items seem more unique and yet more special in their simplicity. The items are often less expensive and, at times, depending on the type of item, more available than the typical mass-produced memorabilia. That's just where my collecting tastes have meandered. And all that's in part because it's not about a "book value" — it's about the chase and some semblance of a sentimental value, an appreciation for the stories and the characters that amuse me. (Some more than others.)
Right beside my collecting to-do lists — finish a never-completed 2004 Topps 205 Series 2 mini master set, organize my Nick Swisher stash — is a simple list of baseball movie DVDs to pick up. Some have been crossed off already. Others haven't. The Major League trilogy? Got it. Bull Durham? Got it. A League of Their Own? Need it. Eight Men Out? Got it. The Natural and The Rookie? Need 'em. Mr. 3,000? Got it. The Bad News Bears Billy Bob Version? Got it. The Bad News Bears Matthau Brand? Need it.
Why? Just because — besides, they're like baseball cards that do more than just sit there.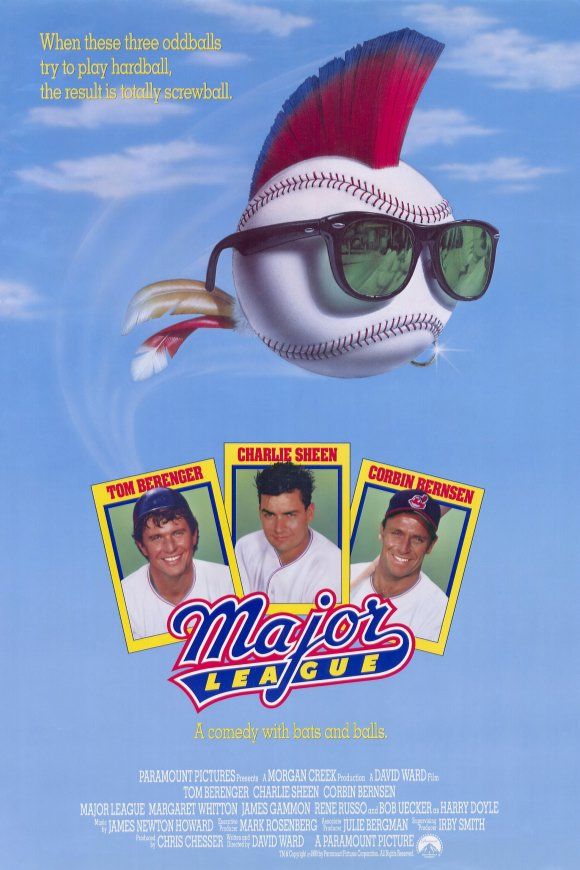 Next on that list? Baseball movie posters. Next after that? Autographs of particular actors in key baseball movies — either through-the-mail, authenticated items or certified cards. (I have a good start, of course, but it's something I have never really truly focused on.)
There are many paths that can be taken with baseball movie memorabilia — new or old — and there are plenty of movies, too, with more to come. Moneyball is up next later this year and there's the distant possibility of a "reboot" of the Major League franchise, too. We'll see.
In the last few years, I've picked up quite a few of those movies — some more enjoyable than others, but all of them about baseball. That prompted a few memorabilia buys here and there — like several sets of 1988 Pacific Eight Men Out baseball cards, the home of what just might be classified as, with apologies to Bowman, "The Home of the Charlie Sheen Rookie Card." Why? Simply because the price was right. They were pennies on the dollar compared to those modern-day pale-hose cards and, frankly, I found them more interesting.
And, interestingly, at least to me, Eight Men Out wasn't among my favorite baseball flicks, but it marked the baseball card debut for Sheen, a guy who stars prominently in my No. 1, Major League.
[youtube]http://www.youtube.com/watch?v=odOsx2AY6gs[/youtube]

In the White Sox period piece, Sheen played real-life big-leaguer "Hap" Felsch — a role that feels more like a cameo by Sheen Standards — but in David S. Ward's 1989 Cleveland Indians classic, he's Ricky "Wild Thing" Vaughn, a foul-mouthed, funky-haired fireballing pitcher who learned a thing or two about life after spending time in the California Penal League (above).
The role Sheen played on network TV this week? It was something else. (See below.)
[youtube]http://www.youtube.com/watch?v=h5aSa4tmVNM[/youtube]
I'll confess to not having paid attention to the tabloid fodder that has been Sheen in the headlines of late — too busy — but I've heard snippets here and there to know that it wasn't good. But all I needed to see was the interview above to know that something was a bit different these days. And, of course, it seems bad, which is why it's a trainwreck that you can't look away from.
But it's also one that, to a degree, disappoints.
This isn't some piece where a fanboy realizes he's somehow been betrayed by an athlete who has done wrong in the face of their public persona — we've been there done that countless times for countless reasons (Kobe Bryant, Tiger Woods, Jose Canseco, Mark McGwire the list goes on and on). We didn't know them, I don't know Sheen. I get that. "Wild Thing" certainly has lived up to his character's nickname — for other reasons. That's his choice. I get that. It has worked for him in the past. I hope something works out in the future.
But, boy, was I a fan of Major League. Still am, though I get reminded of a different thing these days when I see items in my stash. My autographed movie poster (signed by Roger Dorn, aka Corbin Bernsen) on my office wall at work? It looks a little different these days. Not bad, just different. After all, Sheen does appear on it. My other signed poster? (You know, the one at home …) Same thing.
My press kits — photographs and media info used to promote the movie back before the days of websites and email blasts — are still in the same raggedy but fascinating shape. Just don't seem the same, though. My lobby card collection — smaller posters, in various languages, also to promote the movie — is different. (Yes, even the one  that's displayed in my office haphazardly is different. Why? It's not that Lou Brown's fly is down — and it is — it's because Vaughn's in there.) My fake trading card collection — a self-amusing project here and there that has made its way from time to time onto the pages of publications I have worked for — still complete. Just different.
The video store standup for Major League II? It's still one of my coolest — and cheapest — finds is standing strong in a room with three stars of the film kneeling in three-dimensional fold-out cardboard fashion. (Oh, and for anal-rententive purposes I have a second one sitting in its original mailing box unopened — it was a two-for-one-deal.) As I examine it from nearby, some of that disappointment, that difference fades in memory of those cool, fun moments on captured on celluloid and replayed many a time on DVD.
Tucked away elsewhere is my screen-used Jake Taylor complete uniform (jersey, pants, belt and, yes, socks) — worn and signed by Tom Berenger. Same for Taylor's catcher's mitt, the exact one owned by big-leaguer Steve Yeager (a coach and Berenger double on the screen and a technical advisor for the movie). It was used to catch the final pitch from Vaughn to strike out Clew Haywood.
You know, it was the play that prompted this reaction: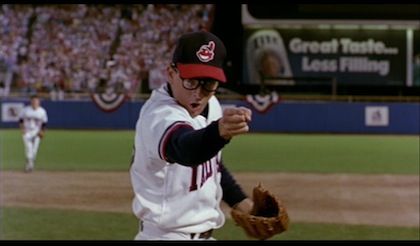 Those are items that I'll showcase on their own at another time — a baseball movie memorabilia-themed issue of Beckett Sports Card Monthly, anyone? — but I bring them up to make a point.
As you can probably tell, I haven't messed around with my Major League collection through the years and, despite the headlines of Sheen these days (note I didn't say Vaughn), I still don't think I've messed up. Weird things happen in life. (Clearly.)
It's been my diversion from other memorabilia and other stuff — something fun, something different.
It's a collection that's far from complete — never really can be — and, sure, there are items that I still cannot find that I have written about before. But that's the beauty of it — finding the items that can't be predictably checklisted because a definitive list simply does not exist.
But one thing that I still haven't landed in all of my collecting? A Charlie Sheen autograph. I've got several of his teammates — Berenger, Bernsen, Dennis Haysbert (aka Pedro Cerrano) — a few times over on a few different types of items but the one autograph I never sprung for might be tougher these days. Or, given the reaction of one "marketing professional" (inside joke) maybe it won't be … if one shows up for sale.
Sheen appears on just one certified autograph trading card. It's from a landmark set — one I intended to write about with much less of a personal twist earlier this evening before the link above arrived in my Twitter feed. Like I said, weird things happen in life.
And, no matter what happens with this highly unusual chapter of real life, the happenings of reel life — the tales of Cerrano, Brown, Taylor and, of course, "Wild Thing" — won't change.
Maybe that's one reason why I enjoy it so much.
Chris Olds is the editor of Beckett Baseball. Have a comment, question or idea? Send an e-mail to him at colds@beckett.com. Follow him on Twitter by clicking here.