Charles Woodson autographs to appear in Panini America NFL products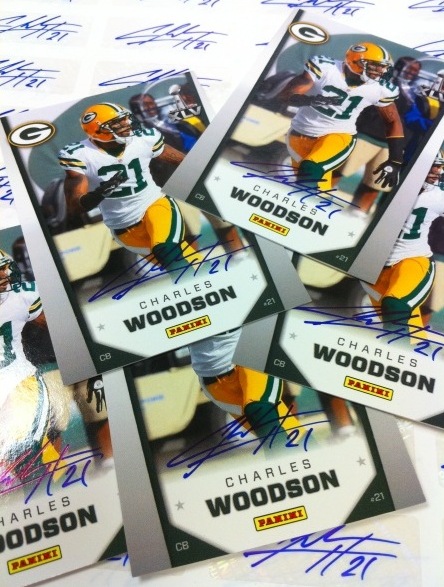 By Susan Lulgjuraj | Contributing Editor
Charles Woodson has been kind of shy when it comes to football cards. The Green Bay Packer hasn't signed many autograph cards since his 1998 rookie season.
But all that is about to change with the new wave of football cards coming out for 2011. Panini America has signed the 1997 Heisman Trophy Award winner to an autograph deal.
"I'm still in a little bit of shock," said Joe White, Panini's football acquisitions specialist in a release. "Woodson has been on my hit list seemingly for forever and I'd resigned myself to the fact that we'd never get him in our sets. But I went after him again this year like I always do, because I know what the presence of his autographs in our sets would mean to the countless Woodson collectors out there. They're going to mean the world."
Woodson has autograph cards in 1998 Bowman. His Bowman Rookie Autographs have been highly sought after by Woodson and Packers collectors alike. The base version of the Bowman Rookie Autographs has a high book value of $250.
According to Beckett's database, he has two autograph cards – one numbered to /25 and the other numbered to /5 – in 2007 Upper Deck College to Pros. However, due to the scarcity – or non-existence of the cards – Beckett has never tracked a sale of these.
White has chased Woodson for nine years, according to Panini. However, White never heard back from Woodson regarding an autograph deal. Never even a counter offer until last month.
But after some negotiating, Woodson will have a small number of sticker autographs in several 2011 Panini NFL products, which have yet to be named.
In addition, he signed five special Super Bowl XLV cards for 2011 National Treasures Football that previously were available only at the Panini booth during the Super Bowl NFL Experience.
"I truly value every trading card deal I do for this company, but this one is a little bit more special to me for any number of reasons," White said. "I can't wait for collectors to get their hands on these beauties."
Susan Lulgjuraj is a contributing editor for Beckett Media. You can email Susan here. Follow her on Twitter here.