Change in the air at the Spring 2017 Sportcard & Memorabilia Expo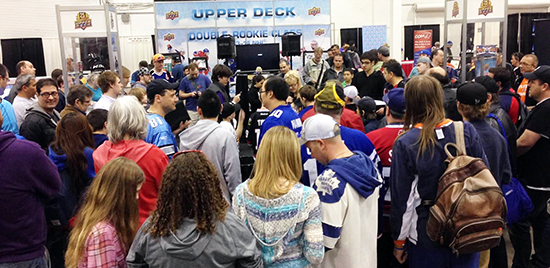 By Stephen Laroche | Beckett Hockey Editor
For those that are new to the hobby or those that have never had the pleasure of attending, the Sportcard & Memorabilia Expo is a bucket list experience that every hockey card collector should strive to enjoy.
With the opportunity to purchase cards from hundreds of dealers that come from around the world, the chance to meet legendary athletes, and card company representatives ready to take your questions, there is no better place to be if you collect hockey cards or memorabilia.
The Spring 2017 edition of the show is almost upon us. Held at the International Centre in Mississauga, Ontario, the Expo has been running strong for over 25 years. Purchased in 2016 by Steve Menzie, he looks to take the event in a new direction and has already started to make some positive changes.
"A lot of it for me is learning the subtlety of the business because I have a lot of trade show and consumer show business experience. That bodes well for a lot of the operational changes, making move-in and move-out better, things like tickets, hours, lineups, and that sort of thing. Those are some of the easy things to fix and I think it enhances both the dealer and the fan experience.
"I've said from the beginning that I want to change what doesn't work and keep what does, but it's not super easy to recognize the difference because as the saying goes, everyone has an opinion. Sometimes it's data based and sometimes, it's just instinct, or just a random opinion. When it comes to guests and pricing, people are used to doing it a certain way and a lot of our clients have been in the business a long time and they like what they like. They're a bit resistant to change."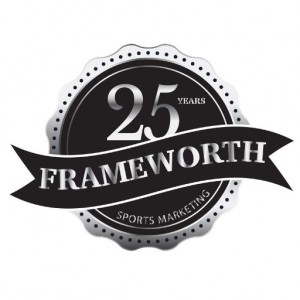 That being said, there is a major change happening with the autograph pavilion as Frameworth takes over for A.J. Sports World.
"The biggest change that I've made for this next show that will be seen as the biggest to the collector is the change in our autograph provider," he said. "Part of what I wanted to see at the National was how it was handled there… I want this show to be the premier hockey show in North America. My biggest challenge is how do I keep the collectors happy and engaged and how do I bring in more fans without alienating the collector. It's really about bringing more content and frankly, that was a primary driver for the Frameworth decision with this show. I felt that as an NHL partner and licensee, they're connected with more of the other licensees and corporations, and through it, they can hopefully bring more content and programming."
Beckett Hockey spoke with Frameworth's President, Brian Ehrenworth about his company's plans for the Expo and the changes that are coming to the autograph area.
"We're trying to keep the price reasonable, so you'll be pleasantly surprised," he began. "The player selection is important to the people from what I've heard. The pricing is important, obviously. The personal experience has deteriorated drastically in recent years from what I'm hearing and our goal is to bring that back. Of course, it is a business, so when you have players charging 'x' amount, and I'm trying to keep the price down and I'm trying to make it a personal experience, they don't all go hand-in-hand necessarily. If you want everybody to stop and take a selfie, that slows down the lineup and you don't get as many people through, you can't make the money back. If you're charging less money, you're going to lose money as a promoter.
"That said, we're still trying to do all that. We're trying to get innovative with the lineups so that people don't have to stand in line for hours. We don't want that to happen. We're going to have innovative new lineup systems where people can know when they can come to get their thing done."
One big change will come in the form of priority line access for collectors and fans that wish to maximize their time at the Expo.
"There's going to be a fast track ticket. This is a ticket that will be good for only one athlete at a time. There will be a charge to it, but for those people that feel that they don't want to wait in line and their time is more valuable. Those will be $10.00 a ticket and you can buy one for each athlete. The people in that line will be the first to get the player. We're hoping that will eliminate a lot of the wait and the standing around and grumbling. Hopefully, it will work well."
Frameworth is also focusing on making the experience of meeting an athlete a positive on for fans as well.
"Next, we've got the personal touch. Last year, they raised the tables and they eliminated selfies or photos. People are paying good money and they can't even get a photo of themselves with the players. Frankly, if I was doing it, I'd want to have a photo. We're going to adjust how the line works. Instead of coming straight on to the guy and he's facing the person, we're going to have them come around to the side of the table so they're both facing the same direction. We are then going to have somebody in the line in advance making sure that their cameras are ready to take the photo."
There will be one guest where there is a cost to have a professional photo taken and while it was not officially announced at press time, indications are that the exception is certainly going to be a worthwhile experience.
Frameworth will also be hosting a gala event on the Saturday night of the show, which will be an expensive proposition, but there will be opportunities to interact with many of the Expo's guests. There is also a free exhibit that debuts at the show.
"Gordie Howe, throughout his many years had built his own personal collection, which has yet to see the light of day. I'm working with the Howe brothers and Brad Robins, who has been on the marketing side for years. The two of us, over the next year or so, are putting together programs for the Howe Foundation which involve all of these artifacts that Gordie collected, which are fantastic. There's a story behind each one of them."
Frameworth will also be hosting a gala event on May 6 featuring many of the athletes that are coming to the Expo.
The Spring 2017 Sportcard & Memorabilia Expo runs from Friday, May 5 to Sunday, May 7. For more information, visit the show's official website. Look for more information here soon regarding athletes appearing at the Expo along with Beckett Media's plans for the event – which includes Beckett Grading Services and Beckett Authentication Services.
Stephen Laroche is the editor of Beckett Hockey, Beckett Basketball, and Beckett Sports Card Monthly magazines. Have a comment, question or idea? Send an e-mail to him at slaroche@beckett.com or follow him on Twitter @Stephen_Laroche.