Chain of Custody: The Original Wagner's Owner Speaks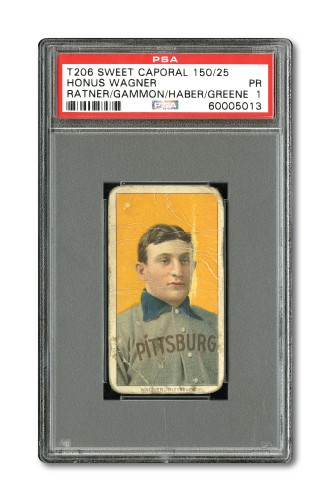 By Stephen Laroche | Beckett Sports Card Monthly Editor
For decades, the Honus Wagner card from the landmark T206 set that was issued between 1909 and 1911 has been regarded as the hobby's holy grail. Countless collectors have dreamed of owning one, but very few have even laid their hands upon it or seen it with their own eyes.
It is more special than the perhaps 70 of them that have been known to surface over the past century. It is the Original Wagner – one which has incredible provenance and sold for $609,000
So, what makes this particular card the Original Wagner? Its lineage can be traced back to the era it was released as it was first owned by a young Willie Ratner, a respected sports writer for the Newark Evening News that stayed with the paper for 60 years.
Back in 1930, Ratner published a piece which lamented the chase for the elusive Wagner card 20 years earlier. The card shown with the article was from his own collection and it was later sold to another sports columnist named Wirt Gammon, who eventually moved it to Topps baseball card back writer Bill Haber in 1970.
Haber's death 25 years later saw the card go up for sale again as his widow entrusted dealer Pat Quinn to auction it off alongside the rest of the T206 set – including the prized Eddie Plank and Sherry Magie error cards. Bidding started at $12,500.00 for the Wagner and it ended up in the hands of Georgia-based collector and author J. Ross Greene, who became aware of the auction through an ad in Sports Collectors Digest back in 1996. He had been drawn to the card following the 1991 sale of another copy to the trio of Wayne Gretzky, Bruce McNall, and John Candy for $451,000.00.
"When that (issue of) SCD came out and that ad came up, I remember seeing the Magie error card, the Plank card, and also the Wagner. I thought, 'wow, that looks like it might be possible to own that. It's certainly not an 8 like the Gretzky card was.' I don't think they had the situation where you had to bid early to be able to bid late.
"It was the last day in the auction," Greene recently told Beckett Media. "In the afternoon, my wife and daughter were away shopping and we were moving into a new house. My daughter was getting married, so we were trying to figure out where all the money was going to come from. Here, I come across this card. I had been looking at it since the first ad came out in SCD on March 8, and here it was on March 22 or so. I got enough guts to call in and find out what the price was. It was $37,500.00. So, I checked with my wife to see, because the last thing I wanted to do was to get in a fight over that. It was something I could certainly do without, and she asked me specifically. I said there were three cards and I'd like to have one of the three and here's the price. She said, 'which one do you really want?' and I said I really want the Wagner. She said, 'get it, I'm with you!'
"When I talked to Pat Quinn, who was the guy who ran the auction, he told me that the other bidder was sitting at his desk at that moment. I thought to myself that I was about to get played as a sucker, but I thought, okay, I'm going to make a bid. He topped that bid and I had a decision to make. I'm gonna go one more time, so I bid $48,500.00. He turned, evidently, to the other guy and he shook his head. Quinn said, 'you got it!'"
After placing the winning bid, it did not take long for the card to arrive at his Georgia home.
"Once you do that, you swallow hard when you realize it's yours. I sent him a wire, he sent the card, and then I kept it really in a clandestine way for a long time. Number one, I have never sought notoriety or whatever. I have always felt who you are doesn't have anything to do with what you own. I felt like it couldn't serve me well to try to promote what I had. Toward the end, before I contracted with SCP, when I'd go out to dinner at night, I'd feel kind of concerned. Is my house burning down? Is somebody breaking in? All of the sudden, I have a piece of cardboard worth more than the house it was in! It became significantly more than just a baseball card at that point."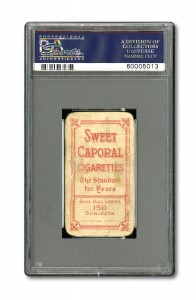 Greene also recounted what it felt like to hold such a significant card for the first time.
"You look at it and you almost want to pinch yourself. Is it really true that I've got something here that goes back so many years? Who knows what hands have held this card? It was one that Wagner himself had so much discussion about – the question of whether he wanted people to have it, for boys to buy cigarettes to own the card, or whether he was really just trying to negotiate with the cigarette people. No one knew what the answer was, but I think that the lore was the he didn't want boys to have to buy cigarettes.
"I guess another reason I was drawn to it was I never at that time, and I was 55 years old, had smoked a cigarette. I'm 76 years old. I still have never smoked a cigarette and I've never drank a beer. I'm a crazy kind of guy, I guess you'd say, in the sports field and I've identified with that in that card, also."
Keeping a card like that does make a collector want to keep it a secret, so very few people actually knew that it belonged to Greene.
"I kept that card in the house and only two or three people in the trade knew. Joe Orlando, because I came through to have it graded in 1999, and there was one card shop in town that knew. A couple of guys at SCP knew because I knew Clay Hill, he's a Tennessee boy, so I kept up with what was going on only through Dan Imler for a long time. Only family and a few close friends knew, too, so when people started to look for the card, nobody knew where it was. Dan talked to Pat Quinn, and Quinn couldn't remember! All he said was, 'I sold it to somebody down South. That's all I can remember.'"
But did Greene have any clue that the card had a remarkable history? At the time, only a few details were actually known.
"At the time when I bought it, the only thing I heard was that the guy who owned the card, which was Haber, wrote the backs of Topps baseball cards. To me, that was a really great story. Anyone I would show it to, I would say that I bought it from the estate of the man who used to write the backs of baseball cards."
Years later, he got a call from Dan Imler, Vice President at SCP Auctions. The news was shocking as the chain of custody for the card had been determined.
"In 2014, when Imler called me and said, 'here's what you've got in your hands.' He told me the story of (Bill) Mastro going to jail and altering the card. This story said that you've really got the only card that they can trace back to 1909. I started to look at who Ratner and Wirt Gammon was. I knew Wirt Gammon because living in Knoxville, Chattanooga is just 100 miles away, so I read his column a lot. I realized at that moment that I didn't just have a baseball card, I had a piece of Americana and it was at the core of the collecting hobby."
Since his children and grandchildren are not interested in collecting at this time, Greene is auctioning of this card along with complete trading card sets from 1950 to 1975, a Babe Ruth autograph, and game-used jerseys among other hobby treasures.
An expanded version of this piece with additional comments from J. Ross Greene and reaction to the final price the Original Wagner realizes with be available in the next issue of Beckett Vintage Collector.
Stephen Laroche is the editor of Beckett Hockey, Beckett Basketball, and Beckett Sports Card Monthly magazines. Have a comment, question or idea? Send an e-mail to him at slaroche@beckett.com or follow him on Twitter @Stephen_Laroche.