2016-17 Panini Noir Basketball Checklist, Team Set Lists and All You Need to Know
For the past couple of seasons, Panini America has put together an aesthetically-pleasing summer release which serves as a nod to the film noir genre and it is back again with the arrival of 2016-17 Panini Noir Basketball.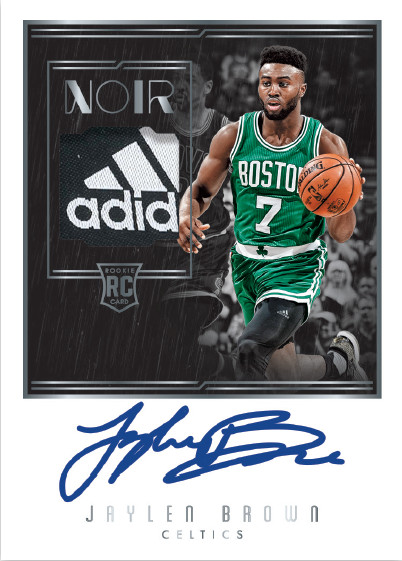 With a slightly-altered configuration that goes from 12 to 10 cards per box, collectors will still find seven autograph or memorabilia cards inside along with the possibility of all-new framed cards.
Base Set and Parallels
The 2016-17 Panini Noir Basketball main set has 330 total cards. However, those are broken down into several different subsets. The main veteran cards and some rookies have both color and black and white cards. Numbered to 79, these take up separate parts on the checklist.
Black and White Rookie Patch Autographs cover many of the key first-year players. Numbered to 99, these cards have the highest print runs in the rare main set. Parallels feature a mix of things like patches, tags and other premium swatches in both color, and black and white versions.
New in 2016-17 Panini Noir Basketball is an assortment of Metal Frame cards. Spread out over several different varieties, look for veterans and rookies in addition to themes such as Curtain Calls, Encore, and the visually striking Vintage Art, which are designed to resemble an old-time movie poster and are limited to 25 copies each.
Autographs and Memorabilia Cards
Spotlight Signatures has a classic look and look sharp with autographs in gold ink. They have both horizontal and vertical versions.
The largest portion of the autograph checklist in 2016-17 Panini Noir Basketball belongs to Auto Noir Color. Almost 80 different current and past players are included. Base versions are numbered to eithr 99 or 75 while Gold parallels have 25 copies each.
Autographed Prime cards add signed memorabilia cards to the mix. Available in both Black and White, and Color versions, these feature more than 30 cards. Base versions are numbered no higher than 40 while patch and tag parallels drop off as low as 1/1.
On the memorabilia side, 2016-17 Panini Noir Basketball doesn't have a lot of themes. However, these checklists for these are expansive. Jumbo Materials has 80 cards numbered to 99 or less.
Almost as many are included in Materials Black and White Prime and Materials Color Prime. Both of these have similar but separate Rookie Materials versions.
Rounding out the memorabilia inserts are Rookie Noir Jumbo Materials.
All memorabilia cards have multiple levels of patch and tag parallels.
2016-17 Panini Noir Basketball at a glance:
Packs per box: 1
Cards per pack: 10
Boxes per case: 4
Set size: 330 cards
Release date: August 16, 2017
What to expect in a hobby box:
• Autographs or Memorabilia Cards – 7
2016-17 Panini Noir Basketball Checklist
Base
Autographs
Memorabilia
Team Sets
Stephen Laroche can be found on Twitter @Stephen_Laroche.