Celebrate Superman's 80th, Find the Truth Behind X-Files Trading Cards and More in Non-Sport Update
As 2018 winds down, Non-Sport Update marks the Son of Krypton's 80th anniversary. Card collectors will find six super pages covering the Man of Steel's many cardboard encounters, ranging from 1941's Gum Inc. classic release to today.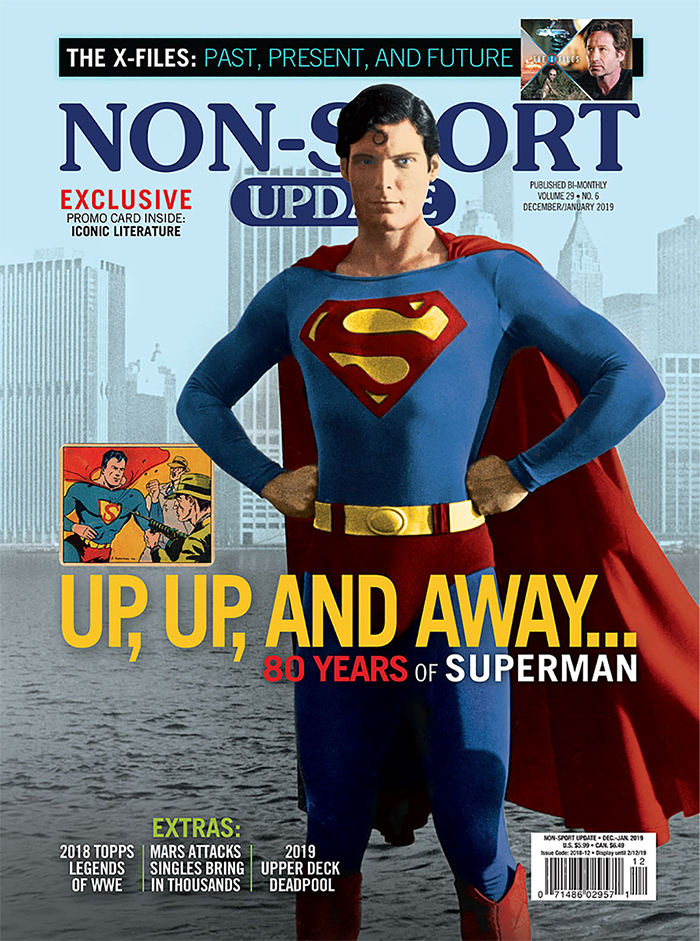 While The X-Files may not have quite as long of a history in pop culture as the visitor from another planet, the series has moved through nearly as many card companies with some extraordinary releases. On the heels of Rittenhouse Archives' first X-Files release and the eve of Upper Deck's first set for the show, we delve into the trading card past, present, and future for Fox and Mulder. We've even checked in with Inkworks' Allan Caplan to share some of his experiences with the license.
Two other features explore polar opposites in entertainment. "Are You Ready To Rumble" looks at 2018 Topps Legends of WWE while "Center Stage" showcases The Lights of Broadway Show Cards.
Non-Sport News looks at some remarkable prices Mars Attacks singles have recently brought in at auction, Upper Deck's upcoming Deadpool release and more.
Promo Cards
The Dec/Jan issue includes a promo card all the way from Greece.
Greek artist Achilleas Kokkinakis' creator-owned company, Iconic Creations, will soon release Iconic Literature. This issue of NSU includes an exclusive promo from this new card manufacturer featuring art by fan-favorite artist Soni Alcorn-Hender.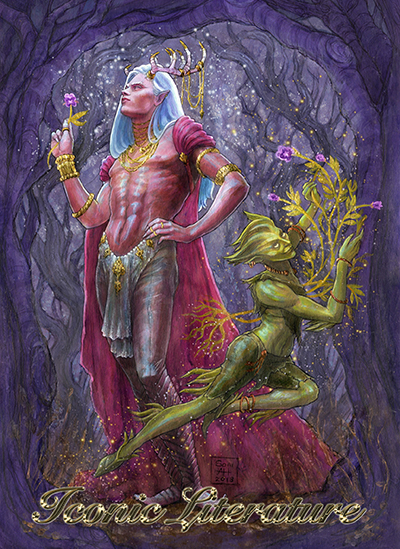 Check with your local card shop or newsstand for the Dec/Jan issue shortly. You can also order issues online.