CBCS RECEIVES THEIR FIRST DALLAS DROP-OFF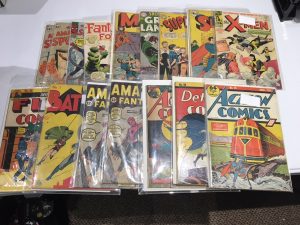 Here is the 1st part of the Golden Age and Silver Age collection that CBCS got in for grading and encapsulation the 1st day we hit our new location in Dallas. What a wonderful way to start our new operations with Beckett, in Dallas!
Some highlights included in the deal:
-Detective Comics #33, 4th Batman cover and predates the 1st appearance of Robin the Boy Wonder by 5 issues.
-Two copies of Amazing Fantasy #15, the 1st appearance of Spider-Man.
-Batman #1, the 1st book devoted entirely to Batman and, most importantly the 1st appearance of the Joker and Catwoman (originally called The Cat).
-X-Men #1, the first appearance of the original X-Men.
-Action Comics #13, the 4th Superman cover and it's the 1st time the S symbol appears on his cape.
-Fantastic Four #1, the first appearance of the Fantastic Four and the 1st Marvel super hero Silver Age book.
-More Fun Comics #55, the 1st appearance of Dr. Fate and the 4th appearance of the Spectre.
-Marvel Comics #4, 1st Sub-Mariner cover.
-Showcase #22, the 1st appearance of the Silver Age Green Lantern.
-2 copies of Amazing Spider-Man, the 1st comic devoted entirely to Spider-Man.
As always, happy collecting!
-The CBCS crew
Interested in learning more about CBCS?  Please go to www.cbcscomics.com
New CBCS Address:  4635 McEwen Rd  Dallas TX 75244