2017 Upper Deck Team Canada Juniors Hockey Checklist and Details
Canadian hockey fans were tantalizingly close to seeing their national teams win gold at the World Junior Championship and the Women's World Championship events earlier this year. Those same players are a big part of 2017 Upper Deck Team Canada Juniors Hockey.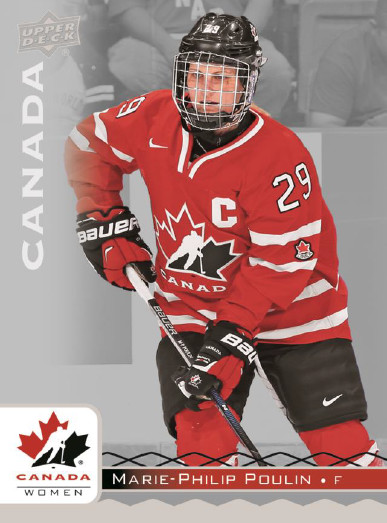 The product gives collectors a taste of some of the game's top Canadian-born prospects along with with plenty of hits that have made this brand a success in recent years.
Base Set and Parallels
The 2017 Upper Deck Team Canada Juniors base set is relatively small at just 100 cards, but it is loaded up with young talents that will rise to prominence as they move up to the pro level. Looking at the 2017 roster, there are some that already have NHL cards like Thomas Chabot, Mathew Barzal, and Dylan Strome plus potential top draft pick Nolan Patrick. There will also be a subset dedicated to the National Women's Team and these cards feature some veteran names like Meghan Agosta, Marie-Philip Poulin, and Shannon Szabados.
Each base set card has five additional parallel versions to collect. The easiest to find are the Gold (1:6), but the rest are all numbered. All of the parallels combine to fall four times per box and the other versions include Red Exclusives (/125), High Gloss (/25) and Black (/5), some of which are signed.
Inserts
There are two different non-memorabilia insert themes inside packs of 2017 Upper Deck Team Canada Juniors. Program of Excellence (1:5) have a regular version and an additional 1997-98 Retro design (1:9).
Local Legends (1:13) has a sharp look with the player's hometown shown in the background. Both active and retired players are on the checklist.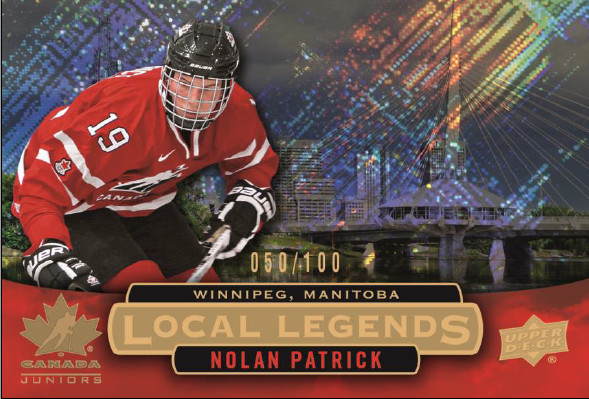 Autographs and Memorabilia
Autographs are a challenging pull in 2017 Upper Deck Team Canada Juniors. The checklist mimics much of the base set with both future and past stars.
The basic Team Canada Jersey (1:13) should draw from a deep roster of players. There is a premium series with prime swatches from Women's sweaters (/225) along with two tiers of Team Canada Premium Series Auto cards (/235 and /135). Emergence jersey cards (1:19) have a sharp ice blue look with additional Premium Series Auto (/99) and Women's Premium Series (/10) editions.
Manufactured patch cards make their debut in this season's product as well. Look for 1983 Juniors Manufactured Patches (1:80) and Canada Legends Manufactured Patches (1:160).
2017 Upper Deck Team Canada Juniors at a glance:
Packs per box: 15
Cards per pack: 5
Boxes per case: 8 per inner shipper
Set size: 100 cards
Release date: October 4, 2017
What to expect in a hobby box:
– Four base set parallels or Printing Plates
– Six Program of Excellence or Local Legends inserts
– One Program of Excellence or Local Legends Patterned Rainbow parallel
– Four autograph or memorabilia cards
2017 Upper Deck Team Canada Juniors Hockey Checklist
Base
Autographs
Memorabilia
Inserts
Stephen Laroche can be found on Twitter @Stephen_Laroche.