Casey Mittelstadt: Believe the Hype – Beckett Pricing Insider
The first of the 2018-19 hockey products, Upper Deck MVP, hit card shops earlier this month. A brand that's celebrating its 20th Anniversary in the hobby, it has become a nice little bridge into the new season's releases. O-Pee-Chee, Artifacts, and Series 1 can all been seen just over the horizon as the year's releases start ramping up.
But until we get there, MVP will help soothe the itch that we all get waiting for new sets.
With the fresh start to the hockey card season comes a new crop of rookies. Upper Deck has done the hockey collecting community a solid by inserting a 2018-19 NHL Rookie Standouts booklet into MVP boxes to help inform the collector who to be on the lookout for. At that top of that list is young Buffalo Sabres center, Casey Mittlestadt.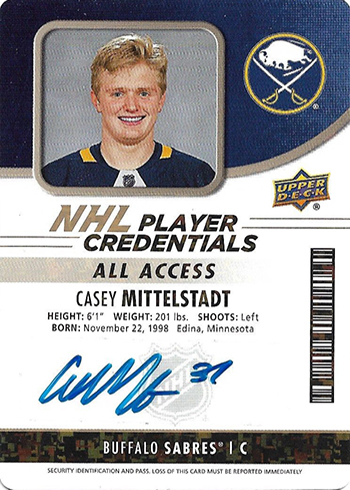 Buffalo drafted the Minnesota native with the eighth overall pick in the 2017 Draft and the hype around him could not be greater, both in the organization and in the hobby. That means now might be a great time to jump in on this first release of the season and grab you a few rookies and inserts before the season starts and the hype is realized.
The 2018-19 Upper Deck MVP Casey Mittelstadt RC currently books in the $3-$8 USD range. Taking a $5 flyer on a guy that may pan out to be the hottest rookie next season isn't the worst investment ever. He has all the tools to be the next big thing in the NHL and help push Buffalo back into the playoffs.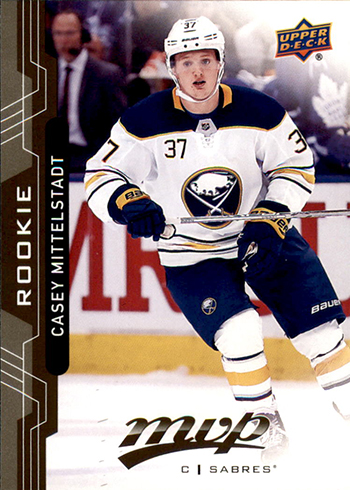 This edition of the Beckett Pricing Insider is sponsored by Classic Auctions.