Carlos Correa autographs added to 2015 Bowman Chrome Baseball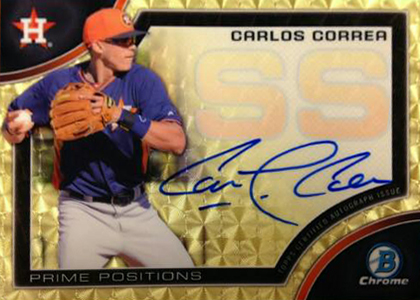 By Ryan Cracknell | Hobby Editor
When Topps released the 2015 Bowman Chrome Baseball checklist, Carlos Correa was on it. But it was "only" a Rookie Card and a Prospect Profiles Mini insert. A Twitter post changed that.
We had @TeamCJCorrea stop by today … And, yes, that is a card that is going into 2015 Bowman Chrome. Thanks Carlos! pic.twitter.com/hvl0aNgnsT

— Topps Company (@toppscards) August 25, 2015
Carlos Correa autographs are now part of the product. These are Correa's first on-card Topps autographs released since he made his MLB debut with Houston at the start of June. The first overall pick in the 2012 draft has a few cards in 2015 Bowman Inception Baseball, but these autographs use stickers.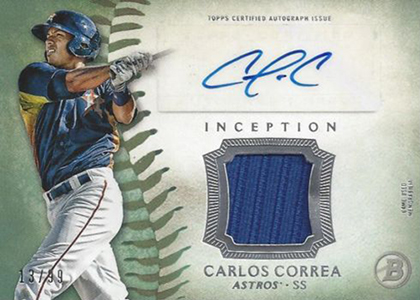 A collector on Twitter noticed almost immediately that Correa's signature appears to be evolving. Topps was quick to respond that it's something Correa has done since getting called up.
Btw, if you notice @teamCJCorrea's signature is different. That a his new MLB sig … And you're only gonna find it one place.

— Topps Company (@toppscards) August 25, 2015
If you want to read a little more into the tweet, it might also imply that Topps has another autograph card exclusive to go with Mike Trout, Bryce Harper and a handful of others.