Cards That Surprise: 2013 Topps Heritage Mike Trout – Beckett Pricing Insider
Mike Trout's name was in the news last week after the All-Star Game, which led to an interesting back-and-forth between the Los Angeles Angels and MLB Commissioner, Rob Manfred. After Manfred made some remarks regarding Trout's marketability, many took it as a shot at the superstar. The Angels came to Trout's defense, pointing out some of the great, selfless work  he does.
The truth is Trout is not at fault for anything. He may not do a lot of self-promotion on the corporate side of things, but it's not like he's sheltered away. He just doesn't want to over-saturate himself. Trout makes sure that he is available to his fans and has always been patient with the media. It's more of an issue with baseball than an issue with Trout.
As card collectors, we are not shy about how we feel about Mike Trout. He's a superstar with almost 8,000 different cards already. And in those are some that might surprise you by how much they're going for.
Topps Heritage is one of the most popular products in baseball and that carries over to Trout. The thing is, there is no Topps Heritage Mike Trout Rookie Card. But that hasn't stopped his first couple of Heritage cards from taking off.
Let's take a look at the 2013 Topps Heritage Mike Trout. Card #430 on the checklist, it's a third-year card (his second Heritage card in a MLB uniform). It's also one of the set's high number short prints, which combine to land 1:3 hobby packs.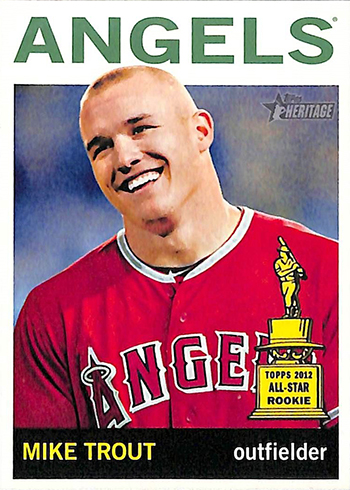 Currently, the base version is going for $50-$80, about the same as his non-short print 2012 card.
Along with the base version, the 2013 Topps Heritage Mike Trout has two variations, Action and Color Swap. These, too, are selling big despite their lack of autographs or serial numbers. Action variations are 1:26 hobby packs and recent sales have this card going for $300-$400.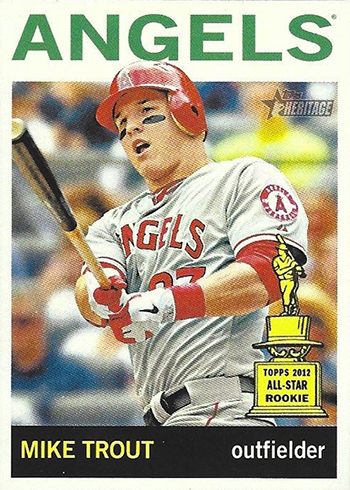 For the Color Swap, the odds are much higher at 1:155 hobby packs. Because of this they are harder to find with not a lot of recent sales. One that did, a BGS 9, sold for $280.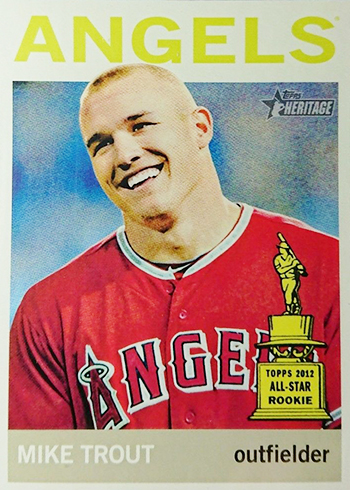 Trout also has some parallels for the cards. All three of the Trout cards have a Venezuelan parallel with a black back instead of the normal orange. The base version also has three more parallels: retail-exclusive Black, Walmart-only Blue Border and a Mini that is hand-numbered to 100. Many of these cards are very rare and hard to find even today. When they do show up, a lot of these have since been graded.
This is just a small peek into the world of Mike Trout cards. But as you can see by these seemingly basic third-year cards that the desire is there and he is clearly one of the most popular players in the hobby today. He may not be doing it exactly the way the commissioner wants him to do it, but he is doing it the way fans want to see it. That's what matters.
This edition of the Beckett Pricing Insider is sponsored by MVP Sports Collectibles.