Cards on Every Corner: My Brief Experience with Collecting on a European Vacation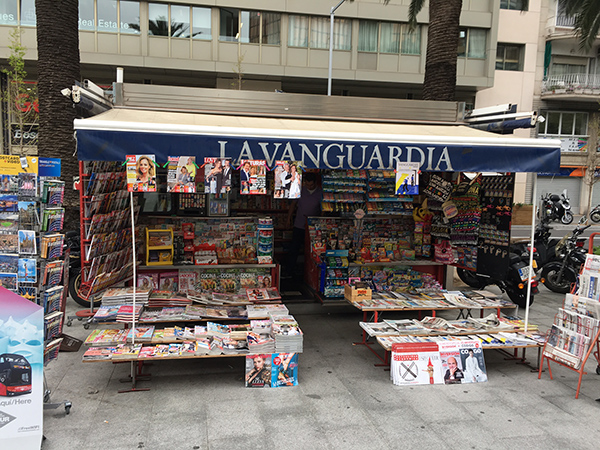 By Ryan Cracknell | Hobby Editor
What if I told you there was a place where trading cards could be bought on every other block and packs were usually around a dollar?
Many yearn for the days of finding sports cards and other trading cards almost everywhere you went. The cheaper, the better. Corner stores, department stores, gas stations, restaurants — there was a time when cards were everywhere.
Today, that's not the case where many of us live. You have your card shops. Or maybe you don't have one nearby. There are places like Walmart and Target, but it seems like those sections are shrinking more than they're expanding.
Are other parts of the world the same? Where are cards found on the other side of the planet?
That was one of the questions I had on my mind as my family and I recently embarked on a trip through the Mediterranean with stops in a handful of countries.
And while my sample size of cities and areas weren't the biggest, the results surprised me.

I've grown past the souvenir phase of life when it comes to traveling. My wife, not much of a collector of anything, likes to pick up a magnet when we visit somewhere. That stayed true on this trip. For my kids, life revolves around Pokémon right now. They thought it'd be fun to hunt for packs in as many places and languages as they could find.
Being lucky enough to hit four European countries in the span of about a week, the opportunities were there.
Whether it was Barcelona, Marseille or three different cities in Italy, we quickly noticed that there were a lot of newsstands on the street. All but extinct on North American streets, we saw them every couple of blocks in our travels.
Gum, newspapers and magazines were most prominent, although there were other items to be found. Blind bag toys and DVDs could be had for a few Euros.
And then there were cards.
My kids had to ask for Pokémon. Thankfully, "Pikachu" and "Pokémon" are universal words and the newsstand owners knew exactly what to bring out. And almost all of them had something. The new sets brought on a little excitement but there were also blister packs of some slightly older products. That's what they gravitated towards.
They did have to be careful. Bootleg Pokémon packs were in a couple places. They were easy to spot, especially by my kids who live and breath by the likes of Pikachu, Evee and the hundreds of other little critters in the game.
It didn't take much effort to find official Pokémon cards in Spanish, Italian and French.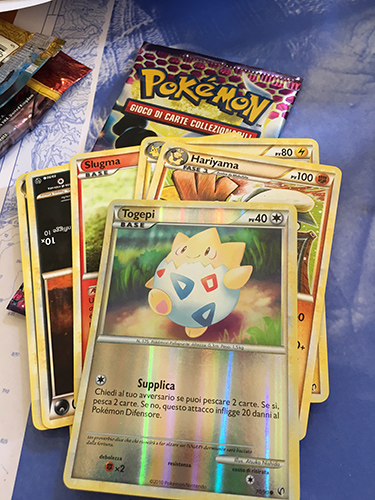 But these weren't the only cards we found. Although I freely admit the playing aspect of Pokémon cards has piqued my interest of late, I still don't connect with Pokemon like I do with sports and entertainment cards.
These were just as easy to find as Pokémon, and a whole lot cheaper.
I freely acknowledge I don't fully understand how the market works in Europe. The growing number of soccer products distributed here and there point towards an expanding pool of premium card collecting. Still, I get the sense that things are still much simpler over in that part of the world.
That's the impression I've gotten from seeing many of the products distributed over there. And now that I've witnessed it firsthand, even in a small group of cities, I tend to think that's the case even more.
While not at every newsstand, sports cards were at most of them. Rather, soccer football cards were at most of them. Both Topps Match Attax and Panini Adrenalyn XL cards were common. These are both trading card games.
With my kids looking for Pokemon, I soon joined in the chase to see what sorts of cards I could find.
Beyond soccer, there were Disney Princesses, Spongebob Squarepants, Star Wars and a WWE trading card game from Panini I'd never heard of before.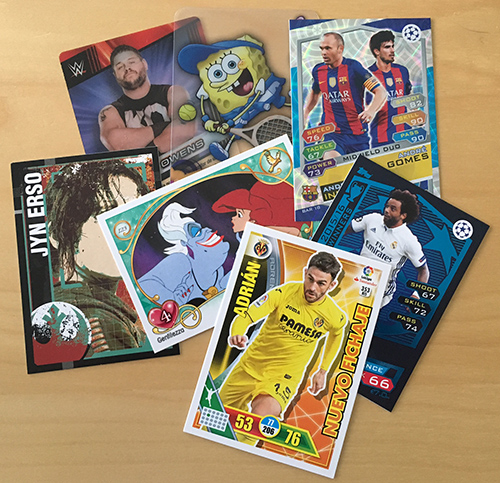 Even more plentiful than the cards were the stickers. Similar to the ones we have over here, they were available in a variety of themes. Panini FIFA 365 was easily the most common. Knowing that I wasn't going to chase a full set of stickers, I held myself to only a couple packs.
So not only were cards easy to find during my European travels, but they were cheap. The Pokémon were about the same as what we pay over here. But of the cards that I bought, none were more than a Euro.
Talk about a throwback.
These aren't the types of packs where autographs and memorabilia are common. One of my Disney packs yielded a card from the live-action Beauty and the Beast movie (or La Bella e la Bestia as it was called on the Italian cards). The toughest insert in the product, it was a whopping 1:5 packs and didn't even use foil.
I would have loved to have found a card shop in my travels. I know they exist in Europe. But when it's your first time off the continent and you only have a short time at each stop with plenty of art, food, history and other culture to take in, it wasn't meant to be this time around.
But if you are planning a trip in the future, don't overlook those newsstands. They're an easy source for cheap cards that might leave you feeling like its 1990 all over again.
Comments? Questions? Contact Ryan Cracknell on Twitter @tradercracks.