Cards & Kicks: Tim Duncan
During Tim Duncan's career, he did nothing special that would make him stand out in a crowd, right? He was steady, consistent, and reliable. His nickname was The Big Fundamental. That's not flashy. No, there was nothing special about Tim Duncan.
Well, unless you count his five championship rings, three Finals MVPs, two regular-season MVPs, and the facts that he never missed the playoffs or played on a team that won less than 50 games. Sure there was the strike-shortened season, but the Spurs won the title that season.
Tim Duncan is hands down the most underrated star in the hobby. Well, at least where basketball is concerned. This week in the Cards & Kicks: Tim Duncan edition both Jake and I are going to hopefully catch the rest of the hobby up.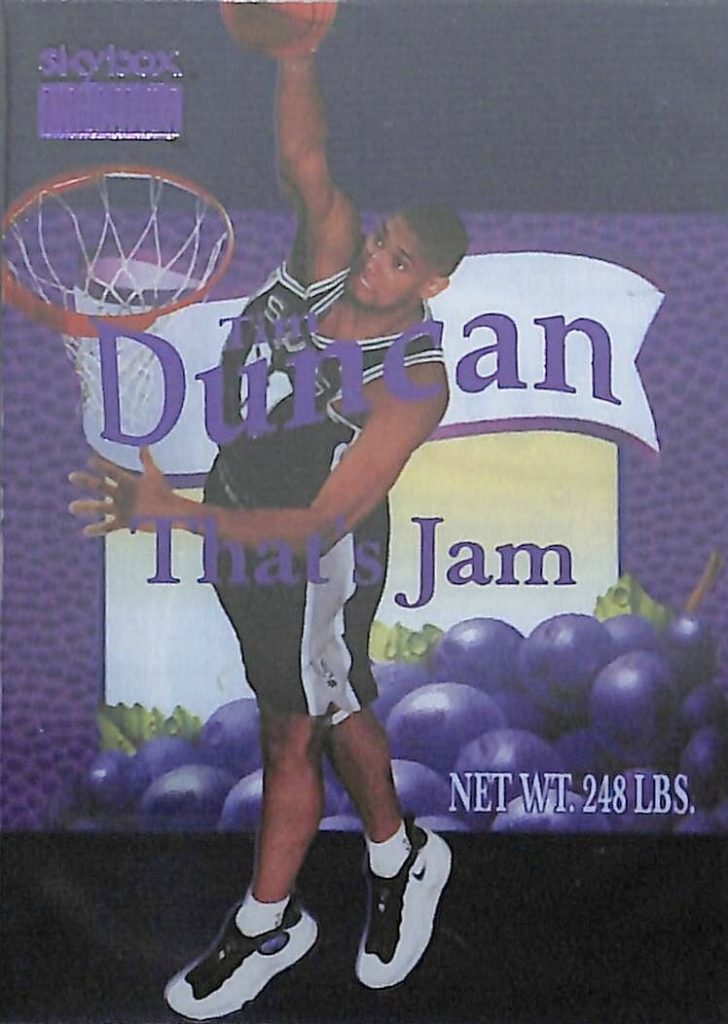 Jake Roy – 90s BBall Cards
When you think of Tim Duncan, his shoes are probably not the first thing to come to mind. His kicks may not even be in the top 5 things you think of. The Big Fundamental today is regarded as one of the greatest NBA players ever, but he's also considered rather boring. The nickname says it all. Fundamentals are key but they aren't sexy.
However, take a moment if you will and think back to 1997. The internet was still coming into its own and eBay was just 2 years old. Steve Jobs had just returned to Apple. Chris Farley was still alive. Oh, and Tim Duncan was a rookie as well as one of the biggest names in all of sports cards
Naturally with an athlete garnering as much attention as Tim Duncan was at the time, brands wanted a piece of the action. You could see Duncan on commercials for Sprite, Edge shave gel, and of course Nike! As Nike does, they helped brand Duncan as a young exciting star and gave him shoes that matched the branding.
The Shoe
Going into his second season they gave him a shoe that was unofficially his signature shoe. The Nike Total Air Foamposite Max really turned heads when they dropped. The bold metallic silver foam overlay was radical. These also featured a full-length Air Max unit for ultimate comfort and cushioning. The silver & black colorway was the first and had an obvious inspiration from Duncan's Spurs.
He typically opted for a more subtle colorway with a pearl-white foamposite overlay. This was reminiscent of the Nike Air Foamposite Pro that he rocked in his rookie season. They did leave the Nike Swoosh in the same silver holographic oval on these white versions which I enjoy. Later they released an all-black to round out the full collection of Spurs colors.
On this card we see Timmy D with a pair of the Total Air Foamposite Max (That's a mouthful to say each time) with the white foamposite. They really stand out here too with his black uniform and the dark purple on the acetate portion.
The Card
Skybox really knocked it out of the park with this Duncan specifically. The That's Jam insert set was designed to resemble a jar of jam. Think Smuckers and all they are missing is a checkered lid to match. They featured 3 "flavors" (Grape, Strawberry, and Orange/Marmalade) and sometimes these were coordinated with the team and their colors. But I'll never understand why Kobe had strawberry rather than grape and Iverson had grape instead of strawberry. I could go on but anyway, the grape really fits perfectly for the Spurs and The Big Fundamental. What jelly flavor is more foundational than grape?
This set has seen a dramatic increase in popularity in the last two months. The theming, star-studded checklist, and eye-catching use of acetate gives collectors plenty to enjoy. The market has similarly taken notice. In December the Duncan could be obtained for $50-$70, today it will run you $150 or more.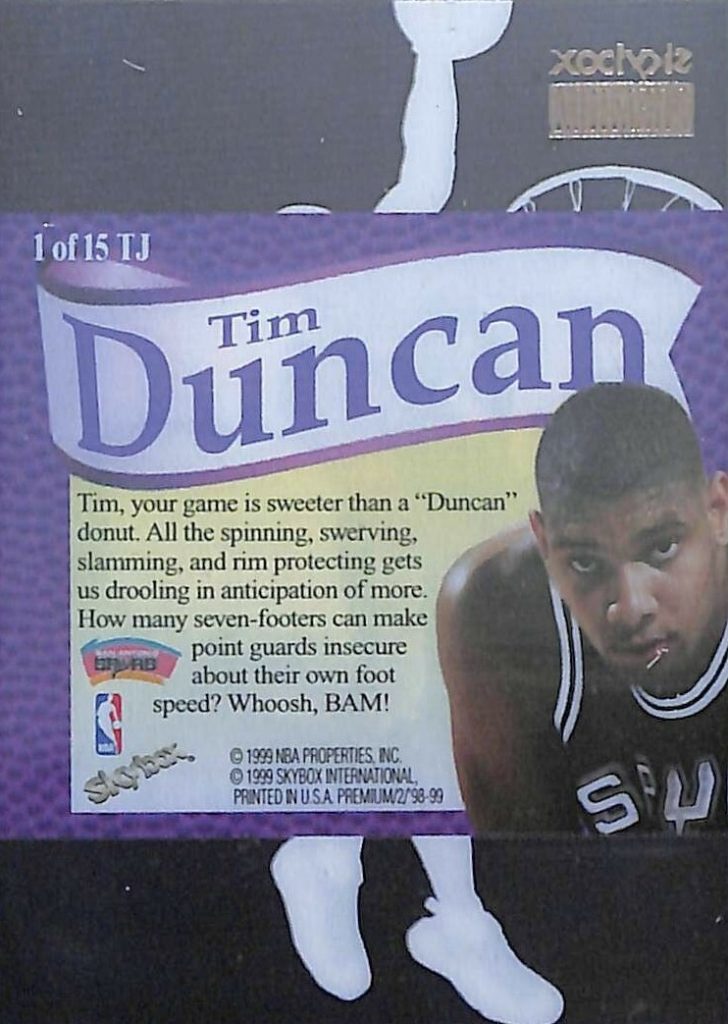 Final Thoughts
As we wrap up the Cards & Kicks: Tim Duncan edition, one has to ask. So, what happened? How come Duncan was so incredibly popular in NBA culture and now is seen as a boring all-time great? We may never truly crack this case, but I have a theory. It really comes down to one thing, Nike. They did a great job marketing their athletes. Naturally, since Duncan was given his own shoe, they had a vested interest in making sure his star was as shiny as possible. Once he parted ways with Nike, a lot of that luster seemed to fade. His Adidas shoes weren't as flashy or as technologically driven. Ok, if I'm being honest his Adidas shoes were pretty boring to me. Duncan was still just as great. He was still winning championships, playing in the all-star game, and being voting as a potential MVP almost every year. None of it seemed as exciting though.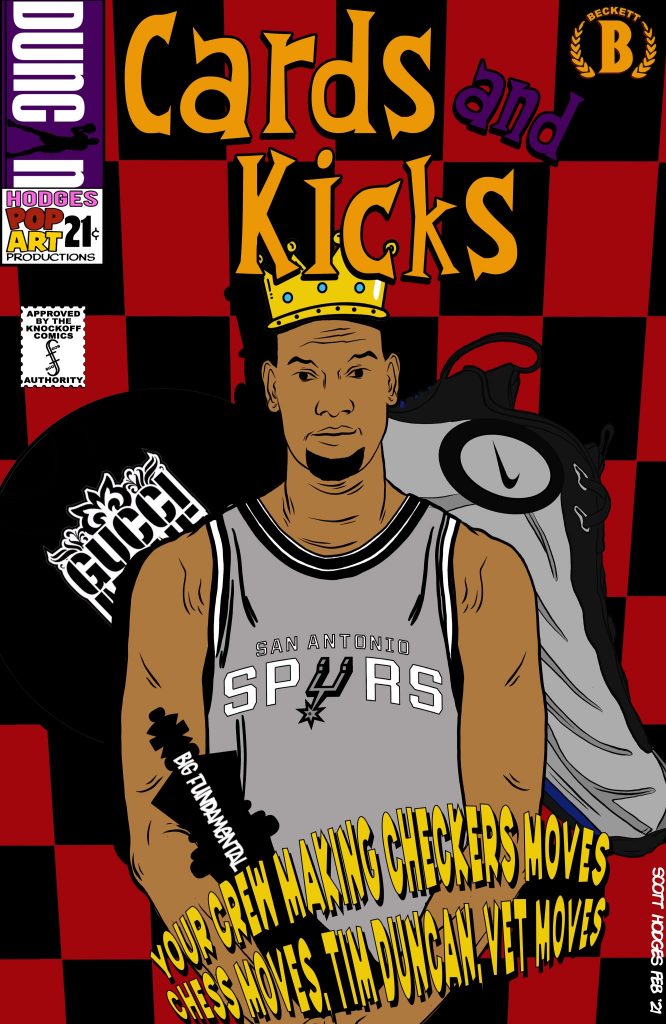 Thank you for checking in this week. Jake and I would love to know your thoughts about Duncan, so please share them in the comment section. Also, if you aren't following Jake already, please check out his YouTube channel and hit that subscribe button. You will find lots of great basketball content there. Also, the Cards & Kicks: Tim Duncan edition art was created by Scott Hodges. Make sure to check out Scott over on his site as well.