We're back with another edition of Cards & Kicks and this time we're taking a look at Ray Allen. Ray was simply one of the purest shooters that has ever lived. Yes, he could drive to the basket, but from what I can remember that was almost a last resort. He would rather pull up and hit a jumper in your eye. Defenders could not give him any space at all. Ray Allen was the savior of two franchises before he started winning rings. In short, he was everything he was advertised to be, as you will find out this week in the Cards & Kicks: Ray Allen edition.
Now, here's Jake with a few thoughts to get us started.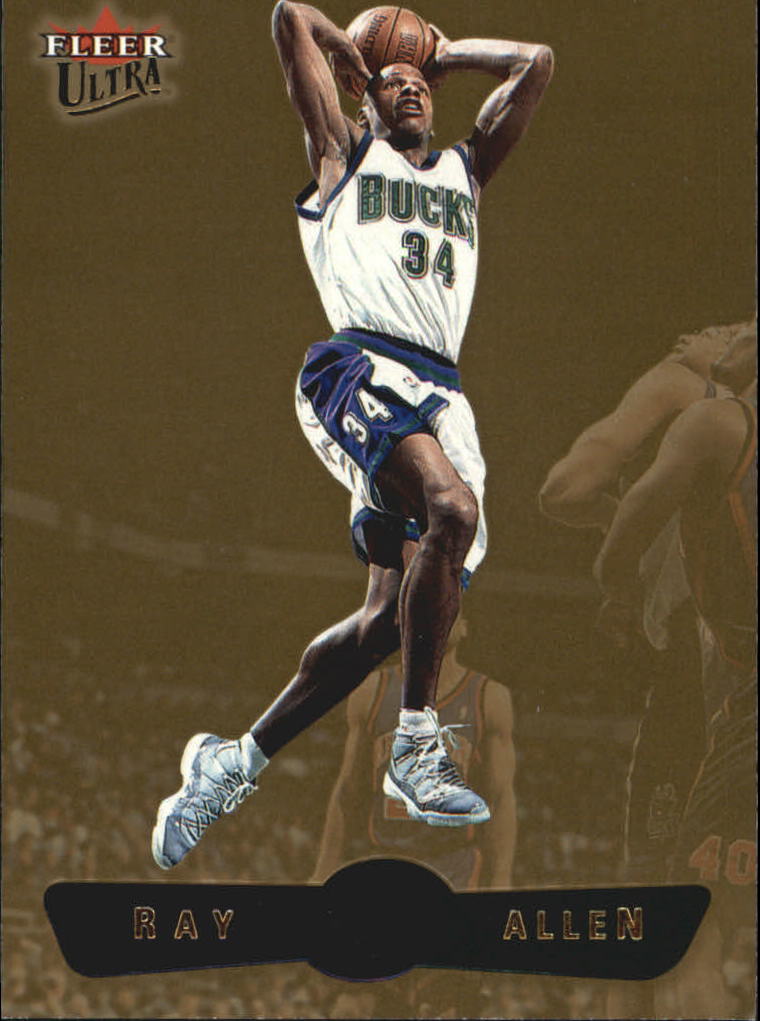 Jake Roy – 90s BBall Cards
When you think of Ray Allen you probably think of a guard with a sweet shot. The man currently holds the record for the most 3-pointers made in NBA history. This is not all he is, however.
Think back to a time before the records, before the championships, or when there was still a franchise in Seattle. Ray Allen was a young and exciting Buck. His nicknames said it all. People called him Sugar Ray or Basketball Jesus. He was known as a silky-smooth wing player set to rival the very best in the league. His jump shot was lethal, his aerial displays were mesmerizing, and his perimeter defense was feared by opponents. Ray Allen was a force on both ends of the floor and he was one of the very best players in the entire league.
The Card
I really love this 2001-02 Fleer Ultra card of Ray Allen because it reminds me of how fun he was to watch, especially in the earlier years of his career. The gold medallion edition here serves to highlight Ray Allen even more than the photo does on its own. It really is majestic how he's flying through the air to finish this dunk.
Adding to the great play captured on this card, Ray Allen is rocking an even more great pair of kicks. We have talked about the Air Jordan 11s previously. Those were the Concord colorway and we talked about some of the other "OG" colorways. These are the Cool Greys and they are a grail for many sneakerheads. In fact, most consider this the best non-original colorway of the 11s.
The Kicks
Ray Allen had access to these as one of the elite guards signed to Team Jordan. He was arguably the most prolific member of the squad other than MJ. Ray Allen opted rather than wearing the Team Jordan models to wear special player editions and retro versions of Air Jordan's. The Cool Grey's are one of the very best that he wore over his career and they still stand out.
As opposed to the other early colorways of the 11s, the cool greys have only hit the market two times. The first time these dropped was in 2001, lining up with this card. The 2nd release was 2010 and that was it. Sneakerheads worldwide have been begging for these to be released for years. At long last, this December it is expected that we will finally get what we have all been asking for. The Cool Greys are planned to be released, just in time for Santa to bring them down the chimney for you!
Am I going to try to get a pair? You better believe it!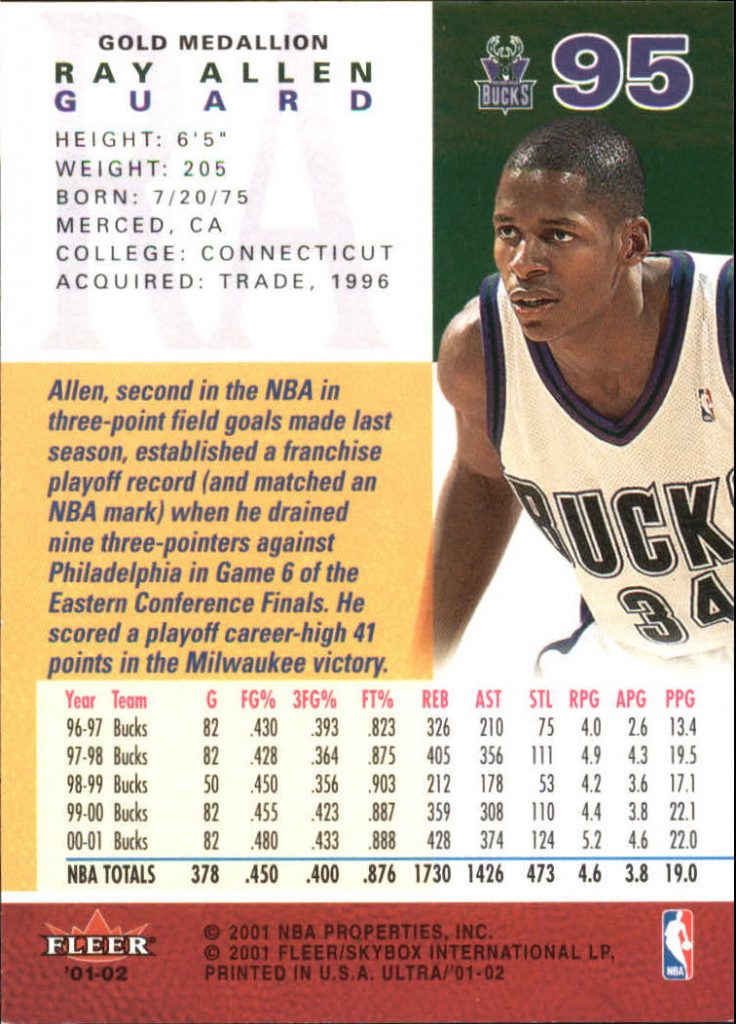 Final Thoughts
I kind of feel that Allen is underappreciated both in the hobby and NBA fandom. As I mentioned before, he helps bring the Bucks back to relevance in the league and pulled Seattle out of those awful Vin Baker years. By the time he was in Boston and Miami he was a role player, but he filled it nicely. Ray Allen deserves more respect on his name. If not for being a top-tier shooter and NBA Champion, then for having one of the best nicknames in league history. Jesus Shuttlesworth.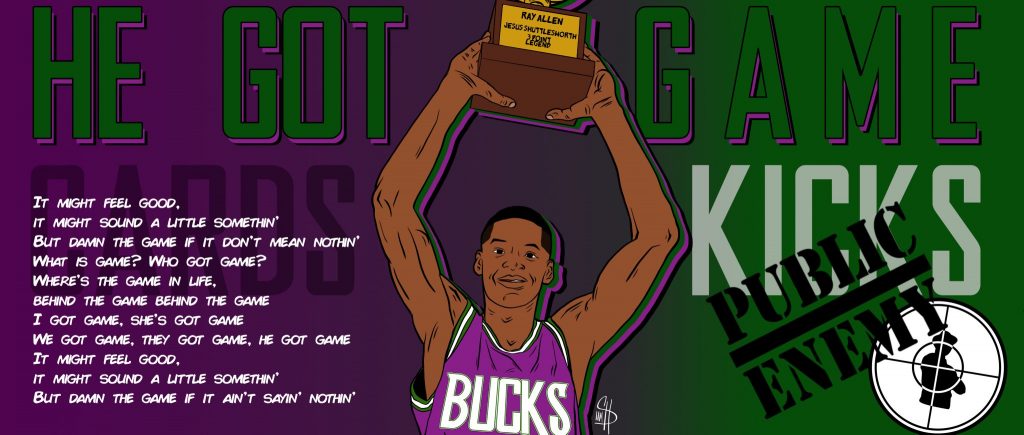 Thank you for checking in this week. Jake and I would love to know your thoughts about Ray Allen, so please share them in the comment section. If you aren't following Jake already, please check out his YouTube channel and hit that subscribe button. You will find lots of great basketball content there. Finally, the Cards & Kicks: Ray Allen edition art was created by Scott Hodges. Make sure to check out Scott over on his site as well.
Also, don't forget to check out last week's Cards & Kicks: Jason Kidd edition here.