Cards & Kicks: Patrick Ewing
The Cards & Kicks: Patrick Ewing edition is really going to be about two things. First, the card. Like many of the cards featured in this series, this card isn't expensive. I feel like a broken record, but you can find this '91-92 Fleer #233 for about $3 shipped. I don't think a fractional shares option is needed.
Next, we're clearly going to be discussing Patrick Ewing. Now, I have my opinions on the BIG MAN from Georgetown, but we're not going to focus on his play. However, what we will discuss is his choice to have his own shoe brand, bucking the trend of the Nikes and Reeboks of the world. It was a bold move and it worked for him.
We're going to get into that after the jump, but first let's get Jake's thoughts on number 33, this week on the Cards & Kicks: Patrick Ewing edition.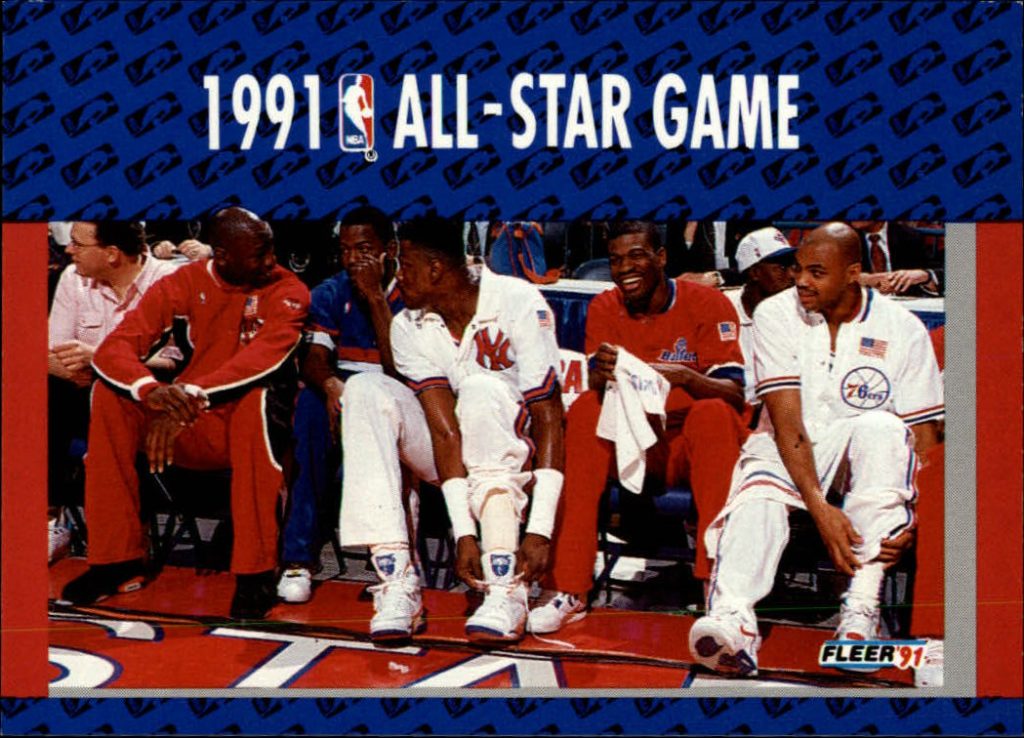 Jake Roy – 90s BBall Cards
I'll never forget it, the first poster I got out of a box of cereal was of Patrick Ewing from Honeycombs! Now as a kid I wasn't too familiar with Ewing BUT that poster made me want to learn more about him. It didn't take long to find out how prolific a player he was.
The Card
On this card, Ewing is with a similarly prolific group at the 1991 NBA All-Star Game. Michael Jordan, Joe Dumars, Patrick Ewing, Bernard King, and Charles Barkley are all HOFers. The card makes me imagine this group playing together. That would be an impressive team!
There is so much retro fun to take in from this card. The warm-ups are all classics! The Bulls warm-up is iconic. The old-school 76ers are great! The Washington Bullets are something you could only enjoy in the 90s. I particularly enjoy the Yankees style NY on the Knick warm-ups.
The Shoe
The Ewing 33 Hi has all the design staples of a classic 90s shoe. In fact, the straps around the ankle fastening in the back with Velcro was pretty radical for the time. Tupac wore these in a music video and at concerts. The epic '90s rap duo Kriss Kross rocked the Ewing's on their debut album cover, Totally Crossed Out. Even Joe Pesci wore them in My Cousin Vinny. Aesthetically, these look like a perfect pair of kicks for GaryVee to rock. If you are familiar with Gary's style, these are an obvious fit, not to mention his massive fandom for the Knicks.
Zooming out and looking at the entire card, 1991-92 Fleer is the epitome of what people refer to as the junk-wax era. The card stock is relatively soft so finding these in good condition is not an easy task. The bold colors, the grainy picture, the repeating NBA logo, and the hardwood design on the back of the card are all so nostalgic! It's a junk wax classic.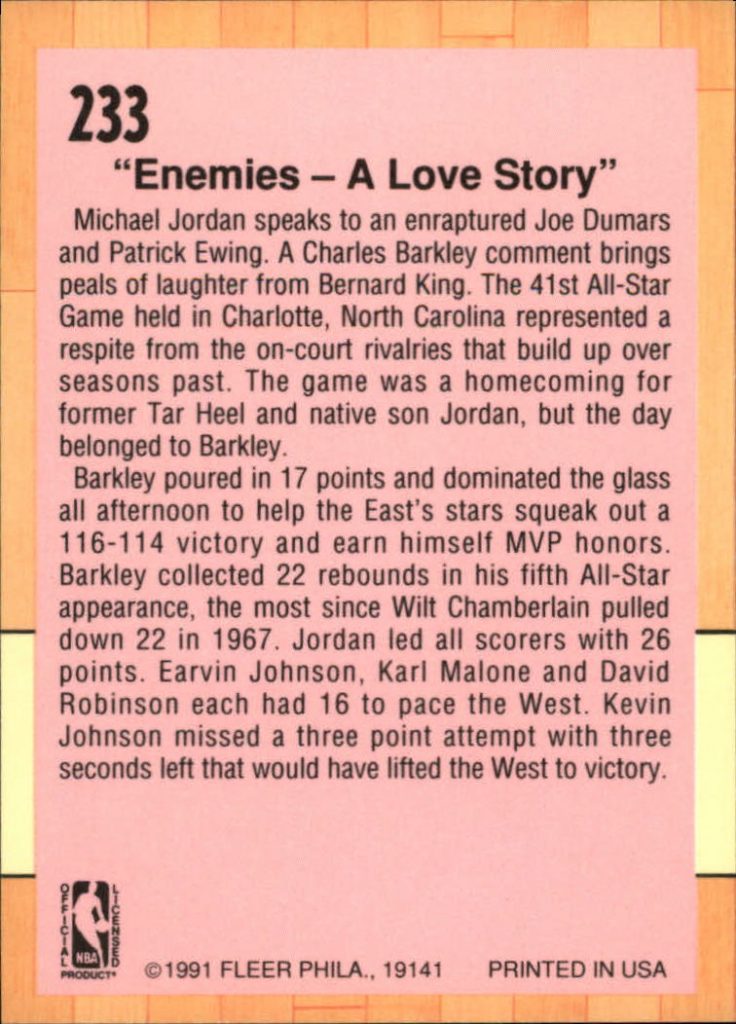 Final Thoughts
I must admit that my memories of Ewing aren't quite what Jake's are, but then again I tended to side with Michael Jordan where the Bulls and Knicks were concerned. However, you have to love the wherewithal of a player to create his own shoe brand. It may not have caught on the way he hoped, but Ewing sure put effort into it.
I mean what else would you expect from a New York attitude. All one needs to do is take a look around at what was happening in New York at that time to see what I mean. Wu-Tang was stepping onto the scene and Biggie wasn't far behind. The Yankees teams of the '90s are about to take over the MLB and the Giants weren't far removed from a Super Bowl victory. These shoes fit perfectly into all of that.
It was all about a New York state of mind.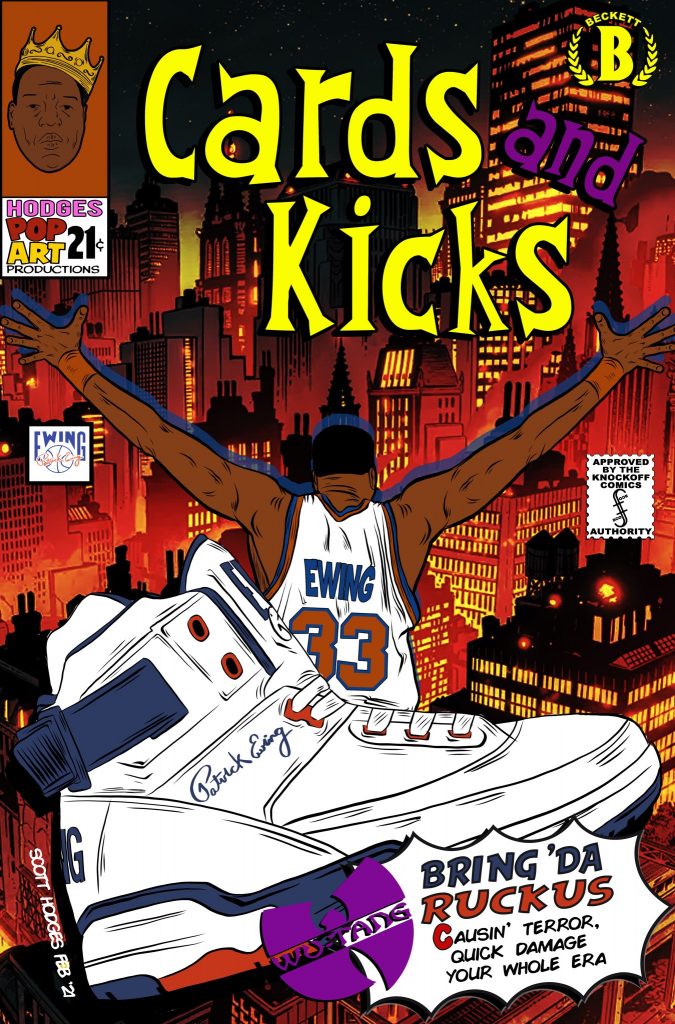 Thank you for checking in this week. Jake and I would love to know your thoughts about Ewing, so please share them in the comment section. Also, if you aren't following Jake already, please check out his YouTube channel and hit that subscribe button. You will find lots of great basketball content there. Also, the Cards & Kicks: Patrick Ewing edition art was created by Scott Hodges. Make sure to check out Scott over on his site as well.