Cards & Kicks: Charles Barkley
If you listen closely you can vaguely hear Sir Charles proclaim "I'm not a role model".  That, my friends, is your '90s NBA loving heart calling back to like the ghost of basketball past. More directly, those words were a shot fired by Barkley at his on again off again friendship with Michael Jordan. Clearly, Nike understood what they had in Charles and the perfect way to market him. Let's examine the Sir Charles persona and the Nike Air  Max2 CB34's this week in the Cards & Kicks: Charles Barkley edition.
In all fairness, you knew exactly what you were getting with Barkley. He was tough, durable, and sturdy in the low post, but could score from about anywhere when he needed to. Those same traits were exemplified off the court as well as his no-nonsense approach to the game became more evident as his career progressed. He was the Round Mound of Rebond long before Nike signed him on. By the time they did, his hardened exterior was cemented, and his first signature shoe was the result.
Looking back, Barkley may have been the last of a type of player in the NBA. The towering giants and enforcers that roamed the paint in the '80s were starting to fade out by the mid-90s. In their stead, finesse guards and wings would soon become the law of rosters around the league. Barkley, along with a handful of other guys, made sure that those finesse players would earn everything they got. In other words, players like Kobe were coming, but Barkley wasn't done.
This card perfectly depicts what I'm trying to convey, but let's get Jake's thoughts in this week's Cards & Kicks: Charles Barkley edition.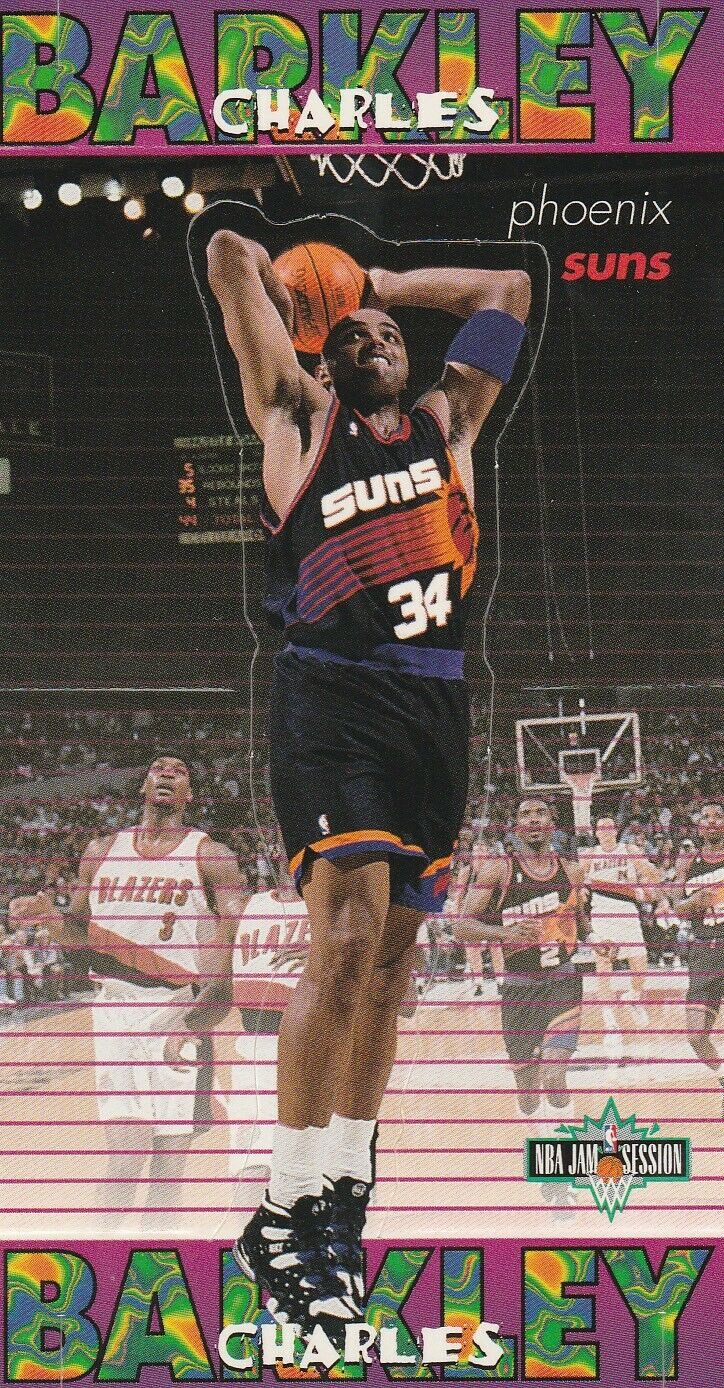 Jake Roy – 90s BBall Cards
No matter if you call him Charles Barkley, Sir Charles, The Round Mound of Rebound, Chuck, or any other nicknames I may have forgotten if you know basketball you know him! Either from his prolific playing career in the 80s and 90s or as a commentator on TNT. He has always been entertaining but he also speaks his mind. That caused him to be cast as a bit of a bad boy or a wild guy in the NBA during the 90s.
The Shoe
It's funny to think about, compared to his image today and what would be considered a "bad boy" in the NBA. Nevertheless, that reputation was tied to the design of these '90s classics. The famous sneaker designer Tinker Hatfield said he used a straight jacket as an inspiration for these shoes because of Barkley's "crazy personality".
This is a pair of kicks that may not be everyone's cup of tea, but man they scream the 90s! Aggressive patterning, a large heel air cushioning unit, and a unique lacing system complete with elastic bungees. If a slightly more tamed look is more your speed, they also made them in an all-black colorway. To me, these really did fit Barkley's playing style. He was explosive and powerful. Able to score in a multitude of ways and fearsome on the glass.
The Card
I love how the 1995-96 Jam Session Pop-Ups shows Charles Barkley and all those key aspects of Barkley and these shoes. Sir Charles throwing down what was undoubtedly a thunderous dunk in transition with the awesome alternate Suns uniform. This black alternate with the big sunburst is by far my favorite uniform of the franchise.
The text on this card is almost a mixture of tie-dye and a lava lamp, two things that had a major resurgence in the 90s. Let's not forget these NBA Jam Session cards were on the polarizing tall cardstock. If that wasn't enough, these cards also can be popped out to make a mini standee. If you look closely at the background in my videos, I have this exact one standing up.
It's a card that really feels like a mid-90s time capsule.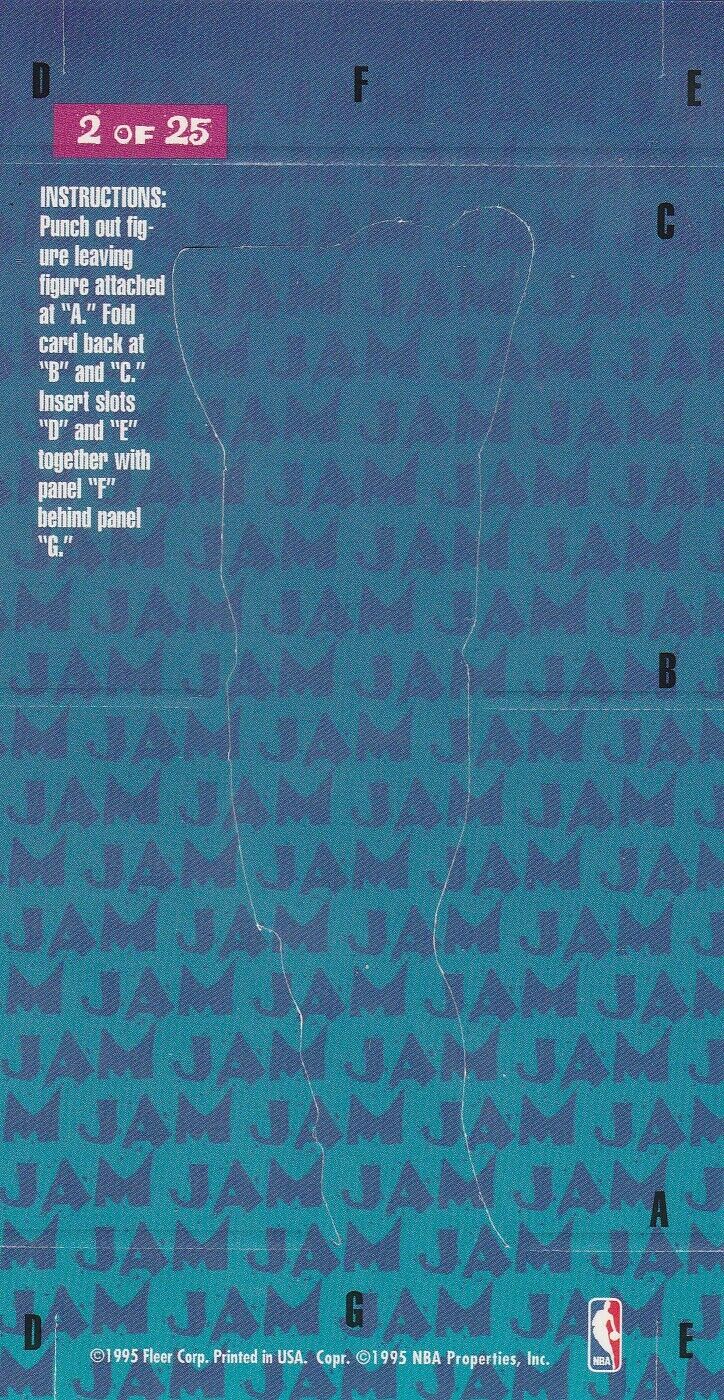 Final Thoughts
You have to love a card with instructions on the back. Like Jake mentioned, this card is heavy on the '90s vibe. The tie-dye and lava lamps should tip you off that we're in the Seattle Grunge Era. If I'm not mistaken, Dead Heads around the world were experiencing a bit of a resurgence as well as The Grateful Dead found a new audience. I can't say I'm in love with the design, but, again it depicts what I was mentioning above perfectly.
Barkley is on his way to the rim here and there isn't a defender near him. Players didn't want to be near a Jordan dunk because they didn't want to be on a poster. Likewise, players avoided being near a Barkley dunk because they didn't want an elbow to the chest before he took off. Those finesse players were indeed on their way, but this was still Barkley's court and he made sure you knew it.
Tenacious is the most fitting word to describe Charles, these shoes, and that card. All three were unforgiving and unapologetic for what they are. You either loved them or you didn't, but they didn't care either way. Just SHUT UP AND JAM!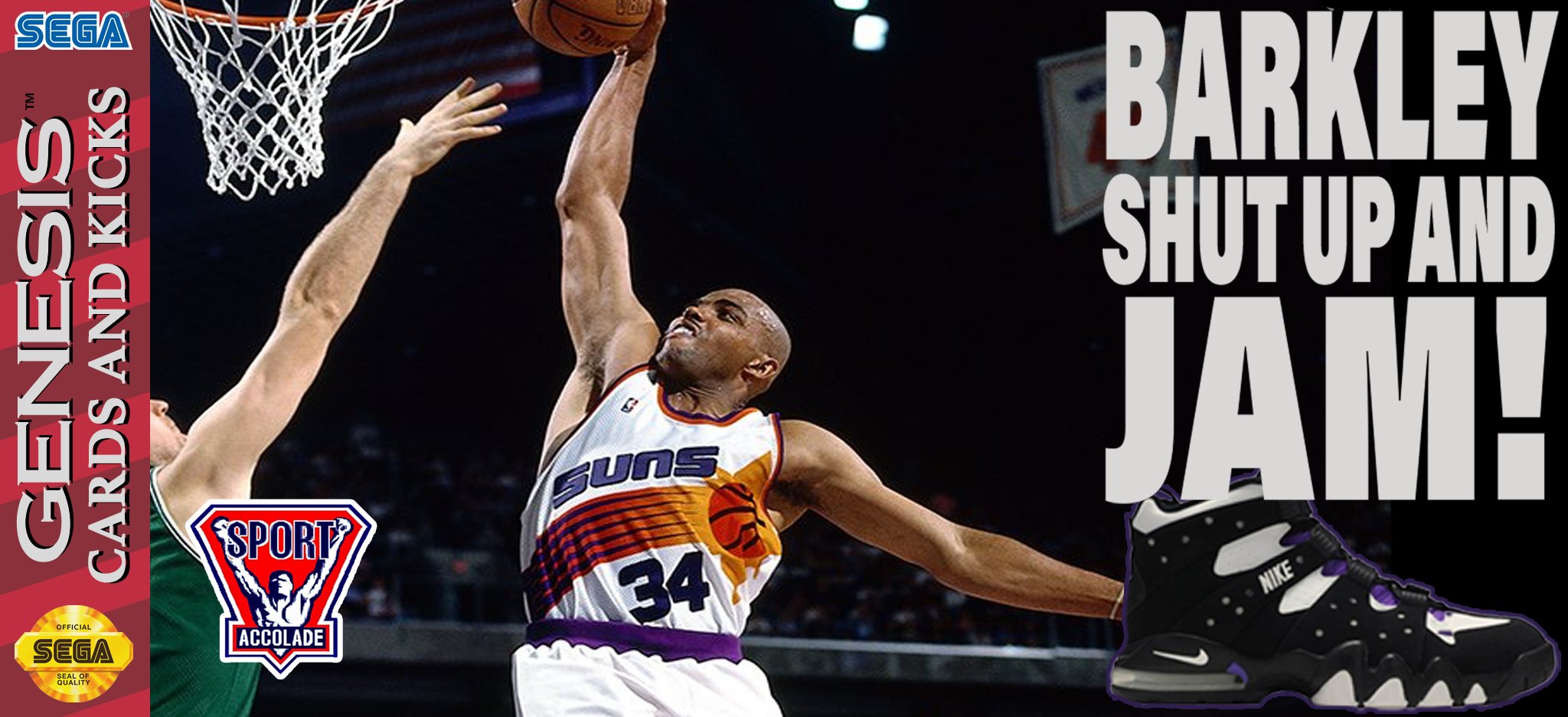 Thank you for checking in this week. Jake and I would love to know your thoughts about Charles, so please share them in the comment section. Also, if you aren't following Jake already, please check out his YouTube channel and hit that subscribe button. You will find lots of great basketball content there. Also, the Cards & Kicks: Charles Barkley edition art was created by Scott Hodges. Make sure to check out Scott over on his site as well.