Cards & Kicks: Alonzo Mourning
What I really wanted to do for the Cards & Kicks: Alonzo Mourning edition was just post a link to his infamous Jim Rome interview and let Jake talk about the rest. I have been listing to Rome for the better part of two decades and that interview still stands out as one of the most awkward he has every conducted. It wasn't Jim Everett awkward, but, still it was cringe worthy for sure.
What wasn't cringe-worthy though was Zo's game. He stood out in a '90s NBA that was full of giants. On a nightly basis, he faced down a Who's Who of NBA centers and won his fair share of those matchups. Sure he may have broken up the Hornets big three, but his career after Mugsy and LJ did just fine.
I have thoughts about Zo that I will share later, but first, here is Jake Roy with more on Cards and Kicks: Alonzo Mourning edition.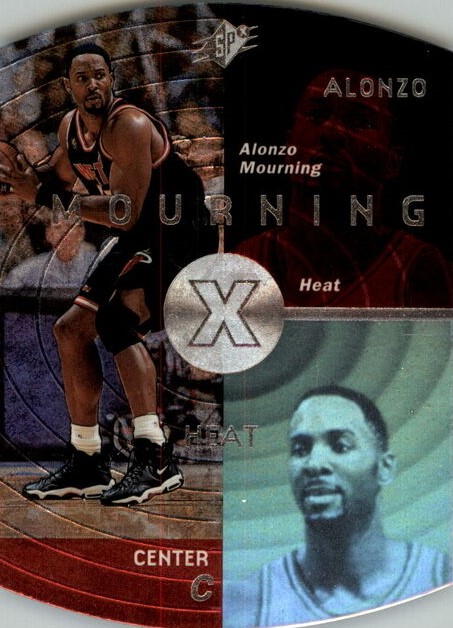 Jake Roy – 90s BBall Cards
In the '90s Nike was trying out lots of new things. Among those new things, they were trying out signature shoe lines with different players under their brand. Some of these became long-standing lines, identifying pieces of a player's memorabilia, or they became a one and done. The Nike Air Alonzo was one of those short-lived, one-and-done player signature lines.

In the '90s Alonzo Mourning was a fearsome and dominating force in the paint. This was the golden era of the center position. While battling every night with the likes of Shaq, Hakeem, David Robinson, Patrick Ewing, Dikembe Mutombo, Rik Smits, Vlade Divac, Arvydas Sabonis, Shawn Bradley, and the like, Zo was one of the very best. In fact, many forget Alonzo Mourning fell just 8 votes short of Karl Malone in MVP voting for the 1998-99 season. To match this large presence on the court, Nike decided to make him a big signature shoe in 1997.
The Shoe
The Nike Air Alonzo is quite literally a big shoe. It resembles a boot in many ways. If a basketball shoe and a boot were combined, this shoe would surely be the product. The Most common colorway and the ones saw on this card are black, red, and white. Nike also released these in a primarily white accented with some black colorway. The Nike Air Alonzo didn't offer any revolutionary new technology. There is a heel visi-air unit which was pretty standard at this time for Nike shoes. The unique portion of the shoe really comes in the lacing.

These kicks employ 3 styles of lacing. Starting near the toe, we see some metal eyelets for the laces. This helps add to the boot aesthetic of these shoes. After those 5 eyelets, we get 3 plastic eyelets that simulate the metal hooks on boots to wrap laces around. At this point, your shoe is laced to the typical height of a mid-top shoe. However, Alonzo needed a more substantial shoe for his powerful and explosive playstyle. So, for more strength and security around the ankle, there are two more eyelets which really are optional. If you like these shoes, you'll probably also enjoy the high-top feel. The two top lace loops are connected to straps that wrap around the ankle and offer additional customization for the ankle fit. You could choose to pull these to keep the ankle tighter than other higher-cut basketball shoes.
The Card
While these shoes are really full-cut, high-top, basketball shoes without many embellishments, this card is not. The 1997-98 SPx followed a popular line from Upper Deck of die-cut cards with a heavy dose of holograms. Upper Deck was typically releasing these cards later in the release schedule. This is the reason the first SPx cards of Kevin Garnett, Kobe Bryant, or Allen Iverson aren't considered true rookie cards. This time they decided to change that. To simplify production, the die-cuts aren't quite as intricate but it was a regular-season release, so the rookie cards are seen as true rookies.
The 1997-98 SPx set also gave collectors a wide range of parallels. They offered the base cards as well as 5 parallels topped off by the Grand Finale. The Grand Finale looks similar to the gold parallel but features a gold hologram on the front and is hand serial-numbered to just 50 on the back! The base version sometimes is mistaken for the silver parallel, but the silver is very silver whereas the base leverages the team colors for the player on the card.
This card is also on rather thick card stock. It was a premium set and that offered more stability, just like these shoes. As we have come to learn, however, thicker cards are more prone to edge damage and on these, that can lead to some delamination between the layers of the card. If you were collecting in the 90s you may remember seeing these in a binder with the middle portion of the top edge showing some of the card separatings. It's not great but when these come up in mint condition, they are quite a sight to behold.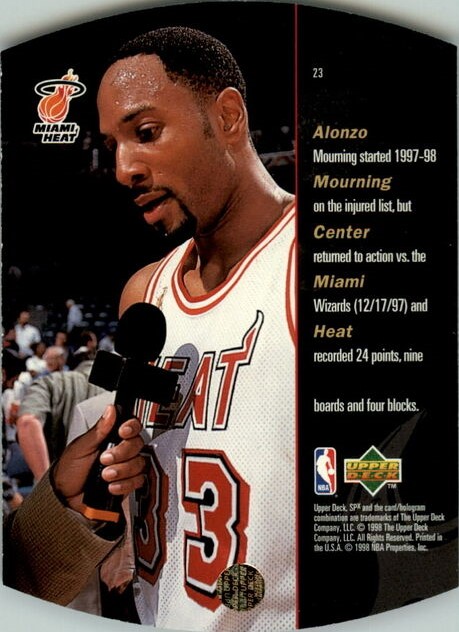 Finale Thoughts
Both the card above and the Air Alonzo are tough to find in Pristine condition. Nike hasn't produced a retro version and it is rare to find a pair of shoes produced in 1997 to endure the test of time. What has stood the test of time is Zo's legacy.
He was Georgetown center that followed in the footsteps of Ewing and Mutombo. He carried that torch in the NBA and did it well. During his career he racked up 7 All-Star appetences, a gold medal, and an NBA Championship. You don't do that by accident. He worked hard in the paint every night and the record books prove it.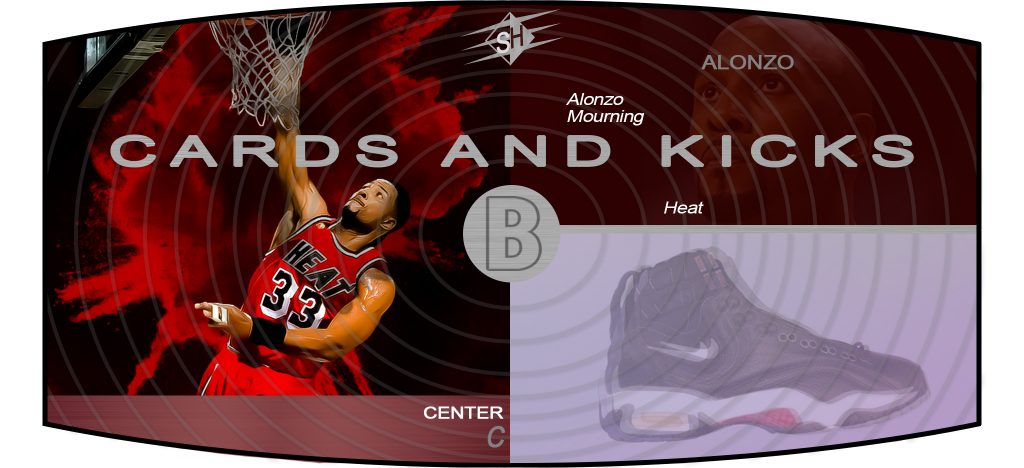 Thank you for checking in this week. Jake and I would love to know your thoughts about LJ, so please share them in the comment section. Also, if you aren't following Jake already, please check out his YouTube channel and hit that subscribe button. You will find great basketball content there. Also, the Cards & Kicks: Larry Johnson edition art was created by Scott Hodges. Make sure to check out Scott over on his site as well.