Cards and Kicks: Allen Iverson
The cliche thing to do here in this Cards and Kicks: Allen Iverson edition would be to talk about practice. However, I think we're all familiar enough with that piece of basketball history that we can forgo it for the moment. Instead, I believe we need to start with just how innovative Allen Iverson was to the NBA and how this 6 foot nothing combo guard left his mark on the game.
The accolades speak for themselves. He was the '96-97 Rookie of the Year in a class that featured a Who's Who of '90s NBA stars. Ray Allen, Kobe Bryant, and Steve Nash were all in that class, along with other names that helped round out NBA rosters for years to come. Iverson stood above each of them when it came to intrigue on and off the court. From controversies to marketability "AI"  was truly "The Answer".
Beyond winning the ROY,  Iverson was a 4x Scoring Champion, and 11x All-Star, and the '00-01 Most Valuable Player. Oddly enough, his '00-01 Fleer Showcase is where we are taking the inspiration for our Cards and Kicks: Allen Iverson edition. Now, I must admit that we stepped just outside the '90s for this card, but it was for good reason. First, it's affordable. Second, it has two parallels that are great chases. Lastly, it perfectly features the Reebok Answer IVs, as Jake mentions below.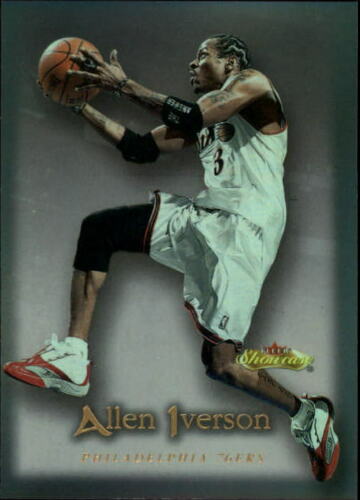 Jake Roy – '90s Bball Cards:
Allen Iverson is one of the most iconic players of the 1990s and early 2000s. He popularized many of the NBA fashion trends that are common today. This list includes wearing arm sleeves, being covered by tattoos, rocking cornrows, having non-Nike signature shoes, and speaking your mind.
Practice? Are we talking about Practice?
No sir, we are talking about the main event! Iverson was an electric player that always demanded your attention. AI's shoes were always hot sellers and remain popular, and his '00-01 Fleer Showcase is also a sight to behold!
I love the Flair/Fleer Showcase sets! This particular set is tastefully flashy with the edge-to-edge holofoil, great action shots, and a little hint of gold foil in a fancy font. Typically, Flair Showcase utilized a script-like font, however, this one isn't quite script but still looks elegant. Finally, it almost looks like the card is screaming, LOOK AT THESE SHOES! Ok, don't mind if we do!
The Reebok Answer IV (4) is arguably the most popular of this line. Certainly, the Reebok Question is Iverson's most popular shoe but it's technically outside of the Answer line. The Reebok Answer shoes introduced us to the DMX cushioning technology and it was great! In simple terms, DMX utilized an air pocket under the heel and the forefoot that is connected to allow the air to transfer as pressure is applied. I really enjoyed playing in these! In the recent retro versions, Reebok has replaced the DMX I-Pak air pocket technology with DMX foam. If I'm being honest, the DMX foam is TRASH! At least for playing basketball, they are fine to wear casually. But If I may for a moment PLEAD to Reebok…. PLEASE BRING BACK THE DMX I-PAK! PLEASE!!!
You may recognize these even if you didn't play in them. When they first came out, Reebok blessed us with 3 colorways (White/Red/Silver, Black/Silver/Red, and White/Navy Blue/Red). I wore the Georgetown colorway, White/Navy Blue/Red. During his memorable 2000 Playoff run, Iverson wore these in various unreleased Black & White colorways while he carried the 76ers to the Finals against the Lakers. Then in game one Iverson hit a big shot on Tyronn Lue and then capped it off with the iconic "step-over". With that one giant step, the Reebok Answer IVs were forever immortalized.
All of this goes into making these an iconic pair of shoes. Every time I see them prominently featured on a card it's a must-have card for me. This one has a gorgeous design to go with this iconic player and an all-time great pair of shoes!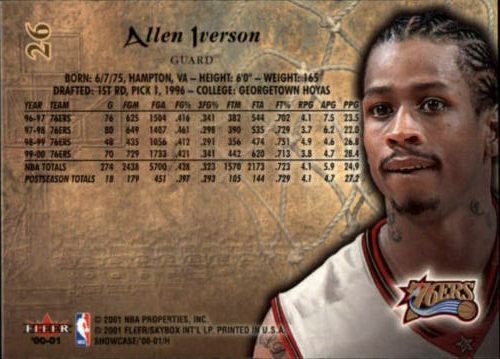 As we mentioned in our last edition of Cards and Kicks, Shawn Kemp led the way for Reebok for a long while, but by the time '00-01 rolled around Kemp was mostly an afterthought and Iverson was their poster boy.
My good friend, Joe Carroll, and I were discussing these shoes last week. Joe said " When someone bought a pair of Allen Iverson's they were doing so almost to be defiant to Nike and the Air Jordan brand", and I tend to agree with him. For all intents and purposes, Michael Jordan was a clean-cut player, whereas Allen Iverson was not. Reebok knew what they were doing and who they were speaking to with Iverson, and it worked.
Where the hobby is concerned, Iverson might not carry the weight some of his contemporaries do, but he should. Again, the accolades speak for themselves, but Iverson is so much more than what his Hall of Fame career depicts. On the court, AI was crossovers and pull-up jumpers and moves in the paint that we didn't think he had. Off the court, he was a trendsetter that changed a culture. In short, he was, and still is, The Answer.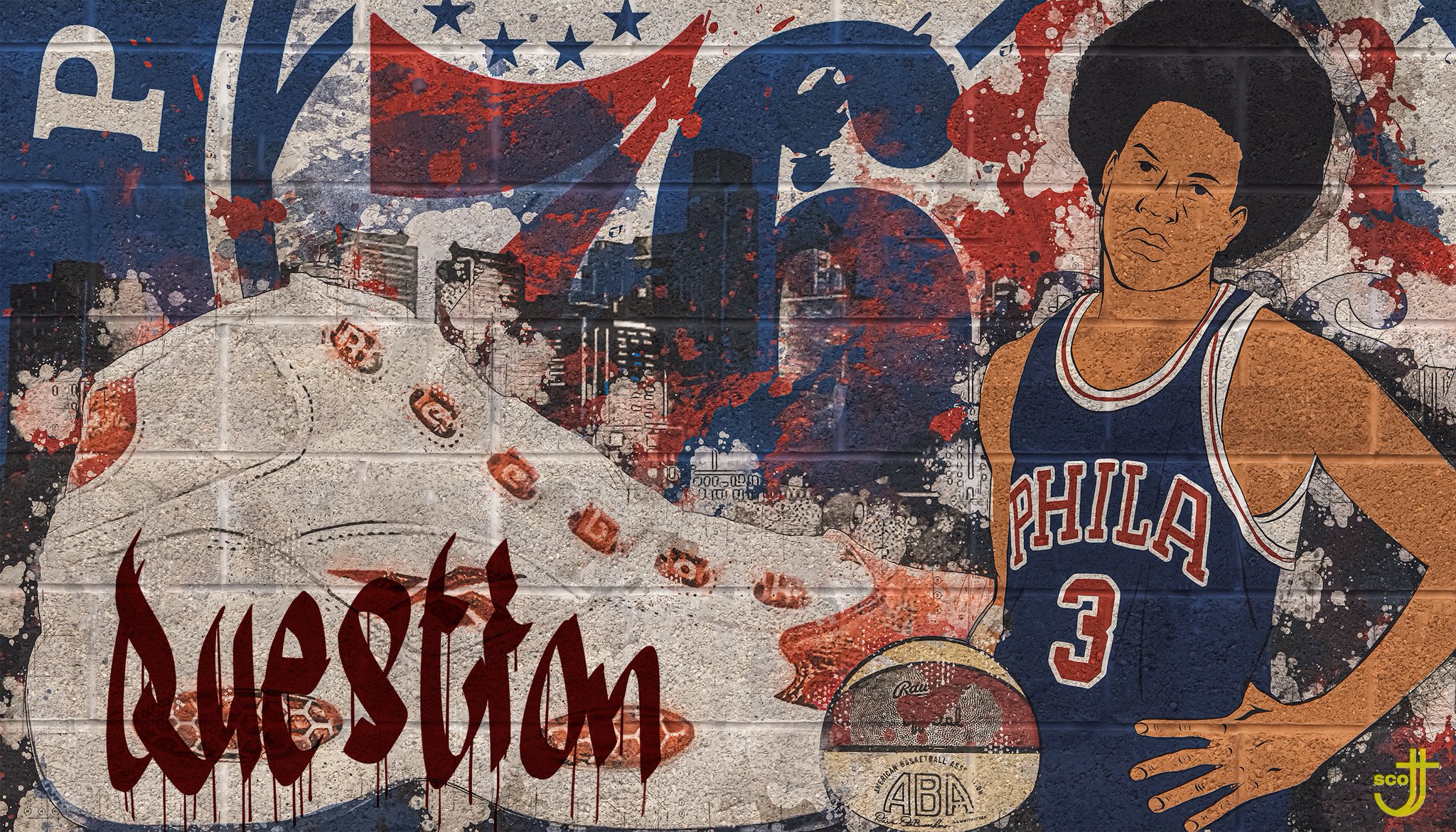 Thank's for checking in this week. We would love to know your thoughts about Iverson, so please share them in the comment section. Also, if you aren't following Jake already, please check out his YouTube channel and hit that subscribe button. Great basketball content there. Also, the Cards and Kicks: Allen Iverson edition art was created by Scott Hodges. Make sure to check out Scott over on his site as well.
Now, we talking about practice?